29th National Prayer Gathering (NPG) - Day 3
Details

Category: Teachings & Articles
Published: Sunday, 08 April 2018 13:40
Hits: 2455
Manifesting the Light of God's Glory
29th National Prayer Gathering (NPG)
Intercessors for the Philippines (IFP)
Cuneta Astrodome, Pasay City
March 27- 30, 2018
Edited : April 08, 2018 (Sunday); 6:55 P.M.
Notes of Peps Kho
DAY THREE
March 29, 2018 (Thursday)
(picture1)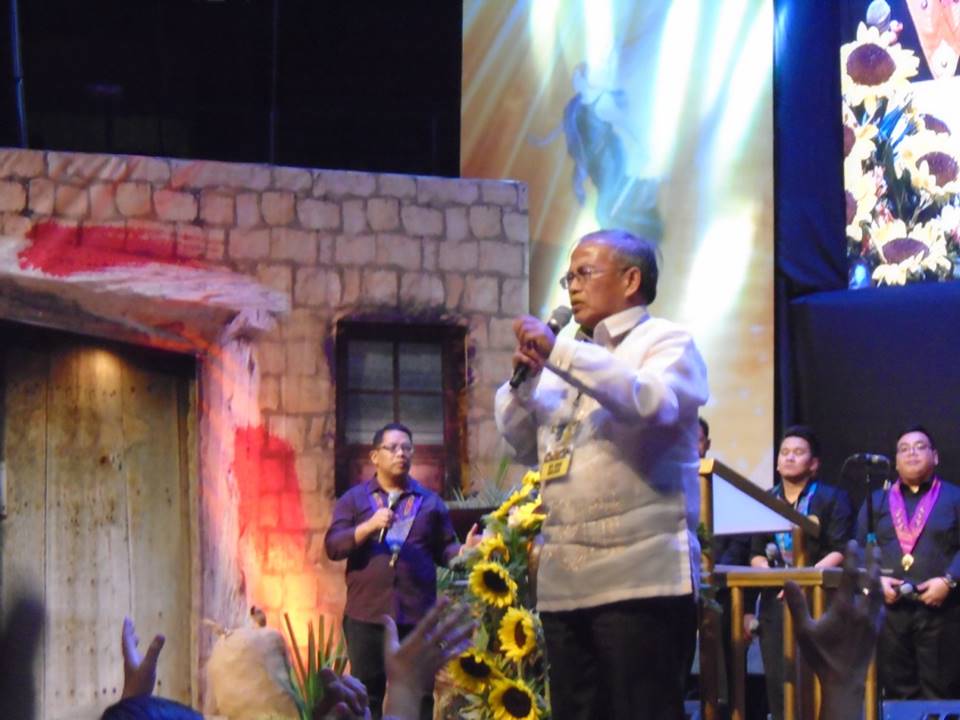 Bishop Daniel A. Balais, IFP Chairman
9:55 AM
Quotes
The word of God bring political freedom into the nations – Manny Carlos
The bible has the answers to your business, to your communities and every sectors of society –Ed De Guzman
NEVILLE JOHNSON
Director of Living Word Foundation
I want to share to you this morning. Is this morning? Yes this morning? Destiny. Why you have a destiny? You are here with destiny no matter how circumstances are. We need to be aware of that you know because it affects how we look at things. We must live to the foreknowledge of God.

Ephesians 1: 4, " Just as He chose us in Him before the foundation the world, that we should be holy and without blame before Him in love."
Where we're you before this world was made? The Reformation is good thing the salvation through faith. Calvinism some are called, some are not. God is the beginning and the end at the same time.
He hath seen the end and he hath seen every name in the Book of Life before you were born. He knew that your name is in that book. Your name is in it. God foreknew because he painted the end as well as in the beginning. So your name is there.
False doctrine : "Once you are saved you will always be saved." That is not true because you have a choice. But God knew what choice you have made. We need to clarify that because we talk about destiny. You and I have not yet finished. We are still in the journey. I
Psalm 105:37, "There was no feeble person among His tribes. Egypt was glad when they departed. For the fear of them had fallen upon them."
There was no person was feeble among them. To be feeble is to be weak. Not one feeble person among them? Why they have appropriate that in our salvation?
Joe and I, I turned 78 and he is two months ahead of me. Once you retire usually you retired. There we could fulfil our destiny. I am not ready to die yet but I am ready to be translated.
Psalm 103:2-5, "Bless the LORD, O my soul, and forget not all his benefits: 
Who forgiveth all thine iniquities; who healeth all thy diseases; Who redeemeth thy life from destruction; who crowneth thee with lovingkindness and tender mercies; Who satisfieth thy mouth with good things; so that thy youth is renewed like the eagle's" This happens in Passover.
Many in this generation will receive the fullness of this salvation. We are entering a season now when the fullness of our salvation can be entered to. The door is opening for that. We should have teachings on that that we may believe.
When Jesus was transfigured, phenomenal change took place. And he was never the same again. Jesus was baptized by John the Baptist and the Holy Spirit came upon Him then Pentecost came. There it stopped.
Jesus continue, on 6th day he was transfigured. We are on that day. That is all what we have the Pentecost, the Baptism of Spirit, the final journey to the Promise Land.
When Jesus spirit left his body he died, his body did not decay on the tomb. When they laid his body on the grave, his spirit left but there was enough life in his body that it did not decay.
We are coming to a new day, new era, this becomes available for us only when we believe.
Step 1. We have no appropriated everything in our salvation. But we will. We will have one generation that will overcome the last obstacle which is death. The journey has not finished.
They , the Israelites came from Egypt in 5o days. They became Pentecostal. They went on. And they died.
The Promise Land is within us. That whole generation of Pentecostal died in the wilderness. Are they in heaven? Yes.
You are a special generation. You were written in His book that you will be born in this generation.
Jeremiah 1:5, "Before you were formed in your mother's womb. Before you were born I sanctified you; I ordained you."
Where was Jeremiah before he came from his mother's womb? You cannot sanctify something that it does not exist.
2 Timothy 1:9, "Who hath saved us and called us with a holy calling, not according to our works, but according to his own purpose and grace which was given us in Christ Jesus before time began." That inheritance is ours and need to be pulled on the earth.
There are kinds of doctrines that came from Reformation. Then the Baptists and Anabaptists came. And when you are baptized – that is Martin Luther's.
Then the Pentecostal, baptized in the Spirit then they spoke in tongues and then the Baptists says, "That is not from God."
In Australia, many are Pentecostals but they are rejected. We are on position in moving on beyond Pentecost. It is not that easy. We have the history of rejection.
We always tend to oppose the next wave. We are coming to a new level beyond Pentecost and many of those from Pentecost will reject us.
This generation has a special purpose and special destiny. We must move on as what God purposed in us.
The purpose of the Israelites to go through wilderness is that they should learn. But 10 times, they have failed. They have not reached the fullness of their salvation yet. The Journey is from Egypt to the Promise land. Finally they have gone to the point of seeing the Promise Land but fear and unbelief overtaken them.
There is prophesy in the wilderness, there is healing in the wilderness. The future is not that bright until we have come to an end. Most of the giants, the enemy is in the land.
....that's the different mentality. What is your mentality for the future? ... Ten times they put God into test.
Numbers 14:22, "And have tempted me now these ten times, and have not hearkened to my voice."
That is the kind of choice we have to face it. The underlying failure is that they have not learned yet to trust God. How? God will put you in a difficult situation and yet you trust him.
One of the major test is to trust God in the worsest situation that you cannot imagine. You cannot overcome something unless you are there on that test.
Job .. have thousands of camels. God made him wealthy. He lost everything. Everything. But he trust God. So God gave him twice that much.
The greatest test we face right now is PEACE. In every situation, peace of mind is what we needed. When something goes wrong, your mind rages. When you lost your job and lost... stop, come in peace, Lord I trust you. Whatever happens I trust you Lord.
The devil cannot do anything with a person with peace. He cannot handle it. This is the test in the wilderness of absolute trusting in God whatever happens.
Hebrews 4:1, "Let us therefore fear, lest, a promise being left us of entering into his rest, any of you should seem to come short of it. "
That is really hard when something goes wrong. This trip, something have really gone wrong. We missed the flight. Then next flight that was available was two hours late. I said God, "Let yourself be God".
Hebrews 4:2," For unto us was the gospel preached, as well as unto them: but the word preached did not profit them, not being mixed with faith in them that heard it. " What was preached to them did not come with the heart. So they failed.
Hebrews 4:3, "For we which have believed do enter into rest, as he said, As I have sworn in my wrath, if they shall enter into my rest: although the works were finished from the foundation of the world. "
They did not believe God. It takes absolute obedience – BELIEVE AND REST.
Hebrews 4:7b, "To day if ye will hear his voice, harden not your hearts. ..."
PEPS:
"The voice." There was that voice in Genesis, Hebrews, then in Revelation.
The land of rest is based on belief. The final battle to overcome is fear ...make a crossover whatever happens. Be there is battle or giants. No matter what is out there – gonna stay in rest and trust in the Lord. If we die, we die. If we live, then live.
God has a plan for this generation. It is magnificent destiny. It is a privilege that you are alive in this hour. You are chosen to be here in 2018.
Joshua 1:3, "The Lord God is giving you rest and giving you this land."
There are giants. The land is not out there but the land is inside of you. What are the giants –fear, jealousy, etc.

Those giants can only be conquered when we have rest and we need to be qualified only when the fire of God will come upon us to purify us. Emotional rest is very difficult. But it comes back on the same thing – do you believe that God can do the very best for you when you can pass the test, overcome fear and then graduate.
Quite funny really.
When they were in the wilderness then they were camped. They would sit down there and watched the clouds, sitting down without moving on. They will get the trumpet and blow, meaning the start to pack up because the clouds is about to move on. The trumpets are... that packing up is a bit, ready to move out. There was a period of time of not packing up..
The priest will be there, then the clouds is moving then will sound another kind of sounds, START WITH THIS YEAR, WE WILL START TO MOVE..
Sometime years ago, Jo and I he said, "Start packing up and we will move out..."
I hate packing up. I hate packing. We moved to plenty of places. We lived in many places. Packing, the cloud is moving. This guy said, "Neville, sometime on April, the cloud will move ...." Hoooh... Things gonna be different right?
Before I came here I had a dream. You seen cocoon. I was in there. How come I am in there. I was struggling and put my fists on.. then I woke up. When I came here, you know caterpillar? That is not your destiny. Your destiny is to fly like butterfly. It is struggle to get out from cocoon. I had this fist out, but you are coming out now.
13 years ago, I had this dream, Jo and I walked on this beautiful auditorium. And we walked in this place, and the light of this building says,,,"Krroooo" and some people there, looked at me, and said, "We waited a long time for you." NO idea where I was and when he said that I started to fly like a superman like a maniac and I said "This is fantastic, wonderful, I can fly....Oh Lord..."
Last year, the Lord told me that it is time for that dream to be fulfilled....the caterpillar and butterfly, that will be the change that will come to us. We need to move on. We have come to the season that the alarm is on and the cloud is moving on. We have significant changes. Changes are in the air. The clouds are definitely moving. Get out from the wilderness.
Joshua 1:3, "Every place that the sole of your foot shall tread upon, that have I given unto you, as I said unto Moses. " IT REQUIRES a new level of dedication your life to the Lord.
Romans 12:2, "And be not conformed to this world: but be ye transformed by the renewing of your mind, that ye may prove what is that good, and acceptable, and perfect, will of God."
Levels
Outer court

Holy place

Lamb to be dedicated to the Lord. That is more expensive. Joshua is more expensive. You can bring an ox very costly. Ox speaks of total surrender and dedication of our lives to the Lord. Our wishes, our ambitions, our dreams, lives those we dedicate ourselves to the Lord... it talks absolute surrender to the Lord.
Matthew 11:29, " Take my yoke upon you .." The idea was the baby oxen have a linkage to the mature ox where the mature one has to go anywhere. We are yoke to the Lord. We are completely yoked to the Lord.
We are living sacrifice. If necessary, we are to die for him.
Paul when writing to the Corinthians and he talked about the gifts of the Spirit and learned to move in Spirit then Paul STOPPED saying, "WHY? What have we to do with these?"
If we speak in tongues WITHOUT LOVE, it is nothing. These are gifts, you don't deserve them, you don't earned them...
1 Cor. 13: "Though I speak with the tongues of men and of angels, and have not charity, I am become as sounding brass, or a tinkling cymbal. 2 And though I have the gift of prophecy, and understand all mysteries, and all knowledge; and though I have all faith, so that I could remove mountains, and have not charity, I am nothing. 3 And though I bestow all my goods to feed the poor, and though I give my body to be burned, and have not charity, it profiteth me nothing. 4 Charity suffereth long, and is kind; charity envieth not; charity vaunteth not itself, is not puffed up, 5 Doth not behave itself unseemly, seeketh not her own, is not easily provoked, thinketh no evil;  6Rejoiceth not in iniquity, but rejoiceth in the truth; 7 Beareth all things, believeth all things, hopeth all things, endureth all things. Charity or love never faileth,"
This talks about MOTIVE, MOTIVE, MOTIVE ... God cannot do anything without that motivation which is love.
There is this plane while it was flying then it exploded and all the kids died. I said "God why you have not intervened?" God replied to me and said, "I did !" Then God said, "If you are God what will you do?" Oh there again. He said, "Don't you think they should live better in heaven than in heaven when they have not reached yet their age of accountability."
Who are these? What? God said: "These are Muslim Children. They have not reached yet their age of accountability, where in heaven they are being taught about the truth." God is good.
Special angels are in God's economy. They come special, special, special in God's economy. We kept on saying: Why God? Why God? Why God?
Because God is good. He graduate with us. Enter to the promise land. . God got more than the gifts of the Spirit in us.

Arise shine and the light has come....What does it mean?
Isaiah 60:1, "Arise, shine; for thy light is come, and the glory of the LORD is risen upon thee. "
You've got the 7 Spirits of the Lord which is greater than that of Pentecost. These are angels, 7 angels:
Spirit of men. Men of David would kill all day and never gone weary. Samson, that is spirit of might. Isaiah 11:2. Rev. 1:4, 12. Rev. 4:5 "the seven spirits of the Lord." I have invitation from Gabriel. I said "What do you mean from Gabriel." HE said a lot of angels under him and that is from Gabriel's. He would bring us the message of the Lord. I just had one visitation from Gabriel. Most of them are just from Gabriel's. At the throne, day and night, there are angels, and under them....they can Pentecost can lead us to next before we come to the Seven Spirits of the Lord.
Isaiah 11:1-2, "And there shall come forth a rod out of the stem of Jesse, and a Branch shall grow out of his roots:  :2  And the spirit of the LORD shall rest upon him, the spirit of wisdom and understanding, the spirit of counsel and might, the spirit of knowledge and of the fear of the LORD; " There are seven spirit, seven anointing, seven angels.
These 7 Spirits are in the 7 different colours – red, orange, yellow, green, blue, indigo, like a rainbow.
This certain man got into tram car and then there will be his ground. He said to the Lord, " What did You bring with me?" He (the Lord) brought with him the Spirit of the Lord and though he did not preach YET all of those passengers are crying inside the tram car. And they believed God. One of those who have been saved, a passenger appealed to him saying, "Can you come to my factory and saved it." Then the factory workers came and they started to cry too. This man just stood still. Wherever he went these angels will come with him and people would just cry and got saved.
I don't care if you are a pastor, mother, etc. You have the same responsibility.
(Back to that man )…. Wherever he go the Spirit goes with him. One time, he went in a cafe. They (customers) looked at him and they would said, "You just made me fear God." These are better than the gifts of the Holy Spirit.
The Spirit of the Lord is red., the prophetic anointing is that not always, but when someone prophesy this, it happens immediately. Ohh...ok that is good!

The spirit of wisdom and understanding. It emanates light and power. A little bit here. Spirit of understanding is the colour yellow of the rainbow. We understand the tiny bit of the purposes of God. Spirit of Understanding – why there is a vast universe out there? It was not a chance. When he created that there must be a purpose. There must be a reason. We have to roll in should we pass the test. The universe fascinates me. It is so vast. Why? Earth, we are tiny little planet. But I tell you this tiny planet has been appointed to produce sons of God

Fear of the Lord. Violent

Counsel – green

Might – blue
Now the eyes of the Lord is scanning all throughout the earth. Each one represents God's glory. This is a new day.
Many years ago, I was on fishing. There is a vision. We have the bearing of Venus on that horizon. And I was intrigued, then I looked at the sextant.
Zech. 1:4, "Be ye not as your fathers, unto whom the former prophets have cried, saying, Thus saith the LORD of hosts; Turn ye now from your evil ways, and from your evil doings: but they did not hear, nor hearken unto me, saith the LORD. "
Zech 14:7, "But it shall be one day which shall be known to the LORD, not day, nor night: but it shall come to pass, that at evening time it shall be light. "
We see transfiguration fearing people. Christ is the daystar. That will impact your spirit with much light. That light will come first in our spirit in such a decree that will transform from our physical body which is the TRANSFIGURATION. It reminded me this morning again
2 Peter 1:19, "as unto a light that shineth in a dark place, until the day dawn, and the day star arise in your hearts ."
2 Peter 1:20, "  Knowing this first, that no prophecy of the scripture is of any private interpretation. "
When he was on the mountain when he was transfigured. Jesus Christ first will come IN us before He would come FOR us.
2 Peter 1:16, " For we have not followed cunningly devised fables, when we made known unto you the power and coming of our Lord Jesus Christ, but were eyewitnesses of his majesty. "
Your are the 42nd generation.
Matthew 1:17 speaks of chronology divided in 14 generations. 14 + 14+ 14+ .... HOWEVER when you read it, there is 13 GENERATION ONLY. There is a missing generation, the last segment, my Goodness, what is this missing generation – some theologians ask how valid this Matthew is...
Where is the missing generation? Isaiah 53:10b, " when thou shalt make his soul an offering for sin, he (Jesus) shall see his seed, he shall prolong his days, and the pleasure of the LORD shall prosper in his hand."
He shall prolong His days through you and me.
Psalm 102:13, You will arise and have mercy on Zion; For the time to favour her; Yes, the set time, has come."
Psalm 87:5, 6, NKJV, ".......The Lord will record when he registers the peoples; this one was born there. Selah."
How can I be the Bride of Christ?
Adam is a picture of the Church. Eve was given to Adam as a helpmate? Solomon said, "Who is this, that comes out from wilderness, like pillars of smoke," (Song of Solomon 3:6)
He is coming from wilderness. "Awake O north wind...." (S. S. 4:16)
The north wind in Israel is the coldest wind. I was there in 1973 in Yom Kippur, there was camel and there were snow then. Winds are coming from Turkey, then the Bride will come like a helpmeet. ...
The Ten Virgins, half of them are not ready.
You are the 42nd missing generation that you were born here in this generation for this purpose for the Bride from the wilderness to come to Mt. Zion.
11:40 AM
BRUCE ALLEN
Early morning on the 7th day. This is the day when the Lord has created you.
Number 14:21, "But as truly as I live, all the earth shall be filled with the glory of the LORD. "
Isaiah 40:3, 4, "The voice of him that crieth in the wilderness, Prepare ye the way of the LORD, make straight in the desert a highway for our God. Every valley shall be exalted, and every mountain and hill shall be made low: and the crooked shall be made straight, and the rough places plain:"
There is a process that God is doing in this generation. When there are some crooked things and places in your life, He will do something on it.
In every generation, there are harmful of people that would grab tightly to God. But never before a generation that will come a LIGHT. This will be the only generation that will come a LIGHT.
This is the calling we have TO BE LIKE HIM. Rest is what faith looks like.
Hebrews 4:1-3, "Let us therefore fear, lest, a promise being left us of entering into his rest, any of you should seem to come short of it. For unto us was the gospel preached, as well as unto them: but the word preached did not profit them, not being mixed with faith in them that heard it. For we which have believed do enter into rest, as he said, As I have sworn in my wrath, if they shall enter into my rest: although the works were finished from the foundation of the world. "
When you are in faith you are not stumbling, you are at rest.
In a Church in Ireland, I was invited to speak. When you are at rest with God you don't like to move. But I have with me then 400 people. I saw a sceptre. He said, "Half of the kingdom I would give it to you..."
I said, "I want to be like Jesus." Then he pulled back. Then all the audience spoke the same, "We would like to be like Jesus." Then I was back in the service and I was disoriented. What that I said? I knew the voice of the Spirit and as well that I knew what is the voice of my flesh.
I have this huge list – dreams, desires, etc. But it is not important. My spirit would ask for would like to fulfil what is all...then the Lord placed on me a SIGNET RING. This son who was dead is NOW alive NOW he is mature enough to give him the mantle, and the high authority.
Reshma my wife is in here. It's our anniversary.
Rosh Roshahan is when God gave me His purpose and shaped me on that day. This will catapult us. You know CATAPULT?
You are about to be catapult in this profound destiny of this age. And to position us in the moment right now. You have an authority. You must recognize what God has given you and do not rest of yesterday's knowledge.
Death, decay and corruption and there is redemption to the original desire and choosing to decide with. Right now in Christ, because the glory of God is in you, now the Lord is RELEASING the knowledge of this glory, and there is a reaction of your being. Death, decay and corruption must GO.
How do we enforce this victory? We have this signet ring of authority. When you speak in agreement with God....
You can come in the atmosphere that is pervasive ... to have caught more than taught. You might not understand what is being said yet something is being invested in you whether you know it or not and it being caught.
I never had encounter with God and angels before I met Neville and Sadhu. But being in their presence, these men of God something shifted and done these encounters. It is like being marinated. If you received what God is doing, it belongs to you.
Luke 3:4 -6, "As it is written in the book of the words of Esaias the prophet, saying, The voice of one crying in the wilderness, Prepare ye the way of the Lord, make his paths straight. 5  Every valley shall be filled, and every mountain and hill shall be brought low; and the crooked shall be made straight, and the rough ways shall be made smooth; :6  And all flesh shall see the salvation of God. ."
Salvation Greek "sotorea" i.e. sum of benefits and blessings which Christian redeemed from earthly ills enjoyed in Christ consummated in the eternal kingdom of God."
You are a part of the Kingdom and that is eternal. In other words, your blessing shall never end.
There is a shift that takes place until you become confident that you are in rest with God.
I love Bruce Lee and studied kung fu. When I started that process of that kung fu.... we got too stupid and hang out in Seattle....but there was a transition when you become a master of what you are doing, then there is peace and rest. That is however a secular, earthly description.
But when you mature you believe, you are out from EGYPT..."
Kabad or Kabed, a Hebrew word of "honour" means " be heavy, weighty, burdensome, honoured " Reshma wanted to see England. And see the queen.
But we are part of the kingdom and we have the signet ring. That is what you have to watch on what you speak. That is why you have that ambassadorship.
Isaiah 60: 1-7 / Amplified:
"Arise [from spiritual depression to a new life], shine [be radiant with the glory and brilliance of the Lord]; for your light has come,And the glory and brilliance of the Lord has risen upon you.2 "For in fact, darkness will cover the earth. And deep darkness will cover the peoples; But the Lord will rise upon you [Jerusalem]And His glory and brilliance will be seen on you.3
"Nations will come to your light, And kings to the brightness of your rising.
4 "Lift up your eyes around you and see; They all gather together, they come to you.Your sons will come from far away, And your daughters will be looked after at their side.5 "Then you will see and be radiant, And your heart will tremble [with joy] and rejoice Because the abundant wealth of the seas will [a]be brought to you, The wealth of the nations will come to you.6 "A multitude of camels [from the eastern trading tribes] will cover you [Jerusalem],The young camels of Midian and Ephah; All those from Sheba [who once came to trade] will come Bringing gold and frankincense And proclaiming the praises of the Lord.7 "All the flocks of Kedar will be gathered to you [as the eastern pastoral tribes join the trading tribes],The rams of Nebaioth will serve you; They will go up with acceptance [as sacrifices] on My altar, And I will glorify the house of My honor and splendor."
But Paul said this: "But as it is written, Eye hath not seen, nor ear heard, neither have entered into the heart of man, the things which God hath prepared for them that love him," (1 Corinthians 2:9).
God chastens whom He loves. If we focus on destruction it hooks us. You must only remain on the place of teachabililty.
When a child prophesy on you that you, "shall be pure." I never experienced yet being prophesied by a child. (Matthew 18:2-4).
Isaiah 42:8, "I am the Lord, that is my name; And My glory I will not give to another, nor my praise to carved images." There must be faster than light. You create the reality that you speak. One scripture to leave with...
Phil. 2:5-7, "Let this mind be in you, which was also in Christ Jesus: 6 Who, being in the form of God, thought it not robbery to be equal with God: 7 But made himself of no reputation, and took upon him the form of a servant, and was made in the likeness of men."
The season must be revealing of this position that the great awakening is that they see God in you...
NOTES:
Peps: I mistakenly erased my notes on the rest of this day. What a waste! Chief Justice Sereno's message including messages of Atty. Lyndon Cana and Bobby Connors were totally lost.