29th National Prayer Gathering (NPG) - Day 3, Afternoon Session
Details

Category: Teachings & Articles
Published: Wednesday, 11 April 2018 08:23
Hits: 5123
Manifesting the Light of God's Glory
29th National Prayer Gathering (NPG)
Intercessors for the Philippines (IFP)
Cuneta Astrodome, Pasay City
March 27- 30, 2018
Edited : April 08, 2018 (Sunday); 6:55 P.M.
Updated: April 10, 2018 (Tuesday); 7:00 PM
Notes of Peps Kho
DAY THREE
Afternoon Session
March 29, 2018 (Thursday)
(picture1)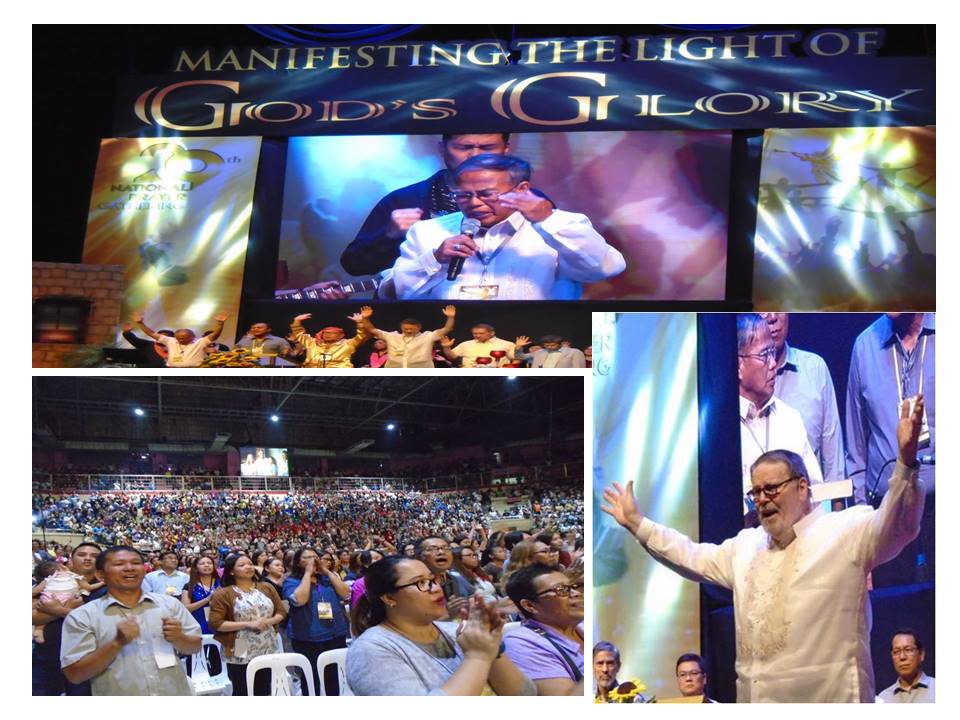 1:35 PM
Atty. Lyndon Cana
The Lord placed in my heart the Scripture that says, "Preparing the way of the Lord."
This (slide) is the East Gate in Jerusalem.
In 2015, in my prayer room at my house, I wrestled prayerfully with the Lord on Psalm 2:8, Ask of me and I shall give thee nations..." And I said to the Lord, "How to make it happen?"
Unexpected His reply was, "Build me a house of prayer in Mt. Kanlaon."
As I thought of having spiritual things to be done like 40 days of prayers. Am I now speaking to myself or to my imagination then the words of the Lord came saying, "Build me a house of prayer in Kanlaon."
Kanlaon is a government reserved place. It is illegal to build structures there. But then the Lord said, "Build me a house of prayer in Mt. Kanlaon."
But from there are signs and wonders, young people can testify it, etc. And they would see me a vision "You are weeping on the blue throne." One young people said, "The Lord said it is from me."
When I sought the Lord he said, "45." Top caliber? My top caliber has never licensed yet. No he said "Ezekiel 45".
Psalm 2:8 speaks of "allotment of land" you are to present it to the Lord an "offering" which consists a portion of a land as a "sacred district." Then He (the Lord) gave me very specific details size of the land, 25,000 cubits long and 20,000 cubits wide and He said, "the entire area is holy."
The passage of Ezekiel 45 struck me. And he said, "Put your hands on the word "sacred district." Then I felt the grief of the Lord. I said, "Why are you crying?" He said "I have no place of my own in my land." I said "There are many Christian hospitals, churches …"
He said, "I gave those lands for them but they have not given a land for me. I am not welcome to the church."
"They don't like me to move in their church. They don't want to listen to me. They have strict schedule," God said. The word "district" means "just for me" where "there is no activities when I am free to speak 24/ 7 without interruptions."
But this (Kanlaon Mountain) is indigenous land and we had a lot of debate to DENR and and Grade two pastor said to the Provincial District, "The Lord needs this lot for the house of prayer." The DENR officer said, "NO! It is not allowed, then suddenly he said, " Sige na nga".
This is now the lot (showing slides of the prayer site).
3 AM Watch
What is the last call in the Bible? One call, three callers is the "CALL OF THE BRIDE."
Rev. 22:17, "The Spirit and the Bride said COME and let him who hears says COME and whoever is thirst, let him COME and whosever wishes, let him take the free gift of the water of life."
"And the Spirit and the bride say, Come. And let him that heareth say, Come. And let him that is athirst come. And whosoever will, let him take the water of life freely. " (KJV)
God led me to Abraham in Genesis 24:1-2 about the mystery of maturity i.e. to produce the man-child and the woman who knew her identity will produce the son. Jesus cannot marry an immature bride.
Take note that He said, "That the season of the bride is the season of the war." And on Sept. 23, 2017 which is the dragon that make war with the woman.
(Peps: Atty. Cana may be referring to eclipse that took place on September 23, 2017 about equinox.
NASA explained that the movements of the stars and the planets have almost no impact on life on Earth, but a few times per year, the alignment of celestial bodies has a visible effect. One of these geometric events — the spring equinox — is just around the corner, and another major alignment — a total solar eclipse — will be visible.
"Biblical signs in the sky on September 23, 2017?" by Christopher M. Graney in Astronomy Essentials | Human World | September 23, 2017
writes, "A mirror in the sky to "signs" from the Bible's Book of Revelation? Possibly. But this same sky scene has been seen 4 other times in the past 1,000 years. "
Moses wrote in Genesis 1:17 that God designed celestial bodies as for "signs and seasons". And Joel 2:30 also mentioned "the wonders from heavens" as signs. Magi from the East followed the "star" to find the Messiah as prophesied from the Scriptures (Matthew 2:2) and Christ talked about celestial bodies as "signs of times" (Matthew 24:29-31).

Back to Atty. Cana
Today we see the attacks on the Bride through SOGIE Bill, same sex marriage, Marriage Dissolution, - these are insidious bills
There is a bill pending in SC to bring down the Family Code of the Constitution filed by the LGBT Christian Church.
The sons and daughters of God fought with the dragon against the Bride (showing the photos of the Evangelical Group who marched in the Senate last March 7, 2018 against SOGIE Bill).
Two "Women" of revelation" Photos of Alvarez and Ed V.
The destruction of the harlot and revelation of the bride (Rev. 19).
Brother Peps and Kuya Dan says that the SOGIE Bill is an attack to the Bride and the Church and indirect attack to the Lord.
Who is the bride but in Rev. 21:9-10? This is direct, specific, clear. The Church is like Miss Universe material woman.
Rev. 21:9-10 says "And there came unto me one of the seven angels which had the seven vials full of the seven last plagues, and talked with me, saying, Come hither, I will shew thee the bride, the Lamb's wife. 
And he carried me away in the spirit to a great and high mountain, and shewed me that great city, the holy Jerusalem, descending out of heaven from God."
My wife came from La Carlota City, and the place is named after a Spanish woman who loved the natives and renamed it, "the city of Carlota " (after her).
In the case of the Bride is called, "Holy City Jerusalem". Why would God do that? What is the message? This is the journey started from Psalm 2:8 and now and how can we make Philippines as inheritance from the Lord?
Look at Jerusalem and understand the ways of the lord with His Bride
Jerusalem is the center of the earth. It says in Ezekiel 5:5, "Thus saith the Lord GOD; This is Jerusalem: I have set it in the midst of the nations and countries that are round about her. "
Jerusalem 811 times mentioned in the Scriptures

Zion mentioned 152 times

Holy City mentioned 10 times

City of God mentioned twice

City of truth mentioned once

The city of great king mentioned once
Jesus find it above of all cities in the world. God looks at Jerusalem as a Groom looks at the Bride
Psalm 48:2, "Beautiful for situation, the joy of the whole earth, is mount Zion, on the sides of the north, the city of the great King. "

Psalm 137:5, "If I forget thee, O Jerusalem, let my right hand forget her cunning. "

Psalm 87:2, "The LORD loveth the gates of Zion more than all the dwellings of Jacob. "

Isaiah 62:7, "And give him no rest, till he establish, and till he make Jerusalem a praise in the earth. "
Significance of Jerusalem
4,000 years where Abraham blessed by Melchizedek. Moriah precursor of the Son (Gen. 14:18-19).

Tribe of Judah. Joshua 15:1,8

Temple Mount is where David established the kingdom of Israel ( 2 Sam. 5:4-9).

It was destroyed by Nebuchadnezzar 586 BC (yet Israel today still exist).(2 Kings 24:10; 14; 25:9-10).

Ezra, Jerubabbel, Nehemiah and Joshua rebuilt the city and the walls of Jerusalem

Attacked 52 times, recaptured 44 times, besieged 23 times

Most loved by the Lord yet most hated by the world.
Satan attacks the Bride
1. Deceive her. 1 Tim. 2;14
2. Dilute the bride. Isaiah 3
3. Destroy her. Zech. 12
4. Divide the bride. Joel 2;3
5. Distract her. 2 cor. 11:3
7. Divorce her. Jer. 33,
But God loves Jerusalem as mentioned in Psalm 68.
Yeshua's love on the City of Jerusalem
1. Shed his blood
2. Wept over Jerusalem
3. Where Jesus ascended into heaven
4. Where Jesus will be crowned as king
5. Where he reigns all over the world
The first man who stepped on the moon, Neil Armstrong said, "I am more excited on stepping on these stones than stepping on the moon."
Jerusalem is no place else (like other)
• Groom takes the bride to the fathers house
• Temple is called Father House.
• The house of prayer in Matt. 21:13.
Do they love the house of prayer but if they don't have the passion of house of prayer, where is the logic?
AD 70 Destruction of the Second times
202 of 613 mitzvot or commandments
Zech. 1:16, " I will return to Jerusalem with compassion and my house will be built on it..."
121 years ago. The World Zionist Organization or WZO, was founded as the Zionist Organization (ZO; 1897–1960) at the initiative of Theodor Herzl at the First World Zionist Congress, which took place in August 1897 in Basel, Switzerland. When it was founded, the goals of the Zionist movement were stated in a resolution that came of that Congress and came to be known as the "Basel Program."

1897 Theodor Herzl. Theodor Herzl, Hebrew name given at his brit milah Binyamin Ze'ev, also known in Hebrew as Chozeh HaMedinah was an Austro-Hungarian journalist, playwright, political activist, and writer who was the father of modern political Zionism. Herzl formed the Zionist Organization and promoted Jewish immigration to Palestine in an effort to form a Jewish state. Though he died before its establishment, he is known as the father of the State of Israel.

Balfaour Declaration. The Balfour Declaration was a public statement issued by the British government during World War I announcing support for the establishment of a "national home for the Jewish people" in Palestine, then an Ottoman region with a minority Jewish population (around 3–5% of the total). It read:
His Majesty's government view with favour the establishment in Palestine of a national home for the Jewish people, and will use their best endeavours to facilitate the achievement of this object, it being clearly understood that nothing shall be done which may prejudice the civil and religious rights of existing non-Jewish communities in Palestine, or the rights and political status enjoyed by Jews in any other country.
The declaration was contained in a letter dated 2 November 1917 from the United Kingdom's Foreign Secretary Arthur Balfour to Lord Rothschild, a leader of the British Jewish community, for transmission to the Zionist Federation of Great Britain and Ireland. The text of the declaration was published in the press on 9 November 1917.
1947 Resolution in UN. The United Nations Partition Plan for Palestine was a proposal by the United Nations, which recommended a partition of Mandatory Palestine at the end of the British Mandate. On 29 November 1947, the UN General Assembly adopted the Plan as Resolution 181

1948 became a state. (Peps: The rebirth of Israel begins the count-down of the end of the end of times)

June 7, 1967. Reunification of Jerusalem as the Old City of Jerusalem is captured by the Israel Defense Forces (IDF).
The Six-Day War also known as the June War, 1967 Arab–Israeli War, or Third Arab–Israeli War, was fought between June 5 and 10, 1967 by Israel and the neighboring states of Egypt (known at the time as the United Arab Republic), Jordan, and Syria.
1970 : Israeli-Palestinian conflict begin again

Dec 6, 2017 Trump declared Jerusalem as ancient capital of Israel. The global reaction were anger, disappointments both from allies and their enemies. Is it Trump guided by God's and probably to help Israel to rebuild the 3rd temple?
Horrific new development. The lost, "King Calendar" has just been released for the 3rd temple. March 18, 2018 "New Year of Kings"
The King's Calendar being used in the temple is horrific what is happening. A calendar is being released from invisible air and now it is in the temple mount. Exodus 12. The time is much getting shorter and shorter. Our time watching has moved form hundreds of years ....
(Peps: Is it the discovering of the ancient King's Calendar marks the rebuilding of the Third Temple by the anti-Christ, are we coming nearer to the Doomsday?
Research says that " Saturday will be the first day of the Hebrew month of Nissan, which according to the Bible is the first day of the year. This fact is only noted on the "King's Calendar," a new calendar specifically designed for use in the Third Temple."
Back to ATTY. CANA
Matthew 24:32-35 says, "Yes it says nobody knows the day nor hour but he also said whenever you see the signs and these things you know it is near at the door."
We are in the CRUCIAL FORK of the ROAD. 2017-2018 is when Jerusalem is celebrating the JUBILEE. This is 100 years since the Balfour Declaration in 5778.
The Lord said, "I will go back to the Father" the disciples were standing there until an angel of the Lord said to them, "Why are you standing in heaven... Jesus who ascended to heaven will return on the same manner." He left from Mt. Olives and he will returns back in Mt. Olives. Zechariah 14:4-5.
When he comes again He brings with Him His army, and he will enter the EAST GATE. The prince will enter by the way on the porch located in the east.
Church Pierce says, " This is the year of gate, seasons of war, season of harvest."
His intention is to return and to put his THRONE there. Daniel (:27; Matthew 24).
Watch Jerusalem and learn the battle for the Bride.
Jesus said "When I return I will return on the same manner I ascended to heaven." He will follow the same procedures as He set foot on Mt. Olive then passing at the east gate....
Slides Presentation:
Temple Mount

Mt. Olives

City of David

Kidron Valley

Mt. Scopus is one of the 3 peaks which includes Mt. Olives. Amazing Mt. Scopus is near "Mt. of Corruption."
Scopus: Har Har Tsofim, Mount of the watchmen/Sentinels, watchman or intercessors. Originally it is called the mountain of the intercessors. Mt. Scopus is the place of first watchman, who does not want to watch his brother but he killed him until he vanished in the land of Nod (scopus). Nod means "to be offended" i.e. wanderer. Nod means 'to be moved, to be agitated, to be offended" and later replaced by Roman name "Scopus" but now renamed "spectator" who only watches but he do not do anything. Why? Because he have been offended. That is the mountain of offense. That is dangerous to the Bride. Militarily they want to position there to have overview of the city. That is where the 12 Roman Legion camped in AD 66 and in AD 70 the destruction of the Temple.
Sadly today, many Christians are still standing on Mt. Scopus who are offended, we just watch, yet we jumped from one ministerial to another.
The other mountain is the Mt. Corruption, it is in the south. Har HaMashchit (II Kings 11:7-8) derives from idol worship, King Solomon built there altar of gods; offers to the gods of Moabites ad Ammonites (1 Kings 11:7). This is the mountain of compromising.
Near to the valley of Jehoshaphat (Valley of Decision). Joel 3:14. That is the Kidron Valley (Ezek. 10;18-19)
On the last days, be sure you STAND ON MT. OLIVES and not in the Mount of Scopus nor not in the Mount of Corruption.
Mt. Olives' significance:
Intimacy with the Father. Luke 22:39

Brokenness.

Revelation of Open portal acts 1;1-12

Place of royalty.2 Sam.

Place of weeping and intercession where Christ wept.

Glory of Shekinah. Without landing in Mt. Olives, no opening of east gate, nor the coming of the Bride (Psalm 24:7-8).
East Gate
1. Prince entry point (Ezek. 44:1-3)
2. Army of angels (Zech. 14:5)
3. Healing (Ezek. 47:12).
4. Glory of God ( Ezek. 43:2)
Who will open the east gate for the coming of the King? ( Ezek. 46:1-2). Somebody has to open the gate for the prince (Ezekiel. 40:45-46). Only the Holy Priest can open it. Isaiah 40 says, "Prepare the way for the Lord. "

During WW II, they looked for Normandy, France to land. Meanwhile in the Pacific, they looked for Lingayen Gulf to Land, then to Leyte (for the coming back of Gen. Douglas Mc Arthur).
The 42nd generation (that is our generation) is likened to the 42nd Regiment.

(Peps: 42nd Regiment: The 42nd Regiment was one of the first three Highland Regiments to fight in North America).
Mt. Olives: Significance
1. Waiting
2. Worship
3. Willingness
4. Weeping
East gate significance
1. Warring
Wings of fire can be found in Psalm 104:4, "Who maketh his angels spirits; his ministers a flaming fire."
Daniel Balais
2:55 PM
When Sadhu Selvaraj came here many years ago, there were 7 gates that was ordained all over the Philippines but God did not mention any place in Visayas. He said, Atty. Lyndon said to the Lord, "Do not let us be pass by."
But the Lord said that the revival will take place in the middle of the Philippines which is the Visayan Island. And from there Kanlaon came, the Kanlaon House of Prayer and they are now building the East Gate in Kanlaon.
For 5 years we are building relationship with the leaders. It is the work of the Holy Spirit and not me, not IFP, Bro. Ed is supposed to speak but excused himself for medical reasons. We need to pray for Bro. Eddie, he is the apostle in this nation also for Sis. Dory.
Let us welcome our Guest... She is the Chief Justice.... (applause, applause, applause)
Chief Justice Ma. Lourdes Sereno
No man can be established unless the Lord established.
Let us pray:
Oh Lord God, you searches our hearts, you know the corruption in our hearts but you give your Son as a light in us. Only thine be lifted up and no one else. We consecrate our lives and our nation so that we can start enjoying the freedom of worshipping You .. Thank you Lord Jesus. Lord check my hearts so I could only allow to speak to your people that may edify the Church
I thought I would talk briefly. I cannot overtalk to Atty.Lyndon though I have administrative authority over him as a chief justice. And my chief justice – my husband is here.
I thought I would be throwing myself to the mercy of God but I am contemplating two portions from the Bible
The first portion when David sinned for causing the counting of his people. 2 Samuel 24 – it says... and the Lord's anger kindled against Israel and He incited David against Israel. King David took a census to Israel and Judah. But Joab, the army captain said "No!." .
For 9 months and 20 days there is sin of unbelief on the part of David. By then the number of fighting men – 800,000 from Israel and another 500,000 from Judah, a total of 1.3 million fighting men.
In verse 10 "he was conscience –stricken".
2 Sam. 24:14 reads this way, "And David said unto Gad, I am in a great strait: let us fall now into the hand of the LORD; for his mercies are great: and let me not fall into the hand of man. "
I would like to prefer that our lives must be fall unto the hands of God rather than to fall unto the hands of men.
John 12:24-27, "Verily, verily, I say unto you, Except a corn of wheat fall into the ground and die, it abideth alone: but if it die, it bringeth forth much fruit. 25 He that loveth his life shall lose it; and he that hateth his life in this world shall keep it unto life eternal. 26  If any man serve me, let him follow me; and where I am, there shall also my servant be: if any man serve me, him will my Father honour. 27 Now is my soul troubled; and what shall I say? Father, save me from this hour: but for this cause came I unto this hour." 
My soul is also troubled to what will I say, Save me on this hour …
I came to the Lord and accepted the Lord for His redemptive plan for my life, at age 12. From that time on, I had been grumbling that this world rejects Jesus. I came from intellectual family. I topped from UP College of Law. Human uplifts human reasoning against spiritual reasoning. I said to my heart, "This world will pass, knowledge and understanding and honor and power but only your word will remain."
Let God to be true and all men a liar.
Me and my husband had a quiet life. My husband serves in the private sector. It was in God's plan that I was appointed in 2010 as Associate Justice, unknown by any political party, not closed to the president, not backed up by rich tycoon.
Now I found myself as Chief Justice. I knew anyone who upholds the word of God than word of God also promised trials and tribulations but He also promised to us victory if we are to became overcomers because He overcame the world.
Many people had a major backlash when I said to them that the Lord gave me the chief justice position.
When I wept on November 2017, they said, "The Chief justice is crying our first time we saw such a chief justice to weep," they said.
God can never be glorified unless we see justice in this county. It is not being established on the back of GNP, pesos or exchange rate. God is honored only when we pay close attention for His demand for truth, justice and righteousness.
In the Beatitudes, He said, "Seek you first His kingdom and his righteousness. And all these things shall be added unto you."
I believe, in my heart since we came to the Lord that only living in life with a complete trust to God when life only becomes meaningful.
God will fill you His joy in the midst of trials and tribulations and see His comfort and glory. And you will understand that in the end Christ will triumph.
That has been my devotion in my life since I took over in the Supreme Court Chief Justice. It is not easy, tayong Filipino mahilig makisama, kung di ka makisama, mag kakaroon ng kaaway. Sabi nila dapat Marunong kang sumunod sa tambol saan mo man eto naririnig mo...but di ko eto makaya....
Maraming nga akong makakapitan pero hihingi naman ng kapalit... ganito ang mangyayari sa iyo pag lagi kang nanjan sa iyong prinsipyo....
And position kong ito ay di naman sa akin kundi sa iyo lamang. Wala naming kahulugan ang kapangyarihan sa mundong eto kung di to magagamit sa ikakarangal ng Dios.
Pero di ko sinundan ang kanilang pangaral. Kundi sisirain daw ako sa publikong paninilbihan (kung di ako sasaywa sa tambol). Sabi ko, "Alisin mo na lahat Panginoon, huwag lamang Ikaw ."
This is a big privilige and for me and for my husband that we go through with this situation.
Di ayon sa talino ng tao kundi sa awa at kapangyarihan ng Dios. Kayang kaya ng Dios na lunasin ang problem ng ating bayan.
Nakita ko pagbabago ....
I saw the judges whenever I share them about Jesus when our lives will not live with the Lord Christ.
Do you know, when I walk in the universities and they cry for truth and the youth is thirsty to speak for truth, justice and righteousness.
My heart bleeds for the opportunity that God can give me for the change to speak His righteousness.
Biglang laya and Espiritu Santo ng ating bayan. Puede tayong mabuhay 100% with the Living God without compromise.
You cannot enjoy the company of the Lord and the company of scoffers. The ways of the Lord is the only way of living. No other redemption is needed in this nation. This is the time, as there is weeping , there is also a time of rejoicing.
Truth, justice, righteousness in the Lord be glorified.
3:15 PM
Daniel Balais
Can we call the husband of the SC Justice, Atty. Jong who is a very private person.
I don't know the Ch........
3:39 PM
Joe Sweet
We are talking about finding the way of God and the purpose of God. Jesus said, "I manifested Your name."
John 17:6, "I have manifested thy name unto the men which thou gavest me out of the world: thine they were, and thou gavest them me; and they have kept thy word. "
That is what Paul was doing. He was running a race that he may be able to conform himself with Christ.
It is said that we are "God's workmanships," Eph 2:10. Also in Psalm 139:16 it says "before we were born we are written in the book." The more we obey, the more God to talks to us. Serve the Lord and do the very, very best that you can to serve God.
D. J. S. Denocotton
Nearly everyday, God will bring him to heaven and he would see great people of God...
John Wesley would always be brought to heaven and there is a council there as he saw it.
Susan Wesley, a pastor's wife raised up John and Charles Wesley. They got 10 children. God told her, "Raise your kids to love me. And pray for the missionaries."
What should we do?
1. We give ourselves to the Lord
2. Do excellent or best to the Lord
3. Believe God has to talk to you. You have to ask and pray.
God will not withhold his Will from us. We need to hear fresh word and go to another level.
4:35 PM
SONNY LARGADO
I need your cooperation. You have been seating for so long. Thanks for the message of Pastor Joe Sweet.
I was reached out by a mom. My mom would always write down verses and put in my bag. And every now and she would write verses then putting them to where I could always read them.
Hear the Cry of Indochina.
Eight years ago, I was challenged how God raised up IFP in moulding the Philippines to become a sheep nation and how it influenced churches and government and nations.
In 1976 I was tasked to help a group of missionaries in Thailand. I did not realized not until I became a resident in Thailand and Indochina that became my neighboring countries that I was already married to the land when in 1975 they became under the communists. What we know is only the French Indochina – Laos, Vietnam, Cambodia,.
If you see Indochina, for example Sri Lanka have around 35 Million Buddhists and if you includes these countries – Myanmar, Vietnam, Laos, Cambodia, Thailand, Sri Lanka and Malaysia
Laos 7 million

Myanmar 57 Million

Thailand 70 M

Vietnam 96 M

Cambodia 16 M
Philippines have a part on these countries if you remember Philcag, when we sent our teachers there, we educated them and we buy from them now in term of rice.
(Peps: PHILCAG is Phil Civic Action Group that existed in 1960's with 172 personnel (HQ; heavy weapons platoon with 3 81mm mortars, 2 75mm recoilless rifles, and 2 3.5" rocket launcher s; and three rifle platoons (each including two MMG and one 3.5" rocket launcher). Philcag does not only serves as a peace-keeping force but also involved in civic-oriented causes like literacy program, foreign aids, infrastructure, etc to foreign countries on dire need).
Back to Largado
So we would like to regain these now. Learning from IFP, we are going back to the foundation. If you don't go to them with Good News, they would come to us with Bad News. If you won't go with them with John 3:16 they would come with us in M 16.
I asked Bishop Dan to help us establish a prayer- movement just like in the Philippines. So in November 2015, we invited IFP to be our main guest speakers. One Thai pastor caught the vision for Indochina.
We thought of the vision of Church Pierce that "Philippines is a seven-headed dragon slayer."
Women are God's agents in the last days or Deborrahs say Paul Yonggi Cho. We can be a dragon slayer. It will be done. It is just a matter of time. We are just following what God said.
Power Point Presentation: Indochina Royal Highway
Border Crossing Point
There is a highway from Yangoon – Mae Sot, Khon Kaen, Mukdahan Savannakhet – Dong Ha – Danang – Lao Bao... that is 2,000 km. It is inter-connected highway being used by the destructive elements like children trafficking, drug trafficking, women trafficking and Islamization from Iran. Before they have the plan to Islamize Cambodia. Now they put up a school in Thailand that teaches Islamization.
Political islamization

Educational islamization

Religion

Military
We prioritize this hi-way. We call it Indochina Royal Hi-way. Last year, we were in Mindanao and put up Filipino ....
In India,
One time I went to India to deliver 300,000 Indian Bibles. I saw Filipinos coming out from the Indian Embassy without securing their visas…
I know somebody from Thai Airways, a flight stewardess named "Teresa" so I called her name out loud inside the Indian Embassy and yelled, " Hey Teresa!" " One Indian national, an employee inside he embassy heard me yelling "Teresa," then he shouted, "You know Mother Theresa?" Amazed I nodded. He said, "Why don't you say so. So He gave me 3 days visa." From there, I delivered the Bibles.
We have a call for mission. We ought to love our neighbors.
Five S-Plan (Strategy)
Start when there is no ministry in those nations. If there is already
existing, we do not compete with others.
Strengthen them

Sustain them.

Synergize them

Serve them
John 11:33-35, "When Jesus therefore saw her weeping, and the Jews also weeping which came with her, he groaned in the spirit, and was troubled, 34 And said, Where have ye laid him? They said unto him, Lord, come and see. 35 Jesus wept." 
I am calling these Thai pastors and leaders so they could learn from us on how we put unity of the Body and how we can strengthen the prayer movement.... I promised them only to speak 7 minutes each...
Christ and Lazarus have affinity. So with I. I have affinity with Philippines and Indochina.
Intercessors are burden- bearers of God and silent friends of the people. That is how I define intercessors personally. We have come here for that reason. Jesus as intercessor – he saw, he felt, he wept. If we only see what Jesus SAW, then we will DO what Jesus DID.
Let us give time for our friends here to share. Five to seven minutes per country. When they speak later they would pray in Vietnamese, Khmer, Thai, etc then you listened to them, you feel them.
Dr. Piton, Chairman, Intercessors for Thailand

Pastor David, Laos. There is one that is quite related in the Philippines in Laos, the 1st hospital in Savannakhet is founded by a Filipino, then I was taught to learn English by a Filipino, and I was disciple by a Filipino...Do not forget us...

Pastor Paul. This is what started Cambodia of what it is now. We lost 2 million souls in 1979. You heard Khmer Rouge. 1990 we have open church from the government. Now more than 2,000 churches. My life is basically Dr. Douglas Mendoza from the Philippines, I was supposed to die in 1980, he treated me because he is a doctor and I was healed completely in 1985. He was so blessed that he went with the Lord last year already. 1997 coup I met another Filipino missionary, then God sent Sonny to reunite us to pray for Cambodia. I met also Mam Nora from Philippine Bible Society (PBS); Pastors Rushdie...

Pastor Barnabas, Vietnam. I was in Ethnos Asia and stayed there for two years when I escaped Vietnam. Singaporean said speak English la... heavenly father to give thanks to Bishop Dan and Sonny of Ethnos.. pastors in Vietnam before are being put into jail. We are not to carry bible very painful, we are too fearful. 1988 we decided to come together and pray. Suddenly.. God sent Sonny, Louie Valecia, Resty ... we will celebrate in 30 years... pastors are very busy cannot pray anymore... We attended Intercessors Seminar in Khoen Kaen, Thailand with Pastor Daniel our speaker. When you come to help us ...if you cannot come....
(picture2)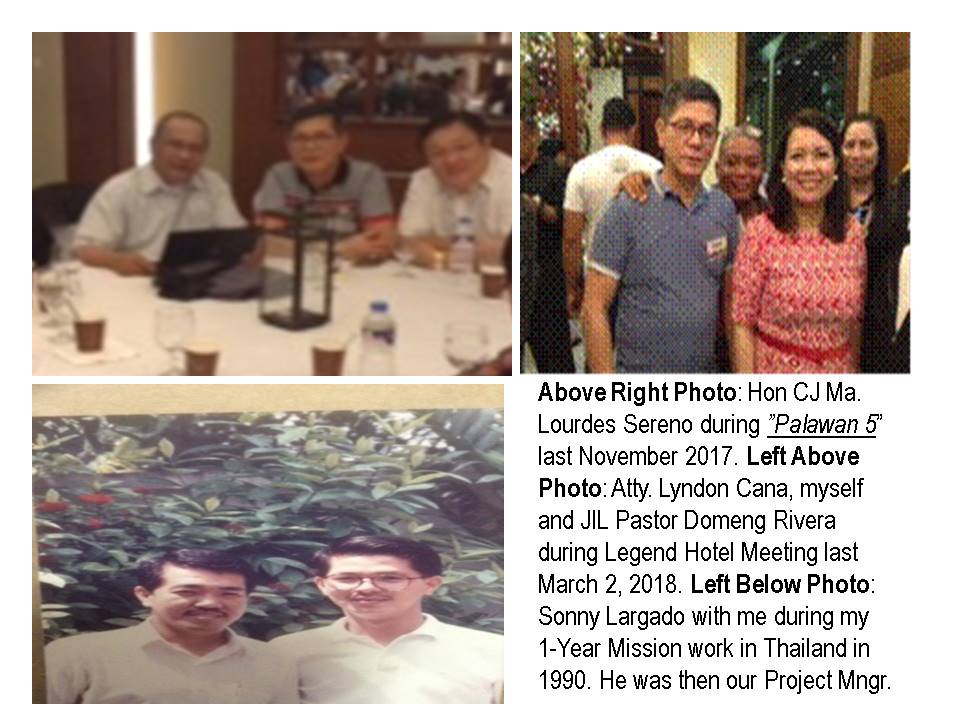 7:00 PM
Video Presentation : EDSA Wall of Lights 1
Next EDSA Wall of Lights Part 3: April 28, 2018
Daniel Balais
EDSA means Epifanio delos Santos means "Epiphany of the saints." We had a rally at the Senate last March 7, 2018 with around 35,000 people. We only need 24,000 people to bring people to stretch out the lengths of EDSA by April 28, 2018, "Hesus, Ilaw ng Pilipinas."
Consultation of the IFP Coordinators and Metro Manila Ministerial Presidents or Chairman tomorrow.
Bobby Connors
7:07 PM
You know visualization...well on that town there is a sort of sport show when you beat with an actual bear. Whoever beat a bear on the ground wins. So I took the bear then grabbed him closed to my chest....
My first experience with Jesus was when I was with my mom's womb. My mom was afflicted with STD in 1943, got two more siblings, my brother is crippled, my sister is healthy. The doctor said, "The baby inside will die just like his mother."
When I came, I am a fetus as big as my thumb (showing him thumb).
My mother decided to abort me but as I was about to be taken out, something like a force pulled me back inside my mom's womb (as my mother told me her story).
Jeremiah 1:4,5, " Then the word of the Lord came. Before I formed you in the womb I knew you."
My brother and sister and I have gone to public school, my mom house is 300 meters away. I said, "Whoahh..." then a wind from the tree spoke and said, "Bobby no... " That heavens rolled. That was in Texas. No one see the heavens. They don't believe in heavens. But you are. Blessed is thy eyes when they see and blessed is thy ear when you hear.
Matt. 13:16, 17, "But blessed are your eyes, for they see: and your ears, for they hear. 17  For verily I say unto you, That many prophets and righteous men have desired to see those things which ye see, and have not seen them; and to hear those things which ye hear, and have not heard them. "
We are privileged people to experience such revelations.
Rev. 4:1, "After this I looked, and, behold, a door was opened in heaven: and the first voice which I heard was as it were of a trumpet talking with me; which said, Come up hither, and I will shew thee things which must be hereafter. "
You might not be understand it because we will be translated.... Don't you know what the future holds? People are making millions in dollars because of people's paranoia in America. Distress, anxiety and worries are not the common diseases in America.
John 16:13, "But when the Spirit of truth comes will guide you into all truth..."
Nehemiah 9:20, "Thou gavest also thy good spirit to instruct them, and withheldest not thy manna from their mouth, and gavest them water for their thirst. "
Rev. 2:17, "Let them who have ears let them listened... I will cause them to eat the hidden manna and give them the white stone..." That is something hidden from us, the hidden manna. God has promised to us.
Proverbs 25:2, "It is the glory of God to conceal a thing, but the glory of kings is to search out a thing."
Got another note. They said I have lost my mind....God has secrets.
Deut. 29;29, "the secret belongs to the Lord but the things that are revealed belongs to us and to our children.'
1 Cor. 2:6... "We do impart higher wisdom the knowledge of the divine plan previously hidden..." Amplified.
1 Cor. 2:7, "the wisdom of God which was once hidden and now revealed to us by God which God devised and decreed before the ages for our glorification," Amplified.
Here we go, whatever Jesus has, we are co-owner.
Hebrews 1:1-3, " In many separate revelations.... in the last of these days He has spoken to us in the son, whom he appointed as herei and lawful owner of ALL THINGS, also by and also through ....the sole expression of God..." Amplified
In America, you can will your assets to your children. When you die, your children can go to the lawyers and check what they gave got.
We are sons of God... "Who do you think you are?" Satan ,might provoke you.
Psalm 92:10, "But my horns shalt thou exalt like the horn of an unicorn, I shall be anointed with fresh oil," KJV
Amplifed, "But my horn emblem of excessive strentg and stately grace. You have exalted like that of a wild ox, I am anointed with fresh oil."
The natural mind will not receive the things of the Spirit. The Holy Ghost is essential to us.
Phil. 4;13, Amp, talks about sufficiency, "O have strength for all things in Christ who empower me I am ready for anything and equal to anything through Him who infuses inner strengrh into me, i am self –sufficient in Christ's sufficiency."
You are not street-beggar. You were given authority. What is greater than His power but His authority?
Luke 10:19, "Behold i have given you authority and power to trample upon serpents and scorpions and physical and mental strength and ability over all the power that the enemy possesses and nothing in an way harm you."
John 10:10, KJV, "The thief cometh not, but for to steal, and to kill, and to destroy: I am come that they might have life, and that they might have it more abundantly. "
Daniel 11:32/ KJV, "And such as do wickedly against the covenant shall he corrupt by flatteries: but the people that do know their God shall be strong, and do exploits. "
1 John 4:4, "Ye are of God, little children, and have overcome them: because greater is he that is in you, than he that is in the world. "
I leave the devil alone and he will leave me alone. But resist the devil and he will flee from you.
Isaiah 61:1, "The Spirit of the Lord GOD is upon me; because the LORD hath anointed me to preach good tidings unto the meek; he hath sent me to bind up the brokenhearted, to proclaim liberty to the captives, and the opening of the prison to them that are bound; "
One time, I spoke in Russian Church. When things get blown out...then I saw a sword in a vision that sounds "Sheakkhhh. Sheakkk..." From there 400 people were delivered instantly from that church.
Psalm 24;3, 4 "Who shall ascend to the holy hill of the Lord, who shall stand in his holy place? He who has clean hand and a pure heart, who has not lifted his heart to an idol...."
2 Cor. 7:1, "Having therefore these promises, dearly beloved, let us cleanse ourselves from all filthiness of the flesh and spirit, perfecting holiness in the fear of God. "
We must cleanse ourselves says the above verse.
Jeremiah 17:9-10, "The heart is deceitful above all things, and desperately wicked: who can know it? I the LORD search the heart, I try the reins, even to give every man according to his ways, and according to the fruit of his doings.  "
Psalm 139:33 "Search me, O God, and know my heart: try me, and know my thoughts:"
Psalm 139: 24, Amplified, "And see if there is any wicked or hurtful way in me and lead me in the way everlasting," Amp.
Psalm 51:1, 2, "Have mercy upon me, O God, according to thy lovingkindness: according unto the multitude of thy tender mercies blot out my transgressions. Wash me throughly from mine iniquity, and cleanse me from my sin." 
1 John 1:9, "If we confess our sins, he is faithful and just to forgive us our sins, and to cleanse us from all unrighteousness. "
Isaiah 1:18, "Come now, and let us reason together, saith the LORD: though your sins be as scarlet, they shall be as white as snow; though they be red like crimson, they shall be as wool. "
God asked, "Bobby, do you know about your future? " I replied, "Yes I do."
Jeremiah 29:11, "For I know the thoughts that I think toward you, saith the LORD, thoughts of peace, and not of evil, to give you an expected end. "
I can't stand status quo. We can think what is right. I am thinking everything God has done...
Job 26:13-14, AMP, ""By His breath the heavens are cleared; His hand has pierced the [swiftly] fleeing serpent. "Yet these are just the fringes of His ways [mere samples of His power],The faintest whisper of His voice! Who can contemplate the thunder of His [full] mighty power?"



What you have seen or heard are just small portion of God.
Isaiah 40:3-5, Amp." A voice of one is calling out,"Clear the way for the Lord in the wilderness [remove the obstacles];Make straight and smooth in the desert a highway for our God.4 "Every valley shall be raised,And every mountain and hill be made low;And let the rough ground become a plain,And the rugged places a broad valley.5 "And the glory and majesty and splendor of the Lord will be revealed,And all humanity shall see it together;For the mouth of the Lord has spoken it." The government is in the desert. The voice of one in the wilderness, prepre the way of the Lord..."
I am pretty amazed of your unity that you have. We wanted smile of God to us. Who are you? God calls you and you are his jewels.
Jewels means is special acquired treasure. (Jeremiah 29:11)
Psalm 139:16-17, AMP, "Your eyes have seen my unformed substance; And in Your book were all written. The days that were appointed for me, when as yet there was not one of them [even taking shape]. 17 How precious also are Your thoughts to me, O God! How vast is the sum of them! Let His journey is our journey. .."How precious and how weighty also are your thoughts to me, O God! How cast is the sum of them"
Jeremiah 31:17,\/ AMP, "And there is hope for your future, says the Lord; your children shall come back to their own country," Amp.
Are you not glad that you are with Christ who is victorious?
Have you seen Jesus as RESULT of the Holocaust? Romans 8:37, "Yet in all these things we are more than conquerors and gain an overwhelming victory through Him who loved us [so much that He died for us]."
Psalm 23, "He prepares a table before your enemies." We need to be victorious. The key is thommmm.... C'mon, better change your opinions.
Psalm 16:11, AMP, "You will show me the path of life; In Your presence is fullness of joy; In Your right hand there are pleasures forevermore."
We are not victims, we are victors. This is a verse you always need:
Isaiah 50:4, AMP, "The Lord God has given Me [His [b]Servant] the tongue of disciples [as One who is taught],That I may know how to sustain the weary with a word.He awakens Me morning by morning,He awakens My ear to listen as a disciple [as One who is taught]."
That sickness runs in your family? No!
Colossians 1:13, "The Father hath delivered and drawn us to Himself out of the control and the dominion of darkness and has transferred us into the Kingdom of His Son.."
Phil. 1:6, Amp, "I am convinced and confident of this very thing, that He who has begun a good work in you will [continue to] perfect and complete it until the day of Christ Jesus [the time of His return]."
God is finisher. He is author. He is finisher.
Gen. 18:14, AMP, "Is anything too difficult or too wonderful for the [f]Lord? At the appointed time, when the season [for her delivery] comes, I will return to you and Sarah will have a son."
How to maintain that love level to God?
Psalm 15:1, AMP, "O Lord, who may lodge [as a guest] in Your tent?
Who may dwell [continually] on Your holy hill?"
The moment something negative that comes to your heart, reject it. Never give place to the devil.
Years ago before Billy Graham died, he has a magazine "Decision Magazine" that says, "How to handle temptation..." I could hardly wait it. Then 4 months later, some theologians, Ph. D, then another, a 9 year old little girl wrote to Billy Graham how she overcame the devil, this is what she said and wrote:
"When I hear the devil knocks on the doors, I just send Jesus to open the doors."
The much you can do is to make profound simplicity. Unless you come like a little child you can not enter the kingdom of God. We should be child-like, NOT childish.
Hebrews 10:35, AMP, "Do not, therefore, fling away your [fearless] confidence, for it has a glorious and great reward."
Psalm 30:5, AMP, "For His anger is but for a moment, [a]His favor is for a lifetime. Weeping may endure for a night, But a shout of joy comes in the morning."
Hebrews 13:20-21, "0 Now may the God of peace [the source of serenity and spiritual well-being] who brought up from the dead our Lord Jesus, the great Shepherd of the sheep, through the blood that sealed and ratified the eternal covenant, 21 equip you with every good thing to carry out His will and strengthen you [making you complete and perfect as you ought to be], accomplishing in us that which is pleasing in His sight, through Jesus Christ, to whom be the glory forever and ever. Amen."
What perfect means is "missing no component." The best thing that ever happened is when I give my life to Christ. Drug addiction, sexual perversion, old things have passed away...
Deut. 8:18, AMP, "But you shall remember [with profound respect] the Lord your God, for it is He who is giving you power to make wealth, that He may confirm His covenant which He swore (solemnly promised) to your fathers, as it is this day."
Deut. 32:13, AMP, ""He made him (Israel) ride on the high places of the earth, And he ate the produce of the field; And He made him suck honey from the rock, And [olive] oil from the flinty rock,"
Gen. 18:14, AMP, "Is anything too difficult or too wonderful for the [f]Lord? At the appointed time, when the season [for her delivery] comes, I will return to you and Sarah will have a son."
Job 42:1-2 2, AMP, " Job answered the Lord and said, "I know that You can do all things, And that no thought or purpose of Yours can be restrained."
Luke 1:37, AMP, "For with God nothing [is or ever] shall be impossible."
When we give up, He comes in.
Rev. 3:20, AMP, "Behold, I stand at the door [of the church] and continually knock. If anyone hears My voice and opens the door, I will come in and eat with him (restore him), and he with Me."
Lord I open my door so I could access on your door.
Zeph. 3:7, AMP, ""I said, 'Most certainly you will [reverently] fear Me; Accept correction.' So Jerusalem's dwelling will not be cut off. In accordance with all that I have appointed concerning her [punishment],
But they were eager [even rising early] to make all their deeds corrupt.
This gathering will never be the same. I would encourage you – if you have prophetic schools here – you've got to train."
I was sitting there in the hotel, when the Lord said, "REMIND THEM I AM RAISING KINGDOM COMPANY NOT BUILDING THE CHURCH BUT BUILDING THE KINGDOM FROM THE INVISIBLE TO VISIBLE..."
There is something special in you. I could not feel any snobbery. I feel kind of brotherly love. This is pretty unique. There is synergy. Love covers the multitude of sins.
The books are on the work table... I am giving these to the bishops - these books.... Shepherd's Rod, I will give them to the leaders...I said...Joe puts it in Ephesians. 2:10, "We are His workmanship...."
For 23 years, I have visitation from Jesus. This one in 2016, the Lord says, "In judgment, remember mercy." Don't you think America needs the mercy of God?
What judgment is America is under at? Isaiah 5:20, AMP, "Woe (judgment is coming) to those who call evil good, and good evil; Who substitute darkness for light and light for darkness; Who substitute bitter for sweet and sweet for bitter!"
Proverbs 28:1, AMP, "The wicked flee when no one pursues them,
But the righteous are as bold as a lion."
Daniel Balais
Let us have a closing prayer. Let us have Brother Sonny for the Benediction and Closing Prayer.
End of 29th NPG