The Press Conference
Details

Category: Teachings & Articles
Published: Tuesday, 13 March 2018 12:36
Hits: 3762
The Press Conference
Christian Coalition for Righteousness, Justice and Truth (CCTRJ)
Pinoy Pamilya Hotel, Harrison Road, Pasay City
March 7, 2018 (Wednesday): 10:00 A.M.
(picture1)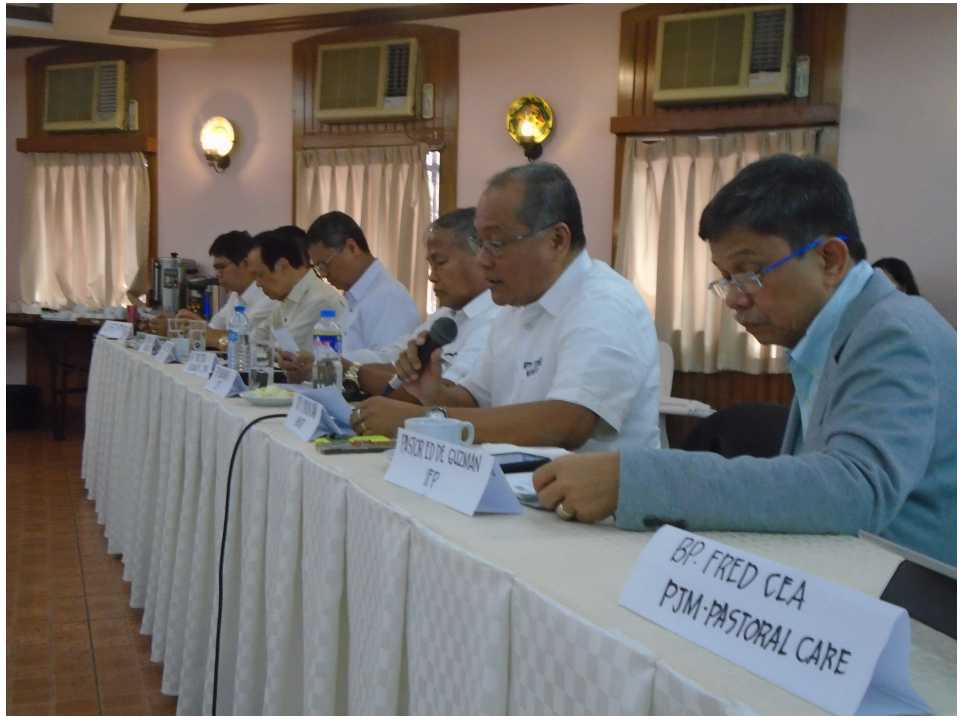 The press con of CCTRJ

Eddie Villanueva
We the Born Again Christians opposes all forms of discrimination. We oppose any human  pursuit that destroys marriage or man.  Marriage is God ordained plan.
We are supposed to oppose any form of discrimination. We are ought to love all human beings including our enemies. We cannot make treason to God.
Luis Pantoja, PCEC
We are as a Church must warned all people about all kinds of destruction.
We should not discriminate all sectors of society, including LGBT, but we should not also  discriminate the religious expressions and beliefs, which the lawmakers should must also consider.
We love LGBT. We do not condemn them, we do not express anger to them, but we also need to warn them of the possible destruction.
If this bill will become a law, this will not only destroy us but also destroy the nation.
Media man, Tracy Cabreira, Hataw
There is tendency of our lawmakers to railroad some laws. What if lawmakers will railroad this? What is your next move?

Atty. Lyndon Cana
Based on the discussion, we hope they will not railroad it. But they shoulld study other options as well, like making peaceful move and nothing violent on our stand. Perhaps we should gather and exercise our freedom of conscience. We will cross the bridge when we get there. We are watching closely.
Tracy, Hataw
Will they oppose the bill, the senate?
Daniel Balais, IFP
That is the reason we are now coming out because Congress had this 217/0 votes.  
Senate is historically makes balances. And they exercise their conscience.
That is why...we are here now coming to Senate. That is why we have this Wall f Lights in EDSA last December. Hopefully, we will talk to the Senate. We read that the Senate is 50/50.This pagkilos may epekto sa senado di tulad ng comgreso walang tumutol.
Ramon Orosa
Thanks Bishop Eddie to allowing me to speak.
What is the proper legislation? You cannot pass legislation which is not on the basis on science but based only on feelings. If this is not based on science and facts but only on this feelings?
Now we are introduce our law according to feelings? Legislation should not on the basis of feeling?  Otherwise we make everything libellous.  
This is the extreme weakness of law, not only against God this bill should not be passed at all.
When they voted for it, some oppositionists according or allegedly were outside the hall.
This is the daan ng maraming legislators na labag sa batas. What will be the Family Code says once they bills is already passed?  Same sex marriage is not on the basis of pregnancy.
Media man
What can you say on same sex marriage?
Ramon Orosa
SC must think ponder deeply and they would uphold the Family Code. They will tackle it seriously no matter how ridiculous it might be because they are the interpreter of the law. They are the decider of the law.
SC shall judge on laws where they stand. They are not authorized to legislate. Hopefully they would make the right judgment.
Atty. Lyndon
Our view is whatever pending case in SC shall rule on provision on the Family Code. They would decide on the basis of existing law.
Marriage is now being understood as between man and woman. Unless that is already  repelled. Marriage as currently defined between man and woman.
Bishop Oriel
One concern is not only the decision of the law but the consequences of the law.
LGBT proposes a law which is a worldwide movement. And they wanted to bring this agenda to the Philippines. It happens in Brazil, Canada and Europe, US.
One Filipina mom whose daughter was taken away by the government of Canada because  she wanted to become a man. That mom is crying now.
They have the same pattern worldwide. They make discrimination as an issue. Philippines is one na naka ligtas niyan and we are protecting that. Instead of sex education before now, same- sex education is being taught at schools in Colorado.
LGBT is mind-conditioning the whole world to adopt this values. Philippine values is greater compared to the values in USA and Canada.
This is not only Gerry or Geraldine. We should be aware here in the Philippines. Kawawa and mga bata. Kawawa ang magulang. This is not only discriminatory but it is actually a global agenda,
Hanga ako sa mga kapatid na eto kasi lumalaban sila.
Pastor Ed de Guzman
If we based legislation on feelings, what if I feel like making sex with kids, or I have the feeling to make sex with my siblings? Shall you make also legislations according to these basis?  This is happening now in other countries.
The basis of a nation is not by feeling but by truth.
Tiongco, Star
You based SOGIE Bill by destroying the Filipino values, family, and ma rectify ang identity niya on the basis ng feeling niya? .
Provision of the said bill, they should not be deprived to their basic services, like education, jobs.
Ramon Orosa
Legislation is not a matter of feeling or negotiation but it must be based on Science. What if you based legislations on feelings, and then ten years from now you changed your mindset, how would that be? If you are not being employed because you are gay or lesbian, then you can file the suit to the court?
Pastor Archie de Villa
This is not a hate campaign. .In John 3:16 God loves all people.  The reason we do this because we love the LGBT as well.  Think it over ( for the legislators) otherwise it will be more damaging to them.  Mahirap sumikat sa di matuwid. Saan tayo humuhugot ng batas kundi sa ...
Ramon Orosa
It is not absolute right that you can do whatever you wish. However you can make a lifestyle of your choice.  But you cannot deprive the rights of other people as well. . We have that provisions from the Constitution.... It (legislation) should not be made through emotional arguments.
Media
There is a separation of State and the Church. Ano masasabi sa mga taong walang religion?
Atty. Lyndon Cana
Identify conscience and religion? SOGIE does not only violates the freedom of religion but also the freedom of conscience.  SOGIE Bill protects one lifestyle yet discriminate other lifestyle. What if you discriminate the Church and the other faith- based system and then from them they would also file another bill against Sogie?
Eddie Villanueva
To simplify this is a movement and it is global, it is worldwide to eliminate virtues  against families, and societies. We wrestle not against flesh and blood….
Atty. Cana said this SOGIE Anti-Discrimination  had 200/ 0 votes. Imagine  these honourable members of the Congress who is discriminatory to the command of God.
It is stupid pag pumayag ka rito. This is unintentional rebellion against God. What is rebellion against God? This will destroy the nation.
Pastor Fred Cea
The reason why they want this SOGIE Bill is it is for their protection. But in this law, you cannot correct a wrong to another wrong. And this will goes on and on and the nation will be destroyed.
I have a school. We have tomboy and bakla as young from Grade I. One boy asked me, "Bishop, ano ako?"?
If you will do that (SOGIE Bill), then we will change our curriculum, change our gender, and we will change everything.
Tutol kami dito, hanggang kamatayan
Eddie Villanueva
Driving a car in London is left handed. They wanted all cars on the global scale to be left handed. Not only they would change left handed to right handed car but SOGIE Bill will change everything. This is ridiculous when you change a gender.  Mahal ko sila. They supported me before. But how can you legislate cardinal nature of God?
Media
National Election is coming, is there any connection with this SOGIE Bill?
Bishop Oriel
There are only 350,000 LGBT all over the Phillippindes compared to over 85% Catholics and 10% Evangelical Christians. To support them is a political suicide.
Why pastors? They are House of Representatives. That is our House. Bahay ko naming yan. Di puede din tayo di sisigaw. The House of Representatives is our House. The Senate is our House. Canada tahimik ang pastors doon. Dito sa House namin, sisigaw kami.
Ed de Guzman
You are supporter of Duterte. Duterte said before he said he is against same- sex marriage.nLately he changed his mind, now same sex marriage gusto niya na. 197/0 votes. What can you say this?
Bishop Oriel
We supported him. But lately we found out pabago bago pala siya.  resident Duterte ay talagang politician. 350,000 lang ang LGBT. If politics will support that, it is political suicide.  
On April 21 we will gather 200,000 people. We will rally our own group. We have before 165,000 pero walang presscon. This is a pro family gathering. I invite you there.
Makikinig na sila sa boses namin. We will let the Senate hear this. Masyado maingay ang LGBT. Pastors dito mag iingay na tayo. The House is our House.
(picture2)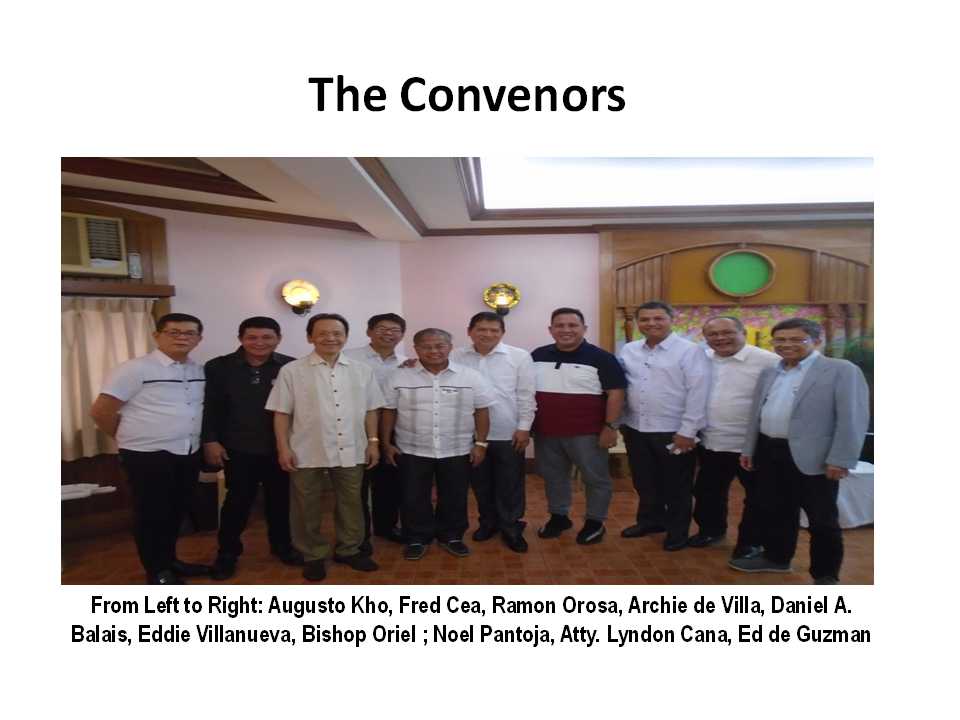 Eddie Villanueva
What is the consequences? . Not only family which is the foundation of our society  but it is also the foundation of the Philippines.  Otherwise we will be called the modern Sodom and Gomorrah.
Some expert-lawyers when they read the SOGIE Law, they said: "It is tricky, it is imported. You cannot pass anything like this like same sex marriage, this is already same sex marriage…"
Hataw
We will support the move, your move. Ramon Orosa explained it fully well. Any senator that supports SOGIE….. At the end of the day, bilang lang yan... Not validity alone, but numbers..
Noel Pantoja
There are some faithful believers in the Senate. They said they would protect religious freedom...
Atty. Lyndon Cana
We will assembly at 1:30 pm and we will talk to the senators to consider our position.
Eddie Villanueva
Once again, we are not fighting personally to others who happened to be a members of LGBT.
1:00 AM- Adjourned
We left Pinoy Pamilya Hotel at Harrison and proceeded at the Senate. Some marchers were already parked their vehicles near the vicinity of the Senate and many of them are already waiting at the Film Center Academy wearing white t- shirts bringing their placards of " NO TO SOGIE BILL."