The Tribunal
Details

Category: Teachings & Articles
Published: Tuesday, 13 March 2018 12:43
Hits: 3120
The Tribunal
By Augusto A. Kho
March 12, 2018 (Sunday); 9:00 A.M.
To sin by silence when they should protest makes cowards of men – Abraham Lincoln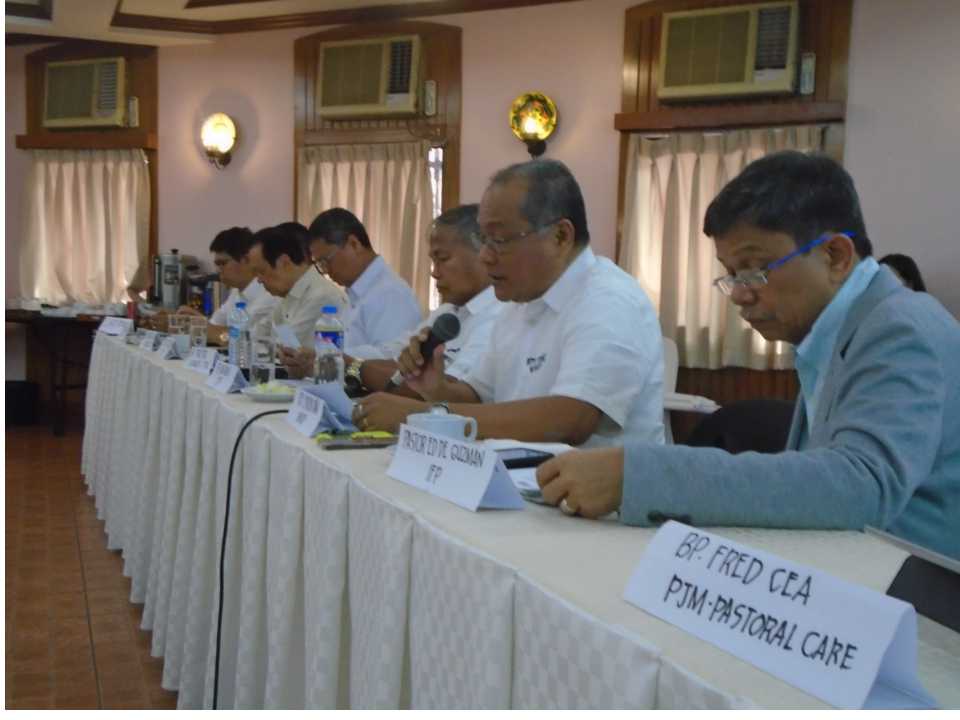 (picture1)
Press Conference of the Convenors of Christian Coalition on Righteousness, Justice &
Truth at Pinoy Pamilya Hotel in Harrison Road, Taft Avenue, Pasay City on March 7, 2017
The press conference
The "Press Conference" of Christian Coalition for Righteousness, Justice and Truth (CCTRJ) was held in Pinoy Pamilya Hotel, Harrison Road, Pasay City.
For over three (3) years, the Christians have never said a word about this dubious bill not until the Congress led by no less than the House Speaker Alvarez approved HB 4982, "Sexual Orientation and Gender Identity and Expression Equality Bill," with a vote of 198/0 last year. The bill penalizes and criminalizes anyone who "discriminates" LGBTQ.

Years of silence breeds a peaceful protest by holding a press conference followed by a march to the Senate to air the sentiments of the faithful to be heard. As Abraham Lincoln once said, "To sin by silence when they should protest makes cowards of men."
The convenors' statement
It is surprising that the statements made by the Convenors during the Press Conference were all the statements I made during my Privilege Speech against the "Anti-SOGIE Discrimination Act" or HB 4982 during the Committee Hearing at the Congress on September 9, 2014 (Visit www.clsfrosales.com and CLICK "Oral Arguments on Anti-SOGI Discrimination Act).


Have I given the power to legislate? (Matt. 16:18-19)? I remember that I was authorized officially by IFP Chairman Dan Balais to represent him at the Congress on that day. Remember that if someone who officially authorizes you to represent him, the latter's power is exactly as good when you stands in his behalf.
The same is true when a certain centurion explained to Christ his delegated power to anyone is as good as his (Matt. 8:1-10). And Ezekiel was formally directed by God to eat a scroll that enabled him the power to legislate ( Ezekiel 3:3, 27/NIV).
Convenor defined
Convenor as a noun is from Medieval Latin "convenire" means "to assemble." The Church as
ekklesia or "called-out ones" also means "an assembly." To assemble also means "to call,
convoke, muster, summon." As a verb, "to assemble" means "to come together in a body or
group for a meeting."
A "convenor " as intransitive verb means " to summon before a tribunal." A tribunal is a kind of
court that has an authority in a specific area; it is a court or forum of justice; something that
decides or determines public opinion.
In other words, a convenor is like a court or tribunal that has the power to summon a person or
people to hear a case for investigation and review and to proclaim a sentence for the offense
committed.
The press conference made last March 7, 2018 is like public forum to that the people should
know. It is rather a very courageous move to declare a court's stand on a certain issue or
case.
What is SOGIE Bill?
(picture2)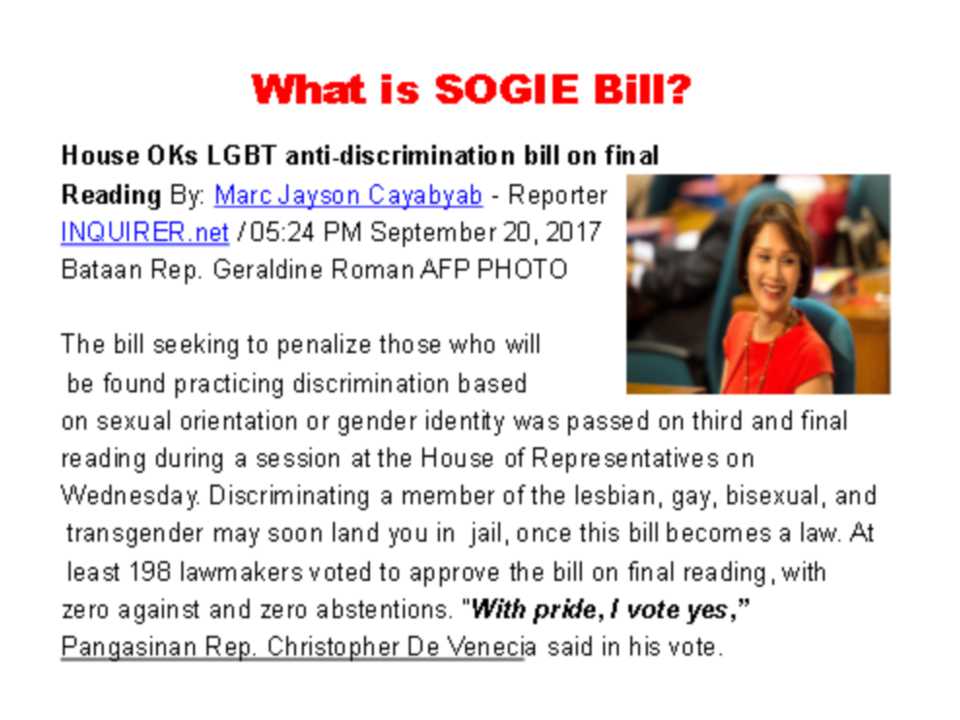 Nowhere in the world
Nowhere in the world perhaps that guilt will be meted to the innocent and it is a crime when you
do not accept someone's else lifestyle. "Only in the Philippines!" as they call it. No less than
Laguna Representative Sol Aragones, newscaster–turned-lawmaker who authored the
Anti-SOGIE Discrimination Act under HB 4982.
What the provisions claim that the lesbians, gays, bisexual and transgender (LGBT)are often
subject for hate-crimes and discrimination is itself is "discriminatory" to the majority of the
Filipino people. It is like super-bill that supersedes all existing laws in the Philippines. The bill
assails the Filipino Family, the sanctity of marriage, the bill of rights, the freedom of religion
and expression specifically and distort and perverts the Natural Law and Natural Science which
is utter disregard against Almighty God from whom our Philippine Constitution stand for.
Nowhere in the world that immorality and sin were enacted as lawful, legitimate and morally
right except this controversial bill that even the condemned cities of Sodom and Gomorrah
will not dare to do. Nowhere from the Scriptures that the city counsel of Sodom and Gomorrah
enacted the same bill as what our lawmakers did. Legislating sexual immorality as lawful and
legitimate will makes the Philippines a' "laughing stock of the whole world," if not in the council
of heaven. God forbids that He will allow the Philippines as the "world's centre of immoral
people."
It is rather disturbing, annoying and disappointing that our honourable Members of the Congress
Introduced such maliciously cunning and utterly deceitful bill which blatantly assails to the
Filipino people whom they have sworn to protect.
Silence is over. And there is a time to speak up (Ecclesiastes 3:7). Again Abraham Lincoln once said, "To sin by silence when they should protest makes cowards of men." The Church must rise up to reiterate that "the gates of hell shall not prevail against the Church."
International Tribunal
We had a very good legal discussion with one Justice in Quezon City last September 30, 2016.
When he asked me what was my legal opinion on the present "war on drugs" by the present
administration, I immediately answered him that if the death escalates and continue the case
maybe brought to the International Criminal Court (ICC) and the president might be charged
with "Crimes Against Humanity."
This Justice who is a very good friend of an incumbent Cabinet Member from Laoag said that he
and other Justices were discussing on the "war on drug issue as well and they affirmed that the
drug issue might be elevated to ICC. And true enough, latest news read:
(picture3)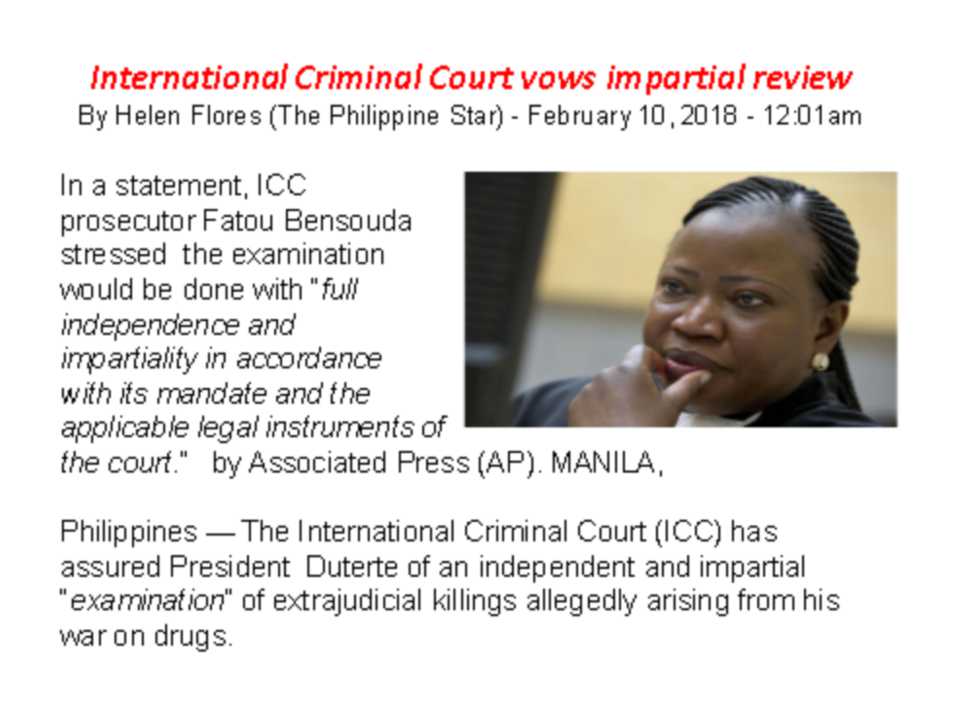 A divine tribunal
Jesus Christ did not only give His Church the power to legislate in Matthew 16:18-19; but He
given us a mandate to "judge angels" as well (1 Corinthians 6:3). That makes us a council of
judges like that of a tribunal.
Apostle Paul stressed the magnitude of divine mandate of God to the Church through Christ as
her Head ( Ephesians 1:20-23 ).
(picture4)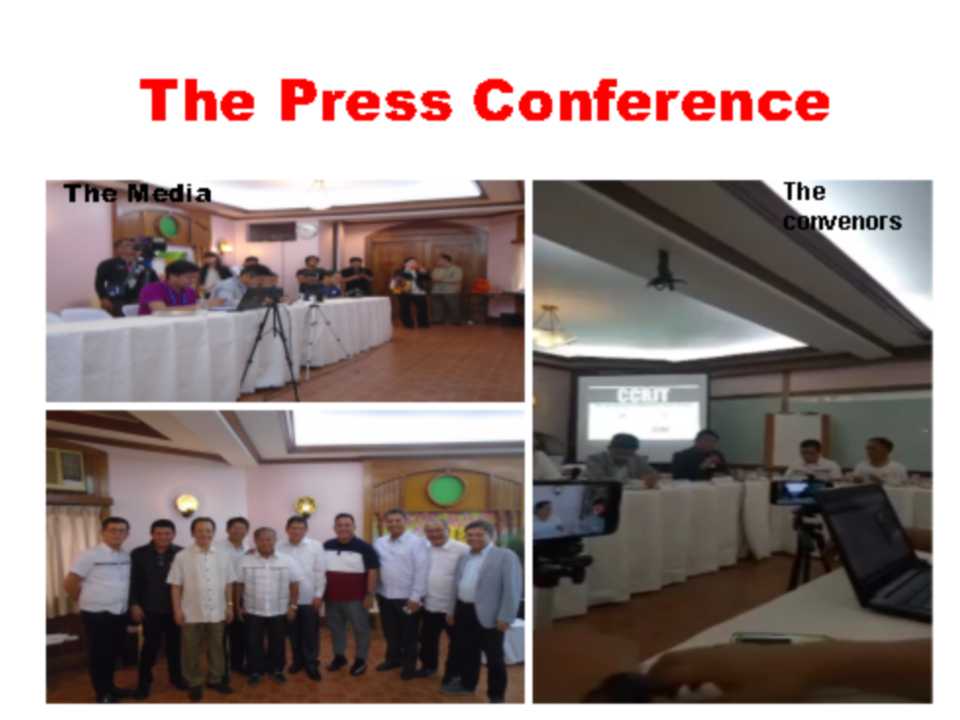 Heaven's Court
Even Satan made an appeal before the Court of Heaven to go against God's servant (Job
1:6-7). When a wicked legislation is being passed and approved by the Congress, can't we also
present ourselves before the Court of Appeal of Heaven to reconsider our case?
Don't we have an attorney out there who already sitting at the right hand of the Throne of the Judgment of God interceding for us (Romans 8:34)?
Human Court
Even Queen Esther mustered courage to face death if necessary against evil plan of mass
destruction by the virtue legislation (Esther 4:16). Body and soul can be judged (as Christ
warned us in Matthew 10:28). The human court however cannot legislate where our soul goes
by the time we die. Human provision of judgment is only limited to our physical body while
both our body and soul can be judged only by God.
Great executioner
God is a just God of righteousness, justice and truth. He is great executioner of judgment. Courts or tribunal, be on earth or in heavens are His.
Anyone can claim he is the "punisher?" And who is he to place himself before God as a great executioner?
Gain and Loss : 1 Cor. 3:13, "Every man's work shall be made manifest: for the day shall declare it, because it shall be revealed by fire; and the fire shall try every man's work of what sort it is. "

Judgments to the enemies. Exodus 6:6, "Wherefore say unto the children of Israel, I am the LORD, and I will bring you out from under the burdens of the Egyptians, and I will rid you out of their bondage, and I will redeem you with a stretched out arm, and with great judgments."

Executioner: Exodus 12:12, "I will execute judgment: I am the Lord." Judgment in Hebrew "shephet" is "a sentence."
Court or tribunal
Court or tribunal can be found elsewhere in the Scriptures. When we speak of God's kingdom, there must be throne. And throne speaks of pronouncements or judgments. While God divinely ordained human government according to His plan and purpose yet the wickedness of men can conspire against Him (Romans 13:1-6; Psalm 2).
Human courts or governments can also oppose God's divine order like conspiracies on the killing anointed people - Moses, Jesus, the apostles, St. Paul and others. Wickedness seem to be the one prevailing in our time, God's Throne still overcomes them at the end.
Act 18:17, " Then all the Greeks took Sosthenes, the chief ruler of the synagogue, and beat him before the judgment seat. And Gallio cared for none of those things. "
Paul before the Sanhedrin council (Acts 23:20)

Paul before Herod's judgment hall (Acts 23:35)

Paul stood before the Council and Felix (Acts 24:20, 25; 25:6-10)

Judgment Seat of Christ (2 Cor. 5:10)

Eternal Judgment (Heb. 6:2; 9:27; 10:27)

Judgment seats (James 2:6, 13)

Judgment in the house of God (1 Peter 4:17). Can judgment be made as well in the House of Representatives? Of course, yes.

Reservation for Judgment (2 Peter 2:4)

Day of judgment (2 Peter 2:9; 3:7; 1 John 4:17)

Judgment of the great day (Jude 1:6, 15).
The convenors spoke
JIL Founder Eddie Villanueva was the first one to spoke before the press con. He said, "We the Born Again Christians opposes all forms of discrimination. We oppose/any human pursuit that destroys marriage or man. Marriage is God ordained plan. We are supposed to oppose any form of discrimination. We are ought to love all human beings including our enemies. We cannot make treason to God."
Businessman Ramon Orosa said, "What is the proper legislation? You cannot pass legislation which is not on the basis on science but based only on feelings. If this is not based on science and facts but only on this feelings? Now we are introduce our law according to feelings? Legislation should not on the basis of feeling? Otherwise we make everything libellous."
Atty. Lyndon Cana gave his piece, "Our view is whatever pending case in SC shall rule on provision on the Family Code. They would decide on the basis of existing law. Marriage is now being understood as between man and woman. Unless that is already repelled. Marriage as currently defined between man and woman."
Pastor Ed de Guzman: Pastor Ed de Guzman, " If we based legislation on feelings, what if I feel like making sex with kids, or I have the feeling to make sex with my siblings? Shall you make also legislations according to these basis? This is happening now in other countries. The basis of a nation is not by feeling but by truth."
(picture5)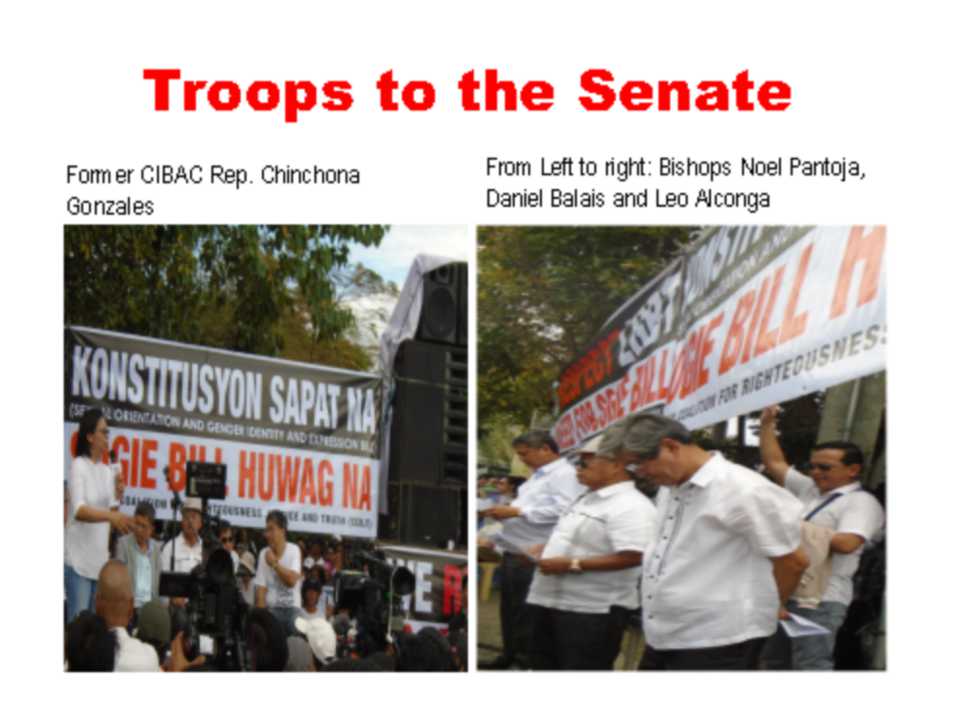 Jacob Spirit
When we left the stage rally and the Sergeant of Arms' and his escorts ushered us from the protest stage inside the hall of the Senate. But some non-conveners broke the line and sneaked in until the security personnel in the main door of the Senate sternly warned us that we were too many and we cannot be accommodated anymore. Ate Nona who is a board member of Intercessors for the Philippines (IFP) screened those who were coming in with the convenors.
These intruders can be also called gate-crashers but I call them with a term of Jacob's spirit.
Jacob means supplanter or heel holder according to Genesis 25:26. It is literally means "an assailant". In Filipino we call it, "salakay, mananalakay or tulisan." In Ilocano we call it "ag bibisin" or "aglalaing."
(picture6)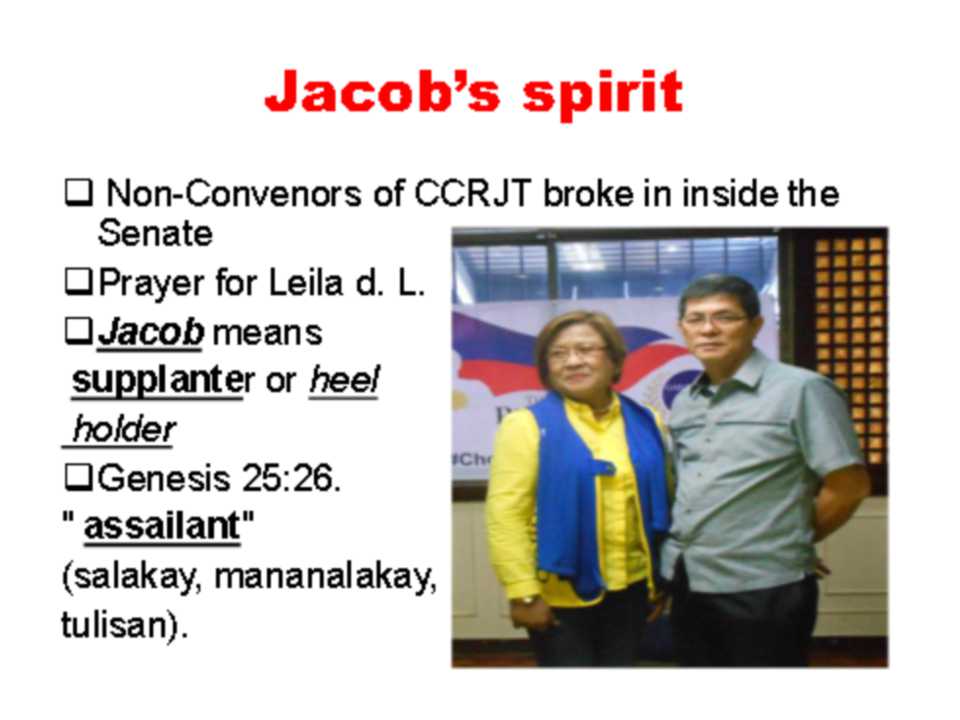 Few weeks prior to 2016 National Election, one Chairman tasked me to pray for Department of Justice Secretary Leila de Lima for her senatorial bid but this Metro-Manila based pastor swiftly came in front, laid hands on Leila de Lima and prayed for her. Would that be crossing one's boundary or usurpation of authority? Would that be like Jacob's spirit?
Jacob's spirit assails your birthright, inheritance or blessing. He is cunning, pretentious but very determined person. Jacob is a very assuming person. When the sailing is rough you cannot find them there. But when the sailing is smooth they suddenly appear.
Jacob spirit will get all his way out in. He steps on other shoes to take the front stage for recognition and prominence. It is like a messianic complex or Narcissistic-complex? This intruder is like an over-knowing likened to Diotrephes. "Diotrephes, who loves to be a leader, refused to have anything to do with us," as described by John the Beloved who later lamented in his apostolic letter (1 John 9/ NLT).
Peter at times displayed the same attitude as well that is when Jesus sharply rebuked him saying, "Get thee behind me, Satan: thou art an offence unto me," (Matthew 16:23).
(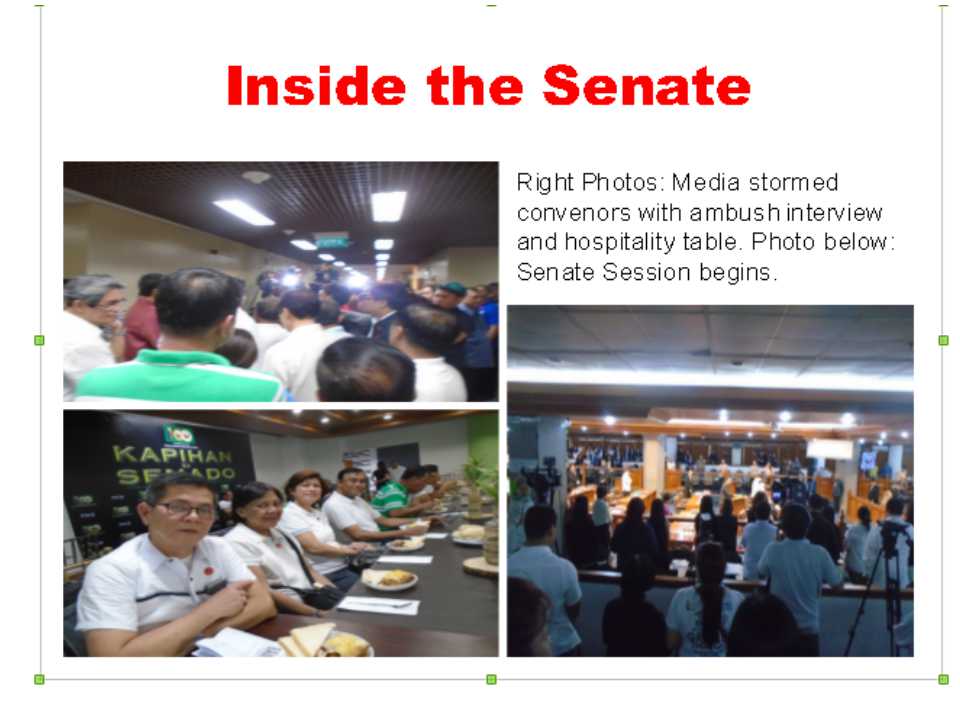 )
Church, the doorkeeper
The absolute power of legislation is not in the hands of the Government but in the hands of the intercessors & the Church (Mt. 16:18-19, Rev.1:18; Rev. 3:7). Whatever we bind on earth will be legislated in the heavenly. It is a God-mandated authority which only the Church has only the power to do so.
(picture8)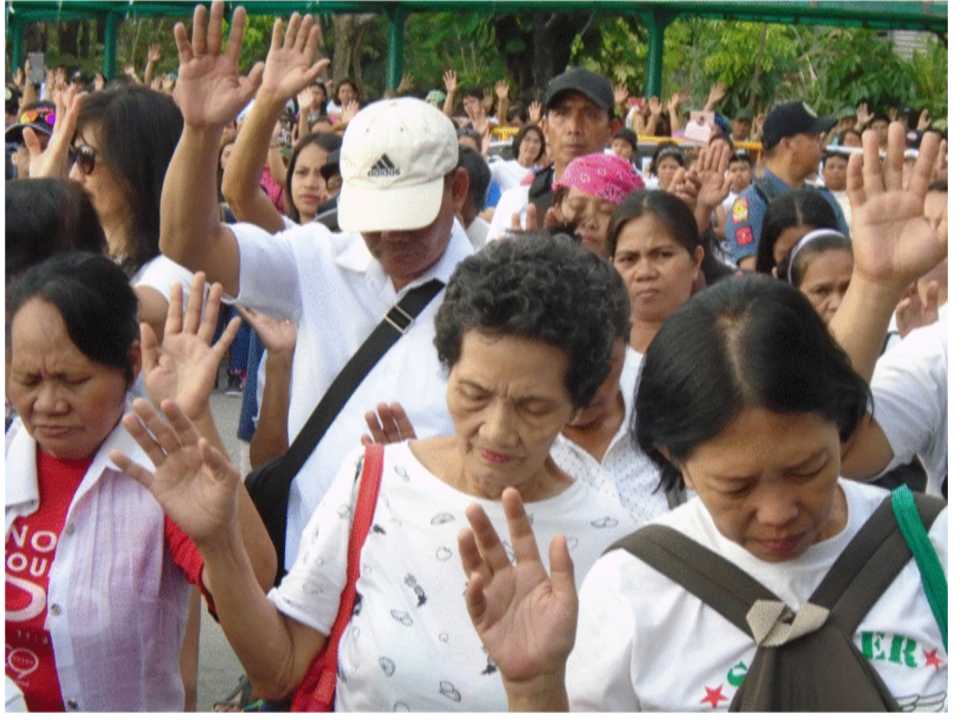 The Church regardless of their denominational colour stood on the same ground – prayer. The Christian marchers legislated their sentiments on prayer as the Convenors led them.
Every wicked legislation can be cancelled and declared null and void. It can also be reversed as a judgment to anyone who made such a decree just like what had happened to Haman (Esther 7:10; 8:8). Shall we reverse the legislation until it falls to the ones who authored it just like what had happened to Haman?

But the convenors said, we should love our enemies as well.
Just one man
Pastor Ed Ge Guzman sent me a text message from 9:58-10:33 am, the next days that reads: "Amen. I affirm your participation in Congress. Thanks for standing for the destiny, for God's glory and destiny for the Philippines and our generation. Your call is not bound for circumstances."
We must not be afraid of being a minority. God cannot be intimidated with the numbers. He has the numbers. They always say that in the Congress, it is a " game of numbers. " Imagine that Congress votes on SOGIE, "197/0?" No! God has the numbers.
When the servant of Elisha saw the chariots of the enemies have encompassed the city, he lost heart. Then Elijah did pray and said, "I pray thee, open his eyes that he may see. And the Lord opened the eyes of the young man and behold, the mountain was full of horses and chariots of fire round about Elisha," (2 King 6:15-17).
Our strength is not from the flesh but in the Spirit of God.
While the policemen gave a very conservative estimate of 10,000 marchers, Rappler, a media outfit however said it is around 35, 000 (which I estimated during my text blast informing the Church the developments of what had happened at the Senate on that day).
A single intercessor
Whenever Kuya Dan would officially sending me to attend to the Committee Hearing on this Bill, I would always ask, "Why me? There are around 100-Million Filipinos, why me?" Often, I would dread that I would be alone myself as Evangelical Christian inside the gallery of the Congress.
But even when you are alone, it matters. Even a single intercessor can make a big difference. Ezekiel 22:30, "And I sought for a man among them, that should make up the hedge, and stand in the gap before me for the land, that I should not destroy it: but I found none. "
Docile Church
At around 10:13 PM after our march at the Senate, the words, "Docile Church" came to me. The Church in Ephesus is called sleepy church or dead church by Paul (Eph. 5:14)
When the church is sleepy to the social issues that govern them, then the Church will fail. The affairs of the state doesn't belong to the government alone, the church alone has the absolute power to legislate them.
The scroll
Sis Diana in one of our 1st Monday Prayer Meeting of the month sometime from August or September, 2017 at Friends of Christ Center in YMCA, Dagupan City saw a vision that the Lord Jesus Christ and three angels were standing beside me at the pulpit. Diana said, "It's Jesus who gave you the scroll. It's colour yellow gold. Then Christ's right hand was on your left shoulder."
Yellow gold or "pure gold" (Hebrew zahab) is a kind of gold that the Lord has instructed to be laid upon the Ark of the Covenant inside out (Exodus 25:11). The yellow gold is also called "refined gold" which was used for the altar of incense of the Lord (1 Chronicles 28:18) or "fine gold" as used in the construction of the House of the Lord in Mt. Moriah during the time of Solomon (2 Chr. 3:5). The House of the Lord as a house of prayer of incense and His Covenant must be made of pure gold. Pure gold or zahab is a kind of precious metal whose character includes weight, brilliance, splendor as oil or as clear sky. It speaks of purity.
Psalm 12:6 says, "The words of the Lord are pure words as silver tried in a furnace of earth, purified even seven times." And "seventh" speaks of "perfection."
When God says a word or prophesy and given it to someone whom He have entrusted it, the word must be delivered or proclaimed as the way it is instructed. Nothing must be added and nothing must be substracted.
The Sowing
The sowing principle started 3 years of when I had my first privilege speech to "Anti-SOGI Discrimination Act" under House Bill (HB) 4982 at the Congress on August 9, 2014. Whether verbally or in my Position Paper, I would always invoked God's Words very discreetly.
The Hall of Congress is not a Church where you must be preachy like a pastor or minister. Pastors and Christians are called "ambassadors of Christ" so we must act as one as a foreign ambassador of heaven.
Many times that I witnessed how these lawmakers either mildly or sharply rebuked pastors and bishops inside the gallery during our deliberation of the bill. I was not yet rebuked so far. Nearly Cebu Representative Garcia succeeded but I swiftly hurled back to her a constitutional provision that shocked us all on that day. I have had fear like any other and I claim not as a superman.
Congressional invitations for the bill's hearing comes one after another. And for the past three years I kept on lobbying it to Kuya Dan to appeal to the other Bishops to act against the bill but nothing had been done all through those years. Not until of course the lower Congress approved the said bill with 197 / 0 votes last year that shaken the Church And enough was enough! The bishops roused from slumber.
When CCRJT marchers trooped the Senate yesterday, I am just wondering why only now after the past 3 years? Obed normally would go and attend the hearing in the congress? To be fair, Bible Mode and Lighthouse Baptist Church also consistently attend there.
Why only three years? Because the fullness of time which we call maturity or pleroo (Gree ) must come. Because every seed that is sown does not immediately grow. It must go through a process of time and development. Twice Pastor Peter Tanchi also attended but only for a while.
Why such a delay of response from the Bishops? The answer is in James 1:15/ New International Version (NIV). It says there that only the "full grown … gives birth."
Only when a seed is sown that it go through the process of growth and development. It is only when it a plant or a fruit-bearing tree is mature that you can see it's fruits. "By their fruits, ye shall know them," as Jesus has warned (Matthew 7:20). But if you have sown none TODAY, nothing bears ANY FRUIT in the future. The fruit of the future depends on what you have sown today (literal or figurative). If you never planted today, you can't expect any harvest in the future.
The Word of God is a good seed that is worth –keeping. And this seed is always worth-sowing. However there are seed are worth – throwing ((Matthew 13:25).
The SOGIE bill has gone through maturity all these years. I believe it is already a 17-year-bill by now and the wickedness of this bill has gone too far that it reaches the heavens just like the tower of Babel that God confounded their language to deter their demonic plan. The word "Babel" in Hebrew means "to confuse (by mixing) in Genesis. 11:9. " This could be the reason why LGBT now adds another letter "Q" which now reads LGBTQ. Queer in Webster means "questionable?" That sounds "confuse" just like that of Babel in the Bible.

Queer also means "differing from what is usual or normal; worthless, counterfeit, suspicious, disparaging, ill, sick." LGBT technically is a self-inflicting self-discrimination when you left your natural state to something "unusual". Romans 1:26b says, "did change the natural use into that which is against nature."
I believe that the Church trooping down to the Senate last March 7, 2018 are the very words of God sown in the Hall of Congress three years ago. And the harvest is just about to begin.
And a TRIBUNAL has the power to write how a story begins and how it ends. And it depends entirely from the Great AUTHOR and FINISHER of OUR FAITH, no less than the Lord Jesus Christ (Hebrews 12:2).
(picture9)