"Stand Still"
Details

Category: Teachings & Articles
Published: Tuesday, 18 September 2018 22:40
Hits: 2311
"Stand Still"
Formerly entitled "Be still"
By Augusto A Kho
Mc Donalds – Carmen, Rosales, Pangasina
September 15, 2018; 12:15 pm ; Typhoon Ompong
The quieter you become, the more you are be able hear – Rumi.
(picture1)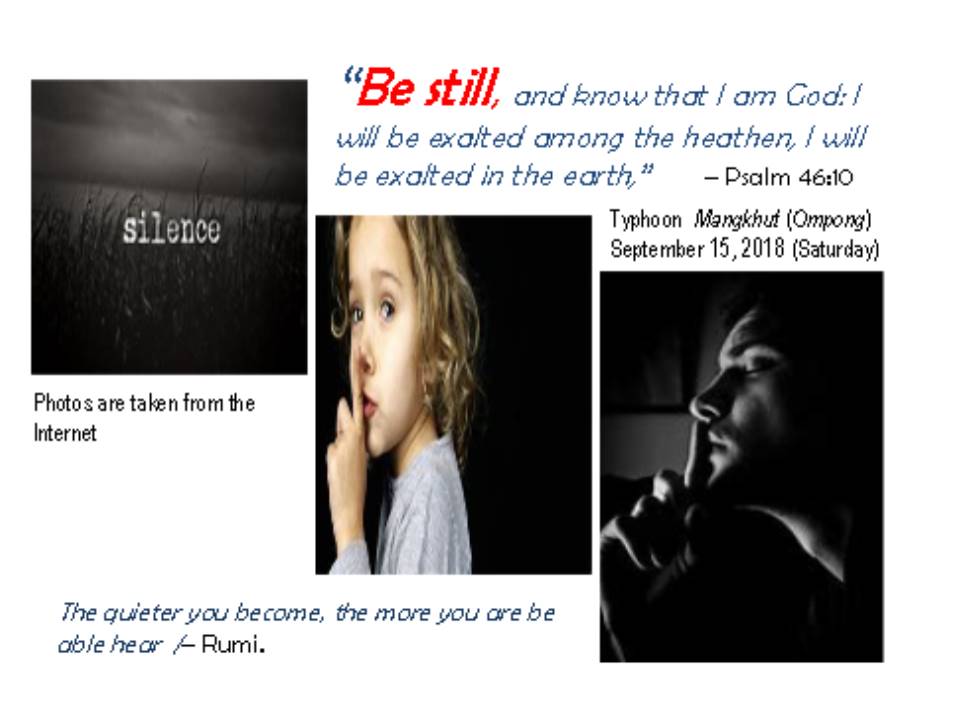 There are times that in your moment of silence when you hear Him (the Lord God) loud and clear.
The Sypnopsis
While on my way to Manila that Friday, 14th of September, I directed David our staff to have the article "Bluewater" to be posted in our website.
Bluewater refers to the lacks of clarity of SB 1271 or "Anti-Discrimination Bill" authored by Sen. Riza Hontiveros which I opposed and submitted in my Position Paper dated August 28, 2018. Bluewater also refers to the wrath of Nature which is being authored by God against men's wickedness.
While on closing prayer at 11:30am, the next day, Friday, the Lord words came saying, "Praise God for the winds, Praise God for the rain, praise God for the storms".
In the same day, as I was dining in alone in Mc Donald's Carmen, the place is like a ghost town nearly devoid of human activity as if it is a forced Sabbath Day, the words came in saying, "Be still and know that I am God," (Psalm 46:10).
Until I was informed by the Honorable Mayor of Tayug, Atty. Tyrone Agabas that San Roque Dam will be releasing 5,000 cubic meters of waters per second and opening all its six gates due to the floodwaters caused by typhoon Ompong. The huge floodwaters may be a repeat of the devastating deluge of typhoon Pepeng that submerged 36 towns in Pangasinan alone in 2009.
(picture2)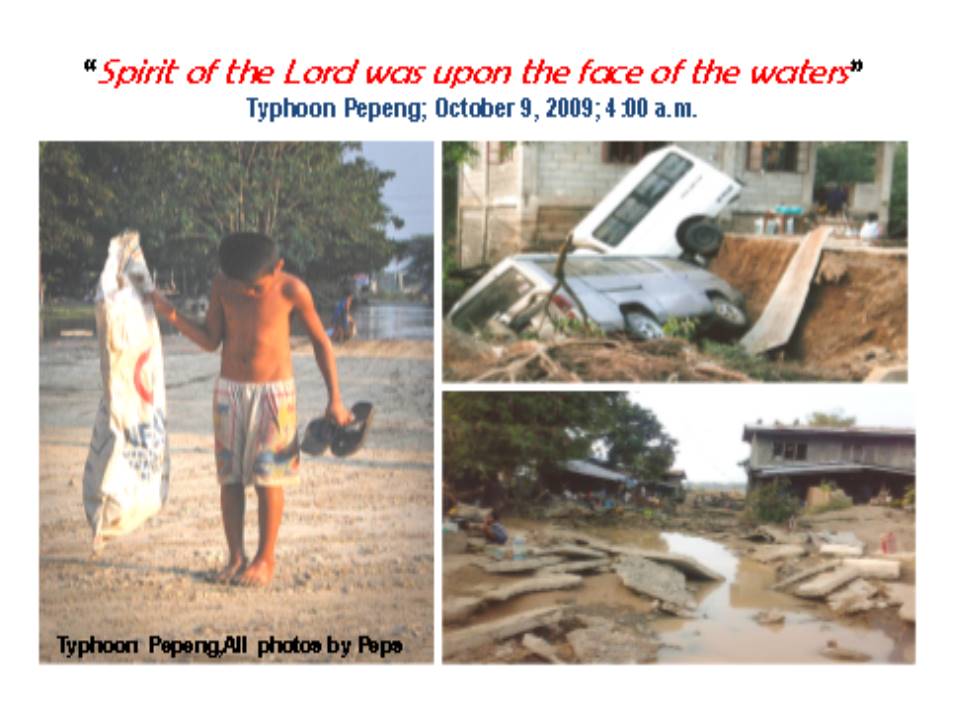 Hours later, forced evacuation was made in some areas as far as the town of Villasis. But I heard these words over and over again saying, "Ye shall walk on a dry ground."
Bluewater
On September 14, 2018 (Friday), I asked David our staff to post my new article at our website in www.clsfrosales.com. The article is entitled "Blue-water" which inspired me to write in connection with Senate version of SOGIE Bill.
Senate Bill (SB) 1271 also known as "Anti-Discrimination Bill" where Sexual Orientation and Gender Identity and Expressions (SOGIE) lacks clarity and transparency like a deepwater. SOGIE proponents refers to on a certain people- group i.e. the lesbians, gay, bisexuals, transgenders, intra-sex and queers (LGBTIQ). In other words, in the provisions of this bill contained laws that are pro-SOGIE that undermine the 1987 Philippine Constituion. LGBTIQ under the Bill of Rights in Article III, Section 1 has the same equal "rights for life, liberty and property" that knows no distinction to sex or gender, age, religion, and others.
In my Head Letter dated August 28, 2018 with enclosed Position Paper that I submitted to the President and Memberof the Senate, s I wrote that the Bill is "cunning and deceptive." I argue that bill or law must be transparent as clear as a blue-water and not vague and it must adhere to the Constitution.
Typhoon Ompong
Typhoon Mangkhut with a local name, "Ompong" has already entered the PAR (Philippine area of responsibility). The typhoon had its landfall on early morning of September 15, 2018 (Saturday) somewhere in Cagayan Province. Despite of imminent threats of the coming super-typhoon with gushing wind up to 255 km per hour, our Pastoral Meeting Association of Rosales Ministries (ARM) was not been cancelled. Establishments especially from the academe - work and classes have been cancelled or suspended both in private and public sectors.
(picture3)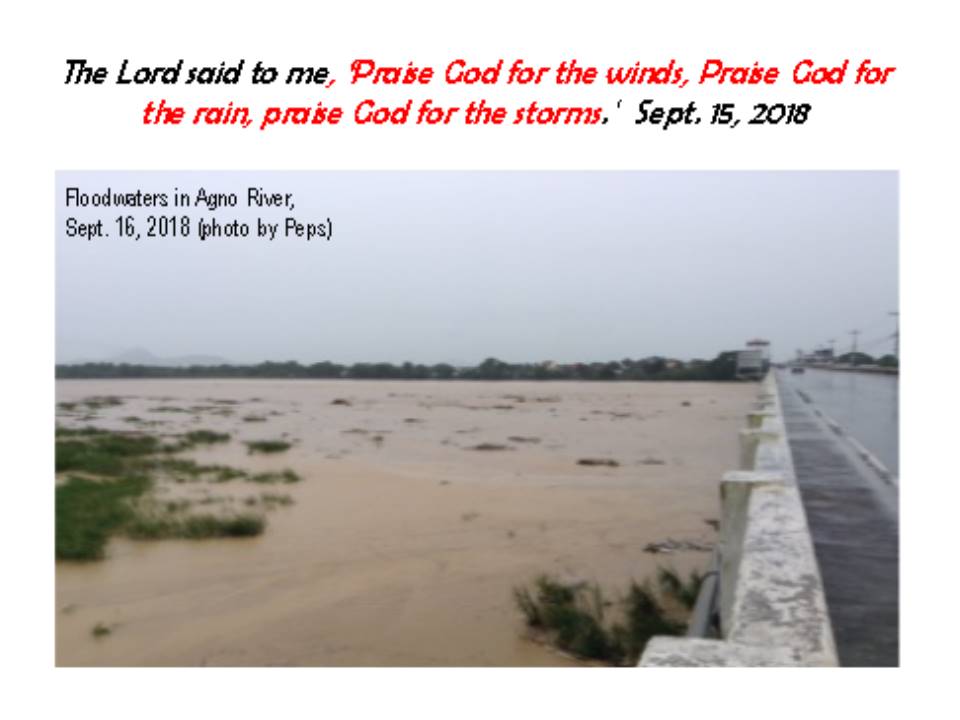 God of the storms
While Pastora Caridad Puzon is leading us in Closing Prayer at around 11:00 a.m. I heard the Lord saying, "Praise God for the winds, Praise God for the rain, praise God for the storms. " So I started praising Him. Whether I am awake or asleep, I saw flashes of fires kissing the grassy fields. It is like a hailstorms pouring out from heavens. Even Paul when he saw vision does know in what state he saw God's grandeur and power (2 Corinthians 12:3). Flashes of fire and thunder speaks of God's presence or power (Exodus 9:23).

When I left the church building where we had our meeting, the road is nearly emptied. Due to typhoon Ompong almost everybody are indoors. There's a profound silence all around. Pastor Vic Disono said that even SM-Rosales have shut down their business for a while. I also saw myself CSI, the largest grocery story in the town proper is also closed on that day, including the 2nd one largest grocery store.
(picture4)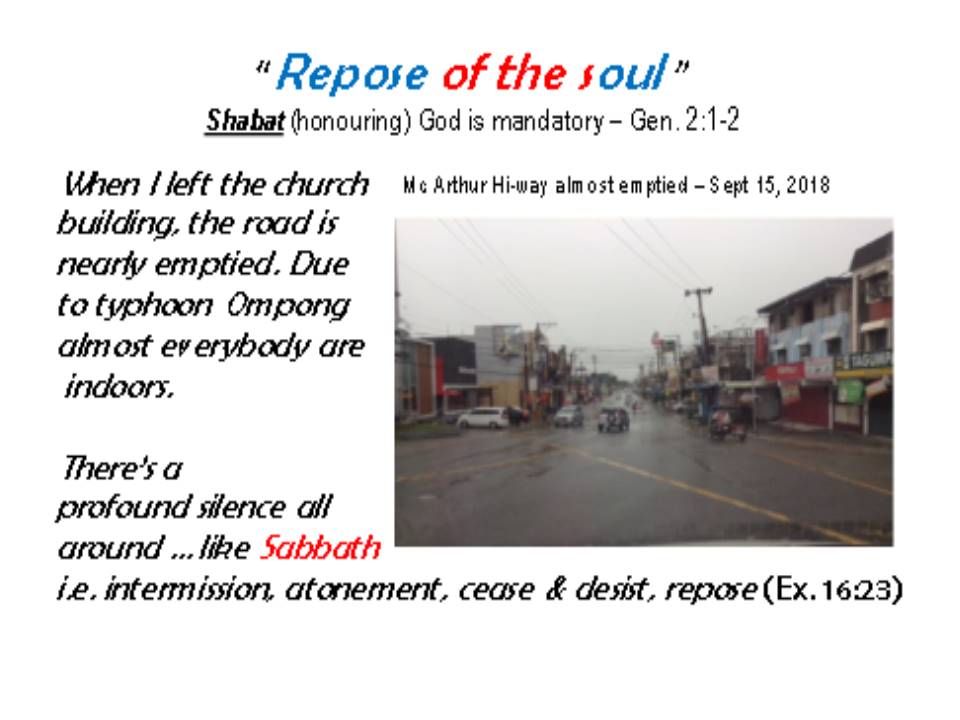 There were still people and vehicles on the street while the storm is pounding and smashing almost everything everywhere yet you can number them that makes the streets generally bare and empty.
Light materials are smashing my windshield as well with the pouring rain and I can hear the howling gushes of wind outside my car.
Be still
I stopped at Mc Donalds along the main road of Mac Arthur Hiway perhaps the only one among the very few establishments that are open on the day and I parked my car. Surprisingly, I was the only customer inside with at least 4 dining hall crews.

After taking my order, I sat on a place where I could see the road through the walled-glass. And barely few people and moving vehicles are passing by. I saw the rain drops falling on the glass and from there I have gone reminishing in the old, golden days when there is no gadgets, cellphones, FB or Twitter when humans are closer to God and Nature more than men's modern inventions that steals their hearts from their Maker.
(picture5)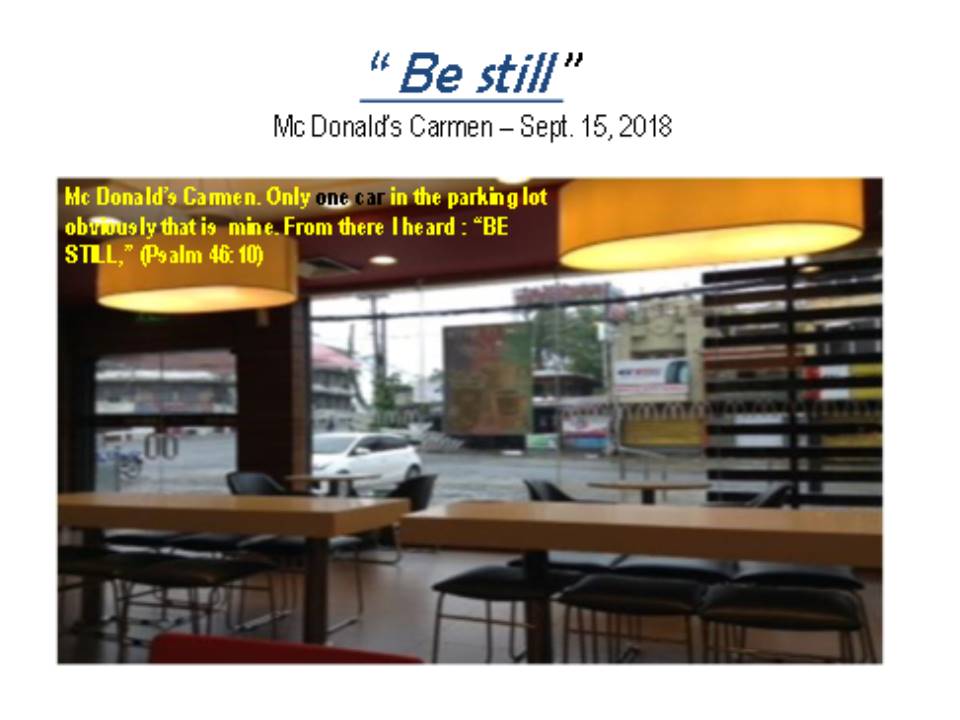 From there and then that God revealed to me that when He causes nature wrath against men, almost everything will go on still followed by an eerie silence that only the whispering noise of nature can be heard. There it reminded me strong this word:
"Be still, and know that I am God: I will be exalted among the heathen, I will be exalted in the earth," - Psalm 46:10
Still according to Webster means "not moving" or "lacking in motion or activity." Still also means "calm, peaceful, tranquil, quiet, serene, tranquil," according to Webster. And true enough, typhoon Ompong made a mandatory rest on the day it touches down the Philippines' soil shutting down many businesses and establishments It is a Day of Rest.
Sabbath Day
The onslaught of typhoon Ompong almost caused everyone and everything to standstill that even hungriest profit-oriented establishment is forced to shut down.
The assaulting typhoon is like a mandatory Sabbath Day which exactly commerates the Lord's Feast among the Hebrews in His hometown Jerusalem. Sabbath is being commemorated starting from the he sundown of Friday until the sunset of the next day which is Saturday.
(picture6)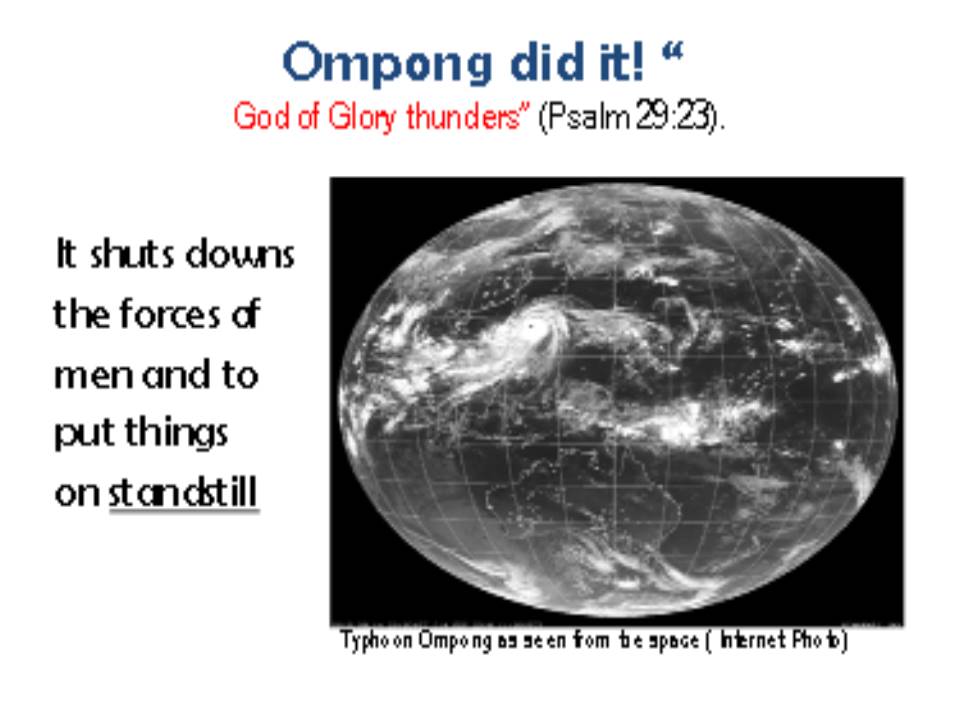 And Typhoon Ompong exactly came on a Sabbath i.e. from Friday- Saturday that shut down a large partr in the Northern Philippines. The typhoon is like a mandatory or forced Sabbath Celebration resulting to force evacuation in many provinces while Ompong find its way to its expected path.
The feasts
If men and mortals cannot rembember Him on a mandatory Sabbath, God could just send His indignation through natural calamities like typhoons, hurricanes, earthquake and any other natural calamity. He did that to Egypt when He has shown His power to a stiff-necked king, Pharoah. When the Israelietes left Egypt to the Promised Land, they were instructed to observe Sabbath as a memorial contained in the Feast of Passover (Exodus 16:23; Exodus 12:11).
Passover is an "appointed ordinance." Ordinance is a law or decree (Exodus 12:43). An ordinance therefore is mandatory and not optional.
Appointed time
Feast is also called in Hebrew "mo'ed" i.e. appointed place or time, a sacred season, a solemn assembly (Leviticus 23:2,4).
Even Christ observed the feasts (Matthew 26:26-27).
"And on the seventh day God ended his work which he had made; and he rested on the seventh day from all his work which he had made," – Genesis 2:2
The word "rested" from Hebrew "shabath" means "repose, rest, still." It is called Day of Atonement i.e. shabbathon.
Jesus Christ is the Lord of the Sabbath (Luke 6:5) while the Greek god of wealth, Pluto undermines this divine Feast of the Lord.
Jesus, a rest of your soul
Only when man is resting with God that he can find genuine tranquillity of mind, reposed soul and rested body. Jesus Christ offers a rest of our souls when He said, "Come unto me, all ye that labour and are heavy laden, and I will give you rest," (Matthew 11:28-30 ). He said that His yoke is easy and His burden is light.
Why bear a heavy cross when Christ just completed that 2,000 years ago? Jesus can give you a rest of your moribund soul. The Greek word "rest" in "anapauo" means "repose, refresh, and rest."
God wants that we are rested bodily, morally and spiritually that is why it says in 1 Thessalonians 5:23, "And the very God of peace sanctify you wholly; and I pray God your whole spirit and soul and body be preserved blameless unto the coming of our Lord Jesus Christ."
While other have billions of money, the question is whether their souls are rested with God and with a clear conscience whether these wealth that they possess can assure them of a tranquil life in this time and after time?
Wrath of Nature
While typhoon Ompong's battling winds shakes the Philippines, Huriccane Florence has shown it force in the East Coast of United States of America that also brought devastation to human lives and properties.
Men do not fear God anyway so He may as well show His force on nature. We believe more on humanism, aren't we? Men believe on Global Warning more than God so He may as well reinforce His wrath on nature. Shall we observe Sabbath the hard way or the easier way?
"17 For therein is the righteousness of God revealed from faith to faith: as it is written, The just shall live by faith. 18 For the wrath of God is revealed from heaven against all ungodliness and unrighteousness of men, who hold the truth in unrighteousness; 19 Because that which may be known of God is manifest in them; for God hath shewed it unto them. 20 For the invisible things of him from the creation of the world are clearly seen, being understood by the things that are made, even his eternal power and Godhead; so that they are without excuse," – Romans 1:17-20
Men are without excuse if they don't believe God. The heaven, the world or creation referring to the cosmos or astronomy, the Lord's glory and power has been revealed through them. So we may as well not keep on glorifying the Global Climate.
The climate change is merely a result of man's unfaitfunless in term of stewardship to this vast creation of God. It is man-made foreseen disasters, a consequence of man's sin that God allows (permissible will of God). Afterall, it was God who ordained man to be the overall overseer and supervisor of the Planet Earth (Genesis 1:26).
As the movie put it this way, "With great power, comes great responsibility," from the Movie entitled, Spiderman.
Sabbath is Shabbath meaning pause, silence, rest, interval and intermission. Ompong did it! It shuts downs the forces of men and put things on hold and to appreciate the storms where the "God of Glory Thunders," (Psalm 29:23).

When God moves, all on the earth are on standstill. Just like now at this moment as I looked through the window watching the rains drops being wafted by the wind before it runs down to the ground – everything is likeon stand still.
It is from that deep pondering when these words came to me in Psalm 46:10 that says, "Be still and know that I am God, I will be exalted among the heathen.."
Strong winds and rains since last night but it has not stopped since then. The words of the Lord during a lady pastor kept reverberating inside my mind saying, "Praise Him through the rain. Thank Him through the winds. Praise Him through the storms" while I saw flashes of fires kissing the grassy grounds as if lightning bolt descended from heaven.
The six gates
At 7:30 p.m. that night, Pastor Sammy Lopez texted me and the messages runs like these: "Everyone is being warned. San Roque Dam opened its six gates tonight. The source is coming no less than from Tayug town Mayor, Tyrone Agabas."
Fear engulfed my being. Heavy air pounded inside my heart as I remember typhoon Pepeng that brought devastation in our province on late 2009. From there I called the honourable mayor to verify the information I received.
On the other line, Mayor Atty. Tyrone said, "Yes Manong Peps, it is true. The congresswoman is with me now, interceding to the officials of San Roque Dam appealing not to open all the gates otherwise we will all be flooded. The basketball court beside our municipal halls is now flooded as well in other areas as well…"

From there I shared to the mayor that God spoke to me in 1992 saying, "I will send you a flashflood in Rosales." The mayor butted in and said, "And it came to pass when Pepeng brought severe flooding in Pangasinan.." And this town mayor said tha was the reason that he appealed to to the local pastors to intercede and pray for the town. Then he added, "That mayor kasi doesn't know how to pray and intercede for God…" thus finger-pointing to another mayor in the nearby town who doesn't know how to call on the name of the Lord. That is when Psalm 46:10 comes in "Be still and know that I am God, I will be exalted among the heathen.."
Even the unbelieving king of Nineveh in a time of impending danger called for a prayer and fast to suspend the impending wrath of God (Jonah 3:6-7) and God heard him.
Mayor Tyrone Agabas confirmed that San Roque Dam will be released 5,000 cubic meters per second of water that threatens the province with flood. Where this huge volume of flood water will be going but to Agno River alone which is merely 20 -30 meters away from our church and in the neighbourhood. The fear of another Pepeng flood flooded inside of me. Again the Lord said, "Be still." The word "exalted "" in Hebrew "rum" (room) means "to be promoted."
In a time of disaster in the like of Typhoon Ompong, the Lord is being remembered and promoted to His Highest Throne. When the nature's wrath prevails, fears snap men as they cringed prayerfully for His Name.
Be still
After texting to over 300 people warning them of the imminent floodwaters with the comforting words of the Scriptures from Psalm 46 that says,
"God is our refuge and strength, a very present help in trouble. Therefore will not we fear, though the earth be removed, and though the mountains be carried into the midst of the sea; Though the waters thereof roar and be troubled, though the mountains shake with the swelling thereof. Selah…God is in the midst of her (in Rosales or in Pangasinan) ; she shall not be moved: God shall help her, and that right early. The heathen raged, the kingdoms were moved: he uttered his voice, the earth melted… Be still, and know that I am God: I will be exalted among the heathen, I will be exalted in the earth. "
"Be still" kept reverberating inside of me.
(picture7)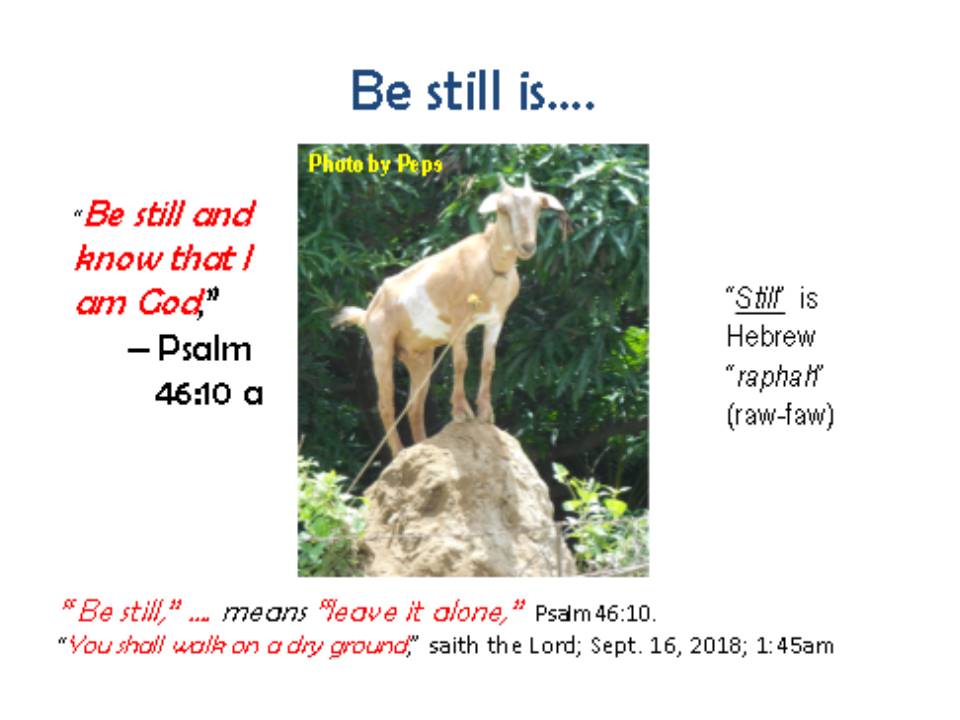 The words "Be still" in Hebrew "raphah" (raw-faw) means "to relax." Or it means "leave it alone" as if the Lord is saying "Leave it alone to me. Relax and sit down there."
…From there I fell asleep at around 2:00 a.m. the next day, Sunday, September 16.
On the back of my mind while consciousness and subconciousness blends, these words kept coming in…. "Ye shall walk on a dry ground."
Dry Ground
The Lord spoke repeatedly as great exhaustion eaten my flesh that finally closes my eyes, yet I heard those words over and over again, "Ye shall walk on a dry ground."
There was indeed great deluge in the time of Noah but when he left the ark, "He looked abd behold the face of the ground was dry," (Genesis 8:13).
While the Egyptian chariots and chariotters were engulfed by the waters of the Nile, the people of God walked on a dry ground. Exodus 14:16 says , "And the children of Israel shall go on dry ground through the midst of the sea. "
That very morning when I woke up at 6:30 a.m. the ground is dry.
(picture8)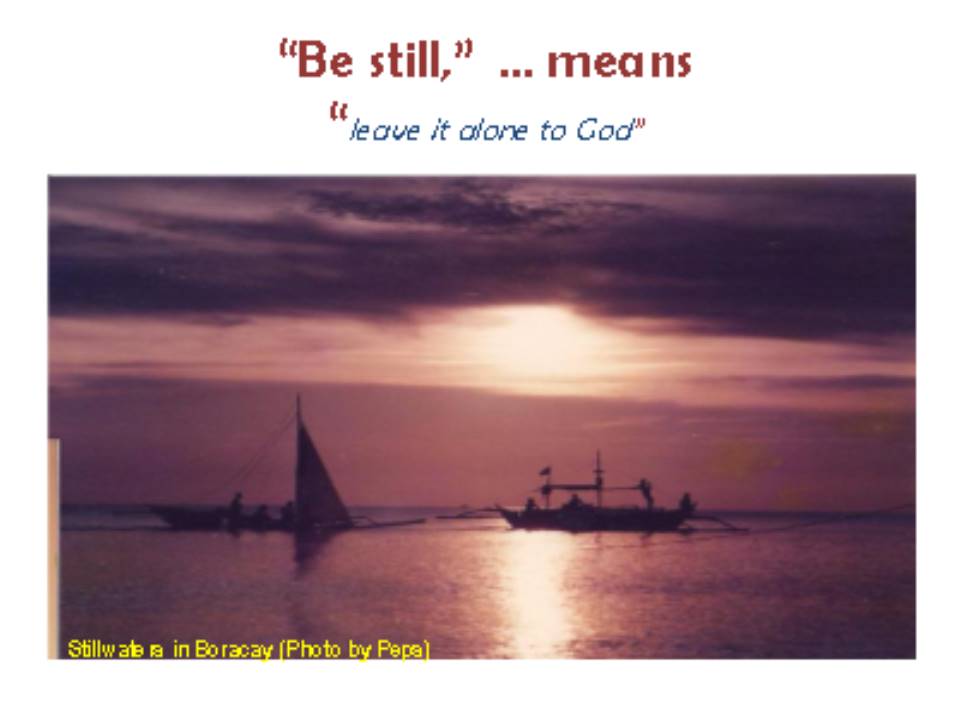 NOTES
Onslaught of typhoon Ompong
While the Lord God spared us from the onslaught of typhoon Ompong while we walked on a dry ground the other parts of Northern Luzon like Cagayan and Cordilleras are devastated resulting to loss of lives and properties. We cannot simply understand this act of God unless He would truly reveal to us His divine purpose.
Karen Galarpe of GMA News reported, "Flooding in low-lying areas in Pangasinan has been reported after San Roque Dam started releasing 'an alarming amount of water' on Saturday," and yet we walked on a dry ground by Sunday morning.
(picture9)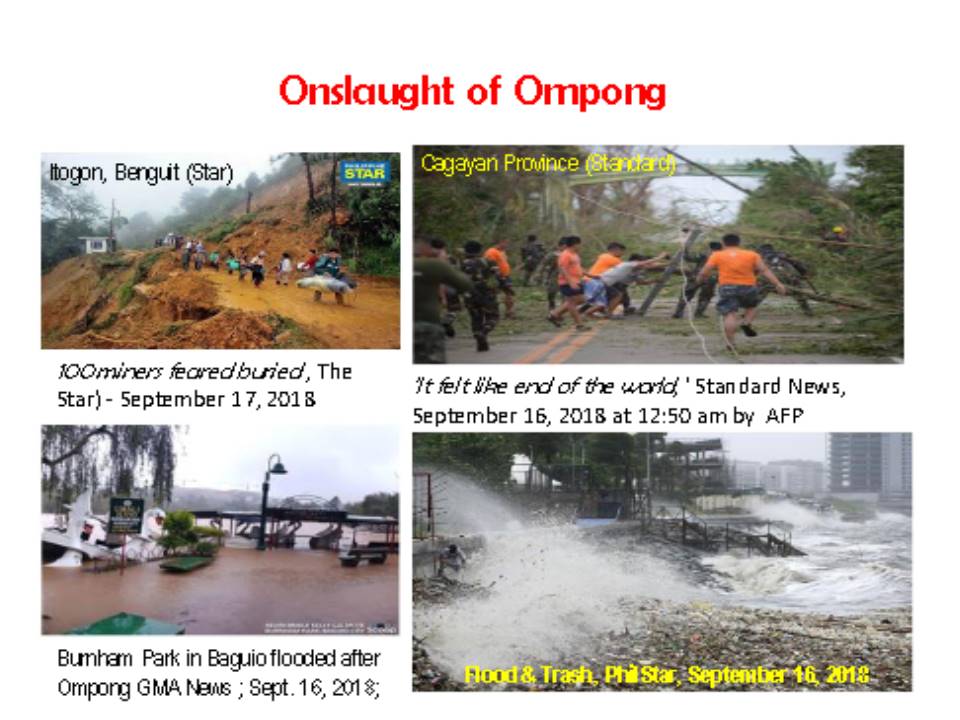 Synopsis
Synopsis is a sort description of the most important information about something; a summary of outline. A condensed statement or outline.
Standstill
Standstill is a state in which all activity or motion is stopped. It is the state characterized by absence of motion or of progress. It also means deadlock, gridlock, halt, logjam, standoff, impasse, stalemate. .
Feast
Feast is mentioned in Exodus 5:1 in Hebrew word "chagag" (khaw-gag" i.e. to hold a feast, make pilgrimage, celebrate, holiday or a sacred procession. It came from the root word, "chaga" (khaw0gaw) meaning terror, fear or vertigo.
The feast is a lifetime memorial or observance (Exodus 12:14, 17). In another Hebrew word "chag" (khag) meaning "pilgrim-feast, feast, festival, and solemnity.
Pluto
Perhaps from fear of pronouncing his name, around the 5th century BC, the Greeks started referring to Hades as Pluto or Ploútōn), with a root meaning "wealthy", considering that from the abode below (i.e., the soil) come riches (e.g., fertile crops, metals and so on) writes S. V. Bailey.
Plouton became the Roman god who both rules the underworld and distributed riches from below. This deity was a mixture of the Greek god Hades and the Eleusinian icon Ploutos, and from this he also received a priestess, which was not previously practiced in Greece according to "Gale Virtual Reference". (2015)