Blue Water
Details

Category: Teachings & Articles
Published: Friday, 14 September 2018 00:06
Hits: 2245
Blue Water
Formerly entitled "Waterless"
By Augusto A. Kho
Chowking, MRT Taft, Pasay City
August 29, 2018 (Wednesday): 9:45 a.m.
Updated: September 14, 2018; (Friday); 2:10 am
(picture1)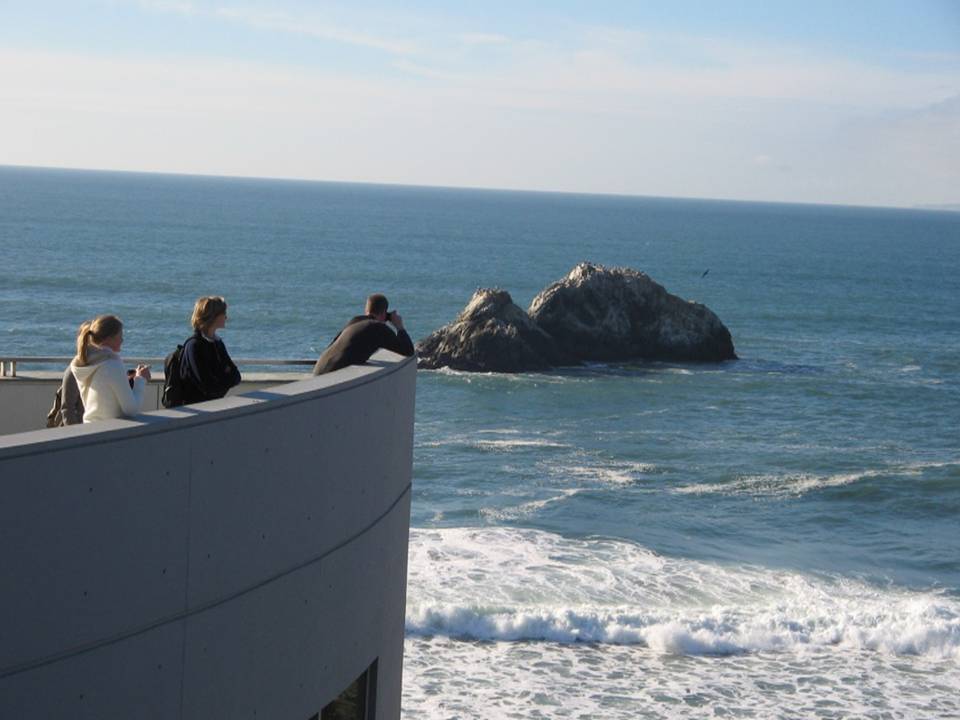 The blue-water in the Pacific, Pacifica county, California i.e. West Coast. Photo by Peps (2006)
At 9:45 a.m. while I was at the lavatory of Chow King in MRT Taft, Pasay City, I saw an inscription on top of the bowl that says "Water is life" by Eco.life.
From there it immediately reminded me of Christ Jesus as the "living water."
"Jesus answered and said unto her, If thou knewest the gift of God, and who it is that saith to thee, Give me to drink; thou wouldest have asked of him, and he would have given thee living water, " - John 4:11
Living in Greek "zao" (dzah-o) means "to live, breathe, be among the living (not lifeless, not dead); to have true life and worthy of the name; blessed and endless in the kingdom of God; of mortals or character; to be fresh; as adjective active, powerful and efficacious; to live; or life" according to Thayer and Strong Bible Dictionaries.
It is Christ who is the only source of breathe of life.
When there is water, there is life that even scientists continually in probe of water even in the outer space.
In an article entitled, "Mars Facts: Life, Water and Robots on the Red Planet," by Charles Q. Choi, Space.com Contributor dated October 10, 2017 07:00pm, he wrote:
(picture2)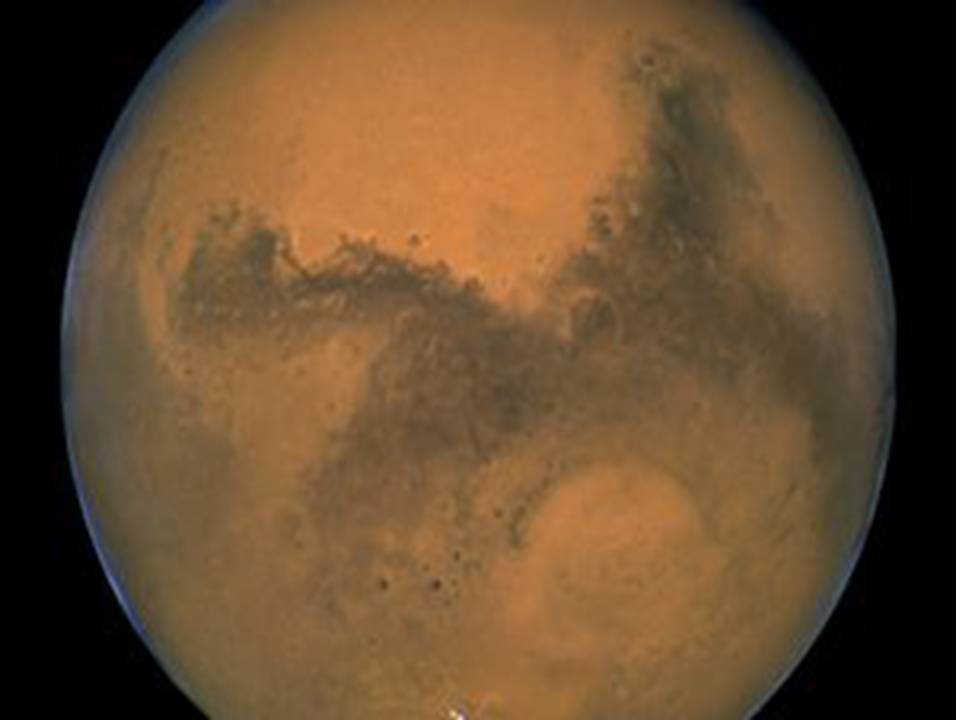 "NASA's Hubble Space Telescope snapped this shot of Mars on Aug. 26, 2003, when the Red Planet was 34.7 million miles from Earth. The picture was taken just 11 hours before Mars made its closest approach to us in 60,000 years.
Mars is the fourth planet from the sun. Befitting the red planet's bloody color, the Romans named it after their god of war. The Romans copied the ancient Greeks, who also named the planet after their god of war, Ares. Other civilizations also typically gave the planet names based on its color — for example, the Egyptians named it "Her Desher," meaning "the red one," while ancient Chinese astronomers dubbed it "the fire star."
Senate Bill (S.B.) 1271
It is also from "water is life" that reminded me about the Senate Bill (S.B.) 1271 which was authored by Senator Riza Hontiveros. It is a bill that lacks life and devoid of clarity unlike a pure water that freshen up a thirsty soul. It is a bill that is ambiguous, cunning and deceptive whose immoral provisions is camouflaged under seeming harmless stipulation known as "Anti-Discriminatory Bill" that will strikes a fatal blow against the Filipino family, Marriage, human and constitutional right, , Natural Law like the Science of Genetics and others. It is also against Spiritual and Moral Law and anti-God who is the Source of Life.
A bill that rose me to back to my feet on the 26th August, 2018 that while preaching on a Sunday Service, I suddenly bursting- saying, "I will go to the Senate on Tuesday, the 28th of August and file a letter against SB 1271. That is my exactly my birthday. It is my birthday gift to God and to the people." And I said that without thinking.
After the preaching, I went inside my office room and called Attorney Lyndon Cana and said,
 "I will go to the Senate on Tuesday to file against SB 1271."
Atty. Cana said,
"Praise the Lord. You are the answer."
Then I called up Pastor Ed de Guzman and stated the same thing and he said,
"Go, we will pray for you."
Then I made another call. This time is to Sister Susan G. saying,
"Sister Susan, would you please give me a favour for the sake of God and the country – Can you do me a favour please?"
She said,
"What can I do?"
I answered her back,
"Can you provide me a car to pick me up from here and also escorts?"
Immediately, without any second thought she gave me an affirmative answer saying:
"OK! I will send you my driver there? What time he would pick you up?"
And Susan lives in Las Pinas City.
There were at least four (4) whom the Lord used to such a divine, compelling decision straight from the Sunday pulpit. These people is Pastor Ed de Guzman, Atty. Cana, Pastora Sarah Salinas of Tagum City and Susan Gervancio who owns a Security and Investigative Agency. Without them – nothing would be possible.
I learnt later that Susan and two others – her daughter and son-in-law checked in a local hotel in Urdaneta City which is 25 km away from Rosales on the eve of 28th of August then they picked me up from our church at 5:15 am. We arrived in Senate at around 8:20 am and saw pro-SOGIE proponents at the main gate of the Senate with their placards that reads, "Approve SOGIE Bill."
We were ushered and briefly welcomed inside the room of one of the Senate Director for a cup of coffee and prayer then an aide was accorded to us to bring our Cover Letter, Position Paper and four (4) folders of 9,040 Signatories who are opposing the bill. The signatories covers from Luzon, Visayas and Mindanao and proceeded to the Office of the Senate President Vicente C. Sotto III.
My formal documents were received at 9:05 am. The Cover Letter, Position Paper dated August 28, 2018 were received by Senate President Sotto's staff named as Lyn A and Sheena S. Attached are 4 folders of 9,040 signatories from Luzon, Visayas and Mindanao.
It turned out that it was Tito Sotto's Birthday as well and you see congratulatory posters in every floor in the Halls of Senate. Susan initiated a prayer for the Office of the Senate President which is of course very, very strategic in term of legislative agenda.
I also remember what then Pastor Ernesto "Ernie" Abella who was formerly Duterte's Presidential Spokesperson when he prophesied these words to me sometime from 1993-1994 that says, "The Lord said your voice is very faint and weak. Yet the Lord is telling you that He will increase your voice and your words will be heard in the corridors of power."
That was my fourth time to step on the halls of Senate though that was my first time to officially write a letter to ALL Members of the Senate and to the Senate President. Although in early 2015, I first submitted my Position Paper with attached 8,000 Signatories vs. BBL or Bangsamoro Basic Law to the Office of then Senator Bong Bong Marcos, who is the committee chair of Local Government Code (LGC).
I requested Susan to dropped me at MRT Pasay so I could just take a train to Five Star Terminal in Cubao on my way home to Rosales.
At 11 a.m. I rested awhile inside Mc Donald'sd Taft MRT. It was only then when the job is done that I started texting some few concerned people – Pasto Dan Balais and his wife in America, Ed de Guzman, Susan and Atty. Lyndon Cana.
Atty. Lyndon felt like he was refreshed hearing that finally someone will file a legal action vs. SOGIE Bill at the Senate. Then he texted a message that reads, "You've done a great service for God and your country. Happy Birthday!"
At 4:02 p.m. on the same day, Joyce Cruz, the secretary of Bro. Ramon Orosa sent a message that reads,
"Good pm pastor Kho. Joyce Cruz po from the office of Mr. Ray Orosa. Mua I just know which bills is being deliberated today in the Senate that is a cover up for the Sogie Bill> Sir Ray wants to have a copy of it and I am trying to look for it in the Senate's committee office. Thanks po.."
By 4:30 pm I arrived in Rosales to attend to the supposed surprise birthday party for courtesy of the church and the brethren in a local restaurant.
(picture3)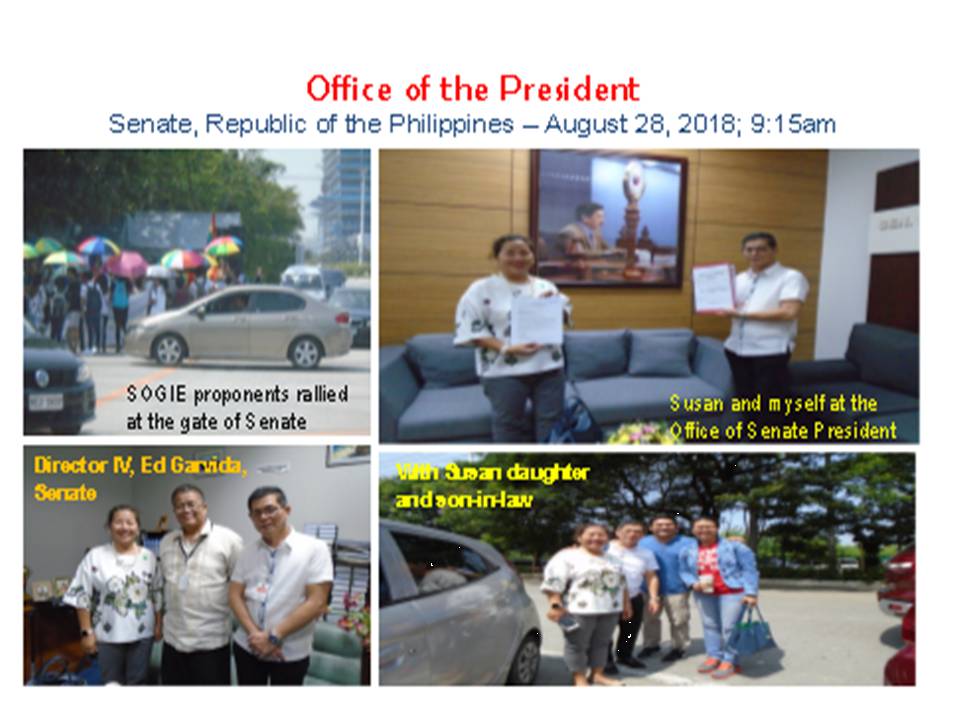 Water
"Water" is mentioned in KJV 392 times while "waters" is mentioned 284 times.
"The total body water is about 60% of the total body weight; There are approximately 6 to 10 liters of lymph in the body, compared to 3.5 to 5 liters of blood. Body fluids includes blood, saliva, excreta, body tissue and tissue fluids, and also FDA-approved pharmaceuticals that are blood products." That is how important bodily fluids like water in every human individual.
Water sustains life. And water is life. Dehydration is the common cause of deaths today because of lack of water intake.
In Exodus 15:22-23, the people of Israel murmured against His servant Moses due to lack of drinking water that provoked God into anger. The place is called "Marah" meaning "bitter."
Piss off
Pardon for the word. But how water is related with the urine?
Piss off is a transitive verb that connotes irritation, anger and vulgarity.
Is it God was pissed off or irritated against Israel when they complained for scarcity of water while in the wilderness instead of asking God's provision? Their murmurings provoked Him into anger (Psalm 78:17-22). And in Hebrews 3:9:10 the people of God affirmed that they truly "provoked" Him into anger until He sworn an oath, "So I sware in my wrath, They shall not enter into my rest," (Hebrews 3:11).

Water is called "mayyim" in Hebrew meaning "urine" or "piss."
When a lawmaker legislate a wicked bill, will the Lord God simply set him loose unpunished?
(picture4)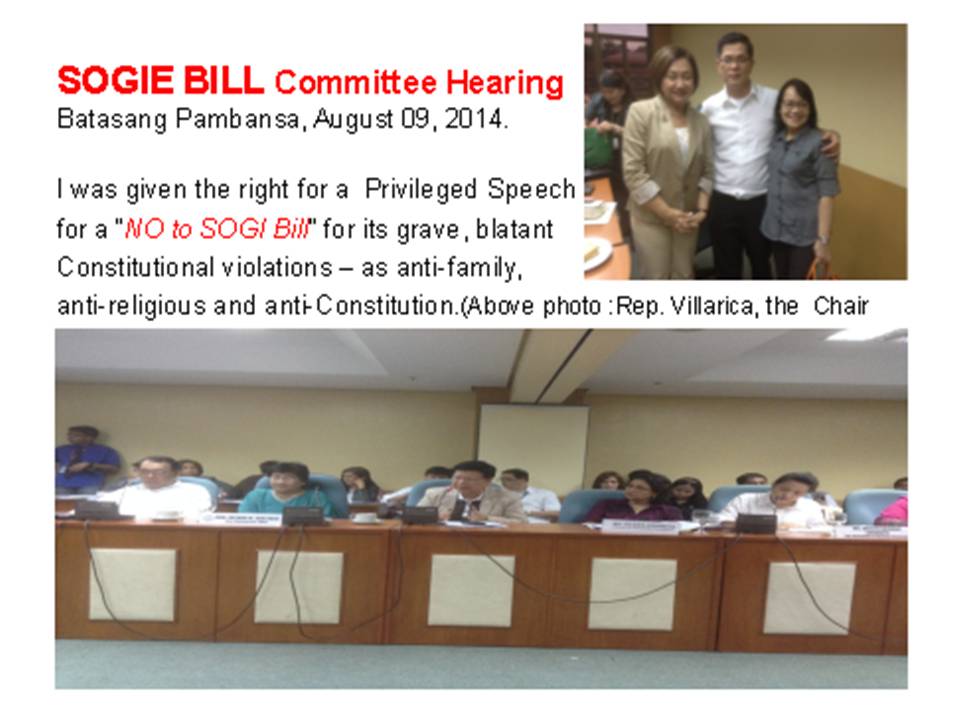 The soul that sinneth, it shall die – Ezekiel 18:20/NLT
Water defined
Water in Hebrew "mayyim" can be first found in Genesis 1:2 that says, "And the Spirit of God moved upon the face of the waters."
Water in Hebrew "mayyim" means "water as literal and figurative as well as "urine, of danger, violence, transitory things, refreshment" (figuratively) according to James Strong. It also means "juice, semen, piss, course or flood."
In Greek word "water" is "hudor" referring to " water; of waters in river, in fountains, in pools; of the water of deluge; of water in any of the earth's repositories; of water as the primary element, out of and through which the world that was before the deluge, arose and was compacted; of the waves of the sea " (Thayer). James Strong define is as "water (literal or figurative)."
The voice of God
God can proclaim Himself through the water as it is said in Psalm 29:3, "The voice of the Lord is upon the waters: the God of glory thunders."
Also prophet Jeremiah described the same thing because "water is God's treasure" be in the form of moderate rain or in the form of deluge like the super-typhoon Yolanda as prophesied by Vincent Selvakumar few months before it struck Leyte and Samar (Jer. 51:6/ KJV) or in the form of tsunami in Sendai, Japan.
And here comes another super-typhoon Mangkhut (Ompong) that is expected to have a landfall in Cagayan Province this Saturday with a gushing wind of 210-255 km per hour. "Signal No. 1 up over 38 areas from Batanes to Northern Samar" as reported by Norman Bordadora of GMA News dated September 13, 2018.
"Ompong' may bring worse rains than 'Ondoy "according to PAGASA writes by Philippine Star reporter Helen Flores dated September 13, 2018.
God does not only speaks in a dream, vision, utterance or prophesy, Word of God or Scriptures but He can also talk though the nature according to Romans 1:20 that says, "For the invisible things of him from the creation of the world are clearly seen, being understood by the things that are made, even his eternal power and Godhead; so that they are without excuse." Even Moses faced Pharaoh with God's accompaniment powers of rain, hail and thunders (Exodus 9:33-34). Let us not be like the unbelieving humanists as scoffers find flood, twisters, thunderstorms or earthquake a mere results of the global warming.
Scoffers in Greek word "empaiktes" sounds "impakto" in Filipino means a "mocker" or "derider" or "false teacher" who always opposes God's Word (2 Peter 3:3).
Voice in Hebrew word "qol" (kole) means "a voice; sound; noise; sound of an instrument; lightness; frivolity; bleating, crackling; cry; fame; noise; sound; sing; proclamation; thunder; voice; yell."
Voice in Greek "phone" (fo-nay) means, "a sound, a tone; of inanimate things, as musical instruments; a voice (of the sound of uttered words); a speech (of a language, or a tongue)."
Christ described John the Baptist as "voice in the wilderness."
"The voice of one crying in the wilderness. Prepare ye the way of the Lord, make his paths straight.,"
That vividly describes Hebrew word "qol" as "crackling cry" which is a voice of God (Matthew 3:1-3). It is also the same "voice" described when there is "a voice heard, lamentation and weeping and great mourning" in the land of Ramah (Matthew 2:18) when Herod Antipas in 39 A.D., the son of Herod the Great in 37 B.C., a man who is thirsty of blood, massacred two thousands infants, babies and innocent children. Would that be the similar to over 24,000 victims of EJK's under this present administration according to PNP statistics?
John the Beloved was in the Lord's Day while he was in exile at the island of Patmos (Revelation 14:2) described what he saw:
"And out of the throne proceeded lightnings and thunderings and voices: and there were seven lamps of fire burning before the throne, which are the seven Spirits of God," – Revelation 4:5
The flood
While water brings life but it can also brings death. The flood can be a voice of God to man.
Genesis 6:17, "And, behold, I, even I, do bring a flood of waters upon the earth, to destroy all flesh, wherein is the breath of life, from under heaven; and every thing that is in the earth shall die. "
Flood in Hebrew "mabbul" i.e. "deluge". According to Strong, the flood refers to "Noah's flood that submerged the entire planet earth under water for about a year" In Latin "deluge" is "dis-lavere" meaning "to wash." How is this related to water baptism and the Red Sea experience when Moses brought nearly 1-Million people to "cross-over " from Egypt to the Promise Land?
When there is water, flood, or floodwaters, there is cleansing. When the water is present, the Presence of God is there as well. When God's Presence is there- there is cleansing.
Remember that " the Spirjit of God was moved upon the face of the water," (Genesis 1:2) The word "move" in Hebrew "rachaph" (raw-khaf" means "brooding." Brooding in Webster means "hatching" or "breeding." In Filipino, I could say that "pag may baha may niluluto ang Diyos."
The "circle of the earth" is where God sits according to prophet Isaiah that comprises 65% water. And the prophet said that all the inhabitants including human individuals or the 7-Billion people a mere "grasshoppers" (Isaiah 40:22). Who are we as mortal beings to boast against God through erring legislations like what is happening now to the Senate and Congress? Are we inviting God's wrath?
Pepeng
It was 4:00 a.m. when I was about to sleep on October 9, 2009 then suddenly a word came saying, "the Spirit of God was moved upon the face of the water - Flood." Swiftly I stood from the bed and read Genesis 1:2 digesting it.
The word "water" is not merely life-sustaining but it is life-threatening as well because when water simmers it may create another composition. Take note that water chemical composition is H2O i..e. hydrogen and oxygen are both combustible materials. Combined these two chemical elements in massive degree of explosion is devastating.

That very day we the pastors from District 6 were scheduled to meet in our local church in Rosales to give our donations (cash or in kind) to the victim of Typhoon Ondoy in Manila on late September.
But after hearing the Word of the Lord right there at 4:00 a.m. I started texting people mostly pastors, church members and relatives and warned them of the coming life-threatening flood. Perhaps I warned over 200-300 people until I was dozed into sleep at till 9:00 a.m. when series of phone calls and text messages flooded on my three separate cell phones. One pastor cringed for help saying they were already on top of a tree. Another family of pastor were already on their rooftop. While a couple (the wife is 7 months pregnant) were on the top of second-floor building while gargantuan rushing floodwaters headed on their direction.
Me and 10 others people I got from the Church monitored the flood flows while we contacted the governor's office, the vice governor's office, the mayors and the police precincts in every town in District 6 but to no avail. Phones were ringing but unattended otherwise their public phones were out of order in such a serious crisis situation like that.

When the couple called me up for a help I said that I too was helpless. So I just prayed for them and uttered these words to them. "Only God and helicopter can save you." While me and 10 other people with me were trapped on the 2nd floor of unfinished church building. That time we merely placed our fate to God whether we will be swept by the rampaging waters and will be drown dead
And the Lord reminded me these words,
 "Have I not told you before in 1992 that I will send you flash floods?"
 And I answered back:
 "Is this the one?"
 God replied:
 "No! Not yet this is merely a foretaste."
Approximately 37 municipalities and 2 cities in the Province of Pangasinan alone were deluded with typhoon Pepeng.
(picture5)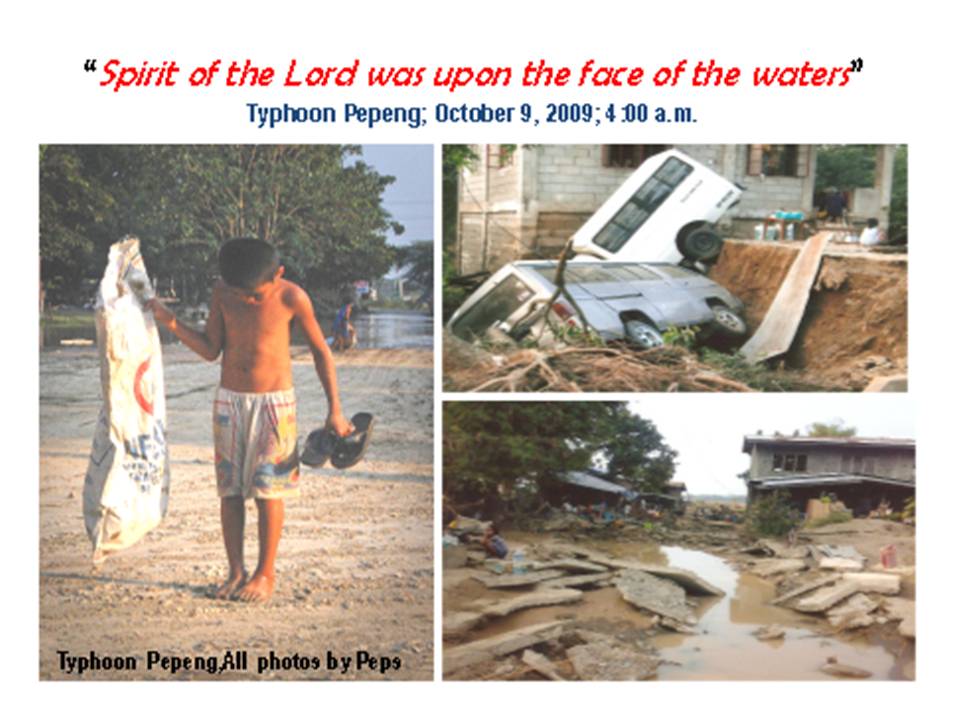 False prophets & Yolanda
When Sadhu Selvaraj and Vincent Selvakumar came in the Philippines, the latter prophesied in the name of the Lord that there will be devastation in the south and he mentioned about "Leyte" and "Samar" although he wasn't familiar with Philippines' geography. Few months later, Typhoon Yolanda came that literally washed away almost everything that left 20,000 human lives dead and others are missing. Typhoon Yolanda was recorded the strongest cyclone that ever hit on the planet Earth.
A friend from Leyte who was a victim of Yolanda described the waters that devastated their city like a whistling sound of man before he and his son, age 3 was swept away by the raging water from their 2nd floor veranda down to the deep flood.
Just like in the days of Noah, people mocked the prophets who have given the Church a stern warning. Instead of fearing God to intercede in behalf of the land some derided the voice of the Lord through the mouth of the prophets.
Water in shortage
"Manila Water warns of water shortage between 2021 and 2023" reads from Business World ; dated August 30, 2018; 10:50am.
In the same way, there is a great shortage of water-like cleansing agent today to invigorate our moribund soul as nation in the form of godly and morally-sound legislations. Law or decree must be for the highest good of man that can makes him a more responsible Filipino as a protector of his nation and countrymen.
"The law of the LORD is perfect, converting the soul: the testimony of the LORD is sure, making wise the simple. The statutes of the LORD are right, rejoicing the heart: the commandment of the LORD is pure, enlightening the eyes. The fear of the LORD is clean, enduring for ever: the judgments of the LORD are true and righteous altogether," (Psalm 19:7-9).
Past, Present and Future
Elijah prophesied not to rain in 3 and half years (12 Kings 17:1). In the near future, during tribulation two witnesses of God will shut down the rain from heaven that can cause millions if not billions of people to plead for water (Rev. 11:6).
When

Typhoon Karding

made a landfall on August 11, 2018, many parts of Metro Manila was paralyzed by the floods and rendered 10-M household waterless in the next few days. Typhoon Karding also caused great flooding in Bulacan, Bataan, Pampanga and Pangasinan.
Water is God's Presence
Genesis 1:2, "

And the earth was without form, and void; and darkness was upon the face of the deep. And the Spirit of God moved upon the face of the waters."
2 Chronicles 32:30, "

This same Hezekiah also stopped the upper watercourse of Gihon, and brought it straight down to the west side of the city of David. And Hezekiah prospered in all his works

. " It was then Assyrians invaded Judah. King Hezekiah cut off the water supply of Syrian Camp in order to defeat them. Shall the Lord God will also uses water in the form of flood to defeat His enemies?
The

Siloam Tunnel

, also known as

Hezekiah's Tunnel

, is a water tunnel that was carved beneath the City of David in Jerusalem in ancient times. Its popular name is due to the most common hypothesis of its origin, namely that it dates from the reign of Hezekiah of Judah and corresponds to the Water Works mentioned in 2 Kings 20:20 in the Bible. According to the Bible, King Hezekiah prepared Jerusalem for an impending siege by the Assyrians, by "

blocking the source of the waters of the upper Gihon

."
(picture6)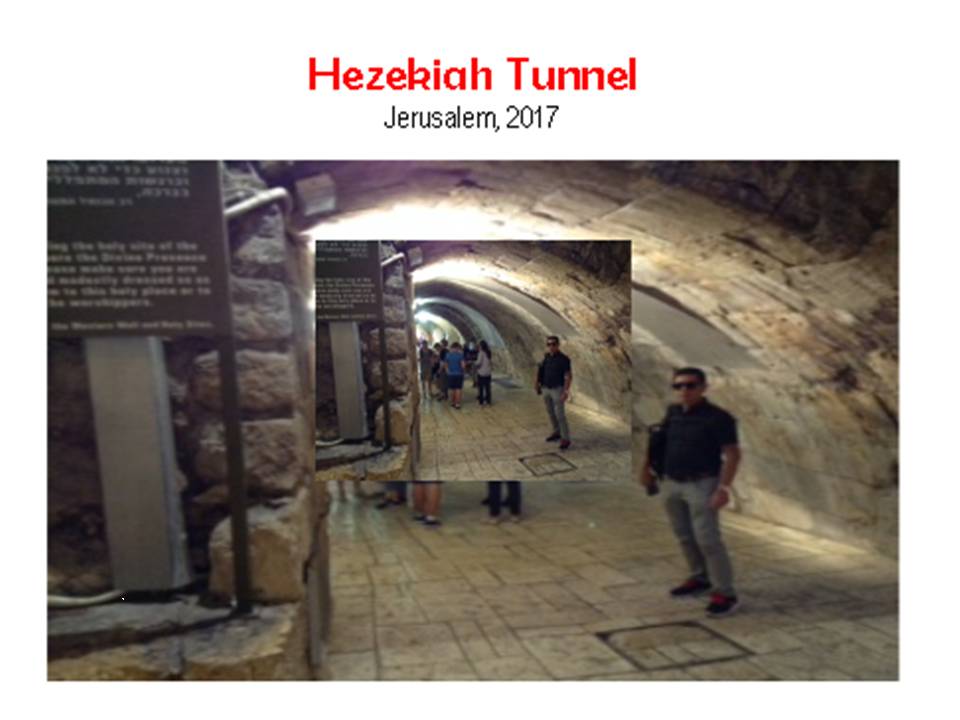 God can use water as a tool to defeat His enemies be in the form of flood or famine.
Typhoon Pepeng brought great devastation in our province in Pangasinan that caused over 35 towns submerged with water including our municipality in Rosales. Our church-school was submered with water over two meters deep. Flood brought by Pepeng incurred us over P750,000.00 damages.
Victims of sudden flash of flood left hundreds of mud-soaked human bodies walking like zombies and scavengers probing for food and water and yet there was none in the next 48-hours. When our Church took a truckload of water and food with 10 police elite group as our shields, hungry people mobbed like we were in the last days.
Roads, infrastructures and houses were like hit by missile or earthquake which is either torn apart, or broken into many pieces if not like swallowed by a giant sinkholes. Grim faces found no hope; soaked-wet people finds no place where there is food or water.
Jesus the living water
John 4:10, "

Jesus answered and said unto her, If thou knewest the gift of God, and who it is that saith to thee, Give me to drink; thou wouldest have asked of him, and he would have given thee living water

."
The church must not be dehydrated spiritually

. Dehydration is one of the major causes of death annually according to World Health Organization (WHO) especially among children. In 2015, there were 1.38 Million humans died due from dehydration.
Blue-water
Water, as a clear water, like a blue-water from the deepest depths of the sea is needed to wash and sanctify our legislators from the Congress and Senate to purge our dubious bills in the Senate and Congress. The approved bills must have a strong element of moral and spiritual principles to lay down a strong foundation of the nation for the Filipino people.
A godly legislation must be a law that enhances and cleanses a nation

. Otherwise the "

law will be paralytic and even justice will be perverted

," (Habakkuk 1:4/ NLT).



Jesus Christ said in John 15:3, "

Now ye are clean through the word which I have spoken unto you.

"
And in Ephesians 5:26 it says: "

cleanse it with the washing of water by the word."
To enact sacred laws must within the provisions of the 1987 Philippines which considered holy and

God-ordained

.
Ordained laws
After all, the Preamble of our present Constitution invoked God Almighty in that document with these words stating that "…do ordain and promulgate this Constitution

."
The word "

ordain

" is derived from the Latin word "

ordinare

" in the 14

th

century which means "

to appoint

" or "

to put in order

."

Ordain

as a verb is to officially make someone a priest, minister or rabbi. To use

ordain

as transitive verb means "

to invest officially (as by the laying on of hand) with ministerial or priestly authority

" or

"to establish or order by appointment, decree or law

."
Once the word "

ordain

" is utterly disregarded, does it speaks of the opposite which means "

to repeal, rescind or revoke"

which is exactly the Congress

"act of treason

" against Almighty God whom the 1987 Constitutionalists' invoked in that document by legislating a bill called

"Federalism

" and "

Charter-Change

?" Or are they playing God as if in conspiracy mentioned in Psalm 2:1-4 that says, "

the rulers take counsel together, against the LORD?"

Well, God has a word against those who will break this constitutional oath. Psalm 2:10-12:
"
Be wise now therefore, O ye kings: be instructed, ye judges of the earth. Serve the LORD with fear, and rejoice with trembling. Kiss the Son, lest he be angry, and
ye perish from the way
, when his wrath is kindled but a little
..."
It is my

prayer

or

petition

in the

Court of Heaven

that whosoever breaks that oath or covenant in accordance with the 1987 Constitution of the Republic of the Philippines will soon share the wrath of God, if not on this earth, then on the pit below. As it is written:
"
But I say unto you, Swear not at all; neither by heaven; for it is God's throne: Nor by the earth; for it is his footstool: neither by Jerusalem; for it is the city of the great King. Neither shalt thou swear by thy head, because thou canst not make one hair white or black. But let your communication be, Yea, yea; Nay, nay: for whatsoever is more than these cometh of evil
," – Matthew 5:34-37
The power of legislation
The write a formal, prophetic letter addressed to all the Members of the Senate citing the Biblical Principles is like making a divine legislation. The Church has been mandated to legislate (Matthew 16:18-19)

"The sin of Judah is written with a pen of iron, and with the point of a diamond: it is graven upon the table of their heart, and upon the horns of your altars

;" (Jeremiah 17:1)
"
Written
" in Hebrew "
kathab
:" (kaw-thab) means "
to decree
." And
decree is an official decision made by a court of law
(Webster). And the word
"bind
" or "
bound"
in Matthew 16:19, a power that has been given to the Church is derived from the Greek word "deo" which means "
to put under chain or to put under obligation or under the law
."
Therefore, whenever you write, you make a decree.
 

God bless the Phililppines!
 

NOTES
Blue water, the global deep oceans (Wikipedia) or the open sea (Webster).

SB 1271

or Senate Bill 1271 known as "

Anti-Discrimination Law

Ambiguous

means doubtful, uncertain especially from obscurity or indistinctness, mystic, occult, opaque, doubled-edged (Webster).

SOGIE

(

Sexual Orientation and Gender Identity and Expressions

) i.e. to

LGBT

(lesbians, gay, bisexual and trans-genders) the proponents of SB 1271, HB 6595 or Civil Partnership Act (same-sex marriage, Philippine version); and HB 4982.
HB 4982

: "An ACT prohibiting discrimination on the basis of Sexual Orientation or Gender Identity or Expression (SOGIE) and provider penalties thereof…: which was originally authored by Representative of Laguna, Sol Aragones. By 2014, the bill is already 13-year old bill and it is now authored by Dumagat Rep. Kaka Bag-o and Bataan Geraldine Roman.
Senate Bill 1271 AN ACT PROHIBITING DISCRIMINATION ON THE BASIS OF SEXUAL ORIENTATION AND GENDER IDENTITY OR EXPRESSION (SOGIE) AND PROVIDING PENALTIES THEREFOR…Section 5. It shall be unlawful for any person, natural or juridical to: (b) Include SOIE, as well as the disclosure of sexual orientation, in the criteria for hiring, promotion, transfer, designation, work assignment…. That this prohibition shall likewise apply to the contracting and engaging of the services of associations or organizations with lesbians, gays, bisexuals, trans-genders, intersex, or queers (LBTIQs) …. (C) Refuse admission or expel a person form any educational or training institution….

 

NASA sends regular space exploration in search for water. Planet Mars allegedly discovered to have water only to find out there's no life in that water.

1,000 scientists and experts predicted that scarcity of safe drinking water will spark global war published over 32 years ago which I read from an article when I was not yet a Christian.

Psalm 2:1-4, "

Why do the heathen rage, and the people imagine a vain thing?  2 The kings of the earth set themselves, and the rulers take counsel together, against the LORD, and against his anointed, saying, 3 Let us break their bands asunder, and cast away their cords from us. 4 He that sitteth in the heavens shall laugh: the Lord shall have them in derision.

"
God of Timing
God is a God of timing.
Late July, Pastor Ed de Guzman made a frantic call that and said that Senate allegedly may approve "Anti-Discrimination Act" (SB 1271) with SOGIE provisions. He asked me what to do.
AUG 20: Ptra. Salinas of Tagum City texted me & asked for an update on SOGIE Bill at the Senate. I told her the SOGIE of Senate version will be soon approved by August 27 or 28 according to alleged insider in the Senate. She asked, "I thought you already filed a Position Paper vs. the SOGIE?"
I explained to her what I did file was four years ago when SOGIE is still being deliberated at the Congress. She asked again,
"Do you still have copies of the documents with you?"
And I said I have my own copy including the 9,040 Signatories form Luzon, Visayas and Mindanao. Learning I still have my own copy, she texted back saying,
"Why not submit them to the Senate?" (And that sounds like a demand more than a request). But right there and the Lord spoke saying, "What is in your hand?" (Exodus 4:2). If I have the 9,.040 signatures vs. SOGIE Bill since 2014 while am I holding it back?
From there, I purposely did not texted her back. I don't want to be bothered again since there are 110-Million Filipinos. Why not let others do it? Filing a protest letter to the Congress or Senate is demanding, exhausting, expensive and stressful.
For four (4) years since I encountered SOGIE Bill and BBL before the members of the Congress and member of the Senate with Presidential Peace Process Chief, I have been reminding the top Evangelical Bishops to submit their Position Papers with Signatories vs. the bill.
Once those bills will die a natural death in the lower Congress, it won't be passed anymore in the Senate.
The imminent dubious bills that is now in the Senate is a result of apathetic and lukewarm attitude of the Church to address those pressing concerns before it becomes a totally a blown-out issues to this very day.
AUG 26; 11 a.m.; Sunday Preaching, thought of Ptra. Salinas & Signatory Campaign vs. SOGIE and Exodus 4:2, "What is in your hand?" prompted me to utter these words right from the pulpit on that Sunday Service saying,
"I will go to the Senate on August 28, 2018, It is my birthday gift to God and to the nation."
(On the same day at 2:39 p.m., I didn't know that Atty. Lydon Cana emailed Manila –based bishops requesting from their end to send fresh letter to the Senate to temporarily suspend the alleged approval of SB 1271 or "Anti-Discrimination Act" where SOGIE is hidden in the provisions. I only found it out on the late night of August 28).
AUG 28; 5:15 am: With the help of Susan G. who picked me up from Rosales, Pangasinan at 5:15am with her daughter Shirley and Rain, her son-in-law who took turns on the wheels and drove me to the Senate, their help and assistance is heaven-sent.
AUG 28; 8:15 am : Pro-SOGIE protesters stormed the gates of the Senate to pressure the legislators to approve SB 1271 or "Anti-Discrimination Law" where SOGIE is hidden inside its provisions.
AUG 28; 9:15 am: My Cover Letter, Position Paper and 9,040 Signatories were submitted to the Office of the Senate President Sotto (whose also celebrating his birthday this very day. Excerpts of my Cover Letter reads this way:
"I… n the meantime, we request that no action be taken to vote on the Anti-Discrimination Bill until we and the other oppositors are heard…"
Timing (Kairos) is very crucial. Prayers and concerted legal actions are equally needful
(picture7)