The Book
Details

Category: Teachings & Articles
Published: Sunday, 05 August 2018 22:00
Hits: 1720
The Book
Augusto A. Kho
Golden Flame Resort; Tomana East, Rosales, Pangasinan
July 7, 2018 (Saturday); 11:00 am
Revised ; July 8, 2018 (Sunday); 9:30 am
Revised: July 19, 2018 (Thursday);
Revised: August 04, 2018 (Saturday) 9:30 pm
How would you like your story to begin with? And how do you want it ended? Each one of us makes our own story. We cannot author our beginning but at least somehow we can write how our story should end.
My diary is not only my daily journal. It is a source of information how I listened to the Lord and what my Daily Devotion is. My diary talks about me and others whom I have personally met and it contained a reservoir of what business I have had on a day. It is a story of my life, my fears, my hopes and aspirations. A diary is like a book.
I was invited to do an exhortation on a Saturday morning, July 7, 2018. It is a birthday celebration as well as a family reunion held in the resort here. Filipino –American, Gie Tabigne Mise hosted the birthday bash for her mom's 86th birthday named Nanang Oping. Perhaps there was around 200 people who were there and mostly among their family circles.
My devotion
I had this devotion that morning on the very the same day which I entitled, "The Book (Ang Aklat)." This is inspired from the following verses in chapter one chapter in the Book of Revelation.
Revelation 22:7/ESV
"And behold, I am coming soon. Blessed is the one who KEEPS the words of the prophecy of this book."
Revelation 22:8/ESV
"You must not do that! I am a fellow servant with you and your brothers the prophets, and with those who KEEP the words of this book. Worship God."
Revelation 22:18/ESV
"I warn everyone who HEARS the words of the prophecy of this book: if anyone adds to them, God will add to him the plagues DESCRIBED in this book,"
Revelation 22:19/ESV
"and if anyone TAKES AWAY from the words of the book of this prophecy, God will take away his share in the tree of life and in the holy city, which are DESCRIBED in this book"
God has a book where He takes down notes. God is a good writer. He writes our beginning to end.
The tribe of Zebulun for example "they that handle the pen of the writer," (Judges 5:14). Maschil, a psalmist said, "My tongue is the pen of a ready writer," (Psalm 45:1).

Worth-mentioning
If you notice, the word "book" is mentioned six (6) times in just one chapter alone in the Book of Revelation. And whenever this book is mentioned, there is certain different tone of voice. In Revelation 22:7, the voice tone is reassuringly kind but in Revelation 22:18 it is awfully scary giving a warning shot.
I find the word "book" as very directional because I soaked myself in the Book of Revelation for over a month now, which I sought God's revelation piece by piece. The word "book" is popularly mentioned every now and then in the Revelation that also refers to "prophesy," "writing," "scroll, "sheet" or "roll." (Rev. 3:5).
What is a book?
The "Book " is derived from the Greek word, " Biblion".
Thayer Definition means "a small book, a scroll, a written document, a bill of divorcement, a sheet on which something has been written." James Strong defines it "a writing."
In other words, you write your own story. You can write your own book (like autobiography). A biographer is someone who writes our own story for us. While we cannot deny the fact that we cannot change the day when we were born, however we can change our destiny or future (on the way we make our choice today. You see faith is something we do today that determines our future. That is what Hebrews 11:1 says, "Now faith is the substance of thing hope for the evidence of things not seen."
While God is the main author of the book of our lives, we are his co-author. Hebrews 12:2a says, "Looking unto Jesus the author and finisher of our faith." Authorship denotes the authority of a person who wrote a story. Author in Greek "archegos" refers to "chief author" according to the writer of Hebrews and this writer refers Christ as the main author of your life and my life.

So what kind of story of life would you like to begin with? And how do you want it ended? Each one of us makes our own story. We cannot author our beginning but at least somehow we can write how our story should end.
For Gie, she said she was once a vendor and perhaps she seen life that time like a darting shadow. Yet she faced and battled against the hard struggles of life until she came to know the Lord and fortunately God allowed her to migrate in U.S. and she is now a resident in California with her own family.
Like Gie, we also make our own story. And we write our own book of life. And how this life of ours begun? Let us better find out.

Origin of the Book
I've found the first word "book" in Genesis 5:1/ESV that says, " This is the book of the generations of Adam. In the day that God created man in the likeness of God made him."
Book ( Hebrew) "sepher" (say-fer). It means:
"Book, missive, document, writing book ( noun masculine); letter of instruction; written order, commission, written decree, legal document, deed of purchase, certificate of divorce, sign, indictment, book of prophesies, genealogical register, law- book, book of poems or kings, books of canon, scriptures, record book of God, book- learning, writing."
For example, a piece of paper is a writing book (instrument) like the table napkin, Penal Code of the Philippines is a written decree of law, and birth certificate is a genealogical record. So when the Lord speaks of a book or scroll or writing we may as well find the exact meaning what He actually saying there. We cannot simply define book generically if we desire to get in-depth meaning of His Word.
UNDERLINED
I underlined some definition of the word "book" which I find very interesting. Can I ask this question to you? What would your life be on the following book definition below?
LOI (letter of instruction). This kind of writing is being used by administrative officer like a President, company executive, managers and others in making directives. Will you become a president and makes Executive Order or Letter of Instruction?

Written Order i.e. MO (Mission Order) is when a commander commissioned a military officer or staff under his command for a new or transfer of assignment. Will you deploy military personnel to the contested West Philippine Sea by your signed Mission Order?

Written decree (legislations, bills). Normally being done by the lawmakers like in the Congress, Senate, Sangguniang Panlalawigan, City or Municipal Councilors. BBL or "Bangsamoro Basic Law" is a bill and once approved and signed by the President becomes a written decree. Will be a lawmaker like a congressman or senator and author some bills?

Indictment. It is like a Court Order where a certain Court Decision is being made to acquit the suspect or condemn the guilty. Will you be like a judge that promulgate a certain controversial court decision?

Genealogical Register. Is like how is your Family Tree. You can see that in the Registry of Birth or Registry of Death in your city or municipality. Will you be a Civil Registrar Officer?

Certificate of Divorce. Officially and legally nullifying marriage. Will you promulgate legal separation as a judge?

Scriptures. Is your life is a holy book that is worth reading and emulating from? It is like what Paul says, "epistle of Christ" to the Corinth Church in 2 Corinthians 3:3 (King James Version or KJV). But in New English Translation (NET) it says "revealing that youare aletter of Christ, delivered by us, written not with ink but by the Spirit of the living God, not on stone tablets but on tablets of human hearts." Will you be like a pastor, teacher or a Bible expositor?

Book-learning are like ABC's books for children, a teaching-tool or teaching-modules. Will you be a kindergarten school teacher?

Prophesies. Can you foretell future events just like having this prophetic insights and utterances? You know them before it happens. It is like what we call in Psychology, the "Sixth Sense." We call that "pre-cognition" in particular. Prophesies however is different because it is divine-inspired. Will you be like a prophet that often misunderstood, persecuted and stoned in the like of the old prophets like Jeremiah?

A writing. Are you a writer? What kind of writer? Do you writes for ads or are you like King David who is a king, a prophet, a priest and a song writer? If you are a book writer, what kind of theme would you prefer the most – adventure, science and fiction, horror, tragedy, love story, comedy, or pornography? How will you write your story in life? And how would like it end? Are you a writer?
James Strong Bible Dictionary defines "writing" as "evidence, writing (as an art or document), bill, letter, register, scroll."
Art according to Webster is "something that is created with imagination and skill and that is beautiful or that expresses important ideas and feelings."
In other words, writing your life is an art. Your life meaning depends on how you beautifully write your story. Perhaps like a Cinderella movie or like the life of a simple, ruddy shepherd boy David who became a king.
How do you artistically write your life defines your true meaning of existence. Beautiful life isn't magic. You have to make it happen using the best of what you can like a piece of art. For example, how the first Mindanaoan president like President Duterte terminates his term as a president, will he succeed or fail?
Are you familiar with the Movie entitled, "Love Story" by Ryan O'Neil and Ali Mc Graw? It is a beautiful love story but ended up in tragedy. The same things may goes with us in our life story. Our life could have had begun very beautiful but ended in a heart-breaking tragedy. Example is Saul who said to be least of all the tribes of Israel.
Saul was the first king ever in Israel who hailed from that lowly tribe. But Saul's ending story is tragic and heart-wrecking.
In the middle of Saul's life story is full of envy, malice, greed for power, anger and hatred, murder, rebellion and witchcraft. His bad attitudes in life and in his wicked governance have overtaken his will to supposedly writes his own story. His life ending-story fell into the hands of his enemy. Did he not kill the priests of God? (Read 1 Samuel 22:21). A previous murder can also cause famine if justice is not been served as it happened to Saul. (2` Samuel 22:1).
Can president or queen can kill innocent lives and God's anointed or priests? Well, it happened to Queen Jezebel and Saul? Jezebel, wife of Queen happened plotted to kill a prophet and Saul consented to the death of Stephen (1 Kings 19:2; Acts 22:20). Meanwhile President DU30 news from Inquirer Mindanao dated August 3, 2018, the papers write:
In what appears to be a mocking comment against his critics, President Rodrigo Duterte said Friday God promised him that all victims of extrajudicial killings would go to heaven. "Enjoy your human rights in heaven," Duterte said, addressing critics of his drug war that had killed thousands after he assumed office. "God promised me all extrajudicial killing victims will go to heaven, iyan ang hiningi ko sa Dios. Sabi naman ng Dios, 'pwede, pwede [That's what I asked from God and God said, it can be done, it can be done],'" Duterte said.
(picture1)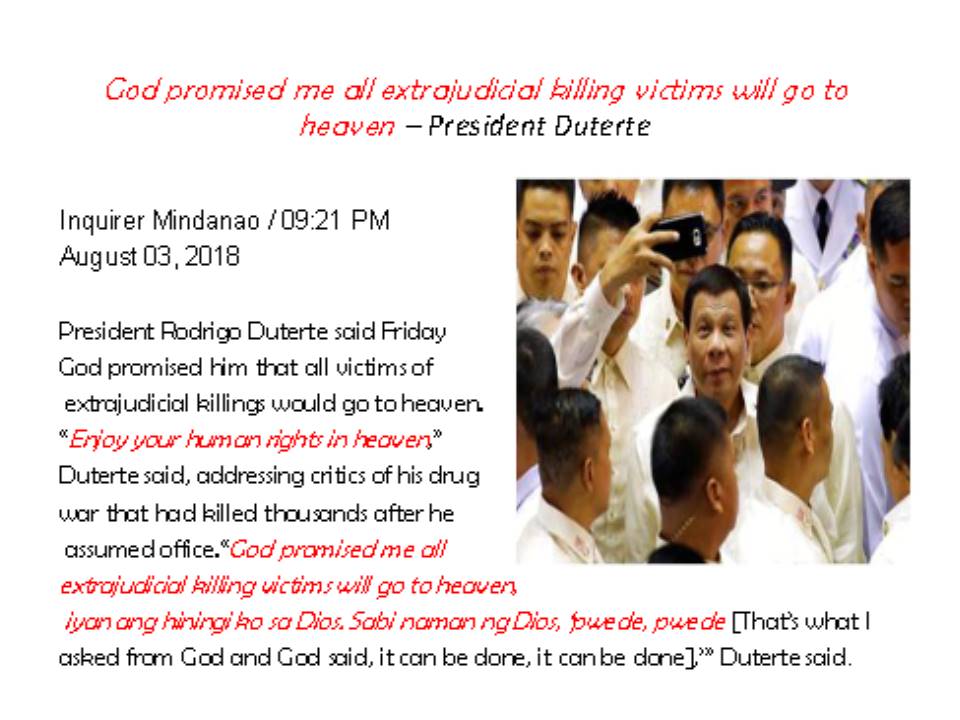 A "due process" is needed to convict a criminal to promulgate his death. However, death penalty in the Philippines at this very moment is unlawful, illegal and unconstitutional. Shall you call it "institutionalized and systematic killings "?
Book applications
There are various applications on how a person manages his book of life. Even bishops, ministers, pastors and Christians have different way of interpreting and applying the Bible. Some are God-fearing who holds up the Scriptures with high reverence like David, the centurion, Mary and other but some don't hold on Scriptures that firmly (Psalm 19:7; 119:105; Nehemiah 8:1-6; Matthew 8:8; 12:37; 13:18-23; Luke 2:29; Acts 2:22 )
So how we define the book of our life matters (just like what I quoted to you from my daily devotion from Revelation chapter 22).
- "he who keeps the words of the prophesy on this book"
- "he who hears prophesy on this the book"
- " plagues described in this book."
- "He who takes away from the book of prophesy of this book."
The Book of Life
The Book of Life started from the beginning of creation up to the Lord Jesus Christ when He was fashioned into flesh (Genesis 1:1-3; John 1:1-3; 14).
Genesis 1:1-3/ESV, "1 In the beginning, God created the heavens and the earth. 2 The earth was without form and void, and darkness was over the face of the deep. And the Spirit of God was hovering over the face of the waters. 3 And God said, "Let there be light," and there was light."
The word Said Hebrew " amar" means " to command (written order like a book)."
JOHN 1:1/ESV, " In the beginning was the Word, and the Word was with God, and the Word was God." And the word Book in Greek "logos" i.e." a decree, order, mandate, prophesy, a reckoning, compute."
Christ's Book
Christ has his own story as well. The Lord Jesus' life was spoken and written by Isaiah and other prophets (Isaiah 7:14; 9:6). Christ has his own will too but he opted to obey the perfect will of the father and not His permission will even to the point of death (Matthew 6:10; 26:42). For Christ, what matters to Him is to fulfil God's mandate in His life. And it doesn't matter to Him no matter how tragic his end would be.
Matthew 1:1, "The book of the generation of Jesus Christ, the son of David, the son of Abraham. " Jesus Christ has his own book and his generation included. Do we have the same?
The word "book" here in Greek 'biblos' means "a sheet, scroll, writing, or book.' Generation in Greek "genesis" means "nativity, generation, nature."
"Abraham begat Isaac; and Isaac begat Jacob; and Jacob begat Judas and his brethren; And Judas begat Phares and Zara of Thamar; and Phares begat Esrom; and Esrom begat Aram; And Aram begat Aminadab; and Aminadab begat Naasson; and Naasson begat Salmon; And Salmon begat Booz of Rachab; and Booz begat Obed of Ruth; and Obed begat Jesse; And Jesse begat David the king; and David the king begat Solomon of her that had been the wife of Urias; And Solomon begat Roboam; and Roboam begat Abia; and Abia begat Asa; And Asa begat Josaphat; and Josaphat begat Joram; and Joram begat Ozias; And Ozias begat Joatham; and Joatham begat Achaz; and Achaz begat Ezekias; And Ezekias begat Manasses; and Manasses begat Amon; and Amon begat Josias; And Josias begat Jechonias and his brethren, about the time they were carried away to Babylon: And after they were brought to Babylon, Jechonias begat Salathiel; and Salathiel begat Zorobabel; And Zorobabel begat Abiud; and Abiud begat Eliakim; and Eliakim begat Azor; And Azor begat Sadoc; and Sadoc begat Achim; and Achim begat And Eliud begat Eleazar; and Eleazar begat Matthan; and Matthan begat Jacob; And Jacob begat Joseph the husband of Mary, of whom was born Jesus, who is called Christ. So all the generations from Abraham to David are fourteen generations; and from David until the carrying away into Babylon are fourteen generations; and from the carrying away into Babylon unto Christ are fourteen generations.  " – Matthew 1:1-17
That is the book of Jesus Christ and his family background which we call genealogy if not registry of births of generations. Some of those who came from the lineage of Christ I did underline a few and see what happened in the final chapter of their lives.
The Book of the following characters – how they lives begun and the final chapter of their lives:
Jacob. Supplanter or kneel-catcher, deceptive (Gen. 25:26; 27:36). He received his father blessing (Gen. 27). He served his purpose (Romans 9:11-13; Hebrews 11:21)

Jesse. Son of Boaz and Ruth (Ruth 4:17, 22). "The root of Jesse" (Isaiah 10:11) and referring where Messiah will be coming from

David. He was called "a man after God's own heart," (1 Samuel 13:14). He fulfilled his God-given destiny (Acts 13:36).

Solomon. The author of "vanity of all vanities." (Proverbs 1:2). The first half of his reign is brighter and the other half was beclouded by idolatry (1 Kings 11:1-8; 14:21,31). According to Easton during his reign there was a great wealth, architectural magnificence, artistic excellence, commercial enterprise; a position of dignity among the great nations of the earth but there was a sudden collapse at the end and his kingdom was divided into two.

Manasse. King Manasseh "did evil" and "shed many innocent blood" and God later judged Israel and Judah for his wickedness (2 King 21:1-16). Just wondering if President Duterte like Manasseh shed innocent blood?

Josiah. 2 Kings 23:25  " And like unto him was there no king before him, that turned to the LORD with all his heart, and with all his soul, and with all his might, according to all the law of Moses; neither after him arose there any like him." Died with greatest honours (Jeremiah 32:5).

Jesus Christ. His unbelievable perfect story is endless. (Philippians 2:5-11).
We probably won't be able to finish our story as God wants it to be and we might be wrioting just a few chapters of our lives or just half of our story. Yet our unfinished life story God should end it on the way he wanted it to be.
Take the case of this Hollywood actor, Paul Walker from the movie "Fast and Furious" who supposedly scheduled to visit the Philippines to extend his aid to the disaster victim of super-typhoon Yolanda in Tacloban City.
 (picture2)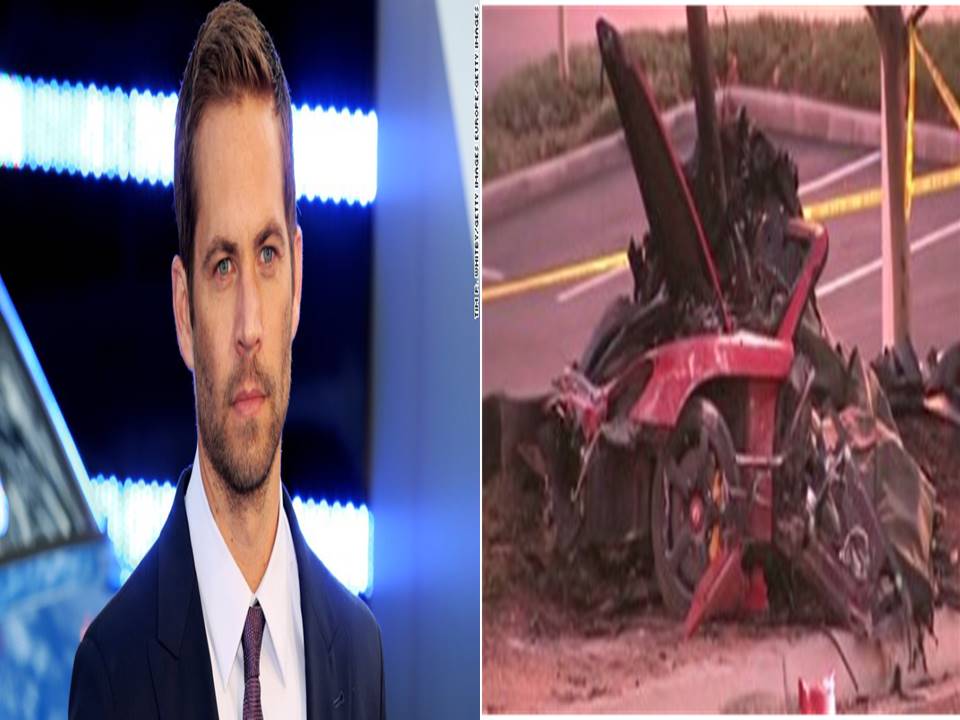 Paul Walker, movie "Fast and Furious" and view scene of Walker's deadly car crash.
On November 30, 2013, at about 3:30 p.m. PST, Walker and his friend Roger Rodas, 38, left an event for Walker's charity Reach Out Worldwide for victims of Typhoon Haiyan (Yolanda), when they met a tragic car accident that lead to his instant death. Rodas died of multiple trauma while Walker died from the combined effects of trauma and burns. Both of their bodies were burned beyond recognition ABC News dated November 30, 2013 reported.
Walker's mission to help Yolanda victims in the Philippines is a very noble task but he was not able to finish it. In the same way, we could have very perfect plan for our lives yet we may not be able to fulfil it due from unavoidable reason.
Parts of a Book
There are plenty of parts of book like the foreword, the back cover or front cover; the title or theme or climax of the story, the beginning or ending of the story. But I just wanted to focus on these two:
How your life begun?

And how your life would end?
For Esau he "belittled his birthright" due to greed for food and finally lost his inheritance (Genesis 25:32-34; 27:36/ ISV ) while Saul messed up his life due to greed for power, jealousy and disobedience until prophet Samuel prophesied his fall and said "your kingdom won't be established". King Saul finally lost his kingship (1 Samuel 13:13-14/ ISV). Solomon's kingdom was rented into two (2) and God was "angry" with him because of his 'estranged wives" (1 Kings 11:1, 9 / ISV). For Ferdinand E. Marcos, he was a bar topnotcher and became the longest sitting president but later deposed by his own people. That is a tragic story as well. President Duterte's fate as a president is worth-watching as well. How Duterte will end up his story as a president?
There are some life stories that end tragically but left a noble legacy. And our own very lives are only worth living and worth sharing if we can leave a good trail for others to follow. .
Martin Luther King Jr. is one. Luther is American Baptist pastor and a lawyer who immortalised "I have A Dream" but later assassinated. But his assassination ended America's slavery to the black Africans. Luther's life is being commemorated every year in 50 states in America as decreed by former US President Ronald Reagan.
Jesus Christ is a carpenter, born by a poor family Joseph and Mary, who healed the sick, made blind to see; preached the Gospel, fed thousands, paid his tax and sharply rebuked the Pharisees and the corrupt, human rights violator- government. Jesus Christ no matter unlearned, poor and badly criticized stood firmly on His ground making no compromised when God's business is at stake. Yet this poor carpenter touched your life and mine and He write if not rewrites our life story should we make HIM our main author if not co-author. He is called the "author and the finisher of our faith" (Hebrews 12:2b).
Jesus' sinless and pure life could have end tragically on the cross, badly beaten and bruised beyond recognition, nationally condemned by the whole nation of Israel on the hands of religious leaders and corrupt Roman government yet He left us a lasting legacy - the Breaking of Bread. He said, "Take it this is my body" (Matthew 26:26-29) which is lasting covenant until He comes.
Jesus Christ's story is a lifetime legacy from before till the end. It won't let you down. That's His book - the Book of life. He alone can give you this kind of powerful book. He said,
"The person who conquers in this way will wear white clothes, and I will never erase his name from the Book of Life. I will acknowledge his name in the presence of my Father and His angel," – Jesus Christ, Revelation 3:5/ ISV
NOTES:
Martin Luther King
Martin Luther King Jr. Day (officially Birthday of Martin Luther King Jr.) is an American federal holiday marking the birthday of Martin Luther King Jr. It is observed on the third Monday of January each year, which is around King's birthday, January 15. The holiday is similar to holidays set under the Uniform Monday Holiday Act. The earliest Monday for this holiday is January 15 and the latest is January 21.
King was the chief spokesperson for nonviolent activism in the Civil Rights Movement, which successfully protested racial discrimination in federal and state law. The campaign for a federal holiday in King's honor began soon after his assassination in 1968. President Ronald Reagan signed the holiday into law in 1983, and it was first observed three years later. At first, some states resisted observing the holiday as such, giving it alternative names or combining it with other holidays. It was officially observed in all 50 states for the first time in 2000.