In the Name of the Father
Details

Category: Teachings & Articles
Published: Sunday, 28 January 2018 20:41
Hits: 3586
In the Name of the Father
By Augusto A. Kho
January 26, 2018 (Friday); 3:50 a.m.
Edited: January 28, 2018 (Sunday); 9:00 a.m.
In the name of the Father
On January 26, 2018, Friday at 3:50 a.m. while I was in the shower room, these words came to me, 'In the Name of the Father!"
Why invoke?
Why invoke in the name of the Father? In John 14, how many times did Jesus make mention of His Father in heaven? Why He kept invoking His father's name? Twenty three ( 23) times that the word "Father" is mentioned in that chapter alone in the New King James Version (NKJV).
(picture1)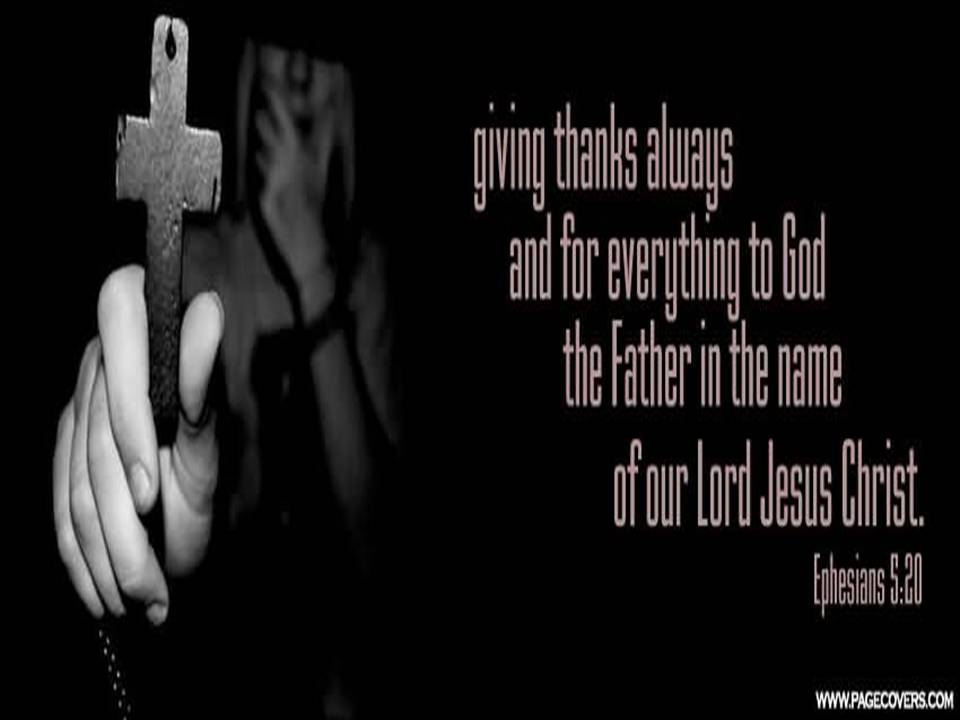 Above photo from the internet
In John 10:29-30, Jesus said, "My Father, which gave them me, is greater than all; and no man is able to pluck them out of my Father's hand. 30 I and my Father are one. "
In the Great Christian Commission in Matthew 28:19, "Go ye therefore and teach all nations, baptizing them in the name of the Father and of the Son and of the Holy Ghost."
In the Preamble of the Philippine Constitution, it says, "We the sovereign Filipino people, imploring the aid of Almighty God…." Why the constitutionalists invoked Almighty God in our document?
""Imploring the aid of Divine Providence now appear as 'imploring the aid of Almighty God,' to make reference to God more personal and direct. And by invoking God in the preamble, Jose Laurel Sr., said " the Filipino people 'thereby manifested their intense religious nature and place unfaltering reliance upon Him who guides the destinies of men and nations."
The imploration of God's Almighty Name in the Preamble goes side by side to the prophetic words of Daniel saying, "Daniel answered and said, Blessed be the name of God for ever and ever: for wisdom and might are his: And he changeth the times and the seasons: he removeth kings, and setteth up kings: he giveth wisdom unto the wise, and knowledge to them that know understanding," (Daniel 2:20-21).
Endorsement Letter
My cousin, Lito Carino's renewal for passport at DFA was denied when his application bears the name of Congressman Bernabe of Paranaque City instead of Pangasinan's 5th District under Marlyn Primicias-Agabas
Riza, his sister suggested to seek my help to get an endorsement letter from the Office of our Congresswoman . Riza said I have a good connection with the congresswoman.
In other words, name like the ads of Globe "connecting people" in the same way, a certain name connects as well. A name can connect to another name depending on your sphere of influence. And name has a legal bearing.
I told to my cousin, Lito that I will personally come to the congresswoman's office the next day, which is Saturday. And I must also write a letter personally to request an endorsement letter of my cousin to be addressed to Department of Foreign Affairs (DFA).
The next day at around 11:45am, I drove to San Nicolas, Pangasinan where the official residence of the Agabas. Prior of going there, I called up the congresswoman's husband, Atty. Tyrone Agabas, the honourable mayor of Tayug town and told him I am on my way their place. I also called Crispin Dofimas, the congresswoman's chief of staff.
By the time, I arrived there at 12:15pm, the honourable congresswoman have been sitting with other barangay captains already and another batch of appointments have been scheduled prior to my coming. In other words, I am an unexpected guest, a sort of intruder.
When I stepped down from the car, I was greeted by the mayor, a former board member of the 6th District of Pangasinan, then by their staff and the mayor asked me what he can do for me. I told him my purpose. He commissioned Cris to let me in to talk to the Congresswoman even without prior appointment. That is how name connects but I politely turned it down and affirmed my willingness to wait their meeting.
By the time, the next scheduled meeting came, there were already around 60 barangay officials in the conference hall when Tyrone and Crispin ushered me to sit down at the presidential table just next to the seat of the congresswoman. All eyes turned and glued on where I was. I felt blushing red all over. Those people probably thinking how I was until the Congresswoman came in and sat beside me and said, "Good morning Pastor!" to the amazement of the officials.
"I can go out in the meantime for you have an official business meeting?" I said to the congresswoman. The congresswoman said, "No! It is alright, you can sit there and sit down with us.."
Tyrone whisked himself away from the room and he came back few minutes later with 4 copies of endorsement of Joselito A. Carino addressed to DFA Chief Hon. Alan Peter Cayetano. The congresswoman excused herself awhile to sign the document. And I said, "Thank you congresswoman." She quipped, "Basta ikaw pastor." I said to Mayor Tyrone Agabas, "Thank you ha, you have composed the letter by yourself. " He said, "wala yun Kuya Peps," addressing me on such a very personal manner instead of using my title as a pastor. By addressing me "kuya" that denotes relationship.
Name therefore is a title, a designation, a personality of who you are. It speaks of your office, your integrity, or anything associated to your name. It has a legal personality and bearing to anyone who knows the name. That is how a name works. That is how powerful a name is, depending on what name you have.
The supposedly release of document (endorsement letter) on this coming Monday, was released in less than two (2) hours. It was expedited because of the connection of name. That is why name dropping is often widely practiced today. So identity theft is also now a major escalating crime in the country as reported by GMA 7 News last night where hackers steals identity or name which is called "identity theft."
(picture2)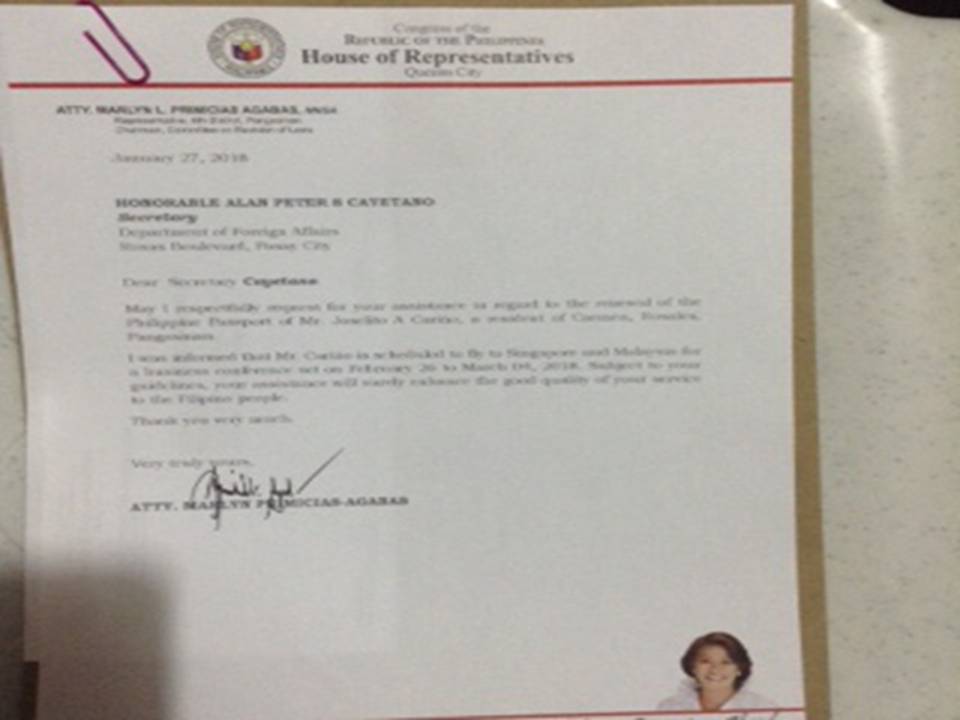 The endorsement letter from Hon. Agabas
That is how powerful a name is.
So when we say, "In the Name of the Father" in heaven, what its bearing to you? And how this Father in heaven gives you the right connections with others. It is using the Almighty Name of God can serve your purposes and intents? And how fast His Name connects you to what you desire?
However, we are given a warning though when it says in Exodus 20:7, "Thou shalt not take the name of the LORD thy God in vain; for the LORD will not hold him guiltless that taketh his name in vain. " The word "vain" in Hebrew "shav" means "uselessness, falsely, morally guile, destructive, deception and vanity." It is synonymous of "identity theft" or "impostor."
"In the name of the Father explained
"In" in Greek "eis" (ice) by Thayer meaning "unto, into, to, towards, for, among." Strong: to or into (indicating the point reached or entered, of place, time, or purpose, far more exceeding, for intent purpose.
"name of" Greek "onoma" name, the name is used for everything which the name covers, everything the thought or feeing of which is aroused in the mind be mentioning, hearing, remembering, the name, i.e. For one's rank, authority, interest, pleasure, commands, deeds, etc. Original word : "ginosko" i..e. to learn to know, come to know, get a knowledge of, perceive, feel, to become acquainted with. Strong: a name (literal, figurative); authority, character, called, surname. Origin: "oninemi" i.e. to derive pleasure or advantage from.
"of the Father" Greek "pater" i.e. generator, male ancestor, the founder of family or tribe; progenitor of a people. Metaphorically, the originator and transmitter of everything; the author of family or society of persons animated by the same spirit as himself; one who has infuse his spirit into others who actually governs their minds, one who stands in father's place and looks after another in a paternal way; a title of honour; father, parent.
In the Old Testament time, the word "father" is first mentioned in Genesis 26:18 refers to the Hebrew word "ab" which means "father of an individual; father of his people; head or founder of a household, group, family or clan; ancestor (grandfather); originator or patron of a class, profession or art; of producer or generator; ruler or chief; or term of respect and honour. Strong Bible Dictionary defined "father" as literal and figurative; principal or patrimony.
Patrimony in Webster refers to an estate inherited from one's father or ancestor; heritage; property when your father dies; things that are from the past; legacy; inheritance; birthright.
In the Philippine Preamble, the word patrimony is mentioned indicating the wealth and resources of the nation as national heritage to all Filipinos.
We, the sovereign Filipino people, imploring the aid of Almighty God, in order to build a just and humane society and establish a Government that shall embody our ideals and aspirations, promote the common good, conserve and develop our patrimony, and secure to ourselves and our posterity the blessings of independence and democracy under the rule of law and a regime of truth, justice, freedom, love, equality, and peace, do ordain and promulgate this Constitution.
What the heavenly Father speaks of?
A father speaks of ancestry or origin.
In Matthew 1:1, "The book of the generation of Jesus Christ, the son of David, the son of Abraham. " Generation in Greek "genesis" means "source, origin, progeny (ancestry)."
Why almost all the organizations, be private or public would always ask your mother's full name especially in documentation purposes?
Why namedropping, impostor-posing and identity theft on the rise? Why our law for example criminalizes anyone who commits falsification of j public documents? Why name-changing requires a court-order?
The names of God-Jehovah is enormous. It is descriptive like Nissi, Jireh, Tsidkenu;
Rohi, Rapha,
A father speaks of personal relationshiph intimacy, identify.
Mayor Tyrone Agabas called me on several ways as "Pastor Kho, if not "Manong," or "Kuya Peps." And those titles denotes personalities or character.
(picture3)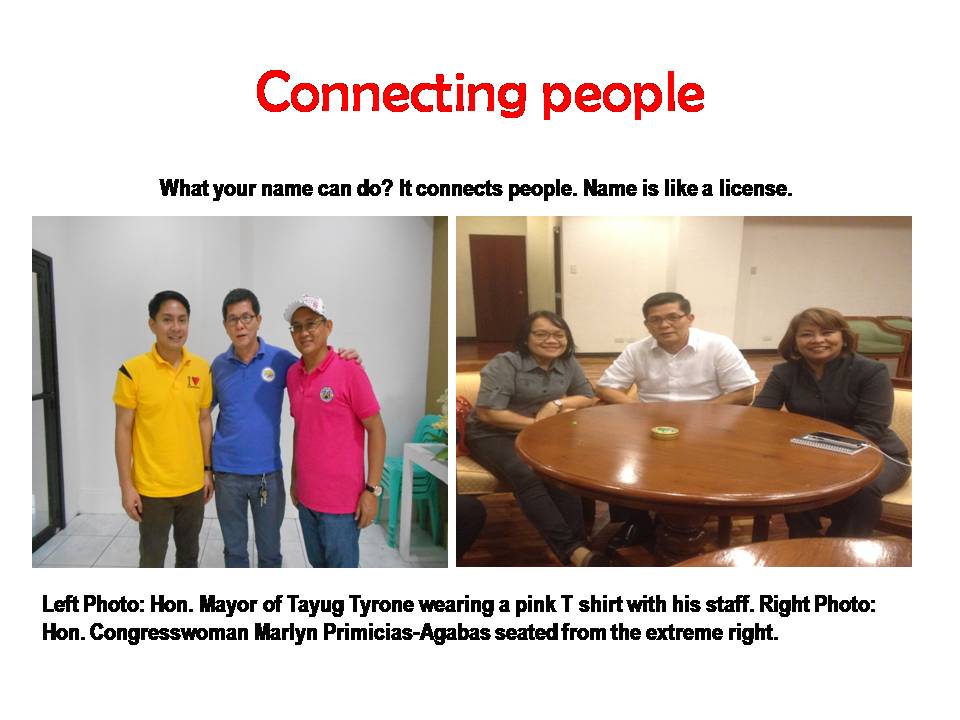 John 1:12, "But as many as received him, to them gave he power to become the sons of
God, even to them that believe on his name:"
John 14:6, "Jesus saith unto him, I am the way, the truth, and the life: no man cometh unto the Father, but by me. "
3.  A father is source of imaging
 John 14:9a, "Jesus saith unto him, Have I been so long time with you, and yet hast thou not known me, Philip? he that hath seen me hath seen the Father;"
Man is the "image of God" in Genesis 1:26. Image in Hebrew "tselem" means "image, semblance; phantom, illusion, representative, figure, idol."
4. A father speaks of compatibility or mutuality.
From the beginning of creation in Genesis to the end of times in Revelation, God refers to Himself as "us" or "our" and thus describes the doctrine of the Trinity. The word trinity comes from "tri" meaning three and "unity" meaning one. God is three distinct individuals - God the Father, the Son Jesus, and the Holy Spirit - in one true God. The below Bible verses and Scriptures about the trinity will help you have a better understanding of who God is. It can be a difficult concept to grasp, yet we can believe God's word and know that while His ways are higher than ours, we can trust in Him
John 10:29, 30a, "My Father, which gave them me, is greater than all; and no man is able to pluck them out of my Father's hand. 30 I and my Father are one."
Like a compound noun. Example: sand or sugar. A maxim, "Like father like son."
5. A father is the source of authority.
Power is a delegated authority. There could be no authority without someone who delegates it. Authority is a representation of one who gives it
Matthew 3:17  "And lo a voice from heaven, saying, This is my beloved Son, in whom I am well pleased." 
Matthew 28: 18-20, " 18 And Jesus came and spake unto them, saying, All power is given unto me in heaven and in earth. 19  Go ( a command) ye therefore, and teach all nations, baptizing them in the name of the Father, and of the Son, and of the Holy Ghost:  20 Teaching them to observe all things whatsoever I have commanded you: and, lo, I am with you alway, even unto the end of the world. Amen. "
John 15:19-21, " Then answered Jesus and said unto them, Verily, verily, I say unto you, The Son can do nothing of himself, but what he seeth the Father do: for what things soever he doeth, these also doeth the Son likewise. 20  For the Father loveth the Son, and sheweth him all things that himself doeth: and he will shew him greater works than these, that ye may marvel. 21  For as the Father raiseth up the dead, and quickeneth them; even so the Son quickeneth whom he will. "
Colossians 2:9  "For in him dwelleth all the fulness of the Godhead bodily." 
 6. Fathering speaks of respect and honour
At 3:00 am, Saturday, 27th of January, a voice said, "How will your honour your father?" It reminds me of my father in the flesh (Tinkon); my surrogate father (Uncle Romy); and Uncle Tony? How much respect or honour I have given them
Disrespectful, sign of end-times
Disrespect and disobedience to the father and the elderly is lacking today which is a sign of the end of times.
1 Timothy 3:1-5, "This know also, that in the last days perilous times shall come. 2  For men shall be lovers of their own selves, covetous, boasters, proud, blasphemers, disobedient to parents, unthankful, unholy, 3  Without natural affection, trucebreakers, false accusers, incontinent, fierce, despisers of those that are good, :4  Traitors, heady, highminded, lovers of pleasures more than lovers of God; 5  Having a form of godliness, but denying the power thereof: from such turn away. "
Restoration of son-father relationship
Curses on the land has something to do with disobedience of the children to their father or mother. However, God is determined to restore this.
Malachi 4:5-6, "Behold, I will send you Elijah the prophet before the coming of the great and dreadful day of the LORD: :6  And he shall turn the heart of the fathers to the children, and the heart of the children to their fathers, lest I come and smite the earth with a curse. "
Jesus honours the Father
John 15:22-23, " 22 For the Father judgeth no man, but hath committed all judgment unto the Son: 23  That all men should honour the Son, even as they honour the Father. He that honoureth not the Son honoureth not the Father which hath sent him."
Honouring father is the 5th Commandment.
Exodus 20:12, "Honour thy father and thy mother: that thy days may be long upon the land which the LORD thy God giveth thee. "
Price tag on parents
"Honour" in Hebrew "kabad" means "to make weighty, to make heavy or burdensome, to lay heavily, to promote (honour)."
Ephesians 6:2-3, " 2 Honour thy father and mother; (which is the first commandment with promise;) 3  That it may be well with thee, and thou mayest live long on the earth. "
Honour in Greek "timao" means "to estimate, fix the value (for the value of something belonging to one's self); to honour; to have in honour; to revere; to venerate; to prize; fix a valuation; to revere; value."
Christ example
John 5:23-30, "That all men should honour the Son, even as they honour the Father. He that honoureth not the Son honoureth not the Father which hath sent him. 24  Verily, verily, I say unto you, He that heareth my word, and believeth on him that sent me, hath everlasting life, and shall not come into condemnation; but is passed from death unto life. 25  Verily, verily, I say unto you, The hour is coming, and now is, when the dead shall hear the voice of the Son of God: and they that hear shall live. 26  For as the Father hath life in himself; so hath he given to the Son to have life in himself; 27  And hath given him authority to execute judgment also, because he is the Son of man. 28  Marvel not at this: for the hour is coming, in the which all that are in the graves shall hear his voice, 29  And shall come forth; they that have done good, unto the resurrection of life; and they that have done evil, unto the resurrection of damnation. 30  I can of mine own self do nothing: as I hear, I judge: and my judgment is just; because I seek not mine own will, but the will of the Father which hath sent me. "
 7. Fathering speaks of inheritance.
Psalm 2:8, "Ask of me, and I shall give thee the heathen for thine inheritance, and the uttermost parts of the earth for thy possession. "
Story of Prodigal Son. Luke 15:11-24, the younger brother who rebelled against his father, took his inheritance and wasted for riotous living and literally begged off to fend himself. When the prodigal son had a "self-realization" he returned to his awaiting father and he was well-received – given him sandals, robe and a grand feast which speaks of forgiveness and reconciliation.
Matthew 26:53  "Thinkest thou that I cannot now pray to my Father, and he shall presently give me more than twelve legions of angels?" 
Inheritance of the saints
Ephesians 1:15-23, " 15 Wherefore I also, after I heard of your faith in the Lord Jesus, and love unto all the saints, 16  Cease not to give thanks for you, making mention of you in my prayers; 17  That the God of our Lord Jesus Christ, the Father of glory, may give unto you the spirit of wisdom and revelation in the knowledge of him: 18  The eyes of your understanding being enlightened; that ye may know what is the hope of his calling, and what the riches of the glory of his inheritance in the saints, 19  And what is the exceeding greatness of his power to us-ward who believe, according to the working of his mighty power, 20  Which he wrought in Christ, when he raised him from the dead, and set him at his own right hand in the heavenly places,  21 Far above all principality, and power, and might, and dominion, and every name that is named, not only in this world, but also in that which is to come: 22 And hath put all things under his feet, and gave him to be the head over all things to the church, 23, Which is his body, the fulness of him that filleth all in all. "
 8. The Heavenly Father in the order of Melchisedec. Likewise the son from the order of Melchisedec (Hebrews 7:1-2)
Melchizedek is called "king of righteousness," the king o Salem and priest of the most high God who lived in the days of Abraham. Melchisedek means "a patriarch" according to Strong. Melchizedek also means "my king is Sedek" whom Abram paid tithe after the battle he fought to free his nephew Lot, "the order of Melchizedek" the order of the priesthood to which Christ belongs
Melchizedek is derived from two root words "melek" i.e. king or "malak" i.e. 'ascend to the throne" and "tsedeq" i.e. "justice, rightness, righteousness."
Hebrews 7:3, "Without father, without mother, without descent, having neither beginning of days, nor end of life; but made like unto the Son of God; abideth a priest continually. "
Who is our Father?
In the Lord's Prayer, Christ gave the following for our guidelines (not necessarily a repetitive prayer).
The Lord's Prayer (also called the Our Father or Pater Noster, among other names) is a venerated Christian prayer that, according to the New Testament, Jesus taught as the way to pray. Two versions of this prayer are recorded: the long form in the Gospel of Matthew in the middle of the Sermon on the Mount, and the short form in the Gospel of Luke when "one of his disciples said to him, 'Lord, teach us to pray, as John [the Baptist] taught his disciples.'" ( Luke 11:1-2)
(picture4)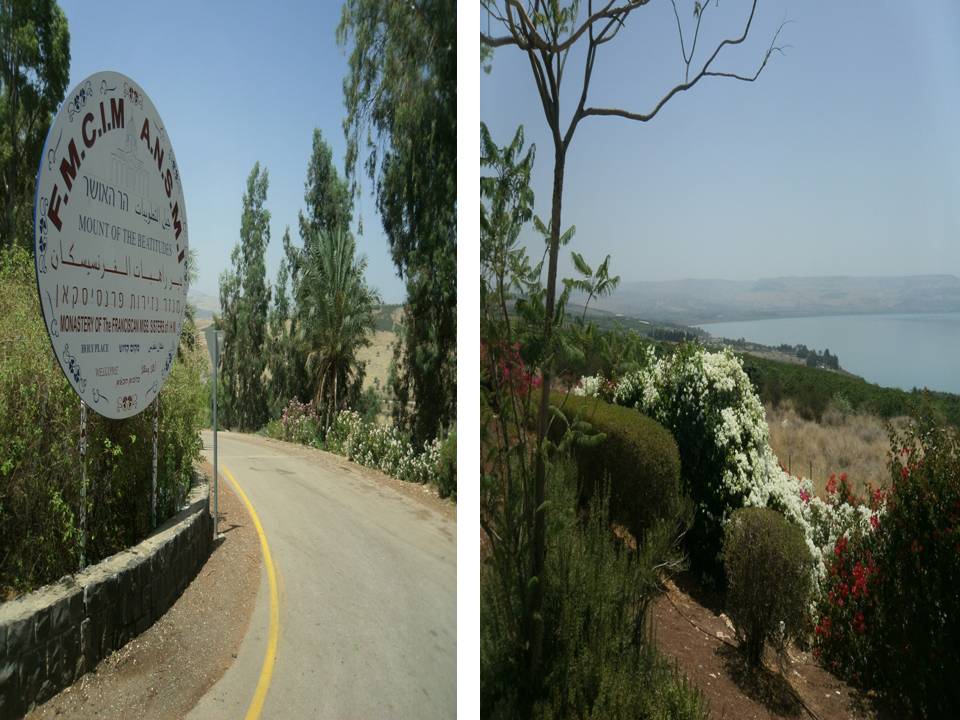 Where the Lord's Prayer was recited by Jesus (Photo by Peps, 2014)
Matthew 6:9- 13, " After this manner therefore pray ye: Our Father which art in heaven, Hallowed be thy name. 10 Thy kingdom come. Thy will be done in earth, as it is in heaven. 11  Give us this day our daily bread. 12  And forgive us our debts, as we forgive our debtors. 13  And lead us not into temptation, but deliver us from evil: For thine is the kingdom, and the power, and the glory, for ever. Amen. "
Invoking God the Father in your personal prayer, what does it implies to you personally, if not congregationally?