The elderly
Details

Category: Teachings & Articles
Published: Wednesday, 24 January 2018 00:00
Hits: 2496
The elderly
By Augusto A. Kho
January 21, 2018 (Sunday); 9:00 A.M.
The elderly
I boarded on Metro Rail Transit (MRT) from Taft on my way to Cubao last January 19, 2018 (Friday); 3:15 P.M. when I noticed that an elderly couple aged 85-91 travelling by themselves without any company. As my eyes roved around, I saw all the elderly as well. This is common sight whenever I am boarded inside an MRT coach for the elderly section.
"Why children even the young teens are accompanied often by adults but the elderly are often left behind by themselves?" This question often comes to my mind whenever I see them. And I am speaking an elderly because I am a senior citizen and I am about to turn 62.
(picture1)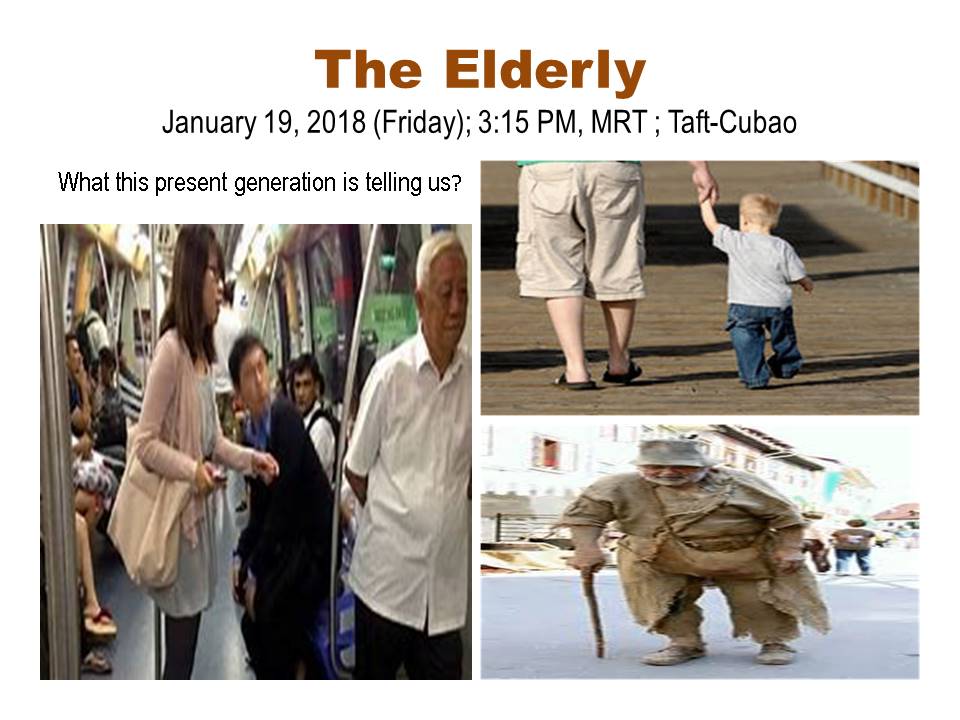 What this generation is telling us?

While children are overly protected through their growing years, the elderly are often left behind to fend for themselves, and many are in terribly miserable condition.

When children become wayward lacking respect to the elderly, then what the bible tells about it?
Proverbs 17:25, "A foolish son is a grief to his father and bitterness to her that bare him." Not only anguish that a son can bring to the father but it can also cause bitterness to the mother that bore him.
Right after the Passover Meal or the Lord's Supper, Christ warned His disciples of this present generation's treatment to the elderly and to one another. He said in Matthew 24:12-13, "And because iniquity shall abound, the love of many shall wax cold.  But he that shall endure unto the end, the same shall be saved. "

How will you describe love that gone "wax cold" ?
Wax cold in Greek "psucho" means "to evaporate". It is a love that is so easy to fade which is just blown by the wind.

To the Church of Ephesus, God rebuked them for having such kind of love to God when He said in Revelation 2:4, " Nevertheless I have somewhat against thee, because thou hast left thy first love. "The word "left" in Greek "aphiemi" means "to expire" or "to divorce" which is exactly what the House Speaker Pantaleon Alvarez has filed as HB 6027 last year.
Governed by seasons
We are all governed by seasons. Time on earth is so fleeting. What matters in this life is whether our life is well-spent or half-lived. Maximizing our fullest divine purpose is indeed necessary to make this short-lived life worth living.
Whether we like it or not we will soon die and fade away. Getting old or elderly is a reality that we need to face. And I am one among them that is soon to expire. The question is whether my life is worth sharing?
(picture2)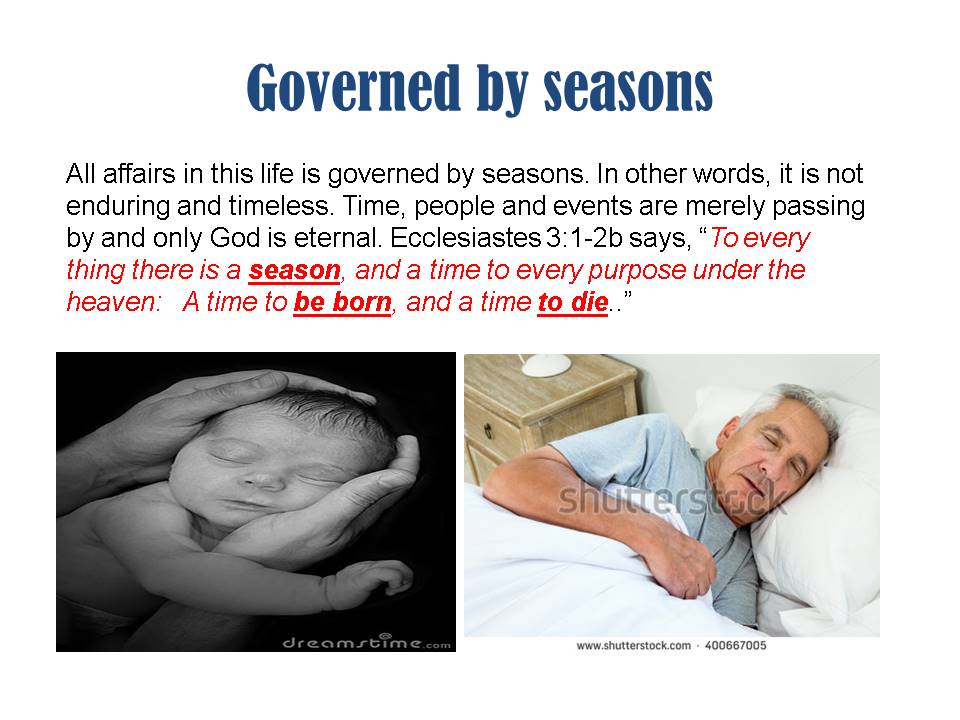 Expiry Date
In other words, everything has expiration in this life. Nothing is permanent. The same thing goes with our present situation or condition or whatever. It could be our emotion, status, rank or title.
Canned good has a production date as well as expiration date. The same thing goes with men. And that is exactly what happen to former M/Sgt. Romualdo S. Acosta, my retired uncle of the Armed Forces of the Philippines (AFP). He passed away last Monday, January 15, 2018 at 4:00 P.M. at age 91. He was like a second-father to me. His remains is now temporarily resting at Room No. 5 at Libingan Ng Mga Bayani (LNB) at For Bonifacio. His interment will be on Thursday morning, 25th of January.
There were two memorable experiences I have had with him. First, when he disciplined me with his rod because he caught me stealing when I was four or five. Second, when I was in college when he told me, "You're acting like a son of a millionaire while your mother is working hard to fend for your tuition fees," as if saying "Live within your means. Don't be a social –climber."
(picture3)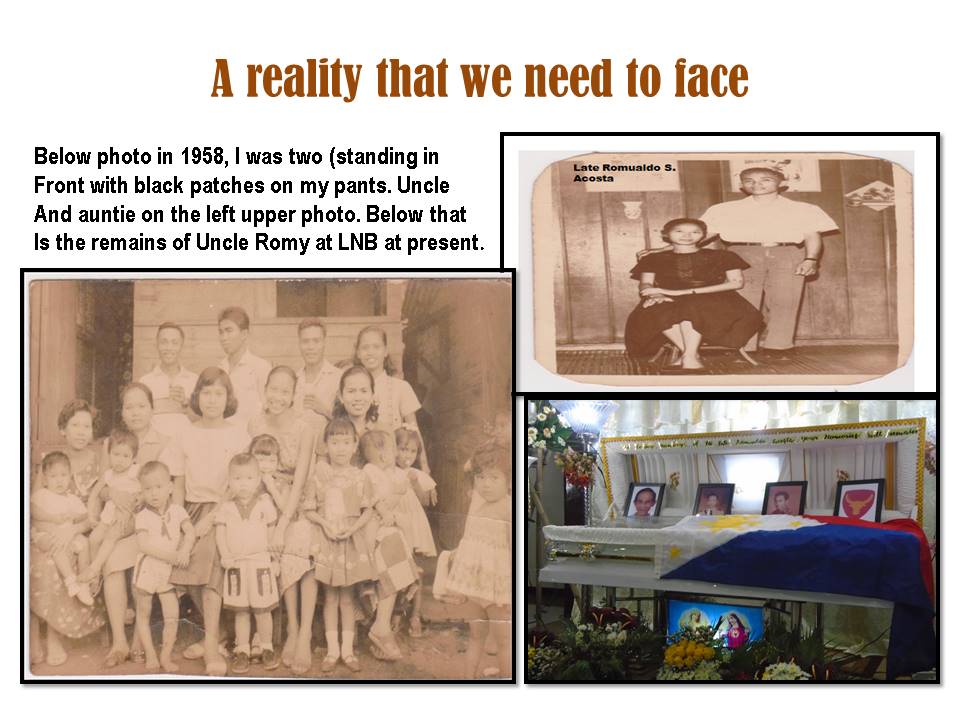 He is a good person, a faithful husband to my aunt for many years. Every Sunday when we were young until I have gone to college, he will bring us to attend a mass in a Catholic Chapel, take our lunch at home, and in the afternoon, he would bring us to a cinema and dine out afterwards. He has done that for many, many years without fail. He is a great provider, and he never uttered a cursing words. He is committed soldier, a faithful surrogate father, without any blemish record in his military career. He is like a man without fault but unfortunately, he and auntie remained childless. We were his children – my other siblings, nephews and cousins. We lived with them for years, they cared for us and provided for our needs.



Regrets
I have no regrets knowing this man as my uncle. If only I have regrets is this – I have not personally visited him in Cembo at Fort Bonifacio. But I remember of inviting him to live with me and Nelids when my auntie Pacita died so he won't be alone by himself. But I understand he does not want to leave the house in Cembo where Auntie Pacita's memories lingers on. When my mother died, two years ago, Uncle Romy was there as well.
Abraham and Sarah
The demise of Abraham was never kept in secret by God. The Lord has already told to Abraham beforehand his projected life span. God said to him in Genesis 15:15, "And thou shalt go to thy fathers in peace; thou shalt be buried in a good old age." In other words, Abraham will enjoy his full age unfortunately, he and Sarah his wife remained childless at age 75. Genesis 18:11 says, "Now Abraham and Sarah were old and well stricken in age; and it ceased to be with Sarah after the manner of women. "
Abraham's death
Genesis 25:8, "Then Abraham gave up the ghost, and died in a good old age, an old man, and full of years; and was gathered to his people. " Old age in Hebrew "seybah" refers to "gray hair" referring to Abraham's fullness of time.
Uncle Romy's hairs have all turned gray. Mine is turning gray as well as a senior citizen. While others have gone sleep (dead) before their hairs turn gray.
Abraham's people was gathered at his wake. I don't how long the mourning was. Perhaps LONG because they were no means of transport and Abraham's relatives could have gone from afar.
At the burial
While we were at the burial, some questions crept in like where will the properties goes, the lump sum of Uncle Romy or his AFPLAI bank savings, auntie Pacita's jewelries that Uncle Romy have kept when he was still alive. But the discussion was mostly centered to the real property and they discussed that from 9 P.M. till 2:15 A.M. (as I looked on my wristwatch).
At most time, quarrel or disagreement on the property that is left behind by the departed member of the family will arise as a heated issue or argument until relatives will part ways with a heavy hearts.
How shall we settle land disputes when the property owner departed?
In the case of Abraham, how this issue have been settled? After all Sarah, his wife died first.
Isaac and Ishmael
We knew that Abraham had two sons: Ishmael was born by an Egyptian servant, an illegitimate child; and Isaac, the promise-son, the word that became flesh.
When they were both growing up, Abraham sent away Ishmael and his mother, Hagar to preserve the heir and the inheritance of Isaac. And that was the start of the territorial dispute to this very day in Israel and her neighbouring Arab-countries (the Ishmaelites). But look at these verses:
Genesis 25:9-10, "And his sons Isaac and Ishmael buried him in the cave of Machpelah, in the field of Ephron the son of Zohar the Hittite, which is before Mamre; 10 The field which Abraham purchased of the sons of Heth: there was Abraham buried, and Sarah his wife. "


Sorting out
In other words, both sons, legitimate and illegitimate, Isaac and Ishmael buried their hatched long time dispute for the sake of the departed elderly. They sorted out things or perhaps they settled their indifferences somewhere else.

How Ishmael was informed that his elderly father has passed away, we do not know. But he was there during the burial. Seem to be no squabbles between the two siblings at the wake. How about in our wake?
Burial site was not an issue here as well. When my mother died, lashing arguments fired like a canons where to lay her last. I offered my burial site but rejected.
In the case of Abraham, he already purchased a burial lot before he died. Read Genesis 25:10.
Honouring thy father
Exodus 20:12, "Honour thy father and thy mother: that thy days may be long upon the land which the LORD thy God giveth thee. "
From the above reading, life-longevity and having one's permanent residence has a secret. What's the secret ? Honour thy father and mother. What is honour?
Honour (Hebrew) "kabad"
To be heavy, be weighty

Be grievous, be hard, be rich,

Be burdensome, be honoured, to glorify
Between riches and greatness, placed your parents are your first priority. Between emotions and girls/gals, again your father and mother must be your topmost priority. Respect to parents and to the elderly must always be a "burden of weight" that you and I must always carry on our back. Respect to the elderly has such a tremendous weight in this life. Why? They are your beginning or genesis. Your life has been authored by them? Without them, where are you now?
Lawful, legal and canonical
Deuteronomy 5:16, "Honour thy father and thy mother, as the LORD thy God hath commanded thee; that thy days may be prolonged, and that it may go well with thee, in the land which the LORD thy God giveth thee. "
Again, honouring parents from the Ten Commandments written in Exodus is again reiterated in the Book of Deuteronomy. Why?
Because Deuteronomy is th fifth book of canonical Jewish and Christian scriptures that contains narrative Laws. From Greek "deuter" it means "nomos law."
Nomos or Nomoi may refer to the Greek term for "law" (νόμος, nómos; pl. νόμοι, nómoi). It is the origin of the suffix -onomy, as in astronomy, economy, or taxonomy.
In other words, "honouring parents " is not a mere religious law but moral and ethical law; as well as criminal law that punishment is rendered when it is not obeyed. That could be the reason why rebellious children have a miserable lives when they offended and sinned to their parents. Rebellious children have no rest all throughout in their lives because of this command.
Honouring parents cannot only be found in the Old Testament. It is also mentioned in the New Testament.
The Lord's command
Matthew 19:19, "Honour thy father and thy mother: and, Thou shalt love thy neighbour as thyself." 
How much is your father to you? How much is his worth should you put estimated value of how important he is in your life? Or is it your father is worthless to you that losing him from the picture in your life is nothing to you at all?
Indebted to the sacrifices of parents in rearing their child is priceless if you will only realize how much they have gone through in your growing years. The wee hours when they wake up to change their diapers; the frugal life they had to go through just to fend the things that you need to give you comfort, ease and happiness; and the "pretenses" they always covering up not to let you know there are nearly giving up and losing hope.
Parents often sacrificed their own happiness for the sake of their children. What a parent can do to his child is boundless at times. He is willing to give all leaving nothing for himself.
Greatest act
What the greatest act a father can do to his son?
Mine was different. I am willing to be placed in bars for Isaac, my son.
Many years ago, I received a warrant of arrest. Though the civil case filed against me for grave libel can be bailed for my temporary liberty, the only money I have had during that time is exactly the amount of bail needed which was P7,000.00. On that same day, Isaac needed his monthly allowance which was exactly the same amount.

Which one I should choose – my temporary liberty or Isaac's needed allowance?
Eventually, I sent Isaac his P7,000.00 allowance that early morning while I kept looking through the window waiting for the arresting police officers to serve my warrant of arrest. And I don't mind being arrested as long I can provide for my son. Does he know this? I don't know!
However for the Father in heaven, He gave all – He gave His Son for us. "While we were yet sinners, Christ died for us," (Romans 5:8).

The word, Honour (Greek) "timao" means "to estimate; to fix a value; for the value of something belong to one's self; to revere; to venerate or to prize i.e. fix a valuation."
How much we estimate the worth of our father depends in our perspective if not projection.
The Epistle's command
Ephesians 6:2,3, "Honour thy father and mother; (which is the first commandment with promise;) 3  That it may be well with thee, and thou mayest live long on the earth. "
Honouring father is foremost. It says, It is the "first commandment." How do we give regard to the word "first?"
First "protos"
First in time and place (in any succession of things or persons)

First in rank (influence, honour, chief, principal)

Foremost (in time, place, order or importance)
Before your feelings or emotions, to honour thy father must be the most important. Before your personal choice, again your father stays at the top. Honouring is the dominant figure. Why? It is the first commandment. Honouring parents must not be bargained nor bartered for by any person, importance or order.
Grow dim
When your parent's eyes glow dim and heavy, are they happy? Will they depart in peace without any grudge or a heavy heart?
In the case of Abraham, the Scriptures says in Genesis 25:8, "Then Abraham gave up the ghost, and died in a good old age, an old man, and full of years; and was gathered to his people."
(picture4)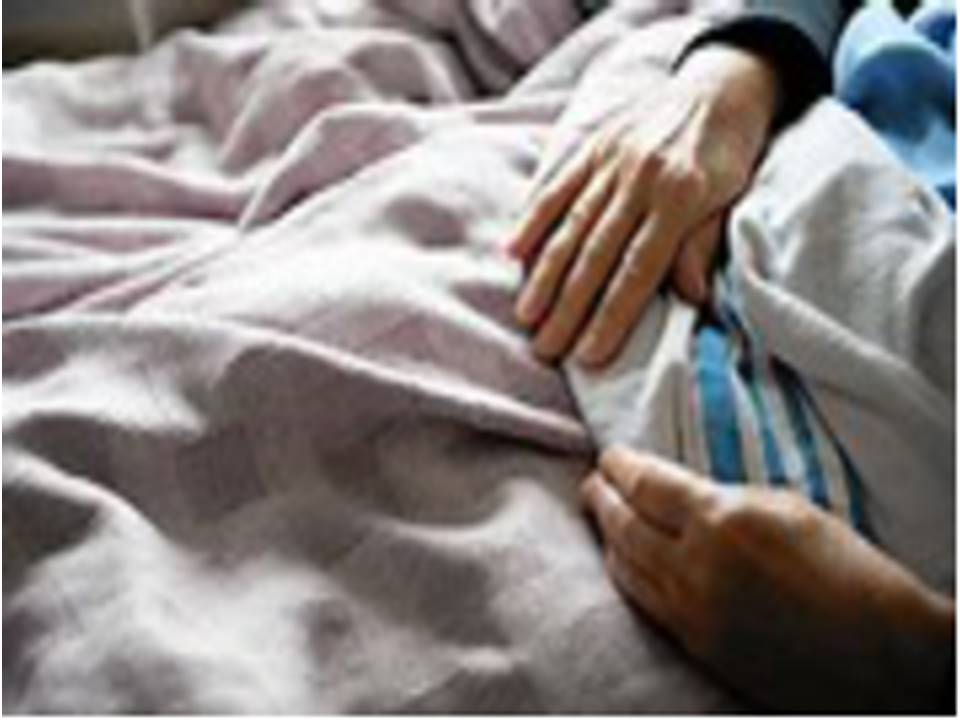 Photo from the internet
Loving Jesus
I know plenty of Christians who claimed they love the Lord Christ. But to be a legitimate child of God automatically demands complete obedience to God, the Father in heaven. If you don't obey the Father, it loses your legitimacy. Legitimacy in the Bible speaks of true heir and to be a legal heir is to acquire your legal rights for the inheritance.
Our inheritance?
It is quite different to the inheritance of this world. Our true inheritance is God, to be with Him in eternity.
(picture5)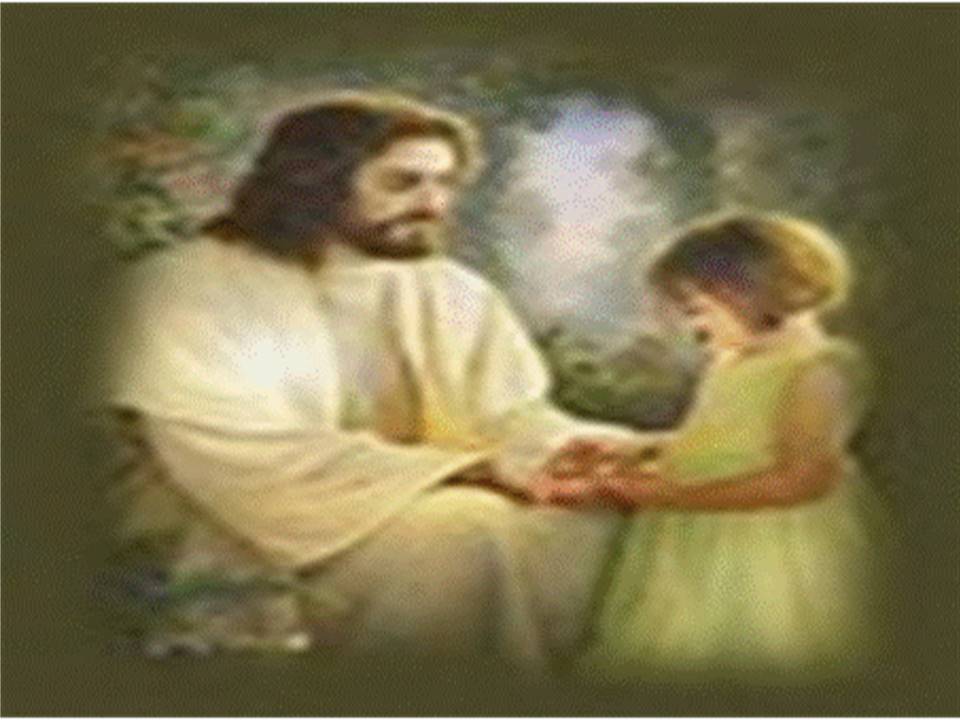 Above photo from the internet
You cannot honour the heavenly Father by disobeying Him. While sonship is required to claim one's legal inheritance, obedience however is absolutely demanded. And many times in the Bible, obedience is like a "blind" obedience. (Galatians 4:1-8).
Training and teaching is most effective to a child, not to the young people. The Bible says, "Train up a child in the way that he should go, " Proverbs 22:6. The word "child" in Hebrew "na'ar" refers to a boy, lad, servant or youth. It is associated with the word "to shake" or "to roar" and usually accompanied by the lion's roar. Strong define "ra'ar" as ' from the age of infancy to adolescence." So training starts from the young.
(picture6)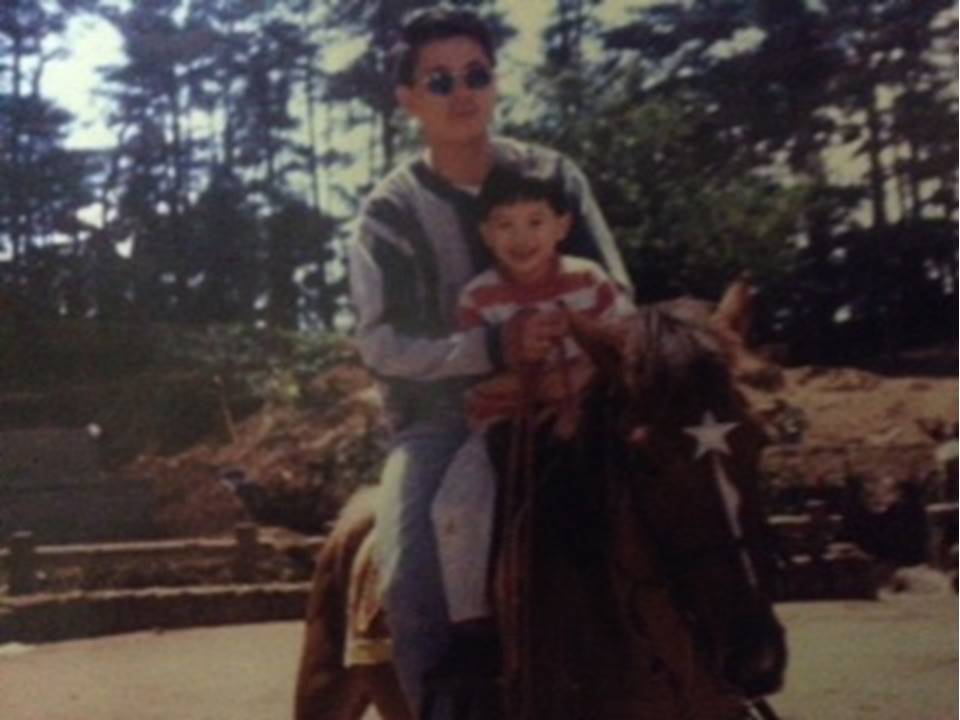 Young Isaac and myself

But the question is this, what if you have started training a child when he was young but he turned rebellious and he turns his back on you as a wayward one? How does it feel that your child disrespect and hurts you?
NOTES:


HB 6027. House of Representatives which they call is discreetly evil as "dissolution of marriage" under HB 6027 on July 24, 2017. According to the bill, a marriage may be dissolved over irreconcilable differences or severe or chronic unhappiness.

Jewish adult responsibility
Question: Att what age does a son take on the responsibilities of the living father ?
Robert Cohen reply from East Barnet, Barnet, United Kingdom, wrote, "I think 13 as a Jewish boy is consodered a man and has his Barmtizvah at this age. Our parents responsibilty ceases at thirteen in regards to Jewish law only."