Broken
Details

Category: Teachings & Articles
Published: Sunday, 26 November 2017 13:34
Hits: 2378
Broken
By Augusto A. Kho
Legend Hotel, Puerto Princesa, Palawan
November 24, 2017; Friday, 10:17 AM
Updated: November 26, 2017: Sunday: 8:00 A.M.
There is brokenness in silent places. There is brokenness even in high places.
Even the strong, the mighty and the brave experience have broken moments in their lives.
(picture1)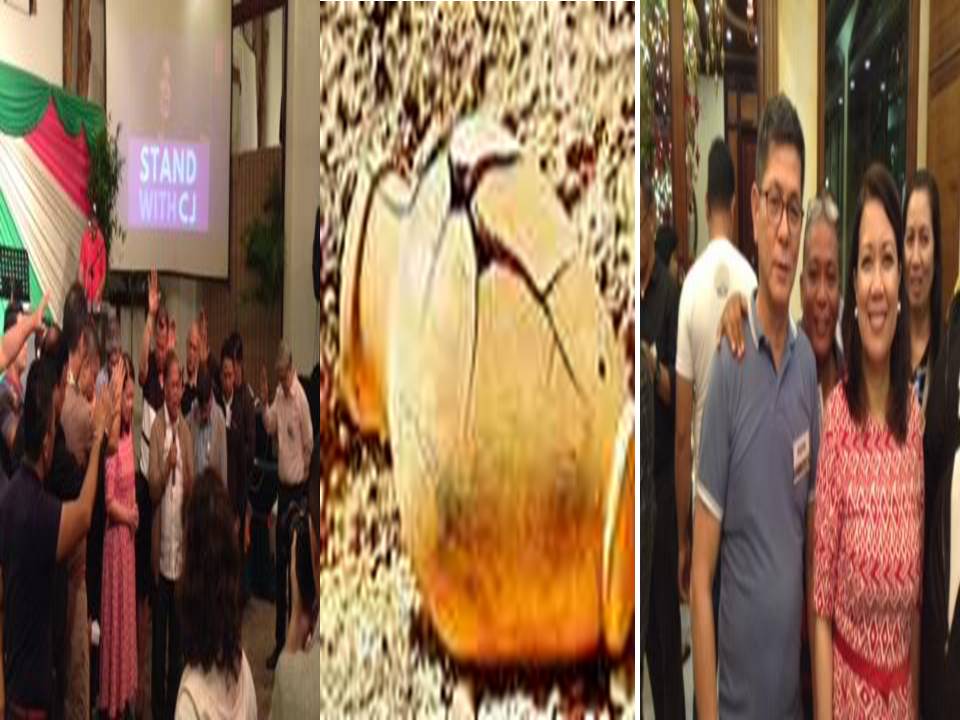 Above photos are taken by Peps (except the photo in the middle)
Harry Ironside said, "God is looking for broken men who have judged themselves in the light of the cross of Christ. When He wants anything done, He takes up men who have come to the end of themselves, whose confidence is not in themselves, but in God."
So when someone told me last November 24 was she I readily texted back saying, "broken but not destroyed," and I am referring no less to the Chief Justice Maria Lourdes Sereno, with 2 Corinthians 4:9 strongly jolted in my mind.
And Caloy Mallari was just sitting beside me when Kuya Dan appealed for prayer to the SJ and the Judiciary when it dawned on me, "Righteousness and justice are the foundation of your throne; love and faithfulness go before you, " Psalm 89:14/NIV. In NET Bible translation: : "Equity and justice are the foundation of your throne. Loyal love and faithfulness characterize your rule. "
Since Sereno works as the highest official in Judiciary, the impeachment complaint filed against her by a certain Atty. Gadon is undermining the credibility and independence of the Judiciary as co-equal branch of this democratic and republican (rule of law) nation whether that criminal suit filed against her is politically motivated or not.
The whole universe is governed by law which we call Natural Law like law of gravity. That is why the pathways or path-line of the stars and planets called orbit is necessary to them them in the right places to avoid cosmic explosion. Who then made that? The same is true to the word "JUSTICE"
 (picture2)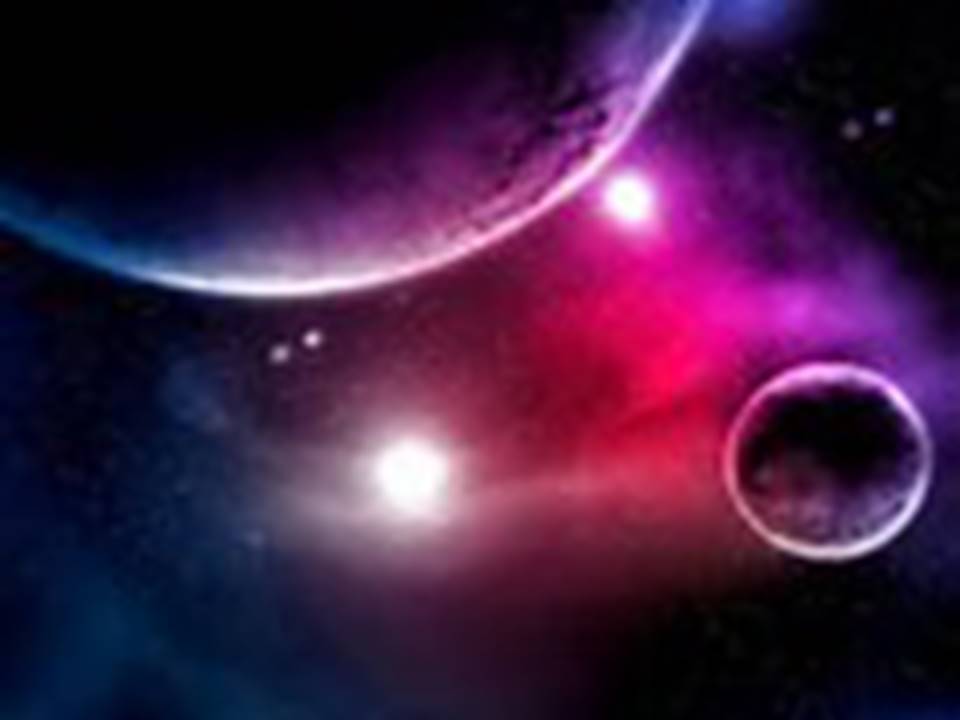 The universe (from the internet)
Tom McFarlane, B.S. Physics, Stanford University (1988) wrote, " The universe necessarily has order. If everything were random, there would be no regularity or structure whatsoever, and no universe as such. In fact, the universe could be defined as order. This is why the Greeks called it cosmos, which means "order."
So Judiciary is an order. As long it remains untouched, untainted and unassailable our nation remains intact and in order. Once the judiciary is attacked the nation will fall into anarchy and chaos.
Justice in the Bible
In KJV, Psalm 89:14 reads this way, "Justice and judgment are the habitati.on of thy throne."
Justice means "tsedeq"meaning "rightness, righteousness, what right or just (weighs and measurements). Strong calls it "the right" I.e. the right ( natural, moral or legal).

Why your throne or seat or figuratively, your sense of balancing is proportion to your weight, size and height to where you are standing there? Because of the natural law. The law of gravity. Or the law of equilibrium, Equilibrium, in several sciences, is the condition of a system in which all competing influences are balanced
Brokenness in High Places
You see, brokenness have their own stories.
Parthenon. When you visit ancient ruins, you will find out that broken walls or broken potteries or anything broken has their specific histories. When I visited the world's oldest building Parthenon, I saw hundreds of broken fragments of massive stones encoded with a specific number as if encoded which means those broken stones are being lined up according to the sequencing number to restore the old ancient building or reassemble them to fully study the ancient history of this building in the lives of the people of Athens.
The Temple of Solomon. There is a story behind this ancient temple. Despite of its destruction in 70 AD when during the Jewish-Roman War, the people of Israel is trying to relive their ancient culture and history. That is the reason why they are still preserving the last remaining small broken edifice known as the "Wailing Wall" and still have their untiring support to restore its original,ancient glory. The question is what is behind this ruins (and brokenness) in terms of historical values and spiritual truth? The biblical and its religious truth remains a fact that the temple destruction is because they broke their covenant with their God.
(picture3)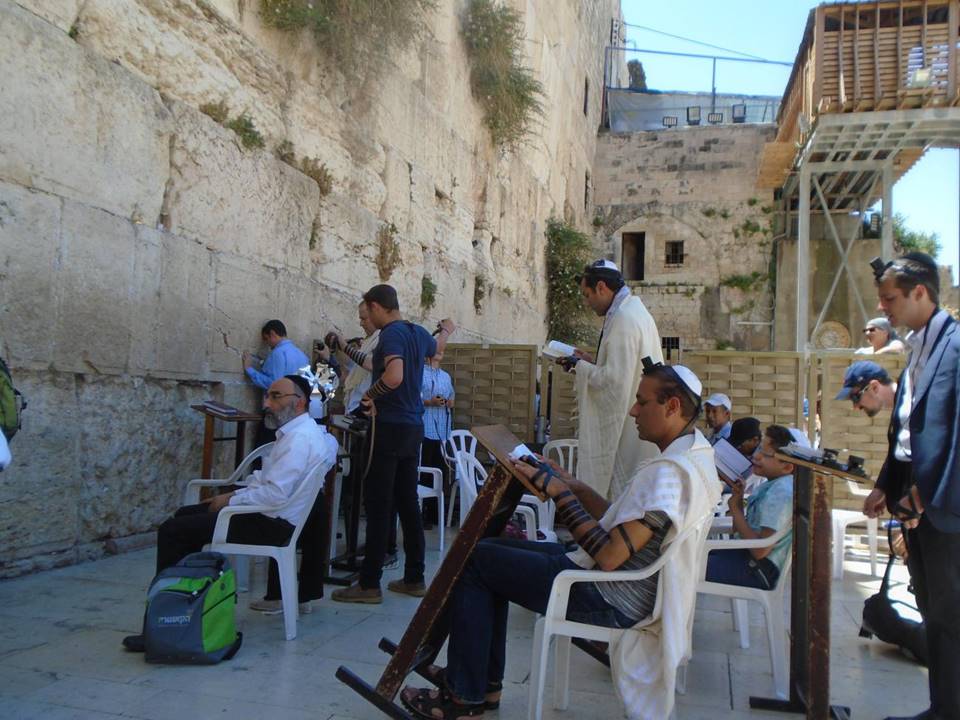 "Wailing Wall". This is what it remains from Temple of Solomon?
What is the story behind it? Photo by Peps in 2017
Chief Justice Sereno. What is the story behind her present brokenness? Is it personal vendetta or a political maneuvering that concerns with her judicial decisions in the past like the Memorandum of Agreement on Ancestral Domain (MOA-AD) of declaring its unconstitutionality under GMA Adminisration? The MOA-AD is the foundation of today's House of Congress and Presidential priority bill.
You and me. How about you and me, what is the reason of our brokenness today or our brokenness in the past? Have we learned of great reservoir of wisdom and good values during our broken times?
The same is true to the brokenness of every man or woman of God, there is a story that needed to be uncovered for us to face bravely with the grace of God and re-live our hurting past for yet another beautiful tomorrow.
Chief Justice
On December 24, 2017 at around 9AM in The Legend Hotel, Puerto Princesa regarding her present Impeachment Trial from the House of Congress saying, " Kaya di po ako nalulogmuk. Nag ta taka sila bakit ako naka na tulog pa at laging nakingiti. Kasi buhay ang Panginoon. "
As a chief justice, she needs to be strong so that she can defend the Judiciary which its major task as the interpreter of the law.
Like the rest of us, though she occupies a high position in the government, she too is vulnerable to be broken that can undermine her, her life and her faith to God. We must remain strong even in the midst our brokenness as 2 Corinthians 4:9 puts this way, "persecuted, but not forsaken; struck down, but not destroyed;"
In other words, before Sereno got the 3rd stint as one of the 3 highest government position of this land she too have gone through brokenness. Smith Wigglesworth said, "Before God could bring me to this place He has broken me a thousand times. "
Christ was immensely in severe brokenness in most two instances: at the Garden of Gethsemane and when he was in the cross and he said, ""Father why thou hast from forsaken me." The word "broken" is there at the Lord's Supper (1 Cor. 11:24) which means in Greek "klao" as "to break."
The patriarchs and the saints of NT experiences brokenness as well. David cried before the Lord though he was a a trademark of valor and a champion in the eyes of men. He sung, "Hear my cry O God, attend unto my prayer," (Psalm 61:1)
Struck down is also means " thrown violently" like a broken glass from the Greek word " ballo."
2 Corinthians 4:7-12 (NIV), " 7 But we have this treasure in jars of clay to show that this all-surpassing power is from God and not from us. 8 We are hard pressed on every side, but not crushed; perplexed, but not in despair; 9 persecuted, but not abandoned; struck down, but not destroyed. 10 We always carry around in our body the death of Jesus, so that the life of Jesus may also be revealed in our body. 11 For we who are alive are always being given over to death for Jesus' sake, so that his life may also be revealed in our mortal body. 12 So then, death is at work in us, but life is at work in you."
Life in Christ begins with brokenness from the heart. Psalm 51:17, "The sacrifices of God are a broken spirit; a broken and contrite heart, O God, thou wilt not despise." The word "broken" from the Hebrew "shabar" means "to break in pieces, rend violently, wreck, crush, rupture, tobe crippled, to destroy." Christ have been prophesied by a prophet that his life will be a broken life in Isaiah 53:3-5, "He is despised and rejected of men; a man of sorrows, and acquainted with grief: and we hid as it were our faces from him; he was despised, and we esteemed him not.4 Surely he hath borne our griefs, and carried our sorrows: yet we did esteem him stricken, smitten of God, and afflicted. 5 But he was wounded for our transgressions, he was bruised for our iniquities: the chastisement of our peace was upon him; and with his stripes we are healed."
Philippians 2:5-11, "Let this mind be in you, which was also in Christ Jesus:6 Who, being in the form of God, thought it not robbery to be equal with God:7 But made himself of no reputation, and took upon him the form of a servant, and was made in the likeness of men:8 And being found in fashion as a man, he humbled himself, and became obedient unto death, even the death of the cross.9 Wherefore God also hath highly exalted him, and given him a name which is above every name:10 That at the name of Jesus every knee should bow, of things in heaven, and things in earth, and things under the earth;11 And that every tongue should confess that Jesus Christ is Lord, to the glory of God the Father." In other words, whoever is exalted by God is the same man whom He have pierced and placed into a laboratory of brokenness.
Brokenness is seasonal
Ecclesiastes 3:3, "A time to kill, and a time to heal; a time to break down, and a time to build up". \
"Break down" in Hebrew "parats" means "to be broken down" but it also means "to break through."

According to dictionary.com, the word breakthrough means " a military movement or advance all the way through and beyond front-line defense." While Webster dictionary puts it this way, "an offensive military assault that penetrates and carries beyond a defensive line — breakthrough in a sentence."
In Ecclesiastes 3:1, "To everything there is a season, and a time to every purpose…" Purpose (Hebrew ) "chepnets" (khay-fets) means "a valuable thing."
He who have not experienced a breakthrough or brokenness in his life will never see the the great riches it has to be revealed. Precious lessons often heard from the broken lives of broken men and women of God. Life begins from brokenness. Remember that song, "I Believe?"
(picture4)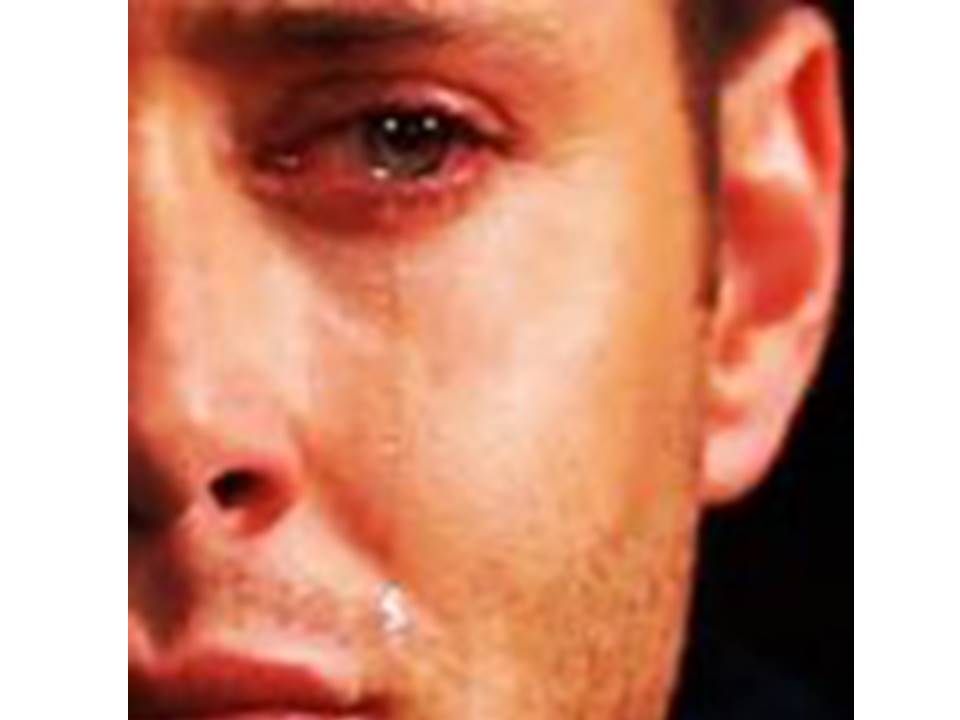 "I Believe" from the internet
"I believe above the storm a smallest prayer, Will still be heard, I believe that someone in the great somewhere, Hears every word, Every time I hear a newborn baby cry, Or touch a leaf, or see the sky, Then I know why, I believe," by Tom Jones.
.
According to Jeff Maccoy (2015), "Shortly after the baby's birth, whether it's a vaginal birth or a c-section, the baby will be evaluated for its ability to adapt and transition normally to life outside the uterus. To aid in this process, the baby is transported to a warming unit with a radiant heat source. The baby (now officially called a neonate) is dried of all moisture, which helps to minimize the loss of its core temperature.
The nose and mouth of the baby are suctioned to clear the baby of all secretions and to aid in its first breathing efforts. The baby should begin crying within the first 30 seconds to one minute of life. To accomplish this, gentle stimulation is usually required and accomplished by rubbing the baby's back or gently stimulating its feet."
Wiki.educator says, "Crying is a normal event in the lives of all babies.When a baby comes out of the womb the first thing to do is crying.By the first cry he will take some air in to the lungs for the first time in their life.After delivery if the baby does not cry then it should be initiated by slightly pinching or gently stroking the feet.From this it is clear that the healthy baby should cry and it is a normal physiological event ,still some times it can upset the mother or family members."
Above may be scientifically-given explanations but the Bible has also a lots of explaining should we get deeper to the word.

Ecc. 3:2, "A time to be born…" A baby cries as soon he gets delivered to this world. The word "born" in Hebrew "yalad," means "to bear, bring forth, beget, gender." But it also means "to travail" or "t o be in distress."
Travail according to Webster " work especially of a painful or laborious nature : toil ".
Jesus mentioned the word travail in the end times "All these are the beginning of sorrows." Sorrow in Greek "odin" means "the pain of childbirth; the coming of calamities before the advent of Messiah, travail or pain."
Paul mentioned that "the whole creation groaneth and travaileth in pain " (Romans 8:22) referring to a woman in agony of childbirth. "
And in Revelation , a certain nation like Israel can give birth to a messiah or savior. Can the Philippines at present in agony is a birthing of a new hope of the coming messiah?
"And there appeared a great wonder in heaven; a woman clothed with the sun, and the moon under her feet, and upon her head a crown of twelve stars: And she being with child cried, travailing in birth, and pained to be delivered" - Revelation 12:1-2
Correlation in Ceramics-Making
What is the correlation of brokenness with the earthen vessel in 2 Corinthians 4:7-9.
Geology and the potter! Linda focuses on the aspects of geology, chemistry, and materials science that are relevant to potters. The properties of clays are explained by examining their chemistry and structure, and the various rocks and minerals used in glaze making are explored.
Linda Bloomfield, covers those aspects of science that are useful to potters and that help to give a deeper
understanding of ceramic materials and processes. By gaining a deeper understanding of materials, their structure, composition, origins, and others.
Man is called as dust in Gen. 2:7. Dust is aphar in Hebrew means "dry earth, power, ashed, mortal, rubbish, ore but
breathed with life.David described himself as a frail man in Psalm 39:4. The word "frail" in Hebrew "chadel"
(khaw-dale) means ceasing,destitute, rejected, fleeting. Yet David said in verse 7, "And now Lord, what wait I for?
My hope is in thee?"
Author Vance Havner qouted it this way, " God uses broken things. It takes broken soil to produce a crop, broken clouds to give rain, broken grain to give bread, broken bread to give strength. It is the broken alabaster box that gives forth perfume. It is Peter, weeping bitterly, who returns to greater power than ever."
The stunning beauty of a dust as destitute depends on the skillful potter like God can make a rejected clay designed
for its value (whether commercial, historical, cultural, etc).
(picture5)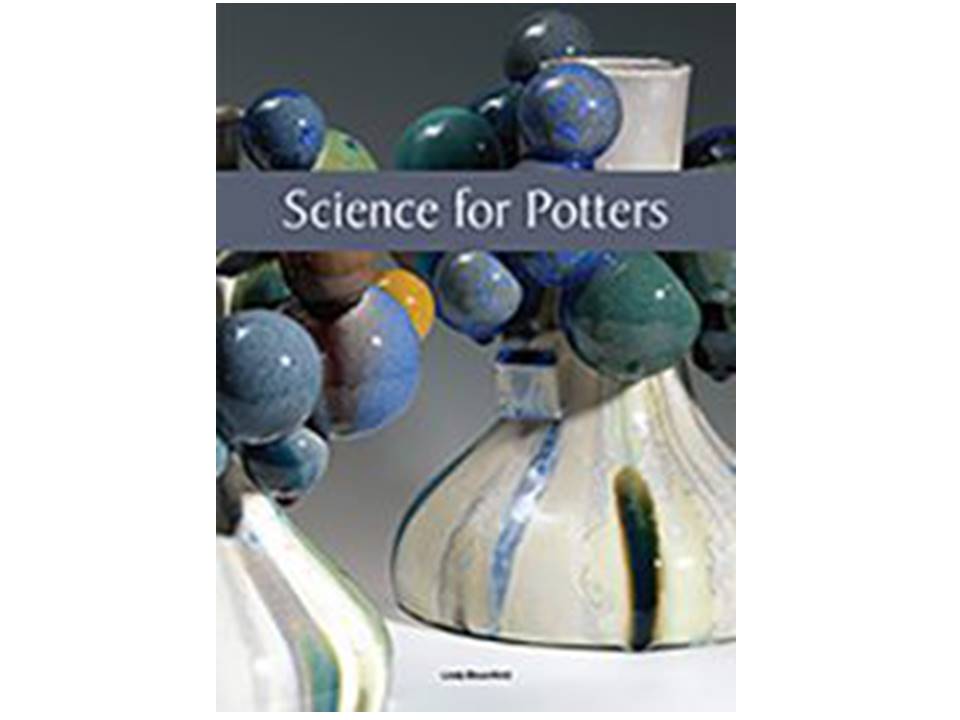 Above photo from the internet
In other words, Jesus Christ is truly right when He said, "Without me you can do nothing" (John 15:5)