PALAWAN 5
Details

Category: Teachings & Articles
Published: Thursday, 23 November 2017 03:23
Hits: 3792
PALAWAN 5
The Legend Hotel; Puerto Princesa City
November 21-25, 2015 (Tuesday-Saturday)
Edited: November 27, 2017;Monday; 6:00 PM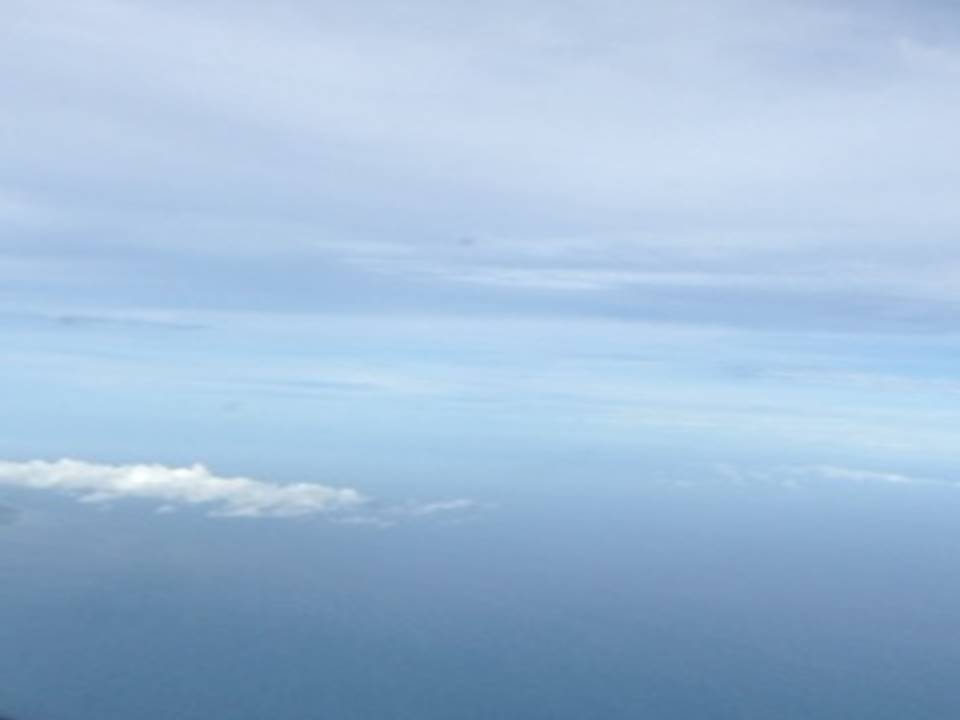 On Board Philippine Air cruising above 30,000 feet over Palawan blue skies
DAY 1 (Tuesday)
4:00 PM.
Brief History
By Bishop Daniel Balais
I just came from Dubai, I thought I could not make it. We were fed with lobster and shrimps so when I came back I had this gout and I couldn't move. I was on a wheelchair.
We pray that Bishop Ed Villanueva can also come. He is sick too. Most of our leaders are old now. That is why we invited you because you are the 2nd liners of leadership.
Palawan 5 Bishops and Leaders Summit
A movement of Unity in Pursuit of our Nation's Destiny
This photo is the Palawan 1. Before it was PJM and PCEC. Then IFP came in and the NFS. IFp is prayer movement. NFS is a service movement to the Body of Christ.

This is Redemptive Plan for the seasons. To everything there is a season. God dispense his redemptive plan to mankind and the earth by seasons. Ecc. 3:1.

Everything on earth is governed by seasons. And God ordained the seasons.
Three Dimensions of times
Chronos.

Kairos, (Acts 17:26)

Pleroo. The fullness of time in Gal.
God changes the times and season of the nations. Dan. 2:20-22. God uses kings and presidents as an instrument of blessing or judgment.
Few days ago there is a coup e tat in Zimbabwe. And it plunged the nation abruptly. God reveals the deep and secret things.
Acts 17: 26. He appoints the seasons of the nation. That is the kairos. No nation is an accident. Every nation is wonderfully made by God. Some nations have short people, others are taller people. But God made us.
Psalm 102:13, "Thou shalt arise and have mercy upon Zion; for the time of favour her, yes, the set time is come."
Men of Issachar who had the understanding of the times and seasons of God. 1 Chr. 12:32
Israel did not recognized Jesus on the time of His coming. But Zechariah said "they would looked at Him whom they have pierced"
By March 9, 2009 came the Palawan Summit after Cindy Jacobs came to The Arena with Ed V.
The unravelling of our 490th Year Jubilee Season. By that March 9, 2009, from Bangko Sentral Ng Pilipinas (BSP) Gunigundo Magtanggol was with us also.
I was about to speak in Kairos Time, the Holy Spirit said, "Count on the number of years since you were discovered by Magellan." I asked Ed de Guzman to count the years. He said 488 years. Then the holy Spirit spoke said 490 years.
March 16, 1521 - March 16, 2010= 490
(picture2)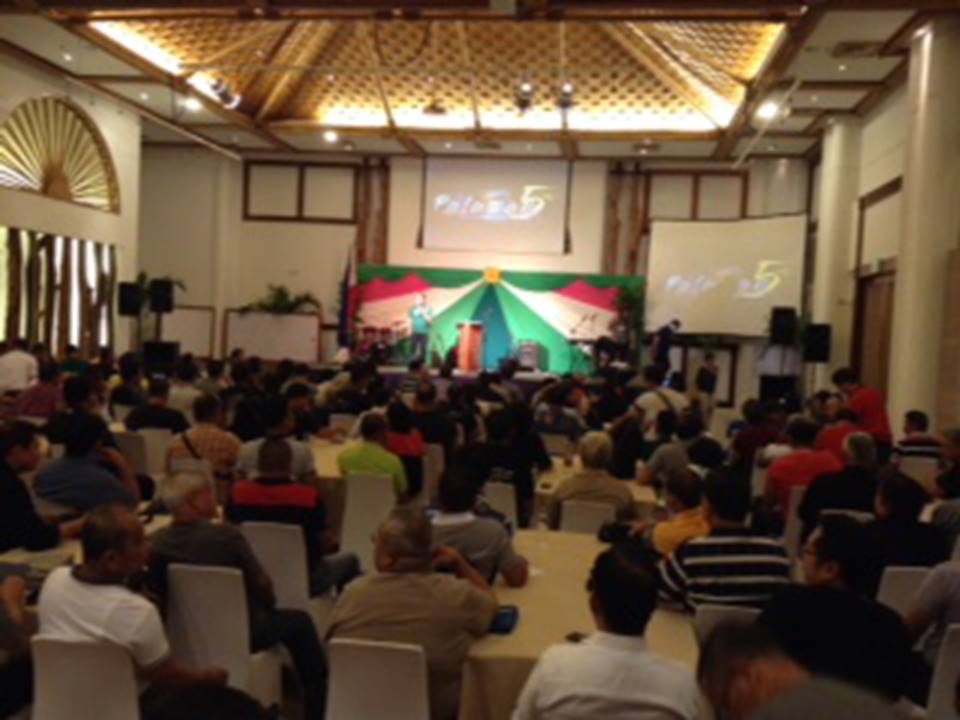 Palawan 5 : "Bishops and Leaders'Conference" ; Legend Hotel,
Puerto Princesa, Palawan, November 21-25, 20127
The Jubilee
Lev. 25:8, "And thou shalt number seven sabbaths of years unto thee, seven times seven years; and the space of the seven sabbaths of years shall be unto thee forty and nine years."
that is 7 x 7 = 49 Rosh Roshahan
Lev 25:9, "Then shalt thou cause the trumpet of the jubile to sound on the tenth day of the seventh month, in the day of atonement shall ye make the trumpet sound throughout all your land."
Lev 25:10, " And ye shall hallow the fiftieth year, and proclaim liberty throughout all the land unto all the inhabitants thereof: it shall be a jubile unto you; and ye shall return every man unto his possession, and ye shall return every man unto his family."
It is the regathering of people just like Filipinos are being scattered all over the earth. Filipinos are all over the earth but God will give time to regather us.

Daniel. 9:24, "Seventy weeks are determined upon thy people and upon thy holy city, to finish the transgression, and to make an end of sins, and to make reconciliation for iniquity, and to bring in everlasting righteousness, and to seal up the vision and prophecy, and to anoint the most Holy. ';
The outline the Jubilee years i.e. 70 x 7 is Redemptive Season which is 490 years.
To finish the transgression

Make an end of sins

Make reconciliation for iniquity

To bring everlasting righteousness

To seal up the vision and prophesy

And to anoint the most Holy

The cross was planted in Cebu but it is Paganistic Christianity. Philippines is a nation of destiny with tremendous battles and struggled that she had to go through. Discovered by Magellan in 1521, colonized by Spain 333 years making it the 1st Christian Nation in Asia.
On March 16, 2010, we rented the Cebu International C0nvention Center and declared the Philippines Jubilee. 4,000 came mostly pastors form Luzon, Visayas and Mindanao to declare our Jubilee. Why Cebu? Because the cross was planted in Cebu,.

We blew the shofar in Cebu, bro. Eddie dedicated the nation to the Lord and invited Sadhu from SIngapore. The 1st message of Sadhu was not inspirational but also rebuke saying that we are a divided Christians.
In 2004 Bro. Ed ran for presidency but he lost and half the body of Christ didn't like it. From there, I resigned from PCEC because I was prevented to campaign for Eddie. I thought I was right but I was wrong and God used Sadhu a prophet to tell him that I am wrong. We had this 21 days of Fasting for repentance for the division of the Body of Christ. There were stern criticisms in social media too . Sadhu said, "You are not ready for the unity." I was the 1st one who knelt down and when I looked around, there was 3,000 pastors came weeping as well. This is our destiny.
So I said if we ca not reconcile with our fellow leaders how can we come to our destiny as a nation? We heard His Word for that season.
God shown me vision. Vision: It is a bamboo split but the bottom is still intact. The middle is the picture of a divided church. The Lord said, "This is the church in the Philippines and I want you to put it together."
Prophet Sadhu said "This is the key of your Jubilee." With the problem then is where to get funding. We spent P4-million in Rizal Stadium for the 3-Day Fast and Repentance. We are then unprepared.
I oversee 500 churches yet you don't know me as CLSF but you always hear me as IFP.
The 3-Day Fasting at Rizal Memorial Stadium, April 21-23. 2010
We blew the shofar. We invited Efraim Tendero, as I said to him, "we need to reconcile with him." For 6 years, I have not talked or texted him and I distanced myself from him. Praise God, he came straight from Canada. And from the airport, he came straight to the stadium.
They were 6 bishops from PCEC who came and 6 bishops from PJM. We had the Feet Washing. It does not matter who is right, and who is wrong. It was Jubilee, it is a cancellation of debts. Ed Villanueva washed the feet of Manong Fred Magbannua who campaigned for another presidential candidate (Villar) We were crying. Nothing should divide the Body of Christ.
This is Bishop Leo (picture shown) and for 6 years we didn't talk. Then we had the renewal of commitment to one another. I asked Bro. Ed V. to lead the Breaking of Bread with Manong Fred and again we re-dedicated this nation to the Lord.
It is the time to embrace - Eddie and Fred kept embracing. Fred Magbanua campaigned for Villar. We sat on the grass for the next 3 nights.
Again, Eddie lost and P-Noy won with "Daan Matuwid." which is Straight Path or Righteousness. We visited him with Kuya Ed. He accepted the Lord through brother Ed. Whether he accepted the Lord or not it is from the Lord.
During that Aquino Administration, when the "Righteousness exalts a nation" being placed in our Philippines currency worth P7-Billion. We are the only country that we have the scriptures in our currency because of one Christian who stood before the Monetary Board no less than Diwa Gunigundo. And Philippine currency became the most stable currency in the whole world even up to now though we are experiencing an inflation.
We are the strongest currency in Asia but second to China in Asia Pacific.
Robert Misst, was also invited after the Foot Washing. He said, "What have you done after the feet washing?." I said, "we had foot washing." He said, "It is not enough, you must love one another and unit for the destiny of this nation. . If not judgment will come upon the Philippines and the blood of the Filipinos will be upon your hands. ."

Every time we are divided there is judgment like the Yolanda. Then I heard from the Spirit, "Love must be fervent." If we don't nag babatian that is not love.
1 Peter 4:7-8, "7 But the end of all things is at hand: be ye therefore sober, and watch unto prayer. 1Pe 4:8 And above all things have fervent charity among yourselves: for charity shall cover the multitude of sins. "
In the end times, we need to exercise the authority of the Lord Jesus Christ. Bishop Tendero is the PCEC Chairman while I was the PJM chairman, So we are counter-part and I said to him, "Bishop Ef mag mahalan daw tayo." He said, "Let us have a breakfast fellowship." And immediately, Wyden King and Antonia responded until we did it monthly. So we agreed the Bishops Monthly Fellowship from 1st, 2nd , 3rd, 4th until PCEC said, "Cant we have a Bishops Summit?" And again, Wyden volunteered. Until we have this very day.
It was first dubbed "PCEC-PJM Summit." Napa kahirap mag unite. Peter Tanchi with CCF and Eddie V. there enjoying each other's presence. They are the tough leaders of the Body of Christ. We had basketball as we were playing in a 6,000 seats stadium. We have dawn prayer tomorrow. The final morning , the Holy Spirit made manifest Spirit upon us and we all fell down on the floor without anyone telling us - Methodist, Church of God, the traditionals, etc. That is Bishop Manny Carlos of VCF. Mayor Hagedorn sponsored us. That is Governor Mitra of Palawan.
(Peps: Pastor Rodelio Javien came to my mind while Kuya Dan Balais was speaking about unity of the Body of Christ? It has been 5-6 years perhaps that we have not communicated with each other. I remember that the Lord has reminded me to pray for him when we were in Mt. Sinai, Egypt where Moses received the two Tablets of the Ten Commandment which was inscribed by the finger of God. I was surprised when Pastor Dan called up the delegates from Luzon and made mention of his name as the delegateds were requested to come in front for the welcome gesture and briefly introduce themselves I came forward to represent IFP Pangasinan and seeing Ptr Javien - we had to embraced each other especially when a Covenant was recited as the Mission Philosophy of Palawan 1 to 5. Ecclesiastes 3 :5 speaks of time of embracing and a time to refrain from embracing).
By the way, this city is being called "The City of the Living God."
(picture3)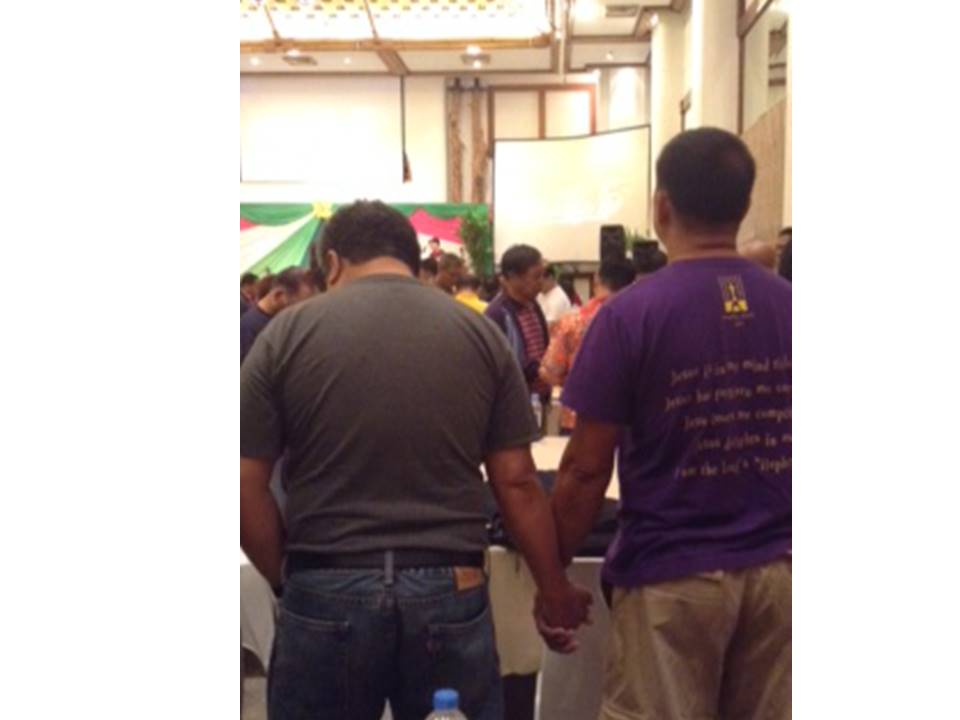 Holding hands together for prayers
Lance Walnau taught us about the "Father's Love." We had the 1st Baptism of the Father's Love. He was a Baptist, who went to Toronto, and he was baptized with the Father's love. Then God sent him to Pakistan with tens of thousands of Muslims with Imam introducing him. He has the specialty to "embracing and kissing". He said to me, "Can I embrace you." That is Peter Tanchi,.
That (photo) is taken from Pandan Island. I love this picture. I love Bishop Ef and Ed. I can give my life to Ed. We had Basketball. E had this Father's love. There is a fresh baptism of love. Then we had the Joint Conference of PCEC and PJM.
We need to contend for our destiny. And this is the story of Palawan 1 to 5.
I was 19 years old when I was born again. I am now 64. We should prepare the homecoming of the sons of God. The Lord has already raised up the fathers. So when Wyden, IFP and NFS, Luis Pantoja, Leo Alconga of PJM, we have decided to put this Palawan. Before we were just around 60-70. Now we have many now. We have now 218 delegates all over the country.
I was praying last night. I came with a wheelchair but this morning I just got up and God said, "Go." God wanted us to be healed, we are not competitors, but we are family. We are not Imperial Mindanao nor Imperial Manila. We are one, we have this God Kingdom and we have this Millennial Role. The love of the Father should bring us ONE.
The Chinese leaders are also here. We welcome them. Also NCCP is here. Let us sing "Great is thy Faithfulness." Also from Taiwan delegates, Hong Kong and Thailand… Let us welcome one of our Convenor - Bishop Leo Alconga.
Leo Alconga
Purihin ang Panginoon.
Ang aking katayuan dito at para akong anti-climax. May tinawag sa akin sa Philippine Council of Evangelical Churches (PCEC) and in behalf of Bro. Eddie, Chair of PJM, we must pray for him as he desire to come and attend here. Bro. Domeng Rivera called up and confirming that he will be coming.
I also welcome you as Free Mission Churches of the Philippines. I also greet Wyden King with appreciation and also to Antonia King, untireable, very caring to us. Sis. Antonia is parang trumpo, pa ikot-ikot sa pag istima niya sa guests.
Papa Gideon Nathaniel, Papa Roy, also from everyone of you who hailed from malayo at malapit who thought kayo ay nakalimutan ng kasaysayan. Papa Gideon, I will first speak in Tagalog, then later in Chinese. Lee-hao….
Sa lugar na eto, ipinanganak ang isang bagay ng ating Dios, isang kasaysayan ng pag kakaisa na ang layunin at mailatag sa ating ang layunin ng Dios sa ating bansa.
Today is to confirm what God has done to Palawan 1 to 4. I said to Pastor Daniel lately, "This is different. " Ngayon ko lang kayo nakita. At ngayon nyo lang ako nakita.." (Applause)….

We must discern what God wants us to do in this gathering. We must discern where God is moving and then we must move with God.
2ndly, we must be dedicated with whatever affirmation to whatever God will do in this place, and receiving God's revelation. Without revelation, the people perish. In this gathering, it shall happen.
3rd, we must be demonstrative of what we receive as far as what is sharing and proclaiming of what God has done in Palawan 5. Tell sa iyong katabi, "Gagawin natin yan."
Marami pa akong sasabihin subalit, ang panahon ay di nagbibigay sa aking nang pagkakataon na mailatag ko lahat nanggusto kong sabihin sa inyo. Pagpalain kayo ng Dios. At tanggapin natin kung ano ang pinapagawa sa ating ng Dios sa Palawan 5.
Kuya Nate.
Our attendance is 216. we have given 350 invitation. 61 delegates from Mindanao alone. If you noticed, we have not placed position under our name. We just place there as Gideon, Dan, etc. Why? Because we are family. We will honour each one of you. The convenors will invite you one by one.
Homer Bernandino
Affirmation of the Declaration of The Palawan Covenant
Dan Balais
Every evening, every convenor will initiate the Breaking of the Break. A Call to A Nationwide Repentance and Breaking of the Bread was announced from November 5 - Dec 31, 2017.
As we all declared this from IFP, NIHOP, NFS, PJM and other members of the Body of Christ.
DAY TWO ;
22 NOV/ WED
6:00 A.M.
Worship
By Ramon Orosa
6:00 A.M.
Worship is being defined as "kissing God." The deepest expression with love and joy to kiss God. It is the most intimate act when you are into relationship, when you kiss, not just singing. It is not a matter of much effort that you put into worship but an expression of inner reality of desire from the heart.
God will find that very attractive as you draw your presence with Him and manifest that khabod with Him. You must manifest that.
This is very historic event and this never happened before. This is God's perfect time. We must elevate our experience with God. Begin to examine, "What is really my experience with my Papa?" Unless you experience the love of the father, then you can love others? It is the high-end of love and you can love the unloveable people. No much effort to love the un-loveable and came to realize how judgmental I was. Then I begun to understood that Papa loved me without any condition. He loved us even though when we were yet sinners. He chose to love you and me. That is the nature of love that He wanted to express. If you haven't experience true love, then what kind of love you give?
We must teach our children how to love unconditionally. Don';t says to your children, "Stop making your mess otherwise I will not give you increase of allowance."

In the Scriptures there is no past, present and future but only two. Only two tenses - perfect and imperfect., It is holier or sinful, obedience or disobedient.
I spent a lot of time crying…Until I began to realized and if I kept applying imperfection on myself then I cannot be perfected. I must use the perfect tense. You can be good if you can be heavenly good. Begin to see something from your own reality. Many in the Body of Christ does not know their reality. You must realize that there is a way of life that it is from heaven and a way of life that it is from the earth.
How to live on heavenly perspective and not from human and worldly perspective. Take a paradigm - … That paradigm shift by God's design needs to change if ever we will be going to be fulfilling His purpose and will.
Part of it, "Why am here?" Everybody is concerned with the end time= , the false prophets, the beast, the ten nations, - those that are foretold in the Scriptures and is it not our concerned but it is God's concerned. It is done already. It is finished. Why we have this attitude to help God?
Your purpose is to obey whatever God desire for you to do.
In the older days, the Jews lived in the tent. They call it the Tent of Meeting. It is located in the center of the camp. What does it signifies? God wanted to be the absolute center in all our lives and He will not accept the 2nd position. God is doing a new thing.
We have to learn to make God as the center. If ministry is your center then you are out of the will of God for He alone is the center. Ministry is only an overflow of your relationship to the Father.
We are so filled with doubt and insecurity and inadequacy and we want to do on that broken identity. How many of you are broken and unbroken?

Why Jesus came? What was the 1st covenant was spoken in the Scriptures? It is the time of Jeremiah. Because Israel have broken the covenant with God. They were broken and made sins. God said, "I will make this Covenant…" He wanted to pick up the broken pieces of your life…
He was wounded for our transgressions. He was scourged for or sins,
How can you be at peace? Peace in Hebrew "shalom" but shalom quite different from peace. What peace the Lord gave to his disciples? Peace be unto you - NOT that before He resurrected. Shalom Aleichem - completion, restoration, wholesomeness, reconciliation,
What the true meaning of peace?

What about the Gospel? Bezurra? I have been anointed to give you the "bazar?" Joyful. Bazar means new, fresh. In Christ, we have newness and freshness. If we receive the bezarra is always new, always fresh.
The salvation we received is always joyful, always new, always fresh. Many times we busy ourselves with ministry and you are doing it by your ministry. You are building value in ll your effort of what you do for Christ. The only work you need to do but to find you rest in Christ. That is the meaning of Shalom. If you are not in rest with Christ, then your ministry does not matter.
If I will ask you, "Do you want to bear good fruit?" That is wonderful. What is a good fruit is dependent upon? The secret? God sees you like a tree but on the earth, you see all the trees. Fruitfulness is a direct consequence of your rooted-ness from the Father. The deeper you go, it is the root that nourishes the tree, it is the root that nourishes the leaves. Is it shallow? Many times we get into the place that we become a familiar that we don't want anymore to move on
It is time for us to leave things behind. Because we have a different destiny which is different from others to see. We have a glorious destiny. Your destiny is to be married to Christ. That is what is looking for otherwise do not think of serving the millinneal. Who is the bride? What is the bride is supposed to do? If you look for the Jewish system of marriage. The groom and bride does not see each other for quite a long time. And the bride will always prepare herself to be beautiful, wanted to see her groom,. longing for the groom. What the bride is to be concern is not of putting up the house, but setting aside all earthly concerns but she will shortly be married. The groom will visit the bride in her chamber. When they get there, the bride will remove her veil. Guess what, so with the groom? Then also the groom. So they would see each other as who and what they are. That is how God is preparing us.

That is means you need to take away all your pre -occupations. When the Lord rose from the dead, he told to his apostles, "Tarry form Jerusalem until you receive the dunamis or power." The root word, "dunamis" which means "I can."

When the Lord came to let you tarry in Jerusalem, noticed no conditions for it. He did not say there "do not sin otherwise you shall not receive power." There is no limitation. That is why it says "I can do all things through Christ who strengthens me."
Who has the authority? The general or the private? The General because he has the power and not the private? Can the private receive the power like that of that general? When the private always carried out the orders rthat were given to him, then his time will come that he will be given power of the general.
Like that in Jerusalem, He wanted to write the 2nd Book of Acts to endue you with His power to enable us the things that we never did before. If you are talented and you does not need that power bahala ka sa sarili mo.
Time has come, the Lord putting this in my heart, it took God 2,000 words, it came to pass despite of all evil forces, 2,000 years of His death, he resurrected for his bride to be able to finish his purposes.
(Peps: How much He loved you? He came from the dead just to marry you? No death could ever separate Christ as your Groom to you. Even from the dead, He will rise up for you,just to marry you. Isn't that creepy? )
It is not the church that matter but the Bride.
If you are not part of the Bride it does not make sense that you remain in the church. You might just be religious but not righteous. How many of you longing to be bride? Mahirap aminin ng lalake yan/ kasi naka ka bakla. But he has given us the power, unlimited. Because salvation is eternally fresh, eternally new. We need to apply that right here not just to get to heaven. You are already a a citizen of heaven. Hard to accept? I thought you need an upgrade?
Are you willing to trust and believe Him? No power on hell to stop it? Do you commit yourself that you may pass it on and tell them Shalom Aleichem? Declare it with joy? Shalom and get up and hug somebody? Shalom?
God says, "As far is from the east is from the west I will forgive you sin no more."
The Eden started from the east. The tent of meeting started from the east. There is no difference between the east from the west, no sense of distance from the Lord. God will plunge your sins to the sea of forgetfulness. All of you is spotless in Papa's perspective. Because you live in the perfect tense of heaven. It is done. It is finished. Rejoice. And be full of joy so that your cheeks will become rosy cheeks.
Now, I wanted us to do and go back… I want you to spend few seconds for forgiving yourself…and find you rest in Christ. Let Him clean you up. It is done. And do it according to the perfect tense of God…
Kuya Dan
9:00 AM
His spiritual son, David Damien, is the pastor in Canada, I met David Damien in Intercessors International in Germany with 40 nations participating. David representing Canada while IFP representing the Philippines.

Intercessors International is a gathering of every two years seeking and discerning the Lord's direction to every nation especially Israel including the ALIA (Hebrew meaning regathering) or the Russian Jews.

The Lord is gathering His people again. I met David 7 years ago in Munich, Germany. Another was two years ago. Germany is asking forgiveness then to the whole world for the WW II, Japan also asked forgiveness to Philippines during that time from the WW II.
Then from David, I met Gideon then Nathaniel, then Roy. I saw this vision: a net catching the nations of the world. I see this China… Papa Gideon is from Taiwan, Papa Nathaniel also.
There is a young pastor we met from China in Thailand, He is very meek but he oversee 1,000,000 church members in China. Let us welcome Papa Gideon, Papa Nathaniel, and party! (Applause)
Gideon Chui
9:15 am
First, we are thankful to you all. We come to serve and to submit totally to the leadership of the Philippines.
We just don't want to come as speakers - Kuya Dan and Bishop Eddie but to walk as a covenant family and between our two nations. Can you welcome us as your family?
We have one Father, what you have, is what we have. What the Philippines has, it is ours. We are totally submitting ourselves to you. Can you join hearts with us and to stand for us to call for the divine call of the Lord to be with us now.
(Peps: That is a very humbling statement that Papa Gideon of Taiwan and even Papa Nathaniel of Canada and even the representative of China to come and submit under the leadership of Palawan 5 Convenors and to the church of the Philippines).
I have to look to the Father. He who called Philippines to the end time purpose. The heavenly father have sent us here. We are so grateful. Thank you for your son Jesus Christ and can come to your mercy as a family We recognize us as you allow us to come us, bringing us to the apostles of this nation….
We are now invite your Holy Spirit to come right now, to take full charge of everything that yo lead us for. Me, to fulfil the will of the father's heart. The Filipino family, each one to come, and here with us, Come Holy Spirit in Jesus Name.
Please be seated. (almost in whisper).
With gratitude and with the fear of God in our hearts, with the great nation who is prepared for the end time purpose. We come with the greeting from David Damien who was here for last two times, and other brothers who walked for the past 30 years, to come to impart with us in the family. This is not an individual experience but a corporate anointing to stand before you. May the Holy Spirit will speak to you. The Holy Spirit is saying to the churches in the Philippines.
I need to share with you a little of our background.
My great, great father from China, then to Singapore to Malaysia who hailed from a rich businessman then he was brought back to China to minister to boat people. He worked hard and never seen the fruit of his labour. Till he died there.
My father was born in Malaysia, then went in Singapore, then he went back to China. So he lost his citizenship as Malaysian-Singaporean. My grandfather became Chinese in China. He became the one of the richest man in China. God gave us so much faith. The lord is with me, God giving me secrets of His during my childhood for the end time purpose. He shook my faith.
The Lord asked me, "What do you see when you see a rainbow?" I said, "Your humanity and covenant." "What is the shape of the rainbow," he said. What shape? Half circle? The rainbow has never been a half-circle. The rainbow has never been a half but a full circle. Half of it is hidden from the naked eyes.
God let Moses to know His WAYS. Rainbow. Be always humble with the Lord even though we know it is half circle. The secret to prophesies - 3 and 6.

"Shall I hide from Abraham? " God said. To see the full circle of the scriptures. Malachi 4:5 the fullness of the scriptures in the Philippines and Malachi 4:6 saying, "5 Behold, I will send you Elijah the prophet before the coming of the great and dreadful day of the LORD: :6 And he shall turn the heart of the fathers to the children, and the heart of the children to their fathers, lest I come and smite the earth with a curse."

We come to stand as a family as we agree on this Word to this earth and to the heaven. Send this word to the father and to the heart of the children and to the 2,000 children to restore the families in the Philippines and to break the curse and turn the curse as a blessing to the Philippines. Say Amen!
Continue with my journey.
The half circle rainbow, knowing about God, half of the circle is to know God - the hidden one.

For example, who is the president of the Philippines? Rodrigo Duterte said Kuya Dan. Wow! Many are already walked in the half circle. Do you know him? Who walked in the full circle and knew Him? The half circle represents something?

Why many of you mighty men in this generation fell one by one?? What is the main reason, then speak to us? Half circle many are wounded. The full circle to walk already with God.
(Peps: I don't want to be called by my name even in the class. I dreaded me to speak before people. It trembled me. What if God calls us by our name?)
For those who have not yet been welcomed to the family. Then open your hearts for what God wants to do. Come with me in this journey, the Filipino family. My journey started in Canada has something to do with Filipinos there. That is 24 years ago. Because around 1972 in Canada, we had a Missionary Convention, then a Chinese-Filipino pastor spoke to us. I was then with Mission Alliance and we were moved in that midst and he spoke the destiny of the nations. He explained that the nations has a calling, national calling like the Jews.
Anyone who have seen meters running. The Jews ran with the baton to the Europe, to Britain to USA, then now the baton to be passed to China. I asked China, "Rise up! And bring the Gospel to Jerusalem!". What was happened during that time I do not want to do. I went home to China and scratching my left hand, then the next days I went fishing. Then my hands got dried up and seen as if flesh was drawn the map of China on my palm.
I tried to duplicate, it is the hand-shape of China… It is the skin-face of China with this Filipino pastor. It is you who sent that pastor there in Canada and God used my skin to tell about China. You are responsible Gideon… tell that! Then I left Canada. Half of the rainbow. His ways are not our ways, His ways are higher than ours….
The Lord called me to Canada and to join me with the Egyptians, like Joseph to the Egyptians. What happened 25 years later, I joined the Jews as well. So now, why do we have to join with an Egyptian? It has to do with the destiny of Isaiah 19:23-24, the 3 nations when the Lord said that " Egypt is my people, Assyrian is my handiwork and Israel my inheritance."
(Peps: That highway has been there ongoing when I was still in Thailand as missionary in 1990-1991. There is said to be a road coming from the Silk Road or China then connecting to Russia down to Israel for the Messianic Jews' ALIA or Homecoming after the great dispersion of the Jews. Some Christians housed these alia Jews who are coming back home to Israel by feet by giving them free shelter, bed and blankets and food on this 'highway')
When two nations walked together, the Lord will do things beyond our mind. Canada has a destiny, What do you see on the flag of the Canada?
I was made in China, then I went to Canada to represent the nation to release the destiny of the plan of God to Canada. How can Jew so divided? The Lord spoke to us, "Teach us how to walk together in corporate sense?"
The outcome of the battle is not determined in the battlefield. When Elisha did hit that arrow - 3 times. The battle is only determined by the Father through the prophet. The government is upon the Jesus Christ shoulder. The destiny of the Philippines is not determined from the government but from God. This time, you would receive it very significance proper change. What happened here will determine the destiny of the Philippines and the surrounding nations.
The first principle - the battle is not determined in the battlefield but of God. You only see the half circle but the full circle belongs to the heavenly.
The Prime Minister of Canada. We define marriage as gay marriage. 8 years later, as Canada plunging down, then Canada became the most respected nation.
We are not merely walking but we are walking with the governmental authority. One time, before the last election, the Lord gave our church a painting to the president, we laid hands on that painting, one of the most beautiful painting that church has.

That is the photo of the painting given to the PM office and they recognized the spiritual significance of that painting. The PM turned around and he hugged me. The photo shows it. The church can foretell the destiny of your nation. My heart …
Most respected countries (according to the Global Survey):
Canada

Norway

Sweden'

Switzerland

Australia

Finland

New Zealand

Denmark

Netherland

Belgium
March 23, 2015, when Singapore walked together ….
The church have to walk together with a high level of authority. I have seen no other nations, but you taht is representing this big fellowship, from various parts of the country--- Lord show us, teach us your ways like Moses did….
Teach us your ways Lord so the destiny of the Philippines may be fulfilled.
I want to see Taiwan transformed. Perhaps I will show you Busan, South Korea because there is a division of the church. The covering has been removed, committing the sin of Noah's son exposing the sin of the father. But the father rises up to take the place and call the nations together and called for repentance. To build the church as an institution. When that happened, "can you be the light"? one said. Look at the video with the fathers repenting .
Let me tell the story. Korea could not receive us. On the day of the blood moon, God spoke, " if you don't recognize the father you will lose the next generation. "When we switched the TV, we saw the fathers repenting from north to the south, praying for the families. From that scene, those who repented went around Korea to save the whole families of Korea. It happened in Busan.
Korea, Japan and China came together. The three chopsticks nations came together. And Vietnam, said, "We also a chopstick nation". That day, the largest statue in Vietnam collapsed. Have you able to do it? Otherwise we will call on Bro. Jonathan?
Look at that video in Korea…. That is 2015, then from Korea, then Japan, China Malaysia, then to Singapore. Few days again, God shook Malaysia and even the government.
(Peps: I remember Jerome Ocampo as supported strongly by IFP Chairman Daniel Balais, with "Rise UP" bringing Filipino youth to Korea to stir up the dying church there three or two years ago. Ocampo sought the spiritual covering of Bishop Dan).
We need to go to Malaysia to help them … I have been to Malaysia 45 times .. to walk with them.. things begun to happen….It is the Filipino families that rising up….See this video? The Japanese don't dance like this….No words for "heart" > Hapo is a heart to Japan.Chinese, English, Japanese being translated into just one church in Japan.
Now, Philippines will walk, We will invite our spiritual father…. to bless him,… He is the one who introduce me to Asia especially to China whom the Lord used for me to bless the Chinese Families, Father Nathaniel….
Bro. Nathaniel
I have a very intimate relationship with the Philippines. I was once assigned in the north of the Philippines. My wife was born in the Philippines. She was a Chinese- Filipino then she went to Taiwan at age 22.
Let me share my heart which I never did before.
This morning when I had my breakfast, the Lord told me this: the enemy is trying to deceive us with lies. sometimes it is because of our uninformed ignorance just like the knowledge of the half rainbow. Even more pitiful, it knowing that half circle half of it we don't know and turn into lies.
If you believe lies, lies become truth. But in the end, lies is forever lies. The enemy deceives us to believe that the truth is the lies. Even the churches or nations are deceived by this lies.
My personal view about Taiwan - ---
We must see God's perspective on us and about the Philippines. Lies is on our viewpoints. This demonic lies will prevent us to see the Philippines in God's viewpoint and pervert the nation in entering her destiny. I want to affirm this as what had personally happened to me and happened to Taiwan.
I grew up in rich family. Taiwan was deceived by the demonic lies. We see ourselves from the viewpoint of the nation then we are nobody. So many times, the Taiwanese Church sees ourselves from the personal viewpoint of people. When we heard God about the destiny and destiny of God to Taiwan - we do not believe it. When God said that "Taiwan is a gateway to the nation" then we were not used to God's viewpoint.
Philippine Churches here, how are we going to view ourselves? I don't know how we see ourselves from the view point of God. I just mentioned my wife who was born in the Philippines and went to Taiwan at her 22 years old. How many of you will view yourself as negatively by the world?
I feel that the secular Chinese-Filipino feel very sorry of the secular outlook of Chinese to the Filipinos. Sorry we would like to apologize. We as Chinese, we looked down at you on the way that we address you - as straight as "ungodly" which is a lie from the enemy.

Among the Filipino-Chinese church is influenced by the secular viewpoint. The Filipino Chinese church failed to recognize the Filipino church.
Wyden King:
In behalf of the Chinese-Filipino Church, we ask forgiveness for distancing ourselves from the Filipino Bride. We have not supported the Filipino Bride and we have not worked with You. Despite of this you accepted us, we the Filipino -Chinese you have been good to us and provided us blessing in the Philippines and you treated us equitably.
Forgive us for exploiting your nation, this nation. We made illegal activities from smuggling, drugs, from drug cartels, training and exploiting the mining industry and exploited the land by transferring mineral ores to Chine, and we looked into our own personal interest and not to the interest of this nation.
Pastor Gideon
I would like to stand in behalf of my nation, repenting for the transgressions, hurt, wounds, animosities of what we inflicted to this nation, the first Christian nation in this area, being a threat to this nation, we repent for the wounds we have caused to this gentle, humble and great nation. We repent for our arrogance, aggressiveness, We repent for our territorial and historical disputes. Although my other is a politician and I don't not know how much how much we wounded this nation.
Including Bro. Nathaniel, we ask forgiveness to this nation, be secular or to the Church, we humble down before this nation, and honour them, and honor them above ourselves, even our Chinese fathers, we humble down in repentance, we are willing to serve you, lift up your heads, raise up your hands, and honor you and stand in the gap of the historical wounds and disputes, and we want to reverse the history and we as your servant, your family, WILL YOU FORGIVE US?
DAN BALAIS
We accept your repentance. And we forgive you in behalf of this nation and the church. As far as the east from the west, I will remember your sins no more.

We also ask forgiveness from you for our resentment especially this island of Palawan. We release you. We also ask forgiveness for making us bitter, unforgiving, hatred, the feeling of being oppressed especially in our economy. We declare that we are one family. We humble before you. Today let it be written it heavens, to erase the offenses and the historical iniquities we have committed against the Chinese.
Nathaniel
It takes a journey of repentance between Taiwan and China so I have used the same way in the Philippines. Also in indigenous China abuse is also seen in as much as Filipino indigenous people are being abused as well.
We see the Homecoming from Japan, Korea, China, Australia… We see the spiritual realm that when the indigenous people are being released with their fullness of their potential, they gain recognition even internationally just like their sports exploits in the international competition.
In Chiang Jin, a Chinese pastor was the winner in the much coveted singing competition. Do not agree with what the nations how they view the Philippines but only accept the God's viewpoint on the Philippines.
I believe that Filipinos is very important in God/s divine perspective. I believe when you stand with God, you will be a blessing to Asia and to the nations of the world. Do not only see the half circle of the rainbow. The upper half circle that you see from the rainbow could also be the wrong perspective of the people.
The Filipino-Chinese Church must align themselves to the destiny of the Philippines. Philippines is a hidden treasure, a hidden pearl of the Lord that He will use in the end time agenda. Recognize God's destiny to the Philippines. I can enter your destiny together with you.
Gideon Chui
The Homecoming
The reality of God in Taiwan is that the church is corrupt not until 8 years ago when God spoke to us … You are a chosen son of God. You can be changed. It is written..Say, "I am a chosen son of God." I was born before the foundation of the world….
I am making China, In Canada, we are like the second-class citizen. Yet I know I am a chosen son of God. Say "I am chosen." I want to see Philippines walk on the fullness of the destiny of God.
If you are the son of a president you know you have the privilege as the son's president. What if you are a son of the Living God?
I went to 19 nations. Any church without father or mother become is functioning like an orphan. You must find a father or mother. I am looking for a family. He turns the hearts of the generals to be fathers. And the children to the hearts of the father.
Ptr. Roy
Is being prayed for by Kuya for his heart for China and Philippines. He have 40 key leaders for the Homecoming Nations. . He is truly a true son that is with me to bless the nations. He is because of him that I am in the Philippines.
We know the 1st one Million Bible smuggled by the Filipinos to China from Hong Kong.
Nathaniel Chiao is the most respected 'spiritual father in China and Taiwan". He is being called Papa Chiao.
We have two governments in UN - Taiwan is rejected. Here we have higher government whose King is the Lord Jesus, the king of kings and the Lord of lords/
Papa Chiao breeds the legislations and the political and the spiritual landscape of China and Taiwan. And now he walks to the nation of the Philippines.
We are behind the Bamboo Curtain. We have only Bible with persecutions. But now we realized that the political government is not to the secular but to the Church. We need the Chinese church to be the catalyst so we need to work with the Philippine Church.
Also we would like to honour the spiritual fathers and mothers of the nation - Bishop Daniel Balais and ate Tanette, Bishop Eddie Villanueva and Bro. Wyden King. That speaks of history of the Chinese and the Philippines as we come with the alignment of the Covenant.
(Peps: Where is now the warning of then American prophet Bill Hamon?)
I worked in government office for 12 years when I became a pastor in 2001 that was when I met Papa Gideon and Nathaniel. I deal with ADB and also with plenty of international relations in the governments. I tried to fight for recognition. I am actually an orphan. I was a literal orphan. My father died when I was two years old. Many signs and wonders in China in many crusades and my church is being operated under Apostolic anointing yet there is no major change. Then huge changes took place. Students get an audience. People of our church started awaiting for their destiny. I told them to release relief to the Philippines, they started sowing to the Philippines and they became businessmen, then putting up businesses, now they are factory owners.
Then the pastors walked in unity. Some of you saw that in Argentina, Columbia, etc. If there is no brotherhood, then there is no fatherhood. We became an enemy to one another instead of a family stop fighting and enter a covenant with a family. Then the churches there accepted Papa Gideon, Papa Nathaniel. Even in Guandong Province in China, the largest in China. We are the first born sons.
Orphans should start from zero. When you honour your father and mother and get into alignment of God, then you find God's inheritance.

The nations are in cursed due to cultural revolution. From major cities to minor cities, we look for our senior pastors to meet together for three days, some of days have been placed to prison for 3 days, some of them are overseeing 10 churches, then we will meet them saying, "We are your sons, and daughters, you are our fathers…" For the first time, we recognized the Five (5) fathers of faith in China.
When we enter to this Covenant, this father said, "Because of your humility, we are being released." From that time on, they would say, "we are willing to be placed again in prison for we know now who ours sons are," the persecuted pastors said.
Now we meet in Hong Kong once a year meeting with these 5 fathers. They are seniors fathers on this now 4th generation. Even the Chinese Government have received this Cyrus or Daniel Anointing. They are being aligned in heavens. We are like going back to Jerusalem Movement.
Papa Nathaniel declared to China to bring back the Esau and Isaac? The Chinese government is now doing the will of God. We conquered China during the Opium War. When these Chinese leaders fled China and they would go back to China, the government will says, "OK you have 3 days:\" because we have a big umbrella to protect them.
We are not building the architectural church but a family.

China is not for China. We would like to serve the Filipino Church. We wanted to serve you. We are under you. We see true revival in China due to Homecoming Movement due to the coming of the true sons. We are still under persecution but then you are the 1st Christian Nation, how much more when it comes to this persecuted chamber?
The destiny of the Philippines is in your hands. The destiny of the greatness of this nation comes to your hands. Are you willing to be the fathers?
Pastor Gideon
The picture shows the 5-major leaders. 2nd one of them is Uncle Reim, and ach one of them have a symbol, they have shifts, and I would like to bring you in their room so I could usher you to their Elijah Spirit.
PTR. GIDEON
2:25 PM

While Moses was on the top of the mountain to wait for the tablet of stones from God, the people down there was pressuring him to create something to keep the people. That is the golden calf.

The golden calf could be a program or anything that we depend on. In that journey, we learned that we need to resume only our journey when we hear from Him. There are some entrances to manipulate the leadership.
In that journey, we need only the Lord to speak. We must only protect what God wants us to do. Learn to see the bad experience that there are some movements that control the people. And we should not allow that to happen. Join with me with this song, a worship song from China…
(Peps at 2:37 PM
Jesus is a unifying force. When we put our trust on me or we place our allegiance to name of a politician then the result is divisiveness in the church and this is not from God).
We are so grateful and gracious for us to wait for us. We are grateful that you wait for us to let the Church of the Philippines to mature and to speak to your people. Come Holy Spirit. Thank you. Stay with us in Jesus name.
There is a sort of gathering in Hong Kong when the families came after two-to-three generations who walked with Him. God changed the culture in China and He picked the families in another realm. This is part of the calling in this journey. Before the mighty day of the Lord He will send the spirit of Elijah. And he is with us.
Acts 3:21, "Whom the heaven must receive until the times of restitution of all things, which God hath spoken by the mouth of all his holy prophets since the world began. "
Jesus must remain in heaven for the restoration… I will pour out my Spirit into all flesh. It is the fulfilment of the promise to Joel… The spirit of Elijah must come to bring the hearts of the fathers to the sons.. and the heart of the children to turn to the father. This is being fulfilled before our very eyes. Look at this video of a son's cry to the father….
This guy was just newly released from prison after 20 years. When he was released I would like to honour him, so I had come to visit him. He sat down next to me. Then I shared to him, the only reality I could say, "This nation is longing for a father." He said, " This father thought he is not qualified. I asked the Lord, He said, "Ask the children." That day, a father was born in China.
You hear that word, "Papa…" though they never knew him personally as a pastor but heard about him in prison for 20 years. See that they are all crying as they call him "Papa.."
Is it the same in the Philippines? We need to see that families to come together.
This is Papa Jang from Beijing who spent 20 years in prison. They are shouting "heaven, heaven." The other guy spent 30 years in prison. He said, "We had the best honouring in our prayer. The Chinese government cannot treat us as a person. We are often misunderstood, but thanks for the love and honoring us. I wont speak our upbringing. I before ministered to highly intellectuals. I am a son of a farmer and I a farmer by trade and a farmer-pastor. I normally preach to city pastors. I have not received much high education. " but because of honouring by the young generation, they are being secured. There is no much honouring in the church today.
Then this leader was released. This another video is the release of sonship. Do it for yourselves. The Spirit behind you is the spirit that is in us.
Pastor Nathaniel
True fathers are not born but made. More than 10,000 pastors in Taiwan. In the Book of Jeremiah," there are no sons in Israel."
The Lord is terminating the fatherless and the orphans in the Philippines. The father heart must return to the son and to turn the hearts of the sons to the father.

In the Church of China, we saw the father begotten the son? Scripture says the Father 1st called the son.
There are many churches in China that I don't treat them as sons but they treat me as they fathers.
There is a senior pastor father as they call him "Papa Tony." He insisted, "Don't call me Papa Tony." But they would say, "Even you don't recognize us as your sons, for us you are still our spiritual father." The reason I shared this testimony is because the Scriptures says of restoration of father-son relationship.
5:00 pm
We acknowledge the following:
Bishop Greg with Bro. Albert

Bishop Manny Carlos
ATTY. LYNDON CANA.
5:00 PM
An Intercessors Perspective on the state of the Nation
And what we must do to capture our called and destiny
The Visayas Region is the most difficult of all the regions.
Panay

Negros

Cebu

Bohol

Masbate

Samar

Leyte
Visayas is the ancient gate of Christianity in the nation. Cross first planted by Magellan in Limasawa at the tip of Leyte. Levi and Zebulun has this volcanic mouth. Limasawa is the site of the first blood compact in the Philippines between the Spaniards and Filipinos. Anointing of freedom and nations. So first the cross, First the freedom fighter and we are successful at that.
Visayas is the gate of the east gate according to Messianic Jews. The Visayan Sea is the feeding, fishing area. Visaya is derived from the word Srivijaya (Sanksrit) means fortunate, prosperous, happy, vijaya (victorious, excellent). Visayas have an early reputation of fearless soldiers. Visayan raiders a portion of Taiwan.
Have the capacity of Confederate by 10 datus led by Datu Puti
Mt. Kanloaon, Visayas, most dangerous.
Role of Visayan in the role of the nation
peace making

Support. We bring the teaching to the nation

24-7 House of Prayer Movement

God and his angels show up when His people unite an set up the Father's House in Kanlaon when gold dust came down including the manna. Some of these precious stones are still with the prayer warriors including my wife.
When we had this check with jeweller she was shock saying, "Where did you get this,?" Why we asked because it is very perfect in cut. But the most shocking is this … there is no carbon inside of the gem. Meaning the gem did not come underneath but from above. That small stone worth P30,000.00
The call was first trumpeted on March 10, 2010, Prophet Sadhu said there will be BIG EARTHQUAKE in the Pacific Ocean in just one year. He said we need to put up 24-houses of prayer… He said "If you want to be saved, put up there in Mindanao, Visayas, and Luzon."
One year later, I was preparing to go to the court when I was told to watch TV then a flash from the TV shown the earthquake from Sendai, Japan. So I said, "This Indian guy is not joking" . So I called the Christians to put up a prayer network. From that time on, not one storm ever penetrated to us…

One time, Typhoon Pablo will come to Negros and Bacolod and they will hit us bull-eye says Pag-asa. But Pablo did not touch us. It was the 1st recorded answered prayer.
Then another Indian prophet said, "There will be typhoon that will hit Visayas and Pangasinan with a mysterious disease." There was Maskara Festival in Bacolod then, so we called for meeting and asked the youth to pray that we will be spared. Until Yolanda came. There was cut on Yolanda that we remained untouched.

Them typhoon Lawin came. Nothing happened to us.

Then another typhoon Marce came on Nov 23-29,2016 projecting to hit Negros. It did not developed into typhoon when it came to us. But when then Typhoon Marce passed to our place, it eventually became a full storm.
We asked the Lord, "How can we obey the voice of the prophets?" God said, "Follow like the Wall of China or the Nehemiah.." We put up 57 watchtowers in 57 towns and cities, surrounding he entire islands, establishing the wall of prayer. And then we decided to construct House of Prayer at the Foot of Mount Kanlaon.

When the Lord said that we will build him a house of prayer to a protected place owned by the government I said to the Lord, "The Bible says in Romans 13 that we should submit ourselves to the governing authority and why should I do such illegal act which is trespassing? That will end my legal career. We went to look for a site, then we see a 1 hectare property, with Singapore brothers to buy it and it says only "for the house of prayer" and they have been praying it for the past 40 years.
We gathered all the district coordinators, and gathered at Door Baptist Church, a very poor church. Without a building permit, we obeyed God and laid out the plan even without a building permit until the DENR asked us, "Who told you to build this?" This pastor with grade two level anointing was perfect said. His name is Ptr. Ponciano Sergio said:
Why did you allow human blood to pour on this mountain?

Why do you allow illegal cockfighters to put up their cock-fighting cocks here?

And why you don't want us to build a prayer house to the Lord who owns this mountain?
The DENR officials didn't answer him back and they readily agreed and fasttracked the legal papers so we could build a House of Prayer there.

When we had this construction, all area became dark with only the area where the building is being constructed had a light from the sun and with a rainbow above it. The construction workers (though not Christians) worshiped the Lord when they saw the miracle from God.
May 9, 0217 we had the shoreline dedicated to the Lord

May 10, 2017 we dedicated the 7 mountains
Mt. Kanlaon, Mt. .Irene, we planned a time capsule deposited on a group. The next day, we flew over Mt. Kanlaon. On board the plane, we flew flew over the shorelines and we started making declarations as one ekklesia and one assembly.
The next day, something shocking happened, the Bishop of Bacolod made an unannounced presscon, without .. title, HUA MIng Send us "
Mary Queen of Peace Church, ran by the Chinese Jesuits, seat of Marian worship declaring it i saying, "We are removing Queen of Peace of Parish from it status for three reason, First it has ceased to be a parish church, and a shrine. It ceased to be a school chapel….: "
One time, some visitors came to the Prayer Mountain and they started taking pictures. After that an angel of the Lord appeared to the caretaker and told him something. The caretaker is a non-tongue speaking Baptist, when an angel came to him saying, "Tell Atty. Cana to respect my house and ask permission first to take pictures."
Strange Things Happenings before our midst
1 The angels began to operate tangibly
2. Singing and instruments paying when the Holy of Holies was empty,
3. The angels have their line -up songs.
4. Three intercessors are accompanied by choirs of angel whom they have seen and heard.
5.The angels stopping intercessors whose heart is not ready
6. An Angel calling the gatekeeper and audibly told him to tend the unlighted lamp.
We have a member of our church and he had a quarrel with a pastor. Too severe, that they padlocked the church. Then he went there alone. Then he went to Holy of Holiest. Then he was stopped by an angel saying, "Fix your heart first." She almost collapsed.
Another group came, 6 of them. But the Menorrah has no oil. We asked, "Can we use coconut oil?" because it is cheaper. But when the menorrah filled with coconut oil then it started to flicker. So emptied the menorrah from coconut oil then it just been lit by itself. The next day, the angel complained.
STRANGEST THINGS
Visions on Jesus were seen simultaneously.

Instructions are received strongly and clearly

People begin to be baptized by the Spirit when praying or singing

Angels protects the place from "wrong prayers" like the case of a woman carrying a rosary

A case of "holy, indiscriminate firing" - Baptists, Pentecostals lot command, etc. Get fired by the Spirit
Three Things God has said as prayer points
Secure the Philippine Borders and perimeters

Pray for the Foundations and structures

Pray for the Centers of powers
Borders
West Philippine sea and south china sea. Borders are being shaken.
God said, "Historical and territorial claims can bring war. The unity in Palawan will be weakened. There is a threat of war."
Bangsamoro Basic Law (BBL). they are trying so hard to establish.
What is the anointing of that Spirit" It is as strong "orphan spirit" among this Muslim brethren. How to bring this Father heart of God to the Muslim brethren? How can we regard to this Muslim Brethren that we are not against. Islam which is an angry religion? This religion came from the hurts and offenses. Luzon and Visayan took Mindanao using the military force and ushered the migration to Mindanao without respect to the Muslim's ancestral domain.
The Body of Christ must kneel and weep for these hurting Muslim brothers and sisters.
Asia Nautical Hiway (ANH).
Philippines is AHN 26 - Laoag to Zamboanga, this is the nautical hi-way according to China's reference point.
To China, Philippines is just Number 26 as their own reference. But the Lord said to me, "To China you are just Number 26." Because the most powerful nation will just tell you. God said, "Do not be afraid, 26 numeric value is YAHWEH.. "You belong to Me" God said. 26 Hebrew means "reflection of the glory." God said, "Dedicate this (26) to Me and I will do the rest."
There must be a trip here from Laoag to Zamboanaga.
The Pacific Ring of Fire
The ring of fire is very angry to this volatile part of the world? The Lord said, "Peace or Shalom of God." The eastern defense must be for people of rest.
II. Foundations
(now under the enemy's snipers fire which is the House of Representatives> this will rewrite laws according to anti-Christ..)
definition of a person, man or a woman, gender or sex

Definition of marriage

Definition of family
The family will be left behind. By this bill, once approved, you have a father or mother perverted, the foundations of this nations are to be perverted. When we talk about foundation, we talk about depth. How deep we are like intimacy with God. If we lost the intimacy we have with God, it is because our ministry have overtaken us.
It is so clear in the spirit realm that they are more depth to their cause than you are to your cause. That is why your foundation will be destroyed
(Peps: I highlighted this statement of Atty. Lydon Cana in red-colour to super-emphasize it because it is very substantial in terms of spiritual truth in Psalm 11:3, "If the foundationS be destroyed, what can the righteous do?" as word "foundation" in Hebrew "shathah" means "a moral and political support or base". Take note of the word "foundations" as "plural."
The 8 pillars of society have be under threat since 1992-1992 when a prophet named Abu Baku from Ghana, Africa warned the Church in the Philippines to be participative in the area of Laws and Legislation otherwise he said, "Wicked laws once approved will adversely (harmfully) affect both the Christians and non-Christians alike." IFP launched since then the "8 Pillars of Society" as a Prayer Points to all Churches from that time on.
Atty. Rodelio Dascil (2004) on "Introduction of Law" to quote, "Law, in its general sense, is defined as the science of moral laws based on the rational nature of man, governing his free activity for the realization of his individual and social ends, demandable and reciprocal"
"Anti-SOGIE Discrimination Act" lacks moral substance as Atty. Dascil strongkly pointed out in terms of law-making, and it is not merely assailing the Constitution from Article III, Section 5 on the Bill of Rights curtailing "Freedom of expression and religion" and curtailing "civil rights"; attacking the national "ethical and spiritual values" of the Filipino nation in Art. XIV, Section 3 (2); attacking the Filipino Family as a "in Article. XV, Section 1 and perverting Filipino marriage "as inviolable (unassailable) social institution," in Section 2; blatant violations of Article XI, Accountability of Public Officers thus "corrupting" the moral and ethical standards of public officers as mandated by the Constitution thus tainting the House of Representatives in legislating or in effect " legalizing immorality"; and most of all, crafting a legislation that is anti-God thus violating the Preamble of the Philippine Constitution that says, "We, the sovereign Filipino people, imploring the aid of Almighty God," thus to assail the Preamble is attacking the whole Constitution of the Filipino People to what it is disguised as "Anti-SOGIE Bill"…. Going back to Atty. Cana)
III. Centers of Seats of Power or Authority
Constitution

Form of Government (Revolutionary Government or Federal)

The Presidency

The Judiciary

The Congress

'Local Government

Military
There are threat to redefining the seats of powers. What are we going to do, I asked the Lord. He said, " In the economy of God's Kingdom, I gave the powers to the fathers."
Our time is running out. ALL THESE THINGS are being challenged. The house of the Philippines is being shaken, the center of our house, the center of the authority of our house is being challenged.
Now I understand why the Indian prophet said, "Establish the 24-Hour House of Prayers."Only now I realized. So the enemy attacks most in the church is the "house of prayer," but we are being called "House of Prayer."
The father only live on this house, other places He will only visit. If you want Him to inhabits you, then BUILD HIM A "HOUSE OF PRAYER. "
Bro. William
Last Palawan 4, I saw vision of two wings. Now this two wings is now Philippines and China now.

DAY 3
22 NOV/ THU
6:00 AM
Bishop Leo Alconga - Emcee
I met him because Pastor Dan introduced him to me. God used him mightily and he is a living testimony on how God wanted to use us for His glory. This couple -ay nakalimutan ko because I forgot to drink enhancer (audience: laughs)….Whatever happened … as far as our continuing search how to walk with God to the work of God… Let me first call her wife Pastora Rose….

Bishop Rod Cobos
Romans 11:25, "For I would not, brethren, that ye should be ignorant of this mystery, lest ye should be wise in your own conceits; that blindness in part is happened to Israel, until the fulness of the Gentiles be come in."
We have now 8,000 cell groups and by June this coming year, 10,000 cell groups. Last time we met in Quezon City at Legend, I have shown them he videos, part of the 1st quarter of the Mass Baptism in more than 3 km shoreline and we had the baptism when there was a typhoon. The people then were excited.

We bought our own buses to cater the people's needs
This (photo from the video) is at Bago Beach Resort, Davao CIty, Philippines
If you noticed that are being supervised by 27 elders and down there are around 288 more who baptized them, I just oversee them… ''

Romans 11:25-26, "For I would not, brethren, that ye should be ignorant of this mystery, lest ye should be wise in your own conceits; that blindness in part is happened to Israel, until the fulness of the Gentiles be come in. And so all Israel shall be saved: as it is written, There shall come out of Sion the Deliverer, and shall turn away ungodliness from Jacob: "
"If you master how to journey the people, tapos ang trabaho, " the Lord said to me
That baptism is 09-09-17.
There will be 1st service, 2nd service, 3rd service and we had 8th service. We have training every week. We do not leave Davao till matatapos ang training. My elders and my son are in Indochina now as pastor, also one son in Davao and one in Dubai. God will do something in Arab world as well.
Even our second level of leadership, they have 2nd worship service. They could not contain attendance of people. This is the fulfilment of the prophesy of Cindy Jacob, "There will be harvest in the most bloodiest part of the Philippines." 2012 pa when we received that word and I claimed that from the Lord.
Matt. 7:21, 'Not every one that saith unto me, Lord, Lord, shall enter into the kingdom of heaven; but he that doeth the will of my Father which is in heaven." 1 Tim. 2:3-4, "For this is good and acceptable in the sight of God our Saviour; Who will have all men to be saved, and to come unto the knowledge of the truth" John 4:34-35, "Jesus saith unto them, My meat is to do the will of him that sent me, and to finish Say not ye, There are yet four months, and then cometh harvest? behold, I say unto you, Lift up your eyes, and look on the fields; for they are white already to harvest."
Great Commission
John 14:1-6, 15-16, 17-23
This is what I received from the Lord and this is what we do in Davao. So we go around and teaching them to do the same. We saw the social reformation sa Davao. So we kept roaming the area, declaring the Kingdom of God even at night in Davao. We desire to see corrupt politicians to be like Zaccheus. We come to women who trade their flesh … Founding cell group in their campuses, planting revivals …
I bought bus, and put up businesses, I put a BPO in order to give jobs to the church members. We work hard, it cannot be done for one year, it took time…. Dreams are the language of the Spirit.

Ephesians 3:20-21; 4:11, Be a NT Church. What is the NT church?
What we do?
We preach the gospel

'heal the sick

Yun bakla nagiging lalake

Tomboy nagiging babae

The drug addicts, drunkards, changed agad

The killers are transformed then they would testify
We went to Legend Quezon City and met Bro. William. Then William went to Davao. Then we went to Baguio…
Bro. William from CAR
I could not do it without connecting it to the Body of Christ.

Last year, I had a prayer to the Lord saying, "Di ako kuntento Lord sa nangyayari sa church namin." Then I went to The Legend Hotel then I met him. Then I met Hermie Malabanan and I said, "Di ko tatantanan eto."
Then we spearhead to campuses, hospitals, …. My daughter was interviewed by ABS-CBN because she often seen at park preaching.
We went to San Fabian Beach for baptism…. An old woman said, Look up there! Then there was portal in heaven, with rainbow around it… We have 3 churches in Israel and everyday they are calling sharing mga tomboy transformed, they are crying…..
Video Presentation: We are going to an Fabian for Open Heavens Baptism… 280 attended….1y0 baptized….
Rod Cobos
Actually we are talking about Open Heavens. Yesterday we talked about rainbow. Almost all the churches now, they wanted to connect us… Sa Davao nagbukas talaga ang langit. There was a literal rainbow with a full circle. Whole circle. When Papa Gideon came to us through Bro. Wyden… Normal sa amin ang translocations, kasi sa aming lahat normal yun.
I am from Christ the Healer Mission Movement International, 8 years palang,. "5778," stands for New Season, our 8th Anniversary this Sunday
Dan Balais
We entered already "5778." In the Hebrew Calendar means "year of breakthrough, a year of beginning." God uses the Hebrew calendar not the Gregorian to speak to us.

God impressed my name to them and they asked my covering to be over them last Feast of Tabernacle. I do not know them personally.
So I met him (Rod), then I was invited as their speaker of their 7th anniversary last year. They attended the Feast of Tabernacle. We celebrated that according to its redemptive purpose. The stage is the land of Israel. And supposed the audience is the world – the Passover, the first fruit, feast of unleavenend bread, pentecost, trumpets, atonement, tabernacles then of course the millennial.

I met Ron Cobos for 15 minutes, I was busy then managing the event of Feast of Tabernacles. They have more than 30,000 members just in 7 years. That is the work of God. It is for the glory of God. When I entered the auditorium, with 10,000 capacity, then he said, "Kuya Dan, this is only leaders di kasi kami kasya…" Most of them are youth…
When we were in Davao, Cindy said, "Revival will come from where it is the bloodiest," Cindy Jacob said that. And the couple was there, they knew it is Davao, it was on the 80's the Alsa Masa, everyday there is a killing there and, Davao is where the revival in the Philippines is, I do not know them. The one who shared him the Gospel is a tribal pastor from Davao…
When I saw this baptism about 3,000 … this is young people, they evangelize 10,000 every month, they operates in the prophetic move … I share this to you because by 2020, 50% of the Filipinos will become Born Again.
There is a vision in 2020, we have now 80,000 churches by 2020, we must aim higher.
"Believe the impossible," as I put in my spirit. Without revival, it will not happen. But with revival that is happening now in Davao it will come. The next will be Negros. Hallelujah, Cagayan de Oro is where the vision came from then to Baguio. Can't we bring this revival to the 7th gateway cities? The one who prophesied this, he knew no specific places. When he saw angels, he said, made mentioned of gateways. Gateways is gateways, huwag magtampo yun din a ka receive ng prophesy. Anyway if there is gateway dadaanan lang yun lugar ninyo.
This is very significant. We are determined not to be divided due to political lines. President comes and president goes, but we must not be divided.
We went to India in 2010, what will be the prayer strategy to the Philippines in Chennai, India as we seek the Lord what prayer strategy we need in the Philippines. This is our Jubilee…
Our directions
We must outrun the chariot of Ahab (devil's plan vs. The Philippines to prevent us to achieve our destiny as a nation). Pastor Ron have over 1,000 workers and they have one mind, one heart, one soul just like an army when general commands and the whole members followed like that of Acts 2 of one mind.

In these end times, there will be 7 nations that experience this end time Revival. One of them is the Philippines, one of the 7th nations of the revival visitation. I was flying Palawan on a wheelchair, a dying humbling process, but seeing what God shown me, seeing how God healed me, I thought this would be the last but God want to heal the Body of Christ, and seeing revival. That is outrunning Ahab We must be willing to pay for the price. It is not accident that our President came from Davao.
Bro. Nate (Emceeing)
9:00 AM
Luzon Report
If this is the season and this is aligned to you, you cannot do something about it says Bishop Dan.
Jun Alonzo Reporting
Magandang umaga. Puerto Princesa, the princess port. Palawan Hebrew Pala "extraodrinary: Yan "Yah's grace"
Oplan Shelter
A simultaneous prayer in the Valley Fault conducted two years ago, July 8.
From Marikina, San Mateo, Montalban… Philvocs says 7.2 earthquake.
San Mateo
13 pastors and IFP went to San Mateo Municipal Hall and prayed.
Pastor Ed de Guzman saw a vision, God is sewing the Marikina fault Line while Pasto Dan Balais saw in a vision that God is vulcanizing the fault.
Operation High Places
Mt. Pulag, Mt Kanlaon,Mt. Apo…
Intercessors led by Pio Arce climbed Mt. Apo. Most of the those attended in Mt. Kanlaon, are mostly senior citizens, while FBI (flood blooded Igorots) came to Mt. Pulag) on August 11, 2015.
Mt. Pulag video presentation
2,992 sea level overlooking the provinces of Ifugao, Benguet, Mt. Province, N. Vizcaya, theere on top of Mount Pulag, 18 people (9 males, 9 females) went to Mt. Pulag

William Guzman, etc. They were former head-hunters not soul-hunters. They were also the one who penetrated that Mamasapano's "bridge of no return" together with Sis. ______


West Philippine Sea Prayer Report
October 9, 2016 - after 52 days Days of Nehemiah Call for Prayer, shoreline of West Philippine Sea from Ilocos Norte coastlines down there…..
Vigan initiated by Jun Lacaden… Sta. Maria, Ilcos Sur, Candos Ilocos Sur, Tagudin,,,La Union, San Fernando….Jun Tarlit with tambuli,,,

Floating Shabu lab in Subic, Also shabu lab in Las PInas nabbed.,.. Biggest shabu lab ni Phils.
Cordillera: Drug -free…. Crime rate is down in its lowest level….
Nate Yage foudn out that the word "Shin" of Hebrew El Shaddai is the same shape of Laguna de Bay.
Ph now 95% self-sufficient in rice supply.
SONG:
Poor little baby girl
Sat on a rocking chair'
she began to cry
Mama, mana
Poor little baby girl
10:10 AM
Mindanao Update:
By Gene Udang

What is going on in Mindanao?
Twice I attended a conference in Tagaytay and Tarlac. I came late and she said, "Meron kayo cable TV sa Mindanao, " I said Yes. Then she asked, "Meron kayo cable TV," then … Then when I spoke in Tagaytay, you're from Mindanao, meron kayong sinehan sa Mindanao. This is my calling card and I gave it to him. He jumped and called fellow pastors and shouted, "Hay meron palang calling card sa Mindanao.."

Facts on Mindanao
25 provinces

27 cities'

32 Million people

29% Muslims

17 Natural Resources
Mindanao Land Area
Mindanao has 94,6300 sq km land area compared to the following countries:

Singapore is only 618 sq. Km

Hong Kong 1,071 sq. km

Brunei 5,770 sq km

Taiwan 36,000 sq km

S. Korea 99,020 sq km

Israel 26,650 sq km
Mindanao Minerals
World largest iron deposit

World largest nickel

'world largest deuterium

World largest Copper

World largest Gold

World largest Oil deposits
Mindanao Key People
World strongest boxer manny pacquiao

World prettiest woman - pia wursbach'

world's most controversial leader - duterte minumura president ng USA

world's controversial Marawi crisis

'speaker of the house' Alvarez

Senate president, Pimentel
Is God will do something in Mindanao? Will God do it in the church? We meant to know if the church is ready? What is the church's major role in what God wants us to accomplish in Mindanao? How will God establish His kingdom in Mindanao? Then If God will do something in Mindanao, then the church must be prepared.
Jesus Reigns Celebration - all provinces in Mindanao including Tawi Tawi, In Cagayan de Oro around 23,000 gathered, the biggest so far ever recorded.
Mindanao Evangelical Leaders Council (MELC)..
We tried to collaborate to another until offenses made. 10-12 years we did not talk to each other. We only do our own thing to our own kingdom. Mindanao later was threatened with BBL.
From there we became partner again. Then we came as one 220 leaders came to Cagayan de Oro and we talked about our shortcomings, indifferences, and we forgiven one another.
Then the reconciliation with the Manila leadership.. From there when Manila Imperial came. I was invited last year here in Palawan 4. Bishop Noel said "You must be there." Then the breakthrough was this. Kuya Dan I knew him from the past. Some issues were made that made us offended by him. When he will pass that way then we will go other way. Then he came ..
So I said to myself, "Saan pupunta eto?". He came towards me and he embraced me and said, "Forgive me". I melted, then the Mindanao Leaders melted. I cried, then we made bridges. The Imperil Manila came to Mindanao and went there in Cagayan de Oro. We are the product, good product of Mindanao. The reconciliation was made.

Some things are going out here in Palawan. There was healing happened. Patawarin niyo na rin po kami. Reconciliation came. Bishop Dan exhorted, then Pastor Noel, then Kuya Leo made some noise.
In Mindanao, there are healing of relationships,

Focus on the task of Discipling Mindanao
We are now mobilizing church planters. We do some conferences. Pastor Nono is hitting this and that. We focuses on discipleship since there is already healing. Becoming the salt and light in Mindanao is our goal.
Participation in various Intra and Inter-Faith Peace Building in Mindanao
Engaging social and moral issues form and sumposing

Issuing statement regarding martial law in Mindanao

Issuing statement against the BBL (though we are against it it does not mean we are against the President)

We are A-G-A-I-N-S-T "anti SOGIE Bill" considered as "class legislation". The bill is redundant. The bills is in violation to the Constitution. The penalty is unjustifiable. IIt attack the spiritual and social conviction of the majority of the Filipino. If this bill becomes a law, sorry tayo sa pagiging pastor, once this LGBT will be offended, they will go to the court, we will be in prison, we didn't say anything about it. Prayer is good but we need definite course of action. NO abstain, No "No" vote. Lahat bomoto.
In Canada, you cannot put a gender when you are a child not until you are age at 18. There it is, a bill being cooked by the Mindanao lawmaker to redefine marriage. Where is the the vanguard of moral and spiritual principles? What are we here for?
In this room are the decision makers. Kailangan natin mag ka isa. We need to tell - nandito pa rin kami. How we discharge our functions? How we discharge our vocations.
There are major disaster In Mindanao. Why ? Because there is spiritual things going on in Mindanao.
What the evangelicals do during calamities and disasters?
This is in partnership with PCEC, G 12 network.
Video Presentation: While we are preparing. I challenge every leader saying " let us do something about this bill."

"All that is necessary for evil to triumph is for the righteous man to do nothing," - Edmund Burke
The bottom line is this, God is doing something in Mindanao and He is sowing good seeds in Mindanao. This is what happening in Marawi. There are the three houses in Marawi in Dilapayan. Sultan Muner before.
If God can do something in Mindanao, then we can show to Mindanao that we can build houses, and show them kindness. They are homeless?
How to sustain them?
We continue to journey together with CARE
C - Celebrate our commonalities
A - Accept our differences
R - respect our distinctiveness
E - Enhance our partnership (and build our relationships)
NONA LONDONIO
Just to appease everybody. In regards to SOGIE, the first thing we mobilize, we asked for Signature Campaign, to present to the House of Representatives because they have a different readings. One is Obet de Guzman, a young man came out.

Congresswoman Chona offered his office for anti SOGIE prayer.

Pastor Peps Kho, are you here? Please raise your hand. Please stand up for you to be seen. Pastor Kho is our representative from IFP whenever there is an Anti-SOGIE Bill hearing at the Congress.
Here is now our :POSITION PAPER as a draft only
DANIEL BALAIS
That is why we are waiting for Pastor Ed V because of this bill.
I am blessed with the Mindanao delegates who stand against BBL. We have to respect your opinion because you are from the Mindanao. We still consulted with IFP coordinators in Mindanao.
I said, "Is this a threat to our destiny?" They said it is 50 + 50. I took that in respect to the coordinators of IFP coordinators in Mindanao. But when Feast of Trumpets held in Meralco Theatre, the Lord said "He is against the BBL." So we prayed against that. Then we went to Malacanan and voiced out against BBL to Aquino. Then not until this Mamasapano incident came since Malacanan is pushing hard this BBL.
Until 44 SAF were massacred by the BBL proponents. God used that so that there is a national outcry against the BBL. What is meant for evil, God meant something good. We had an audience with the President for 4 hours, he knew me and Bro. Eddie and shared to him regarding the Islamic Caliphate which is going on around the world today. But President Duterte is still supporting it.
IFP joins with the Mindanao, Pastor Gene against BBL. IFP is against anti -SOGIE bill. We can call for Palawan Summit and forged and published it, and circulate our stand but we did not publicly publish it and sign it? Where is also our stand against SC Justice impeachment because our CJ is a genuine born again believer, IFP makes a stand for Sereno. I was watching the news last night and her accusers cannot support their documents against the CJ.

Byt he way, I invited her, the Chief Justice tomorrow night after our Pandan tour. She is the most righteous Chief Justice ever we had. She came to know the Lord at very early age, when she was in high school,a very godly woman, and she lives in a frugal house, 200 sq. meters house, I met her personally, one of her ally is here, Pastor Caloy is here. We have to make a collective stand
We make a forge of our stand on these things, agree on what we can agree on… In Palawan 4, he was surprised when I hugged him. Humble yourselves as fathers says the Lord to us. Humility always disarmed offenses like Jacob when Esau came to him. Jacob vowed 7 times before Esau.
Endeavour to keep the unity of the spirit in the bond of peace….I was invited to come to hearing during Congressional Committee Hearing but I am so busy I cannot make it. So I always delegate pastor Peps Kho of Pangasinan to represent me to the Congressional Hearing. He is very bold and specializes in the Constitution, he reads it and memorizes it, and he has death threat left to right….
Anti-SOGIE Bill and BBL….. we need to pause in prayer….
Can I call bro. Ed de Guzman to explain to us about this Islamic Video:
Bro. Ed de Guzman…
We will show you a video from Qatar to water down this BBL in this country. This BBL is employed in the Philippines in order to the Islamic Caliphate to be planted and flourished in the Philippines. We love the Muslims but we will not allow them - the BBL, the Anti-SOGIE, the dissolution of marriage - these are works of the Leviathan spirit, a grand desire of the enemy to crush the revival in this nation.
In UK, 44 cities have Islamic mayors. Sweden and Norway is now becoming Islamic. Separate Islamic and Muslims. Islam is a way of life.
Dan Balais
We will have later our Middle East reporter.

This afternoon, we will spend time with our covenant-fathers and covenant-big kuya and we will be given covenant-rings. 40 below will act as sons. 40 years up as father. So this is a senior citizens assembly.
We went to Egypt and God told to Sadhu to re-trace the journey of Israel in Sinai Peninsula and we had one day in Cairo with 280 people and travelled at perilous road to Sinai over treacherous ISIS infested region with our 16 buses escorted by fully-armed military escorts.
He said full of crocodiles over the Philippines to thwart God's destiny for us. He told me to deploy intercessors against this vision of crocodiles. The destiny of the Philippines would impact the destiny of other nations especially in terms of mission. We crossed the borders .

The Lord impressed to us to visit Turkey. The Tomb of Philip was on the mountain of Laodicea and we went to Philip's tomb with our Philippine flag, we dedicated our missionary call to the nations. It is not by accident that we are being scattered us. It was told that we are scattered us for a purpose according to Pat Robertson. It was prophesied that Middle East is our inheritance. The nations are the inheritance of the Lord Jesus. The Lord prepared us to be the Light of the Nations.
2016 - Our pursuit for the missionary call.
This is the Proposed New Passport
In Tagalog it says, "Go and makes disciples to all nations". Former Perfecto Yasay was there during his time when this passage is being omitted.

David Damien said, Philippines is in the "pleroo" (Greek) or the fullness of time. Once we missed it….After 33 years in PCEC, 32 years in IFP, 32 years in PJM…
The IFP is planting a Prayer Movement and we had visited 22 countries in Middle East from April- November 2015.
We went there and amazingly we saw that these 22 countries are truly the inheritance of God to Israel according to the promise to the patriarch Abraham. We went to Hamidah (formerly Shusha) and meet the Christians both Iranians and Filipinos at Phil. Embassy. We were allowed to use the facility due Iranian Christians are being persecuted. They were protected once they were already inside the Philippine Embassy.
Also this story of Mokkatam Church in Egypt. Have you heard that story? A story that that Islamic king challenged the Christians of their faith that "if they faith as small as mustard seed, you can say to this mountain, "Jump" and it shall be done." otherwise the whole Christians right there and then will be arrested and killed ( if such biblical verses will not be fulfilled as promised by the Lord).
The Christians cried before God and fasted (otherwise the king will kill all the Christians) ….until an earthquake hits the area and the mountain jumped up and down up to 6 km away and the king said," Let your God stop the shaking." (The king has to offer to the Christians a huge underground cave to build their church for Jesus as a form of peace offering).
Anyway, let me call Kuya Ben Yu to introduce to us the speaker.
Ben Yu
I would introduce to you Bishop Robles from Qatar. He is the Chairman of Evangelical Chairman of Qatar
I saw Philippines in a vision with this volcanic eruption. Instead of fire coming from the mouth of the volcano it is men and women that the mouth of the volcano spewing out for world mission.
Until I joined Bro. Andrew Ministry and I was a part of smuggling 1 Million Bibles to China. From 10 M, Christians there grew up to 100 Million. Jonathan Chan of Hong Kong, knew that… then we get out for mission and met Bishop Robles since 2015. He is from Qatar.
ECAQ
Evangelical Churches Alliance Qatar
Recognized by the state of Qatar through Ministry of Foreign Affair. 8,000 members-churches, representing 70,000
Our mandate is to put one Prayer Place. The Emir of Qatar donated to ECAQ 1,000 square meter lot to put up for the plan P500-Million Church Building. Once this is finished it can housed the following:
100 churches that has 33 rooms that can accommodate 5,000 worshipers on one Sunday Service alone …We had the breaking ground building which was attended by PCEC Efraim Tendero and Pastor Daniel Balais which was published by Gulf News and also in Doha newspaper.

We started the Fund Raising Sourcing since May 01, 2017.
Bishop Luis Pantoja
5:45 PM

Summit Meeting of PCEC, JIL, PJM
To gather 10,000 disciple leaders are February 13, 2018 to establish a Disciple-Making Team. Romy Arsuella are you here? Domeng of JIL Are you here? You are the one promoting this including Rev. Leo Alconga? IFP is the Prayer Coordinator of this country. There will be greater things ahead of us.
Ed De Guzman
We will not leave on this place for Bishop Leo but for our guests. Meron tayon minimum.
We ask the following here to stand against this Anti-SOGIE Bill. Wyden King, Luis Pantoja, Eddie Villanueva represented by Domeng Rivera, Leo Alconga; Daniel Balais,
PALAWAN 5 stands on "Anti:SOGIE Discrimination Bill"
Draft reads, "We ask Congress to honour the moral laws of God and protect marriage and the Filipino Family…."
(Peps: Hard Copy of the said Draft will be distributed to all participants to be disseminated to all evangelicals in Luzon, Visayas and Mindanao).
Northern Luzon Coordinators Meeting
By IFP/NFS Luzon Coordinator Ptra. Joy Pongco
8:00 PM.
Ptra. Pongco: Come over here Peps so you could answer the questions in relations to SOGIE Bill.
Peps' Suggestions: I suggest for all the coordinators to do the following:
1. Furnish yourself a Draft on the Position Paper crafted by Palawan 5 Convenors
2. Discuss the said Position Paper to your city, town, district, organizations, etc.
3.Write a letter to your Congressman with the attached Position Paper for "No to Anti-SOGIE Discrimination Bill" with signatories of pastors from various denominations in your District. Be sure that your letter is "Received " affixing the signature of whoever received it including the date from the office of your congressman/woman as you COPY. Any official letter received by the Office of the Congressman must be responded within the next 15 working days under Republic Act 6713 known as "Professional Conduct and Ethical Standards of Public Officials and Employees." Suspension or removal from office can be slapped to the congressman/woman who violates the said Code.
DAY 4
November 24, 2017
6:00 AM
Luis Pantoja
Unity of the Body
The Revival and Discipling the nation
6:00 AM
There is revival in our land and in our churches no matter what we read from the daily newspapers. God is preparing the Philippines as the missionary -sending nation> Pastor Dan Balais kept telling us the destiny of this nation - righteous nation, sheep nations, missionary -sending nation in Asia and also globally.
In the last 5 years - but what I am seeing in the past 30 years.
Rod Cobos, I was present in his ordination during the Palawan Convenor and three bishops were they saying he wanted to be accountable before the leadership of this nation.
God is alive in our nation. I was in General Santos City with 3,500 believers as we had this ground breaking in one church there. October 24, Tagaytay, I met some NFS brethren who are also here during Pastoral Gathering in this region. Their goal is 10,000 trainers in this nation. G-12 I was one of the speaker before 50,000 people. With Nono Badoy, trainer. And also I was with Leo Alconga, in Butuan Church, mga pastors excited in October 25.
In Cagayan de Oro in October 25 with over 350 pastors. October 28 at Dipolog City with another Pastor's Conference. October 31, Megacities Global Youth Day, PCEC, PJM IFP Cuneta Astrodome, 12,000. October 27 in Taguig, True Life Retreat with 1,200 PNP who were being re-trained from Caloocan controversy with Victory Christian Fellowship and CCF who took turns overseeing them. 198 of them decided to be baptized in water. They were baptized in uniform. Their testimony "we wanted our uniform and badges to be baptized as well " as they said because nakaladkad nila sa kahihiyan.'
Dasmarinas Cavite. Also in QC National Youth Leaders in October 30 with 3,000 pastors over. Jesus Reigns Philippines 6 years ago when this started, JR and Gina was still then asking for the blessing and visited them in Cebu. We joined the Succoth Celebration or Feast of Tabernacles in Jerusalem and I danced like David danced. This is 32 provinces then to provinces and now it is global. It is happening in Indonesia, Japan, Hawaii, Israel.etc. We had praise and worship with the background on Israel. We had Gina the author of this with NIHOP and I was interviewed by Trinity Broadcasting Network. Like Kuya Dan, you and us, we have wonderful stories by the power of God.
There is a direct correlation of the unity of the Body in the church growth and the evangelization, and discipleship and church planting.
1900-1974 Committee Agreement. Alliance go to South in Zamboanga, Baptist said, "Ala yan" biro lang. Steve here.
Baptists were signed in Visayas. Methodist and Anglicans were assigned in CAR and in the north. And they cameback again in 1960s and to make disciples of the nation. Until they had this DAWN 2000. Who is DAWN 2000 please raised your hands. Oh, too many, you are the results of the DAWN 2000. From 5,000 churches from 1900-1974 it jumped to 80,000 churches. But also from there, some problems occurred, Lately, we have around 72,000 church-bible based churches. By 2000 around 51,000 churches and 66,000 in 2012 and in 2017around 72,000 churches There are some efforts also from Filipinos of Middle east, Japan , etc they also church-planting here and those are not being recorded.
Matthew 12:25, "And Jesus knew their thoughts, and said unto them, Every kingdom divided against itself is brought to desolation; and every city or house divided against itself shall not stand:."
We Stand
In 2000, RP Church Grown, 15 churches are being planted every

When we fall
We have radical decline in RP Church Grown according to Phil Challenge in 2010, only 5 churches are being planted everyday.

This is the State of the Church.
72,000 churches as in 2017,

Percentage at 10.3%

Un-churched barangays are 20,0000

Unreached population 25-M

OFW Christians 13 Million believers (overseas
Great News
God is at work.
Bishops and Leaders Breakfast at Legend Villas, May 2012. Then Fred Magbanua, Eddie V, from CCF, etc. Palawan 1 is a result of Legend Hotel Breakfast Meeting. We have one and half hour breakfast and only 30 minutes prayers. Someone suggested, "We should go somewhere else to spend more time in prayers." Then we came here in Palawan. Pika pika instead of PCEC or PJM team. Oriel was here before. Peter Tanchi naiipit dito. There were games, prayers, forgiveness, reconciliation, Dito they say, "Nag t txt ako di ka sumasagot," " Ilan text, 7? " One would asked. " Hindi 7 taong kang di nag t txt. " Someone said "You un-friend me in FB". Look at those masasarapap na yakap.Then Palawan 2,Palawan 3-4 and now Palawan 5.
Look at correlation. Unity has an effect in the Body and in the nation

Philippians 1:27, "Only let your conversation be as it becometh the gospel of Christ: that whether I come and see you, or else be absent, I may hear of your affairs, that ye stand fast in one spirit, with one mind striving together for the faith of the gospel; "

The Body of Christ inched in Vision Working Together for the discipleship of this nation through Philippines Vision by 2020

Philippine Vision 2020: 120,000 churches by the year 2020 (healthy, holistic, harvesting)

Discipling the nation and all sectors reaching all the barangays, and nation at the whole country and beyond - campuses, businesses, military camp, PNP camps, call centers, sports centers, ships, restaurants, etc

Three call centers in Davao with their Training Directors as Pastors in Cobos Outsourcing Center.

Sa mga barko: mga churches meron na rin. Kung puede nga lang sa loob ng eroplano.

National Discipleship Summit - February 3, 2018, CCF 9am- 3pm to raise up 10,000 disciple makers by 2020. 4 people in every church, CCF P375.00
Indonesian Church Story
Largest Muslim nation in the world at 2-Million. When they gather at 120,000 only.
American missionary, Russ
Born in the Philippines by American missionary
Can I use the chair at the platform to be an illustration. Just as we leave this place, then we will have this…. I am sitting down here now….. Rio an Indonesian colleague at Diya Pura…. The vibrations di maganda as I asked Rio. He said, "You are the only white on this group."
Another came from Irian Jaya. Some of the pastors complaining. Even some people outside were complaining. Then we talked with Rio to address the problem and had to conduct conselling. We announced them of our plan. The oldest pastor in the group and shook his hands with me…Then he said, "Can you disciple me… I wanted to be a student of Bible School…" But you said, "You are not smart enough" and he became so angry to me.Until he took Bible School, Herrmeneutics, and Rio translating it from Bahasa and they became too emotional, crying, hugging, etc.;; One pastor even kept crying even before he started talking. One said, "My wife died the next morning I came to your house to borrow hammer to make coffin to my wife and you said "No I will not let you borrow it otherwise you will not return it'.." Those things….

So I stood up before them and looked straight to their eyes and said, "I could not make the mending myself but can you forgive me for what I've done unto you…" then the oldest pastors came to me, and put his hands on me, and out a tight grip on me, so powerfully prayed for me. Other pastors joined him and I was pushed down from my seat.. Then there was there big burden sounding " Hugggggghhhhhh…" as if there was a release from them. They started dancing and clapping, and they said, "Now we can come together and work together" and they started coming to Muslim area, sharing God.
Colossian 3:13, "Forbearing one another, and forgiving one another, if any man have a quarrel against any: even as Christ forgave you, so also do ye. "
The threat of unity begins when we leave this place. Make forgiveness often. Make it every day. Make it fresh every day.
Psalm 133:1, "How good and how pleasant it s for the brethren to dwell together in unity."
National Issues:
Can I invite Wyden King, Pastor Ed De Guzman, Domeng Rivera, Pastor Dan, Leo Alconga…
Yesterday, we talked about these issues…
No to SOGIE Bill, Dec. 16, 2017 Nationwide Rally and Candle, Vigil, NCR, EDSA, Cebu, CDO, Palawan, etc.

No to BBL, we still need to learn this so that our statement is not merely by guess only.

Statement on SOGIE and Civil Partnership Bill

As disciples of Jesus Christ we firmly uphold the standards and teachings of the Bill in all matters including gender identity and human sexuality.
Dan Balais
They had meeting last night at Coffee Shop and they talked to me. There must be spirit of functions, the National Council of Elders and it speaks to me the 24 thrones in heaven so it speaks of the Elders…

Dec 16, 4pm to 7pm at EDSA, 7pm because of candle-lighting.
Pastor Nomer Bernandino
"You are the light of this world." One line lang tayo, we will not haharangan ang crossing. No hate message or slogan to "NO to SOGIE BIll" Nationwide we will be lighting the candle and we will pray for the Filipino family. We will reclaim our authority as light bearers and salt to his nation. Before Dec 16 we will have a press conference why we such a stand how this country is to be protected.
Leo Alconga
The center of Communication is the Palawan Secretariat. Then in Manila you will send representative at CLSF under Pastor Dan. From there we will plan how to cover EDSA to Pasay or from Malabon or Valenzuela,,,,

Let us welcome our beloved CJ Sereno
Daniel Balais
Let us welcome Chief Justice Sereno
Bishop Luis Pantoja
Let us pray for what Bro. Russ Simon shared to us about the unity and forgiveness to disciple this nation. From around your table, hold hands and pray for the unity and forgiveness. You can forgive one another, pray for the church and the nation , pray for the executive, legislative and praise God, here with us is the head of the judiciary., teh Chief Justice.
After this, I will ask Ron Cobos to pray for the Executive Branch Then I will ask another person Ptr. Jun Alonzo to pray for the Legislative Branch of the government - senators and congress
I will ask Chito Sanchez to help us to pray for the nation and to the CJ Sereno
Dan Balais
(Laughing…) I see a vision of light coming as if a canopy breaking down stronghold as Pastor Chito is praying. How to apply the Blood? By Breaking the Bread.
Chief Justice Sereno
Maraming salamat po mga kapatid.
It is indeed a privilege to suffer with others as well. But the more I am persecuted the more is greater is my love to Christ. I would rather let it be in the Lord's hands. Jesus did not assure us … Everything must be shaken in this country. I fight for the democracy for the county. The ordinary people are often are the most deprived of their rights. My grandfather came from Jolo. My husband is from Davao. My grandfather is a victim of assassination. He was then the mayor of Jolo.
One time I have talk to this pastor and told him, "You misses the light in time of darkness…" (the CJ means is when you are in the dark of your life you see the light of Jesus as an ember of hope and life).
(Peps: When Bishop Dan asked the whole congregation to stand to pray for the Chief Justice Serene and the whole institution of Judiciary, it dawned on me this Scriptures that says, "Justice and righteousness are the habitation (Hebrew "makon ") the foundation of your throne" in Psalm 97:2b NLT, . When Judiciary as the last bastion of independence and freedom will be attacked, then the nation will fall into anarchy or without the rule of law. God even Natural Science like Physics to be specific - the gravity to put order in the planetary movement otherwise without the law of gravity or Law of Reliability by Albert Einstein there will be cosmic explosion and the same is true to the Judiciary once it is destroyed).
8:40 PM
Maria Lourdes Sereno
Chief Justice of the Republic of the Phils

To God be all the glory!
Only now that I am beginning to understand that by his blood… how could I complain. It is a privileged to know our Saviour
I came to know the Lord from modest life. My father transferred from Sulu to Surigao as barrio captain. He loves Sulu and he called it paradise. It if it paradise why did he left Sulu. It is called the land of bloodshed. I understood that maraming blue seals and maxams. We were Catholics. Why smuggled goods? My mother is Tagala (from Batangas).
I saw anger and hatred that destroyed the people because of the culture.
There was a problem of guidon. If may away, nag katinginan, mag kagulo. We brought our relatives to Sulu, why there is such gulo. I heard the Javidah Massacre from my mother.
I came to know the lord at early age. Then I gave my life to Him as my blood covering. I did not not conscious with that when I was in high school. With my ate Edna and ….
I went to Ateneo, we had arneo (education)… I had two scholarships. I was wondering why God is good to me. Beccause di naman kaya ng magulang ko. Bait niya. Di ko namalayan ako naging No. 1 sa Law School. Masakitin ako pero naging valedictorian ako. So inaakit ako ng mga law firms.

When I was in 1st year in Ateneo, I met my husband, 4th year siya. 1st year ako. He is 3 years old to me. Kinasak kami sa Romana Catolico. He is pala born again CHristian niya because of 4 Spiritual Laws of Campus Crusade for Christ. We both hungers the Bible. We both reading the Bible. When we got married, we went to Butch Conde. We attended to GCF, VCF. And CCF at st. Francis Square. We are looking ng samahan. We are now in Higher Rock Ministries for one decade.
We as partners we wanted to be faithful to the Lord. Di ko kinuwentu before pero kailangan na kasi ngayon eh. Buti ng Panginoon. We cannot be grateful of what God is giving to usl He gave his lilfe for us, why cant we give Him to him. So we tithe for the gross profit of our household. We give more because we love more. Why am I telling you this. Because this is relevant to the impeachment of the 37 million daw.
Di puede di kami mag bayad ng taxes. God wanted us to pay taxes where he placed us. We must give what is due to Caesar. Bayad naman pala kami, at mali pala sila sa sanga sanganng dila nila.
Di daw tutuo ang expenses. Mr Gadon ang magpapatunay. Dala ko ang pangalan ng Panginoon. Dapat tanggalin ko ang pag dududa ng bayan. Eto ang gianwa ko sa stewardship na pinadala sa akin ng Panginoon.
Binigay ko ang breakdown pati tithes ko. Kasama pati ki Bishop, pati ki Winnie (Monsod). pati Toyota Corolla, nagamit namin sa pag pagamot at [pag palibing sa magulang niya at magulang ko. Sabi ko we need to tell them.

Sabi ng Congress na di kayang namin mag bigay ng 12 percent. Bakit tayo magduda sa kayang pagbiigay sa tutuong nag bibigay sa nagmamahal sa Dios.
Kaya ko kinukweento eto - wala naman kaming kalakasan kundi sa sa pagsunod sa Kanya. Siya nagbibigay ng lakas sa Kanyang mga anak. Ganun din sa taxes. Di ko akalain nga gagawin lahat ng pang uurirat sa lahat ng bagay.
Pero nakikita ko eto para maibigay ko ang papuri sa Panginoon.
Kaya di po ako nalulogmuk. Taka sila bakit di daw ba ako naka na tulog at bakit laging naka ngiti. Kasi nga buhay ang Panginoon.
I joined Salazar Law Office, the best law office in the country so far.
Nabuntis kaagad ako pag ka graduate ko . Pero I decided to go back to UP.

But when the Law Firm knew that they said, "Gusto mo kasing maging popular…."
Sa opinion ko sa sarili only God can judge me and only my God can judge me. The No. 1 partner of that law firm became associate Justice of the Court at present.
She said, "join me in UP". For me it become a burden again to a wrong living. Di ko kinuwento eto. She became the top No. Jurist. Ginaya niya na naman ako. I was then a Counsellor of World Trade.
She said to my son said, "Mama mo kasi, di siya nag stay sa Switzerland as top jurist diplomat." And I was then the Chief Justice. My son said, "Is she not ok now?"
Who would ever thought that when I turned down that law firm when I could be very worthy, I would come back to a humble life and be teaching in UP and we don't even have a car. So I take with a jeepney. Then my students would get off from their Mercedes cars.
We bought a car, a second-hand eventually, then I had a good job in Geneva. But before then my story in life in UP I was devoting my life to my children to make them happy. Time is running out to avail the scholarship. Every dream of everyone is to have masteral degree. I said to my husband, "I wanted to go abroad to study." Mahal na mahal noon ang pag aaral sa abroad. "Paano na yun Lord?"
They cannot go on without a mother. Lord Lord please, it is about to expire, I said. Otherwise UP will return that scholarship pag di ko yan nakuha. But I cannot defy my husband because my husband is saying that scriptural that I should not leave the family.
Then I applied to another school. They were given scholarship with University of Michigan, nasaktan siya. Di na kami makakatuloy, so I applied for another scholarship. I said we have two scholarships. Kailangan pang $38,000 dollars. How about the airline ticket, mercy fund? Is these reasonable? The Bible said, "Wives submit yourselves to the husband" Now he is imposing another conditions which I do not know where to get the solutions.
I did a very outrageous thing writing to University of Michigan. I wrote to them saying this, " If you believe in me as women then you must believe that I am married woman. And you should invest in me "Give me additional Money. What you gave me is not enough. I can assure you, your investment is worth it. " So they wrote back to me,. And they gave me the biggest fund ever.
I wanted to obey the Lord to submit to my husband as well I wanted and love to study. On top of that, we funds for my clothes, for my books, …
When I was about to leave to US. Kasya kasya lang pera. Wala kaming kamag anak na tutulong sa amin.
Then a check arrived from the mail, from a former client who already paid me. What a good God. The money is not huge. Not even enough for the airfare. We can travel only 3 cities with Armtrak. You see we don't deserve it but God is good that is better than first class.
….I would probably have a quiet life. Constantly I kept reading the Word and always I was bleeding in my heart… I feel that this life is so humanistic and so secular and very difficult to fit in that and in this world. And if you are in natural and you look at me as intelligent… The dominant school would say, "You are wrong."
I would rather have a quiet life and to minister to the nobody. When there is a freedom on human rights. Then I would like to fight for the right about the Constitution and for God, and He is the framer of all human system. But I didn't have the chance to do because God would put my different careers Which is which is impeachable? With that money, I was able to buy P1.5 million house, on 205 sq. Meters property. First time we had a 1st residential house.
We bought that house to honour our parents, to let them live with them there.
DI mo iisipin that this person would nag am ambisyon sa judiciary. When I was 35 I was tasked to write Reforms on Judicairy little did I know it contributed to the economy.
2009 I was challenged with a friend to apply.
2008 I was hired by Drilon to be his counsel against,,. a predecessor of MOA- Ancestral Domain. That was my second term in Supreme Court.
I was helping the SC art age 34. I would lecture them on World Trade.
Cesar Virata, … and I didn't knew I was also with them. And they would praised my work at kinukuha ako. At age 43, counsel ako sa mga famous cases. Then I was on my own practicing - statistics, economics, etc.
Di ko gusto SC na yan. Bigla na lang na short list ako. Sa 6 na panagalan. Ako langdaw ang babae. May insider sa Malacanan sabi tutulong daw. But when the president was required to make an appointment --- my asawa said sasama daw ako sa reunion niya sa Davao about at the same time interview sa Judiciary Board ni President Aquino. So I did not tell to my supporters to Manila that I am going to kjoin my husband in Davao because they told me I should hang around should the President would call me for an interview at anytime at anyday. and I must hang around sa manila daw because the president would just call me. When I was in Davao, my phone rung and my Malacanan-inside friend said, "Sorry has natanggal pangalan mo na short list na sa 3." I said to myself, "Thank you Lord wala nang pressure."
(picture 4)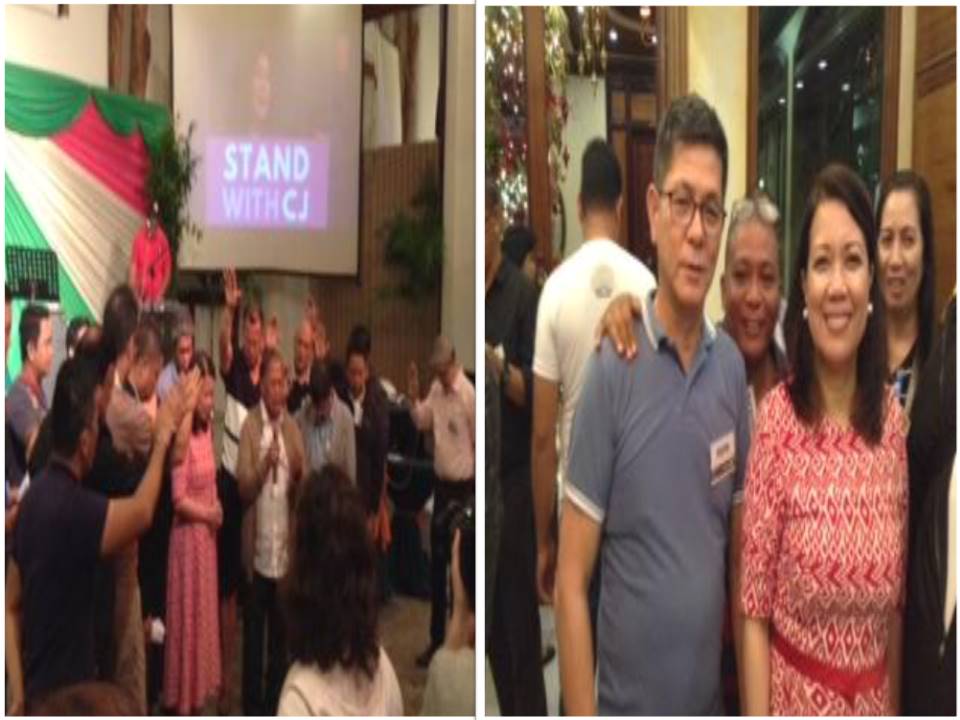 Basta noongh bkumakain kami sa Chinese restaurant sa Davao my phone rung again. . Then someone said from the phone, a female said, " The president appointed you, can you come to Malacananan now, "I said , "Nasa Davao po ako, can the president wait?" So I asked my supporters for prayers and they were looking for helicopter (to p[ick me up from Davao to Manila). . Someone again called and said, "Sabi ni presidente, sa telephone ka daw niya I interview hen..": I said, "Nasa chinese hotel ako, puede mag hintay si president?,," So nag tatakbo ako sa street, looking for taxi so I could be interviewed but walang taxi. Pag dating Microtel kami. In the hotel, we talked …..Ang bilis ni presdiente mag salita at wala akong maintindihan.
I said, "ano po, ano po.., ano po….di ko kaya maintindihan…can you just call me at the landline.." I said to the President. He called me at the landline at Microtel. He said, "Can you stay 20 years in Judiciary, " I said " YES." "Why you deserve this?" the President asked, "They call me fearless."
Maya maya the president said, " An ambassador is here. Maya maya I will call you again," he said. Then 3am tumawag uli and said, "Congrats, I am forwarding your appointment paper." I said, "What do you want me to do Mr. President ?" The president said, "Just do the right thing".
Then an announcer said, "Yan si Sereno nakaka tawa yan." The president said, "Ano eto?kulang eto? Bakit dito short-list, bakit wala pangalan yun babae (referring to Sereno's name)?" See the Lord have over ruled it.
Filipino judge cannot passed speedy dispositions they accused? I said to judges, "Who is willing to go to experiment with me? I need 50 volunteers. And 50 percent came with me. From litigations of 10 years before, now two na lang."
Huge success that international justice mission said there is "sweeping change is happening in Philippine judiciary." Then they increased our grade on Human Rights. Kayang kaya. Kayang kaya ni Lord yan.
We have automated hearing, pasok kaagad sa computer, may order kaagad. Then mga prisoner umiiyak , kasi may justice kaagad Sabi nila, "No automation in government." In Judiciary, meron. We have 297 % on Judiciary on electronic mode. If this is successful, we can be the 1st in Philippine Government. Nobody yet nag ambisyon nito. But we have a great God and I could only ask for a good God.
Docket dropped to 32% which is 32,000 cases. It is already happening.
IF I remember that this is from God (with this suffering), so I rejoice with this trial because out from it He will bring it good and glory.
This is masayang message.
Complete and Bible sa solusyon sa atin. Completo po eto. God is sufficient….
Dan Balais
The reason we invited the SJ so that our eyes may be opened because of the Leviathan, has a twisting tongue against our nation. The map of the Philippines with buwaya, then the nation stood up with a sword against the leviathan. If you fight as one… Each one has this commitment covenant ring, and what will agree what the Lord impressed to me.. We will give this ring to her . Who are the Mordecai for such a time as this?
We asked namin sukat ng ring.
Ate Tanet…
I belong to my Lover Jesus as stated by Ate Tanet to chief Justice putting the ring on her finger.
Palawan 5
Statement of Support for Chief Justice Sereno
NOTES:
Photos by Peps

This is a continuing "Notes of Peps". So please pardon for spelling and typographical error and please check with the Scriptures as well whether it is qouted right or now.

This event is hosted by the Convenors who came from the big and respected Christian and Evangelical denominations and organizations and I presumed their vision for Palawan 1 and 5 is for the whole Body of Christ and we are therefore encouraged to support them.

I presumed that Palawan 5 is the most substantial and historical event compared to previous Palawan Summits because God has prepared "singleness of mind, heart and conviction" in the hearts of the Convenors to take a firm corporate stand and prepared their "NO" Position Papers on the following:
Anti-SOGIE Discrimination Act,

Dissolution of Marriage,

Same-sex marriage by Representatives of Speaker Alvarez and Roman

BBL,

Impeachment to CJ Sereno.
Details shall follow to be disseminated to all evangelical churches after this event.