RAISING UP GOD'S END TIME ARMY (CLSF North American Convention) - Day 3
Details

Category: Teachings & Articles
Published: Monday, 01 July 2019 07:42
Hits: 2065
Raising Up God's End Time Army
First CLSF-North American Convention and Prophetic Conference
Holiday Inn, 327 Ontario St, St. Catharines, ON L2R 5L3
Phone: (905) 688-2324
June 28-30, 2019
DAY 3
30 JUNE 2019 (Sunday)
Personal Notes of Augusto A. Kho
(picture1)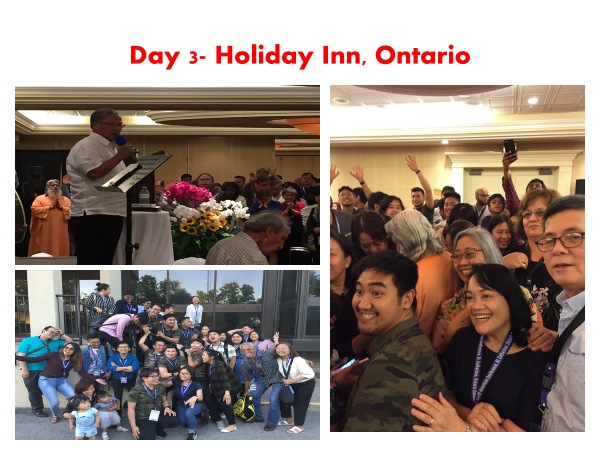 Mark 9
The Lord told me this morning to share to you Mark chapter 9. It is very hard for me to share to you something that is not significant. Bible study notes is good but it has nothing to do with much of God's revelation. I prepared a notes and God said, "Throw your notes out." I said, "Whhhat?"
He gave 2 or 3 verses and I have no concept how to put them together. "You will open your mouth and I fill," He said. That will save your hours for pause and points.
"Truly I said to you some of you will not taste death until you see the kingdom of God in power. " after six days Jesus took Peter, James and John…"
The last day is considered the day of Messiah. Then the 7th day the Lord will lead them in Millennial Kingdom. This is the millennial reign of Christ, then where are we now? IF tribulation was in 70 AD, would it be the final tribulation?

I know we are in the window since the ascension.

On September, 2017 we completed 6,000 years. It is important to know the signs and seasons where we live. Do you know the seasons Jesus said? But you cannot even tell the day of your visitation. Even the great scholars of this day would not even know when Christ comes.
I would present to you… a compelling revelation. The book of Daniel is not being unsealed. How could a group of people be deceived when they knew exactly what is about to happen?
In Bible Schools, there is the pre-tribulation or med tribulation or post tribulation scholars. And I could not understand it. What it really like? What do you meant is that every single day, you would expect when He comes. You will look every single day and your house is in order. I would ask different groups, " IF you know that Jesus will come today, would that change your life?" You should be living like this every moment. Because He is with you right now and you are not hiding anything from him at any moment.
Three witnesses when the truth shall be established, "Jesus took Peter, James and John and led them up on a high mountain and He was transfigured before them."
I have a very specific in the Body and so are you. So I have this gratitude. The more I give the more I got. Blessing in life. Seventh day is now. Once we released the revelation that God has given it becomes yours. Your ceiling is your floor says my dad. It took me 45 years to learn I am giving to you now which is your floor. This is how you walk on that today. It does not mean it cost you nothing to walk on it.
After 6 days, he took Peter, James and John and He was transfigured. There was a metamorphosis. He was the Son of Man walking in the earthly old covenant. Whatever He did it is because what Father told Him. Whatever He did is by faith.
Remember what I told you about light which I experienced in that room. And I began to chew that. God is light. And I had a new bible that. I opened the bible. I could not find that on Mark chapter 9. He said I can do it by faith. And He is teaching me about light, practice it, then He would tell me to go to Mark 9 and have it by faith.
He was in light and he expressed on the natural realm, and they have never seen like that before. When they got on that place and revealing to his disciples, and they were able to go to the two different dimensions. And that is necromancy to others.
Remember Samuel. When he heard that voice, Saul became terrified. Samuel said, "What you have done to me?" God dealt with people what is not supposed to do. Would that be necromancy?

Jesus what He did to the mountain that is contrary to the Bible. You will never initiate to have contact with someone who is gone. If He chooses to open their eyes to Moses and to Elijah it is up to Him and not you. You have to test every spirit every time. Every single school, "I see every spirit…"
You must be led with the Spirit. I went on time and he was a Buddhist. IF you don't know that word, anything goes. If you know the word, you can discern.
Jesus was there and discussing with what is about to come. Peter sees it and said, "Lord this is good. We put a place for you, for Moses and Elijah." Then a voice came, saying, "This is my beloved Son," Well you can react in the flesh. When you respond by the spirit, then you are full with ….
I had this woman and she started reacting like a snake. I said, "Get out of here."
People would come to the meeting and they wanted to be delivered. And yet you had deliverance and you even make them 7 times more powerful.
Peter said "Let us make three tabernacles" for he knew NOT what to say." Because he was afraid."
Let me tell a story about my dad. He walked to ministers with these people… He had a School of Mission. He saw extraordinary miracles. He modelled on Christ. And I cannot copy on that. He dealt with those of being demonized. Even the shamans would tell him about the secrets. One time had a meeting in Seattle, so he started praying. Dad sees this woman. He said, "Why you here?" The woman said, "My pastor think did not so." So she started yelling and made manifest, and my Dad forgot everything he knew. I saw my dad for 40 minutes. and this big woman, 6"1 thrown the chairs. And I said, "The anointing left you" And the demons left. My dad said, "Wow, how did you do that?"
"Next time you will come to the meeting, I will give you suit, "…. Dad said. Because he did not know what to say, for they were afraid."
You must know the formula of heaven.
Pattern and formulas equal to witchcraft. the elders must be 60 years old and older. We must invest in the Word. The healing of Kathleen Coleman, if you would come with prayers and you will be distracted with these prayers, and there will be healing meeting and they have invested prayers more and more.
Faith comes by hearing the word of God. So they will be healed.

They need strategy, on 7th day they can walk on faith. And they can walk in the cloud of witnessing because they are conforming themselves with Jesus.
In Belfast town, the people are praying for over 100 years. Go there and you can feel it. The place becomes a healing place. When you walk in, as if you can sense heaven. Every
one of us must be in a "thin place."
Isaiah 46:10, "Declaring the end from the beginning, and from ancient times the things that are not yet done, saying, My counsel shall stand, and I will do all my pleasure: "
Jacob was on a journey for a far country and (Genesis 8:10) and went to a certain place and stayed there the whole night.
When the sun set, then that is the beginning of a new cycle. Night time has come, time has set, he lays down in that place to sleep (Genesis 28:11). Among the eastern people, they will give you white stone. White stone is mentioned in Revelation. Matter has a memory.
Genesis 28:10-22.
"These stones will cry out," Jesus said. Because they knew how they were created. Matter has memory. That is why the world is groaning in Romans 8.
Romans 8:19-22, "For the earnest expectation of the creature waiteth for the manifestation of the sons of God. For the creature was made subject to vanity, not willingly, but by reason of him who hath subjected the same in hope, Because the creature itself also shall be delivered from the bondage of corruption into the glorious liberty of the children of God. For we know that the whole creation groaneth and travaileth in pain together until now. "
So we intercede with groaning in intercession. Intercession is for mature men and women.
So He used this stone and put it on the head. Stones speaks of Jesus that was rejected. You are called, the "the living stones"" making a temple as it says in 1 Peter 2:5
You follow a sleep on night, focus on Christ….
Jacob dreamed and there was that ladder. Who created the ladder? That ladder was set up from earth to heaven, NOT from heaven to earth. He was terrified with a dream? He knew how this God communicate. On that day, there is this Shiloh.
This is first mentioned, the house of God, the gate of heaven. 1 Cor. 6:16," What? know ye not that he which is joined to an harlot is one body? for two, saith he, shall be one flesh. "
He said You are the house of God. How is house of God looks like? IT must be open heavens. It must be normal to see the Lord, normal to see the angels. It must be made available to us. It must be "thin place." Where you can receive, where you can encounter.
There is a clouds that overshadowed them and they heard, "This is my beloved son with whom I am well pleased."
In Hebrew when you said I heard there must be a corresponding action to be done. You better walked on that word or else you deceived yourself. To hear means to do. to hear means to do. "This is my beloved son, hear him" And do!
"If you love me- you will keep my commandments"" Jesus said. That is a big IF. I could not even memorize 10 scriptures. He said if you hear my voice and do it you fulfilled my voice.
Delight yourself unto the Lord and He shall give you the desires of His heart – Psalm 37:4
Early I had the desires to know Him. And I had this Kenneth Haggin and he would have face to face with Jesus. That encourage me.
One day I was reading 1 Corinthians 12:1, this is not hermeneutically correct, "It is doubtless for me to boast. I will come to visions and revelations of the Lord."
God speaks to you in any way He wants to. In hearing, do!
That struct me when I was 17 years old. My gifting was I am a prophet to the nation. I happened before it happened. I knew before it happened. That day on, until 12 years later, after crying out with all my heart, out from the season of remendous brokenness, and my eyes was opened.
God will sow these seeds of destiny in your heart.
Something strikes in your spirit. Isaiah 6," When King Uzziah died,I saw the Lord…" He was standing in the court of heaven and overheard saying, "Who will come with us.? " He said, ""Here I am, send me…" He was translocated. God can speak. It does not matter how.
I have access to the throne of God at any time. The first time I saw Jesus, this world not matter to me anymore…You know what, when I saw that (heaven), nothing in this world would impress me anymore.
Would you like to see chariots of fire or Rolls Royce? Once you are captivated by God and heaven, nothing in this world can captivate you anymore…. Jesus commands us even to seek His face.
His face, do I see? Psalm 27:8 When you said, " Seek My face. my heart to you, Your Face Lord I will seek."
Jesus talked about the Father. Show me the father they said. "I have been been long with you and you haven't seen the Father?"

Do you know the passion of Jesus for you? He has a great compassion, and passion for you for this generation. Yet the church is not yet prepared and we are not yet focused to Him. We are still not connected to Him, we are more connected still with the world. Your culture must be of His kingdom.
First time I went to Fiji and I would say I will minister. ""Then what is this? "" This is Fiji time. That is our culture. I said "grow up. Let your yes yes or no no. " We treat the man of God with respect. Oh okey? I would like to go there to worship. Worship starts at 7, ok pick me up at 8. I said you are lying. You give me verbal gratitude. We must be aware of what we say. Do not make any word you can't do. He expects honesty. Are you glad I came this morning?
I can just see in the Spirit. Let us first pray in the Spirit.
This is what I see… I saw scepter of grace given to you according to the place where you came from.
John 3:3 Jesus spoke to Nicodemus at night and said, "Unless you are born again you cannot see the kingdom." Only by transfiguration, you can see the kingdom. How? By faith/ Kenneth Haggin is one of those crazy, faith-preachers. Faith is very simple. Big faith, this persevering faith. Small faith is not persevering faith If you exercise by persevering and then you will be strengthened. Others have no faith or dead faith. Faith without action is dead. It stinks. Faith is not difficult. It is what you choose from your life to stand upon regardless of what your eyes to see.
My mother a German has a sense of good humor.
She can't but she will do it. When I was 8 years old, she smoked. She decided to quit smoking and her friends laughed on her. She took down the cigarettes until she stopped. It is a spiritual tenacity. Many times in my life, I would lean on that.

On time, I came down on the stairs and sometimes stabbed me from the back and I fell with agony. I was demonically attacked. They wanted to call the doctor and I said NO. I told, You are a liar, I am healed. In 40 minutes I was healed.
I had to hold on God tightly. And that is tenacity. He challenged me with the Word. Jesus said "MY father and I are one."" And we are in Christ. How it is to be one with the father? It speaks of character. Jesus said, ""If you see me you see the Father."
He challenges me like this. Jesus said, "No man takes my life." He is the son of man, no one chooses his destiny. He said, "not my will but your will be done. "Are you the one? He said I AM, they backed out and stopped down.
We have a destiny and no one can touch us unless we would allow him do to so.
I had this boy in Canada, I was in 3rd Grade… And this boy bullying another boy and then he bullied a girl. I went out and said "Stop that!" He stood up and God, he was so big. Then my brother said, "Don't touch him." He run. So, the same with our Father in heaven. No one can touch us.
God will tell you where to go and nobody can touch you. We take the word and meditate with the word. Meditate means "to imagine." You see that doing what the Scripture says , "The law of the Lord that you shall meditate." It is how you read AND it is how you do. Heal the sick, I see it.
As a little boy, I am afraid of the dark. And my parents would always send me to get out the garbage out on the night. And that is stupid.
I had this friend in bible college and he is a security guard at the night. And I would say to him, do not turn on the light. I am practicing in the night. So we would go to the Chapel night after night. Then I imagine. I see the room filled with people. We had this worship, we had to preach. Till 6 months later, thousands are there. I meditated. I did not only hear it, but meditated it.
My father was with Full Gospel Fellowship and he said, "Can you share?" I learned how to do it with 5 minutes. I can because He said I can. I will because He said I will.
Acts 22:14, "The God of the fathers have chosen you that you should know His will, and see the Just One and hear the voice of His mouth."
chosen – know his will – see the just one – hear the voice.
All who are willing – he kept these hidden ones in this hour.
This is the lady in this Seattle, this sweet lady would like to worship and she would sing, "….. heeehhh." She would say I can give special song number next week …..
Then I called her one day, and said, "We have this special number" The people watched her… and she sung…"Heeee….." then the Spirit of God came….
1 John 1:3 ""For what we have seen and heard we declare that to you, that you may have fellowship with us."
The apostles are with the mountain with Him. These three knew the appearing of Christ on the last time. When He comes back then takes it away. These three apostles looking for such manifestation and if would happen, then it is finished.
To come back' or Greek parousia, ""to have presence with us like in the road…Just like, "I will stay in your house tonight." It would be tangible. The third one – when He oftenly manifest with you always, he just walks in your room.
Parousia is being used in regard to anti-Christ.
1Thess. 2:8-9, "So being affectionately desirous of you, we were willing to have imparted unto you, not the gospel of God only, but also our own, For ye remember, brethren, our labour and travail: for labouring night and day, because we would not be chargeable unto any of you, we preached unto you the gospel of God. .""
The Lord will destroy with works of darkness in His presence to your life.
Even if His coming, the parousia. which means the Lord presence overcomes the devil's presence.
There is one faster than the speak of light. Darkness. Scientists said darkness is faster than light – Nat Geo said.
Anything that is not of light is darkness.
When light comes, darkness is gone. When light comes, darkness flees. If you walk on that consistently then you will not become feeble. I got one yes. Moses, went to Mt. Sinai, he went there for 40 days without food and water. God gave him the tablets of the law. He saw the golden calf. He threw his garments and mourned and fasted for 40 days. He went back to the mountain again and saw the manifest glory of God and his life is manifested in the living God. The only thing is that he did not able to reach promise land. But he was neither weak nor feeble but God took him home.
By the way, the presence of God is in you.
The Lord said in Galatians 220, "I am crucified with Christ: nevertheless I live; yet not I, but Christ liveth in me: and the life which I now live in the flesh I live by the faith of the Son of God, who loved me, and gave himself for me.""
Paul said, " Ï am now dead, and the life now that I live with the life of the son of God."" IF I would let that light out, what will happen? Walk it out!
These 3 disciples looked for the manifestation to this day.
1 Colossians 3:4, ""When Christ who is our life appears then you also will appear with Him in glory."
1980 prophets. So all of wants to be a prophets.
1990 apostles. So all of wants to be apostles
Now there is restoration of the truth. Elijah taught me and said I would not taste death. I had visitation with Abraham last night Sadhu said. I said, yes you did. Elijah telling me about light that I would not taste death. There are many untapped in this Scriptures that belong to this generation.
Absolutely shocking.
Two years ago, under Rosh Rashanah, a group of saints with flames on them, then the altar of God. All the gifts that God has given, my successes and I would place on the altar – and He will consume it and He would say, "Pick them up and go.."
(PEPS: I heard the Lord saying me "GO!" Just like in Genesis 12:1-3)..
Not only I was dressed up in garments but I am full of fire. We would be like fire.
(PEPS: sons of God are called sons of fire)..
We chose to walk on this or not. Either we walk with light or walk with fire.
Now we are purified with my hands. now we are purified with my tongue. You walked in because you are there. Even just like Jesus walked in and miracles and healings begin to happen. We now have the Church have been on darkness otherwise darkness should not be in prevalent. Arise Shine for the Light has Come. You can release this light of glory. You can simply walk in and the atmosphere changes. It is amazing to walk with God and change the atmosphere.
They said preach the Gospel. No! Live with the Gospel. When something devastating happened, the atheist would say, "Pray for me!"
There is something different about you. Light dispels darkness. Light dispels darkness.
What if the group of you release the light from you? What will happen?
1 John 3:2, ""Beloved now we are the children of God, and it has not yet been revealed what we shall be, but we know that when He is revealed, we shall be like Him for we shall see Him as He is."
Light come on. "As he is so are we" 1 John 4:17. I saw the Lord came in the room and saw Him very clearly, then he told me for them to line them up.
When God begins to move, expects the supernatural. Then this lady came and I said, "Who is she?" God said, it is the spirit of confusion. Then someone came and God told me to hug him.
I prayed for a woman and she shrink 3 inches. God said now, "Minister to my people." Do not come up here for 10 or 15 minutes. Stand up here there are 12 angels on here. Stand up here…
Angels have specific assignments.
Form a line, with a maximum of 30 seconds. Do we have catchers.

Daniel Balais
God commissioned you to deal with leviathan. We have also like that in the Philippines. So you need to build the house of prayers, We are doing that in the past 30 years. Also build up the house of worship in Canada.
Amos 9:11, " In that day will I raise up the tabernacle of David that is fallen, and close up the breaches thereof; and I will raise up his ruins, and I will build it as in the days of old:."
Let them receive the revival even to the provinces we have prayed over yesterday. let them have incense of intercession and praise from the heart of broken. Let it be a hunger for righteousness, for they will be filled. All of those provinces and cities in those provinces, break out, you are the God of the breakthrough – and I can see desperate pastors, fed up with traditions, they would seek the Lord and there will be a breakthrough. God will shake those churches so that the Glory of god will be made manifest clearly. As we continue to pray and seek your face and not to give up and press on there will be a breakthrough, the western side and the east side, In Jesus name. We give you glory and we thank you Lord, Amen.
Dan Balais
1:50pm
I did not expect this move. That is why it is CLSF Conference. But it changed when we invited Brother Sadhu.

We just planted CLSF here, but when you had your Canadian citizenship, and when this Bruce talked about "double-mindedness" and he said it was his first time to sung that Canadian Anthem. But we have this role to play – Sadhu, Neville Johnson, that CLSF is a Philadelphia Church. You heard how Sadhu commended me, and that was not me but for CLSF or IFP. I am connected with David Damien . He gathered 10,000 in Hong Kong and 20,000 in Germany. He gave his life for Canada instead of Egypt. We had the same calling. What we started 5 years ago, it is domestic. But with IFP it became global. First, CLSF, now it is in Canada. So I am releasing you now. I just officiated wedding to AJ and I asked, "Who gives this bride in marriage?"
Our philosophy as CLSF?
Where is Edgar and Letty? America is Kuya Tony and Beth in Reno. Oxnard was not able to come. Long Beach is here. This is like ground-breaking. When you ground-break is just a beginning until you finish it. We are about to share to you about CLSF.
So … let me get also your feedback. What is your impression?
Brother…
When are we going to bring Bruce Allen and Sadhu to Canada.
Kuya Dan
Some Canadians approached me and they were touched what I did. It is OK for you to say you are Canadian. But now the Lord is saying "Embrace Canada do and love the land." There are plenty of dimension. Of course, you pray for Philippines, Canada but also Israel. You will open your churches to other nationalities. You will be identified with the land, with the country and with the people. You commit yourself to minister to Canadians.

Someone approached me and wanting me as their spiritual covering. One of them was ordained by certain Florentino Torres of CMF back in the Philippines who already died. They wanted us to cover them. Secondly, before I forget. There is bonding on this group. Last night we had eaten at Indian restaurant and Sadhu said, "He was taken to heaven and give him a word Ottawa…" Whenever God give him a word, CLSF is the one doing what the Lord has given to Sadhu. Funny. But it is true. The Lord told to Sadhu about OTTAWA. The Lord has been speaking in many things. The vastness of Canada we have a role. The Lord asked us without us being aware of it. So we have the grace of God of finishing anointing. We have the grace as IFP is 30 years now. We did in Middle East and in Europe and the Lord is expanding us with our capacity. Those I wanted to communicate with you.
Campsite
We acquired a new property P22-million. Bruce told me, "Are you prepared?" Bruce and Sadhu prophesied us to built a 5,000 sitting capacity as sanctuary.
These men don't expect love gift – Joe Sweet, Bruce Allen and Sadhu have too deep commitment to us the Filipinos. So mamaya we have a domestic presentation.
To Sadhu, either you love him or hate him.
Just to update you. Our online Bible School, a ministry training school (MTS). We have a Journey-Track. It is a model, not mandatory thing.

First thing we did this. We commended us. Thank you for sponsoring our elders. They wanted … We have not yet cast the stone. The thing OTTAWA. He said, "I am a prophet, I am not an intercessor." I said we have to pray for it. CLSF must be a byword in the prophetic.
ATE NELIDS
A Canadian asked me whether we have a church in Scarborough (i.e. one hour away from Missasauga).
Kuya Dan
God told me create a church without walls. The church without wall is without a building. In the last days, we might go back to that due to persecution. We have a church in Libya, a house-church.
In Asia Minor, you cannot find the church buildings because the church are house-churches.
We have thriving church in Kaikos and Bahamas. Canada, we have this kind of boldness… The Canadians are thanking us…God is giving us sending to embrace Canada and take responsibility to shine, to open new ministries, not limited to Filipinos alone but also other nationalities like Indian, Sri Lankans, other outsiders and even more.
Angelo counted it and we have 395 registered participant without yet the elders. That is the work of the Lord.
" If you care for other nations, I will take care of the Philippines " – the Lord said. I sincerely loved them, I care for Canada, = I cried for them.
Where is Kuya Pio.
Next year, February, it is Jesus People Homecoming. Mom Lil will come on business class. We will name that after them Bill and Lil Tinsley Home.
It will be big event 37th year anniversary. It will be held in Arena Inares or Cuneta. Napa kalaki trabaho natin then pati pa ang Canada nito.
Andrew
"I saw the Lord with plenty of crowd. He said Canada is worth fighting for." This is the reason why I came. The reason I shared because if you are caregiver of other nations God will take care of the Philippines.

It reminded me about praise will inhabits the praises of the people.

EUGENE
Alberta, someone tapped my shoulder saying, "You can do it."
NENET
The Lord reminded me as if my heart is melting for Canada. In 2017 when we were here, God reminded us, "Canada is your inheritance."
God allowed Canada to win in NBA so that their Anthem will be known globally and with the name of God in their National Anthem will be heard all over the nations…
Peps
When Kuya Dan was praying in Day 1 at morning, I saw flower petals with shades of lavenders that were beautifully placed on the floor like a carpet, others petals are seen cascading from above.

Lavender or purple is one of the major rainbow color and it speaks of royalty and grace. The words, "I have placed my words into your mouth. I have called you as a prophet to the nation," kept on reverberating to my ears for the past two days by now. Also I heard the word, "GO!" taken from Genesis 12:1-3 (the call of Abraham) during our corporate prayer.
Canada's SOGIE's Campaign is well-spoken inside the galleries of the House of Representatives in the Philippines. Canadian SOGIE has great influence to our local SOGIE and same -sex marriage.
Brother Rody said that his place, Windsor is Canada's largest agricultural farmlands and they produce the world-famous tomato catsup but now it is being replaced by "recreational cannabis" (Marijuana).
I remember that the ancient Mexican shamans in Incas first take marijuana or pot before ministering to their temple. Same practice is being told as well according to tradition to the priestess, Venus or Olympia in Parthenon of Athens as well among the priests in ancient Egypt.
The word "sorcery" in Revelation 22:15 has something to do with "Drugs." Sorcery in Greek "pharmakus" in English pharmacy means "magical arts, sorcerer, spell-giving potion, poisoner, magician, a druggist." which could be related to Canada's SOGIE Law and the Windsor's replacement of cannabis from tomato-production.
Representative from US
Nine states now is approving the abortion even to the birth…
KUYA DAN
I know Sadhu is holding back because he was saying about judgment. He knows my stand about mercy triumphs over judgment.
Sadhu talked to us in the Middle East. He told me what God will do something the Middle East and can no longer be averted. He said that those who prayed will be protected. Just like Ether when judgment was averted.
I felt yesterday, there is still mercy. Prosperity makes the moral barometer numbered. When we met Laura Thompson, she felt she is alone. She lost her job in 700 Club. Her first day in our Camp is her last Day in 700 Club. It has shown in 700 Club she will be going somewhere else. She attended the camp. When she came to the Philippines, she just the worshipped in Cuneta and she said, "This is heaven." She is a third year generation Christian, her grandpa is missionary to Africa.
If the Lord will spare Canada for judgment –
RPA = Rainbow Prayer Army
ARNEL
CLSF first property is where the marijuana center is.
Sadhu Selvaraj
3:50 pm
This is a book, "The Goodness of God." This one book that tells the goodness and compassion of God on different facets of our lives in 3 dimensions. One of the most amazing characteristics of God is His goodness. That is why when He appeared to Moses, He said, "God is good." If you tasted how God is good is then you received his scepter. This is what our Bishop said yesterday.
He opened heavens but you can also open the heavens as well. There are some keys as well. It is here on this book.
The Lord told me to stop all ministry works and it lasted me 18 months and I just limited myself to little activities and spent most time fasting and praying the most in 40 days if not in 18 days. Then the Lord will speak to me about Prophet Moses on his lifestyle and Malachi 4:4. They are important and smaller in verses and most of them are prophesies of our time. In Malachi 4 about the last days, the burning of fire, and it is never happened in OT or during Jesus time but in our last days. The last 3 verses of Chapter 4 of Malachi speak of our times.
If the Law has been crucified on the cross, would that means we can worship many gods?
Can we kill one another, or steal or commit adultery? If the answer is NO then why the law is being crucified? That is why the Americans is abolishing the Ten Commandments.
It is not the law of the Ten Commandments – it is eternal but it is the religious ceremonies of the law is being crucified.
The remnants have the commandments of God. These commandments will be challenged by the anti-Christ. The Lord explained to me how we apply the Ten Commandments in the last days?
Order of Melchizedek
One night I could not sleep, tossing on my bed for hours. SO I decided to knelt down then a word came to my mind, "The order of Melchizedek." It is very difficult subject to grasp, not my cup of tea, so I never ventured too deep on the subject of Melchizedek. But when this word came to me I started meditating it and the Lord spoke to me and explained to me in one and half hour about the order of Melchizedek and that is why it is very, very important.
This year is my 43 years of ministry yet many of the mysteries in the Bible that I do not know?
ABP American-born Pilipinos. 12 patriarchs of Old Testament and 12 Apostles of NT. If John wrote this 22 elders he could have not written it, "Me, me" But he said "24 elders."
Why we must be a part of the order of Melchizedek? And this order will continue in eternity.
Art on waiting for God
How is this? …. Copyright all right reserved but nobody gets It. It is for the spiritual benefit of men of God. When we know how to wait on God everything is possible.
He will meet you today and he will give you special blessing…
Those who have ears to hear and eyes of faith to see will see the things of God. If you believe, all things are possible.
For God said, "For I seek people who shall rise up and walk with faith in this generation so I would entrust the riches of the living word and none shall be with no excuse saying, "I don't know the oracles of God." For I have sent my frontrunners to prepare the way of the Lord. Behold I keep before you and open door. Behold, I have the keys of the kingdoms with me, with him who believes… shall take the key from my hands and enter into the kingdom made for them by my father. He who humble himself like a little child will enter to the kingdom of heaven. Eyes to see, ears to hear what the Spirit of God speaking to you.I see you stretching out as you receive scroll."
(Peps: 4:40 pm. While we are praying corporately on kneeling down position on the floor, I saw huge open graves with dried human bones in Cambodia during Pol Pot genocidal crime. It reminds me of a so called "dead church," Sardis in Revelation 3:1 as well Ezekiel's Valley of Dead Bones in Ezekiel chapter 37).
This morning while I was praying God gave me a word, "How old is Canada?" The question is "What we must do?" There must be a reason why? God is not entertainer. Many Christians will come to God and thought God is an entertainer. Having a heavenly encounter is not just like a movie. A vision is a message of God that He wants to communicate. He is a God who talks and he talks with his people. I encourage you not to desire of visitation, desire habitation. Me is just visiting Canada. But you are living in this land, you have the right in this land.
I always behold the Lord on my right side. That was said by David. Any Christian must not be just satisfied with visitation. We desire communication and relationship.
The desire of God is not just for you a child of God but for you to become sons and daughters of Gos. There is big difference of child and son. There are levels of relationship.
child

son.

disciples or servants

friend

highest state – a wife
There is a difference between friend and wife. A friend can go anywhere in the house but not in the bedroom.
Child must be progressed and be baptized then to become son of God (Romans 8). Then serve and serving the Lord like servant. Servants and Disciples knows not the secret. Only friend knows the secret. A friend is willing to die for his friend. People and people in the relationship of God becomes a wife-status. Wife is when union and you become one with Christ. It is an exalted state of relationship. It is easily possible. I tell you what I learned from 40 years of ministry.
John 14:21, "He that hath my commandments, and keepeth them, he it is that loveth me: and he that loveth me shall be loved of my Father, and I will love him, and will manifest myself to him. "

Reading is just like eating even without chewing. But with meditation you chew, you chew, you chew, and gets all the vitamins inside of you.
Psalm 119:105 , "Thy word is a lamp unto my feet, and a light unto my path. "
Psalm 119: 130, ".The entrance of thy words giveth light; it giveth understanding unto the simple.  ."
One word enters into you one day. Supposed you do that daily. then another part, then another part, then the whole image of Jesus tjhat forms in you. As you close your eyes, And then you call Jesus, you don't realized you are already becomes a habitation in you.
John 14:23 If anyone loves me and je will keep my word, and my Father will love him and we will come to him and make our HOME with him.
When I was in Singapore last year, the Lord did not appear to me. Six hours a day, this man sleeps and the rest he praises, he sings, he reads the bible. Yet he cannot see God. How would that be possible?
Bible said, "If you seek me with all your heart ye shall find me."

This man seeks the Lord, 18 hours a day yet he never saw God. What was the problem? The problem was love. There was no love. If anyone loves me. They wanted the gift not the giver. You are praying 18 hours because you wanted to see Him. Everything boils down with heart attitude. Why you pray every day, whey you read the Bible. Most will answer, "I would like to go to heaven."
I spent my life praying all through out in my life yet I cannot see God. I went to this prayer meeting and this American spoke about a beautiful story on evolution in 20 minutes, then he spoked about God for 20 minutes.
Hinduism there are 330 million gods. Why should I take just one god?. One white's man god.
Why should I believe in one God? Then the seat I was sitting started shaking. I was wondering the chair was shaking. then a voice came, "Follow him."
Now I have two problems – the shaking chair and then the voice. Then another, a hand that lifted me to my feet where I was standing. So I better obey. Why? Because I was in the balcony, then a word came, "This is the true God." Yet I could not see the hand but I felt it. The 15 people who responded to the call from the left to the center were there. When I came, he did not opened his eyes and he talked about the Sinner's Prayer.
"I am not a sinner, I am an Hindu," I said. He was standing on the corner. The voice that spoke, the chair that shakes and the hand – three supernatural experiences. For 6 months I was set free from the cycle of reincarnation. This may be my 1st time in my life or 7,000 life. I don't like to be Born-Again as I prayed otherwise I must become monkey. Otherwise I might have not good karma, so I don't want to pray. I Said Jesus, "If you a true God, deliver me from the cycle of reincarnation." Then I felt an oil, as it flowing with inner …. then instantly the bondage was broken…When I experienced that I believed in my heart that Jesus is a true God. I sought the Hindu gods and they forsook me. This God Jesus I did not seek but He sought me. That is a true shepherd. You live in Buckingham Palace and have the good things in life. He died in your place. Romans 5:8 "While we were yet sinners, Christ died for us. "
Lord Jesus loves us… And He died for us so that we can respond back to the rightful image of God. And that should be our foundation in our love to God.
John 14:;23, If any man loves me, he will keep my word; and my Father will love him, and we will come to him and make Our home with him."
1 Corinthians 6:;16, " I will dwell in them, And walk among them. I will be their God, and they shall be my people."
I will dwell in them. That is the relationship with the wife. It happens in the wedding chamber when the two become one. You must love the Lord without much expectations, whether you see him or not, whether you go to heaven or not. That is the cardinal rule.
1 Corinthians 617," But he who is joined to the Lord is one spirit with Him."
Do you know this Sadhu Sing?
Devil said, "Jesus is in hell. There is no heaven." Then this man said "Praise the Lord!" The devil was shocked. This man said, "Wherever Jesus is, I will go because even in heaven he can transformed it into heaven."
The motive must be love. The last generation needs that – love. The apostles of anti-Christ will fall to the earth. The Church will be split apart – the other one the Church of Babylon or Church of Satan. Do you know this hyper-grace. The true church is the message of the cross then "Follow after Me."
Ten years ago, I heard this staff. One day this young man would like to talk to me. "Uncle", he talked to me. He asked, "do you know grace?" And he talked about grace. I said "whatever you are saying to me it not true and not being spoken by Paul." He said, "Even Paul does not receive this generation." So they live whatever faulty lives they have because of the super hyper-grace.
If you want to be the last day remnant generation – you must have eyes to see, ears to hear.
How then we deal with Canada?
Luke 19:41-44, Now as he drew near he saw the city and wept over it. If you have known even you, especially .. For days will come upon you and when your enemies will build around you…."
As I looked on this Scripture, this is just one week left in his life as he entered at this city – He looked at the city – He looked and prophesy to this city – "IF you have known the things to make it for your peace! But now they are hidden from your eyes… Luke 19:41-44….
I have this great reputation, God put something in me to do – If there is any reason, you can render, you can just walk away. Everybody is good?
Let us look into Scripture. Jesus Christ wept because they are ignorant, dull of understanding and they failed to see or understand the times of visitation - that Jesus is their Messiah…
They looked for the temporal kingdom and not the eternal kingdom, Jesu said, "If you have already known, dull of understanding, f failed tot see the times and signs of times….'
"And level you, and our children within you, to the ground; and they will not leave in you A cornestone upon another, because you did not know the time of your habitation."
Judgment will come, you will be surrounded, women will be killed, children will be killed, temple will be destroyed because they have not done nothing about the warning given to them by God.
Now this judgment – we must do something. People of Canada … what will you do?
Israel rejected their salvation. Salvation also means to escape, to be free, to prepare, yet they did not recognize the seasons and times. You must know the seasons and times within you. These are the last days. You are the last generation.
I will tell my staff….
Matthew 24 said, "Blessed are the womb that did not bear… and breast that never sucked…"
The words are not spoken on them but to these last days. Father or mother can control their hunger but how about their starving children during the time of the mark of the beast. What if anti-Christ soldiers and take your baby and squeeze his neck, what will you do?
Now I understand. God showed this to me 5 years ago. The days will be coming because our little ones will be killed. Prepare your children for martyrdom.
Next year, God told me to prepare the people and conduct Martyrs Conference in 7 nations. We must understand the seasons and times where we are living. The Jewish People did not understand the time of their visitation. But now we do understand.
Obey God without hesitation.
Judges tells us about Gideon, a least person. A scared, timid, coward person. A nobody person. No name, fame or title. He is commoner. Judges 6;12, "Mighty man of valor.""
I pondered very deeply calling me a mighty man of valor and scare of cockroach. Funny. My mother went for long vacation. When my niece opened the freezer, it was full of cockroaches. The freezer was so tight how they managed to came in. They were translated. Or because of heat outside, they went inside. My mom came from vacation and bought a new one. They took out the old one and broke it and killed all cockroaches. You see Gideon … the angel said, "Mighty man of valor." Oh great woman of God….It is a common response. God does not see us the way we see ourselves. He don't see us but what he can do in us. From ordinary man becomes superman, a true avengers. True avengers, because we will go after the devil. Gideon was scared but he was called man of valor. But in Judges 6;15 he made excuses to the call of God.
When prophet Moses received the call of God, he also made excuses not to be called. If this call comes to you today, do not reject it. In this last days, God needs everyone to work with him. We need born again people in the highest office of the land
Don't wait for someone to answer or to do the job. You must be SFR (spiritual first-responder). You should be the first responder. Isaiah 6:8, Rev. 5: 2-4, " Who is worthy to open the scroll.." Isaiah said, Here I am send me".
Do not wait for someone to answer the job.
Fast and pray to seek God ways (without him you cannot do nothing). Anacondas and snakes will spread all over Canada. Will you allow that? What I hated the most is snakes.
Sennacharib will attacked Jehoshaphat (2 Chronicles 20:3-13), You should fast and pray and seek the face of God.

This afternoon while waiting for God, I saw trench in the center,but there are strongholds of the enemy all over the land. If you fast and pray you will find this strongholds. And God will give you strategy. It will be different from one another.
That is the Canadian Dry air. Pray and seek God for every situation. One matter does not apply to everything. In 1990, God sent me to go all over Tibet, I fasted and prayed. It is a huge country and great altitude with 13,000 feet above sea level and the highest I went up is 25,000 feet.
God said, "Just pray and fast and I will show you the strongholds. " And he said, "Redeeming the Land" in 1998. God sent prophets and he brought strategy and his is totally stupid… 2 Chronicles 20:`14-19.
The strategy, the courier should be going first before the army.
2ND , don't sing no other songs that it will not give glory to God. Don't sing wrong songs. The prophet gave them the right song. When you sing the right song, you opened the portals of heaven.
The door opens to go to another realm. So sing the right song and minister to God then you extol the mercies of God. When you creates that, you open the atmosphere of God…You don't need to shoot one arrow coz the angels will shoot more arrows.
Joshua 6, God have strategy to Joshua. …This is something that remnants must learned. Even the heavens and earth will become one. Not until the devil is thrown into the . bottomless pit. Even after 1,000 years .he will be released again.
5th, make a covenant with God as his people. When the generation came out from Egypt then had this character – "stiff-necked." The old generation died only Joshua and Caleb survived. The new generation were all circumcised as a covenant. Romans 2:29 , Deuteronomy 10:16, "Therefore circumsize the foreskin of your heart and be not stiff-necked no longer."
Stiff-necked means backbiting, gossiping, murmuring, disobedience and stubbornness. Now God tells you, cut it. cut the foreskin of your heart and stop being disobedience…
6th, fear God. Develop a healthy fear of God. Joshua 5:14, "So He said, No but as Commander of the army of the Lord I have now come." And Joshua fell on his face on the earth and worshipped and said to Hi, what does my lord say too His servant."
In 1999, in St. Louis, the chief angel of America told me, "Take off your shoes…" And the angel walked in, and then this organ pianist and this angel came to me, "I said all removed their shoes." he said, "Remove all your shoes." He looked at me sternly and he walked out with his shoes on.
I saw one, high, very high ranking one, he came…he is such one angel that visited Moses when the ground was burning. This angel is what visited Joshua. That shows heart attitude of Joshua, he have a fear of God in his heart. You must have fear of God.
The fear of God is the most essential if you want to walk with God. On 1983 up to now, one cardinal thing I learned is to have fear with God in your heart. Isaiah 11:2, The Seven Spirits includes the fear of the Lord." And the spirit of the LORD shall rest upon him, the spirit of wisdom and understanding, the spirit of counsel and might, the spirit of knowledge and of the fear of the LORD." 
You are potential recipient of the 7 Spirits of the Lord.
7th, Holiness. Leviticus, Consecrate yourselves…
Amos 3:3 Can two walk together unless they shall agree?
Isaiah 6:1-8,
China, John Soo? When he preaches, woods being burned with fire. The last part of his life he heard God saying:
"John you are a thief?" He asked the Holy Spirit. "You stole 5 cents from your pastor. "You borrowed 5 cents from your pastor up to now you did not pay it yet even up to now." He repented, then sent back the 5 cents. Laughs (crowd).
Your attitude of laughing speaks that you take light o f the Word of God. This shows how callous you are. This is a serious matter. 5 cents is a serious matter.""
That is why every day, always check your heart.

When I first saw the vision of Melchizedek. First I saw the menorah. Why there is a menorah, then God transported me to the temple. Then he said, These are the 7 Spirits of God with eyes hen looking at the 7 areas of your life – eyes, mouth, ears, …
So you ask God for cleansing from your defilement… Even those spoken in jest is sin…. ask the Holy Spirit to cleanse that…
8th, implicit obedience to divine strategies in order to walk with heavenly army.
Joshua 6:1-5. When you walk around Jericho 7 days will that collapse? When you walk around Ottawa Parliament 7 days, will that break down the Parliament?
Judges 4:4-7-9, "And I will draw unto thee to the river Kishon Sisera, the captain of Jabin's army, with his chariots and his multitude; and I will deliver him into thine hand. 8 And Barak said unto her, If thou wilt go with me, then I will go: but if thou wilt not go with me, then I will not go. 9 And she said, I will surely go with thee: notwithstanding the journey that thou takest shall not be for thine honour; for the LORD shall sell Sisera into the hand of a woman. And Deborah arose, and went with Barak to Kedesh. "
Judges 5:20-23, "They fought from the heavens; The stars from their courses fought against Sisera. The torrent of Kishon swept them away, the ancient torrent, the torrent of Kishon. O my soul, march on in strength…"
When they moved, t caused gravitational re-alignment and can cause tsunami.

When Joshua commanded the sun, it stood with Joshua to defeat his enemies. IN the last days, even the nature will be in command with you.
When great power given to you, this molds you but it can also kill you. When you die that is in you – do not misuse it.
In conclusion, doing done the will of God, what will you do?
Luke 17:10, "We have done what our duty to do." Meaning die to yourself, do no boast; no title.