Lamp in a Dark Place
Details

Category: Teachings & Articles
Published: Tuesday, 11 June 2019 13:23
Hits: 1910
Lamp in a Dark Place
by Augusto A. Kho
IFP Monthly Provincial Prayer
June 3, 2019 (Tuesday); 11:00 A.M.
Updated: June 11, 2019 (Tuesday); 9:59 A.M.
(picture1)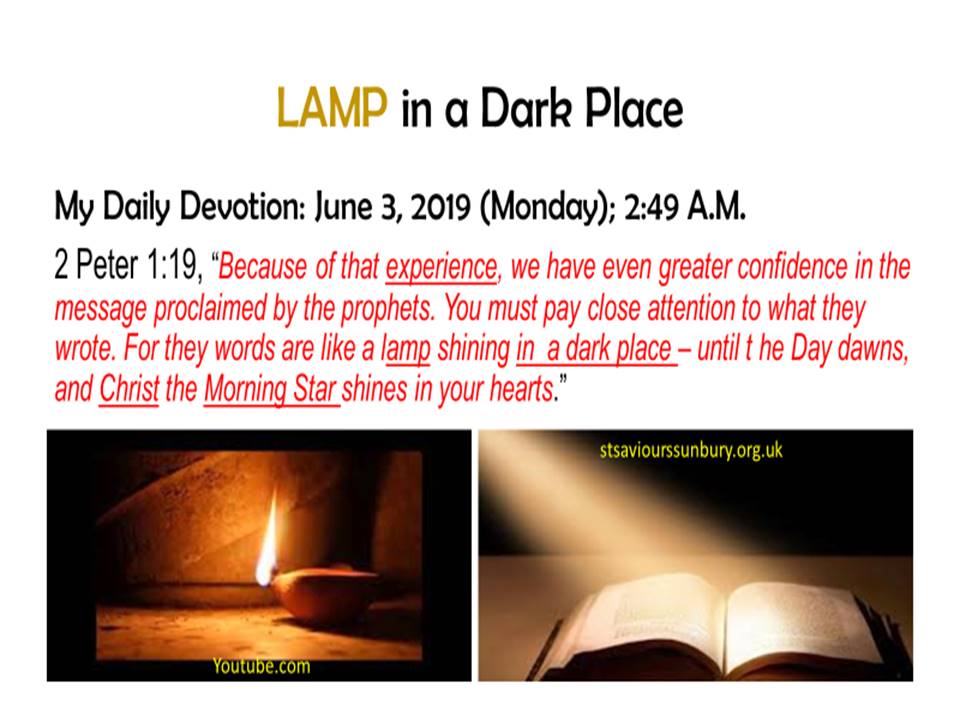 You're Popular
The venue of the prayer meeting is just next to the Regional Office of Cooperative Development Authority (CDA) where I parked my car. To justify using their parking slot I had to see the Regional Director of CDA, Mdm. Josefina Bitonio, who happened to be my adviser when I presented my Thesis on Masters on Development Studies at Pangasinan State University. Seeing me coming in, she blurted, "Oy, popular ka ah, kilala ka nang mundo (Oh, you're popular, the world knows you)."
My brows raised in unbelief, I asked, "Why Mam?"
Bitonio said that my study on Moral Recovery Program on the Philippine National Police (PNP) is being used as a reference in US, Asia and particularly in the Philippines. My work, she said can be found in slideshare.net and academia.com where global researchers used it as a reference for their study and research. In humble response, I said that I owed it much to her (which she truly deserved the credit as well)
My Quiet Time
By the time I get in at the prayer venue, I readily opened my laptop and simply typed in my quiet time I have had days earlier that spoke in my heart and placed some images that could be used as Prayer Points without knowing it could lead us somewhere else bigger.

My quiet time a day earlier, which is Monday at 2:49 A.M. is in 2nd Peter 1:19 that reads:
"Because of that experience, we have even greater confidence in the message proclaimed by the prophets. You must pay close attention to what they wrote. For they words are like a lamp shining in a dark place – until t he Day dawns, and Christ the Morning Star shines in your hearts." – New Living Translation
Global Map
The usual prayer place is nearly empty and we were just handful of prayer intercessors but the worship was solemnly venerating to the Lord. I've found that day more of a day of worship rather than prayer. Why? Because we could hardly stop worshipping. And we wanted more. I felt the worship itself is enough until words of prayers. Suddenly words came that says, "I will put into the global map!" That words as if saying, "You're a star! You're in the global map."
Thinking what was Mdm. Bitonio have had shared earlier, I said to the Lord, "No Lord! " for I truly prefer my private life rather than being known until I found myself crying on the floor. Proverbs 11:2 says, "When pride cometh, then cometh shame."
There were some more rounds of worship before we all finally slowed down quietly where we are. Then I stood up heading to the pulpit and asked …
Hope
… I asked from my fellow intercessors whether they have received something from the Lord, be a word or a hymn as in says in Colossians 3:16.
Sister Lorelie from Sual stood up andshared the following:
"Maraming lalapit at magtatanong sa inyo, 'Anong meron sa inyo na pag-asa?' Naka handa na ang kalinangan. "Many will come to you and they will ask, 'What hope do you have?' Resources and strategies are all well served"
The Scriptures said that "In the mouth of two or three witnesses, the truth shall be established," (Deut. 17:6; Matt. 18:16).
The Podium
Then Sister Dianne also shared what she saw in a vision. She described it as follows:
"During our second song, I saw twenty four angels fronting the sea trumpeting with silver-trumpets. And I saw Jesus in His throne descending on the seashore. The word "descending" also came to my mind. Then I saw one km. long golden cloth waving on the seashore. And Kuya Peps is in there like an athlete to a sea games while he was standing in Podium No. 1."
Silver in the Bible speaks of judgment whether it is the White-Throne Judgment or BEMA. Each believer is considered a runner, running in a race as mentioned in Hebrews 12:1-2 where are surrounded with "cloud of many witnesses" and Jesus Christ as "the author and finisher" of our race.
In 1 Corinthians 9:26-27, Paul stated that he himself is running. And he was running his race with certainty otherwise he himself will be disqualified. The same thing goes with all of us.
In terms of prayer, we can not afford praying "beating the air" without any specific prayer target.
Lamp in A Dark Place
2 Peter 1:19/ NLT, "Because of that experience, we have even greater confidence in the message proclaimed by the prophets. You must pay close attention to what they wrote. For they words are like a lamp shining in a dark place – until the Day dawns, and Christ the Morning Star shines in your hearts."
Peter talked about his experience in Matthew 17:1-5 during Christ's Transfiguration on the holy mountain with James and John that boasted his trust to God as written by the prophets in the Old Testament time.
While many Christians preached the Scriptures so well and teach the Scriptures profoundly, the question is how many of us truly experienced what we have been preaching from the Holy Writings? And that what Peter is boasting at. He teaches what he personally experienced in the spiritual realms beyond this natural world.
That is why he said that those assuring writings serves like a "lamp shining in a dark place" in whatever situation we're in.
The "Day" that Peter was talking about could be "Day of the Lord" when judgment (speaks of silver trumpet) come between the good and the evil while Christ is the Morning Star that speaks of hope which Sis. Lorelie have shared earlier.
But metaphorically, morning star is named to Lucifer in Isaiah 14:12 with Luke 10:18.
Philippines on the limelight
These are the things that puts Philippines on the limelight, into a global map as a source of disgrace. These things make us like a "laughing stock" in the whole world hence we are known to be the "only Christian Nation in Asia."
Philippines, like a star
(picture2)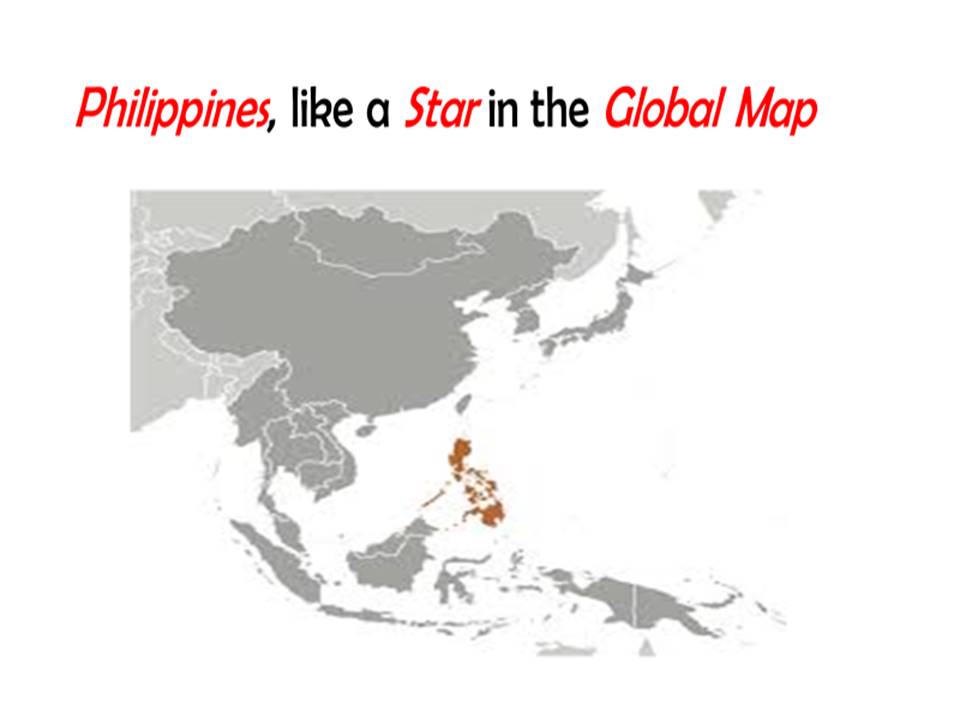 Most gullible
"Filipinos, most gullible people in the world," – according to Harvard Study.

From a column, "FROM A DISTANCE" by Carmen N. Pedrosa; Philippine Star dated March 26, 2011 it reads:
"For Filipinos, a tsunami warning from the government does less than a mother's directive to avoid the sea because of syokoys (mermen)," it notes. The Harvard Institute of Socio-Political Progression (HIS-PP) did not just say Filipinos were gullible, it said it was the first among "the world's most gullible races."
This is a serious allegation we should not ignore. For those who do not have access to the internet I found this item in a blog called "The Mosquito Press." It may seem like a trivial source but according to the authors the study involved "content analyses of over 500,000 historical documents from 300 different societies. So we better take it seriously.
"What's curious about the Filipino condition is that despite a respectable literacy rate, many of its people still believe that condoms cause cancer — or that Appolo Quiboloy, CEO of Kingdom of Jesus Christ, The Name Above Every Name, Inc. is the son of God," said the report.
We are gullible because we are not able or do not question information. We prefer to believe what other persons tell us."
Pinoy, most emotional
"Filipinos remain among world's most emotional " reads from PhilStar dated June 23, 2017 -
LIPA CITY, Philippines (The Filipino Connection) — Maricar Garcia got a small strip of paper near the police station here and thought it was a scented sheet. The two sentences on that strip gave a different "scent": positivity."PRAY until your SITUATION CHANGES. MIRACLES happen EVERYDAY," reads the strip.
Combining these two : gullible or uto-uto + emotional (pa sayaw sayaw) = Results of 2019 Elections i.e. double-disaster?
(picture3)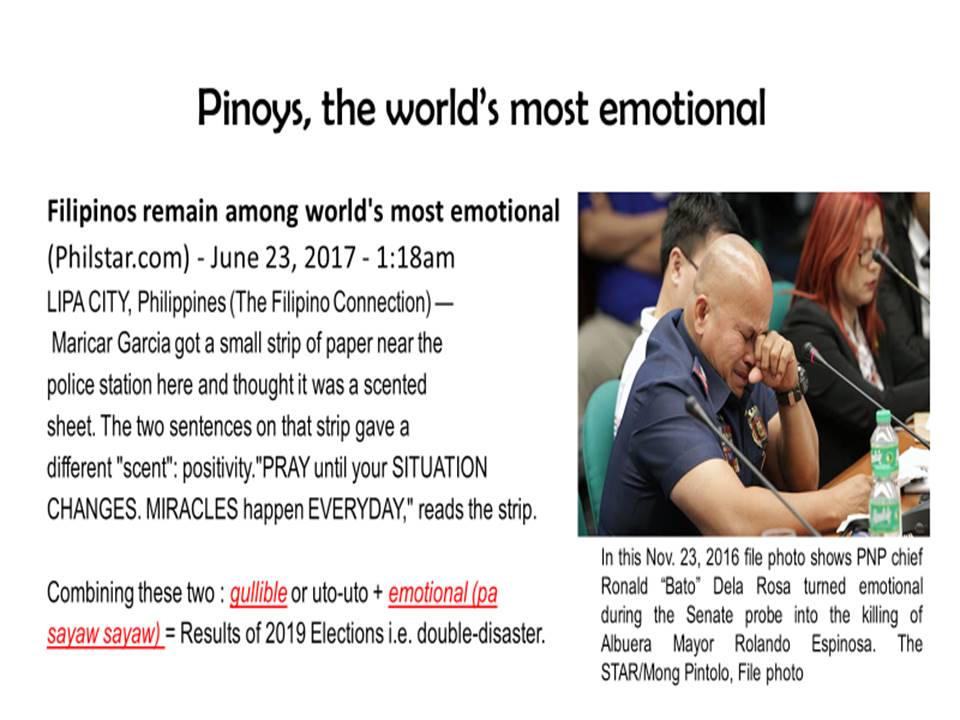 Filipinos, most stressed people globally
By the mere traffic in EDSA alone makes your day very stressful. Much more to the political squabbles in the Senate today. Even the new players are "flexing their muscles" as if they already proven something when there was nothing yet.
This year, we are being tagged as the most stressful people globally. Gallup Report said, "Philippines among most stressed, emotional countries" as reported by Gaea Katreena Cabico (Philstar.com) dated April 26, 2019 - 5:26pm.
(picture4)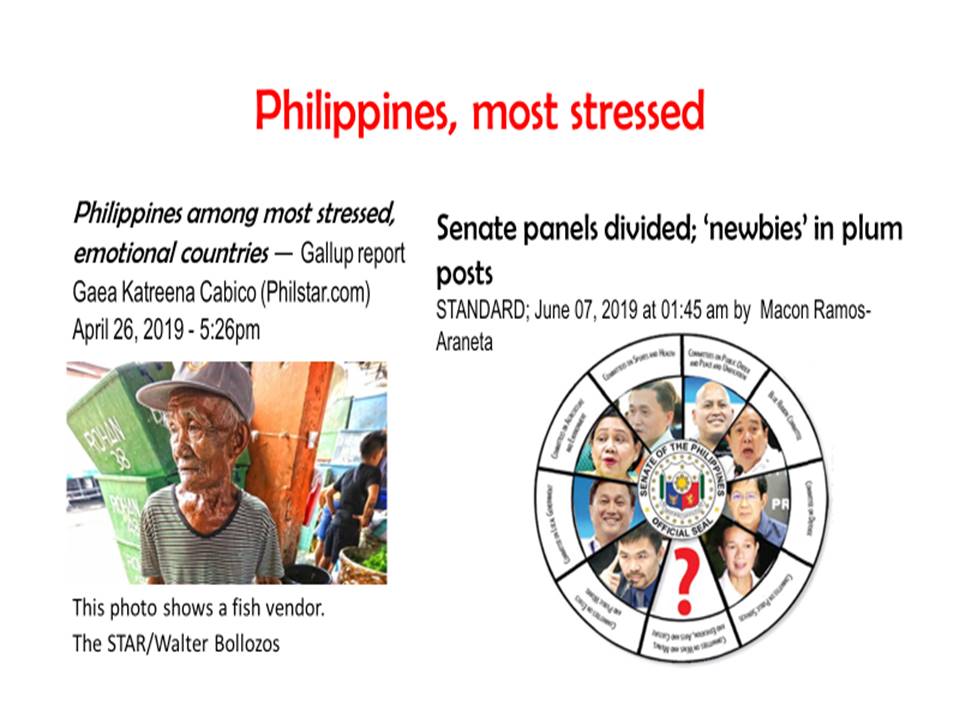 Pinay, the world top 20
"Pinays in top 20 porn site viewers,", as published by Manila Standard dated March 13, 2019.
The newspaper added:, "Despite strong government request that Internet service providers block access to porn sites, a review published Tuesday and seen in Manila suggests Filipino women are among the top 20 female visitors of PornHub worldwide."
We are also 2nd country with most sex offenders.
(picture5)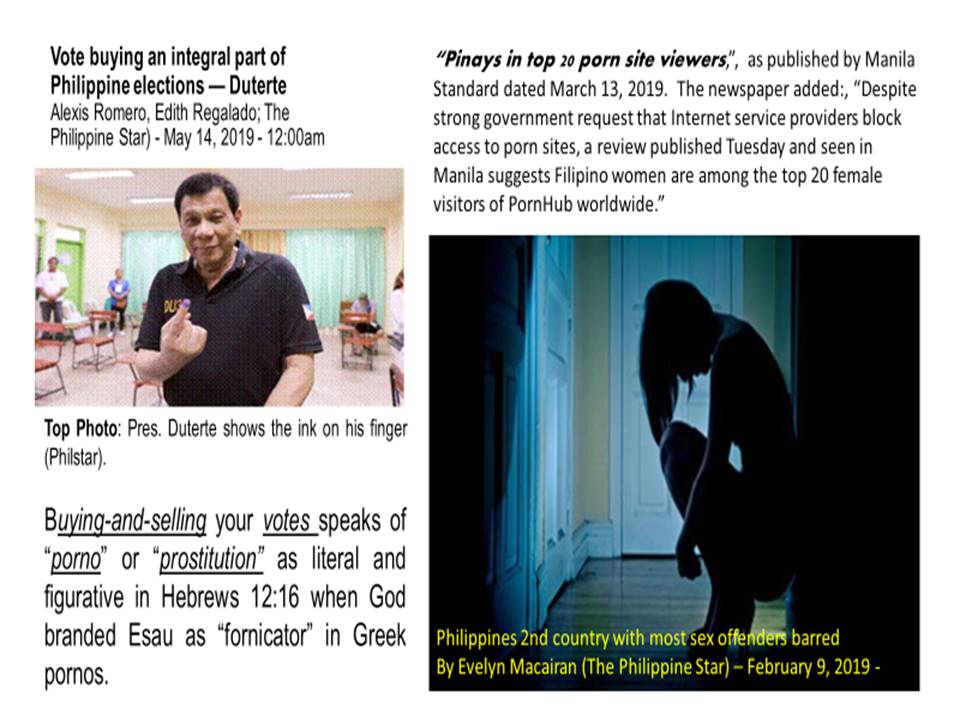 President Duterte also barred our weakness on print when he said, "Vote buying an integral part of Philippine elections" as reported by Alexis Romero, Edith Regalado; The Philippine Star) - May 14, 2019 - 12:00am.
Buying-and-selling your votes speaks of "porno" or "prostitution" as literal and figurative in Hebrews 12:16 when God branded Esau as "fornicator" in Greek pornos because he compromised his birthright.
Philippines, world's garbage bin
Not only Canada but also Hong Kong, South Korea and Australia finds Philippines, haven for trash. Is it Filipinos smells that bad?
(picture6)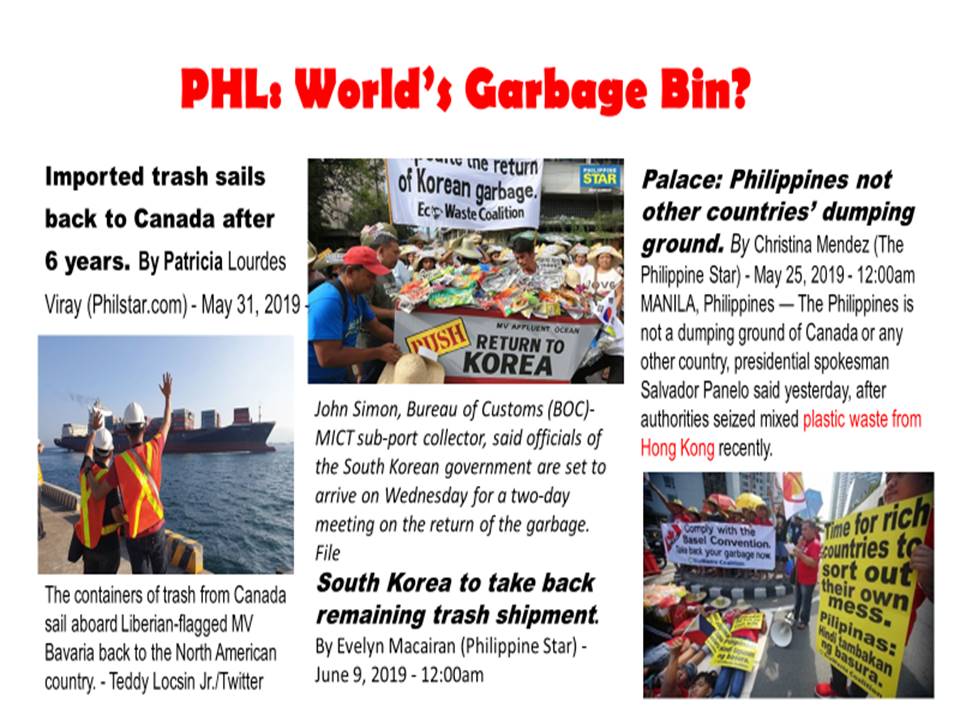 Philippines, world's center of illegal drugs?
Where can you find a country that auctions illegal drugs? Only in the Philippines!
Is it even illegal drugs are being taxed by the government, how could it passes through the Customs then?
(picture7)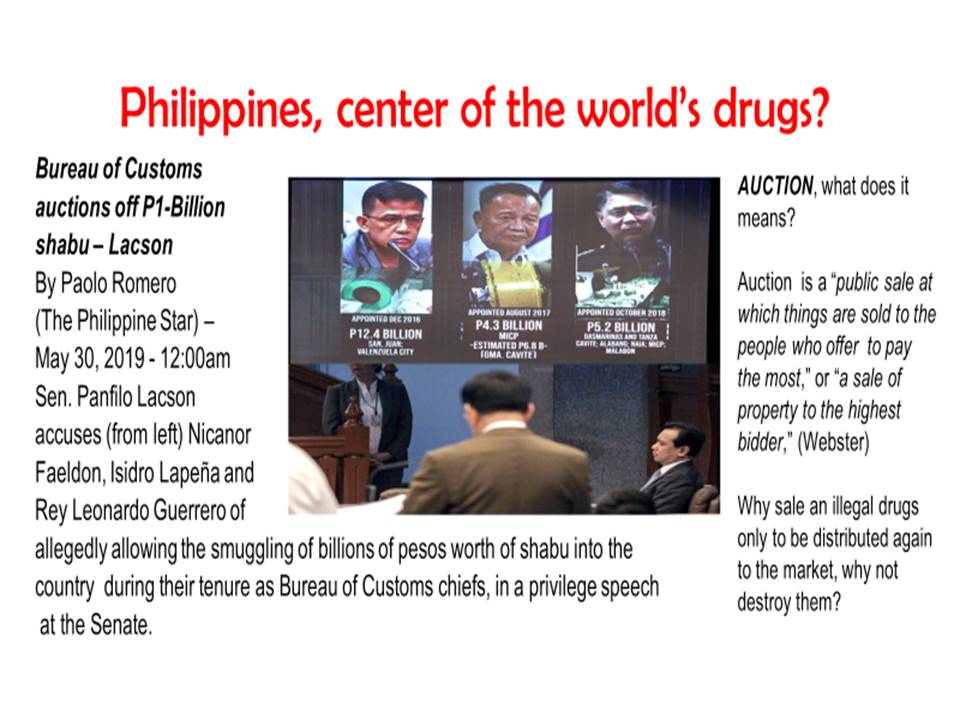 Phl, kidnapping capital?
Kidnapping is a very lucrative profession according to some. Would that be true in this country as
well?
(picture8)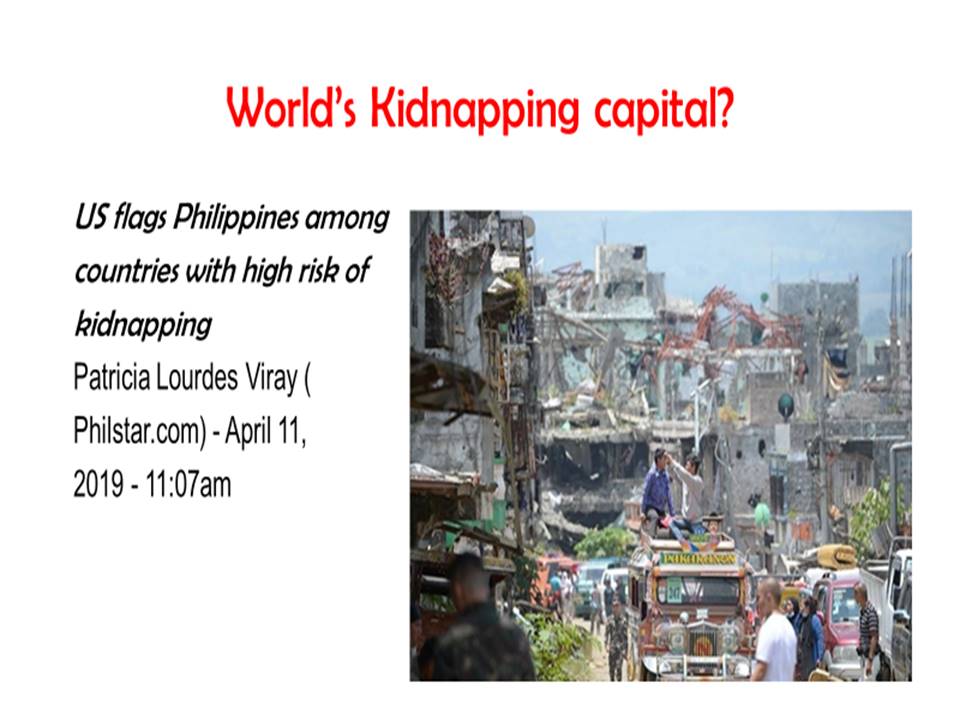 Philippines, home to criminals and money-launderers
Pinoy is globally known to be neat who takes a bath even three times a day. If not, sanitize almost everything. But don't you know that launderer means "sanitize?"
Is it using "public money" as "personal piggy bank" in the form of PDAP is a also form of Pinoy- sanitizing culture? Nagtatanong lang po?
(picture9)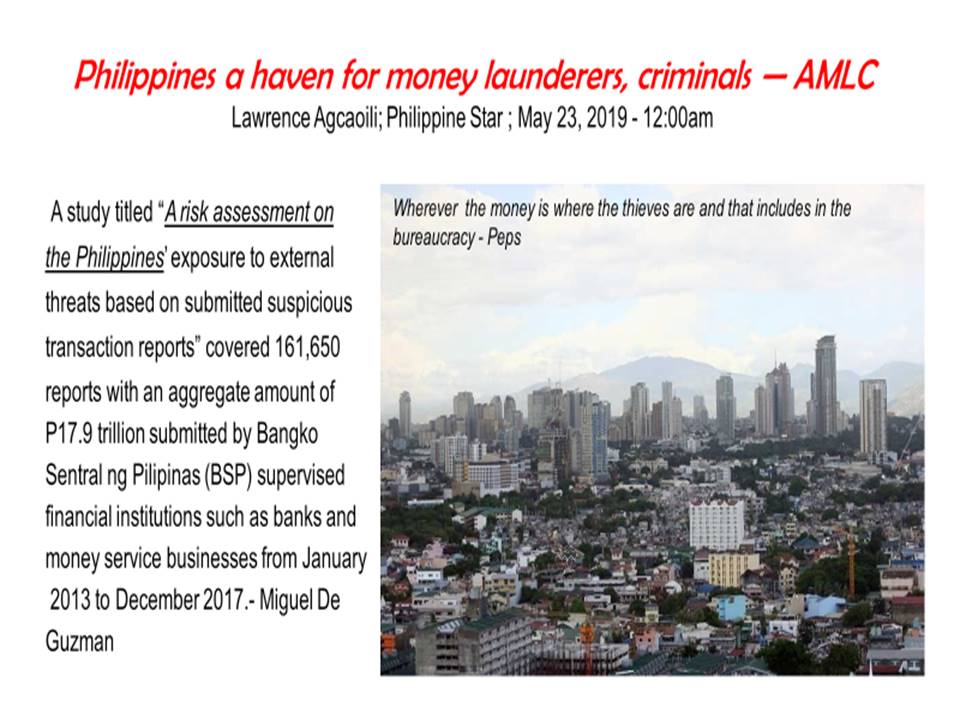 Take note of this news please:
"Bribery 'always present' in speakership race" according to solon as reported by Ellson Quismorio of Manila Bulletin dated June 9 2010.
Voting-buying is par for the course in the House of Representatives whenever it's time to elect a new speaker, claimed an outgoing congressman who declined to be named, to avoid getting the ire of his House colleagues.
(picture10)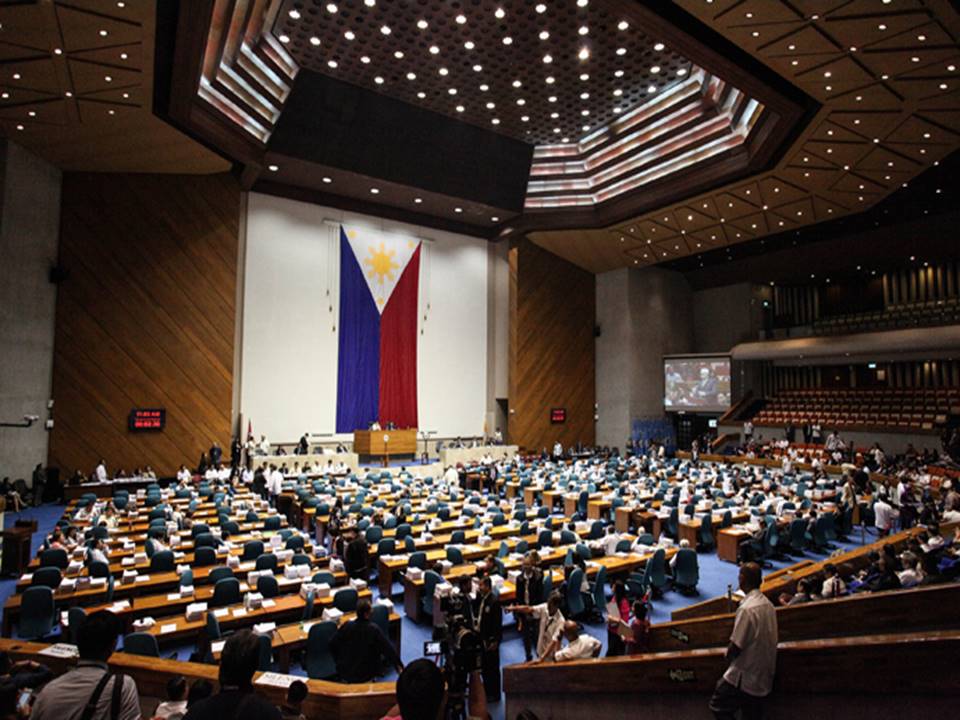 "Ikaw naman, para kang bago (You're acting like a newbie)," the solon told this reporter after he was asked to comment about the bribery allegations in connection with the speakership race for the upcoming 18th Congress.
"Every time there's an election, all those components — bribery, vote buying, etc. — are always present," he said.
If I may ask, is it bribery a crime? If yes, is it the House of Congress is "haven of criminals?"
Is it not the local news given above makes us a star, putting us in the global map? Or simply makes us cry? If not, intercede for this nation? What should be our Prayer Points then?
(picture11)
Reversal of the Case
One time, I happened to meet personally no less than Justice Wenceslao Agnir from the Court of Appeals. We exchanged some legal views on what's happening nationwide in the likes of Martial Law, War on Drugs, extra-judicial killings or EJK to name a few. When he asked what could be the end result of government campaign on EJK, I told him it can be elevated to ICJ as "crime against humanity." He asked me, "Are you a lawyer?" I snapped back, "Do I sound like a lawyer?" He answered, "Yes!" I told him I am a pastor. That was September 30, 2016 in Quezon City.
(picture12)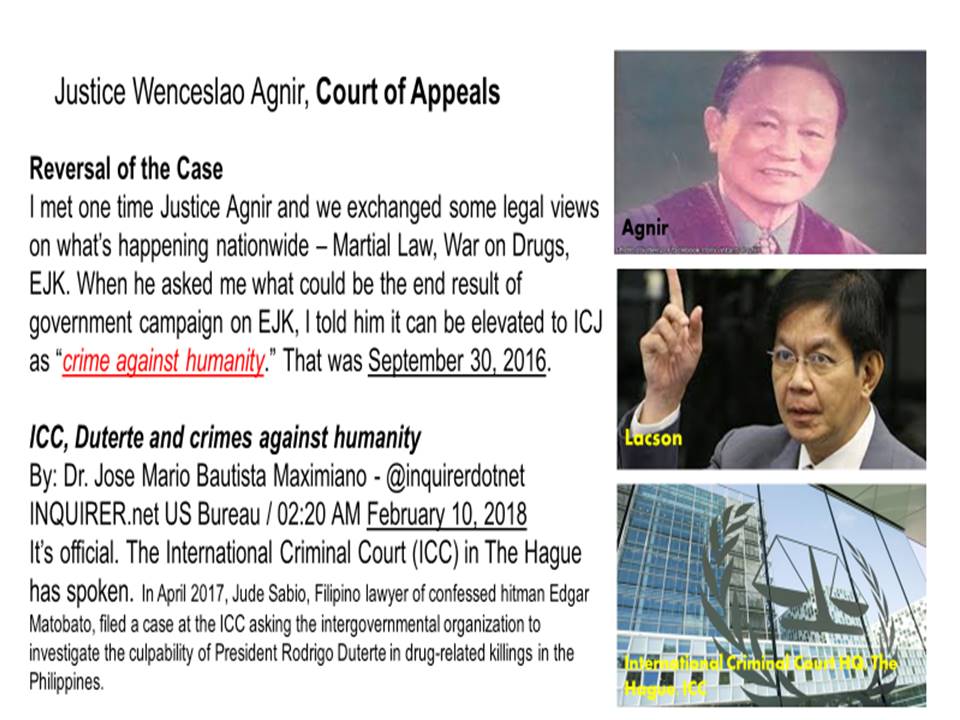 The Court of Appeals
The Court of Appeals in the Philippines "reviews not only the decisions and orders of the Regional Trial Courts nationwide but also those of the Court of Tax Appeals, as well as the awards, judgments, final orders or resolutions of, or authorized by twenty-one (21) quasi-judicial agencies exercising quasi-judicial functions. "
The Court of Appeals is the right court to appeal from should anyone wants to review his case.

And we have a Court of Appeals in Heaven too.
The Divine Inspiration of the Bible is the final Court of Appeal according to Arthur W. Pink. He wrote that:
"It is not a question of what I think, or of what any one else thinks -- it is, What saith the Scriptures? It is not a matter of what any church or creed teaches -- it is, What teaches the Bible? God has spoken, and that ends the matter: "Forever, O Lord, Thy Word is settled in heaven." Therefore, it is for me to bow to His authority, to submit to His Word, to cease all quibbling and cry, "Speak, Lord, for Thy servant heareth." Because the Bible is God's Word, it is the final court of appeal in all things pertaining to doctrine, duty, and deportment."
A protocol
On November 13, 2018 at Tagaytay City; Prophet Robert Misst shared:
"There is a protocol. There is a Parliament. In heaven there is protocol. There is a divine council. In the divine council it is important place where decisions are being made for nation or for the people. When you take the full package you will learn the whole protocol in image."
Reversal of the case
Reversal is the decision of a court of appeal ruling that the judgment of a lower court was incorrect and is reversed. The result is that the lower court which tried the case is instructed to dismiss the original action, retry the case, or is ordered to change its judgment according to https://legal-dictionary.thefreedictionary.com/reversal
In the Court of Appeals of Heaven, one's court's ruling can be reversed. The same thing goes when we pray to God. Queen Esther reversed Haman's evil plot to annihilate all the Jews. It was Haman and all his family members were killed in the gallows instead (Esther 8:2-5).
There were men of God whose cases have been reversed just like the following:
Abraham reversed the case to saved his nephew Lot from destruction;
Genesis 18:22-19:29 ESV - Abraham Intercedes for Sodom
Isaac reversed the case for his wife Rebekah (Genesis 25:21)

Moses reversed the case against God's judgment to the Jews
Deuteronomy 9:13-14, "Let me alone that I may destroy them."
Intercessor's office
The Intercessor's function and office is to reverse the case. Ezekiel 22:30, "And I sought for a man among them, that should make up the hedge, and stand in the gap before me for the land, that I should not destroy it: but I found none."

What the devil's plan for our nation can be reversed as well.
We too, can bring our case in our beloved Nation to the Court of Appeal in Heaven using God's Word and His Prophetic Call to the Philippines which are as follows:
Philippines Prophetic Call
There are some prophetical calls made to this nation a long time ago since I became a Christian in 1986 which are as follows:
A sheep nation by Ralph Mahoney

A Righteous nation by Ralph Mahoney

Blessed nation by Cindy Jacobs

The food basket in Asia by Bill Hamon

Missionary sending nation

A 7-headed Dragon-slayer by Chuck Pierce

The Jerusalem in Asia

The Israel in Asia

Prince nation in Asia

Philippines as shamar prophet i.e. intercessor, watchman and a prophet by Chuck Pierce in 2018

Philippiness will be the hub...the pastors, evangelist, etc. Eph. 4:11, "And he gave some, apostles; and some, prophets; and some, evangelists; and some, pastors and teachers," Bob Connors, March 2018
Some other prophetic calls of the Philippines was taken from Intercessors for the Philippines (IFP) File can be found on MY NOTES
NOTES

Kalinangan explained
Ang kultura o kalinangan tumutukoy sa araw-araw na pangkabuhayan ng isang grupo. sa pangkalahatan ay tumutukoy sa aktibidad ng sangkatauhan. Sa isang payak na kahulugan, ito ang "kaparaanan ng mga tao sa buhay", ibig sabihin ang paraan kung paano gawin ang mga bagay-bagay. Iba't iba ang kahulugan ng kultura na sumasalamin sa iba't ibang mga teoriya sa kaunawaan, o sukatan sa pagpapahalaga, sa aktibidad ng sangkatauhan.
Sa iba, ito ang kuro o opinyon ng buong lipunan, na maaaring makita sa kanilang mga salita, aklat at mga sinulat, relihiyon, musika, pananamit, pagluluto, at iba pa. Makikita ang 164 kahulugan ng "kultura" sa isang talaan sa Culture: A Critical Review of Concepts and Definitions[1] (Kultura: Isang Mapanuring Pagrepaso ng mga Konsepto at Kahulugan) nina Alfred Kroeber at Clyde Kluckhohn na nilimbag noong 1952.
Morning Star explained
I think it relates to HOPE and his immanent second coming. When Venus rises, it means the sun will follow very soon (in a morning, usually within an hour or two, sometimes just a matter of minutes). Christ's coming—and in a broad sense this could apply to both his first and his second coming—means/will mean God's light is about to shine forever on the universe, making all wrongs right, wiping away all tears, and fulfilling Revelation 21, with the creation of the new heavens and new earth, etc. On a long dark night, the appearance of the morning star means daybreak is imminent. In the long dark night of suffering on earth, Jesus being seen as the morning star means the eternal morning is about to dawn. Hence, Christ as the morning star is a picture of great promise and hope.
In one of my books I call Jesus the Morning Star and several readers have gotten very upset, wondering why I would give Jesus a name that belongs to Satan. They are of course referring to Isaiah 14:12: "How you have fallen from heaven, O morning star, son of the dawn! You have been cast down to the earth, you who once laid low the nations!"
The point is that Morning Star was a name for Lucifer before his fall, and there is no inconsistency with two very different beings called by the same name. Lucifer was a creature of beauty and power. Christ is God, the Creator, beautiful and powerful beyond measure, the one Lucifer rebelled against. But the name Morning Star is not tainted—it is Satan who is tainted. Obviously this is the case, or Morning Star wouldn't be used of Christ as it is in Revelation 22:1-15, nor used in a positive way as it is in 1 Peter 1 and Revelation 2.
Taken from "Jesus, Venus, and the Morning Star" by Randy Alcorn, Eternal Perspective Ministries, 39085 Pioneer Blvd., Suite 206, Sandy, OR 97055, 503-668-5200, www.epm.org
Philippines' Prophetic Call
Provided by IFP, Manila
A) Bill Perry 1987 - PHILIPPINES AS BURNING BUSH OF ASIA. In a vision, the nation of the Philippines appeared as A MAN IN MILITARY ARMOR - The problem was the military man was in total darkness. Then something happened. FLAMES STARTED BLAZING UP IN VARIOUS AREAS OF THE PHILIPPINES, in Manila, Baguio and other parts. Then it became the BURNING BUSH OF ASIA, WITH THE FLAMES OF GOD'S GLORY ALL OVER THE ISLANDS.
B) Bill Hamon 1992 - GOD'S 20-YEAR PLAN FOR THE PHILIPPINES TO BE A HEAD NATION. "I have a 20-year plan for the Philippines and over the next 20 years I'm going to make it a head and not the tail," says God. I'm going to redeem it, I'm going to redeem the Philippines from its slavery, from its bondage…and BY THE YEAR 2005-2012 the Lord says, I'M GOING TO HAVE THIS NATION BE A HEAD NATION AND NOT A THIRD-WORLD NATION."
C) [Bill Hamon 2003] God said that He really loves the Filipinos. You are a special people to the Lord…You're to be like America SENDING OUT MISSIONARIES AND TEAMS TO THE NATIONS AND YOU'RE TO BE THE ISRAEL OF THIS AREA, and God has dedicated Himself to help you succeed. But in order for Him to do that, He has to have the Filipinos' cooperation.
D) After them, prophet after prophet confirmed the same messages – like Revs. Brian Bailey, Abu Bako, Cindy Jacobs, and recently since 2010 Bros. Neville Johnson, Sadhu Sundar Selvaraj, Vincent Selvakumar and Robert Misst.
Bro. Sadhu [PYJP 2010]: Not only that, if you be willing and obedient, God will not only do these things inside the Philippines for you, but HE WILL ALSO MAKE PHILIPPINES LIKE A LIGHTHOUSE FOR THE REST OF THE WORLD TO LOOK UP TO, ESPECIALLY IN ASIA… … I have heard it from the lips of the Lord Jesus and seen it with my eyes in the spiritual realm what God has stored for you. AND WHEN YOU KNOW THAT, YOU ARE GOING TO STAND ON YOUR FEET AND SHOUT TO THE LORD WITH ALL YOUR MIGHT. Hallelujah! YOU ARE GOING TO ENTER INTO THE COVENANTAL PROMISE OF GOD FOR YOUR NATION.
[Bro. Neville Johnson NPG 2011]: As I began to pray I SAW THE GLORY OF THE LORD BEGINNING TO DESCEND UPON THIS NATION, first upon this church, and then upon the nation. And it was so powerful that it was bringing transformation everywhere it went… YOUR FINEST HOUR AS A NATION IS ABOUT TO START TO UNFOLD. This will become as a Christian nation in a way, in a level like never before and will be A SHOWPIECE TO THE WORLD. The political arena will change. God will judge the corruption, he will judge the corruption…God is about to do something with you which is beyond what you have conceived up to this present time. There'll be TIMES OF GREAT WAVES OF THE HOLY SPIRIT THAT WILL COME IN through your church services and you'll be there for days. You'll not be able to leave.
[Bro. Vincent Selvakumar NPG 2011]: GOD WILL CHANGE YOUR SPIRITUAL STATURE. GOD IS GOING TO SEND A MIGHTY HARVEST THAT YOU HAVE NEVER SEEN BEFORE. The eyes of the world will turn towards you. They will say that prophets have risen up in the Philippines. THEY WILL SAY THAT THE FIRE OF THE LORD IS BURNING MIGHTILY IN THE PHILIPPINES. They will say that the glory of the Lord is manifesting mightily in the Philippines. They will come looking for you.
A HUGE FINANCIAL BLESSING IS GOING TO COME UPON THE PHILIPPINES. It is going to stay permanently in this land. God is going to bless the Filipino church with financial blessings. All those Filipinos who have gone out of the Philippines to work elsewhere, after hearing the blessings that are being given birth in the Philippines, they will all now come back to the land. The Holy Spirit tells me this will happen quickly! Very quickly, there will come a financial blessing upon the land, and this will come as a result of the prophetic anointing that God will pour out upon the land.
When God will take you out of suffering into a large, blessed area, you must not forget the Lord your God. You must remember that this financial blessing is coming not because of your wisdom or because of your labors. These changes or financial changes will come to you because of the spiritual changes that have come upon your land. You are going to feed the hungry in the rest of the world. You are going to eradicate hunger in other nations. You are going to clothe those people who do not have clothes. God is going to strengthen your hands.
[Robert Misst Feb 2012]: THERE IS SOMETHING SO GREAT AND MARVELOUS THAT IS GOING TO COME OUT FROM THE NATION THAT WILL MAKE HER A GREAT NATION IN THE EARTH. Satan knows this and is trying every impediment (including natural disasters) to delay and thwart the plans of God. THE LORD IS DEPENDING ON THIS NATION TO BRING HIS END TIME GLORY INTO THE OTHER NATIONS – THE PHILIPPINES IS HIS SHOWPIECE, HIS TORCH THAT WILL LIGHT THE WAY FOR MOST OF THE WORLD. People will come to the Philippines to see the marvelous work of the LORD in this nation, yes dignitaries and presidents, kings and prime ministers will come to see the work of the LORD.
[Chuck Pierce, NPG 2012]: YOU HAVE COMPLETED WHAT GOD HAS BEEN LOOKING FOR – to come to a place, to now accelerate in Him in this nation, in the Phil. IT'S TIME FOR THE LAMPSTAND TO LIGHT WITH THE FIRE OF GOD AND A NEW LIGHT AND FIRE COME ALIVE IN THE PHILIPPINES. Not only the Philippines, but the world will see the light of the fire of God that is being released in the Philippines. And now YOU WILL BE THE JERUSALEM OF ASIA.
You were not ready for your Jubilee two years ago. But now, YOU ARE READY TO ENTER THE FULLNESS OF YOUR JUBILEE. You have passed over into a new season now… TIMING OF YOUR JUBILEE, ITS IMPORTANCE WORLDWIDE.
Last year (2011) God said this about the Phil to Rev. Pierce while in Kansas, "NOW IS THE TIME THAT I WILL BEGIN TO UNLOCK THE PHILIPPINES." You do work with your Prophetic Word. This year again, "I'M NOW READY TO UNLOCK THE PHILIPPINES. IT WILL AFFECT AMERICA AND THE ENTIRE WORLD." YOU ARE READY TO ENTER INTO THE FULLNESS OF WHAT GOD IS SAYING TO YOU, PHILIPPINES.
Two years ago, we entered into a decade called the WATCHMEN'S DECADE. There must be a shift now from a prayer gathering to BEING A WATCHMEN FOR THE FUTURE FOR THE WHOLE WORLD. This is a time for us to see what God would want us to see, to see in the future, what is coming, what is ahead, to comprehend what God is doing.
1) NEW PROVISION for the days ahead to be unlocked in the Philippines.
2) NEW REALIGNED HEAVENLY ATMOSPHERE in your sphere of authority, wherever you are – government, business, whatever area.
3) LORD SABAOTH (God of the Hosts of Heaven) IS COMING IN HIS POWER. We will begin to SHINE – SHINING OF GOD'S PEOPLE.
- the God of the armies of the earth
- Aligning His angelic hosts with Army on earth.
- There is a NEW SOUND arising in the Philippines, sound of marching watch; when west wind blows, a NEW ANOINTING will come; march together. The Lord has been watching us for the last 2 years, worship together from South to North, East to West. "I will move from South to North, East to West. I will restore the MARCH OF YESHUA; Healer of lands will now be seen in the land."
4) You will see A NEW AUTHORITY to demonstrate His Kingdom.
- You were not ready two years ago because of some issues. NOW, A NEW POWER IS GOING TO BE MANIFESTED IN THE PHIL.
HEBRON – those that would align will cross-over; moving on, pursuing, keep going against hindrances of enemy, crossing over. "IT'S TIME FOR PEOPLE OF PHIL TO CROSSOVER!"
YOU HAVE ENTERED 10 YEARS OF NEW VISION, WELL BUBBLING OUT FROM THE GROUND, NEW WELLS ARE SPRINGING UP. This season goes on until 2019 - TAKING NEW LAND & DIGGING NEW WELLS.
THESE NEXT 8 YEARS ARE VERY IMPORTANT. LOOK INTO THE FUTURE OF WHAT GOD WANTS TO DO:
TIME TO SEE AND GAIN VISION FOR THE FUTURE: "YOU HERE IN THE PHIL ARE RESPONDING TO GOD'S WORD. THEREFORE, YOUR FUTURE IS BEING UNLOCKED."
THIS IS A VERY KEY SEASON FOR THE PHILIPPINES.
THIS YEAR BRINGS A TRANSFORMATION OF HIS HOUSE (IN THE PHIL). We are beginning to PIERCE THE DARK STRUCTURES of the world, breaking out of conformity into a NEW MODEL to arise filled with His glory. Model of Kingdom People will now penetrate world structures. Before it was difficult, now we can influence / infiltrate government, business; a NEW MODEL, a NEW ADMIN.
STIR UP REMNANT at 23rd NPG, that what they have began in past will be completed now. We are here to ACCELERATE. There's a GLORY COMING that you've never experienced before. We've had ups & down; but now, the glory of God, right here in the center of Asia is now going to shine forth. "I'm going to stir up government, stir up spirit and breakout of past difficulties. What I'm going to do in this new season is GREATER than any other." "BE STRONG all you people of the Land, For I'M WORKING WITH YOU." "BEGINNING NOW, WHATEVER YOU DO FOR THE ME WILL PROSPER NOW." "WHAT I SAID IN THE PAST YEARS, I WILL DO IT IN THIS SEASON." "I WILL SHAKE THE SEAS AND THE LAND, SHAKE WHAT NEEDS TO BE SHAKEN. THE GLORY OF THE LAST TEMPLE WILL BE GREATER."
"Beginning now, over the next 8 years, IF THERE'S A NATION WHO IS GOING TO SEE THE LORD, IT'S GOING TO BE THE PHILIPPINES."
THERE IS A TREMENDOUS ANOINTING IN YOU. Remnants here - the priests, teachers, apostles, on the government right now when God is doing some supernatural work in this land, for the glory of God to manifest in this land.
THREE PHASES YOU ARE MOVING INTO:
1) Phase 1 – RECOVERY - this is year of accelerated recovery.
2) Phase 2 - RESTORATION – there's an anointing, an unlocking concerning wealth.
3) Phase 3 - SURPLUS
"You are moving into recovery, then restoration, then surplus."
3 KEY RELEASES THAT GOD WILL GIVE:
1) Move from desolation to EXCESS;
2) Then ACCESS, for Philippines to gain access into places closed before. Become a model for other nations to look at;
3) Then BREAKTHROUGH, breaking out from model that you've moved in into a new model God is giving you.
EXCESS – go beyond and surpass limits, the usual, proper, specified.
ACCESS – ability or right to approach, enter, exit, communicate with, or make use of
BREAKTHROUGH – act of overcoming or penetrating an obstacle or restriction to accelerate into the new dimension of harvest.
Rev. 4 SEE YOUR KEYS OF ACCESS. "Come up here! Hear the sound of the trumpet!" Worship in a new way.
PHOTOS
Most of the photos are provided by the newspapers and from the internet

SCRIPTURES
Scriptures are taken from KJV, NLT and other translations