The Hammer
Details

Category: Teachings & Articles
Published: Friday, 31 May 2019 01:51
Hits: 1566
The Hammer
By Augusto A.Kho
May 26, 2019 (Sunday); 9:15 A.M.
Revised: KCGI Headquarters; 707 Columbia Complex Bldg; Dr. A. Santos Avenue, Sto. Nino, Paranaque; Philippines, 1704
May 30, 2019 (Thursday); 5:20 PM
The carpenter
Out of all professions in the whole world, why did Jesus choose to become a carpenter? A carpenter's tool is a hammer (like Thor), what a hammer can do?
(picture1)
Thor's hammer called Mjolnil and when he strikes that it smashes even the solid ground into pieces. Thor's hammer emits flashes of lighting. Why?
When God gives you a calling, He will also give you power. For Moses, the Lord gave him power through a rod. And what about a hammer?
 Words encountered
Last Sunday, May 19, 2019, I have encountered these words:
7:35 a.m. "Identity." That was my Devotion inspired from the Scripture
1 Peter 2:10, "Once you had no identity as a people; now you are God's people. Once you received no mercy; now you have received God's mercy."
10:00 a.m. My Sunday Preaching entitled, "Politics & Church Pornography"
11:48 p.m. "Thor: The Dark World," the Movie, Cinemax Channel.
I let the TV on. Always. Even though I am not watching. And movie, "Thor's" hugot-lines, do you call that hugot lines caught my attention while I was busy working on my laptop. Those script lines that Odin, a king (played by Anthony Hopkins) have spoken such as
A wise king never seeks out war, but he must always be ready for it (by Odin)

Thor. My heir. My firstborn son (by Odin)

You fool old man (by Thor)

I have much more to learn. I can be not much wiser king as you are. father. I know it now (by Thor)
The Sequel
This Month is like a "Movie Month."
If you notice, the past few weeks my preaching is a bit inspired from the movies. I hope I won't be misconstrued that movies are my references. But people now days often watch movies than reading the Bible, meditating it and investigating His words.
(picture2)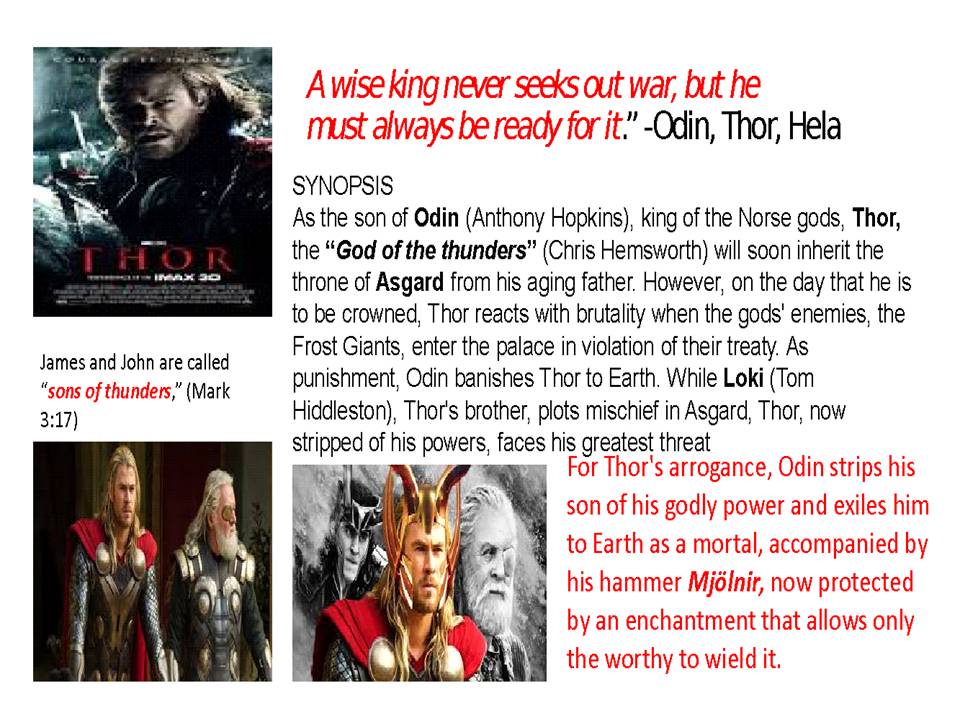 Yet my past Sunday preaching is sequential. All of what I preached this four Sunday are inspired from my daily devotion from 1st Epistle of Peter. I haven't move out yet from that Book. Am still meditating it after reading it.

If we backtrack those preaching, here are they for a recap:
1 Peter 1:1/ NLT, " This letter is from Peter, an apostle of Jesus Christ. I am writing to God's chosen people who are living as foreigners in the provinces of Pontus, Galatia, Cappadocia, Asia and Bithynia."
"Foreigners," is being entitled because Earth is not our final home but heaven. Yet many of us, even among Christians seeks the wealth on this world rather than seeking God's Kingdom.
If we seek permanent residency here, we could not simply get to heaven.
"There is a hero in you… you must know who you are"as I said from my preaching prior in today's sermon.
Prophet Sadhu Selvaraj during the 30th National Prayer Gathering (NG) held at Cuneta
Astrodome last April 18, 2019 shared to us about the booming number of Marvel Comic's
heroes which have been released by Hollywood's film makers. And why should we look for
a hero when he said we are the "avengers."
1 Thessalonians 4:6 says "the Lord is the avenger." It is God who is the true Avenger which is derived in Greek "Ekdikos"means ". the punisher, the avenger."
Even among the Jews, whenever a woman gives birth to a firstborn, they would ask among themselves whether that he is already the "maschiach" or the "deliverer" on that generation. Can't you be the hero in your generation to uplift the dying spirits?
MAY 19, "POLITICS & CHURCH PORNOGRAPHY"
Heb. 12:16, "Lest there be any fornicator, or profane person, as Esau, who for one morsel of meat sold his birthright."
Why "Politics & Church Pornography?" That will be briefly explained in the next sub-title of
this writing, the so-called, "Mid-term Election."
May 20, today is entitled, "THE HAMMER"
Why a hammer?
Mid-term election
The May 13, 2019, mid-term election is allegedly marred with tremendous vote-buying, theelectoral government agency Comelec even disclosed it on print. Third year's prevalent vote-buying is a spiritual prostitution. Both he who buys and sells votes are Esau-like porneus (pornography) which is prostituting your birthright to vote (Hebrews 12:16).

That was the reason why I appealed to our Church to have a "Praise and Worship" and "Prayer" at 4:00 a.m. on that very day of mid-term election, so that whatever happens we will just give everything to God.

That very morning, I have read 1 Peter 2:2 concerning "pure spiritual milk."

How many of us prefer an untainted spiritual teaching? How many of us would like to have unblemished honest election? How many of us desire the purity of everything we do that we can mature in our walk in this road of life?
Peter exhorted his brethren-on-exile as "foreigners" or "refugees" on distant lands who fled Jerusalem to avoid persecution. Peter encouraged them to persevere so that they can receive, "the full experience of salvation." God's salvation should be perfected in us. Christ's work on the cross is complete and we received that by grace and mercy (Ephesians 2:8-9) but from our end, we need to sustain it and work for its perfection. As Paul puts it, "Work out your own salvation," (Philippians 2:12).

That day, in those hours, I have had all these encounters:
3:28 AM: "Pure spiritual milk"
3:28 A.M. 1 Peter 2:2, "Like a newborn babes, you must crave pure spiritual milk that you will grow into a full experience of salvation. Cry out for this nourishment."
A thought:"The words you have spoken (concerning Wally Magdangal) have been spoken in the Malacanan Palace till it reaches the Palace of King Fahad of Arabia."
4:00 AM: Praise and Worship for Election
The word, "re-write the future history"
6:00 AM: Comelec Manager in Rosales, Mila Dalutag"
Prayer for the Philippine Army at Comelec
When we laid hands on Dalutag, the Commission on Election (Comelec) official in Rosales, I prayed this way, "Let this election rewrites the future history of the nation." Will that be grammatically correct or wrong?
Suddenly, an army truck stopped right in front of the Comelec office. They probably thought we will disrupt that day's election. Mila Dalutag gave them a hand sign-language that she and her staff are just fine and I will be just praying for them.
After praying inside Comelec office, I headed to the military truck and I asked the six (6) young men from the Armed Forces of the Philippines(AFP) if I could pray for them. They shown no slightest resistance and they nodded in affirmation. I said to these words to them as a reminder:

"Can I just say something before we pray. Please remember that politicians are not your bosses but the people. The Philippine Constitution states that 'Civilian has supremacy over the military.' You are to protect the people and not the politicians. LET US PRAY…."
David who was with me from our Music Team said that the army men are more dignified-looking worthy of respect and their presence assures you a sense of security. Do we have the same feeling of security when we are with the members of the Philippine National Police (PNP)?
(picture3)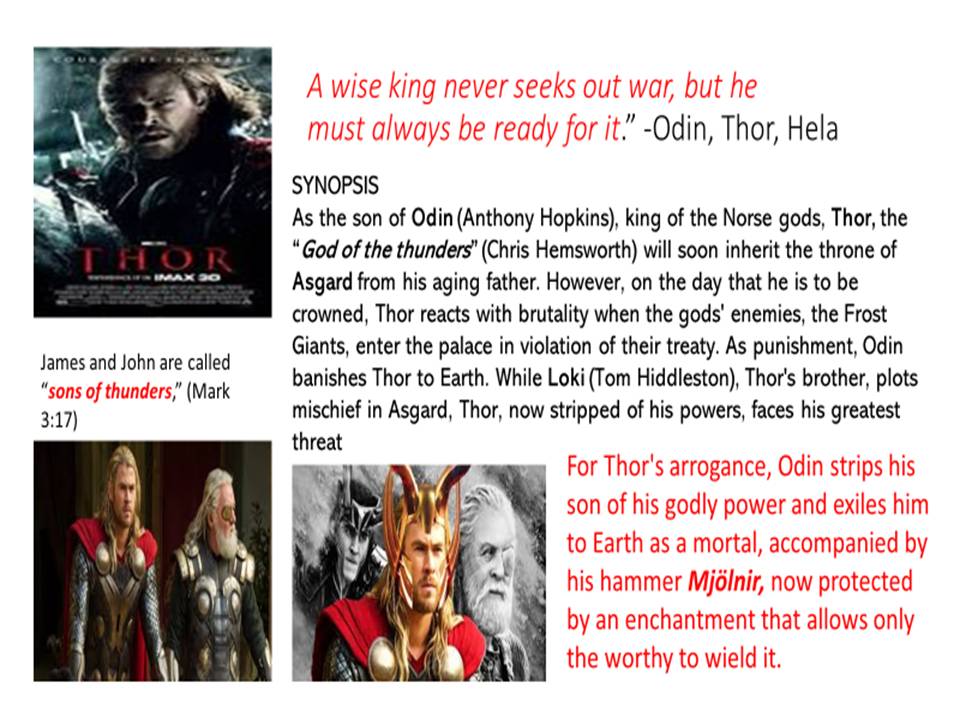 "A wise king never seeks out war, but he must always be ready for it." -Odin, Thor, Hela



"Thor: The Dark World"
As the son of Odin (Anthony Hopkins), king of the Norse gods, Thor, the "God of the thunders" (Chris Hemsworth) will soon inherit the throne of Asgard from his aging father. However, on the day that he is to be crowned, Thor reacts with brutality when the gods' enemies, the Frost Giants, enter the palace in violation of their treaty. As punishment, Odin banishes Thor to Earth. While Loki (Tom Hiddleston), Thor's brother, plots mischief in Asgard, Thor, now stripped of his powers, faces his greatest threat.
James and John are called "sons of thunders," (Mark 3:17)
For Thor's arrogance, Odin strips his son of his godly power and exiles him to Earth as a mortal, accompanied by his hammer Mjölnir, now protected by an enchantment that allows only the worthy to wield it.

"When pride comes, then comes shame," (Proverbs 11:2). We need to maintain our feet on the ground to make us clothe with humility.

Thor's love interest
There are significant numbers of Hollywood producers, script writers, artists, movie crews and others who are members of the LGBT group YET I noticed that in their big-budgeted films for international release, you haven't seen yet any movie that the actor has a love-interest of same sex just like the movies of Pocahontas, Cinderella, Superman, Spiderman and other Marvel characters. Their actors love-interest is always of the opposite sex.
Thor himself had love-interest on a she-character. Why such a movie can understand truth on gender than today's Philippine Congress, both the House of Representatives and Senate on its stand on "gender equality" on lesbian, gay, bisexual and transgender (LGBT) that blatantly perverts one's birthright or gender? If you remember that the Congress approved "SOGIE Bill" on LGBT with a zero votes on January 2018? Approval of SOGIE Bill still pending in the Senate and where do you this bill is heading now? Will it be a YES or NO?
(picture4)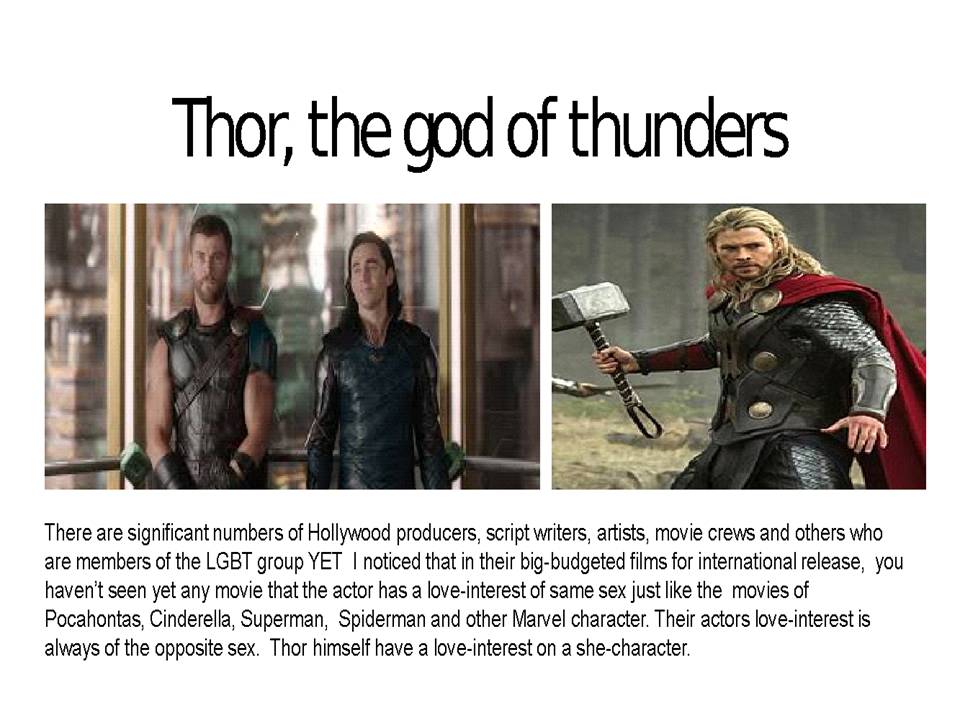 Brink of destruction
Proverbs 18:12, "Before destruction the heart of man is haughty, and before honor is humility. "

While on exile in planet Earth, Thor realized that the world is on the brink of destruction because of him, so he repented. From there, the hammer automatically pulled from where it was stuck down and it flew to where Thor was. Thor's act of humility placed him back to power as a firstborn son, the heir Thor to restore his kingdom. In the same way, Christ will restore heaven and earth as it is written in The Lord's Prayer, ""Thy Kingdom come, Thy will be done, as in heaven, so on earth," (Matt. 6:10/ASV).
Before title, name or honor will be regained, one must clothe himself first with humility. Thor repentance instantly reinstated back his birthright as a son, his power and inheritance just like in the Prodigal Son when he returned to his father was given back his robe, ring and sandals (Luke 15:22-24).
(picture5)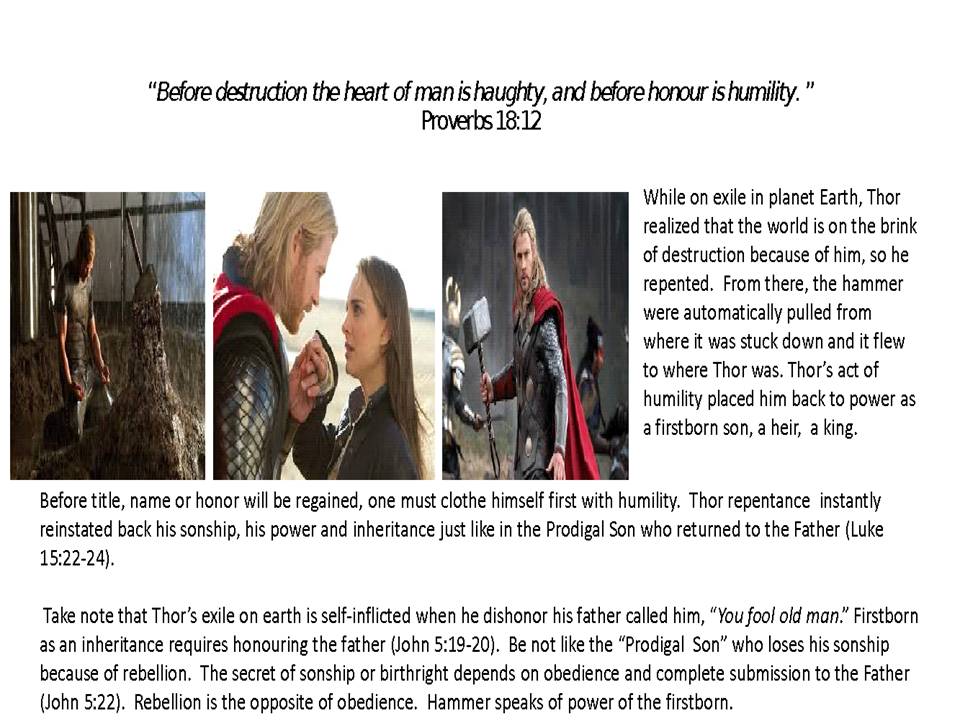 Take note that Thor's exile on earth is self-inflicted when he dishonored his father called him, "You fool old man."
Firstborn as an inheritance requires honoring the father and humility (John 5:19-20; Philippians 2:6-10) ). Be not like the "Prodigal Son" who loses his sonship because of rebellion. The secret of sonship or birthright depends on obedience and complete submission to the Father (John 5:22). Rebellion is the opposite of obedience. Hammer speaks of power of the firstborn.
Thor's hammer, Mjolnil, "only the worthy can have it," as the movie puts it.
Immortal vs. Immortality
Thor became an alien to the earth in the same way that immoral Christ became flesh (John 1:14). He was on earth only when he was placed on exile due from parental rebellion. From being immortal, he became a mortal being.
In the case of Christ, He is God yet He was made in the form of flesh born by physical parents. From being God as immortal, He chose to be a man, a mortal one (John 1:14; Matthew 1:20, Philippians 2:5-7). He was on exiled on earth in the same way like Thor but He did not rebel to the Father and He have had learned obedience all throughout His life even unto death (Phil. 2:8-9). Though Christ was a foreigner for a time, a mere migrant on earth just for a season and for a divine purpose, He will come back again to join heaven and earth and redeemed everything.
Christ as a carpenter knew what a hammer is. And His words is like a hammer quite more powerful that Mjolnir, Thor's hammer that amazes even the scribes and Pharisees for he speaks with great"authority," (Matthew 7:29). Like Thor's hammer with blazing thunders, Jesus baptizes you "in the Spirit and in fire," (Matthew 3:11). In Matthew 4:4, 7, 10, Jesus wielded His hammering-like words that caused Satan to flee. He was clothed in frail humanity, yet never loses His power as the firstborn for He walked in the Spirit of God (Matthew 4:1; Mark 2:8; John 1:14). Unclean spirits fled from Christ's presence (Mark 5:13) that displays His tremendous power as His birthright.
The troublemaker
"You are a troublemaker!" I was branded as such by one politician.
The word, "troublemaker "is in 1 Kings 18:17 King Ahab branded a prophet of God, Elijah, "a troubler of Israel."
One time, a mayor called the Pastoral Movement in his office He lamented that a certain military man plotted to terminate him. And the military man he was referring has a pastor –friend (who indirectly referring me).
From there I was called as a "trouble-maker" (1 Kings 18:17). Am I a trouble-maker? Should I speak to a mayor for certain deadly-important issues, I always see to it I am just obeying God's mission order. I resented others and even the Lord in name-branding me as "trouble-maker."



From then on, I didn't have my Daily Devotion and prayer. I preached only a Sunday or I preached only out of duty and not from the heart. One day, the words of the Lord came to me saying:
God: "Opened the Bible." And I declined the Lord.
Me : I said, "No!"
God: "What are you ranting out?"
Me : "I am just obeying you, what should I be branded as "trouble-maker?"
God: "Open your Bible!"

I did! As I opened the Bible, right before my eyes are these words from Jeremiah 23:29,

"Is not my word like as a fire? saith the LORD; and like a hammer that breaks the rock in pieces? "
I sometimes truly resented the Lord for giving me the Word on few occasions. And whenever I speak His word, the utterances I mentioned puts me in extremely difficult situations. Not just men from the government who will betray but even a brother in the Lord. Jeremiah himself knew this very well from his personal experience.
Jeremiah, the weeping prophet
Jeremiah is called a "weeping prophet." he authored the Book of Kings,Jeremiah and the Lamentation. His editor is also a prophet named Baruch. He was called as a young boy in 626 BC by Yahweh and condemned the Jews for burning their sons to the god Baal as an offering to Moloch. He condemned idolatry, greed of priests and false prophets. He was beaten, persecuted and condemned both by priests, false prophets, people and kings. When he complained to God on his persecution and when Priest Pashur smote him he lamented these very words against God, "LORD, you have deceived me, and I was deceived. You are stronger than I am, and you have overpowered me. Everyone makes fun of me; they laugh at me all day long," (Jeremiah 20:7/ GNB)
In verse 9 Jeremiah threatened God that he would never prophesy again in His Name then he would say, "But when I say, "I will forget the LORD and no longer speak in his name," then your message is like a fire burning deep within me. I try my best to hold it in, but can no longer keep it back."

And I felt the same way. When I merely obeyed God to testify to the legislators, two politicians filed two separate criminal cases against me.
This is the calling I don't like in the same way that Jeremiah refused to be named as prophet (Jer. 1:4-7).
This is exactly what I feel whenever the Lord is telling me to say something in his name that whenever I am withholding it the more it is struggling fiercely inside of me that my whole body is like exploding and beating me and cutting me into pieces.
The prophetic word of God cannot be chained. The more you withhold it, the more it will burst into infernal-like explosion.

In the same way, the prophetic word that inside of me it is like a fire that rages inside-out. And I can't help but to say it. Because you cannot put prophetic word inside a box. "The word is like a fire, like a hammer that breaks the rocks into pieces." The Word must be spoken. The Word must be released for a reason.
What a hammer for?
Why Christhad been born as a carpenter? Is he with a hammer, what for?
Hammer is Christ inheritance as the firstborn. After all, He was a carpenter's son. And he bears such an image or mark. Hammer? Is there anything bigger than that in this life?
Hammer. This is where Thor's power is coming from, his very own inheritance from his father. When Thor pummels the hammer on the ground, the earth foundation shakes and crumbles. The hammer emits tremendous laser-like thunderbolts and with fire? Do Christ possesses the same power like Thor as his inheritance from the Father in heaven?
This is exactly where Christ gets His power. That's His birthright as first born Son. The Word of God is His hammer (John 1:1).
The Word of God is like a hammer that caused Satan to flee when he tempted Christ in the wilderness (Matt. 4:4, 6, 7). Scriptures said:
Satan : "If thou be the Son of God, command that these stones be made bread."
Jesus : "It is written, Man shall not live by bread alone, but by every word that proceedeth out of the mouth of God." 
Satan : "If thou be the Son of God, cast thyself down: for it is written, He shall give his angels charge concerning thee: and in their hands they shall bear thee up, lest at any time thou dash thy foot against a stone. "
Jesus : " Thou shalt not tempt the Lord thy God."
Satan : "All these things will I give thee, if thou wilt fall down and worship me."
Jesus: "Get thee hence, Satan: for it is written, Thou shalt worship the Lord thy God, and him only shalt thou serve. "

Result : " Then the devil leaveth him, and, behold, angels came and ministered unto him. " (Matthew 4:11).  
Jesus wielded the Word of God like a hammer against the enemy (Matthew 4:4). He wielded that hammer left and right until Satan fled.
The Word of God is eternal. " Heaven and earth shall pass away but His Words never passes away," (Matt. 5:18). That is what the Word of God like. Like a hammer.
When you have the Word of God as a hammer, you got it all. All things were created out from the spoken Word of God (Gen. 1:1-3).
Is it not a mere hammer that killed evil Canaanite king Sisera? Is it now from the hands of a simple housewife named Jael that caused the king to fall?
In other words, do not under-estimate what a simple hammer can do.
Corridors of power and a woman
It is not a hammer that causes a president to fall? Would that be possible? Can a hammer will be able to shake the corridors of power of Malacanan?
Sometime ago, Asia Mission Network (AMNET) where I sit as one of the Board of Directors had a Launching Project in Makati Polo Club in Forbes Park. Not less than the Vice President of the Philippines, Gloria Macapagal-Arroyo was our invited Guest Speaker. VP Arroyo was seated besides then AMNET General Secretary, Chito Navarro on his right while I was seated on his left. Suddenly the word of the Lord came and said, "That woman will be the next president of the Republic of the Philippines in the next few months." Silently, I merely nurtured those words in my heart.
Months later, I was invited to attend a grand luncheon meeting of the Full Gospel Businessmen Fellowship Assembly (FGBM) in Star Plaza Hotel in Dagupan City. The meeting was organized by then the President of FGBMF of Pangasinan named Diony Espiritu.
Espiritu came to where I was seated in near-end of the meeting and said, "Pastor Peps, can I request you to pray and bless our invited Guest Speaker Atty. Perfecto Yasay. Yasay was then the Chairman of Securities Exchange Commission (SEC). I did!
While I was on stage with Atty. Yasay standing in front of me I was completely overwhelmed with nervousness that I could hardly extend my hand on his head nor even to say a single word. My whole body was trembling all over that I couldn't organize a single thought for a pray when suddenly my mouth opened saying these words:
"Lord may you bless this man and cause him to shake the corridors of powers, even the corridors of power of Malacanan…"
I myself was astounded to my own prayer. Was it a declaration of the Word Himself? Or am I just over-reacting? Was it a timely, divinely inspired, prophetic word? I don't know that myself not until in less than a week the Headlines reads:

President Estrada's BW Resources Scandal
Published in: News & Politics, Business, Economy & Finance dated Oct 13, 2013
What! Is it a coincidence? What it the prophetic prayer a mere coincidence?
"My message is like fire or like a hammer that shatters rock, is it not?" declares the LORD." - Jeremiah 23:29/ ISV
(picture6)
When corridors of power falls
When corridors of power falls by the virtue of a prophetic word that serves like a hammer to break rocks into pieces, what will happen then?
On GMA News Online dated March 11, 2010, it reported that "Yasay stands by testimony vs Erap despite apology for role in EDSA Dos."
Like a woman named Jael who put an end to king Sisera' rule, a girl named Gloria unseated a president named Estrada.
The prophetic words I made may be coincidence as you may call it but it turned the nation upside-down:
Like a hammer, it shatters the Business Sector of this nation that involves Makati Stock Exchange, businessman Dante Tan's BW Resources, S.E.C. Chairman Perfecto Yasay and Department of Finance PLDT Manny Pangilingan, Yuchengo Group of Companies, to name a few.

Like a hammer, the Word shatters the Banking Industry. Then Equitable Bank Manager Clarissa Ocampo testified before the Senate investigation that President Estrada and Jose Velarde account are one. Such honest revelation brought back Equitable "nearly brought the bank to its knees," according to Wall Street Journal reporter James Hookway. BDO finally buy-back Equitable-PCI.

Like a hammer, it shatters, the government of this nation that involves presidential son, J.V. Ejercito;

Like a hammer, it shatters, the 3 branches of government like the Executive (President and Malacanan); Legislative (Congress) and Judiciary. Yasay and BW Resources placed President Estrada into Impeachment Trial.

Like a hammer, the prayer as prophetic words shaken the whole nation that created EDSA 2 that toppled President Joseph Estrada and he was replaced by a woman, Gloria Macapagal-Arroyo.

As it is written: "Is not my word like as a fire? saith the LORD; and like a hammer that breaketh the rock in pieces? " (Jeremiah 23:29/ KJV).

And it is all started from the prayer to then SEC Chairman Yasay.
 Inheritance & obedience
As the "Avenger, Endgame" says "you must know who you are?" And as a believer, you must know who you are? Are the maschiach, the deliverer, the hero in your generation, in your city, in your town? Are you the hero in this end-time?
Even when you hate what you are doing but if you know that it is exactly what the Lord wants you to do, as a firstborn son, you have to do it even it is against your will.
Inheritance has something to do with obedience. When you obey you become a true son, a true heir (in the same way that Thor learned to obey his father Odin in the end of the story).
So we don't trade our gifts and calling. Don't be like Esau, a profane, fornicator, a "pornos" (Greek porneus) who sold his birthright just for a bowl of soup. God hated him. Don't be like spiritual prostitutes who sold their votes like last election.
(picture7)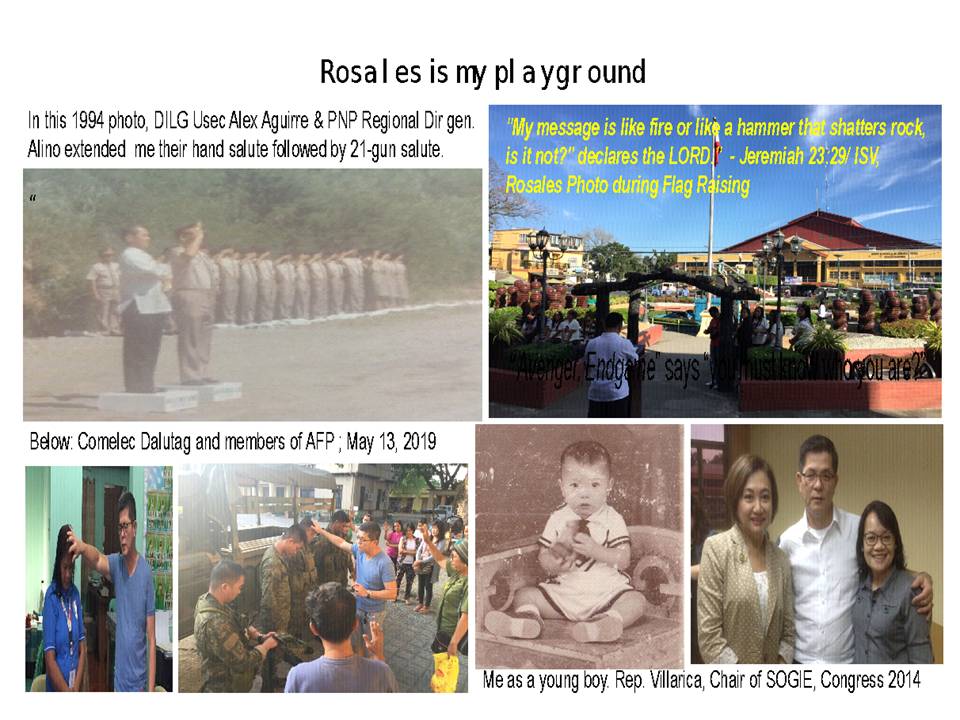 When I prayed to Comelec Manager, Mil Dalutag and to the members of Philippine Army these words, "Lord, rewrite the future history of this nation," and it is not grammatically wrong. What I am saying as far as God's eternal time "olam." "Olam" in Hebrew mean that "olam" has no past nor present nor future. Time is eternal. Because He is Timeless and He is beyond time. That was my prayer.
You see Rosales is my spiritual playground. That was my starting point. That is why my hammer was first pummeled. When the hammer strikes the ground just like Thor's mjolnil, flashes of lightning came out to different directions. So when the prophetic word was made to SEC Chairman Yasay, the hammer shook everything of society like flashes of lightning. WHY? Because it is God that thundered-like spoke: Psalm 29:3, "the God of glory thundereth."

When the Word of God is being spoken it spreads like a thunders and flashes of fire.
Revelation 3:10/ISV says, "he shouted in a loud voice as a lion roars. When he shouted, the seven thunders spoke with voices of their own. "
(picture8)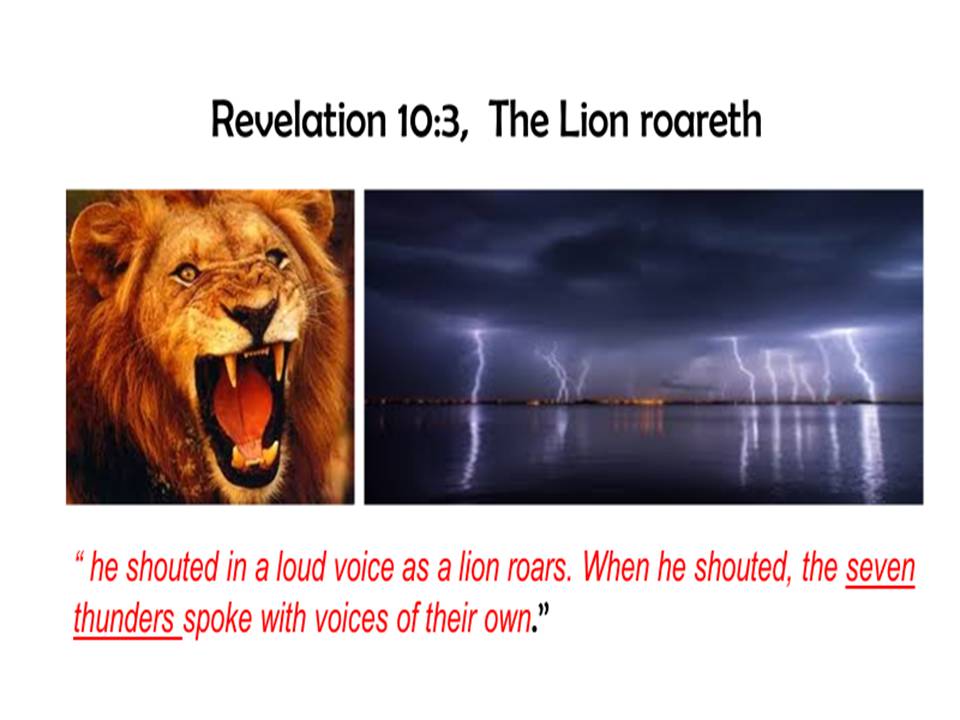 Besides that what God spoke to me personally, when I speaks in His behalf, it is like a hammer that pummels to where it is given. As the Bible puts it, "My message is like fire or like a hammer that shatters rock, is it not?" declares the LORD."  - Jeremiah 23:29/ ISV
One's declaration
One's declaration provided it comes from the Lord can crumble even the strongest stronghold. Like a hammer, when you declare (the word of the Lord), even the whole nation shakes.When you declare (the word of the Lord), even the nation shakes.


The Fall
If God sees something that is not fit in us , that can make us fall.
It is the same way when king Odin, in the movie, "Thor: The Dark World" placed his firstborn son Thor on exile. Responsibility is a call and act of the firstborn. When you can't be trusted with such delegated authority, you can be booted out from your call.
Then Senator Manny Villar banged his hammer-like gavel to impeach the President Erap Estrada out from his presidential office. But before Villar banged his gavel, the first one who made his move is Perfecto Yasay when I prayed him these words prior to his impeachment: Let this man of God shakes the corridors of power, even the corridors of power of Malacanan."
NOTES & REFERENCES:
Second EDSA Revolution
EDSA II
Date ; January 17–20, 2001
(3 days)
Location Philippines
Goals Removal of Joseph Estrada as President
Methods: Protests Resulted in
Estrada and his family leave Malacañang Palace

Ouster of President Joseph Estrada

Gloria Macapagal Arroyo becomes President
Parties to the civil conflict
Anti-Estrada civilian protestors

Defectors of the Armed Forces of the Philippines[1]

Defectors of the Philippine National Police[1]

Catholic Church in the Philippines[1]

Archdiocese of Manila
Lead figures
Vice President Gloria Macapagal Arroyo

AFP Chief of Staff Angelo Reyes

PNP Chief Panfilo Lacson

Archbishop Jaime Cardinal Sin

Former President Corazon Aquino

Former President Fidel Ramos
People Power 2?
The Second EDSA Revolution (EDSA II or EDSA Dos) was a four-day political protest from January 17–20, 2001 that peacefully overthrew the government of Joseph Estrada, the thirteenth President of the Philippines. Estrada was succeeded by his Vice-President, Gloria Macapagal -Arroyo, who was sworn into office by then-Chief Justice Hilario Davide, Jr. at around noon on January 20, 2001, several hours before Estrada fled Malacañang Palace. EDSA is an acronym derived from Epifanio de los Santos Avenue, the major thoroughfare connecting five cities in Metro Manila, namely Pasay, Makati, Mandaluyong, Quezon City, and Caloocan, with the revolution's epicentre at the EDSA Shrine church at the northern tip of Ortigas Center, a business district.
Advocates described EDSA II as "popular" but critics view the uprising as a conspiracy among political and business elites, military top brass and Catholic Cardinal Jaime Sin
According to Philip Bowring, Filipino Democracy Needs Stronger Institutions (2001)
Peps Testimony
Like a fire, like a hammer
It was a prayer I said to the SEC Chairman Perfecto Yasay. Few days later he divulged in an media interview that then President Estrada received a pay-off in the manipulation of BW Corporation that ended his presidency through impeachment made by then House of Reps Speaker Manny Villar. Yasay was even invited to testify for the said graft made by the President to then Teresita de Castro at the Supreme Court. The alleged graft also shaken the economy where Estrada deposited his alleged plunder in Equitable Bank that experienced massive panic withdrawal resulting to near-bankruptcy which was later bought back by BDO.
Many years later, Yasay was seated beside me in a place somewhere in Metro Manila while we seriously discussed the possible "grave national concern " concerning the BBL which is now BOL sometime in 2005. Until he became the Secretary of DFA under Duterte administration.
Such prayer is like a fire that thunders in the 3 Branches of the Government – Executive (Estrada), Legisalative which is the Congress resulting to an impeachment that triggered the Judiciary. It even shaken yet another sector, the Banking Industry to the buy-off made by BDO to then bleeding Equitable Bank.
The declaration of such prayer is like a hammer that broken massive rocks into pieces resulting to imprisonment of Estrada as President. Can't be the Word of God is like a divine hammer greater than the hammer of the superhero Thor?
The Prophetic Word of God should not be taken lightly nor be used to wield for an abuse of power for it burns like a fire.
Read:
Trial of Joseph Estrada | Revolvy

https://www.revolvy.com/page/Trial-of-Joseph-Estrada

Trial of Joseph Estrada The trial of Philippine president Joseph Estrada ... Estrada guilty of the PHP 545 million jueteng case and the Belle Corporation ...... Early life and education Yasay was born on January 27, 1947 to Perfecto Yasay Sr., .
"Thor: The Dark World"
Synopsis
As the son of Odin (Anthony Hopkins), king of the Norse gods, Thor, the "God of the thunders" (Chris Hemsworth) will soon inherit the throne of Asgard from his aging father. However, on the day that he is to be crowned, Thor reacts with brutality when the gods' enemies, the Frost Giants, enter the palace in violation of their treaty. As punishment, Odin banishes Thor to Earth. While Loki (Tom Hiddleston), Thor's brother, plots mischief in Asgard, Thor, now stripped of his powers, faces his greatest threat.
James and John are called "sons of thunders," (Mark 3:17)
For Thor's arrogance, Odin strips his son of his godly power and exiles him to Earth as a mortal, accompanied by his hammer Mjölnir, now protected by an enchantment that allows only the worthy to wield it.
President Estrada's BW Resources Scandal
Published on Oct 13, 2013
Published in: News & Politics, Business, Economy & Finance
President Estrada's BW Resources Scandal
SEC Chairman
In 1993, he was assigned as associate commissioner of SEC. He was chairman from 1995 to 2000.[citation needed]
Yasay was among those who testified in the impeachment trial against President Joseph Estrada on charges of corruption. The probe led to the ouster of Estrada, known as EDSA People Power II in 2001.[citation needed]
On February 15, 2010, Yasay apologized to Estrada for "hurting and offending him" but clarified that this was not a retraction of his testimony on the deposed president's "abuse of authority and corruption."[citation needed]
16 years since the second EDSA People Power Revolution, two key players, former presidents Joseph Estrada and Gloria Arroyo head in strikingly similar directions
Rappler.comPublished 12:45 PM, January 17, 2017Updated 1:00 PM, January 17, 2017
POLITICAL PATHS. The EDSA II revolution triggers the downfall of former president Joseph Estrada and the rise of Gloria Macapagal-Arroyo. Malacañang file photo
POLITICAL PATHS. The EDSA II revolution triggers the downfall of former president Joseph Estrada and the rise of Gloria Macapagal-Arroyo. Malacañang file photo
MANILA, Philippines – Sixteen years ago, Filipinos gathered at the historic thoroughfare EDSA, where freedom was once won against a dictator in 1986.
EDSA People Power II, as it came to be known, was a series of protests held from January 16 to 20, 2001, against former president Joseph Estrada who was then facing plunder charges. The protests eventually triggered Estrada's downfall – and paved the way for Gloria Macapagal-Arroyo, his vice president, to enter the spotlight in the political scene.
But Arroyo would later face her own share of troubles during her administration. Both former presidents seemed to follow the same track in politics: they were both vice presidents before assuming the highest seat of the land, and both have been accused of criminal offenses. Despite these, Estrada and Arroyo have managed to retain positions in government today.
Rappler looks back at the two former presidents' rise, fall, and resurgence in politics.
EDSA II: Estrada's downfall, Arroyo's rise
The Trial of Estrada
The trial of Philippine president Joseph Estrada (People of the Philippines v. Joseph Estrada, et al., 26558 Sandiganbayan, September 12, 2007) took place between 2001 and 2007 at the Sandiganbayan. Estrada, popularly called Erap, was ousted from office in 2001 during a popular uprising in Metro Manila after an aborted impeachment trial in which he was charged with plunder and perjury. Soon after his ouster, the same charges were filed against him at the Sandiganbayan.
After a lengthy trial, the Sandiganbayan ruled Estrada not guilty of perjury while ruling him as guilty of plunder and sentenced him to reclusiónperpetua. All of his co-accused were acquitted.
The trial and Charges filed
A few months after the January 2001 popular uprising that ousted Estrada, the Philippine Ombudsman filed two charges at the Sandiganbayan on April 4, 2001; one for plunder and the other for perjury. The plunder case consisted of four separate charges: acceptance of 545 million pesos from proceeds of jueteng, an illegal gambling game; misappropriation of 130 million pesos in excise taxes from tobacco; receiving a 189.7-million-peso commission from the sale of the shares of Belle Corporation, a real-estate firm; and owning some 3.2 billion pesos in a bank account under the name Jose Velarde. The minor charge of perjury is for Estrada under-reporting his assets in his 1999 statement of assets, liabilities and net worth and for the illegal use of an alias, namely for the Jose Velarde bank account.
J.V. Ejercito
Joseph Victor Gomez Ejercito, commonly known as JV Ejercito or JV Ejercito Estrada, is a Filipino politician and legislator who is currently serving as a Senator of the Phlippines, he is the son of former Philippine President Joseph Estrada (Source: https://www.google.com/search?client=firefox-b-d&q=jv+ejercito+ph)
GMA News Online, March 11, 2010 reported that:
In Estrada's impeachment trial, Yasay took the witness stand and testified about Estrada's alleged involvement in the biggest stock market scandal in 1999 orchestrated by businessman Dante Tan, a perceived Estrada crony. [Read about the BW scam here and details of the impeachment trial here.] The SEC and the Philippine Stock Exchange investigated the supposed manipulation in BW's share prices, where it was revealed Tan's heavy-share buying and selling of his shares to friends and clients at discounted rates. Yasay said Estrada called him to clear Tan of any involvement in the scandal. But Estrada — whose son Jose Victor "JV" Ejercito became the biggest shareholder of BW Resources affiliate, Best World Construction Corp. — denied asking the SEC to exonerate Tan and interfering with the commission's investigation. During the impeachment trial, former Finance Secretary Edgardo Espiritu also claimed that Estrada owned BW Resources shares and profited from selling them when the share price ballooned. Espiritu also testified that Estrada himself told him that the latter raked in profits from the shares.