When heroes cry? - Part II
Details

Category: Teachings & Articles
Published: Saturday, 04 May 2019 14:49
Hits: 1602
When heroes cry?
Formerly entitled "Filipino Avengers"
By Augusto A. Kho
April 28, 2019 (Sunday); 7:30 A.M.
Part I out of Part II re-written on May 01, 2019 (Wed); 1:37 A.M.
Part II of II, re-written on May 4, 2019 (Saturday); 5:09 P.M.
Kick-off
In the 3rd day of 30thNational Prayer Gathering (NPG) by Intercessors for the Philippines (IFP) held at Cuneta Astrodome last April 18, 2019, speaker Sadhu Sandar Selvaraj said,
"When I look at this Marvel Heroes are example of what is about to come. This is to open our eyes of understanding. But we will do it much better than them. Who are you? You are the Filipino Avengers!"
A day, later after Sadhu said that, the movie was shown in the United States fetching a record high of $157-Million on that Friday alone according to Scott Mendelson
By 24th April, barely 6 days later after Sadhu mention, "Avenger: End Game" had its kick-off showing flooding the cinemas all over the country.
And two days later, a major daily, Philippine Star dated April 26 published the so-called, "Filipino stars as 'Avengers'."
That is the reason why I originally entitled this writing as "Filipino Avengers." And finally changed the title as "When Heroes Cry" because I've seen Marvel Superheroes in "Avengers: End Game" in the likes of Iron Man, Captain America, Hulk and Thor crying on the big movie screen.
(picture1)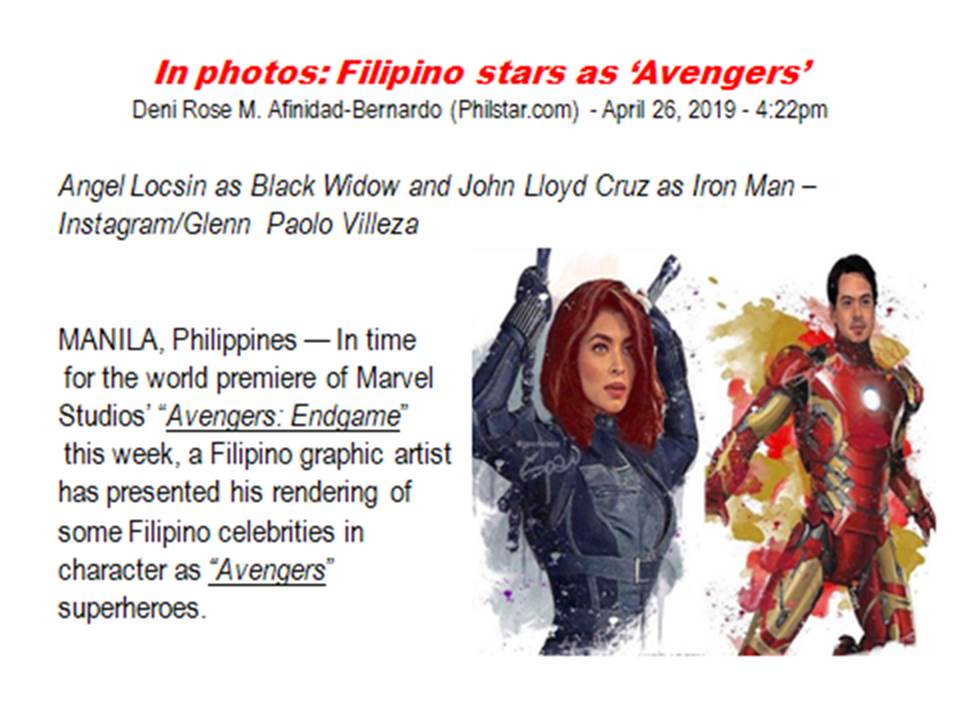 I had in mind few days before this Sunday that I will entitle my next Sunday Preaching as "Filipino Avengers" but I eventually changed my mind when my "senior moments" as a Senior Citizen prompted me to watch the movie on the eve before the preaching and I saw this super-heroes movie filled with awesome emotional scene and seeing heroes crying in the like of Superman, Thor and Iron-Man. See, they are humans? But I also felt embarrassed inside of me.

Eventually, I had to make my mind and changed my title to "When heroes cry" which was formerly entitled"Filipino Avengers." Would that make a difference when the very hero you look up to shed tears?
Time travel
The movie I am sharing quoted these following words like "Quantum Physics… Time Machine .. or Time Travel." Yes, those movie characters are being translated from time to time.
The Ant Man even said something about "microscopic universe" and that the planet Earth may just be inside that microscopic universe and "we are passing through and exiting to another time." Does it sound absurd? Maybe!
You'll find time travelsor translations just like in a time machine in that movie that often the moviegoers only knew it is worth-watching but they never experienced it yet personally.
Well, it is sad that many Christianstalks about a supernatural God and preaching supernatural phenomenon but not experiencing yet the unknown. Well, God is a God of unknown and He can travel anywhere at any time.
Time travels of characters are oftentimes seen in from that movie, "End Game." So when someone like you and me travel from one place to another in another time for example from earth to unseen place in the universe, what term shall we coined that? Transform, change, or innovate?
Translated
Intercessors for the Philippines (IFP) is sometimes judged as "cult" or "extreme" because of its prophetic stand especially on the coming of the end times.
Translation or translocations that took place in the lives of Elijah and Philip, the evangelist is often mistook by Christians today as "absurd, silly, occultic and extreme."
I first heard the word "translated" from Bruce Allen of Canada when we heard him spoke in a Seminar in Bangkok, Thailand sometime on November 2014.
Don't we have a supernatural God who can transcends the natural world? What if I would say to you that God brought me to heaven, will you believe me or call me "nuts" for what I personally experienced?" If yes, then the Transfiguration of Jesus that was seen, heard and experienced by His disciples will merely make Peter, James and John crazy-like schizophrenia fanatics.
Often, you will hear from some IFP speakers in the likes of Sadhu Selvaraj, Bruce Allen, Robert Misst and Neville Johnson how they are translated from place to place if not in different places on this planet Earth, if not to heavens. Owwsss and we reacted in unbelief.
Translatedcan be found inColossians 1:13 in KJV and ASV that says, "Who hath delivered us from the power of darkness, and hath translated us into the kingdom of his dear Son."
And in Hebrew 11:5 (KJV/ASV), "By faith Enoch was translated that he should not see death; and was not found, because God had translated him: for before his translation he had this testimony, that he pleased God. "
Translated Defined
Biblically speaking, the word "translated" is defined from Greek "misthestemi" as "to transfer; to remove form one place to another; a change of situation or place."
Enoch was also "translated" as well (Hebrew 11:5). Translated here in Greek "metathithemi" means "to transpose (two things; one of which is put in place of the other); to transfer or change; transfer, transport; or translate"
A person can be translated from one place to another in just a twinkling an eye that supersedes science in terms of space and time.
Well, the movie, "Endgame" quoted it this way, "Time travel… we pass through and exit to another time."
Elijah was translated
When Elijah was taken by the chariots of fire in his time, where do think he is now? Did he not exactly exited to another time, perhaps the time called "olam" in the Hebrew word which means "eternity" Leviticus 25:32, "any time"; Psalm 77:5 "ancient time"; Isaiah 60:15 "eternal").
Colossians 1:13 in KJV mentioned "translated" from Greek "misthestemi' i.e. "to transfer; to remove form one place to another; a change of situation or place."
Space and time
A person can be translated from one place to another in just a twinkling an eye that supersedes science in terms of space and time just like what the Ant Man said.
Well, the movie, "Endgame" quoted it this way, "Time travel… we pass through and exit to another time."
When Elijah was taken by the chariots of fire in his time, where do think he is now? Did he not exactly exited to another time, perhaps the time called "olam" in the Hebrew word which means "eternity" Leviticus 25:32, "any time"; Psalm 77:5 "ancient time"; Isaiah 60:15 "eternal").
What if I would say to you that God brought me to heaven? Will you believe me or you will call me "nuts" for what I personally experienced?" If yes, then the Transfiguration of Jesus that was seen, heard and experienced by His disciples will merely make Peter, James and John schizophrenia -like fanatics.
When the Lord appeared to me one time, He brought me to another place in another time.
My body remained on earth while my spirit soared like a meteorite in the vast space of the universe. When my spirit was travelling in that space while my body remained on earth, the time is boundless. I knew it is just a matter of second yet I felt I am drifting on the universe for many millions of millions of years
That was in 1986 and till now no psychiatrist yet have ever declared me "clinically insane" or having "psychological disorder" (though St. Luke's Hospital in Quezon City highly recommended me to go through Psychiatrist Tests but clinically and scientifically, no results ever occurred I have been a mental patient).
With the Lord, space and time is indescribable beyond description and in one's imagination. It is amazingly and unbelievable spectacular beyond this natural.
Portals, gates and doors
In that movie, you see gates or portals opened, the power of light and darkness had a face-to-face collision. When Thanos finally had the Infinity Stones, he lifted up his one hand and pointed at the heavens until there was flashes of lights and the portals were opened. From there, the darkest creatures from another "world" is seen invading the Earth and attacked the superheroes on the ground until they were buried under the rubbles of totally devasted headquarter of the super hero Iron Man.
Irony of all ironies is when we see Christ to whom God have given all His powers as spoken by Paul in Ephesians 1:21-22 will finally falls to the hands of the enemy because the Church have failed to do her role in this generation.
Is it Apostle Paul said in Romans16:20 that Christ have already "bruised Satan under our feet?"
For many years, Intercessors for the Philippines (IFP) have launched Prayer for the "Eight Pillars of Society" that serves as gates to this nation namely:
Family

Religion

Government (Executive, Legislative, Judiciary)

Education

Business and Economy

Science and Technology

Sports, Arts, and Culture

Media and Entertainment
God is our ancient gate. Psalm 24:7, "Lift up your heads, O ye gates; and be ye lift up, ye everlasting doors; and the King of glory shall come in. " Jesus Christ claimed to be the portal when He said "I am the way" is the "door of the sheep" as well (John 14:6; John 10:7).
Ancients doors and gates
What are ancient doors and ancient gates?
"Ancient gates or doors are portals of access established by God from heavens to earth. They are unobstructed by demonic interference in which angels travel from heaven and back again while provisions are delivered, transportation, translation and revelation are given to man.
In Daniel 10:13 he is informed that the prince of the kingdom of Persia was withstanding (standing opposite) the angel for twenty one days. Michael one of the chief princes (angels) came to help fight through the portal in the demonic land of Babylon to give Daniel understanding.
In the book of Genesis, chapter 28, verses 10-17 the story of Jacob's dream is recorded. He had a dream, and behold, a ladder was set on the earth with its top reaching to heaven; and behold, the angels of God were ascending and descending on it (Gen. 28:12). In verse 13 God is standing at the top of the ladder. And behold, the LORD stood above it and said, "I am the LORD, the God of your father Abraham and the God of Isaac; the land on which you lie, I will give it to you and to your descendants. These verses are a wonderful account of how God reveals a portal in a dream to man a prophesy Jacob's destiny to him."
Proverbs 8:34 says, "Blessed is the man that heareth me, watching daily at my gates, waiting at the posts of my doors. "
Worlds merging
The movie shows how the dark world is about to merge the Earth to have utter control of our world to the hands of the enemy. It is like merging the good and evil or merging the light and darkness.
We know by a fact that this world has to be restored according to God's divine agenda and that is the reason why our Lord Jesus Christ made mention that in The Lord's Prayer and instructed us to pray this way, "After this manner therefore pray ye: Our Father which art in heaven, Hallowed be thy name. Thy kingdom come. Thy will be done in earth, as it is in heaven," (Matthew 6:9-10).
The prefix words, "it is in" in Greek "en" are prepositions denoting fixed positions in place, time or state" according to Thayer. In other words, God is wanting to save or restore this Earth where we live in according to the standards of His eternal abode in heaven.
Why Marvel Comics had such an fruitful imagine idea compared to us when the movie is just done for commercial purposes only?
The answer is this: Because every thing we can see, feel, touch, hear, smell or even beyond our physical senses have been originally created and made from the SpokenWord of God when He said, "And God said, Let there be light and there was light," (Genesis 1:3). Everything God have spoken has been made into flesh and nothing have been created without His Spoken Word. Be a movie for entertainment or aviation in terms of aerodynamics of Science are all His (Read John 1:1-3).
Why not?
I thought to myself, "Why we can only watch them and we can't be like them?". Why not? Why we can't play their roles (the way God wants us to be like avengers as well).
(picture2)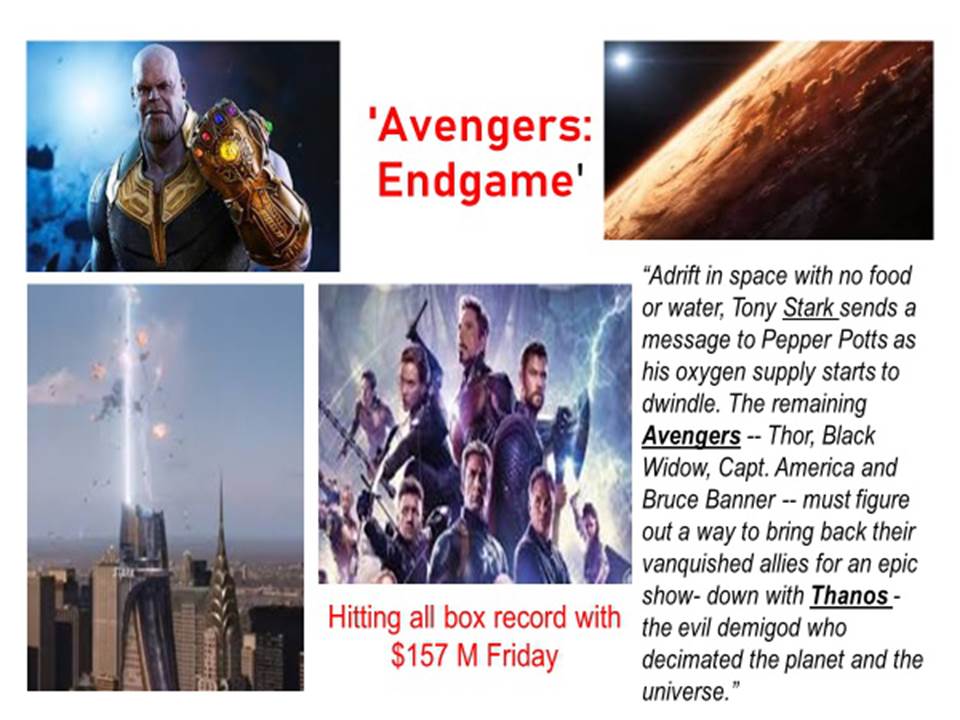 "Avengers: Endgame"
Hitting the box office, 'Avengers: Endgame' Superhero Fatigues hits $157 Million on Friday alone according to Scott Mendelson of Hollywood & Entertainment.
The story tells us that "Iron Man" was" adrift in space with no food or water, then Tony Stark sends a message to Pepper Potts as his oxygen supply starts to dwindle. The remaining Avengers -- Thor, Black Widow, Capt. America and Bruce Banner -- must figure out a way to bring back their vanquished allies for an epic show- down with Thanos - this evil demigod who severely destroyed the planet Earth and the universe."
Who is Thanos?
Thanos in Greek Athanasios means "Immortality.".
Thanos appears in Marvel Comics and it is personification of Thanatos i.e. death and mortality in Greek mythology. In Greek mythology, Thanatos Ancient Greek: is "Death" also means "to die, be dying." In its Romans counterpart, Thanos is called "Orcus."
From what Scriptures can you find Thanos, Thanatos or Orcus?
Matthew 16:18, "And I say also unto thee, That thou art Peter, and upon this rock I will build my church; and the gates of hell shall not prevail against it. "
The word "hell" is also called "Hades" or "Pluto" refers to the god of the lower regions according Thayer Bible Dictionary. Pluto is also being addressed as "Orcus," a Roman word referring to the "god of nether world" or the "realm of the dead." Hades is a place or state of the departed souls according to Strong Bible Dictionary.
In Matthew 16:26 Jesus talked about death. It says, "Verily I say unto you, There be some standing here, which shall not taste of death, till they see the Son of man coming in his kingdom. "
"Death" in Greek "Thanatos" implied idea of future misery in hell. It is the nether world, the abode of the dead, conceived of being dark and it is equivalent to the region of thickest darkness (Thayer Definition).
Strong Bible Dictionary interprets, "death" from the Greek word "thnesko" meaning "to die, to be dead or metaphorically to be spiritually dead just like to the spiritually dead" like theSardis Church in Revelation 3:1 that says, "know thy works, that thou hast a name that thou livest, and art dead."
Infinity stones
The Infinity Gems is originally Soul Gems according to Avengers.
There are six gems appearing in Marvel Comics. The six gems are the Mind, Power, Reality, Soul, Space, and Time Gems.
In later storylines, crossovers and other media, a seventh gem has also been included. The Gems have been used by various characters in the Marvel Universe.
Well, seven in the Bible speaks of "rest" or "perfection" which requires us to observe Sabbath Day meaning "Shabbat" or "Seven" (Genesis 2:1-3; Luke 6:5).
Besides we as Christians are the true infinity stones according to 1 Peter 2:5, "Ye also, as lively stones, are built up a spiritual house, an holy priesthood, to offer up spiritual sacrifices, acceptable to God by Jesus Christ. "

The word "lively" from the Greek word "zao" meaning "to live, breathe, be among the living (not lifeless or dead), endless in the kingdom of God." Infinity means boundless without limit, space or time, everlasting, foreverness, perpetual. You must be a sons and daughters of God to avail infinity.
According to Larsen Film Review, Thanos world. destroyed half the world's population. ThusEarth became a global funeral home.
Thanos possession of all the remaining gems will make him the most powerful in the entire universe. That is why he have been wanting to them into hi own possession to confer him Immortality. But the superheroes won't make that to happen that is why one of the superheroes said, "We must win whatever it takes."
White Stone and Infinity Stone?
To the Church of Pergamum which is tagged by the Lord as "Church of Satan" has provided hope to the remnants or survivors or overcomers with these words:
"He that hath an ear, let him hear what the Spirit saith unto the churches; To him that overcometh will I give to eat of the hidden manna, and will give him a white stone, and in the stone a new name written, which no man knoweth saving he that receiveth it. " (Revelation 2:17)
This "stone" in Greek "psephos" refers to "small worn smooth stone, a pebble which is being used in the ancient courts of justice. After the trial, the accused who was condemned will be given a black stone while the innocent or the acquitted will be given a white stone. These stones (black or white) is being used for voting or a form of verdict or acquittal," (Thayer and Strong Definitions).
While Jesus Christ is being called the chief cornerstone (Matthew 21:42; Mark 12:10; Luke 20:17; Ephesian 2:20), is He is our very own Infinity Stone?
"Wherefore also it is contained in the scripture, Behold, I lay in Sion a chief corner stone, elect, precious: and he that believeth on him shall not be confounded," 1 Peter 2:6..And anyone who have such a "white stone" shall never be put into shame.
Christ is the true infinity stone because the words "chief corner" in Greek "akrogoniaios" means "corner foundation stone" or in another Greek root word "akron" means "the highest." or "the most extreme."
End-game
Are we just like in the "end-game" of the recent movie, "Avengers?"
We are witnessing from own very eyes as if watching a movie that the Book of Genesis up to the Book of Revelation is taking shapes and forms. That while the Spirit of God will move mightily (Acts 2:17) "in the last days perilous times will come," (2 Timothy 3:1-6).
Is it not the last days the end-game of our times? Then we may well play our games very well.
That is when pressing concerns will hit us left to right destroying believers' faith, churches, families, governments, and others. And these what we are facing at the moment.
These pressing concerns are just right our doorsteps - legalizing immorality through SOGIE or Civil Partnership which is the Pinoy version of "same-sex marriage, " systematic graft, legalizing corruption through PDAF (declared unconstitutional by the Supreme Court), looming poverty, widening gap between the rich and poor, injustice, drugs proliferation, extra-judicial killings (EJK), territorial invasion of West Philippine Sea, Cha-Cha, Federalism, terrorism, threats of wars, natural catastrophes to name a few.
And Philvocs just recently warned the public that Philippines is under "hidden earthquakes fault."
Who wants to be a hero in such a time as this? Will you simply be there watching like moviegoers who have gone frenzy wild viewing their favorites superheroes of the recent movie, "The Avengers: Endgame."
How about our time, are we in the Endgame? Consider that we are the end of the End of Time?
The global signs are pretty much obvious from "Climate Change" which is a Natural Science down to the modern technology like AI (artificial intelligence) and genetic manipulation and corruption in term of GMO (genetically modified organism) to impending wars for the global scarce resources of fuel fossils, food, safe drinking waters and others.
Are we here on earth to play a hero or a super-hero, who wants to be one? What demands of sacrifice it entails, will this endanger our very lives and the lives of the people we love the most?
Or shall we be like Thanos, a villain in the movie "Avengers?" Or just a spectator?
If I may borrow some of the well-quoted script lines from the movie "Avengers: Endgame," I would say,
"We have to make a stand now because the world is in our hands. We can change the past and the future if we have to make it right. Be the man you meant to be because heroes know who they are." (Those are all taken from the "Endgame").
Do you know really who you are in Christ? If not, you should know who you truly are.
Earth, a global crematory home
Larsen Film Review saying that the earth became a global funeral home. But for me I will call it "global crematory home." Why did I say that? I will tell later.
For one and it is a fact is that the whole world and its creation is dying. According to Apostle Paul, the whole creation is now "subject to futility" (Romans 8:20) and "all the rest of creation has been groaning," (Romans 8:22).
Second, since the whole Earth and her creation is now corrupted, God has reserved this a global crematory home for a while.
2 Peter 3:7, "Now by that same word, the present heavens and earth have been reserved for fire and are being kept for the day when ungodly people will be judged and destroyed. "
That is exactly the "end-game" of this planet Earthand yet we are still simply watching frenzy will like movie-goers fanatics. And that is how bad the reality is on the final destination of this planet. What are you gonna do about it, play a hero?
Filipino Avengers
The Day of the Lordis near at the doors. The "signs" are all here, shall we wait for another signs? And these remnants are what the IFP are seeking for. And these are the remnants that Sadhu Selvaraj was talking about, the Filipino Avengers!
Will you become the Lord's fanatics who will later be "heroes" and who will never ashamed to cry?
"Wake up! ye that sleeps," Paul said. The world is in chaos now and billions of souls are about to be placed in this global crematory home yet the Church have gone into long slumber and honeymoon stage still.
As the movie says, "The world is in our hands now. We must win no matter how much it takes (be (because) and we must do it right."
Hero, will you be the one?
If Hollywood Film Producers are looking for a hero for a profit, God is in the same way are looking for a hero as well.

Will you be the one? At least in your generation?
Honestly, in 2014, there are two (2) controversial bills in the House of Representatives that poses a "clear present imminent danger" in this nation.
These bills are the so-called "SOGIE Bill" sometime on August, 2014 and "Bangsamoro Basic Law" (BBL) on November 29, 2014.
I've been lobbying against two bills in Metro Manila up to Pangasinan until to the whole Filipino nation for many months. Unfortunately nobody ever dared to make a move legally speaking against these two bills. I threw my hat on it that I the next 3 to 4 years by then, that these will drastically change from better to worst the moral, spiritual and the political climate of the nation. And this is what exactly happening now when SOGIE Bill was approved by the Congress with zero "NO" votes and finally paving this nation into "Federalism" at present by then approving BBL now Bangsamoro Basic Law (BOL) both the lower and higher Congress.
Only one boy whose name is Obed made a legal move during that time. He spearheaded "Signature Campaign vs. SOGIE Bill." The problem was he was then underage which is illegal.
Nobody played a hero during that time.
Not even one among Pastors, Christian Leaders and Bishops who looks so daring in their pulpit showdown and biblical speaking prowess.
I finally submitted my "Position Papers" on those two bills in the middle of 2015. It not because I want it but because nobody out from 100-Million Filipinos would like to go against it. I felt I was too assuming but I needed too.
In their ancient culture, in every generation of any Jewish family waits for a savior, a deliverer or a hero to provide them hope and deliverance. They call such a hero as "mashiach."
In Principle 12 of "Rambam's 13 Principles of Faith" states that,
" I believe with perfect faith in the coming of the mashiach, and though he may tarry, still I await him every day."
Of course, the Jews have been waiting for the Savior but they did reject Him that fulfilled the Scriptures that says, "He was in the world, and the world was made by him, and the world knew him not," (John 1:10). So up to now, they are waiting for the Messiah.
Are you a hero?
"In the Old Testament or the Torah contains several references to "the End of Days" (acharit ha-yamim), which is the time of the mashiach; thus, the concept of mashiach was known in the most ancient times.
The term "mashiach" literally means "the anointed one," and refers to the ancient practice of anointing kings with oil when they took the throne. The mashiach is the one who will be anointed as king in the End of Days.
The word "mashiach" does not mean "savior." Unfortunately, this Christian concept has become so deeply ingrained in the English word "messiah" that this English word can no longer be used to refer to the Jewish concept. ]
Some gentiles have told me that the term "mashiach" is related to the Hebrew term "moshiah" (savior) because they sound similar, but the similarity is not as strong as it appears to one unfamiliar with Hebrew. The Hebrew word "mashiach" comes from the root Mem-Shin-Chet, which means " to paint, smear, or anoint."
The word "moshiah" comes from the root Yod-Shin-Ayin, which means "to help" or "to save."
The question is, are you moshiah?
Are you the savior, the messiah, or the hero that this world or in your generation have been long waiting for? Have you been born in such a time like this?
If not you, then who?
CONCLUSION
"Avengers: Endgame," is a fictional movie from Hollywood's Marvel Comics who aim is to entertain to commercialize it for profit yet it talks about the future and the problem besetting the destruction of earth. So they created heroes to save the earth and putting the curtain down to their series of Marvel Heroes so they subtitled it as "Endgame," meaning the "Last Battle."
While many Christians read the Scriptures book-to-book from Genesis to Revelation, yet still many of us could not read the End-Time of the "End-game" of this planet and to the souls that are reserved on this earth as a "Global Crematory Place" unless they will be unleased from the power of Thanos or Satan to the marvelous light of Christ.
"Avenger-Endgame," is the conclusive part of Marvel Heroes, it is the end of the story yet many of our beloved Christian brethren could hardly anticipate we are just moving on to the last chapter of the history of men and anytime Christ in His 2nd and Final Return will conclude the story of the old, perishing world until it will be gutted with God's consuming fire and everything will be left as merely ashes (in the same way that Thanos resulted as ashes at the end of the story of that movie).
If we are truly in the last of the last days, we may as well play our role well by making things right and to make our own stand. Up to this very day, many compromisers and fence-sitters as Kuya Dan Balais said merely watches other Christians who play their heroic acts while they, themselves remain stoic spectators to be entertained.
We still need heroes today no matter how long it will take, no matter they will shed tears and cry the more in the process. That doesn't make any difference because they are still humans and not yet Immortals or Infinity not until our dear Lord opens the portal of heaven to make our prayer a reality according to the Lord's Prayer that says, "Thy Kingdom come,Thine Will be done, on earth as it is in heaven."
This is our final generation. This is our final battle.This is our last arrow. This is the end-game of the end of the end of times. We need the remnants as saviors and heroes. As the movie puts it, "The world is in our hands" for the Lord Christ have spoken, "Go ye into all the world, and preach the gospel to every creature," (Mark 16:15). Not just the whole world but the entire universe is in our hands now. you are the Filipino Avengers!
NOTES
Oragon, A Bicolano term means magaling, marunong, matatag,matibay
Do heroes cry?
Genesis 29:11, "Jacob kissed Rachel, and lifted up his voice, and wept." Was it a cry of rejoicing or cry of desperation and relief after Jacob's long and tiring journey of self-exile?

Genesis 43:30, "Joseph hurried, for his heart yearned over his brother; and he sought a place to weep. He entered into his room, and wept there."

1 Samuel 24:16, "Saul said, "Is that your voice, my son David?" Saul lifted up his voice, and wept."

1 Samuel 30:4, "Then David and the people who were with him lifted up their voice and wept until they had no more power to weep." This took place when David and his fighting men went back to Ziklag and found their women and children were taken captives by the Amalekites while the whole Ziklag was burned with fire.

2 Samuel 3:32, " the king lifted up his voice, and wept at Abner's grave; and all the people wept."

King David wept over the enemy's grave. Abner was an army captain and cousin of king Saul.

2 Samuel 12:22 He said, "While the child was yet alive, I fasted and wept; for I said, 'Who knows whether the Lord will not be gracious to me, that the child may live?'

2 Samuel 18:33, "The king was much moved, and went up to the room over the gate, and wept. As he went, he said, "My son Absalom! My son, my son Absalom! I wish I had died for you, Absalom, my son, my son!" David cried over the death of his rebellious son Absalom. Absalom defiled his father and even ousted him as a king.

2 Kings 8:11, "Then the man (Elisha) of God wept."

2 Kings 8:12, "Hazael said, "Why do you weep, my lord?" . . .

2 Kings 13:14, "Now Elisha became sick with the illness of which he died; and Joash the king of Israel came down to him, and wept over him."

Ezra 10:1, " Now while Ezra prayed and made confession, weeping and casting himself down before God's house, there was gathered together to him out of Israel a very great assembly of men and women and children; for the people wept very bitterly."

Nehemiah 1:4, " When I heard these words, I sat down and wept, and mourned certain days . "

Esther 4:1, "Mordecai tore his clothes, and put on sackcloth with ashes, and went out into the middle of the city, and wailed loudly and a bitterly."

Job 16:16, " My face is red with weeping. Deep darkness is on my eyelids,"

Job 16:20, " My friends scoff at me. My eyes pour out tears to God." Job is a sheik during his time.

Psalms 42:3, "My tears have been my food day and night, while they continually ask me, "Where is your God?"

Isaiah 22:4, "Look away from me. I will weep bitterly." Isaiah is a prince, a niece of King Uzziah. . .

Isaiah 33:7, "Behold, their valiant ones cry outside; the ambassadors of peace weep bitterly."

Valiant ones in Hebrew "er'el" means "hero," from the root word, "ariel" meaning "lion-like, lion of God i.e. heroic, lion-like men."

Isaiah 38:3, "Hezekiah wept bitterly."

Isaiah 38:5, "Go, and tell Hezekiah, 'The Lord says, the God of David your father, "I have heard your prayer. I have seen your tears. Behold, I will add fifteen years to your life."

Jeremiah 48:31-32, "Therefore I will wail for Moab; yes, I will cry out for all Moab: for the men of KirHeres shall they mourn. With more than the weeping of Jazer will I weep for you." .

Lamentations 2:11 My eyes do fail with tears, my heart is troubled; My liver is poured on the earth, because of the destruction of the daughter of my people . . .

Lamentations 3:48-49 My eye runs down with streams of water, for the destruction of the daughter of my people. My eye pours down, and doesn't cease, without any intermission

Hosea 12:4 . . . he wept, and made supplication to him. . . .

Micah 1:8, " For this I will lament and wail; I will go stripped and naked; I will howl like the jackals, and moan like the daughters of owls."

Zechariah 11:3, "A voice of the wailing of the shepherds! "

Malachi 2:13 This again you do: you cover the altar of the Lord with tears, with weeping, and with sighing . . .

Matthew 26:75, "Peter remembered the word which Jesus had said to him, "Before the rooster crows, you will deny me three times." He went out and wept bitterly."

Mark 14:72, "The rooster crowed the second time. Peter remembered the word, how that Jesus said to him, "Before the rooster crows twice, you will deny me three times." When he thought about that, he wept."

Luke 19:41, "When he came near, he saw the city and wept over it."

John 11:35, "Jesus wept."

Acts 20:19, "Serving the Lord with all humility, with many tears, and with trials which happened to me by the plots of the Jews."

Acts 20:31 Therefore watch, remembering that for a period of three years I didn't cease to admonish everyone night and day with tears

Acts 20:37, "They all wept a lot, and fell on Paul's neck and kissed him.

Acts 21:13, "Then Paul answered, "What are you doing, weeping and breaking my heart? For I am ready not only to be bound, but also to die at Jerusalem for the name of the Lord Jesus."

2 Corinthians 2:4, "For out of much affliction and anguish of heart I wrote to you with many tears." . .

Philippians 3:18, "For many walk, of whom I told you often, and now tell you even weeping, as the enemies of the cross of Christ."

2 Timothy 1:4, "I am longing to see you, remembering your tears, that I may be filled with joy."

Hebrews 5:7, "He, in the days of his flesh, having offered up prayers and petitions with strong crying and tears to him who was able to save him from death, and having been heard for his godly fear.

Revelation 5:4, " AndI wept much, because no one was found worthy to open the book, or to look in it."

Revelation 5:5, One of the elders said to me, "Don't weep. Behold, the Lion who is of the tribe of Judah, the Root of David, has overcome; he who opens the book and its seven seals."
Avengers: End Game
I took down notes while watching "Avengers: End Games". The following are just some of striking hugot-lines:
The world is in our hands

Quantum Physics

Microscopic universe: we pass through and exit to another time

Time Machine

We have to make a stand

We have to do it right

Time travel

Thanos in Tokyo

Change the past and you can change the future

If you travel to the past then you travel to the future

know your team

find the stones

You must win whatever it takes

2012 New York

2013 Agard

2014 Morag

Infinity Stones

to put time at their right time

I am counting on you Bruce

Aviola

Two different times

Everyone fails

A heroes know who they are

Be a man you meant to be

Temple of the power of tones

1970 New Jersey (Tony Stark met his father on time machine. The father does not recognized Tony

no amount of money can buy the nick of time

2016 Vormir

Guide to soul stone (death-faced creature)

to get the stone you must be willing to lose the one you love

soul to soul : death-face creature said

Let me go… No, it is OK

Space and logic

get your hammer

sacrifice your life for that stone

She's not coming back, let's make it worth it

Thor said: Let me do something good, something right

Gateway (portal) opened

You can't live within your failure

I will shred this universe with the last Adam

A grateful universe

Thor defeated by the villain

Thanossaid, "I am inevitable"

But Thor's hammer flew to Capt. America's hands with his shield stuck on his hands

Thanos attacks Capt. America. His shield turned into pieces

Portal from heaven opened, the invasion of the evil ones

Suddenly they were back up of other avengers that includes Spiderman

Lady Gomorrah

The two worlds collides

time Machine

Spiderman took the 5 stones

Enemy's aircraft's air strikes to Stark's HQ and left completely destroyed with superheroes buried in the debris

Comes the Lady Superheroes

Villain got all the stones and he said, "I am inevitable" but never works because Ironman got all the stones. He held his right hand upwards, flashes of lightning spread out

(All the villains turned into ashes)

(But Tony Stark died).

Then all the superheroes gone back to the past reuniting with their loved ones

Another scene: His beloved wife and 3-year old daughter drifted a parting bouquet on the serene lake with other superheroes watching)

Avengers returned back the stones to where it belong through time machine

But Capt. America came back as an elderly man (savouring time with wife)
Thanos
Thanos is a Greek masculine given name, a short form (hypocorism) of Athanasios, the masculine form of the word Athanasia (Greek: "Immortality").
Thanos. ... Thanos is a fictional character that appears in Marvel Comics publications. The character's name is a derivation of Thanatos, the personification of death and mortality in Greek mythology.
In Greek mythology, Thanatos according to Oxford University Press (2014) in Ancient Greek: "Death" also means "to die, be dying" was the personification of death(Henry George Liddel and Robert Scott). He was a minor figure in Greek mythology, often referred to but rarely appearing in person.
His name is transliterated in Latin as Thanatus, but his equivalent in Roman mythology is Mors or Letum.[citation needed] Mors is sometimes erroneously identified with Orcus, whose Greek equivalent was Horkos, God of the Oath.
The Greek poet Hesiod established in his Theogony that Thánatos is a son of Nyx (Night) and Erebos (Darkness) and twin of Hypnos (Sleep).
Infinity gems
The Infinity Gems (originally referred to as Soul Gems and later as Infinity Stones) are six gems appearing in Marvel Comics. The six gems are the Mind, Power, Reality, Soul, Space, and Time Gems. In later storylines, crossovers and other media, a seventh gem has also been included. The Gems have been used by various characters in the Marvel Universe.
Cast
Starring: Bradley Cooper, Brie Larson, Chadwick Boseman, Chris Evans, Chris Hemsworth, Dave Bautista, Don Cheadle, Elizabeth Olsen, Evangeline Lilly, Gwyneth Paltrow, Hayley Atwell, Jeremy Renner, Jon Favreau, Josh Brolin, Karen Gillan, Katherine Langford, Letitia Wright, Linda Cardellini, Mark Ruffalo, Michelle Pfeiffer, Paul Rudd, Pom Klementieff, Robert Downey Jr., Scarlett Johansson, Sebastian Stan, Terry Notary, Tessa Thompson, Tilda Swinton, Tom Holland, Winston Duke
FILM REVIEWS
Vulturex

Best Marvel film, so emotional, electrifying, so much heartthrob, and definitely worth the three hours
Ellessar

It's a good conclusion to a 21 movie saga. It's not perfect, a little longer than it needs to be, but it's a very enjoyable film. A trip down memory lane of 10 years of marvel movies.
Larsen on Films

After the Marvel Cinematic Universe nearly ate its own tail with Avengers: Infinity War—a penultimate installment that felt like a grandiose act of self-perpetuation—Avengers: Endgame arrives to provide something truly satisfying: a sense of closure.
With a return to character and an emphasis on relationship, Endgame fairly elegantly brings 11 years of interconnected films to (something) of an end. I could tell things were headed in the right direction with the movie's grave opening, which bravely sits with the psychological pain of the wounded warriors who survived Infinity War (I won't get into spoilers for a bit). This is a gray, quiet, post-Thanos world. Instead of the flourishing he envisioned by wiping out half the population and thereby increasing resources for those who have been spared, Earth has become a global funeral home, as people shuffle about in a state of collective mourning (we see a massive memorial listing the names of "The Vanished").