30th NPG Day 4
Details

Category: Teachings & Articles
Published: Sunday, 28 April 2019 14:26
Hits: 1783
PUTTING ON THE ARMOR OF LIGHT
30th National Prayer Gathering
Cuneta Astrodome; Pasay City
April 16-19, 2019
Edited: April 28, 2019 (Sunday); 5:01 P.M.
Personal Notes of Augusto A. Kho
Day 4 /Friday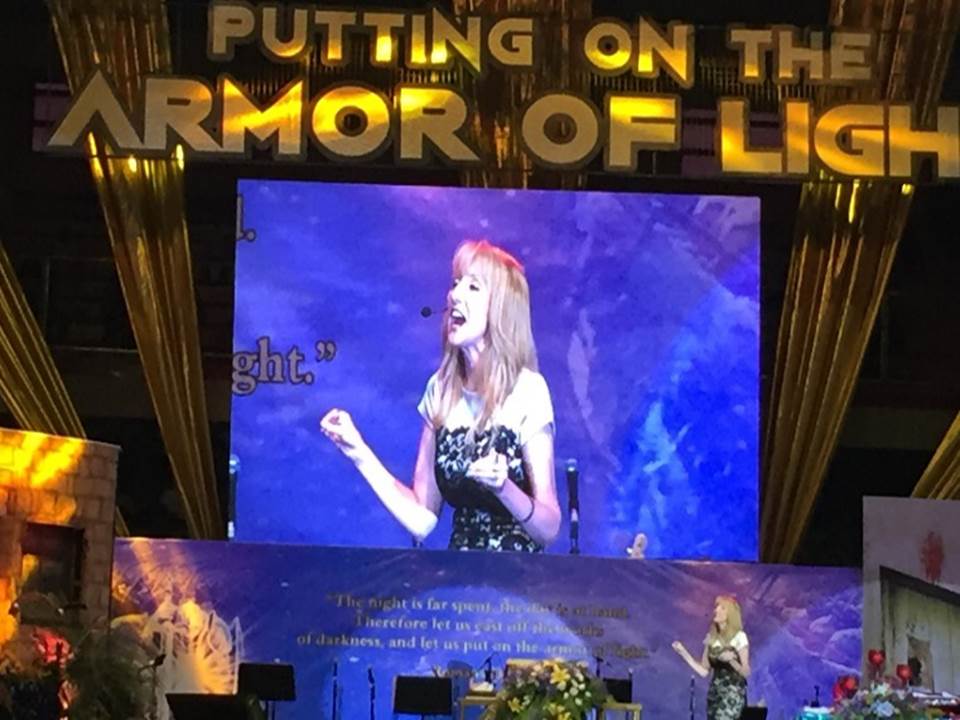 (picture1)
Laura Lynn Tyler Thompson
Canadian newscaster & inspirational speaker
Luzon, Visayas, Mindanao Coordinators' Meeting
Daniel Balais
8: 00 A.M.
The mighty man of war must rise up
After our IFP Board the following week, I saw a vision of the map of the Philippines like a mighty man of war. Then a crocodile was on to top of it but I saw the map of the Philippines rise up as a might warrior and wrestled against the crocodile to the sea, Then the crocodile fell with its belly up. Philippines is a warrior
I was with Wyden King that time and I saw Philippines as a warrior, like Roman soldier. We need to rise up in warfare and prayers and to wrestle against the crocodile. I saw crocodile fell with it belly up, down.
The mighty man rose up and killed the crocodile with the word "CONTEND." Then I saw the man stepping down the crocodile.
Sadhu said that God has wonderful plan for the nation but the enemy will not give up the nation without a fight. Israel needs to fight every inch of territory.
In 2017, we stepped out from our warfare mode and we need to contend and respond. We need to trumpeted to all our networks to contend our destiny in intercession and warfare.
Philippines "Contend" with this acronym:
Cry

Out

Now

To

Enforce the

Nations

Destiny
That stands for the word, "C. O. N. T. E. N. D."
Romans 13:12, "The night is far spent, the day is at hand: let us therefore cast off the works of darkness, and let us put on the armour of light." 
Shining is the contrast of the gloom and doom of these warning and the glorious promises of God. Dr. Chuck Pierce last year reiterated said the "Philippines will separate the head of leviathan. You are going to see the seven headships ruling throughout the islands that the Lord is putting under your dominion… you are going to take every head of the enemy out until this whole territory is set free."
Leviathan is not Satan but the principality assigned in the Philippines to prevent us for our destiny. This is highlighted by the prophesy by Tom and Jane Hamon 2016, "Philippines is at the tipping point not what the government but what the church will do. God is repositioning the Philippines to be a nation that God told you to be."
The past three years, from 2016-2020 we must be intensified. You are aware that we visited 22 Middle East nations. Sadhu was there, Peter Roco and Estella, Farooq from Bagdad, who wants to go there? Only two? (I raised up my hands to go to Iraq). Whoever wants to go there must be willing to die.
Roco was born in Australia and God gave him vision and he was so convicted when he asked me after I spoke. He said, "Can I reclaim my Filipino citizenship?" Antonio helped him out. When he was taking out his oath he saw a vision of fork-road.
Philippines forked road
One road of destruction and bloodshed, calamity chaos and misery while the other of the road leads to peace and prosperity.
The remnants
We need remnants among his people.
Daniel 11:32, "And such as do wickedly against the covenant shall he corrupt by flatteries: but the people that do know their God shall be strong, and do exploits. "
I don't need to please the bishops. I need to speak up whether it is palatable or not. Whether the bishops agree or not.
God said "Look for the remnant." All of you here are remnants, and you will be given a ring from China ironically. The one who gave the rings in Palawan I met in Guanzo. He saw me wearing this because this is my covenant to the God and to the nation. He was so pleased and said, "Do you still need rings." So this Abraham with shops, "How many do you need?" Nahihiya ako so I said, 200 even without thinking I need them. Only now that I came to know it is for you.
Daniel 11:32, "And such as do wickedly against the covenant shall he corrupt by flatteries: but the people that do know their God shall be strong, and do exploits."
Flattery as intercessor must not be vulnerable. Though you are alone like Elijah who never surrendered to the prophets of Baal. You don't exist without the applause and approval of men. God will vindicate who can hear from God. Can you be just the one who can hear from God? Of course everybody. It is hard for us "Do this when we are not doing them." You do what you preach.
There must be a mighty army of God. There will arise a mighty army of God
Rev. 12:11, "And they overcame him by the blood of the Lamb, and by the word of their testimony; and they loved not their lives unto the death " We speak the word. The sword divides the soul from the spirit. Our destiny is at hand. Let us cast of the works of darkness. We must flood this nation with evangelization Putting on the armor of light..
John 1:1-5, "In the beginning was the Word, and the Word was with God, and the Word was God. 
2 The same was in the beginning with God. 3 All things were made by him; and without him was not any thing made that was made. 4In him was life; and the life was the light of men. 5 And the light shineth in darkness; and the darkness comprehended it not. "
Isaiah 60:1-2, "Arise, shine; for thy light is come, and the glory of the LORD is risen upon thee. 
2For, behold, the darkness shall cover the earth, and gross darkness the people: but the LORD shall arise upon thee, and his glory shall be seen upon thee. "
We must prepare the way from 2019-2020. Bring down the presence of G in the law through corporate praise, worship and warfare.
Last year we were in Vancouver, for the first time we planted a church there. This is the airport (photo is shown) and our pastors there. This is the city of Vancouver. This is the time when president called "God stupid." Then Eddie said to me while I was there in Canada, "Bring all the bishops." I said, "WHY?" He replied, "Naka amba ang tabak sa atin." The reason why the Big One is not coming to us though we are in the fullness of wickedness is because of our prayer.
I wrote a strong letter: to awaken the sleepy, to provoke the fence-sitter and rebuke the compromisers. I am exercising my prophetic role in the nation and it was taken by Channel 2 and I submitted it to the leaders of IFP. Before I knew, I watched that news of Channel 2 from Vancouver. I am at peace that somebody spoke for God.
When the Temple is desecrated Jesus was so angry. This has something to do with the Name of the Lord.
By June, at 4:00 A.M. I immediately taken in the Spirit while me and Tanette were praying. We first started to worship and began to pray. As I was I suddenly s taken in the Spirit , I found myself above the clouds overlooking the islands of the Philippines. As I entirely looking at the islands then when I saw three huge angels dressed in full battle armor standing over the west side of the island of the Pacific Ocean and beside the three islands groups namely Luzon, Visayas and Mindanao, I saw the height of these three (3) angels and they were about 100 feet tall. They were each holding sword. One huge angel and has 3 regional angels. As a group of intercessors worshipping and praying in Metro Manila, suddenly a trumpet was sounded.

Then I saw a smoke of incense just like in Revelation 8:4-5 that says, "And round about the throne were four and twenty seats: and upon the seats I saw four and twenty elders sitting, clothed in white raiment; and they had on their heads crowns of gold. 5 And out of the throne proceeded lightnings and thunderings and voices: and there were seven lamps of fire burning before the throne, which are the seven Spirits of God." The wall of glory was expanded to the north and the south covering the entire islands….
From Metro Manila, we scattered …. Then a trumpet sounded again… Luzon began to assemble together forming in three flanks or rows. The same things happened in Visayas and then in Mindanao. I saw the forming od the regions and provinces and the intercessors are rising up.
The Glory of the Lord lords over the nation until it forms a wall looking like a huge waterfall of God's glory from Metro Manila that is extending and expanding its reach to the north in Luzon and to the south of the Visayas and Mindanao. The more worship, the more the fall of glory of God from heaven….
The three regional army and warfare with dressed in white linen. This explains why this is our theme… There was continous warfare and worship. Then I saw this Leviathan, anchored in Davao and the body expands all over the islands, it not really a crocodile but crossbreed of anaconda and dragon.
I saw a huge wall of flood rose like a tsunami coming from the western side and rising in a mighty force like the spillway of a dam crashing towards the eastern side of the land hitting the body of the leviathan.
The more waterfall from heaven of worship and intercession took place and the leviathan was trying to cling to the lands but torrents of waters and waves impounded and impounded from heaven and poured towards the leviathan and it loses its grip.
The 3 angels waited for the cue. The Leviathan's four legs from Zambales and Pampanga, Leyte and Samar, while the tail is from Mindanao …a sequence… a head leg and hind leg… I had to review this… the Angel of the Lord cut the head of the leviathan, then a final trust cut the head of the leviathan and severed it and as prophesied by Churck Pierce. Rains and waters brought this leviathan to the sea…
Then there is a sudden change in the atmosphere and crowds came into the Lord as prophesied by Pastor Stevens last night and then righteousness came to rise. Then China lifted up their head towards us and I saw squadron of intercessors that flew to Indochina and teach them how to deal with their leviathan…
In short, for this next 7 months since last November is CRUCIAL so we launch this 40-days Prayer and Fasting. This is what I wanted to share with you to intensify the house of worship, warfare and intercession. This we will give it to you….
We cling Daniel 2: 22 that says, "He revealeth the deep and secret things: he knoweth what is in the darkness, and the light dwelleth with him," in order "to give us great exploits."
I said to the Lord, "As we received the instructions from YOU, give them authority, favour and wisdom." At least two or three churches joined with us to be a house of worship, warfare and intercession. GOD BLESS YOU.
Nona Londonio
Have you not blessed that God raised up spiritual leaders. Joel Bataclan is under the church of Pastor Ed de Guzman, he is a volunteer and recently he was recognized as IFP board and he is in charge of raising up the army of youth.
Joel Bataclan
Salamat….
I would like to present to you. God identified to us as a the spiritual entity and that is the leviathan spirit and God gave us the strategy – worship, warfare and intercession.

We need the urgency of this timeline which I will show you:
1986. The Lord said to IFP, "The Philippines is not given to the hands of the communists but I am giving this to the hands of the intercessors."

1987. Philippines is dubbed as "The burning bush in Asia."

1992. 20-year plan for the Philippines as the "head-nation" as prophesied by Bill Hamon

1998. There was Presidential election. The body of Christ divided when Brother Ed run.

2002. God's mighty visitation in the Philippines. Dr. Cindy Jacobs prophesied, "I am raising up firebrands… a forerunner anointing…exposures in the government….hundreds of thousands."

2003,. Philippines is at Kadesh Barnea, meaning "a crossroad." What you will do next year is doing to determine the nation.

2004. Abu Baku, a prophet from Ghana laid down the foundation for the next 10 years

2006. Rebirth the nation. Transforming the political landscape. Brian Bailey, a prophet from New Zealand said, "Philippines will experience a great revival and it is sheep nation."

2008. "Change is coming to the Philippines," as prophesied by Abu Baku out from the global index that " Philippines is 2nd most corrupt economy in the world."

2009. Milestone. A Word given to Dan Balais concerning the "Jubilee of Jubilees" that started from Cebu and proclaimed again in 2010.

2009 Sadhu Sandar Selvaraj started visiting the Philippines

2010: Sadhu said that the Lord wanted us to make a " House of Prayers."

2011; The great tsunami hit Sendai, Japan. The warning was first given to Brian Bailey months before it happened. The call for the = 24-hours of prayer is being intensified.

2011. Prophesy, "The coming great glory of God."

2012. Prophetic word that the "Philippines at the fork road" coming from Robert Misst. But he said also that the Philippines is called as a "prince nation and Israel in Asia."
What is the leviathan spirit? What is the progression? Sadhu warned, "I saw a great dragon and snatched the torch of righteousness from the Philippines," he said that first in 2009.
Leviathan is much connected from China and Taiwan

2012. In Makati City on January 8-9, Robert Misst warned us in Isaiah 46;10-1 concerning the " bird of prey" referring to China's creeping invasion.

2015. China's creeping invasion taking place militarily. By April 20, China started reclaiming Panganiban Reef taking lands from Zambales

2016. July 12. Philippines wins it landmark victory against China over the West Philippine Sea as the PCA at the Hague. China sent Chinses H-6K bomber over Panatag shoal to intimidate us.

2016. October 18-21. Major foreign shifts with military and economy split from US and Philippines started rebuilding relationship with China. Sadhu who was right here in the Philippines said "black magic, sorcery, , witchcraft influences will not surround him… I see an evil appointed over this land, the dragon stretching out there at the right and left , a hand is forwarded to lay and put its claw into this nation that she may spew a kind of a a dark cloud. We are not against China but the spirit…. the spirit of the dragon will transfer on him." Sadhu said, "Pray for your president. Rise up in prayer and watch. Do not take this lightly," he warned.

2017. May 14, China invited Duterte for Silk Road Route. China's creeping invasion economically calling it a "Debt TrapDiplomacy," through the "Belt and Road Initiative (BRI) under Philippines, "Build, Build, Build" Program.
Once we cannot pay, we will give up our natural resources. Examples : Sri Lanka, Djibouti. Venezuela. Turkmenistan. Gas. 2016 Chinese $3 Billion loans for Philippines under the "Build, Build, Build" Program. .
2017. June 12. at Mt.Sinai, Egypt, in a vision Sadhu saw 'gigantic crocodile over all the Philippines. '

2018. Feb. 18, President is the spiritual gate of the nation. And the President said in jest, "If you want, make us Fujian province of the Republic of China."

2018. Newspaper Inquirer took pictures on WPS- Zamora Reef military facility in Philippine territory;

July 23 2018. "Re-energized ties with Asian Giant" said the President

GMA became House Speaker with Imee Marcos. GMA had "graft" history on China's ZTE.

Creeping invasion of China are in the area of social, gambling, drugs, territorial like the WPS, economic loans, and others. Threats are real on Leviathan….
Creeping invasion of China
Social: gambling and chinse drugs smuggling of P6.4 billion from China in May 2017

Territorial invasion in the WPS

Economic: Debt Trap Diplomacy

Political Policies: Corrupt government official to make decisions and policies favourable to China
Dan Balais
Last year we have seen the heavenly constellations of Virgo, Mercury, Leo making alignment and Philippines is like that birthing a "man-child" in Revelation Chapter 12. Whatever happens in Constellations happens also in a nation. The vision I saw from Vancouver, do not take it for granted.
The Remnants-Systems, even just two or three churches, if you share it to 2-3 churches. Why 2-3? Jesus said, "If there are two or three gathers in my Name…" Trumpet it to your pastors and leaders and we will update you with prophetic warnings. Why China? We were warned against China by Bill Hamon before. Am not against China. These rings are coming from China, a Chinese friend gave it to us. Phoenix is a bird, it is transformable. The threat of China is real as prophesied to us as a warning from Isaiah 46:10-11. It says,
"Declaring the end from the beginning, and from ancient times the things that are not yet done, saying, My counsel shall stand, and I will do all my pleasure: 11 Calling a ravenous bird from the east, the man that executeth my counsel from a far country: yea, I have spoken it, I will also bring it to pass; I have purposed it, I will also do it. "
.
Nona Londonio
That is why we are putting up the RTL (expanded). We were the first recipients of RTL in 1990.s We were the first ones then.
RTL in CAR- Baguio
Date: March 12-14. Total 139 delegate held at JMPM, La Trinidad, Benguet.
IFP Coordinator
Training

Equipping

Networking

To attend NPG

Covenant Prayer Partner and supporter of the IFP national Prayer Movement

Not optional but mandatory

To raise up watchmen and actively support IFP movement in the 8 pillars of Society

To connect, align with and promote God's Prophetic Movement

Code of Conduct. 1 Tim. 3:1-10.

We work with existing ministerial fellowships
DANIEL BALAIS
The ring is made up of bronze, you can clean that. We, we always maintain that. We use olive oil. If coordinator, form a team, like IFP we are a team, then bring some Business People, we raise up funds… In my heart, we need apostolic council. Identify the apostles, not necessarily with the title of bishops, those who are leaders like Jun
2:00 pm
Declaration:
"Jesus you're the king of Glory de we will declare your Passover Promises: That you will bring Philippines out of bondage. You will deliver us from leviathan. You will be the God of Filipino. You will bring us the Jubilee promises. You will release us wealth and resources, both spiritual and physical so that Philippines will be blessings to other nations. We declare this through the precious blood of Jesus, the Lamb of God that was slain."
JOE SWEET
We may skip my season and just do the worship. We just done that several times in our church.
I had some much spiritual welfare from the plane, I was attacked on my body. On Wednesday on that day I said to my wife that am 95% sure I cannot go to the Philippines. I told my secretary to check to cancel to the airlines but the Lord said, "Go!"
I am thinking, "They have good speakers." Not because I don't like but there is much pain my body then. But on that night when Sadhu prophesied then I knew why I should be here. He said, "Why do we need to build a house of praise?" I even hesitated to attend on the first night of service but the Lord told me, "Go!"
He said there will be new beginning, new power, new glory!
Acts 15:16, "After this I will return, and will build again the tabernacle of David, which is fallen down; and I will build again the ruins thereof, and I will set it up."
Amos 9:13, "Behold, the days come, saith the LORD, that the plowman shall overtake the reaper, and the treader of grapes him that soweth seed; and the mountains shall drop sweet wine, and all the hills shall melt. "

Amos 9:11, "In that day will I raise up the tabernacle of David that is fallen, and close up the breaches thereof; and I will raise up his ruins, and I will build it as in the days of old," David set up the temple and the Levites in 1st Chronicles 16:1-3.

1 Chronicles 16:4, If God will raise the tabernacle of David, we must know how does it like
To remember

To thank and to praise

To present burnt offerings
They will remember the victory that God gave them, the parting of the red sea, the drowning of the Pharaoh's army, they will remember the rock gushing of water, day and night they will remember and thank him.
In the NT, the spirit of Tabernacle of David like in Acts 2:42-47, "they are continually in temple." "they are praising God daily." . The plowman will overtake the reapers.
In Acts 2 , around 3000 added to the Lord. Chapter 5, 5,000 added unto the Lord. How will this apply to us? They thank God and praise God. The praise will never stop the Avenger.
1 Chronicles 18:1 David defeated the Moabites, the Syrians. Acts they have too the supernatural power to defeat their enemies.
They have so much of provisions. How much talents of gold and silver to build the temple to Solomon – worth $150-Billion.
NT they experience the power of God, supernatural harvest and supernatural provisions. Sadhu said "establish a house of praise."
Look on the principles on how we established the tabernacle of David. Priests have to be sanctified and be holy. No unclean is allowed.
Eph. 2:19-21, "Now therefore ye are no more strangers and foreigners, but fellowcitizens with the saints, and of the household of God; 20 And are built upon the foundation of the apostles and prophets, Jesus Christ himself being the chief corner stone;  21 In whom all the building fitly framed together groweth unto an holy temple in the Lord: ."
We are the temple. We are the living stones. David's time there was a tent. Today, you are the temple – you are the house of praise. Holiness has to come back to the church. Holiness is to be normal in a church.
Hebrews 12:14, "Follow peace with all men, and holiness, without which no man shall see the Lord."
Offering at the temple of the Lord. Jesus is the sacrifice once and for all. We all come in faith boldly to the throne of grace. Sometimes we may say, "We don't have offerings to give." For Jesus is the offering.
Romans 12:1, "Not slothful in business; fervent in spirit; serving the Lord."
We need rededication for a holy life. Without holiness, no one can see Him, we must be washed by the water of the word. Our bodies are not for immorality, to sin or filth. Our eyes are not to be with the unclean media. Our lips are not meant for gossiping.
Praise creates the atmosphere for the presence of God. Rev. 4 and 5, in the throne of God is filled is praise and worship. Psalm 22:3, "You inhabits in the praises of your people."
Praise brings us into the realm of the Spirit. "With thanksgiving we enter into praise …"
Hebrews 12:18, 22, "We have not come to Mt. Sinai that might be touched, and that burned with fire, nor unto blackness… But ye are come to Mt. Zion and unto the city of the living God, the heavenly Jerusalem and to innumerable company of angels." In OT they were brought into Law, with Christ we are brought into grace.
Hebrew 12:23-24, "To the general assembly and church of the firstborn, which are written in heaven, and to God the Judge of all, and to the spirits of just men made perfect, 24 And to Jesus the mediator of the new covenant, and to the blood of sprinkling, that speaketh better things than that of Abel. "
The dimension of heaven you might think is far away. The dimension is not a distance. We are surrounded with cloud of many witnesses. The heavenly realm is right here. We must learn the dimension.
In Hebrews 11:9 Abraham was the richest man on the earth. He lived in tents. Because Abraham seen a vision, seen the city of Jerusalem and he knew he lives only as a pilgrim and looking for a city called Zion, a spiritual dimension.
We are living right at the door. Hebrews 13:14, "For here have we no continuing city, but we seek one to come. "
How to get into Zion? Hebrews 13:15, "By him therefore let us offer the sacrifice of praise to God continually, that is, the fruits of our lips giving thanks to his name." Though we thank the Lord we have not give him that enough.
The reason we preach so that they can be washed by the word of the Lord. We need to learn to praise the Lord and go deep into His presence. They just getting healed. They just come to the church and get healed. Offer him the sacrifice of praise, the fruit of our lips, giving thanks to His name.

Hebrew 13: 5-6. "I will never leave you nor forsake you….The Lord is my helper and I will not fear. What can man do to me?" We will get from God what He hear us say.
The sacrifice of praise is to give to God what God said. Joshua and Caleb have different spirit and they said what God said. "The Lord is with us" while the rest of 10 did not praise God.
Here is the verdict. Number 14:27-30, Why they complaints… except Caleb and Joshua. The sacrifice of praise is saying what God had said and believing it. Praise will bring us in. praise will make us strong.
We have two single mothers in our church. Jill has 3 children, a church volunteer. Susan has one daughter, full time in the church. My heart goes out with single parent and I have seen it from my sister. I've seen them work, all day, take care their kids, pick them up, make dinner, collapsed at bedtime.
Jill will say "Praise God. God is so good. God is always blesses me." She is blessed and she is happy with 3 kids and full time job. When she ministers to the kids, she brought cookies, always praising God.
The other one, always with down-face. She would say "Not good, my car broke down again…" Why? Because she never praised the Lord.
Matthew 21"16, "Yea; have ye never read, Out of the mouth of babes and sucklings thou hast perfected praise? " In Psalm 8:2, "Out of the mouth of babes and sucklings hast thou ordained strength because of thine enemies, that thou mightest still the enemy and the avenger. "
Is it Christ has the right to interpret the Scriptures? So praise makes you strong.
2 Chronicles 20:5 -10, Jehoshaphat had enemies. What they did? He did praise God. They begun to praise God before they saw the victory. 2 Chr. 20:22, "And when they began to sing and to praise, the LORD set ambushments against the children of Ammon, Moab, and mount Seir, which were come against Judah; and they were smitten." The Lord releases angels to fight. If our praise life is weak, if your thanksgiving is weak then it makes us weak.
Col. 2:7 "Rooted and built up in him, and stablished in the faith, as ye have been taught, abounding therein with thanksgiving. .
We pray for long time yet we pray with pray of unbelief, "Please Lord…."
Philippians 4:6, "Do not be anxious about anything, but in everything by prayer and supplication with thanksgiving let your requests be made known to God."
This blind woman kept on sayng on the floor, "Lord please, Lord please, Lord please." The bothered preacher walked down from the pulpit and said, "Momma instead of saying please, thank God. " She left thanking God on her way home, on her bed and gone to sleep. The next day, she woke up and God opened her eyes. Sometimes we need to change, we've been praying for long time, praying for your family, praying for your nation.
God I want to thank you for God answering our prayers.
I am here to remind you to confirm you the prophetic word of Sadhu that you need to make a house of praise.
Two praising people are better than the army of the non believers. "Thanks be to God who always lead us into triumph." – 2 Corinthians 2:14
The other thing they did. I was preaching in my church one time and there was a family visitor and then a 6 year old boy said, "Pastor, why you keep on yelling so much?" I said, "Sometimes I got excited." Hebrews 13: 16 "Offer the sacrifice the praise and do not forget do good and share …"
"Let your light shine and see that by men…." Matthew 5:16.

Eph. 2:10, "For we are his workmanship, created in Christ Jesus unto good works, which God hath before ordained that we should walk in them. "
Gal. 6:9-10, "And let us not be weary in well doing: for in due season we shall reap, if we faint not. 
As we have therefore opportunity, let us do good unto all men, especially unto them who are of the household of faith. " Love people, good to people, share things, share you time, pray for the people
1 Thessalonians 5:16-18, "Rejoice always: pray without ceasing. In everything give thanks, for this is the will of God in Christ Jesus for you." Let us worship. Think what are the things you have been praying for to God? Things that you have never seen yet from your heart. Philippines will come to the Lord. Philippines will come to Jesus. God will have His way. He is an awesome God.
3:00 PM
Video Speaker
Daniel Balais
Joe Sweet, sacrificed his church anniversary to be with us…. Applause for Joe Sweet
Lady Speaker, I discover, to be a warrior you need to be an ugly. We went to Vancouver last year to open up our church. I met her there. Pastor Arnel Deogracias because he said this lady wanted to see me. In our itinerary, we will be meeting with SOGIE proponents, I shelved my IFP hat and put on my apostolic calling by now. He said he was talking that I was fighting for SOGIE and this woman is fighting for SOGIE Law. I met her in a breakfast and she is a warrior. If you think of warrior you might be thinking she must not be beautiful. But this woman singlehandedly fought SOGIE law, and the country did not placed this in their kindergarten in their curriculum because of this woman….
Her video is being placed in our network I said. We are fighting for this SOGIE law before it is being approved. If the foundations are destroyed when the foundations are destroyed.

Susan G. brought her to Intramuros, Luneta Park, we are happy to have her.. She have 5-Million Followers. She is co host in 700 Club, one night one folding laundry….. the Lord called her to media…our honor to welcome this platform that only lady speaker…. Laura Lynn Tyler-Thompson…
Laura Lynn Tyler-Thompson…
Pastor Bruce said we are in war. I showed up with battle stars and I want to hear from God and it is being tough to be in war, it is like having no fun at all. Then I got a word that sets you free from the attack of the enemy.

Pastor Stephen said, "You came when I was 30, you came when I was 40, then you came when I came to 50 and then I am not happy." The word that Pastor Stephen The Lord I will rebuild, again I will restore. About my background. About my SOGIE.
Pastor Daniel Bishop Balais when you invited me I don't know that He will fulfil a promise to me, when he called me to TV, it is miracle, that I am here.
On studio in Vancouver, they do know how to worship unlike here in the Philippines… I am in heaven, it is piece of heaven in the Philippines. I wanted to tell you about my beautiful and broken, terrible story about Jesus and I made a mess and I will give you a message….
My mother has always been reading my book and she reads it always, and she would say, "You are a wrecked what happen?" An I said, "Just keep reading."
I was born in Africa by my missionary parents. I thought I was Uganda,. I can speak their language, magandang hapon….when I was growing up in Africa , I was moving with people who was desperate for God, and there was an evil dictator Idi Amin. After he have done his murder, 5,000 Ugandans were killed and we were there, there was fear in me and there was war, there was hunger.
They have passion for God. I do not know that white people does not know how to pray…. I grew up to the place that know to worship God…. Then one time I knelt on my knees and I said, "Lord, use me, I pray use me…"
Then you have once a dream that God made a spectacular in my life. No matter what happened whatever God has word, it will never returned to him void. We left Africa quickly, my father was placed into jail, my mother was worried. I asked to mother, "Where is he, will he be back? "My mother broke into tears. He (my father) is the only one white man in the town. She cried that he might be killed. Then we went to Kenya, no trees, no AC. You will love it … you live like that… I was in difficult place and I was with white and I confused that there was no black people anymore.
At age 11, went back to Canada, "Who am I? What is my calling? " I said to the Lord.
Until when this boy came and we will go around? I said to my Mom, "Is it ok for me and him to go around in the church? " She said, NO. Then I said to Bobby, YES. Then his cutier is not cute. I like him. He likes me and he kissed me. Am tjhen 12. I've found that liked me that I don't kinda fit it in Canadian Culture, so we search for things? What God called us to do? What is the vision God has to me?
I'd like him to know that he will be doing that. On our wedding day, I am thinking of what he must wear, what ring should we put on. Then we had this most expensive dress, I was ecstatic. They knew I am immature for a 50 years girl… then I got married 21. Young people, wait awhile. I like that girl. Bring her back. I have 5 of my girlfriends with me. We will do this. I put my clothes on. Then we dance for the bride. I was waiting for that in my whole life. Then it's gone.
You gonna stick what you decided to marry. I walked on the aisle. Heavenly till my eyes catches his. I will let him, know. WHO IS THAT… you laugh now? You see, Wden I see the movie " Run Away Bride", then I will don't have a testimony like Julia Roberts. And then people will go out and move. Too much invested and I made my vows. Words that matters. Made things that I am not prepared for. My immaturity, and vulnerability that I could not fulfil.
God knows exactly who you are whether this is the successful one l or the moment that you make oh oh oh. I think I messed up.

So we made counseling. l asked Jesus if He could help me to put things together. I says this story, you take long to make this (make up)… the only thing that is real what is true for is that humanity will qualify you for his great divinity. It only what qualifies you is what HE DID.

It is not accident that I am speaking to you in Good Friday.

We started made counselling. The pastor said we might need professional help. About the end of that, year 4 and 5 when I made actions that devastated my marriage, no matter how I did and thought of what is going on. When the enemy sees the prints on heart, he puts a bulls eye in your forehead. Pastor Joe talked about distraction, discouragements. And I was devastated. That made my missionary parents hearts broken. What I have done? What I have done?
There was no way to make that moment back. There have been people in the churches that was not to take place in the hands of enemy about deception.
In all my years growing up in missionary home, with knowledge of verses, " as far as from the east from the west, I will remember your sin no more. " When my action gone astray I do not know how to apply. I was broken I was undone. I would come to Dad and I would say what I have done. Is it my family is drug addict, is it my family is alcoholic?
God will make you an opportunity to see your humanity. The greatest problem in the church, we continue to go to church and I knew girls making abortion in secret places. They have confessions, 80 years old sobbing, what causes you, 40 years ago, I did something what power what Jesus did on Good Friday….I went on 3 years for a mess. I do not know but I messed up. If there is communion I would let it pass it by. I kept sobbing. How I wish I could take that moment back. Enemy is brutal, deceiver, liar, accuser of the brethren. He will not accuse his brethren…he goes after the brethren and the sister, he goes after you and the calling in your heart, the calling in your life. Something happen, I will never again go over what I did.
Sometimes I drag myself to the closet and put my boots on and go to church. Because it only get hurts. Am broken. Am messed up. It will never happen. When I go to the church with perfect people… they always the deacons, the pastors, they were married one time… you are the perfect people that I am afraid of…
I don't feel that I belong with the righteous people, with this pastor…. I was sitting with perfect people … one child to be a teacher, second to be a lawyer, a third is a doctor. Their sins are covered up because we are celebrating what Jesus did. We have a beautiful cross and we sat down with the Pastor…. There is a tiny happening in Canada. The pastor asked me "Can you write down on a piece of paper your 3 most prominent sins and nail that on the cross." Have you ever thought your sins right now, write them down on a piece of papers and post them.
I am afraid they would take those papers down then put that on their prayer list….my Mom dos not wear earrings. She just walk. What is issue that my mother is writing about. If I would write down my sins down. My sins would be 10 commandments. My sins will not allow me to function on my calling. My sins have not allowed me …
I decided I kept on writing so I could reveal my rebellions. I wrote my sins. I did in such a way they coulld not be able to read those sins. I knew one thing. My heart knew deeply what my sins were. The accuser of the brethren never sleeps day and night to remind me.

Remember what David said, " My sins was ever before me." Your sins is what you see at all times. And that was all me. I lined up and they put those sins on the cross. That song, "Blood of Jesus, make it white. As snow."
They started to sing another song, "On the old rugged cross." I looked on the cross, the accuser, the liar that would like to murder our destiny and he would say, "You are a shame , you did that and you will never be…"
I looked upon there and I could see the vision of body on the cross. The bruised, bloodied body and they mocked him. The greatest price that no man had ever paid, nails on his hands and then he had this ugly cry. I would cherish on that rugged cross….
Before I knew I had no trophy and broken off my destiny, my tears came down and then enemy robbed it…. I looked on the cross it looked uglier, then the Holy Spirit and He was cool. On that moment, the Holy Spirit changed my life, and that is the reason why I stands here, "Laura Lyn, what Jesus Christ, have it not enough for you?"
I was undone. In the midst of perfect people, I started crying, the cross of Jesus Christ, the pastor came…I know that is the final time to listen to the enemy, the final, final blow. I am sorry for the last time, years ago, what you have done years ago. I got up there and I received not the weight of sin but the weight of Glory and that was the last time I listened to the enemy that I was defeated.
I walked out from that building I was a changed person. That qualify us from His righteousness. If you are sick and you are broken, as we celebrate today that was the price and would that not just be enough? It is finish!
Every sin, every wound, every pain, everything committed against us is finish by the redeeming power of the cross.
I walked out from there, the next day, I felt so clean and white and good. Do I measure with the perfect people? Like have you make like Pastor Steven like Bishop Bruce or Bishop Balais….
My blood has been paid by the high price.
I know I measure out to them. How about the Pope? "As far as the east from the west, I remember your sins no more." How about Billy Graham? He said YES. My blood covers them all. How about Mother Teresa and He said, "This time you have gone so far!"
Isaiah 49:15-16, "Can a woman forget her sucking child, that she should not have compassion on the son of her womb? yea, they may forget, yet will I not forget thee. Behold, I have graven thee upon the palms of my hands; thy walls are continually before me. "
I understand on this moment, you have grasped this knowledge of Jesus. And with your brokenness you need something to do now. What will you do must be crucified this week end? To the one who beaten him, the ones who brutalized him? He did it for them.
Pray for me briefly….
I promised I would like to be a wrecking ball against the enemy/ So decided will be hassle against the enemy because he would like to defeat me… SOGIE (sexual orientation and gender identiy and expression) is coming here, ….
DANIEL BALAIS
4:35 pm
In Palawan 5, they don t like to touch anything political. One pastor from Mindanao dared us about SOGIE and BBL.
Then from that time on, we are doing against SOGIE and Pastor Peps is the one being sent into Congress. Until they voted 230-0 for SOGIE. Senator Sotto said, Do not do that. I will not
Pastor Joe Sweet confirmed that. The only way to sweep away this leviathan is worship and praise God. We had a meeting with Coordinators this morning to put up the Tabernacle of David for put up temple of praise and intercessions

BRUCE ALLEN
4:40 PM
This is not just an ordinary ability. The first fruit offering. This is the time of double blessing. The first fruit offering bring you…. It is time of Jubilee of Jubilee, that your debts is being cancelled……don't think this is manipulation. I myself I and Reshma hates financial manipulation. Malachi told us of robbing God through tithes and offerings including the first fruit offering.

Sadhu Sundar Selvaraj
4:55 PM
Good news! This is the last day. This is also the last session. have better news for you. We will go as long as we want.
"I see that the Lord is looking for all the 7,1000 islands in the Philippines, scanning all over even among the brethren, a strong unbelief, to the pastors to the leaders and I can see in their hearts rotten, evil, dark and ugly before the eyes of God such as the Holy one says will not inherit the kingdom of God. Those who are hearing this, to those from the satellites, sanctify your hearts, put away doubts, put away unbelief, put away conniving, put away stealing, do not rob God's money, it is legal to receive a pastors' salary; repent right now – do not steal God's money. Prepare the children, prepare the toothless (age 3-5) these are largely neglected group, prepare them, train them position them to receive the last days outpouring of God's glory for them, they have very important destiny in the plan of God. I see now the one seated on the throne, the corrupted politician in this country will be judged and thrown from their seats, the word of God and the sword of the Lord will perform it. The sword of the Lord is prepared for great slaughter and no longer allow evil to live in his house. God will answer them shortly. "
Do not let your God' s down and do not rest in peace but continue to contend for your destiny, continue to contend for righteousness into office.
Lift up your holy hands…. And bless the name of the living God. And bless the name of the living God. His grace and mercy endures forever and ever. Do not keep quite, open your mouth. Give thanks.
Ephesians 6:
Subject on the armour of God. Like I told you last night, not by accident that the IFP Board have chosen this theme to prepare this nation to wage war not against flesh and blood. Warfare is not about flesh and blood otherwise you miss the mark. It is against principalities, ruler of darkness, power, spiritual wickedness on higher places – 4 different spiritual enemies.
If you do not want the devil troubles you, then die right now. "In this world, ye shall have tribulation but be ye of good cheer, I have overcame the world," Jesus said.
If you don't want the devil accusing you, then walk in perfect love.
We yield always in our flesh. I have this staff, very gifted in teaching but he always thinks that everyone talks about him and against him. I asked him "Do you think others are talking against you?" He said, "No, But I know!"
We think evil. Love never thinks evil against anyone. One of the most beautiful scripture that made a profound impact in my life. That is when Jesus kissed him and yet Jesus still loved him even at the end. That is agape love. We must learn that to walk in. that is when the remnant army comes in. the key is to walk in love.
In 2014, I was fasting for three day in one mountainous area. One morning at 3Am to pray I was in trance and caught up in heaven. "Beautiful park in heaven, this has very nice carnations, garden so exquisite. Nice beautiful garden, then I noticed a young man standing beside me, taller than me, chubby, he was munching on his mouth and as I looked at him, he looked at the entrance. And we are walking on the park, he was still alive on earth and have wonderful signs and wonders in the ministry on earth, unlike anything you have ever heard, we seated on the bench, he went on munching, munching, , his hands so glorious shining like gold. I looked at the young man, "I am happy that you are being using mightily, blessing him, but he did not look at me. He kept munching. Then he turned around and looked at me, munching. "Uncle to walk on that realm, you must walk in love. "
When I came back to my senses, I pondered that deeply. The last days generation has been generously blessed by God. In the ages to come, no comparison will be made but the key to do all that but to walk in love. If you don't have the key then you cannot walk in the miracle realm.
Listen carefully. Before you hold the key you must first receive the key. There are something that can prevent you in receiving the key is the unforgiving heart, bitterness, malice, gossip, murmuring, backbiting, corruption of the heart and mouth will prevent you in receiving the key.
The first night, I shared to you're the vision I received before I came to the Philippines on the various infirmities I saw. I saw Jesus throne and said, "Come up and meet me in my mountain."
I've been there by grace by God on that mountain, I found myself in Mt. Zion, it is the mountain for the Lord Jesus Christ. The few ministers I have been praying for their spirits stood there, then I saw huge company of glorified people or saints, the 144,000 company in Revelation. IN chapter 14 mentioned again that. Why these minister are going through, is to sanctify and cleanse them, inside their bodies but much on their souls, and hearts.
The last days generation will repeat the same thing and you will be greedy for fame, money and lust. And that should not happen in the last days because it must be pure breed and undefiled by human mixture.
When Mary was told she is pregnant, she was shocked because that cannot be she was unmarried. The angel said it is impregnated life. We need absolute 100% submission without counting the cost for submitting to the will of God.
According to the law of Moses any unmarried girl found pregnant must be put into death. She knew she will be humiliated, outcasted and be killed. She does not know what protective plan of God. She embraced the call without counting the cost.
You must be willing to be submitted, dedicated. Rev. 14:2-4. One of the character of the 144,000 remnants is that they followed the Lamb wherever he went, absolute submission and obedience.
What is faith? Trusting on the unseen. Something that is scary is exciting then the avengers will come out. By the way, I have seen the design the Philippine Avengers. Next year, we will wear that.
Every step of the way must be stemmed from the humble submission without knowing what lies ahead, but with God of Israel behind you and before you.
These 144,000 are not defiled by the lust of the woman. They were undefiled by women from the hearts.They don't fantasize evil. They abstain from sexual lust until the day of marriage. You keep yourself pure. Mouth without guile. You speak no evil. Only words of life, words of love. Dedicated to God alone and no one else.
These should be the quality, Another is absolute obedience, willing to do anything that God tells you even though it may cause you everything. Give up your province and go. That is exactly what Abraham did. He left everything and followed God.

I see in the spirit now, a great shift in many of your lives, especially among church leaders, shift geographically, what you are doing in the past to something thing, the thinking what you have done from the past, another shift about kingdom mindset i.e. walking by faith. The kingdom of God and the kingdom of heaven is built on faith. Everything you hope for is about faith. Hebrews 11:1-3 tells that. That is paradigm shift.
I feel strongly in my soul, a great shift in the way you make a ministry. The Philippine Church will equip to toothless (3-5 age), and children. God has a plan for them. God showed that to me in 2016 in a corporate fast. From 12pm- 6pm we fasted. I saw golden chariot from heaven and came right there in out studio and saw Elijah. I saw also a little boy from the inner chariot sneaking out from the chariot and he resembled from one of our staff's son. The word of the Lord, "Prepare the toothless for their time has come in Psalm 8:2. " I shared to my staff. And I said, "it looks like your son."
Whatever the Philippine church needs from me let me know. We have plenty of materials and I can also bring in my staff. I may look like Indian but I also like a Filipino. Who knows I may move unlike what Laura said. This is the word of Lord for you.
Ephesians 6:17, " Sword of the Spirit."
The first night I shared to you that I saw many swords of various colours, sizes and I've seen the glory from my bedroom. This is very important weapon while this the weapon as sword of the spirit.
Philippians 2:12, "work out for your own salvation with fear and trembling."
You cannot work anything without sword of the Spirit. It can only be given or imparted to you. it is the only the offensive weapon. To defend, to thrust to the enemy and kill him.
In Roman time, the Roman Jews have four swords
Spanish sword adopted by Romans from the battle of Spain. Short long combat

Pompeii Sword. Shorter than Spanish sword but have double-edge sword, 16 inches long. Width 2.5 inches

Cavalry sword. Long single edge sword made of iron or steel. 20 inches long used by soldiers when riding on a horse.

Makharia Sword. 2 feet long, iron, two- edged sharp deep edge on the end for stepping the enemies.
(Peps ' Note: Makhaira is a term used by modern scholars to describe a type of ancient bladed weapon, generally a large knife or sword with a single cutting edge).
They are stuck on the belt or loin belt. Just like different swords, they are also kinds of sword in the spiritual realm.
The sword of the Lord.
Isaiah 27:1, Judges 1:15, Isaiah 66:16. Judges 7:20 first mentioned. The sword of the Lord and of Gideon. It means a sword that is specially the Lord's Sword. Isaiah 27:1. Great and strong. Last night, I saw the Lord's Sword as high from the roof down to the floor, and saw Jesus face. Deut. 32;41, "sword of the Lord like lightning."
God's Sword. Genesis 3:24 at the garden. The flaming sword of fire. this sword is aflamed, to burn, to consume and to scorch. There is life on that sword. Everything in heaven has life. There is no inanimate there. This pulpit is non-living thing. This mike. Except me. This flower is plastic. But in heaven flower can speak to you.
One good example: have you seen lightning in the Philippines? Have you seen lightning talking to you? In fact you run for cover when lightning comes but Revelation 10:4 "when thunders sounded, the apostles heard them spoke." Jesus said, "Father glorify thy Son." One apostle heard a thunder spoke. Everything in heaven has life. Ezekiel 1: saw " wheel and cherubim… " and " the spirit of the Lord is in the wheels." Psalms 103:1-3, "ALL THAT IS WITHIN ME, bless His holy name." God hears the voice, He hears you heart, liver, intestines, " all that is within me."
Angels have their own swords. Various has kinds of sword according to their angelic order. Captain like Michael. It has legal bearing, beautiful insignia on Michael's sword that bears the Lord's name and God's kingdom. Many precious stones on the sword.
Others have golden handles and small wings to give a swift movement in attacking the enemy.
Two years ago, we produced a movie about the "End Times" Not we had another sequel of that entitled, "Cashless Society." I asked the producer of he movie, " that is not good for me as preacher about a fighting movie."
When I was in India God shown me a vision about a fight scene with the enemy with angels beside me. And angel was standing behind me. As I moved my hands to move against the enemy, a lightning came with thousand wings … So we shoot scene like that… then 15 mafias as my enemies and I kicked them out. We will show it on this big screen later .
Angel of the Lord. Number 22:23; Angels: warriors with swords. The messengers without sword.
Believers sword. Several kinds. Two kinds

two -edged dagger. 6 inches long for close combat.

Long sword. Varies in sizes, 2 feet given to children. Other up to 5 and even senior citizens have their sword 6 feet in length. In Lancaster of Joe Sweet has 6 feet sword in his office.

Instead of sword, your very hand is very transformed in your hands. It was revealed many years ago. I hesitated to share that publicly. Not even avengers have that. Finally, God said, "Tell that to them." When you hand becomes a sword you life becomes like a sword or power or force.
Zechariah 9:13. Isaiah 54:5. Ezekiel 9:1-23; 1 Chronicles 21:12; Isaiah sword can talk. And I experienced that last year in Congo. While ministering a sword of the Lord appeared in meeting, a voice coming from the sword, a work about God on the nation Isaiah 66:16.
Remnants will clap their hands and the swords will go towards their intended purpose. Ezekiel 21:12-16

Remnants can speak to the sword and give orders. Jer. 47:6
Significance of swords
Signifying word for God. Hebrew 4:12, " two -edged sword." Out of mouth of God, swords of God goes out.
When it goes out:
It convicts the sins to bring life to salvation.

Bring anger to destruction. Acts 5:33; 7:53
He will mark a sword in your tongue, within you if you are willing to obey. On this day forth, if your bridge your tongue and mouth to talk foolishly, then the very power and strength and power and life in the sword which is in your mouth will create creative miracles and life ….
I see the LordJesus Christ walking on the ministers standing besides Joe Sweet, Francis, Laura, and Reshma, Wyden and He is looking to you, one by one….he is topping by, just ; one head of … and will talk to one soldier and talk a few words, he is stopping and speaking to you "well done . good and faithful servant.""
THE SWORD OF THE LORD WILL COME. In your hand and in your mouth, I see oil being prepared on you your eyes so that you can see it .
Let their right hand be transformed, and on their tongue, for you have put your sword in their tongue. Receive the wings of the eagle. Let their tongues prophesy. Receive the spirit of prophesy.
End of the Seminar
(picture2)