30th NPG Day 3
Details

Category: Teachings & Articles
Published: Saturday, 27 April 2019 07:46
Hits: 1454
PUTTING ON THE ARMOR OF LIGHT
30th National Prayer Gathering
Cuneta Astrodome; Pasay City
April 16-19, 2019
Edited April 26, 2019 (Friday); 11;15 pm
Personal Notes of Augusto A. Kho

Day 3 /Thursday
9:25 am
NONA LONDONIO
I would like to formally welcome our Island Coordinator, Mae Dela Cruz.
MAE DELA CRUZ
In behalf of IFP Mindanao, welcome.
NONA
Visayas is very unique structure with 7 islands. I asked Atty. Lyndon to welcome you. Where is Pastor Leo to welcome you? We do this age kasi.
Pastor Leo
We welcome you.
NONA
I would like to introduce to you Ata Matigsalog. In Mindanao alone, we have 40 tribes. You saw them dancing yesterday. Their leader is Pio Arce. Naligaw daw sila somewhere here in Metro Manila but there are on their way.
There is a saying that "When the mountains will fall, the city falls."

The Visayas region, we have people, the Aetas, they are the Aetas. Guapo ano. Ka mukha ko.
We have Youth Coordinators and Youth Pastors.
In the next 1 and half hours, here is the brief introduction. This is a Prophetic Movement, Almost every year we are like in the crossroads, the NPG is critical always like that. God is so kind. He never does anything unless he first tells to the intercessors. In this particular group, kayo ang unang naka alam.
The gathering may be well attended but if we cannot respond, what benefit can we get? We should be the one who will give guidance. Instead of Coordinators Meeting we will have Voters Education.
In 2016 despite of the warning that we received, but of certain stand they heard from the Lord, everyone heard from the Lord, we are still responsible to make a stand. In this kind of leadership, with a warning that bloodshed will come to the land and this is what happening right now.
Sila ang gumastos dito so that strategic handling is to be made. This is our relationship with them. God gave something and we are not at a loss. We have good introduction yesterday about the Preamble of the Constitution.
Yesterday told me "Na paka ganda pala Preamble natin."
Pastor Caloy Dino
B1M stands for "Bawat Isa mahalaga". It came from former CJ Sereno, it has a deep roots yearning for justice. I'd like to introduce Atty. Del and Atty. Makian. It is a movement that every individual is created from the image of God.
B1M
Movement of Filipino' hearts who yearn for justice

Believes in the sacredness of life and inherent value and dignity of every person

Uphold Filipino people has a sovereign rights

Who works for justice, righteousness, true, mercy and love can be upheld in all institutions
We believe in National Transformation not by leadership but by the founded of Christ. The vital message is the message of Christ. What we need "transformation of the heart."
7 R's of National Transformation
Recognition of God

Repentance and restoration

Reconciliation

Renewal

Resistance

Reformation

Rejoicing
Not only we should reconcile with God but also to reconcile with one another. There must be a renewal of the mind as we go deeply to the Scriptures. As we understand the will and standards of God we should understand the evil of society and we need to resist and stand.
There are things that need to be reformed in our society. We need to participate in reforming our government and our society. We must be rejoicing in the lord when we see the fruits of our labour.
We must continue to do this 7 R's.
Key Programs
Public relations campaign (the unjust war against the poor)

Focus on the orphaning the children, rule of law, second chances.

Discipleship and Mentoring Program
Our faith and social engagement – discipleship for the youth and church

Mentoring program for public servants (some are silent and they must learn how to resist). We need upright and dedicated public servants. We need to develop programs to spark the hearts for righteousness.

TAMAKA Voters Campaign. Once you learn this do it to your churches. Everything is digital. After this training… we have 80 Paper Training Manuals.
Project Goals
Influence a significant number of voters to choose from the senatorial candidates who adhere to the Filipino highest values
Maka –Dios

Maka-Tao

Maka-Bayan
A new approach to voters education.
Not our typical voter educations
Lectures transfer of information and principles

Participants still do not know who to cote after the lecture
Our approach
Transformative processing values

Evaluation process for the candidates
Tamang Kandidato (TANAKA) partners
PCEC

IFP

Ligaya ng Panginoon

Others

We are here not to affect your preferences but to change your value-systems.
MOCK ELECTIONS
Kahalagan ng election

Kahalagan ng kandidato

Kahalagan ng basehan
3 TANONG
Ano ang halaga ng election

Paano naka katulong ng senador

Ano ang basehan
Small Group Discussions
We give meta-cards

5 meta-cards

We give secretary pentel pen and papers and record
One colour per question

5 answers per colour of the paper board
How important election is?
We follow the constitution, the suffrage

Change our destiny

Democratic. This is more inspiring. This is one of the best.
There are 3 categories:
Giving values on votation or election

The freedom to choose

What can happen if we choose the right leaders (most common answer). A leader whgo can lead us the way God wants us to be. The destiny of the nation depends from us. It will determine the course of our nation if we choose the right leaders.
Purpose of the government
To punish those who do evil and to praise those who do good ( 1 Peter 2:13-14; Romans 13:1-3) not imperialism. Election is peaceful change of power. The highest authority is given to the Filipinos.
(PEPS NOTE: Imperialism is synonymous to one-man rule like the the ancient Roman Imperial has the power by the virtue of the Roman Senate approval that gave rise to "Imperial Cult," a political-religious form of tyranny that end up to the persecution of Christian during the time of John the Beloved).

During election, are we placing king or public servants? Sad that most of the Filipinos thought as if they are the kings.
Preamble states that
"We, the sovereign Filipino people, imploring the aid of Almighty God, in order to build a just and humane society, and establish a Government that shall embody our ideals and aspirations, promote the common good, conserve and develop our patrimony, and secure to ourselves and our posterity, the blessings of independence and democracy under the rule of law and a regime of truth, justice, freedom, love, equality, and peace, do ordain and promulgate this Constitution."
Justice Equity
Truth God Freedom
Love Peace
Democracy - Sovereign Filipino people - Rule of law
(under these are the co-independent 3 Branches of the Government which are as follows)
Executive Legislative Judiciary
Co-equal Co-equal Co-equal
We as Christians knows what is the WILL of God to the Philippines. We are the most accountable. Like Esau, we can give our birthright over the bowl of soup.
How Senators can change our lives?
( Peps remembered At Philippine Center for Economic Development from 1992-1994, Ghana prophet named Abu Baku, "You must influence your legislators – Senator or Congress otherwise whatever laws they would pass, evil or good will affect your country even the Church).
How Government works?
Judicial. Interpreter of the law i.e. courts and Supreme Court (SC)

Legislative. Law-making body

Executive. Implementer of the law
They are co-equal and for check and balancing, a very democratic form of government
The work of Senate:
Pass bills including annual budget

Where to fund the budget like poverty alleviation, housing,

acts as Commission on Appointments;

investigative body

impeachment trials

others
Basis to vote:
popularity

good track record

uphold the rule of law, RA 6713

others
Most Filipinos, know what is right and wrong however they cannot make a good pick and they would choose what the mayor has endorsed to them. We must encourage them to vote who is the right candidates.
How much people spend for senators:
P295,000 per month

P3-5 M a month for his staff and office

20% of budget goes to corruption. For 2019 budget ofP3.7 Trillion, around P750 M will be corrupted ( that can sustain 1,000 hospitals, 25,000 municipal health centres; can build 700 plus classrooms; can employ more teachers and health workers and social workers).
3 Basis
Maka Dios

Maka tao

Maka Bayan
God Standards for Leader
Exodus 18:21
Able men from all the people

Who fear God

Trustworthy

Hate a bribe
Goal: Righteousness
Proverbs 14:34, "Righteousness exalteth a nation: but sin is a reproach to any people. "
Matthew 6:33, "But seek ye first the kingdom of God, and his righteousness; and all these things shall be added unto you."
Gabay Sa Kandidatong Senador
The following are research made the past 3 months for some other senatorial bets (Profiling all the senatorial bets requires time and efforts so only few were made for their profiles).
Ed De Guzman
Pastor, God is Exalted Church
2:05 PM
Thank you classmate. He is my classmate we both came from the same process with Pastor June. We need to undergo… which I call and entitle this teaching a " Jubilee Bypass…"
This is my 100 Day after the heart- bypass operation. God wants us to hit the mark of God's purpose. We are doing this for the past 30 years, those children before are now professionals to whom we have to pass the baton.
Tanya asked me before the heart-operation, "What the Lord has told you Dad?" I said, "He said nothing." When I woke up being alive, I said, "Buhay pa ako." It is nice to be alive and make you enjoy your privileges and make you enjoy your life, your food, and enjoy your children.

There is transition of life and death and you will tend forget everything and what only matter on that time is "Lord what is your purpose for me?" We will never stop our assignment. Our assignment continues. It will never die.
There was no memory for the past 7 hours in that operating room. I said "Lord are you satisfied with what I have done on this earth?"
Let us watch this video……
Give glory to the Lord!
We are beset with problems and we have only one year and I a excited of what God will do…
Isaiah 49:1-2, "Listen, O isles, unto me; and hearken, ye people, from far; The LORD hath called me from the womb; from the bowels of my mother hath he made mention of my name. 2  And he hath made my mouth like a sharp sword; in the shadow of his hand hath he hid me, and made me a polished shaft; in his quiver hath he hid me." This nation is being hidden by God for 39 years and God will about to bring us for our Jubilee. Hitting the mark for the final purpose of the Philippines matters.
Luke 2:42-45, "And when he was twelve years old, they went up to Jerusalem after the custom of the feast. 43 And when they had fulfilled the days, as they returned, the child Jesus tarried behind in Jerusalem; and Joseph and his mother knew not of it. 44 But they, supposing him to have been in the company, went a day's journey; and they sought him among their kinsfolk and acquaintance. 45  And when they found him not, they turned back again to Jerusalem, seeking him. " Jesus even as a child knew exactly what the divine will of the Lord for His own life.
Jesus then is like a hidden arrow and the true archer is the Father. We are being launch as an arrow to hit the mark. Are you ready? Forget about China. God will deal with China. Forget about the wicked in the government and God will deal with the wicked?
Only 12 years old.
As a child subjects to the parents, Jesus parents said, "We have been looking for you. " In Luke 2:29, Jesus answered back,"Why are you looking for me? Don't you know that I should be in my Father's business." God hid (Jesus) him in 18 years. We too are waiting for the fullness of time. Until at age 30 (Jesus) he was ordained for the ministry.
An arrow must that shoot to the mark.
Must have a feather for stability and steadiness.
Must have straight and polished shaft for the very dynamic flow

Dead straight and polish to hit the mark
Jesus was dead straight highly polished that cannot be diverted from his purpose.
What is the final purpose in our lives?. Would God allow us to be polished. We have gone though adversity. But we must keep pour straight course. Isaiah 49:2, "And he hath made my mouth like a sharp sword; in the shadow of his hand hath he hid me, and made me a polished shaft; in his quiver hath he hid me.".
Your arrows must sharp in the heart. Psalm 45:5, "Thine arrows are sharp in the heart of the king's enemies; whereby the people fall under thee. "
This generation
There is no doubt that our generation is destined to be one of the most important in all history. Most of the Biblical prophetic words have their major fulfilment in this generation. Psalm 102:18, "
This shall be written for the generation to come: and the people which shall be created shall praise the LORD. " Luke 21:32, "Verily I say unto you, This generation shall not pass away, till all be fulfilled. " Psalm 24:6, "This is the generation of them that seek him, that seek thy face, O Jacob. Selah. " You were chosen to come to this earth and be alive in this generation.
Esther 4:14 says, "and who knoweth whether thou art come to the kingdom for such a time as this? " – So you were born for such a time like this not from the time of Magellan nor time of Rizal. You were born in a time of this, an internet time.
Filipinas are being paid by Chinese for experiment. China is now experimenting monkey with the mind of humans?
We are living in this time when the spirituality of this nation will arise which we have never seen before. This is the kairos of great darkness but also the kairos of great light. We are coming to the fullness of the kingdom rule of God in the Philippines.
We must be the head of our time and the devil is hindering us. If this is not yet my time and I will wake up. Sadhu said prior to my heart operation, "Go ahead for the operation. I saw an angel operating your heart."
At the Philippine Heart Center they said I need an immediate operation. The problem was there was no operating table. I said "If I could find operating table, will they operate me?" Yes they said.
God has a surprise though. 1 Cor. 2:9, "But as it is written, Eye hath not seen, nor ear heard, neither have entered into the heart of man, the things which God hath prepared for them that love him. " God is about too release a delaying which we have never seen before.
We were chosen to come to this earth and be alive in this generation. Esther 4:14, "and who knoweth whether thou art come to the kingdom for such a time as this?. " And why for such a time as this?

God is pouring with great grace in the Philippines. 2 Tim. 1:8-9, "Be not thou therefore ashamed of the testimony of our Lord, nor of me his prisoner: but be thou partaker of the afflictions of the gospel according to the power of God; 9  Who hath saved us, and called us with an holy calling, not according to our works, but according to his own purpose and grace, which was given us in Christ Jesus before the world began,"
There has never been a time like this. The Lord is about to awaken the Philippines and her purpose in the earth. That is why Satan is doing double time efforts in everything to intimidate and discourage us, our warriors and our structures.
Love between structures and people? I don't mind about the Chinese structures, one tsunami lang yan. If you are being intimidated with politicians or by the president you cannot pray. Pag pikon, talo.

We Filipinos are about to serve our purpose in our generations. Acts 13:36, "For David, after he had served his own generation by the will of God, fell on sleep, and was laid unto his fathers, and saw corruption: ". If you have done your purpose, then you must be ready to die.
We are like arrows hidden in the quiver. Psalm 127:3-5, "Lo, children are an heritage of the LORD: and the fruit of the womb is his reward. 4  As arrows are in the hand of a mighty man; so are children of the youth. 5  Happy is the man that hath his quiver full of them: they shall not be ashamed, but they shall speak with the enemies in the gate. "
It happened to me and it happened to IFP. Di tayo mauubusan. Marami tayong bala. That is why China is afraid of the Philippines because we have plenty of things to give.
2014 to 2018
Global Corruption Index

Transparency International

From zero to 100. Zero highly corrupt and 100 very clean

Now we rank least corrupt with the score 85
When Bishop Dan ranked our Jubilee of Jubilees in 2010, we ranked 134 as most corrupt. In 2011, we improved, we slid down….we are No. 85. Our Jubilee then is affecting this nation today. There is happening that we cannot see. From 2014-2017 corruption increasing. And by 2018, when we are dealing with" leviathan spirit" of this nation,
Good News
Philippines has the fastest growing economy in the world

Average is No. 2 in the world

No. 1 for world investment

According to Oxford Economics: Philippines ranks Number 2 and India No. 1 that will dominate the global Economy and also according to US State Department:
Contend:
We must remember this gigantic crocodile, we dealt with this last year. We cut the head, the tail. Patay na sana eh.You were chosen to come to this earth. Esther 4:18
In Road Construction it is called Bypass Highway. A road or highway is constructed to above a built-up area, town or village. To let it through the traffic flow without interference from the local traffic in order to reduce congestion
Road Closed…
When you have heart blocked, have a bypass.
Heart figure….. bypass, bypass, blocked or narrowing. To have the heart from a dying, a bypass operation must be done. Blood vessel from another part of the body from legs or arms are used to divert blood around blockages in the arteries of the heart. God does not want this nation to have an heart attack.
KJV "passed by" from our brethren the children of Esau. Deut. 2:8, "And when we passed by from our brethren the children of Esau, which dwelt in Seir, through the way of the plain from Elath, and from Eziongaber, we turned and passed by the way of the wilderness of Moab. "
The words "passed by" form the Hebrew "abar" (awbar) means " to passover or by or through, cross over, overflow, go over, to pass beyond or through."
This is the year of "Jubilee by-pass." God wants us to be like Esther to hit our final purpose.

In Esther 5:5-14, there was a evil plan of Haman to get rid of Mordecai. The devil wants to hang this nation but he can't do it because they was bypass made. The bypass was made when Queen Esther said, "If I perish, I perish." It is like saying "Putting my life on the line." Only to find out that Haman was hanged at the end. Where are we in the plan of this nation?
This nation is the apple of God's eye. Everywhere in the West Philippine Sea has 203 billion barrels of oil…. Today, I want you to prepare the arrows against the enemy…..
Nex Vera
Role of Media
3:08 PM
Media is our we give you picture of what is happening in the country,
Media as informant
We give public general information

We do thorough and impartial job when informing the public on all government activities and political events

Remain neutral and objective in order to properly educate the market.

Media coverage should be unbiased rather that favouring one candidate or point of view.
Media as a watchdog:
In this role, the media function is to protect the public from incompetent or corrupt public official by exposing their illegal or unethical practices to the public

As watchdog, the media acts as the public's protector or guardian. The public is then able to make informative decisions regarding the ouster of officials …

Media provided information on the successes and failures…

Media is a platform and a public voice.

We shape the political information.
Media as a platform and public voice
We shape our opinions the information provided by the platform.

Media shape how we interpret and observe political information such as election coverage and political event.

This is the most significant role of media in a democracy because
Call to action
Pray for the people in the mass media to stay TRUE to their role

The voters and even family of the voter should have an educate role by researching, and discerning well in all media platforms whether in TV, radio, newspaper and right now through the advent use of technology and social media.

Beware of fake news.

If you feel that this news if fake, and sense doubt, research and double research what you received from any platform. Mass media especially the internet

Collective vote by educated voters through the proper use of media is one significant tool for smart election.
Dan Balais
Let us pray for Channel 2 and 7. Let us bind the spirit of leviathan. The Congress is now investigating the franchising of Channel 2 and 7. Pray it won't serve one's corrupt practices and selfish ambitions. Whatever we ratified here on earth will be ratified n heaven. It is done.
BRUCE ALLEN
3:40 pm
Isaiah 60 is beginning to come to pass. "Arise , shine for the light has come…."
Isaiah 60:7, "All the flocks of Kedar shall be gathered together unto thee, the rams of Nebaioth shall minister unto thee: they shall come up with acceptance on mine altar, and I will glorify the house of my glory." Have you seen a sacrifice other than Jesus?
In order for the people to put on the armour of life, we should be the people to be willing to be sacrificed. Our purpose must be an offering to the altar of God.

Over a year ago, I had encounter with God. I was standing on the realm of the Spirit and there was an altar on my left and they were figures dressed not only on garments of light but also flames. I am more focused on the alta and my daily devotional life is being interacted with such an altar. Every thing that pertains to my life I have surrendered to the altar of God.
All the desires I have for intimacy I have given it to God including my successes and failures. Then there was a dross, that Hewanted to be removed, ….and the fire of God fell and consumed the dross and taken away what is displeasing from God and it was evaporized. Whatever I put on the altar, all the dross are taken down… I stood there and consumed and pondered what I saw, I came to the altar, and the fire fell one more time. I never experienced pain and ecstasy but I feel the fire of God that purified. He said, "This is the coming forth of my burning ones."
All the characteristics of God is framed under the character of His name. But light has to have a source and our God is a consuming fire. What we shared with you two years ago had something to do that I had pondered for a long time. Is it Your people in the Philippine is truly practicing what you have given them that hour.
He said, "I have given the leaders the inspiration.. the people are laxed of what I appropriated to them." Again I tell you this is the time to pick up the mantle of God. Today the Lord will allow the presence of His holy fire….the Lord has decreed, "Put on the armour of light." WE cannot be lukewarm and lay aside and say "that is good."
Romans 13:11-13, "And that, knowing the time, that now it is high time to awake out of sleep: for now is our salvation nearer than when we believed. 12  The night is far spent, the day is at hand: let us therefore cast off the works of darkness, and let us put on the armour of light. 13 Let us walk honestly, as in the day; not in rioting and drunkenness, not in chambering and wantonness, not in strife and envying. " " In Hebrew culture sleep speaks moral callousness and laxity.
Ephesians 2:2, "Wherein in time past ye walked according to the course of this world, according to the prince of the power of the air, the spirit that now worketh in the children of disobedience."
Our life should reflect the very presence of God.
Romans 13:14, "But put ye on the Lord Jesus Christ, and make not provision for the flesh, to fulfil the lusts thereof. "
Love brings correction and truth. Christ must be in us before He can be with us. How much of Jesus is in you with your outward life? Study the life of Gideon and those who walked in conflicts and see how they have won their victory. If you need light from a lantern, the light lies in the wick from the inside, till the light is seen by others.,
In 2020 the church will have a perfect sight. We have to be cleansed so we could stand in His Presence.
Psalm 104:1-2, "Bless the LORD, O my soul. O LORD my God, thou art very great; thou art clothed with honour and majesty. Who coverest thyself with light as with a garment: who stretchest out the heavens like a curtain."
This year and the next year is the release of God's fulfilment of your life. Life is an important concept in the Old Testament.

Isaiah 46:10, "Declaring the end from the beginning, and from ancient times the things that are not yet done, saying, My counsel shall stand, and I will do all my pleasure."
Genesis 1:1-2, "In the beginning God created the heaven and the earth.  And the earth was without form, and void; and darkness was upon the face of the deep. And the Spirit of God moved upon the face of the waters.  God is bringing order in the world, in the Church, "Let there be light,"(Gen. 1:3). And God is turning darkness into light.
Isaiah 9:2, "The people that walked in darkness have seen a great light: they that dwell in the land of the shadow of death, upon them hath the light shined. "
Isaiah 6:2; Above it stood the seraphims: each one had six wings; with twain he covered his face, and with twain he covered his feet, and with twain he did fly. ":
Psalm 56:13," For thou hast delivered my soul from death: wilt not thou deliver my feet from falling, that I may walk before God in the light of the living? "
Psalm 43:3, "O send out thy light and thy truth: let them lead me; let them bring me unto thy holy hill, and to thy tabernacles. "
Psalm 119:105, "Thy word is a lamp unto my feet, and a light unto my path. "
Psalm 97:11, "Light is sown for the righteous, and gladness for the upright in heart. "
Isaiah 2:5, "O house of Jacob, come ye, and let us walk in the light of the LORD. "
Matthew 5:13-14, "Ye are the salt of the earth: but if the salt have lost his savour, wherewith shall it be salted? it is thenceforth good for nothing, but to be cast out, and to be trodden under foot of men. Ye are the light of the world. A city that is set on an hill cannot be hid. " When we lost our souls, we lost our ways.

Francis Stevens
5:00 AM
Jeremiah 31:7, "For thus saith the LORD; Sing with gladness for Jacob, and shout among the chief of the nations: publish ye, praise ye, and say, O LORD, save thy people, the remnant of Israel."
The weapon of warfare is the joy of the Lord which is my strength.
Some of the pastors could not on the laughing mood because they believe they are always in the warfare-mood. God is bringing us to the basic of faith. Do you have a faith that follows a God that never fails. Show God your faith and God will open the window of heaven dn your dfamily will not suffer. Our government is from heaven and not from this world
Jeremiah 31:8, " I will bring them from the north country and father them from the coats of the earth, and with them the blind and the lame, the woman with child and that travaileth with child together a great company shall return thither."
They are not looking for you but they are looking for Jesus. A friend of mine in Malaysia, a very old man, who was smelly away, and he came forward, and come and went forward. Everybody knew it was Jesus who came that day.
Every pastor represented in this church will grow in the kingdom. According to your faith it will be given it to you.
Jeremiah 31:9, "They shall come with weeping, and with supplications will I lead them: I will cause them to walk by the rivers of waters in a straight way, wherein they shall not stumble: for I am a father to Israel, and Ephraim is my firstborn. "
A lady came to me in a prayer a year ago, she said, "Fast for 40 days and if possible and pray for me everyday." I asked her why would she not wanted fast and she said: "Always have stomach pain and I can't stop eating." I said back to her, "The path of the righteous shall be shown to me the Lord said to me. Don't ask for mine, ask for yours. The Lord said this is the time of accountability especially to the servants of God."
Jeremiahs 31:10, "Hear the word of the Lord, O nations and declare it in the isles afar off, and say He who scattered Israel will gather him and keep him as a shepherd does to his flock."
"What is your God will over me O God?" It is very important statement last night when Sadhu said, Sometimes we curse our own leadership, we talk bad about our pastors, and we compare our pastors. …. Today sons and daughters will bless their spiritual fathers and will bless their spiritual mothers. God is looking for these kinds of people.


When you walk with God as bond-slaves… Some of your will receive like a bangles that Bible put on their bodies. Those who are bond-slaves with God, even your family must be approved by heaven, even your location must be approved by heavens.
Jeremiah 31:11, "For the LORD hath redeemed Jacob, and ransomed him from the hand of him that was stronger than he." God said "I am about to redeemed you." Perhaps it is about jobs and you are about to compromise.
This is this pastor who wanted to start a Christian School in Africa. But the officer turned him down many times. Until the last time when he came to him and this officer from the ministry of Education said, "Over my dead body." That night he had an attack. And when he came back to the Ministry of Education, the one who replaced the one who died with heart attack readily given him the permit to operate a Christian School.

I was praying in the morning at 3AM and said the Lord said, "Come, you are praying for this for 30 years." Then I entered to heavens, different places and levels…AND God said, "My people will never lose I will fight for them…"
I cried and cried and cried for the love and mercy that the Father has for His children. You don't even know how many angels have been assigned to you and you are too busy for meeting and busy for organizing. Why can't you even pray? Can't we operate in the Spirit? God is looking for people that would say," Our house shall be called House of Prayer."
Never a problem will ever come if your pray. Evangelist Bonke once said, "If the devil touches you he will be burned."

Jeremiah 31:12, "Therefore they shall come and sing in the height of Zion, and shall flow together to the goodness of the LORD, for wheat, and for wine, and for oil, and for the young of the flock and of the herd: and their soul shall be as a watered garden; and they shall not sorrow any more at all. " I am not teaching you. I am prophesying to you and to your country especially to the pastors who are here today.
Jesus gave a word to the church that have fallen. "Remember therefore from whence thou art fallen, and repent, and do the first works; or else I will come unto thee quickly, and will remove thy candlestick out of his place, except thou repent. ," (Rev. 2:5)
Some of you have lost your anointing, because you did not obey what God have showed to you…But God will restore that anointing and God is looking for you and He would say that you, "You are a well-watered garden and you will lack not anything."
Singapore is the most expensive city in the whole world and they would say, "How can you make it?" I said to them, "If you can make it to the kingdom of heaven then you can live anywhere in the world." Speak to what God is speaking to you and what not what the devil is telling.
You shall be well watered garden and God will be blessing you to your home. Declare it to the husband and wife. Declare it to your Church.
I have the privilege on February when I was brought in heaven and shown me a radiating tree. What is this tree? I said. God said, "My people always struggle with two opinions and decide what is to follow. If you are a people of God, there is only one Word to follow. The tree of life will touch them and they will have sustenance of what God tells them."
Many of you will receive a supernatural shoes to run for what God wants you to run. Do not let the world overtakes you. Do not let the world shocks you but shocks the world.
This whole chapter brings a lot of anointing. Jeremiah 31:13, "Then shall the virgin rejoice in the dance, both young men and old together: for I will turn their mourning into joy, and will comfort them, and make them rejoice from their sorrow. "
Fight against Jezebel, because it is a woman's anointing. Look at the anointing of Zechariah, and two woman is in the basket, the anointing of the woman in the last days. Many young men and women are gathered here. If you can just offer yourselves…. Come now, stand up and let us pray…..
Let me call the women here….it is reserved for the women and it is not given to men. When the women pray, your house shall be blessed, when the woman's pray then Jesus will come to you…. There was a woman and her name is Mary. There is an anointing to women, there is an anointing to mothers, open the window… Let the fire of purifying Spirit, let the Redeemer's Fire…..
Touch them in Jesus Name. Touch them in Jesus name. many of you shall receive the gift to prophesy. There will be group of people, with fire coming from your hands….in the name of Jesus… the angels are gathered in this place and releasing the fire on you. Father, touch them today, give them the voice of authority, the voice of authority.
There will be just one Jezebel but today there will be many anointed daughters.
Who are ready to wear new shoes from heaven. Many pastors shall receive new shoes …..let there be fire of Pentecost, the heart of the lion and to stand before the enemy. Release the blessing of the new shoes.
Bishop Dan, the Lord is saying there is commissioning for you for the youth. There is an end time army. You are saying that you don't have the resources. But God has given you a big land. Pray that mountains shall be removed.
I see the sword besides you…. Like a knight of man, sword is being placed on your shoulders, and it is touching your forehead. Shoulder is responsibility." My son I am giving your responsibility for raise an end time army. " And God has anointed your forehead to raise this army.

The Lord is saying this army that you will lay hands and raise up for your anointing they will do greater than what you have done in your life and they will be the Elisha's.
You said to Jesus, "My time is up, I am ready to go." God said, "Your time is not yet up, you have to bring up an army. An army to the entire Philippines and they will release the power of God. And I will bring you now to heaven and see my power and you have not done yet."

I see golden, glittering shoes in your feet, more money, greater land, national youth gathering, more administrations….
The Lord Jesus is showing me the new anointing he will touch the kids on the streets, he will touch the drug addicts…..the government will be paying attention, there will be link to the social action, this will be redemptive, they shall be set free…..
The Lord Jesus brought me into a slum area, His bringing me in this area, house made of metal, there is this girl and she was in drugs then she received the touch of God, then she went to her father then to her mother and the mother said, Jesus, Jesus…"
There is one island, a witchcraft island, Jesus said to them "What I will train will be no match…."
Now the Lord said, "Declare before the ends of Conference tomorrow and there will be visitation of the prophet Joel and he will release the anointing."
My dear family in Christ, can we just for one minutes give your loudest praise to the Lord Jesus.
Sadhu Selvaraj
7:30 PM
Whenever I go to the Philippines, for sure I know that God love the Philippines too much. Why not three much? Three much we would tell that in the future. Four much. Five much. Wait, wait listen. I know that too well.
But I also know that God loves the Filipino youth too much love. Three much and four much and five much. The youth of the Philippines has a special plan in the heart of God. Amen. Who are you? Avengers. Filipino Avengers!
Last night when you are eating when my brother said, "Be careful, Avenger belongs to the Marvel." So I told to Wyden King we make a trademark named, Filipino Avengers! Amen
Everybody has a part in the last days of the plan of God. 50 years and above they have a very special calling. Why?From the time I came, I saw many chariots, golden chariots, now am speaking I know why, because those who are 50 are too slow to walk and they need a chariots. But to the young, they have wings. Amen. Amen.
Last night, we have a wonderful night of God to the youth to the Philippines. God wants me to raise up the youth in the Philippines and we are partnering with IFP for the youth meetings for the past years. So last night, I said to Pastor Dan "Can we have Youth Conference." WE will have Youth Prayer Meeting before the year ends. I want you to get in touch with IFP regarding on this meeting. Will you all come? Yes? NO!
If you look at the theme, Put on the Armour of Light. These words seem different from Ephesians 6 saying Put on the armour of God.
Contradiction in Romans 13:12, "The night is far spent, the day is at hand: let us therefore cast off the works of darkness, and let us put on the armour of light. "

Ephesians 6:13-17, "Wherefore take unto you the whole armour of God, that ye may be able to withstand in the evil day, and having done all, to stand. 14 Stand therefore, having your loins girt about with truth, and having on the breastplate of righteousness; 15 And your feet shod with the preparation of the gospel of peace; 16 Above all, taking the shield of faith, wherewith ye shall be able to quench all the fiery darts of the wicked. 17 And take the helmet of salvation, and the sword of the Spirit, which is the word of God." 
The Old fashion bible is the most reliable. There is no power problem.
In Ephesians 6:13 -17 in order to stand against the crafty ways of the devil, we need the supernatural armament of God. Without these covering, we cannot stand against the evil in the last days. It will become so terrible. Never before in the history of the world. And the amount of evil is becoming more tasteful today. It is no longer a shameful to practice to do things today. Politicians, and other parts of society and they embrace in society as they hold on to teddy bear. Example: homosexuality, so grievous in the eyes of God that two cities Sodom and Gomorrah was burned down. From the word Sodom where called the Sodomites where homosexuality came from. Sodom is closely associated with homosexuality. Romans 1 tells us clearly man should not lie with the man and woman should not lie down with a woman. But the Scriptures said evil will persists in the hearts and minds in men and they continue to their lives and God will turn them to reprobate minds and they will just live in that sins. So they can be union with Christ and be union and yet to live in sins. It becomes a fashionable statement and you say "He is gay" and it is so normal and now it is wrong to speak against them. Many pastors who are speaking against them are being ostracized.
One popular football player is taken out from his contract because from his FB he said that homosexuality is a sin. He was not bothered by that, "Thy will be done!" he said. In Revelation, "He that practice homosexuality will not enter the kingdom of God." No such thing as gay pastor. No one is like that but you are born a woman or born a man.
Even the dog, have you seen a gay dog? Nowhere in the animal kingdom, you will find gay-dog, or gay-monkey. They have all common sense. They know it very well. Why the animal kingdom is so bright? What happened to our common sense and brain now ? This is the reprobate mind (Romans 1:28)
Jesus said, "In the last day, it is like the Day of Lot, " There is the rising of gay community ii the Day of Lot and it is a sign that we are living in the last days.
Live a very godly life. In the US, in the 70"s God said, "On the day that you will see homosexuals are coming from their closets, then I am living in these days." God told me that.
When 2020 presidential election comes, one nominee from Democratic Party is a openly professed gay man. He is a mayor and he will run as a president. When you pray for your nation, pray also for America.
If a wrong man comes to an office, it is sign that grace is parting. We must put on this armour of God- look at verse 10, Ephesians 6:10: "Be strong in the Lord. Finally brethren, be strong in the Lord and in the power of His might." Why "Be strong in the Lord and be in the power of His might?"
Luke 4:1, 14, Then Jesus filled with the Spirit when He returned from the Jordan River and He was led by the Spirit into the wilderness…. Then Jesus returned in the power of the Spirit unto Galilie …until He went out through all the surrounding region."
After the fasting, he came out from the power of the Spirit. Something happened to him after the 40 day fast.
He was filled with the Spirit I.e. "Be strong in the Lord" to stand against the enemy. It is defensive.

He came in the power of the Spirit. That is the offensive.
Every army in the world even in the Philippines has the following:
Power to defend the Philippines

Power to offend the enemy
To be strong in the Lord is to be empowered with prayer. If you want to survive in these last days, your prayer life must be changed and you shall become strong is the degree you are with the Lord.

Zechariah 4:3, the prophet saw " two olives trees and two lamp-stands." The two olives trees speak about the 2 witnesses to do their ministry in the land of Israel. The change in Israel is a sign of the coming of end times. When US moved their embassy from Tel Aviv to Jerusalem is a sign and the kicked off just started. This is very, very important sign when President Trump was elected as president and he was called by God to such a purpose in the like Cyrus.

Cyrus built the walls in Jerusalem. Second, he build the temple in Jerusalem. When the American embassy moved at Jerusalem, it is to build the 3rd Temple in Jerusalem. When that is happening then we know that the knocking at the DOOR has come, then also the Coming of Jesus.
To be strong in the Lord is to be empowered with prayer.

The power of might is the outpouring of the 7 Spirits of the Lord and the 7 anointing from the Lamb mentioned in Isaiah 11:2, "And the spirit of the LORD shall rest upon him, the spirit of wisdom and understanding, the spirit of counsel and might, the spirit of knowledge and of the fear of the LORD; " These are the last day Power. This will happen in the body of Christ. Briefly I said last night about the movies on super heroes which are being produced lately is to open us in the super natural power available.
Lately I had a visitation of angel and he spoke "the 7 horns of anointing" and what horn is being represented which speak of power from each horn.
When I look at this Marvel Heroes are example of what is about to come. This is to open our eyes of understanding. But we will do it much better than them. Who are you? You are the Filipino Avengers!
(picture1)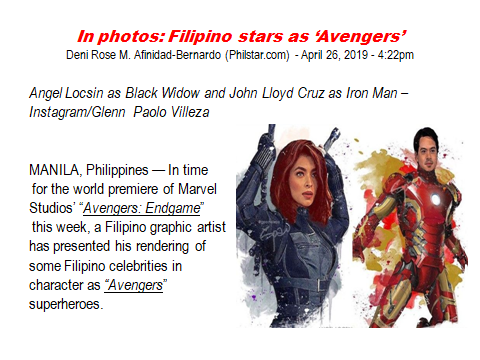 Look at the armour of God.
Ephesians 6:11, "Put on the whole armour of God, that ye may be able to stand against the wiles of the devil."
The whole armour is the armour of heavily armed-soldier from head to toe. It just be a total armour. Why we are being asked to put on the whole armour? Because every Christian is a soldier, young or old. When you become a believer you become a soldier in the army of God."
Four types of soldiers
Soldiers who knows nothing about armour.

Soldier who knows the armour but he does nothing

Those who chose want they want to wear their protection.
Among the company of the doctors, I am the only patient. Dr. Allen is a Dr. the title of Paul, "slave of God." There is another Greek word on the progression of the degree of servant-hood, "Paul slave of God" It says "I became a slave by choice." As a slave you have no choice. Which means you cannot pick and choose anymore. If God called you to become a single, how can you say NO?
To the married people, they would said, "Only I wish I can be single again." One pastor was married for many, many years for their convention. He said, "If you came to my life 30 years ago, I should have lived a life like you." Every one of us has a calling. You cannot pick and choose what you want. As a soldier, you surrendered your rights.
Wise soldiers. They put on the whole armour like Matthew 25: the wise virgins. Complete armour of God with 6 equipments:
Paul using a Roman soldier as parable to speak about spiritual truth. The belt used to attach the sword and shield and tie the other parts of armours in placed so nothing falls apart. This signifies the girdle of loins ( 2 Kings 4:29) which is the truth of your calling. Whatever God called you no one can take that away from you. They can kick you out but the anointing is inside of you.
For the past 5 years of my ministry, I walked through out Tibet, walking 25,000 feet sea level. I walked 30 kms from 8am to 6pm. Along that journey for 5 hours, we will never ever met a single Tibetian. Then we met one nomad and shared with him. Another 5 hours is another village. One village is one house or two houses. The land of Tibet is a dense place. I worked in the works of God in 20 years and never been overseas 1986-1991. I was contented.
Sometimes walking entire day without seeing a single soul. I never like this thousands audience. Am more into personal evangelism, one –on-one. God will send me great distances only to share just to one man. One time, an angel said "God wants you to go the palace today." I said, "I just went to the palace yesterday." He said " I do not know. I only give you the message of the Lord. "
So I went to the Palace in Tibet, ,a 30 storey high Palace that houses residences of Dalai Lama and Parliament containing 1,000 rooms. I went there then I prayed. A 60 year old monk passed by and the Spirit said, "Follow him." Then he walked from one room to another and he was giving this offering. After following him one hour, the Spirit said, "When he comes from that one room give him a bottle of jam" Then he read, "In the beginning was the word and the word was with God." Then he was crying. He grabbed my hands and he said, "Bless me. This is the light that I am looking for my entire life."
Long distant travelling with just one soul. That is the call that God gives you, your church must kick you, but the gift is without repentance. You do not need a pulpit. Mc Donalds, Do not go to Mc Donalds. Go to Jolibee. Am not getting royalty from Jolibee.
One door closes, another door opens. Amen. Amen.
Before the door can be opened, the door must be closed. If the door is closed, do not cry. Settle in your mind who you are and that God loves you and God did not forsake you and you are special in the eyes of God. Play your special role in your special destiny. Reinforce with the word of God no matter who gives you contrary word. Do not be swayed. Remember that gifts and calling of God is without repentance otherwise you will be ripped apart. You must be grounded in the Word of God. Heaven and earth pass away but the Word will never pass away. The gift of the Spirit is only given to us to minister on earth. When you are in heaven, you will not pull Elijah and you would say, " I will prophesy to you."
Breastplate of righteousness – is a hard protector. It is made of metal plates tied on a rope to protect the vital parts of human body. It protects your heart, your spirit, righteousness must be protected from the enemy attack. How Satan will attack you? He will attack you in your position to God. The devil said, "If you are the son of God? ". The attacks comes on your position, the position of who you are and your standing in Christ.
You must be protected from the lies and deception of the enemy. Do not listen to him. You know who you are and you must know your calling and never be swayed but you must be settled. I tell these to young people – prophetic word is good but when major decision you must hear directly from God and you will never be moved and you will remained hard-solid when temptation comes. Do not just rely on prophetic word, move to another nation like God called Abram, and he was saying, "Go to a place that I will show you.
" When the season came, then another season comes, then go. From Ur he was baking clay making idols if he did not followed God's voice. HE should have had remained Abram and not Abraham. Isaiah 52:12; 58:8, "and your righteousness shall go before you, the glory of the Lord is your read guard." In these last days, most common manifestation of Jesus Christ is the lion from the tribe of Judah. Many parts of the world they would see Jesus as lion from the tribe of Judah. If lion goes before who then who is behind you?
Years ago in Thailand, Bruce Allen ministering then when he got a word, when a certain need in the ministry then I saw Jesus taken the form of lion and walked on the stage and passed to Bruce Allen and then become 3 lions that spoke to the people at the same time. The Lord God is never limited to one dimension but all dimensions. He is present everywhere and he can be taken in tangible form of his manifestation. How is it possible? John 3:13 "And no man hath ascended up to heaven, but he that came down from heaven, even the Son of man which is in heaven. ." What is possible in the human realm is possible in the Spirit.
- shoes the preparation of peace.
Shoes is made of leather with stripes that goes up to the knee. It is designed as convenient and comfortable to walk to long distances up to 40 km a day. Underneath the shoes of the sandals, there are metal tags with different sizes, small and bigger, to give a stronger foothold, a stability to walk on different range. This touch gives friction, like football boot, some stripes, signifies to prepare the Gospel of the Kingdom to all people in all kinds of conditions in various circumstances.
When you walks on the water, do not make selfie. Do not laugh. It is not given for your personal use. That happened to Peter. When Peter took the selfie, he will be out of focus then he begun to sink under the water. Your eyes must always be on the Lord. Do not look for the results. When you opened your eyes while others are falling your anointing will depart.
In Tibet, for 3 years I was giving away tracts I never seen a single soul for winning Christ. I Was discouraged and asked the Lord. "Is this all what you want me to do in my life. Id like to see results whether what I am doing it is fruitful." Jesus said, "Results belongs to me and just do your work. But to encourage you, let me reveal to you what happened to one of your visit. " He reminded me about the monk and what I have given to him. "Do you know what happened? God said. NO I did say. " That night the Lord said the monk retired in his bedroom and he read the whole night and on the last page of the book he kneeled down and he accepted the Lord. That monk shared that gospel to another 200 monks in the monastery. If you come to my kingdom you will see these Tibetian monks."n Good or bad or ugly, be prepared to preach the gospel.
"Above all, taking the shield of faith, wherewith ye shall be able to quench all the fiery darts of the wicked." Ephesians 6:16.
In Roman army there are two types of shield. One is smaller rounded shield tied to belt of the soldier. Hanging unnecessarily. The other one is larger shield for one on one combat. It is long one. It not only used for armed combat but also used to cover their face and entire body from all attacks or from the flying arrows. The sword on one hand and shield from one hand he will throw it away against the enemy, not to be out of balance. Jesus used this shield of faith from God and uses the sword of the word of God to thrust to the devil. So you need both. The Roman soldiers, they anoint the shield with olive oil to become vulnerable from fire – it speaks of four shields:
No faith. Mark 4:40:

Little Faith. Matthew 8:26, 28?

Great faith. Matthew 15:28

Greater faith. Luke7:9
Our faith must be anointed and energized by the Spirit through PRAYER. The bible tells us that everybody must be baptized with Spirit. Acts 1:14,15 like those among the 120 believers who were baptized, mother Mary spoke in unknown spirit as well. Tell that to the Catholics.
In Ephesians 6:18 you can groan by faith in unknown tongues to quench the fiery darts of the enemy.. It says, "Praying always with all prayer and supplication in the Spirit, and watching thereunto with all perseverance and supplication for all saints; "
3 arrows
Normal arrow. Stuck with small pointed arrows

Normal looking arrow but led with flames.

Arrow whose stemmed cut from the center and they put a substance on it and when they shoot that, the fires goes to another directions. That is the fiery darts. Darts are 3 feet long that pierces through the armour. The fiery dart of Satan is suddenly thrown to our minds on fire. So you do not suddenly falls into sin, it first enter into your mind. Even skinny person will think "I am fat."
My staff is skinny and she would says "I am fat." I said, "Look at you? You are like Olive of Popeye?" But she would not believe that. She thought she was fat. She said, it was her friends that told her. This was happened to prophet Elijah who run away by the mere letter he received from Jezebel, a fiery intimidation. Do not under-estimate the power of Jezebel. Casting down all imaginations.
.
Ephesians 6:17, "And take the helmet of salvation," The insignia is the mark for our identification and our name. The devil said to Jesus, "If you are the Son of God? " He is whispering words in your mind, the crafty strategy of Satan to cast down something like doubts and others in our minds.
The sword of the Spirit (we will study tomorrow).
Stand up ..lift up your hands to the Lord Jesus…
Song……
I saw gigantic sword on the roof of this arena and I see his glorious face though I see it within the sword, the sword appears a gigantic, standing in the roof of the building right to the floor and tells me "Tell to the people to prepare their minds, hearts for the great and wonderful things that will give them cast away all works of darkness, put away fifth from your midst, put away foolish talking, foolish gossiping and murmurings, behold, the great treasures that God has kept for you… '
To persuade that the Lord is saying that the chariot, golden chariots that I saw this night, is in pure gold, even the tires are made of pure gold. Some of you here are chosen for special work for translation, similar with that of Elijah who was translated to another place. I see a young man in early 20's you had dreams of being transported from one place to another place. Your heart is being stirred and wondering and thinking what does this mean. Dear beloved son, you are one of them chosen to have wonderful gift without measure.
I see two children, girls below 10, these little girls have their have, when they were sleeping being caught away, they do not know what is happening to them but you sensed you have been in somewhere you do not know. You sensed also in this, that you are into the spiritual warfare. Little children, God has especially anointed you in such gift. These are some samples in this nation. This will become multiplication to experience this in this season.
Prepare yourself. Cleanse your feet. because wings will be attached to your feet to bring you to some places. Sanctify your hearts, guards your heart. Be without guile.
To all the pastors and leaders. The Lord desires that you will open your hearts and hearts to embrace the gifts of God in this last days and prepare the house of prayer in your churches.
Flood of golden river is about to enter in the churches of the Philippines. Beautiful golden river and flood your churches with the glory of God. Before that can be happened sanctify your church and pulpit, cleanse your church, cleanse your pulpit. Cleanse all that is in the house of God. Importantly leaders…cleanse your hearts, minds, lips, detach yourselves from the things of corruption. There will be false brother and leaders among you. For the sake of unity, do not attach yourselves to those in the knowledge of God. Detach yourselves and you will be crown with righteousness. Prepare yourselves for the wonderful things that God will do tomorrow.
…….