Call me Joy
Details

Category: Teachings & Articles
Published: Wednesday, 20 March 2019 01:16
Hits: 1926
Call me Joy
by Augusto A. Kho
March 17, 2019 (Sunday); 10:00 A.M.
Are you happy now? What or who makes you happy?
(picture1)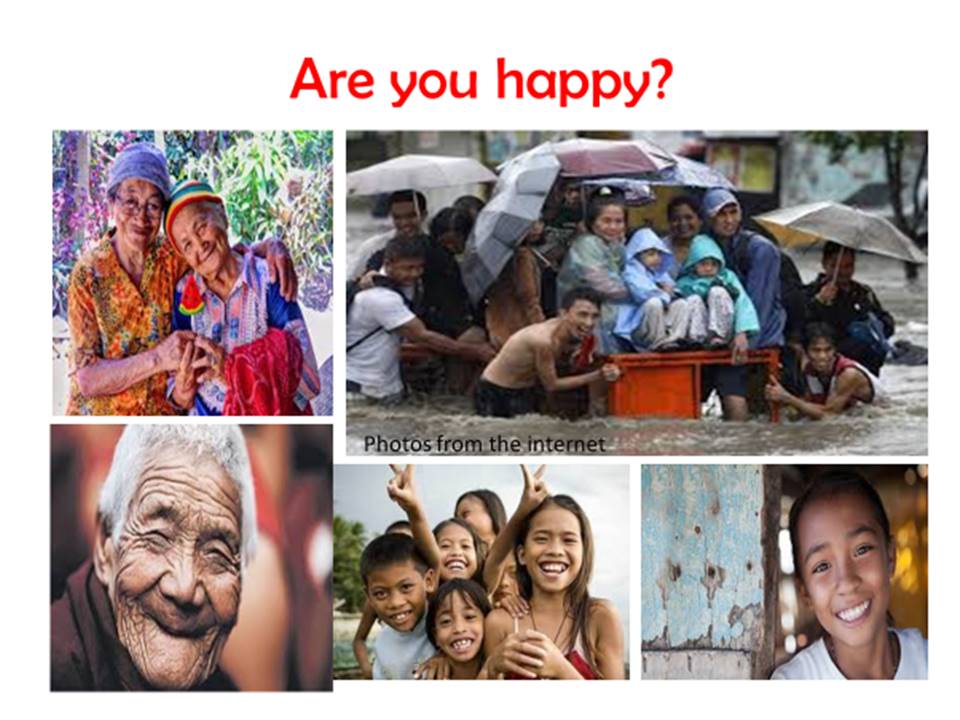 When Psalm 51:10-12 came into my thought, it made me teary -eyed and held back my tears. The lyrics is so compelling and penetrating down inside my soul on that Sunday worship, "Create in me a clean heart, O God; and renew a right spirit within me. Cast me not away from thy presence; and take not thy holy spirit from me.  Restore unto me the joy of thy salvation; and uphold me with thy free spirit."
And when the lyrics goes like "Cast me not away," I felt as if my soul is thrown into indescribable abyss of nothingness where only absolute darkness plunged me into its profound depth that even a speck of light is impregnably impossible to penetrate into.
When God cast you out from His Presence, there will be utter darkness – a total separation from the Lord Almighty is an everlasting torture.
Are you happy?
March 7, 2019 in a Thursday morning at 9:01 when I was in the middle of Conference with the academe in Heritage Hotel, Pasay City when suddenly, these words came to me in Tagalog, "Masaya ka pa bas a akin? (Are you still happy with me? Can you still feel the joy?)." And I started immersing myself on those words and I also asked myself whether I am still happy with Him and serving Him alone? Or my service to Him is simply mechanical devoid of intense feeling of delight?
Terribly wrong
When there is no longer joy in your heart, there must be something terribly wrong. Your love is waning.
You're no longer happy with the Lord. You're no longer happy with you wife or husband. You're no longer happy serving God. You're no longer happy in life.
When your wife is no longer excited seeing you home from the day' work and no longer serving your so well with her smile, there must be something terribly wrong. When the husband always comes late at night and no longer excited to see his wife and children back home, then there must be something wrong.
When you are no longer excited communing with God and fails every now and then to let His WORD whispers into your ears and soaking yourself more on the ministry work instead then there must be something terribly wrong.
There must be someone who can make you happy that inspires you in your life. Is it God, is it your husband, or is it your wife?
Call me Joy
On the next day, March 8, 2019, on a Friday, it was the last day of the Conference when at 9:01 A.M. words came to me saying, "Call me Joy."
Right there and then it reminds me that Paul exhorted the brethren in Philippi about "joy" in
Galatians 5:22.
Relationship with God breeds joy inside our hearts. Our relationship with our husband or wife as well to our children and fellow brethren in Christ must bring a sort of relief and innermost happiness. And you do not trade the joy that you feel that bring peace inside your soul.
It is like your first date or first love that you could hardly describe the feeling of excitement of finally dating the person that captivated your heart. Days before the set date, you are grossly immersed into it and you wanted to be there ahead of time. Your date might be coming a little bit late or even longer yet your anticipating moments and pleasurable feeling cannot simply be overcame by any internal or external forces. You have had waited as if moments are like years yet the waiting time seemed to be immaterial.
Fear
When you are so much in love, you fear life when that someone you hold dear will turn his back from you. When your life is focused to someone or something more than God, then you will develop many fears more than anything else like the fear of unknown, the fear of rejection, the fear of loss, to name a few. Meanwhile, the love of God knows no fear because it is very assuring and fulfilling. Apostle John said, "There is no fear in love" (1 John 4:18).
'
Only casual relationship develops fear in one's life. True love assures longevity and its promises are meant to be kept true.
When someone is into relationship yet with fear, then it may not be a genuine love. Love keeps you into balance. Out from the blue, I heard one of the Conference Speaker Dr. Herbert Hooge saying, "Whatever and whoever fears you is your god."
At around 1:35 PM, I suddenly turned my head on my right side because "I felt a strong yet gentle hand touching my right shoulder" in that Conference. The touch is like an assurance and a confirmation of God's love that He will stay with me forever.
Another woman
When God said, "Are you still happy with me" or like "Do you still have joy with me?" the Lord as if saying this, "If you love another that you are no longer happy with me then you are serving two masters at the same time."
When you have another woman or another man or another god (including material things) more than God, then you will love another and hate the other. Matthew 6:24 puts it this way;
"No man can serve two masters: for either he will hate the one, and love the other; or else he will hold to the one, and despise the other. Ye cannot serve God and mammon."
You cannot have another woman when you truly God the most. God's love to me and you is compellingly true. God's eyes are not naughty and He doesn't look to another.
That night
That night at 11:58 on a Friday, I went out from the condominium in Sucat, Paranaque when went to the fast food in ChowKing. Inside that fastfood, I saw a man stood up from his table and walked through the floor with his shirt on the back reads " "Fear is in the eye of the beholder (Do not let it be you)." And when I stood before the casher, her name tag reads, "Joy." What? Would that be a coincidence?
God is not a God of coincidence nor a God of chance. We often believe that, don't we? Because God is a God our plan and purpose.
Webster define coincidence like a situation in which events happen at the same time in a way that is not planned or expected.
We are wrong if we think that God is not a God of chance.
Ecclesiastes 9:11 in New Living Translation (NLT) says : "… And those who are educated don't always lead successful lives. It is all decided by chance, by being in the right place at the right time."
The word "chance" is also the same word in King James Version (KJV) which is derived from the Hebrew word, "pega" which means "occurences, happening, chance or impact." It derived from the Hebrew word "pega" i.e. "to encounter, make intercession, or touch of boundary or accident."
In other words, God is the God of the right time and right place no matter you call it "accidental."
So hearing from God about on a Thursday, "Masaya ka pa ba akin (Are you still happy with me)" then the next day which is Friday and hearing, "Call me Joy" and on the night of the same day in a fast food seeing a man with his shirt that reads, "Fear is in the eyes of the beholder (Do not let it be you) " including a cashier on that store with a name tag that reads "Joy" is not purely accidental or by chance by for a divine purpose.
God speaks in the most unexpected places and in the most unexpected time just like the way He spoke to Abraham in Genesis 12:1-3 or in the way He spoke and appeared Himself in the "burning bush" to Moses in Exodus 3:1-4. He can't be an accidental God.

Sadness
Sadness is the opposite of joy.
Sadness according to Webster is when you have been affected with or expressive of grief or unhappiness; downcast. It includes: calamity, ill-being, misery, sadness, unhappiness or wretchedness.
Biblically the following form of sadness can be found such as the following words:
Calamity. Deut. 32:35, "For the day of their calamity is a hand."

Misery. Rom. 3:16, "Destruction and misery are in their ways."

Sadness. 2 Sam. 19:2/ NLT, ".the joy of that day's victory was turned into deep sadness."

Unhappiness. Ecclesiastes 6:5/ NLT, "… Yet he would have had more peace than in growing up to be an unhappy man."

Wretchedness. Rom. 7:24, "O wretched man that I am! who shall deliver me from the body of this death?"
Oftenly we evade people than can make us sad and we prefer mingling around with people that brings us cheer of delight.
Is it seeing your man makes you sad or happy?
Curse
The opposite of joy is also a curse.
Deut. 28:15, "But it shall come to pass, if thou wilt not hearken unto the voice of the LORD thy God, to observe to do all his commandments and his statutes which I command thee this day; that all these curses shall come upon thee, and overtake thee."
Curses in Hebrew "qelalaw" i.e. vilification (libel, defame, malign, smear, slander)
Deut. 28:41, "Thou shalt beget sons and daughters, but thou shalt not enjoy them; for they shall go into captivity. "
Either-way is a choice. Deuteronomy 11:26, "Behold, I set before you this day a blessing and a curse."
Joy defined
Webster define joy as a feeling of great happiness; a source or cause of great happiness; something or someone that gives joy to someone; a state of felicity, happiness or bliss; a source or cause or delight.
Mourning into dancing
Being in the Lord should makes your life pleasurable turning the bad to good.
Psalm 30:11, "Thou hast turned for me my mourning into dancing: thou hast put off my sackcloth, and girded me with gladness."
"Gladness" Heb. "simchach" i.e. pleasure, happiness, joy, mirth, glee (religious or festival).
Set you free
Joy sets you free from pain and fear.
Psalm 51:10-12, "Create in me a clean heart, O God; and renew a right spirit within me. 11  Cast me not away from thy presence; and take not thy holy spirit from me. 12  Restore unto me the joy of thy salvation; and uphold me with thy free spirit. "
It strengthens
While fear drains your strength, joy strengthens you. Nehemiah 8:10, "for the joy of the LORD is your strength. "
Happiness
Being saved in Christ should bring you happiness no matter what situation you're into.
Habakkuk 3:18, "Yet I will rejoice in the LORD, I will joy in the God of my salvation. " Luke 1:24, "the babe leaped in my womb for joy." (gladness)"
Pinoy is laging happy, be in good times or in bad times.
(picture2)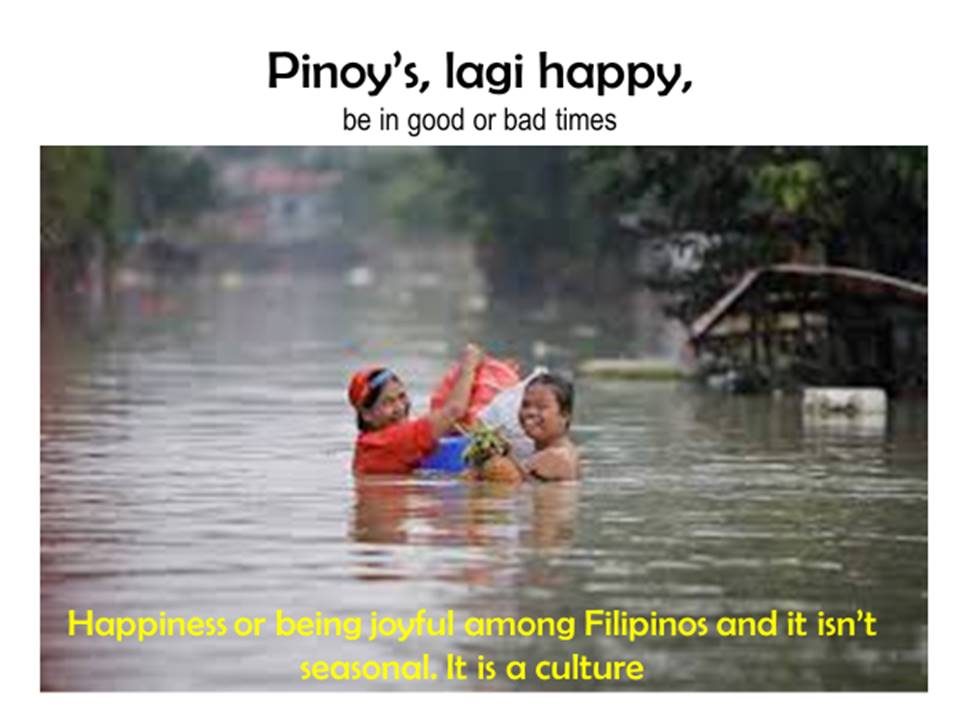 According to Gallup poll, Philippines ranks 3rd place among happiest countries the whole world.
By Interaksyon Jan 3, 2018
(picture3)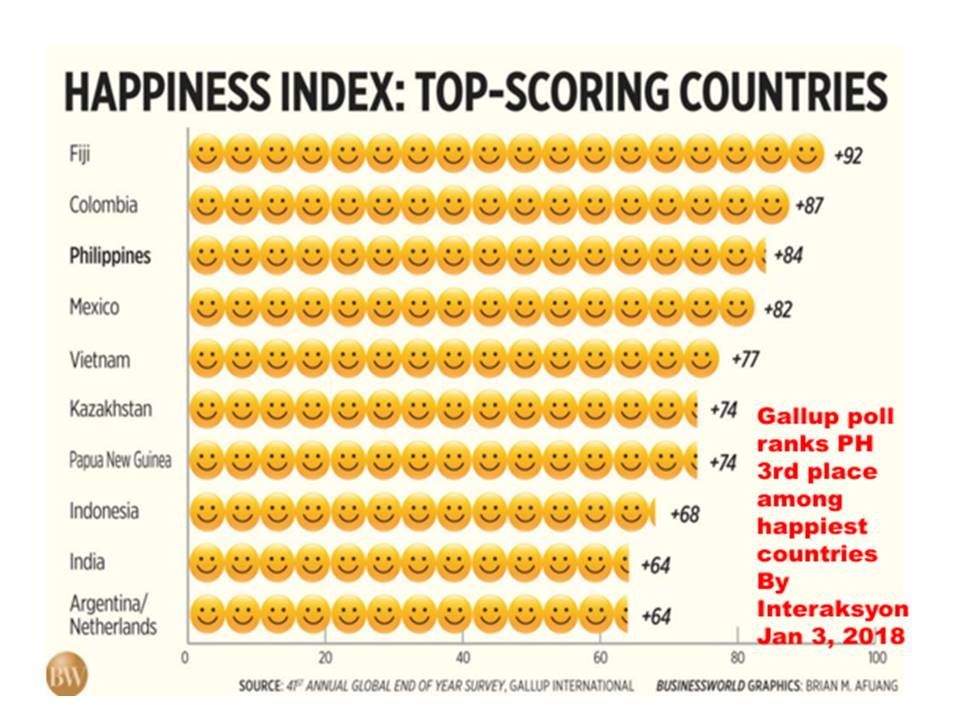 Last March 9, at 8:00 A.M. my Daily Devotion reads: Zechariah 1:3/ NLT, "Therefore, say to the people, 'This is what the lord of Heaven's Armies says: Return to me, and I will return to you, says the lord of Heaven's Armies."
Ransomed
Ransomed of the Lord will return Heb "padah" i.e. the redeemed, rescued
Fruit is a sign
Joy isn't seasonal, it's a Fruit of God. One's joy is not on the basis of situation but a condition of the heart. It is proof of God in you. It is Intrinsic. It is from with regarding of what the conditions of the outside self
On March 7 at 8:50 AM, my Daily Devotion reads from the Book of Romans 14:17, that says,
"For the kingdom of God is not meat and drink; but righteousness, and peace, and joy in the Holy Ghost. "
Joy in Greek "Chara" (khar-ah) means gladness, cause of joy, cheerfulness, delight, cheer, well-off , God-speed
In the absence of righteousness, peace and joy, something must be terribly wrong. These three (3) must always be present otherwise there is no presence of God. Even in the most deserted place like Sinai, barren and dry yet God is there.
(picture4)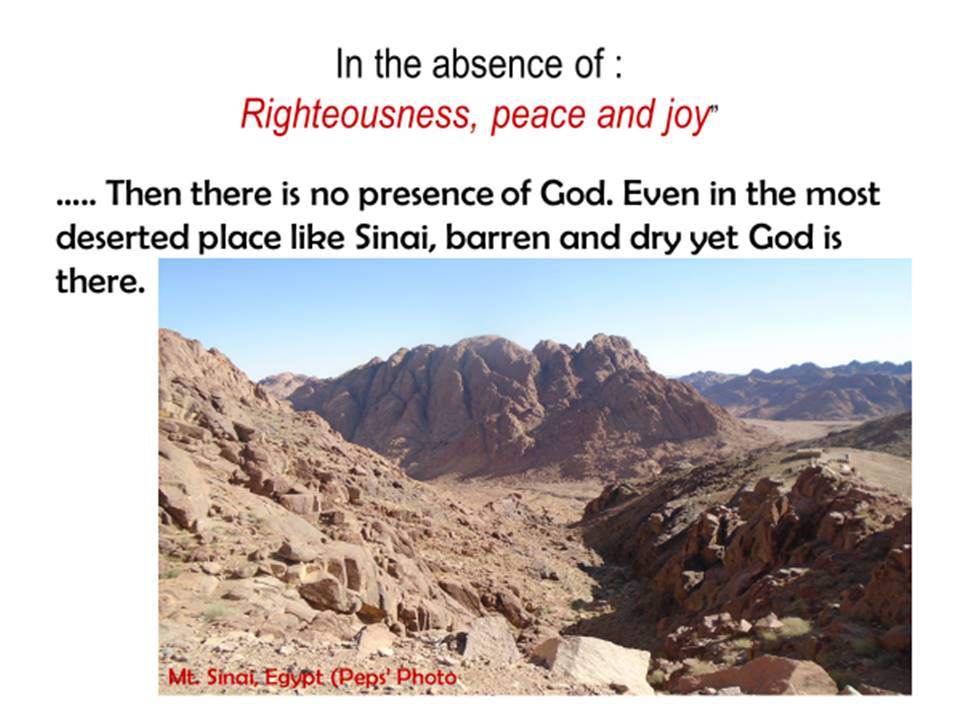 NOTES:

Most photos are taken from the internet unless otherwise specified.

Scriptures taken from KJV unless otherwise specified