CIBAC
Details

Category: Teachings & Articles
Published: Tuesday, 19 March 2019 06:43
Hits: 2098
CIBAC
(Citizen's Battle Against Corruption)
Ariel and Fe Restaurant
Bayambang, Pangasinan
March 14, 2019
At 9:45AM, the worship was led by Ptr. Balquin
Opening Prayer by Pastor Danny Caranto
(picture1)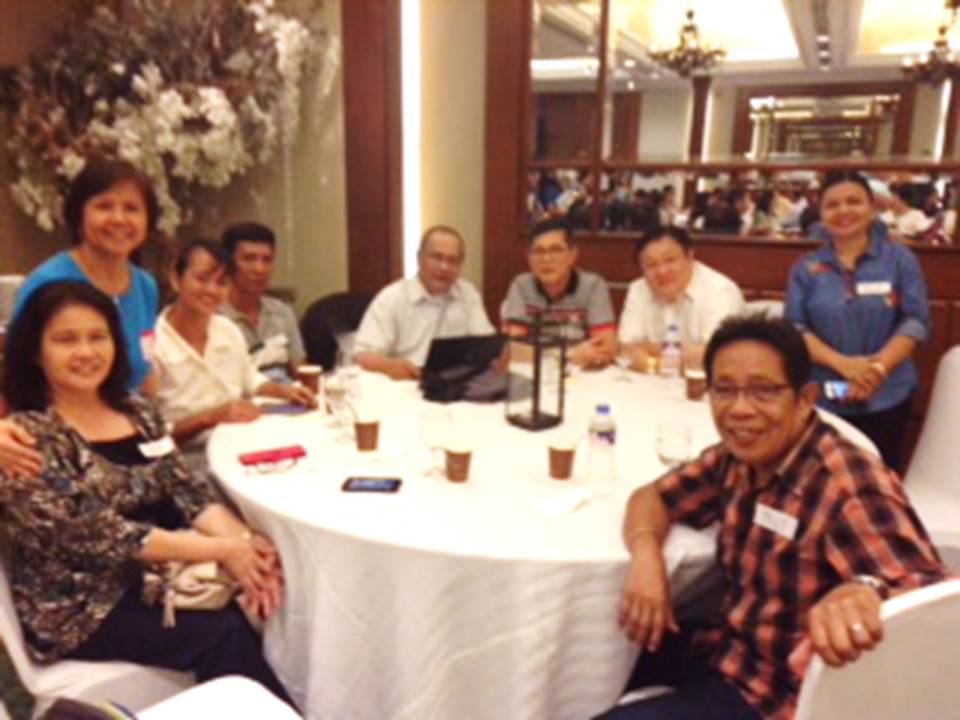 From my left to right: Atty. Lyndon Cana, myself and Pastor Domeng
Rivera at Legend Villas on March 2, 2018 (Photo by Peps)
Mr. Eiman
The following bills of CIBAC:
Anti corruption bill

Anti - SOGIE Bill

RA 9814 Government Procurement Reform Act

RA 9406 i.e. Strengthening the Public Attorney's Office

RA 11059 i.e. Strengthening the Office of the Ombudsman

RA 9502 i.e. Cheaper Medicines Act

RA 10645 i.e. Free Phil-Health for Senior Citizen

R 10931 i.e. Free College Education

RA 11032 i.e. Ease of Doing Business Act

Freedom of Information Bill

RA 9485. Anti- Red Tape Act

RA 10365. Anti- Money Laundering Law. Limited deposit of P500,000.00 (otherwise you need papers to justify your income).

RA 9189. System of Overseas Absentee Voting

RA 9257. 20 % Additional discounts for Sr. Citizen

RA 10819. An act renewing granted to FEBC franchise
Services
40,000 scholars
10,000 livelihood projects. With start up capital P10K
100,000 medical assistance
1,000 infra projects
CIBAC Reps
Joel Villanueva
Chinchona Gonzales
Sherwin Tugna
CIBAC NOMINEES
5th Stanley Flores, media practitioner

4th Nominee Atty. Armi Jane Roa- Borje

3rd Nominee, Atty. Lyndon Cana

2nd Nominee. Pastor. Domeng Rivera

1st. Nominee. Eddie Villanueva
Do you want to join the battle for national transformation?
Pastor DOMENG RIVERA
Thank you pastors and to those who are here. Thank you Pastor Peps na lagi naming kasama sa Congress lobbying against sa mga demonic bills.
We accepted this challenge not for our personal purpose. But most people today has the misperception of personal motivation in politics.
Budget to be in fact up to now still in pending because budget is being used for politicians' personal gratification.
Like Nehemiah made an analysis to Jerusalem, and fought yet unfortunately there are some Sanballats and Tobiahs.
Under CIBAC, we accepted this challenge because our nation is being placed in the most panganib, making ka dumal dumal na bills like same- sex bills.
Under Constitution, we have the bill of rights. We have right to freedom of pananaw. But LGBT wanted this bill. Bro. Ed said, if we allow this as if we allow the same - sex marriage.
With LGBT rights, they trample others rights. They put you into prison,
How did this happen, approving SOGIE Bill in 197-0. Atty. Tugna explained, 5 of them are anti SOGIE and they knew the Number Game at Plenary that majority wins. Tugna explained they knew it was the Congress' votation for SOGIE and they conferred to make a special discussion among the 5 oppositionists before the Plenary starts. By the time, they came back, SOGIE has been voted upon. Even his father in law Eddie Villanueva shown his great indignation on the approval of SOGIE and Tugna explained his side.
THAT TIME, Alvarez and Farinas if you contradict them, they will bully you. Whether you speak or be silent, you lose. In Congress, majority wins. The 5 knew they are losers but they are willing to air their sentiments. The bill was railroaded. But we spoke against it in the Senate up to this very day.
If 3 of us will win, this is the priority bill that we will go against it.
Then for 3 days we will stand against it at Congress otherwise we will become Sodom and Gomorrah. If we will allow this it will magnetize us to darkness.
The congress needs some bills that will not please the fruit of darkness.
PET BILLS
Barangay anti- vote buying bills

Anti-graft and corrupt practices info and education bill

Freedom of info bill

Strengthening the witness protection program

Whistleblower protection bill

Security of tenure bill

Magna Carta for religious freedom
I already run as councilor in Valenzuela. I lost because of massive corruption, I was encouraged by incumbent politician for vote-buying on the last minute but I did refuse.
They are 13 Million Christians Evangelicals t comprising 70,000 evangelical churches today. Now If we can have a videos of vote buying as a proof, please forward them to our office so we can give our protest.
My political aspiration today to be honest is something that I never dreamt of but a result of 24-hours prayers,
Singapore ranks the most peaceful city and Valenzuela City ranks the second most peaceful in South East Asia.
We are not afraid, me and my kakampi a priest and we are vocal against the mayor should we want to stand what is true. For Gods glory, something good is happening to our city,
The gospel though it can save but if you will inject Jesus name and never shared Him can never have a good help to the person. Unless you shared Jesus Christ.
National Budget
Budget now is P3.8 Trillion. Not yet approved because they are fighting for it. Alvarez alone has 5 billion PDAF Allocation. Those are taxpayer's money it should be spent for people. P1.9 Trillion alone go to corruption.
Budget by some agencies
DOH P 106-B

DILG P170 B

CHED P13.5 B

State universities P64.6 B
Total P354-B
yet corrupted budget lone is P1.9 trillion ( estimated at 40-45 percent of national budget).
Some questions please, may we have Pastor Peps to give some of his inputs…
PEPS
(The incoming Representative Doming Rivera giving floor to this writer).
Thank you Pastor Domeng for allowing me to speak.
I met Pastor Domeng way back sometime from 1993-1994 together with other over 1,000 Evangelical Leaders in PCEC Sponsored-Conference in Tagaytay City. I felt I am the worst sinner whenever I am besides him because I knew he is much a man of prayer and fasting. And since then I've been seeing and meeting him in big conferences and meetings even with Rep Rufus Rodriguez and even in Palawan City.
Before I forget since I saw some of the Bills that CIBAC are pushing in the House especially Magna Carta for Religious Freedom then may I suggest also Magna Carta for Parental Authority (over our children). This if will be proposed and approved will somehow gives us immunity from an criminal liability against SOGIE (Sexual Orientation and Gender Identity and Expressions) that will criminalize anyone, pastors and ministers included against "discrimination" to LGBT Group (lesbians, gays, bisexuals and transgenders).
Magna Carta means a document that is constituting fundamental guarantee of rights and privileges.
There are just two concerns that I want to express in behalf of those pastors who are prodding me to speak in their behalf. As the Bible puts it, "Open rebuke is better than hidden love" although I am not publicly rebuking anyone.
One is the concern among fellow ministers that allegedly JIL only would ask us or fellowship with us during election only (in support to CIBAC).
Second, is the concern that allegedly CIBAC has been in the House for many years by now and yet this Party-List have did not even na-sibak a single corrupt politicians.
I may as well answer the two in my own understanding.
The answer to the first concern is that Election is seasonal. And we know that CIBAC represents the evangelical Christians. Ecclesiastes 3:1 says, "In everything there is a season and purpose under the sun." Since election is seasonal we could not expect CIBAC as Representative or JIL to keep on coming to us because of the Constitutional Mandate of "separation of the state and the Church."
Should services from CIBAC like scholarships, grants, disaster response perks are made available, this party-list is not obligated to do so.
Second, we should understand that CIBAC is a legislative body and not prosecuting agency in the likes of Ombudsman or Supreme Court. There are in the House mainly to legislative a law. To encroach to another territory in the same way that China crept in the West Philippine Sea is a form of "usurpation of authority" or "invasion of one's territory." CIBAC is not like that.
Pastor and incoming Rep. Domeng Rivera mentioned a while ago what had happened during the recent Congress approval of SOGIE Bill that gathered "No zero votes." It is good that he explained what transpired that day in the House because the result gave a very bad impression among the Evangelicals. But I presumed that CIBAC representative should have sought media to clarify the issue that it did not directly voted in favour of SOGIE.
Anyway, I first encountered SOGIE Bill when my senior pastor, Daniel Balais officially sent me to the Committee Hearing of SOGIE Bill sometime on August 2014 at Batasang Pambansa. Again, Kuya Dan sent me again to UP Diliman to represent him to then BBL or Bangsamoro Basic Law which is now the BOL (Bansamoro Organic Law).
(picture2)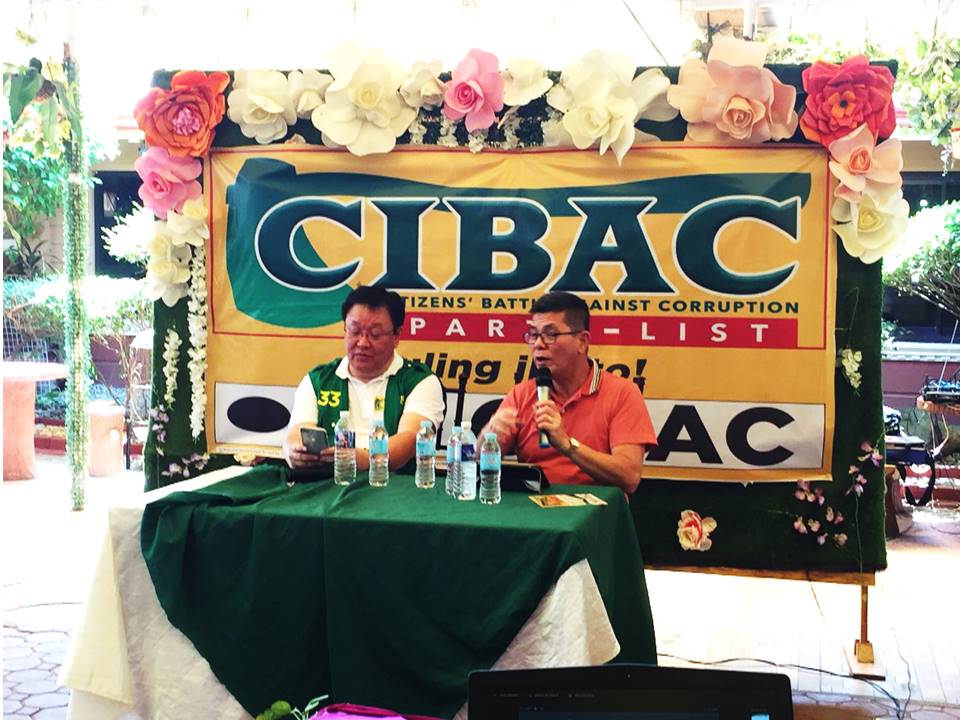 With Nominees for CIBAC Rep. Domingo Rivera at Ariel and Fe Restaurant;
Bayambang, Pangasinan last March 14, 2019 ( Photo by Peps)
I submitted my Position Paper to these two bills both in the Congress and to the Senate. I also appealed to Kuya Dan to bring these issues to the top Bishops of this country with a warning that in the next 3-5 years these two bills will change the moral and spiritual climate to this nation.
I likened BBL or BOL as "snipers" or Air Force (AF) that will Islamize the whole nation. Whereas I likened SOGIE -Bill as "foot-soldiers" or AFP (Armed Forces of the Philippines) to bring immorality to the people and even takes parental custody from the children once it is approved as bill (as you well know that it was approved at the Congress during the former speakership of Rep. Alvarez). I prodded Kuya Dan to call the attention of all Bishops to get their collective efforts for Position Papers. And now, this is exactly the very critical stage that we are facing.
In regard to the five (5) nominees of CIBAC namely:
CIBAC NOMINEES
5th Stanley Flores, media practitioner

4th Nominee Atty. Armi Jane Roa- Baje

3rd Nominee, Atty. Lyndon CANA

2nd Nominee. Pastor. Domeng Rivera

1st. Nominee. Eddie Villanueva
Kuya Ed Villanueva
Kuya Eddie would come to the house here in Pangasinan with Kuya Dan Balais, Kuya Leo Alconga and others on several occasions on their way to Baguio City to take lunch. Just recently Kuya Eddie suddenly appeared in the church-school to use the comfort room. In other words, we have a relationship with him because of Kuya Dan.
Pastor Domingo (Domeng) Rivera
As I said earlier, I met him since 1993-1994 and continually meeting him in big events especially in Metro Manila in relations to BBL, PMTL (Pilipino Movement for Transformational Leadership); Palawan Leaders Conference, and so forth. He is a man of God, one who fears Him so much, a man of prayer.
Atty. Lyndon Cana
I sat with him on several pressing issues in relevant to shady bills like BBL together with some prominent leaders in the like of former Security Exchange Commission (SEC) Secretary Perfecto Yasay and became a DFA Secretary, former Department of Interior and Local Government (DILG) Secretary Rafael Alunan, former Dean of College of Law in University of the East (UE) Amado D. Valdez has been appointed as the new Chairman of the Social Security System in 2016; Cagayan de Oro Rep. Rufus Rodriguez among others.
Cana is a very prophetic Baptist church leader, a walking-Bible, a great intercessor who can see angels, a former councilor of Bacolod City and voted as Ten Most Outstanding Councilors in the Philippines in 2006.
Atty. Arni Jane Roa-Borje
I met her at South Korea during our 3-week Prayer Tour, a lady Christian, an intercessor, former member of Intercessors for the Philippines (IFP) in Mindanao, one who fears God so she become the spokeswoman among the poor and the oppressed, a strong human-rights lawyer. She is related from the Roa of Duterte clan. Hope she can bring the Gospel to President Duterte.
Out of the 5 Nominees of CIBAC, at least four (4) of them are intimate with us and to the Christian Groups and normally "relationship" matters since our salvation in Christ and redemption of our sins is on the basis of personal relationship with God. What I am saying is this – as a Christian we must support those who are with the Lord. CIBAC have been there for quite a time and yet they are not superman and cannot always do our own expectations but at least we have them there in the House of Representatives.
I and whatever I can help in District 6 I will still support CIBAC regardless of their limitations. God bless.
PEPS NOTES
2017 Gallup International Study: Filipinos, the most emotional out from 142 countries from 3 consecutive years. Meanwhile in 2016, Harvard University shows that Filipinos has the history as one of the most gullible people globally.
CORRUPTION
Webster
- Dishonest or illegal behavior esp. By powerful people such as government officials or police
officers
- departure from what is true and correct
- decay and decomposition
- Synonyms: debasement, degeneration, demoralization, depravity, perversion, turpitude
- Antonyms : morality, virtue