Space
Details

Category: Teachings & Articles
Published: Monday, 24 December 2018 04:33
Hits: 1638
Space
By Augusto A. Kho
December 23, 2018 (Sunday) 1:21 am
We set boundaries for a reason. Why come up with "Space" as a title?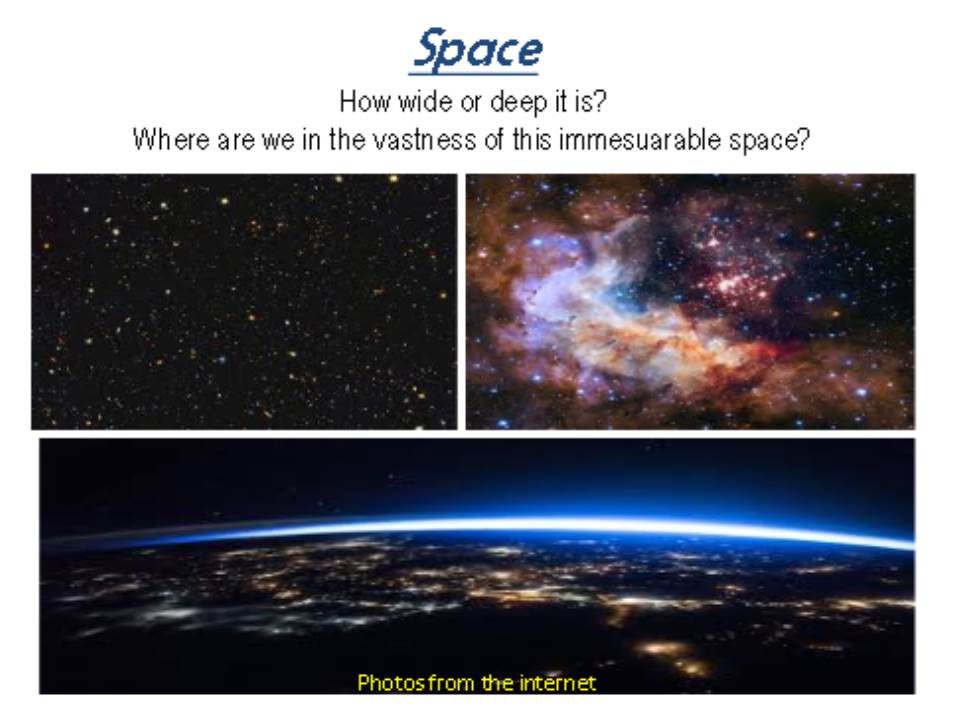 (picture1)
Connection
I am trying to connect my Daily Devotion from the Scriptures together what is being transpired from my day-to-day experiences
DEC 11/ TUE

12:35 a.m. my Quite Time with the Lord talks about "Measurement"

Measure is three (3) times mentioned; Measurement is six (6) times mentioned

Measuring is thirteen (13) times mentioned. Gateway is forty six (46) times mentioned.
Why God has to show to Ezekiel those measuring tools and the exact measurement how the temple is being built in Ezekiel chapter 40? It talks about space of the temple how it is to be measured.
DEC 18/ TUE:

During our Christmas Party held for the 238 inmates of Bureau of Jail, Management and Penology (BGMP) at Balungao, Pangasinan, an inmate testified how he found himself "a space" among fellow prisoners in their allotted prison cell.
DEC 23/ SUN : 1:21 am: While pondering at home on wee hour of the morning, the thought :"space" came into the picture.
Yesterday or a day earlier i.e. DEC 22/ SAT, I read from the entertainment news clip entitled, "John Lloyd Cruz talked to Director Paul Soriano according to Toni Gonzaga, " by Lion Heart, written by Irone Kim, that actress Toni Gonzaga said;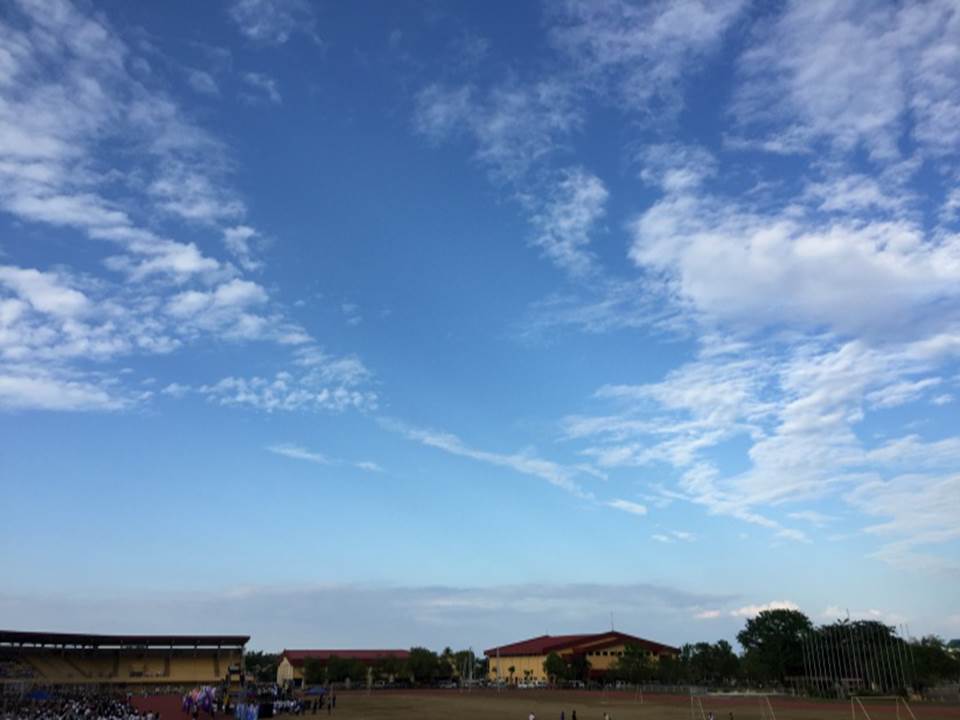 (picture2)
Lingayen, Pangasinan (Photo by Peps, November 2018
" "May number ako ni Lloydie, kaya lang, alam mo 'yun, you sometimes want to give that person the space that maybe he really wanted. Because if he distanced himself from the industry, maybe, he needed that time, so we respected that.""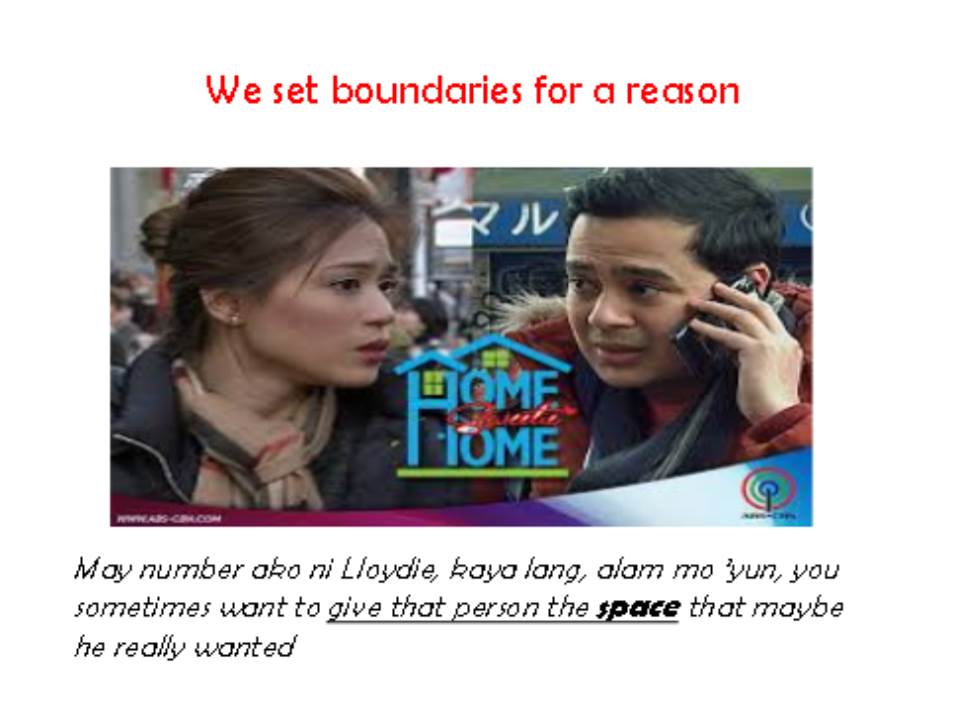 (picture3)
Son as connection
That is how I connect the scripture to my daily life transaction.
During baptism of the Lord Jesus, He ascended from the water and Matthew 3:17 read, "And lo a voice from heaven, saying, This is my beloved Son, in whom I am well pleased."

The word "son" from the Greek "uihos" refers to a "child, kinship or offspring." But Thayer Bible Dictionary also define a "son" connotes "weaknesses and mortality" as a son of man.
Kinship according to Webster means "a connection" or "a relationship." It is like Jesus, as a Mediator that connects God to the sinful man.
1 Timothy 2:5, "For there is one God, and one mediator between God and men, the man Christ Jesus." Mediator in Greek "mesites" which means "a go between" or "mediator." In other words, Jesus Christ is our connection to the Father (John 14:6).
But Thayer also described "son" as a "foal" as a young horse or a beast.
Scripture reference
I took the word "space" as a title in my Quite Time last December 11 (Tuesday) that reads:
Ezekiel 40:12 "The space also before the little chambers was one cubit on this side, and the space was one cubit on that side: and the little chambers were six cubits on this side, and six cubits on that side. "
Space Defined
Space in that Scripture which is derived from Hebrew "gebul" means "a territory bound, landmark, limit, quarter, space, a cord (as twisted) implicating a boundary." It derived from the root word, "gabal" referring "to set bounds." In other words, putting a boundary or space.
Space according to Webster means "the amount of an area, room, surface and others that is empty or available for use." It is an empty area between things. It also means duration or a period of time. It could be 3-dimensional: distance, area or volume. It could be an elbow room, place, room or way.
Space is first mentioned in Genesis 29:14 in Hebrew word "yom" referring to day, time, or year. Or temporal references of today, yesterday and tomorrow.
Space in Joshua 3:4 in Hebrew "rachoq" (raw-khoke) refers to a "distance.' Strong calls it "place or time."
The centurion & the Greek woman
In Capernaum during Jesus time, a certain man placed a particular limitation on what the Lord may do. In other words, he placed a condition or a space.
In Matthew 8:5, a very compassion centurion (an officer of the Roman army) sought Jesus' help to his ailing servant. In response, Jesus immediately offered to come to heal him but the centurion swiftly forbid Him. Why? He put a boundary. The reason is because he said this way, "I am not worthy that thou shouldest come under my roof," (Matthew 8:5, 8). The centurion's feeling of unworthiness as a sinner has given Jesus a limitation for not allowing Him to enter his house.
That could be the reason as well that we don't want to be used by God for His divine works and purpose. We have this feeling of unworthiness that we can be His divine vessel.
(picture4)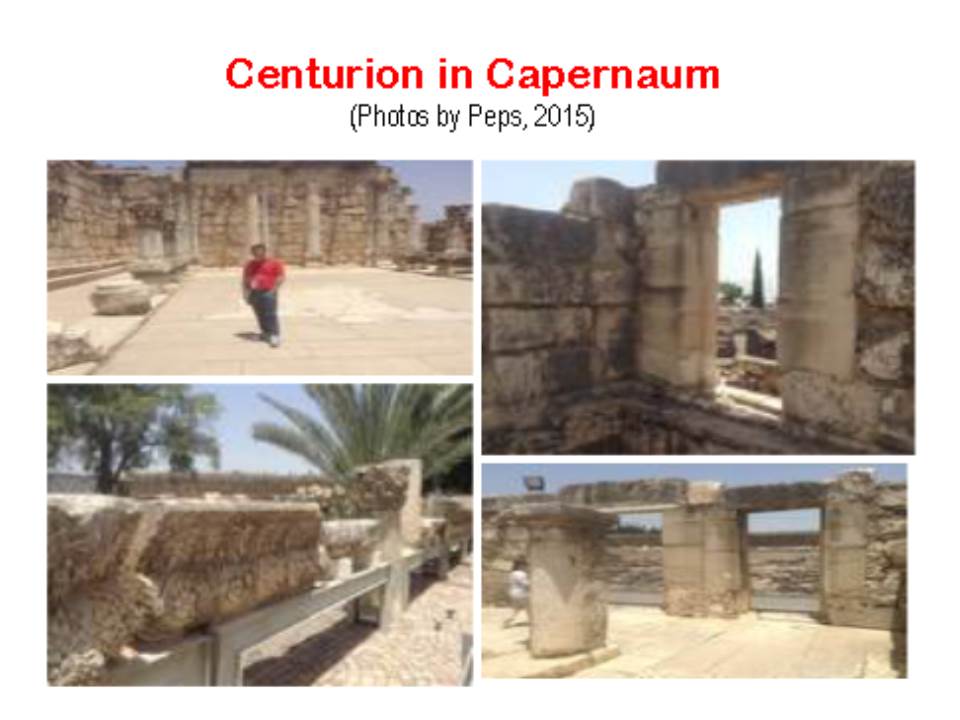 In one instance Christ was besought by a Greek woman to cast out demons from her daughter. But Christ also put a boundary or space saying that His priority is upon the children of Israel.
The readings simply suggested that Christ's ministration that time is only limited to the children of Israel and not to the Gentiles like that Greek woman. Jesus Christ Himself also placed a space or boundary in terms of His priority during that time. Eventually, the woman's persistence touched Christ's heart and the devil is gone from her daughter. (Mark 7:26-29).
In Joshua 17:8 the word "border" is mentioned that separate the boundary or inheritance between Manasseh and Ephraim.
Meanwhile the contested South China Sea , a space or territories are wholly and partly being claimed by China and other ASEAN nations. China also militarized the area thus creating a territorial conflict that could spark a regional war in the Pacific according to U.S.
Usurpation of authority is also an invasion of territorial integrity or independence. What would you call then the Malacanan's pressure to oust former Chief Justice Ma. Lourdes Sereno through quo warranto? The president according to media report could not turn down Solicitor General Jose Calida's request for quo warranto to oust the Chief Justice. And that space or boundary works in removing the Chief Justice from her office.
Spaces for a reason
We make spaces for a reason.
Once, a young man could not follow Christ completely because he could not give up his wealth as an act of surrender to Jesus (Matthew 19:21-22). While another man could not give up his dead father in exchanged of Christ as it is mentioned Matthew 9:59-60. While another one could not win Christ's heart because he cannot bid goodbye to his parent in exchanged of the Lord's immediate call in his life (Matthew 9:61-62).
We make spaces for an excuse. As such we make spaces for a reason.
The time past
Often we venerate the gods like the human government more than God Himself. We are often intimidated with men rather than fearing God. Why did I say that? Because history would tell by itself.
Often we please government with our money on taxes but we also displease God in withholding our tithes. And that is historical though.
Augustus Caesar according to Luke (2:1) made a decree that all the world (where the Roman Empire covered) must be taxed. All from afar off needed to go to their respective city to pay their tribute or tax. Mary who was in her time to give birth has been forced to go to Joseph until she finally felt the excruciating birth pains. From the readings says, they found no place or space in the city of Bethlehem. As a result, the child Jesus was given a space in what it calls, "manger."
Manger was the only place available for Christ
Luke 2:7 says, "And she brought forth her firstborn son, and wrapped him in swaddling clothes, and laid him in a manger; because there was no room for them in the inn."
Other translations read this way:
International Standard Version (ISV): "And she gave birth to her first child, a son. She wrapped him in strips of cloth and laid him in a feeding trough (tube), because there was not place for them in the guest quarters."

BBE."And she had her first son; and folding him in a loinen, she put him to rest in the place where the cattle had their food, because there was no room for them in the house."

Easy English, "This was her first baby and it was a boy. She put cloths round him. Then she put him in an animal's feeding box. She did this because they could not stay I the hotel. They were no empty rooms for them."


Room in Greek word, "topos" refers to "a space, limited occupancy or a quarter." While other taxpayers got a nice room for themselves which is fit for human consumption, there was no room left to the One who owns the entire world and the whole universe. So Jesus was given a space fitting only for the beasts which is called manger.
(picture5)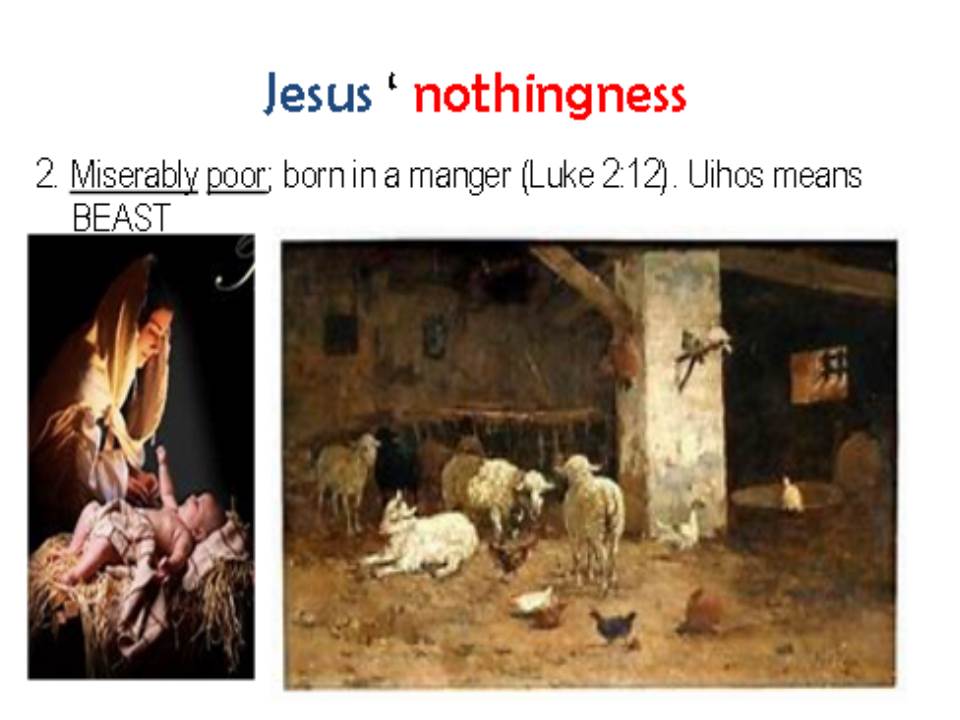 On this Christmas, where is Christ is being placed as we apply it personally in our own lives? Do we grab the credits which is rightfully belongs to Christ like we do prepare a sumptuous for us and not for Christ, we give gift-giving among ourselves and not to Christ and to the poor; do we celebrate this festive occasion minus the King of kings?
God limited Himself as a man but men never give Him good enough space so they just provided the Messiah, an "animal's feeding box." This could be the reason why Thayer defined "uihos" or Son of God as a "beast" in Matthew 3:17, "This is my beloved son (uihos) to whom I am well pleased." God made Himself like a beast disregarding his reputation or name for the sake of us.
The world seems to be hostile with Him.
In the last days
The unwelcome Christ as a Son of God during his birth time will again experiencing or will experience similar things on the day He was born.
While Jesus as an infant was placed in a feeding box on the time of His birth, the risen Christ from the dead seemingly still has no place even among the Christian believers even in the Church. For example in the present time or in the future, the condition of the Church in Laodicea for example reads:
"Behold, I stand at the door, and knock: if any man hear my voice, and open the door, I will come in to him, and will sup with him, and he with me " - Revelation 3:20

Christ is not inside the church. He is in fact knowing outside the door – "I stand at the door and knock." That is the only space we give for Christ – outside our doors. We put some spaces that limit His Lordship over us and to the Church.
On this Season, we is Christ in our personal lives. What space can we give Him? Shall we give Christ a space the same space that was given to Him like a foal (beast) or give Him the highest seat of our lives?

What He's doing there standing at the door and knocking. Look He said, ""If any man hear" The word "if" in Greek "ean" (eh-an) is a conjunction word denoting "conditional" that speaks of "uncertainty or indefiniteness."
Space, the universe
Space, how wide or deep it is?

(picture6)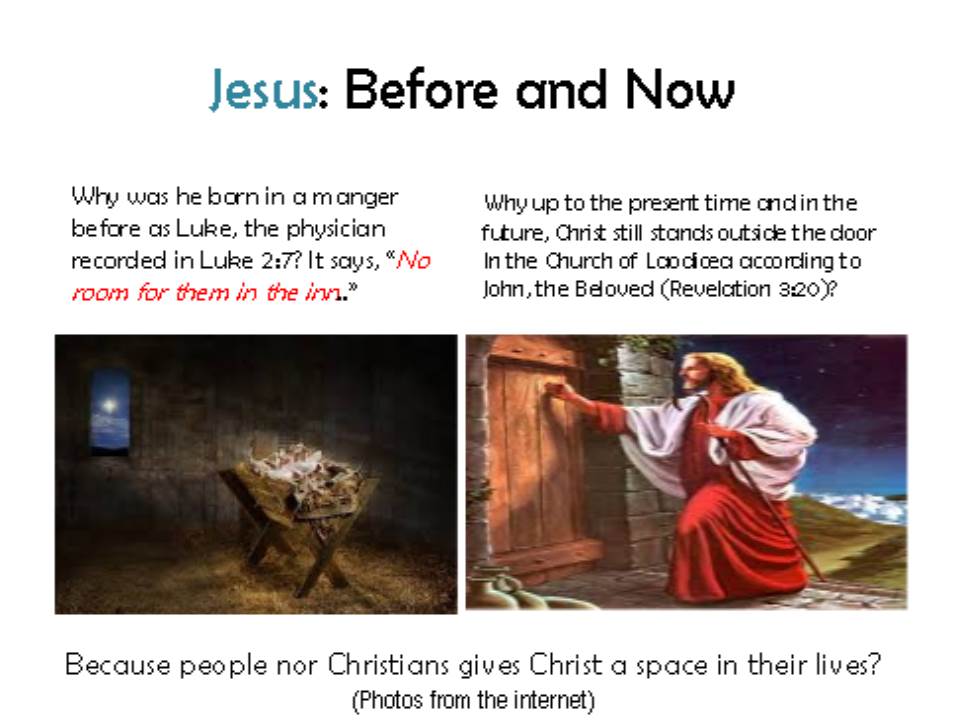 Where are we in the vastness of this immeasurable space? And where is Christ in our lives in this immeasurable space. Whereas Christ in His immeasurable heart says this:
"That Christ may dwell in your hearts by faith; that ye, being rooted and grounded in love, 
May be able to comprehend with all saints what is the breadth, and length, and depth, and height; (and those are spaces or distances or time) And to know the love of Christ, which passeth knowledge," – Ephesians 3:17-19
Shall we still give Christ a space fitting only for a beast just like in "animal feeding box " called "manger"?