Trilogy
Details

Category: Teachings & Articles
Published: Tuesday, 11 September 2018 08:20
Hits: 3025
Trilogy
By Augusto A. Kho
Christ the Living Stone Fellowship(CLSF)
September 9, 2018 (Sunday) - 10:00 a.m.
Updated: September 11, 2018 (Tuesday); 1:15 pm
These are three stories summed up as one because the events took place in just two-days time with merely a few hours interval. Each story is an event that comes in our lives unexpectedly but naturally. The sub-titles are as follows:
"The Crying Lady"

"Thank you, Doc"

"Right of Way"
(picture1)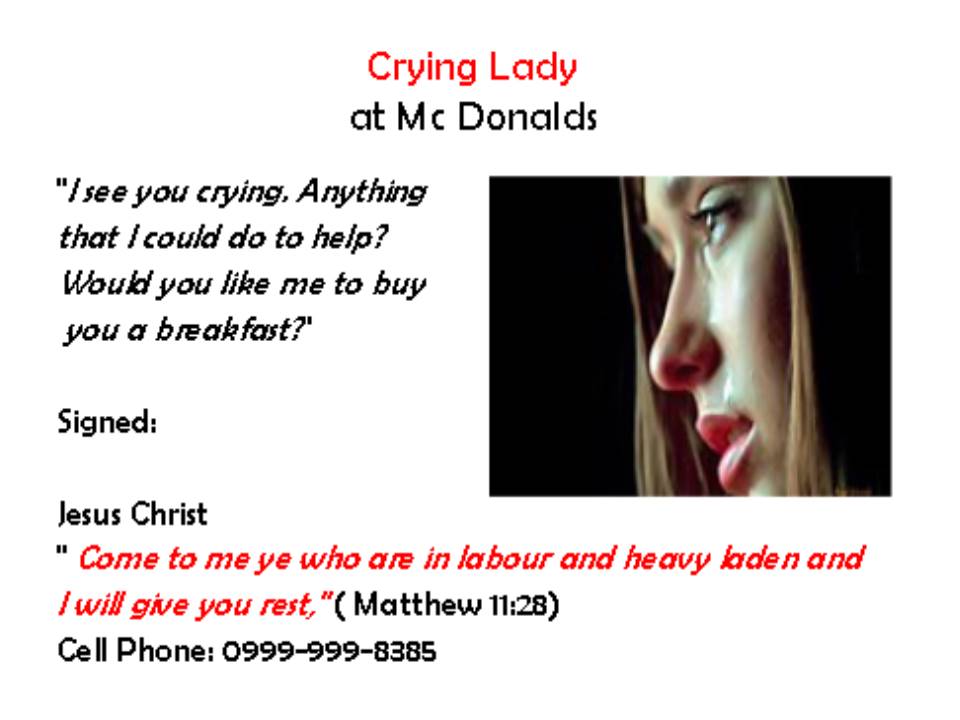 Crying Lady
At 8:39 in the morning of Thursday, September 7, I stopped by at Mc Donald's MRT, Gateway in Cubao for a cup of coffee when I noticed a girl who was seated on the next table crying silently. I couldn't help not to sympathize with her when I took a pen and scribbled a few lines on a table napkin with these words:
"I see you crying. Anything that I could do to help?
Would you like me to buy you a breakfast"
Signed:
Jesus Christ
" Come to me ye who are in labour and heavy laden and I will give you rest,"
( Matthew 11:28)
Cellphone : 0999-999-8385
Moments later, my cell phone begun receiving messages. Our exchanged of text messages
are as follows: CL means "Crying Lady" while PK means "Peps Kho."
CL : Thank you sa offer at magandang salita
PK : Breakfast, ano gusto mo?
CL : All humans have their own burden to carry. Iba iba lang. It is different when there is
someone greater than us can share our heavy load.
Pili ka na bili ako, what drink you want, coffee or pineapple juice?
CL : Thank you Sir pero sa ngayon wala po akong ganang kumain. Salamat p sa malasakit at
saka sa enlightened words.
PK : Ok. Kung saan ka man pupunta huwag lang via plane, may pamasahe ka ba?
CL : Meron po naman akong pamasahe Sir. Uuwi po ako sa amin sa Davao. Salamat for sa
concern malaking tulong po sa akin medyo gumaan loob ko sa mga sinabi niyo. Thank you
PK: There is no place like home whom we can share our sentiments. Dami din ako problems di
lang halata.
May forever ba?
CL . Sa tingin ko wala... Lahat manloloko kaya walang forever.
PK : Matthew 28:20 says, " Jesus said I am with you  always.. "
The word "always" in Greek "hemera" means "forever" or "always."
Only God is forever. Ang tao may limitasyon.
Ilan beses din ako naluko. Pero sa buhay mas masarap pag walang pait. He he. Cafe yun
di ba?  It means magpatawad tayo. Ganun lang.
Few minutes from now aalis na ako. Papunta hospital. Ingat ka na lang. 30-Million ang tao
sa Metro Manila di naman siguro aksidente na nag meet tayo kahit sa palakasan lang ng
loob.
Kaya mo yan kung gusto mong kayanin. Sa buhay dalawa lang ang choice natin – panalo
o talo. Pipili tayo, but if God is with us as forever who can be against us?
CL : Ang lakas niyong maka hugot. Medyo napapa isip ako doon. Thank you sa paalala niyo
po tungkol sa pag papatawad.
PK:  Dami din naman akong kasalanan sa iba lalo na sa Dios.
CVL : Sige po maraming salamat sa inyo. Blessing po kayo sa akin dahil sa inyong magadang
Salita medyo  nabuhayan ako ng loob
PK : . Pag may bigat, mayroon din mag papagaan. Kasama ang Dios diyan
CL : Maraming salamat Sir
PK: Walang anuman. LAST CALL MAM? Breakfast? He he..
CL : OK lang po bibili na lang po ako mamaya. Thank you ingat din po kayo.
Her name is Mariel working near St. Luke's Hospital. She is around 32-35 years old.
Forgiven
We too have been forgiven. In the same way, we must learn as well to forgive others.

When Peter asked Jesus how many times a man should forgive, Christ answered him to forgive seventy (70) times for one sin in just a day (Matthew 18:22).
The crying lady must be heart- broken. Perhaps her hurt ache is inflicted by someone whom she dearly love, either a boyfriend or a live-in partner. Het two dirt-stained and stuffy medium-sized travelling bags suggested an immediate decision she had to make. Her consistent shedding of tears for nearly one hour insinuated her pain.
But we cannot always be bitter against someone else or against life. Otherwise it doesn't make us any better but bitter. We must learn how to let things go. No matter how it hurts. No matter how long it may takes.
Colossians 2:13 (ISV), "Even when you were dead because of your offenses and the uncircumcision of your flesh, God made you alive with him when he forgave us all of our offenses,."
Colossians 3:13b (ISV), "Just as the Lord has forgiven you, you also should forgive."
Since no one is perfect, we must learn to accept each other's faults and imperfections. Romans 15:7 (ISV) , "Therefore, accept one another, just as the Messiah accepted you... "
When we let it go, things that hurt us may be soon archived in the past that will shift us to another time and place - for a life ahead. We call that future. May kinabukasan pa. Ang laging may bukas sa bawat pag dating ng bukang liwayway.
Thank you Doc
I asked for an assistance when I entered the Laboratory Section at St. Luke's Hospital in Quezon City at around 9:30 A.M. last Friday, September 7. My full fasting will be expiring at 10 A.M. so I needed the blood extraction otherwise I might be asked for another fasting again.

The hospital laboratory Supervisor was kind enough to accommodate than those who came earlier with their queue number stubs and she said, "Doc, can I have your queue number reference…" I was surprised to be accorded with such as a title as "Doctor."
The supervisor addressed me as "Doc" 5-6 times in that lab that made me wonder why such a title is being accorded to me when I was merely dressed up casually. When I left the lab a few minutes later, she said, "Thank you Doc!"
It had a similar experience last Monday, September 3, 2018 at Land Transportation Office (LTO) in Rosales.
My driver's license' validity lapsed without being renewed it on time. Driving with expired driver's license is not merely illegal but morally wrong that exposes a driver into great danger.
I wrote it down as my priority appointment. But I was advised that very Monday that LTO – Rosales was on offline. In other words, I cannot renew it on that day. Not fully satisfied, I decided to appear to their office personally.
On the processing window for license renewal, I asked Mr. Mina, LTO personnel if he could facilitate my license renewal manually so he could provide me a payment receipt and I can legally drive. He refused to do that he said it is their "policy." I asked, "If you are offline in the next 30 days, will you no work manually?" So I decided to talk to their manager whom they call "Chief."
Then Mina ushered me inside. Mr. Mariano Delos Reyes, the LTO Chief warmly welcomed me in his office. Our conversation with their manager goes like this:
Delos Reyes: "What can I do for you?"
Peps Kho : "I overlooked my license. It is my fault."
Delos Reyes: "We're offline. Do you want me to recommend you to LTO in Urdaneta City?"
Peps Kho : Puede? (Can I?).
(Urdaneta City is around 25 km away. Then took his cell phone and called his
counterpart in Urdaneta and he begun conversing on the other line).
Delos Reyes: "Hello, pare we are offline here. Can you assist the congressman, I will
send him there. His name is Augusto Kho."
Congressman is a title just like the word Doc. After his conversation to Mr. Sison of LTO Urdaneta, I corrected Chief Delos Reyes and told him that I am not a congressman. Then we had a brief casual talk.
Title is a designation that is attached to your name or personality.
One's name is always associated with title whether it is real or perceived. One's perception however does not necessary mean it is true. Perception can be imaginary.
Jesus' name is associated with various title like Master, Rabbi, Christ or Lord. Jesus' name is being associated with other titles that give distinct descriptions like Living Water, , Son of Man, Lght, Good Shepherd, the vine, servant, and others. Jesus Christ is even accused as "prince of Beelzebub" i.e. "the prince of evil spirits," (Matthew 10:25).
Title is so important that even some pastors are cravingly vying for higher designation as Bishops. In my home province, bishops as title among many pastors are ostentatious. Some pay as much as P20,000.00 to earn such honour.

The title is like pa-pogi points. It somehow builds recognition from others or it establishes self-esteem or self-respect. Respect and recognition cannot be bought. It is something that we need to work hard for. While title can be self-made or be bought, reputation on the other hand is the respect accorded to us by other people other than our family and relatives. To Webster, reputation is the common opinion that people have about someone or something. Recognition sometimes is how other people perceive us.
On October 30, 2016 I met an associate justice from Court of Appeals (CA). In our casual conversation on "Extra-Judicial Killing" or EJK's in relation to President Duterte's "War on Drugs," this associate justice asked me the possible legal remedy to address or stop it. Without battling an eyelash, I said:
"Well, it is not genocide unlike what Iraqi President Saddam Hussein have done. Duterte's case can be brought to ICC (International Criminal Court) for "Crime Against Humanity."
This UP graduate and this court justice who handled Senator Panfilo Lacson's case on Kuratong Baleleng, the CA Justice Wenceslao Agnir asked: "Are you a lawyer?" I said, "Do I sound like a lawyer?" He said, "Yes you are! You're legal arguments are even better compared with other lawyers whom I met."

Preciosa Soliven, the wife of powerful and popular media icon and Philippine Star chief editor and columnist, late Max Soliven as there listening. Soliven was seated beside me while beside Agnir is a couple related to Galman, an alleged assassin of Ninoy Aquino.
When Justice Agnir perceived me as lawyer he simply accorded me a total according to his personal opinion and impression.
Name-dropping
Name-dropping connotes idea, recognition, title, effects, judgment to name a few. So name –dropping suggests recognition that you have a strong clout or political connections. The same is true when you call on the Name of the Lord Jesus Christ who has a Name above all names. International Standard Version (ISV) in Philippians 2:9 describes Jesus' Name this way:
"A name above all others given, this matchless name possessing." Wow! A matchless Name!
How about you, what title is being accorded to your personal name?
The following are the name of Jesus and some titles or descriptions being accorded in His honour:
Acts 2:21, "And it shall come to pass, that whosoever shall call on the name of the Lord shall be saved. " Eternal salvation is accorded to His Name.

Acts 2:38, "Then Peter said unto them, Repent, and be baptized every one of you in the name of Jesus Christ for the remission of sins, and ye shall receive the gift of the Holy Ghost. " In Jesus' Name, there is forgiveness of sins.

Acts 3:6, "Then Peter said, Silver and gold have I none; but such as I have give I thee: In the name of Jesus Christ of Nazareth rise up and walk.  " Even the lame can walk by the mere mention of His Holy Name.

Acts 4:12, "Neither is there salvation in any other: for there is none other name under heaven given among men, whereby we must be saved " His Name is none other be in heaven or in earth. Truly a matchless name.

Acts 4:18, "And they called them, and commanded them not to speak at all nor teach in the name of Jesus. " Others like the Pharisees, top leaders of a religious order are even allergic to hear His Name.

Acts 5:40-42, "And to him they agreed: and when they had called the apostles, and beaten them, they commanded that they should not speak in the name of Jesus, and let them go. And they departed from the presence of the council, rejoicing that they were counted worthy to suffer shame for his name.  And daily in the temple, and in every house, they ceased not to teach and preach Jesus Christ. "
Council, what is a council? A council in Greek "sunedrion" means "magistrates, ambassadors or judges." It means the unlearned fishermen who became Christ's disciples have gone to the halls of powers because they bear His matchless Name. Splendid indeed! But the price is high – the disciples "suffer shame for His name."
Acts 9:14-15, "But the Lord said unto him, Go thy way: for he is a chosen vessel unto me, to bear my name before the Gentiles, and kings, and the children of Israel: 16  For I will shew him how great things he must suffer for my name's sake. "
Is it Gen. George S. Patton who said this, "No pain, no glory?" In Christ, the same applies. He who bears the name of Christ will suffer as well for His name sake.
Romans 3:23-24, "For all have sinned, and come short of the glory of God; 24  Being justified freely by his grace through the redemption that is in Christ Jesus:"
Redemption in Greek "apolutrosis," i.e. releasing effected by payment of ransom; deliverance; liberation procured by a payment of a ransom.



James Strong Definition: Redemption Christian salvation, ransom in full, deliverance, redemption.
Ezekiel 20:14, (NLT), "But again I held back in order to protect the honor of my name before the nations who had seen my power in bringing Israel out of Egypt."
And again in verse 22 it says, "Nevertheless, I withdrew my judgment against them to protect the honour of my name before the nations that had seen my power in bringing them out of Egypt."
Have you ever bought some something from SM Appliance Store which states this logo, "Our name is your guarantee." Yet many times that I bought from that store only to find them defective when I gets home. Where is my guarantee?
The word name in Hebrew "shem" means "name, reputation, fame, glory, designation of God, memorial, monument. James Strong define name as "honour, authority, character and fame."

So when someone calls you by your name with a specific title it speaks of rank, recognition, authority, honour and character. And that speaks of your integrity as a person.
Name can make what you can be famous for (evil or good).
Example is Javidah Massacre in relation to the name of former President Ferdinand E. Marcos that resulted to the creation of Moro National Liberation Front (MNLF) by former UP Professor Nur Misuari that evolved to another extremist group named Moro Islamic Liberation Front (MILF) that evolved again to another name or term, the so-called Bangsamoro Basic Law (BBL) and now Bangsamoro Organic Law (BOL) under Mr. Iqbal and Mr. Murad. And I believed that the political will in pushing Federalism and Charter-Change (complete overhaul of 1987 Philippine Constitution) is to justify the approval of BOL by Congress and Senate and signed by the President otherwise this law assaults the sanctity of the 1987 Philippine Constitution. By mere name can change a nation – be it for good or evil.
Remember the word "Marah" in exodus 15:23 which is defined as "bitter" or "murmuring?" In the New Testament, Jesus himself rebuked and judged His own city of Capernaum
"And you, Capernaum! You won't be lifted up to heaven, will you? You'll go down to Hell! Because if the miracles that happened in you had taken place in Sodom, it would have remained to this day," – Matthew 11:23
Capernaum in Greek Kapernaoum means as a "village of comfort" that will be soon a "divine place of discomfort in eternal Hell."
Even Maute Group as a name is also being identified with terrorism that placed Marawi City under siege. To this very day, our Islamic brothers and sisters from Marawi still nursing the pain brought by the extremist attack.
Christianity is a title that every believer is associated to His Name.
You and me always bear the name of Christ Jesus wherever we go. God will always protect the integrity of His name and no one should profane His name (Ezekiel 20:9, 13-14). That's why President Duterte's cussing the Name of God as "stupid" is a spiritual treason and sin in the highest order. Much more when we profess ourselves as a Christian yet you and me upholds the name of politician and someone else's ideology more than He and His Word then we are not a true followers of Christ.
If Christian Bishops and leaders placed their allegiance to this worldly politics more than to the Kingdom of God (basilea in Greek word which means "government" or "kingdom"), to Christ and His Holy Scriptures then we are far from the Truth of the Way of Life (John 14:6).

So we may as well make the wrong way right.
Right of Way
On the same very day, from St. Luke I did proceed to Pasong Tamo, Makati City to pick up the newly released car plate from Toyota car dealer. The car plate has been delayed for nearly two years when I bought the new model Yaris by late October of 2016. The nearly 2-years is blatant violation of the ethical values enshrined in Republic Act 3671 known as Professional Conduct and Ethical Standards of Public Officials and Employees that talks about high standard of ethics in terms professionalism, efficiency, responsibility, accountability to name a few.
At 4:24 P.M. I took a jeepney from Toyota Pasong and headed to the service road along SLEX  going to Sucat. From there, I saw a very narrow right of way along the ridge overlooking Laguna de Bay. While affluent subdivisions can be seen on that area, that narrow right of way is obviously a path that goes to the squatters area otherwise there should be a better constructed two- way road. The given right-of-way is merely 1 to 1 ½ meter wide. I wonder whether a passer-by with a heavy load can get through it while from both sides of that terribly small path are huge and spacious land area with grand commercial buildings and facilities.
The right-of-way is every one's constitutional rights enshrined in 1987 Philippine Constitution Article III, Section 1 that "no one should be deprived of his life and liberty (to travel)" yet in this country even our most basic human rights are grossly violated both by the public officials/servants and fellow countrymen especially by the elite groups.
The poor, the weak and the ignorant are often the victims of this social injustice that even prophet Habakkuk ranted against God and accused Him ".but you do not come to save.." In addition to that the prophet said that "the law has become paralyzed and there is no justice in the courts,,, that justice has become perverted" (Hab. 1:2, 4/NLT).
When I saw that narrow right-of-way, Matthew 7:13 immediately struck in my head concerning the "wider gate" and the "harder way" while the rich and the powerful always enjoy the privilege of having the "broader gate" and "easier way."
"13 "Enter by the narrow gate. For the gate is wide and the way is easy that leads to destruction, and those who enter by it are many.14 For the gate is narrow and the way is hard that leads to life, and those who find it are few." - Matthew 7:13-14 / ESV
The word " narrow" in Greek "thlibo" means " to press ( as grapes), a compressed way, a narrow straitened, metaphorically to trouble, afflict, distress, suffer, tribulation.' Originally came from the Greek root word, " Tribos" i,e. " a worn way, a rut or worn track or path."
My right-of-way or right to travel (Art. III, Sec. 1, 1987 Constitution) was grossly violated many years back by Victory Liner Inc. and by the Rosales Municipal Ordinance that legislated an "exclusive terminal" in Rosales which is a blatant violation of Social Justice in Article XII, Section 11. When my rights to travel has been denied, I formally lodged complaint in a quasi-judicial court during the time of Ma. Elena Bautista as LTFRB chief. Finally, the court heard my prayer (petition) and slapped Victory Liner Inc. one month suspension of over 30 Victory Liner Inc. buses bound from Cubao to Baguio City route.
Even our sovereignty in Article XII under "National economy and patrimony" has been grossly violated by the intrusion of China when our local fishermen have been denied the right to passage or access to our very own fishing ground, the Bajo de Masinloc offshore of Zambales. This passageway to South China Sea or what we call now West Philippine Sea is now under the Chinese Government control. And this right-of-way even worsened during this present administration when some of this 10 of our shoals, reefs, islets have been militarized by China.
Narrow in this context refers to the road of life that should you and me prefers on this life eternity. This road of life that we need to pass through is a narrow trail which is associated with distress, pain, suffering and afflictions. But notice that death is not included there unlike to the "broader path" compared to the broader road which is preferred by the majority that seem to look alright and enticingly beautiful yet it leads to "destruction."
Right of passage
The right of passage or the right-of-way is one's basic right under United Nations Human Rights Declaration referring to the "inherent rights."
The right-of-way is not just a problem of this Modern Day. It has been a problem since the time immemorial. In the Old Testament Time, the Edomites denied Israelites passage through their territory in Numbers 20:14-20 (NLT).
God the Divine Geographer of the whole earth provides the right-of-way no matter how abhorring narrow this passage may be. Matthew 7:13-14 / ESV that says,
"13 "Enter by the narrow gate. For the gate is wide and the way is easy that leads to destruction, and those who enter by it are many.14 For the gate is narrow and the way is hard that leads to life, and those who find it are few."
The word " narrow" in Greek "thlibo" means " to press ( as grapes), a compressed way, a narrow straitened, metaphorically to trouble, afflict, distress, suffer, tribulation.' Originally came from the Greek root word, " Tribos" i,e. " a worn way, a rut or worn track or path."
God didn't promise us an easy way to life. He talked of this tedious journey in the form of stern warning.
Narrow in this context refers to the road of life that should you and me might prefer to walk on to life eternity. This road of life that we need to pass through is a narrow trail that is associated with distress, pain, suffering and afflictions. Christ indeed warned that this narrow gate is a way that is hard which are rarely travelled on. In fact, only few people find this way.
Hodos
The "way" of Christ is "hard" according to Matthew 7:14. That "way" in Greek "hodos" means "a journey" or "a travelled way" meaning a passageway, NOT a destination. It is a "route" or just one among many passageways that leads to life eternity. Not all people finds this route.
But notice that death is not included in that "way" that is "hard" unlike to the "broader path."
Broader way
The "broader way" mentioned in Matthew 7:13 is the most preferred way by the majority. Yet that "spacious way" is "destructive" referring to the Greek word "apoleia" which means "utter destruction, "ruin" or "the destruction which consists of eternal misery in hell," according to Thayer Bible Dictionary.
The Greek word "apoleia" is derived from the Greek root word "apollumi" meaning "to kill" referring to "death" in Greek word "olethros."
Majority of humans take this route because it is broader and easier which speaks of wealth, power, money, fame, comfort, pleasures to name a few. It is a subtle and enticing demonizing worldly preferences.
1 John 2:6 (ISV) says, "For everything that is in the world—the desire for fleshly gratification, the desire for possessions, and worldly arrogance—is not from the Father but is from the world. "
This "broad path" speaks of lust of the flesh, lust of the eyes and the pride of life as described by King James Version (KJV) in 1 John 2:6. This road and gate is often travelled by.
Apoleia
"Apoleia" according to Strong's Concordance Dictionary means "destruction, loss, perishing, eternal ruin."
To Vine's Expository Dictionary "apoleia" means "loss of well-being." Well-being is the state of being happy, healthy and successful (Webster).
Once this "broad gate" and "easy way" is the preferred travelled path leads to ultimate disaster of a traveller.
Abaddon & Apollyon
Hebrew Abaddon or Greek Apollyon, both a place of destruction
angel of the abyss.

bottomless pit,

Sheol or the realm of the dead.
In Revelation 9:11 Abaddon (Hebrew word) is mentioned as "king of an army of locust" ; his name is first transcribed in Greek "Apollyon" or "Apolluon" meaning "Satan, the destroyer." Abaddon, The Angel of Death. In Latin Vulgate & Douay Rheims Abaddon is being called as "Exterminans" or "Exterminator" i.e. Destroyer. And that sounds very, very familiar.
(picture2)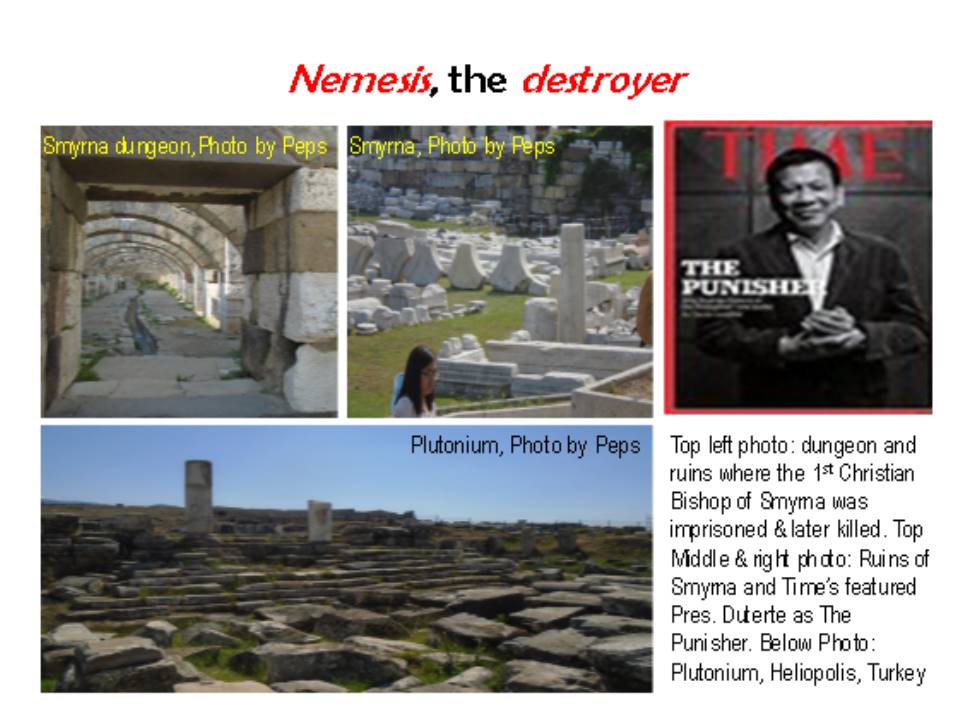 On June 12, 2017, we visited the ancient city of Smyrna (Revelation 2:8) where I first heard, Nemesis, the Greek "goddess of retribution" from our tourist guide Ms. Emile Meltem. Meltem said Nemesis is associated with Ares, the Roman god of war. The next day, June 13, we went up to Heliopolis and visit the Temple of Pluto called Plutonium which is called Hades in Matthew 16:18. Hades "goddess of the underworld" or "god of wealth," It is the "place of departed souls" or "hell."
Have I not mention earlier that name bears distinction, rank, position or designation? When I say "Duterte" what comes first to your mind? When I say "Jesus," what comes first to your mind? When I say BIR or Bureau of Customs, what comes first to your mind?
(picture3)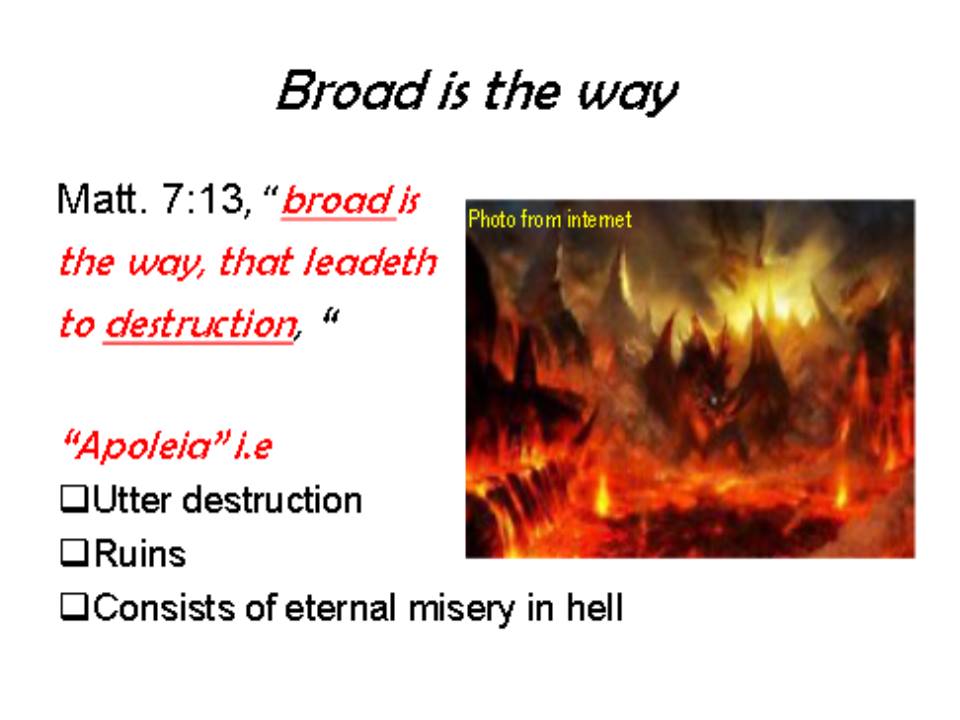 God has given us the freedom of choice which way to take, which gate to pass through. Our final destination to eternal life or eternal death depends on the way we choose today. However, God us the right of way which is less taken.
Robert Frost, in his poem, "The Road Not Taken" reads this way:
"I shall be telling this with a sigh
Somewhere ages and ages hence;
Two roads diverged in a wood, and I –
I took the one less travelled by
And that has made all the difference"
Robert Frost, excerpts from "The Road Not Taken"
How about you – what road will you choose – the less travelled one or the other way but not the right of way?
(picture4)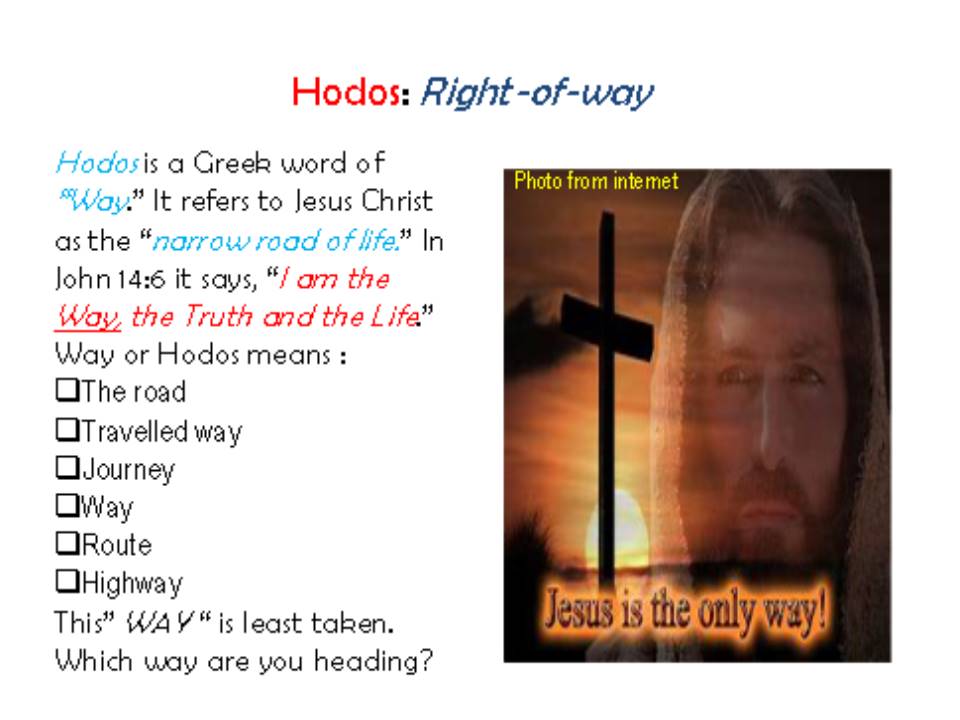 Jesus alone is the right-of-way.
NOTES
Trilogy
Trilogy is a series of three (3) dramas or literary works or sometimes three musical compositions that are closely related and develop a single theme. From the Greek word "trilogia" meaning "tri" and logia (logy)
Ostentatious
Displaying wealth, knowledge, etc in a way to attract attention, admiration or envy (Webster).
Doc
Doc is the abbreviation of a doctor or document (Webster)
Title
Title is an appellation of dignity, honour, distinction or pre-eminence attached to a person or family by virtue of rank, office, precedent privilege, attainment or lands; a person holding a title especially of nobility. A title the name given to something such as a book, song or movie to identify and describe it (Webster). Anglo-French word "nom" i.e. "name." Latin "nomen" i.e. "name."
Right-of-way
"The Right-of-Way Act " is under Republic Act No. 10752 signed on March 7, 2016 by Benigno S. Aquino III is "an act facilitating the acquisition of right-of-way- site or location for national government infrastructure projects."
National Economy and Patrimony, 1987 Constitution
Article XII, Section 11, "No franchise, certificate, or any other form of authorization for the operation of a public utility shall be granted except to citizens of the Philippines or to corporations or associations organized under the laws of the Philippines, at least sixty per centum of whose capital is owned by such citizens; nor shall such franchise, certificate, or authorization be exclusive in character or for a longer period than fifty years."
Edomites denied Israelites passage through their territory.
Number 20:14-20, (NLT):
14While Moses was at Kadesh, he sent ambassadors to the king of Edom with this message:"This is what your relatives, the people of Israel, say: You know all the hardships we have been through. 15 Our ancestors went down to Egypt, and we lived there a long time, and we and our ancestors were brutally mistreated by the Egyptians. 16But when we cried out to the Lord, he heard us and sent an angel who brought us out of Egypt. Now we are camped at Kadesh, a town on the border of your land. 17Please let us travel through your land. We will be careful not to go through your fields and vineyards. We won't even drink water from your wells. We will stay on the king's road and never leave it until we have passed through your territory."18But the king of Edom said, "Stay out of my land, or I will meet you with an army!"19The Israelites answered, "We will stay on the main road. If our livestock drink your water, we will pay for it. Just let us pass through your country. That's all we ask." 20But the king of Edom replied, "Stay out! You may not pass through our land." With that he mobilized his army and marched out against them with an imposing force. 21Because Edom refused to allow Israel to pass through their country, Israel was forced to turn around."
Nemesis in Smyrna
At Smyrna there were two manifestations of Nemesis, more akin to Aphrodite than to Artemis. The reason for this duality is hard to explain according to Ammianus Marcellinus.