"Lady J"
Details

Category: Teachings & Articles
Published: Saturday, 02 June 2018 03:49
Hits: 2402
"Lady J"
By Augusto A. Kho
June 01, 2018 (Friday); 4:30 PM
The first time that I met this "Lady J" in Puerto Princesa, Palawan last November, 2017 during one of the big event among pastors and Christian leaders. She was one among our guest speakers.
I opened the door of one of my acquaintance's office when I was surprised of her unexpected presence. She and her husband, Jong was there. And that was the second time around of meeting her. That was on May 19, 2018, Saturday afternoon
Then just very recently, this May 22, 2018, I met Lady JK again in one of our meeting at Club Pilipino in Greenhills. And I am referring Lady J to former Chief Justice of the Supreme Court, Republic of the Philippines, Ma. Lourdes Sereno.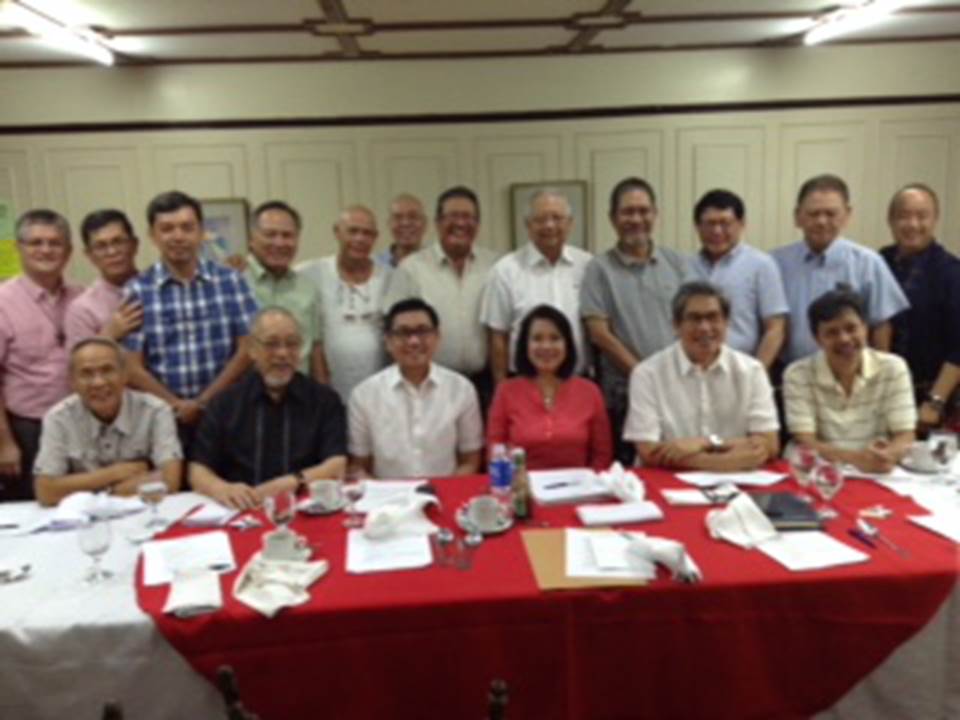 (picture1)
PMTL Meeting at Club Pilipino; May 22, 2018 with former CJ Ma. Lourdes Sereno
Here are some of the excerpts of the thoughts she had that she shared to us recently.
Former CJ Ma. Lourdes Sereno
Thank you for your suppotm prayer and heartfelt suppot, I am fine with God's grace. I had a speaking engagement to the teachers kanina. And I told the there is truly a crisis in the country. They don't know the history bur only knew what is from the news.
Your Transformational Advocacy must come from your heart. Nation should fight for the good and righteousness. Teachers are willing to protect that.
Quo warranto....
I met with the Cyber Warriors with its 15 years old existence I am very much encouraged. They wanted a message of hope. They like my message because God is with me. They want to talk on the sovereignty of God and they are open sila for the Gospel for the transformation message and the Kingdom of God.
What happened to me, coming out, I am privileged that the young people are eager to listen and they aspire me.
What is my plan? Even the Communists alam na yan. I told them, "KI Cristo advocacy na niya yan, pero iba lang ang pamamaraan ninyo."

I want to be honest. What do we want?
I am honest with the communists, the leftist and even the rightists.
I want to go to the Senate? God Himself leads the transformation. He is the as the centre of everything. If God can do that in Judiciary, then He can do that also in Legislative.
Transformation Roadmap
If mag ka ka sundo-suno sila then I will show it to you. Transformation Roadmap both needs the faith-based and non faith-based organizations. The non faith-based organization includes the Muslims.
First key, we must humble before God in repentance. The Bible says, "A broken spirit and a contrite heart God will not despise." His Laws will be with us and in the natural world, we renounce evil. AMSP must stop evil. Stop the killing and violence and we can tell, "Mr. President we do not do that. Stop that. Stop bringing curses on us and destroying our values. We should declare, "Come, truth commission!" The young people know now. And they are willing to march...
We will do this.
Next is the organization. The national issues.
Electoral Plan? I do not know right now. This newfound unity, ang laki! We do not know. Wala akong background sa pulitika. I don't know politics.
Three before hand decided na pabagsakin ako. Yon isa Because I opposed his nomination. Tumigas ang puso niya. May skeleton kasi. Yun four (4) tinutukuan pa – and we need prayers and miracles.
The two previous administration says, "I will appoint you. May pangako.:
If you want my testimony and my testimony why I was in the Supreme Court (SC), my faith in God, and how God transforming this nation ... you can invite me or I will send to you my testimony for PMTL to know.
I will not oppose just for the opposition. I want transformation by God. We cannot stop evil in electoral but mababawasan yan. God can redeem our nation, the more we talk about God, the more He likes that beyond our imagination. The more we talk about Him, the more He will listen and He will save us in our behalf. Huwag natin punahin yoon pag worship natin. God's awareness is on justice. Youth are eager to hear the Word.