Here Am I
Details

Category: Teachings & Articles
Published: Friday, 16 February 2018 01:04
Hits: 2030
"Here I am "
By Augusto A. Kho;
February 13, 2018;Tuesday; 12:25 P.M.
Mc Donald's; Blue-Bay; Pasay City
For Administrator's Message
Living Stone Christian Academy
For its 23rd Foundation Week Celebration
"God called unto him out of the midst of the bush, and said, Moses, Moses. And he said, Here am I," - Exodus 3:4.
(picture1)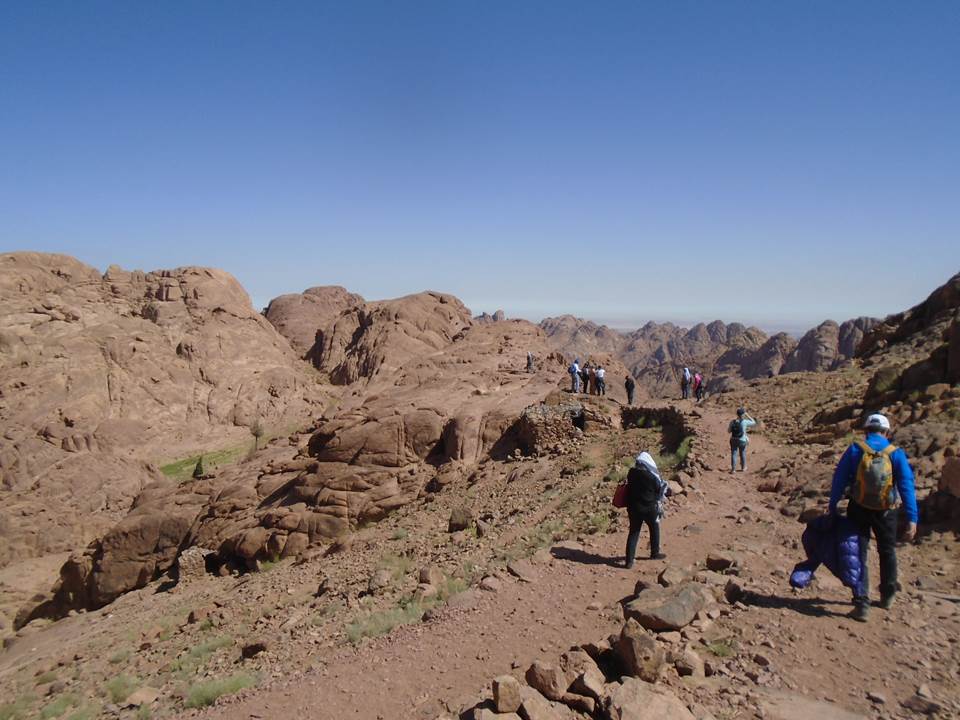 Mt. Sinai, Egypt is7,750 feet above sea level. Photo by Peps (2017)
Moses was literally drawn from the water. Moses in Hebrew word "Mosheh" means "drawn out from the water." This is his story
Moses also means "rescued." He was rescued literally by divine power of God when the king of Egypt commanded all midwives to kill all the sons of Abraham, no less than all the Hebrew's sons. Yet God dealt with the midwives and the latter feared Him so they defied the king's order (Exodus 1:15-22).
He is not an ordinary boy, Moses was a son of Levi, God's appointed priest out from the twelve (12) tribes of Israel. Since his birth, Moses' parents feared for his life until when they could not hide him no longer, his parent placed him in a basket made of reeds and let him adrifted by the waters in the river of Nile. And how does it feels for a father or mother to see his son letting him go not knowing what will happen to him? It was a dramatic moment for a parent seeing them being separated from their son. And there is no words enough to describe the pain of being separated from the one you love (Exodus 2:1-3).
Destiny calls it. No less than the Lord God who saw the whole bitter and painful ordeal of his parents and He has to do something to guide Moses while he was being drifted afar on the river. Moses was later seen by no less than the Pharaoh's daughter. Out of pity she drawn Moses out from the river Nile. That is how he was named for. From there, she nursed, kept and raised him like her own son.
Until Moses became the Pharaoh daughter's son. The next prince of Egypt (Exodus 2:4-10). In God, no one will be made orphan and He gives home to the homeless (John 14:18).
But Egypt has corruptly eaten Moses' life and calling. The worldly pleasures entangled him and the writer of the Book of Hebrews said, "to enjoy the pleasures of sin for a season." Season is not permanent. It comes occasionally until God has to do something to re-direct Moses' valuable life to serve his ultimate calling.
Moses out of anger killed an Egyptian until the king sought to kill him. He fled to the land of Midian and became a fugitive in effect. There where he met his wife, Zipporah, a shepherd's daughter (Exodus 2:11-22).
God heard the groaning of Israel from the misery of bondage. The Israelites were badly maltreated then when God remembered His covenant to their forefather's Abraham, Jacob and Isaac. God always remembers. He never forgets unlike what mortals do. His promises is for keeps. It is forever (Exodus 2:23-25).
'Prior to his call, Moses was stripped down to the core. He lost everything as what he enjoyed in Egypt – the title of a prince, the luxury and the comfort of monarch life, the riches of the world, and the prestige and the respect of people.
Prior to his divine call, Moses was not merely a simple shepherd; perhaps husky, dirt-smirched, smelly old man who have been always under the heat of the sun. He was sixty (60) then, an old man. Moses was literally nothing and no one.
The groaning of the Israelites and the lost man met. The two difficult situations were combined. Together it reached the heavens. And God heard these two painful heart-breaking circumstances. God never slumbers as the Psalmist declared.
While Moses placed his flock on the grazing ground, the angel of the Lord appeared to him. His Presence was "in a flame of fire out of a midst of a bush." A bush in Hebrew "seneh" means "thorny bush, perhaps a blackberry, a bramble." A bramble is a rough bush or vine that usually had sharp thorns on its branches. The bush speaks of thorny life of a man named Moses where its sharp edges hurt whatever it touches. This man have done many thorny decisions in his life even he was guided by God since birth but he lost track of his divine purpose.
What is God's Presence doing there in a thorny bush? Out of Moses' thorny life, God is calling him again, this time not to be the prince of Egypt but the prince of Israel, the God's chosen and special people. And the covenant-grace must prevail.
And the story goes like this:
"And when the LORD saw that he turned aside to see, God called unto him out of the midst of the bush, and said, Moses, Moses. And he said, Here am I," – Exodus 3:4
Have the Lord called YOU? Should you tell Him, "Here am I, use me Lord." What if the Lord calls your son or daughter, will you be willing as well?