Deipnon: The Invitation
Details

Category: Teachings & Articles
Published: Monday, 14 August 2017 00:17
Hits: 5171
Deipnon: The Invitation
New York City
By Augusto A. Kho
July 31, 2017 (Monday); 9:30 p.m.
Updated: August 05, 2017 (Saturday); 8:10 A.M.
I was meditating while driving yesterday , August 3 (Thursday) at 11:38 P.M. about "meal" or "dinner" when the host of the radio station number 99.65 talked about "the bread and the wine" at around 11:38 P.M.
"Behold, I stand at the door, and knock: if any man hear my voice, and open the door, I will come in to him, and will sup with him, and he with me," – Jesus Christ to the Church of Laodicea (Revelation 3:20)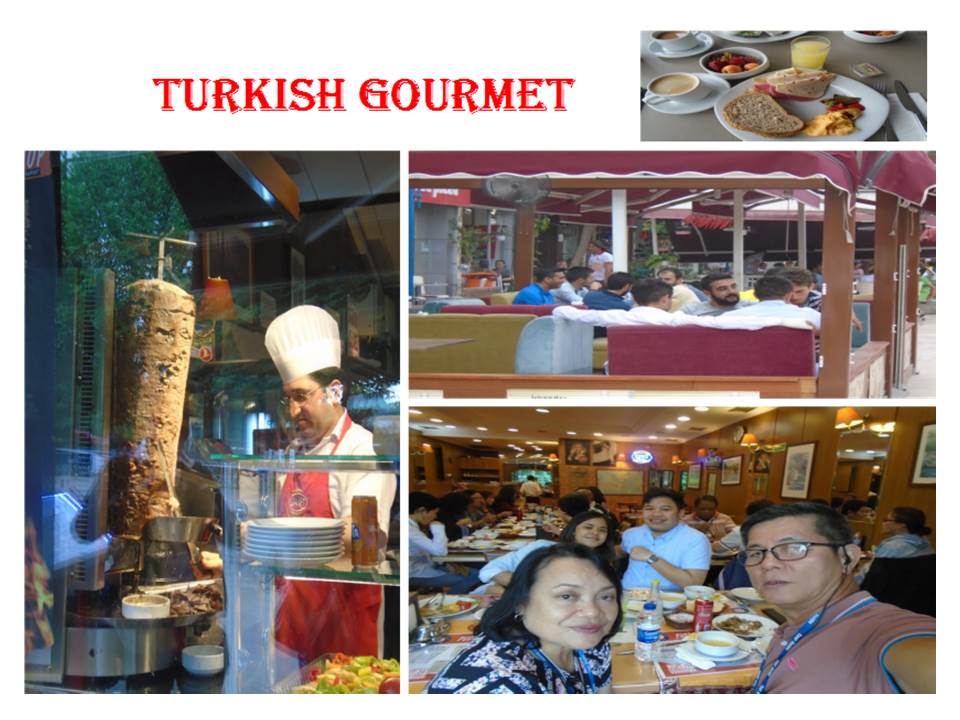 Dinner at Manhattan, New York
A family friend invited me for a dinner. The dinner will be made only after we will finish watching a family-oriented show at Radio City in the Upper Manhattan. The show lasted for nearly one hour and I must admit I was starved to death. Since he parked his car quite far from Manhattan we have to take a subway to get into his car. Along the way, his two kids feel starved as well, so we went into a burger house to buy his kids some hamburger minus us of course. On our way to the restaurant his phone rang. And it was an emergency. His aunt was evicted to the house she was renting. . Readily, we went to see her and we ended up moving his personal effects to his house. I had to excused myself and told him I will be heading home (to another friend of mine with whom I was staying).
Or you have you been invited for a dinner then suddenly it merely gone pfff?
Memorable dinner anyone?
Have you ever experienced fine dining or anything simple yet memorable? In a yacht while the sunset is setting down? Or in a rooftop of a building overlooking the metropolis?
I have plenty of good dining experiences. I have had gone on top of Eiffel Tower in Paris in France; another is a gourmet experience in Rome, Italy or $500 per plate of lobster in Seattle, Washington. We had meals as well in a yacht along Manila de Bay and in Marina Restaurant overlooking the Subic Bay. We tasted the street foods of Bangkok, Hong Kong, Kuala Lumpur or street alleys in Metro Manila. I have had some dining experiences in a cruise tour in the Greek isles of Poros, Hydra, Aegina on the Aegean Sea.
There are few bad dining encounters I have had as well like that of meal invitation of Christian businesswoman only to hurl unsolicited "rebuke" against my person while we were eating because I includes tithing in my pulpit preaching ministry. Teary-eyed I stood up and said to her, "Who are you to tell me like that? I have had sacrificed my whole life and even my career to follow the Lord Christ while I owed you nothing even a single cent?"
During my younger years, we were often deprived from basic necessities even food. Often food is being rationed if not scarce. Many people withhold food from others even when they have surpluses to share it with others. That is the reason when we started this pasturing ministry, "Feeding the Poor" as well with the "Feeding the Inmates" on a regular basis becomes to us an "obligation" or a "call."
Dining evolved
Eating evolves greatly. From a simple commandment from Adam and Eve in regard to the "fruit of the knowledge of good and evil" in Genesis 2:16-17; Esau's losing his birth right over a bowl of lentil (Gen. 25-32-34), Passover Lamb during time me of Moses which is a shared family meal and as a Lord's Feast in Exodus chapter 12 and the Jew's covetousness on food i.e. "quails that caused plague" (Numbers 11:33).
Then eating became a family tradition. I remember when I was 3 or 4 when Mamang (my grandmother) will always see to it that we were all present during the meal time on a very long table that can accommodate to 16-18 people. Every meal time is considered customary and sacred. We bless the food in prayer and from there also she makes instructions and warnings.
In Filipino we call that "salo-salo" or "sharing meal together."
An article entitled, "Families that eat together stay together " written by Julie Cabatit-Alegre on The Philippine Star dated September 25, 2012, its says:
Salo-salo refers not only to a meal but also the sharing of a meal. It is a word unique in our language and is part of our culture. Education Secretary and Lasallian Bro. Armin Luistro pointed this out at the launch of Famealy Matters — 50-Plus Stories of Everyday Intimacy at the Family Dining Table. The book is a collection of stories by a wide range of well-known personalities from the fields of business, government, media and entertainment, and compiled by the country's top inspirational speaker and prolific author, Francis J. Kong.
In his story titled, "Two Families, Two Dining Experiences," referring to his biological family as well as his religious family, Bro. Armin wrote: "We lived in a compound with my maternal grandparents and we were about 20 then, including our helpers. All 20 of us would eat together." He goes on to note: "As a teacher, in fact, I have discovered that children who spend time with their parents during mealtimes have a very good sense of self and are well-rounded. It is because mealtimes are when we develop social graces and discipline, practice acts of generosity, and establish intimacies."
A common thread that runs through the stories in the book, Kong observed, is that most of their life lessons were learned while sharing a meal around the dinner table. "In our house, no piece of furniture is more sacred than the dining table. It is a round one, glass-topped, with a lazy susan, big enough to seat six of the most important people in the world: my wife Pia, my sons Theo and John, my daughters Ally and Angeli, and myself," Atty. Alex Lacson wrote in his piece, "Wonderfully Recharged, Wonderfully Connected."
Oh, we just met Atty. Alex Lacson last Wednesday, August 3, 2017 at "Tender Bob's Restaurant" during our regular PMTL Meeting together with other Board Members.
Mackensie Griffins, writes to 'No Place For Discontent': A History Of The Family Dinner In America dated February 16, 2016
(picture2)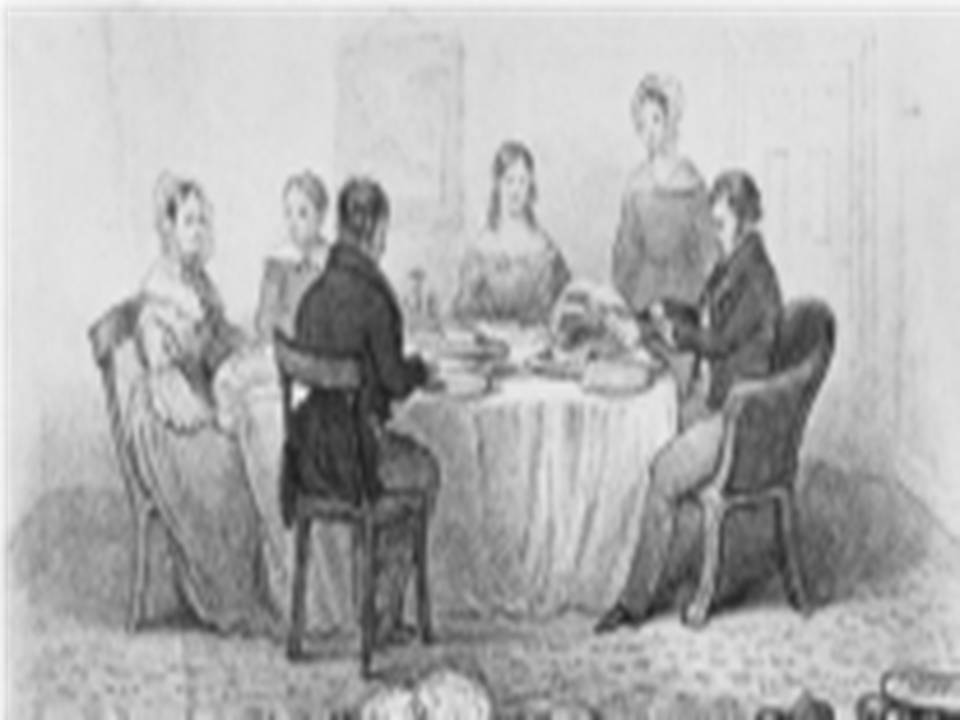 Hulton Archive/Getty Images
A middle-class Victorian family at the dinner table, circa 1850. Victorian parents used family mealtimes to educate their children on religion, conversation and table manners.
In homes across the United States, families sit down around their dining tables to share a meal together known as the Family Dinner. This can be a joyous occasion or a contentious one. Whether you feel warm and fuzzy or grit your teeth at the thought, the family dinner is an opportunity for familial communication that didn't always exist. As dining as a family became an institution in American life, it evolved from being a time for restraint to being a time for expression — an evolution visible in art and film.
Eating is social responsibility
Meal is not merely social responsibility and social acceptance. Eating or dining is in fact is a culture and a way of life. You can tell a person of his ethics and attitude on the way he eats or even the way he left his mess on the eating table. Sharing meal even with a stranger even from the ancient time is widely practiced.
Gen. 14:18-19, Melchizedek, King of Salem and "high priest of the most High God" met and brought to Abram, "a bread and a wine" after the latter's victory from 5 kings. The King of Sodom also came to meet Abram (v. 17).
In Genesis 19:1-3, two angels in human form came to visit Sodom and they were seen by Lot, Abram's nephew. Lot insisted the two "men" to come to his house for a meal. Verse 3 says, "And he pressed upon them greatly; and they turned in unto him, and entered into his house; and he made them a feast, and did bake unleavened bread, and they did eat." It turned out that Lot's invitation is in fact, his deliverance from terrible judgment of God to Sodom and Gomorrah.
"Feast" in Hebrew "misteh" means a "feast, drink, or a banquet." Figuratively, it derived from Hebrew "shathah" (shaw-thaw") i.e. "drinking cup of God's wrath, of slaughter or wicked deeds."
When the Law of Moses or Torah has been established, sharing meal with others especially with the less fortunate became a "religious responsibility" in replacement to religious fast. Isaiah 58:7a, "Is it not to deal thy bread to the hungry, and that thou bring the poor that are cast out to thy house? " In fact even a stranger can join the Lord's feast in Exodus 12:48, "And when a stranger shall sojourn with thee, and will keep the passover to the LORD, let all his males be circumcised, and then let him come near and keep it; and he shall be as one that is born in the land: for no uncircumcised person shall eat thereof. " The word "Passover" in Hebrew "pesach" is a Jewish Feast that commemorates God's people deliverance and their journey from Egypt to the Promised Land, now Israel.
Corner of the Fields is widely practice among the Jews that fields must not be completely harvested but leave something on the corner for the poor and the strangers (Leviticus 19:10)
In Hebrews 13:2, "Be not forgetful to entertain strangers: for thereby some have entertained angels unawares." The word "entertain strangers" in Greek means "to give generously" (philonexia).
Jesus Christ lamented those who do not share their blessings to others. In Matthew 25:42-43, He said, "For I was an hungred, and ye gave me no meat: I was thirsty, and ye gave me no drink: I was a stranger, and ye took me not in: naked, and ye clothed me not: sick, and in prison, and ye visited me not"
Food for sustenance become a social ill in the Philippines until it become a law in the US under Freedom from Want out of Four Freedoms. Carlos Bulosan, a native of Binalonan who migrated to US as a common labourer, gifted with essay writing was tasked to make an essay on Freedom from Want.
A Commentary on Carlos Bulosan's Essay,"Freedom From Want" By Martin L. Magnaye. In his annual State of the Nation address to Congress on January 6, 1941, President Franklin D. Roosevelt stated: "In the future days, which we seek to make secure, we look forward to a world founded upon four essential human freedoms."
He was referring to freedom of speech, freedom of religion, freedom from want, and freedom from fear. Norman Rockwell, a famous American painter during this time period, portrayed each of these four ideals on canvas.2 Rockwell's work is referred to as the Four Freedoms Collection. Each "freedom" was featured in the Saturday Evening Post, a nationwide weekly, and was accompanied by a commissioned essay on each freedom.
The editors of the Saturday Evening Post explain that Carlos Bulosan was asked to write on "Freedom from Want "because a man struggling to reach a goal often sees the goal more clearly than one who has already reached it."Given his financial situation and the hardships he encountered as a brown skinned immigrant worker in White America.
By the time, President Gloria Macapagal-Arroyo, sharing food with the less fortunate, become a government program under "4 P's" in line with United Nations (UN), 8-Millennium Development Goals (MDG's) under "poverty reduction."
Laodicea's geographical location
Laodicea on the Lycus (Greek: Λαοδίκεια πρὸς τοῦ Λύκου; Latin: Laodicea ad Lycum, also transliterated as Laodiceia or Laodikeia) (modern Turkish: Laodikeia) was an ancient city built on the river). It was located in the Hellenistic regions of Caria and Lydia, which later became the Roman Province of Phrygia Pacatiana. It is now situated near the modern city of Denizli.
The cities of Laodicea, Colossae and Hierapolis are within the 20 km radius and they have a "close relationship" with one another writes Dr. Mark Fairchild. It is located in the western part of Asia Minor which is very near to Aegean Sea. Colossians 4:13 says "For I bear him record, that he hath a great zeal for you, and them that are in Laodicea, and them in Hierapolis."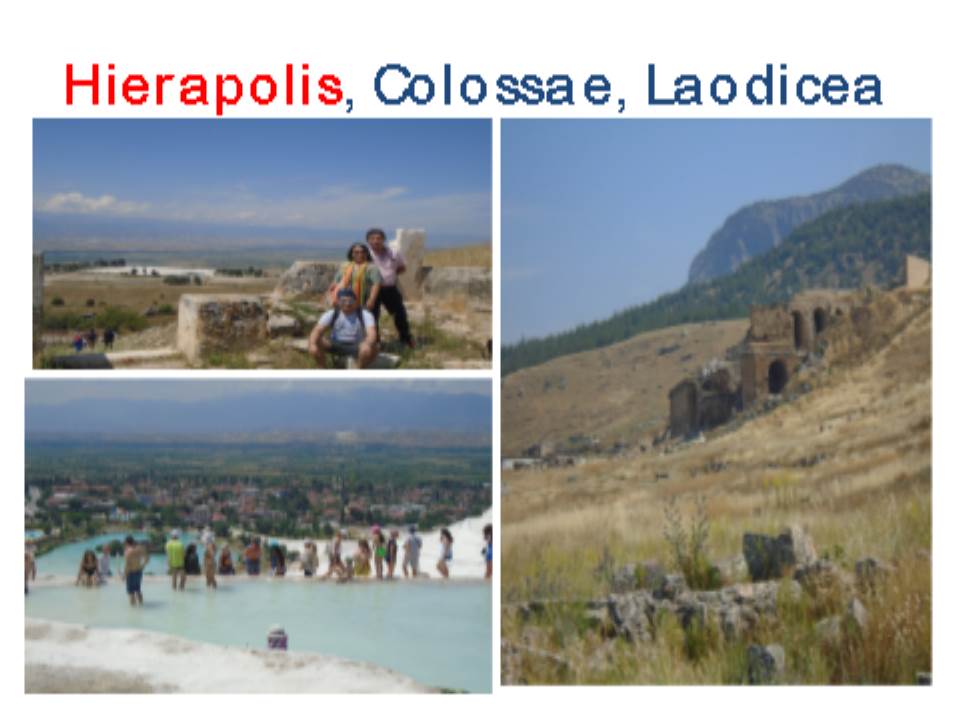 Huge calcium deposits can be found around Hierapolis that goes to Lycus River at Laodicea. While Colossae has pure cold water by the time the water travels from the east down Hierapolis to Laodicea, the water turns remarkably tepid that loses it commercial value which is not hot nor cold but lukewarm. God used this mineral formation to rebuked Laodicean Church saying,
"And unto the angel of the church of the Laodiceans write; These things saith the Amen, the faithful and true witness, the beginning of the creation of God; I know thy works, that thou art neither cold nor hot: I would thou wert cold or hot. So then because thou art lukewarm, and neither cold nor hot, I will spue thee out of my mouth," (Rev. 3:14-16)
Laodicea is established by the 1st century and pioneered by Epaphras who was a native of Colossae (Col. 1:7). He was a former student of Paul in the School of Tyrannus in Acts 19:9-10. Timothy later joined Epaphras
Paul's letter to Colossae dated 60 AD includes Laodicean Church. In Colossians 4:16, Paul said to church of Colossae, "And when this epistle is read among you, cause that it be read also in the church of the Laodiceans; and that ye likewise read the epistle from Laodicea."
(picture4)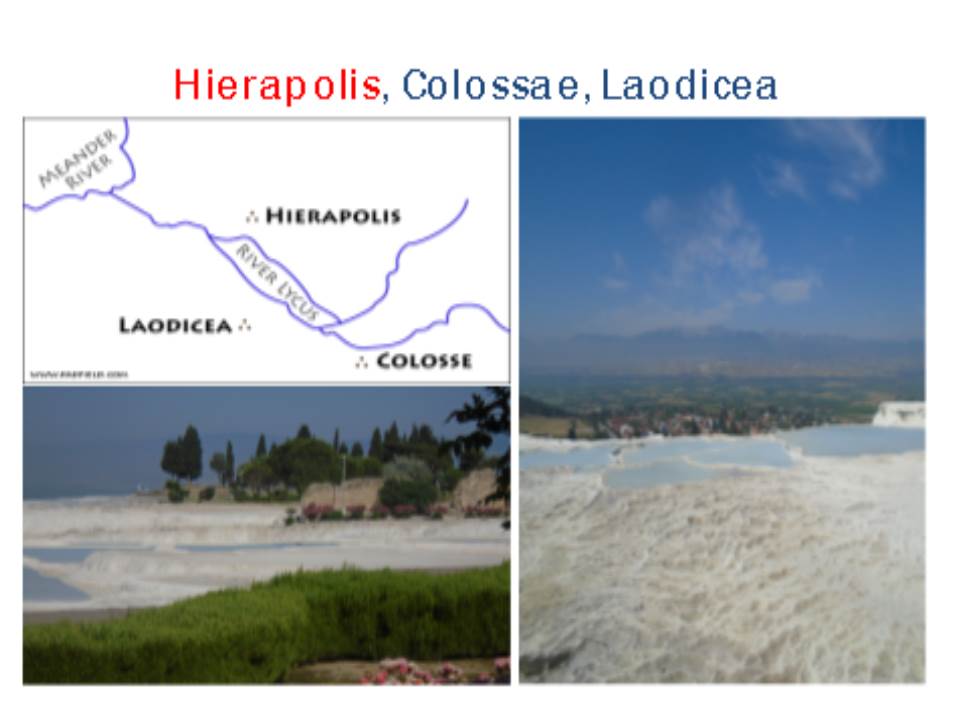 Laodicea's spiritual condition
Paul has a good words on Colossae and Laodiceans, he wrote in Colossians 1:3-4, " We give thanks to God and the Father of our Lord Jesus Christ, praying always for you, Since we heard of your faith in Christ Jesus, and of the love which ye have to all the saints."
Laodicea's economic condition
Dr. Fairchild who was with us in all throughout our visit to Asia Minor on June 13, 2017 (Tuesday) at 1:00 PM described Laodicea almost the same way he described them in his book entitled, "Christian Origins in Ephesus and Asia Minor" which are as follows:
"We are now in Laodicea near from Pamukkale (Heliopolis) with unexcavated site here. Collosse. These three cities (Tripolis not included in our itinerary).
Laodicea, prosperous city, it was built on a strategic highway. It is a city rich in textile production. It is in fact, the largest garment-producing city all over Turkey since ancient time. This made the city of Laodicea most famous that brought her much great wealth.
If Italy has Gucci for example and Armani cost thousands of dollars, Laodicea on the other hand made her famous because of her beautiful, expressive and expensive textile production. .. Garments made from Laodicea is so very famous in ancient times and they made so much money out of this business.
Also in Laodicea are many well-known hospitals, mostly eye- hospitals where we have this herb that can cure blindness. Not until a massive earthquake hits Laodicea that brought a so much great damage.
The Romans in Laodicea asked for help from Rome to restore the city, but the local people said, "We do not need help We can rebuild the city." Laodicea has this banking city where merchants while travelling can borrow money.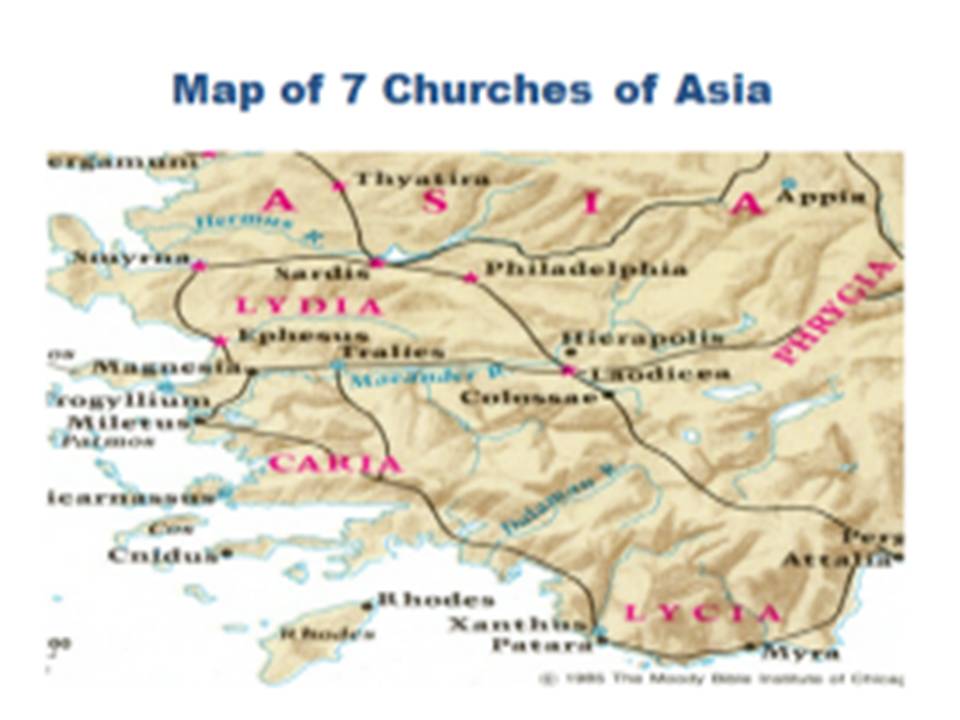 (picture5)
There are two theatres, one is open in the morning and one in the evening (That speaks how this city is financially well-off). Excavations are being made under the sponsorship of a local businessman and the local government. …In 1990 when I came here, there was nothing much to see.
This is very wealthy city and a church like Heliopolis which has two theatres. They have colonnaded street which is exemplary expensive. . All the streets were colonnaded because they got money.
Laodicea has the following: 5 fountains, 4 bath houses, and 5 agoras which are trade centres
This is where their wealth comes from. They bragged their wealth. When devastating quakes hits this region during the reign of wicked Emperor Nero, the city was utterly devastated. And Emperor Nero offered to rebuild then the devastated city."
Fashion, Banking and Arts Capital
Laodicea-made garments are therefore branded that made the city famous for like of today's Milan which is called, the "Fashion capital in the world," followed by New York City. Laodicea then is like the Swiss bank, which is today called the "world banking capital."
Laodicea's architectural designs must be explicitly breath-taking which can be too artistic that can probably surpass. Florence is considered the "Arts capital of the world" which is merely 300 km from Milan, Italy. Laodicea has a modern and splendid urban planning: expensive marble-colonnaded streets 5 gigantic agoras or malls; 2 big theatres which is bigger than Araneta Coliseum with merely 20,000 sitting capacity.
Laodicea spiritual condition, 60 A.D.
Laodicea Church was first organized in 1st AD and tremendous change took place 60 years later in 60 AD when Paul nearing his execution in Rome.
Meanwhile by the time it reaches April, 70 AD, the Temple of Jerusalem was under siege an turned it into ashes by four (4) Roman legions led by General Titus who later became Caesar. (Roman legion (from Latin legio "military levy, conscription", from legere "to choose") was the largest unit of the Roman army, involving from 3000 men in early times to over 5200 men in imperial times).
God spoke to John His rebuke to Laodicea Church in verse 17 saying, "Because thou sayest, I am rich, and increased with goods, and have need of nothing; and knowest not that thou art wretched, and miserable, and poor, and blind, and naked:."
City of Zeus
Here is what David Padfield says on Laodicea: Laodicea was the chief city of the Lycus River Valley region. The full name of the city was Laodicea ad Lyceum (Laodicea on the Lycus). The city was originally known as Diospolis, "the City of Zeus".
The Greek deity considered to be the greatest of the Olympian gods. Homer, the Greek poet, often called Zeus "the father of gods and men," the ruler and protector of all.
The city was founded between 261 and 253 B.C. by Antiochus II Theos, king of Syria, and named in honour of his wife, Laodice (Laodike). "The early population of the city probably consisted of natives of the area, Hellenized Greeks and veteran soldiers in the army of Antiochus II" (Fatih Cimok, A Guide to the Seven Churches, p. 88).
The city became part of the kingdom of Pergamon and later passed into Roman hands in 133 B.C. Cicero, the famous Roman orator and statesman, served as governor of the province, residing mostly in Laodicea.
Banking capital
David Padfield said that Laodicea was a great centre of banking and finance (Rev. 3:14-21). It was one of the wealthiest cities of the ancient world! Blake and Edmonds describes Laodicea,
""The city was at the crossroads of north-south traffic between Sardis and Perga and east-west from the Euphrates to Ephesus. Laodicea quickly became a rich city, rich enough…"
Yet despite of the great economy, Christ said to them: "Because thou sayest, I am rich, and increased with goods, and have need of nothing; and knowest not that thou art wretched, and miserable, and poor," (Revelation 3:17)
Clothing capital in the world
Blake and Edmonds, "Biblical Sites in Turkey", writes Laodicea was a great centre for the manufacturing of clothing -- the sheep which grazed around Laodicea were famous for the soft, black wool they produced. The city's reputation was for its money transactions and the good quality of raven-black wool grown in the area."
Yet Christ rebuked Laodicea again saying,
"Because thou sayest, I am rich, and increased with goods, and have need of nothing; and knowest not that thou art wretched, and miserable, and poor, and blind, and naked," (Rev. 3:17)
That is indeed unfortunate when you have the reputation as the world's garment-manufacturing capital yet you are bare and naked that nothing covers your shame.
Eye-Hospital capital in the World
Laodicea was well known for it's school of medicine writes Blake and Edmonds. They further added, "One of the principles of medicine at that time was that compound diseases required compound medicines. One of the compounds used for strengthening the ears was made from the spice nard (spikenard? an aromatic plant," Dr. Galen says that it was originally made only in Laodicea, although by the 2nd century A.D. it was made in other places also. Galen also described a medicine for the eyes made of Phrygian stone. Aristotle spoke of it as a Phrygian powder."
In the Philippines, we have the same compound extracted from a local stone, we call it "tawas".
Phyrgian stones can be extracted only in Phyrgian region. Phyrgia is mentioned in Acts 16:6; and 18:23.It means "phrugia" (froog-ee-ah) meaning "dry" or "barren", a region in Asia minor bounded by Biuthynia, Galatia, Lycaoiniua, Pisidia, Lydia, Msia and it contained the cities of Laodicea, Hierapolis and Colosse which we just recently visited last June.
Yet despite of the enormous quantity of available resources in Phrygia to restore or heal one's ailing eyesight, Christ rebuke them again saying,
"Because thou sayest, I am rich, and increased with goods, and have need of nothing; and knowest not that thou art wretched, and miserable, and poor, and blind, and naked," (Rev. 3:17)
Would not these medicinal concoctions be a reason why John cautions the Laodiceans " to buy 'ointment for your eyes so that you may see' (Revelation 3:18)?"
Poor, Naked and Blind
Laodicea Church like any other church today who feels they are vibrantly alive, rich, well-provided for; and physically healthy had this REALITY The church is poor, naked and blind.
God is very personal, intimate
God is very personal and intimate with anyone. One time, I was contemplating which of the 3 churches I would be attending when I was reassigned in Riyadh from Dhahran. I chose the 2nd one, a church with tremendous gift of healing and miracles. God said to me, "Miracles are only for the unbelievers for them to believe." God chose the church which I least preferred – a small church with merely 30 members mostly Filipinos, Pakistani and Indians. I said, "No, they smell bad." God replied, "Mas mabaho pa kasalanan mo."
In the same way, God used the thermal water from where Laodicea is exactly located which is lukewarm to described them as a rebuke.
Rudwick and Green writes, "hence the Lord's words, 'Would that you were cold or hot!'"
"The lukewarmness for which, thanks to this letter, the name of Laodicea has become proverbial, may reflect the condition of the city's water supply. The water supplied by the spring ... was tepid and nauseous by the time it was piped to Laodicea, unlike the therapeutic hot water of Hierapolis or the refreshing cold water of Colossae, " writes by Rudwick and Green (1958); (The Anchor Bible Dictionary).
Our Lord did not accuse the brethren in Laodicea of apostasy, nor with following some false prophet or engaging in emperor worship. The church is accused of being "lukewarm" -- this is the only congregation about which the Lord had nothing good to say! (Mark Fairchid).
Leaning from Laodicea
What can you learn from this church? Laodicea took great pride in her financial wealth, yet the Lord told them to buy "gold refined in the fire, that you may be rich." Laodicea took pride in its clothing, yet the Lord told them to buy "white garments, that you may be clothed, that the shame of your nakedness may not be revealed." Laodicea took pride in its eye medicine, yet the Lord told them to buy "anoint your eyes with eye salve, that you may see" in Revelation 3:18.
The Invitation
(The Lord's Supper)
Because of Laodicea's miserable condition, God invites them back again to a Greek culture kind of dinner. He said, "Behold, I stand at the door, and knock: if any man hear my voice, and open the door, I will come in to him, and will sup with him, and he with me."
The Greek Cuisine
Greek cuisine has a culinary tradition of some 4,000 years and is a part of the history and the culture of Greece. Its flavors change with the season and its geography (Armstrong, Kate; Hellander, Paul (2006). Lonely Planet Greece)
It was Archestratos in 320 B.C. who wrote the first cookbook in history. Ancient Greek cuisine was characterized by its frugality and was founded on the "Mediterranean triad": wheat, olive oil, and wine, with meat being rarely eaten and fish being more common. This trend in Greek diet continued in Roman and Ottoman times writes Colin Renfrew (1972).
Wheat, wine and oil
In the Book of Revelation 3:20, Christ inviting the Laodiceans speaks as a wheat, the Living Word that made flesh (John 1:1, 14). An incarnated Christ like a half human and half God.
Revelation 3:22 there is the Spirit of God that speaks the oil. The presence of Spirit of God. is there in Laodicea. Rev 1:12 says, "Rev 1:12 "And I turned to see the voice that spake with me. And being turned, I saw seven golden candlesticks;" Candlestick in Greek "luchnia" (l;ookh-nee-ah) refers to " a (candlestick) lamp stand, candelabrum" that literally dependent on oil to keep it burning. Matthew 1:20 an angel appeared to Joseph and explained it to him saying, " … Joseph, thou son of David, fear not to take unto thee Mary thy wife: for that which is conceived in her is of the Holy Ghost." The word "conceived " in Greek "gennao" means "fathered, to engender, to be born of, begotten." God fathered Jesus in the flesh of a woman's womb of Mary. While the Spirit of Christ is that from God, the flesh of Christ is from the woman like a half human, half god.
And the Christ again as wine in Revelation 3:20 that speaks of the atoning sacrifice of the blood of Christ
Dining with Christ
The Lord promised to "dine" ("sup" KJV) with the one who would hear His voice and open the door (Rev. 3:19-20). "The word translated sup is deipnein and its corresponding noun is deipnon. The Greeks had three meals in the day. There was akratisma, breakfast, which was no more than a piece of dried bread dipped in wine. There was ariston, the midday meal. A man did not go home for it; it was simply a picnic snack eaten by the side of the pavement, or in some colonnade, or in the city square. There was deipnon; this was the evening meal; the main meal of the day; people lingered over it, for the day's work was done according to William Barclay.
Orientals invariably begin by eating an "akratisma" in the morning before they will smoke a pipe, or drink a cup of coffee; they have also an insuperable prejudice against the internal use of cold water at this hour.
The Greek "áriston" literally means "without boundary, designation" – which is "undetermined," referring to the meal eaten anytime before the main meal (isupper or deípnon).
Titan Hakate
Encyclopædia Britannica, Hekate has power over heaven, earth, and sea and is able to grant prosperity and all the blessings of daily life.
The main purpose of the Deipnon was to honor Hekate and to placate (appease) the souls in her wake who "longed for vengeance" according to Aeschylus, "Doubtful Fragment."
A secondary purpose was to purify the household and to atone for bad deeds a household member may have committed offended Hekate, causing her to withhold her favor from them.[3] 
Aristophanes (Plutus, 594) said, the Deipnon was celebrated on the night before the first visible sliver of moon could be seen, the night of the new moon. The new moon was the last day of the lunar month and the Deipnon rituals allowed the family to begin the new month, which they celebrated as the Noumenia. This differs from how modern astronomy calculates the new moon, so one may not follow a modern calendar to set this date.
Hekate's Deipnon takes place during the dark phase of the moon: the end of the lunar month
(any time before the sliver of the new moon has been sighted).  Hekate, according to the Liddell and Scott Greek-English Lexicon, means "bringer or giver of light" or Ekatephosphoros. At the darkest part of the month, we prepare our homes for the transition to a new month. Hekate's Deipnon is a time of purification of self, home, and affairs.
Hekate's Three Process
Place an offering on a crossroad

Atonement

Purification
(picture6)
Above photo from the internet
Deipnon
It was the deipnon that Christ would share with the man who answered His knock, no hurried meal, but that where people lingered in fellowship. If a man will open the door, Jesus Christ will come in and linger long with him." (William Barclay, The Revelation Of John, Vol. 1, pp. 147-148).
Strong Bible Dictionary define "deipnon" i.e.as the supper, especially a formal meal usually held at the evening, it is used of the Messiah's feast, symbolising salvation in the kingdom; food taken at evening.
The Deipnon Hekate consists of three main parts:
Meal set out at a crossroads.
The people of God, the Jews were on the crossroad between Egypt and the Promised Land according to the God's promise to Abraham (Gen.12:1-4)
When God called Moses, he refuses and very doubtful and fearful. Moses was on the crossroad. So the promise of God to Abraham is at the crossroad as well. It is the sign of the cross is a crossroad? Crossroad is crossover. Passover is a crossroad.
Exodus 3:11 "And Moses said unto God, Who am I, that I should go unto Pharaoh, and that I should bring forth the children of Israel out of Egypt?"
Passover in Hebrew "pesach" i.e. Passover, sacrifice of Passover, animal victim, festival or victim. Root word "pasach" (paw-sakh) i.e. to pass over; spring over, to skip, to be lame, to limp, to hop, skip over, hesitate, halt, to dance. (Exodus 12:11, 21; 12:27)
Expiation i.e. Atonement
Jewish Atonement. Exodus 29:33, 36-37; 30:10; Numbers 35:33; Lev. 4:26; Atonement during Sabbaths, new moons, set feats, for holy things Nehemiah 10:33; Christ the ultimate atoning sacrifice Romans 5:11, "Jesus Christ by whom we have now received the atonement " i.e. "katallage" (kat-al-lag-ay)i.e. exchange of the business of money changers; reconciliation, restoration).
Purification
Jewish Purification: Number 19:9, "for a water of separation: it is a purification for sin," purification is "chata'ah" (khat-taw-aw) i.e. sin offering; purification from sins of ceremonial uncleanliness; penalty, sacrifice; punishment of sin. Luke 2:22; is Greek "katharismos" i.e. cleaning, ritual washing (before and after meals), ablution, washing off." You see some jars inside Hagia Sofia as well in Sultan Ahmet (Blue) Mosque in Constantinople (or modern Turkey today).
Acts 21:26 "days of purification" Greek "hagnismos" i.e. purification or expiation. Greek root word, "hagnizo" ceremonially (to make pure, purify, cleanse, sanctity).
Communion
Communion, Breaking of the Bread, the Lord's Supper is the Lord's Paschal Lamb and the Lord's Passover in Exodus 12:3, 11,
Jesus Christ is the Bread and the Wine. Matthew 26:26 "And as they were eating, Jesus took bread, and blessed it, and brake it, and gave it to the disciples, and said, Take, eat; this is my body."
Like in the Greek gourmet's "Mediterranean triad": wheat, olive oil, and wine; Jesus Christ is the Unleavened Bread, His blood as a wine poured out as an offering and He sends the Holy Spirit.
John 16:7 "Nevertheless I tell you the truth; It is expedient for you that I go away: for if I go not away, the Comforter will not come unto you; but if I depart, I will send him unto you."
Exodus 29:40 is an Old Testament picture of "Mediterranean Triad," and it says,
"And with the one lamb a tenth deal of flour mingled with the fourth part of an hin of beaten oil; and the fourth part of an hin of wine for a drink offering."
Communion is a basic and very important Christian doctrine. It must always be remembered and never to be forgotten.
Act 2:46 And they, continuing daily with one accord in the temple, and breaking bread from house to house, did eat their meat with gladness and singleness of heart.
While Matthew could have forgotten some of the words that uttered by the Lord directly, some could have remembered what Matthew missed, the word, "remember." In Paul's Letter to the Corinthians, he mentioned the word, remember:
1Cor. 11:25 "After the same manner also he took the cup, when he had supped, saying, This
cup is the new testament in my blood: this do ye, as oft as ye drink it, in remembrance of me. "
Remembrance in Greek "anamnesis" means "to recollect". Or in Greek "anamimnesko" i.e. "call to remembrance, to remind, to bring it into one's mind. "
Every Christian must not neglect the Lord's Supper.
Christ and Perseus
Christ is the personified Perseus in the movie, "Clash of the Titans (Giants)". In Greek mythology, the slayer of the Gorgon Medusa and the rescuer of Andromeda from a sea monster. Perseus was the son of Zeus and Danaë, the daughter of Acrisius of Argos (Encyclopedia Britannica).
Christ is conceived by the Spirit of God born by a woman named Mary. Christ is demi-God like Perseus as demi god and man. Like David, Christ is a giant-slayer of dragon. "Perseus is the greatest Greek hero and slayer of monsters before the days of Heracles, " writes Karl Kerenyi (1959).
Rom 16:20 "And the God of peace shall bruise Satan under your feet shortly. The grace of our Lord Jesus Christ be with you. Amen."
Luke 10:18-19, "And he said unto them, I beheld Satan as lightning fall from heaven. Behold, I give unto you power to tread on serpents and scorpions, and over all the power of the enemy: and nothing shall by any means hurt you."
Movie-Clip
Movie Clip of "Clash of the Titans" with the dialogue "God is in you." A video clip how Perseus, half-man, half-god, a giant slayer killed Medussa, the Gorgon. Christ is a mighty warrior. Exodus 15:3, "The LORD is a man of war: the LORD is his name."
Why Greek mythology?
Jesus is the prophetic Word that was made flesh (John 1:1, 14) who stopped down Himself to be understood in the human form. Greek culture and language as well their religious beliefs was then widely understood and abreast globally during that time. God has to personified in a flesh in a culture and a language where He could be well understood, accepted and received.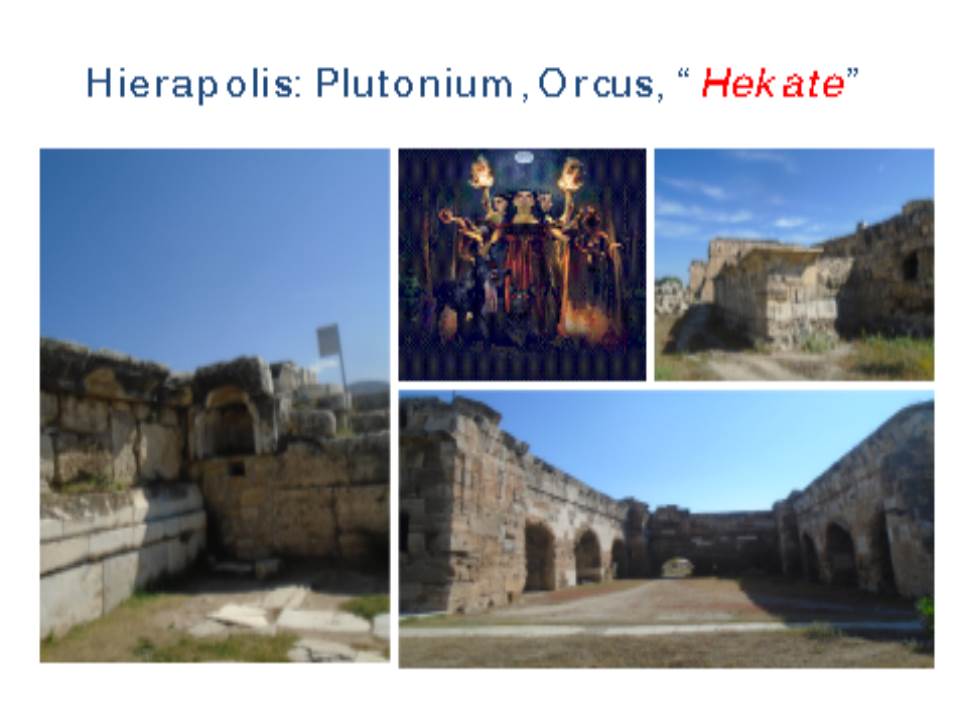 Hecate is the Greek Goddess of the crossroads, magic, the moon, ghosts and necromancy. 
(picture7)
He used the Greek word "hades" or Greek god Pluto to reveal Himself He has the key of hades and hell. Hades is Pluto is one which means hell (Matthew 16:18; Revelation 1:18 on "hell" and he is like or greater than the gods and goddesses of the Greek.
NOTES:
"The principal deity worshipped in Laodicea was the Phrygian god Men Karou, the Carian Men. In connection with this god's temple there grew up a famous school of medicine, which followed the teachings of Herophilus (330-250 B.C.) who began administering compound mixtures to his patients on the principle that compound diseases require compound medicines." Writes Otto F.A. Meinardus, St. John of Patmos, p. 125).
Herophilos (335–280 BC), sometimes Latinised Herophilus, was a Greek physician deemed to be the first anatomist. Born in Chalcedon, he spent the majority of his life in Alexandria. He was the first scientist to systematically perform scientific dissections of human cadavers
Two of the doctors from Laodicea were so famous that their names appear on the coins of the city (Zeuxis and Alexander Philalethes).
The hot springs at Hierapolis, just six miles across the Lycus River valley and to the south, are probably what John had in mind when he spoke of lukewarm water (Rev. 3:15-17). No other city on the Lycus Valley was as dependent on external water supplies as Laodicea. Water was also piped in through an aqueduct from Colosse."
Zuexis
Zeuxis (2), 'the Empiricist', Greek physician, 2nd cent. BCE . Zeuxis (2), a physician of the Empiricist school (see medicine, § 5.3; probably 2nd cent. bce), wrote commentaries on all the 'authentic' works of *Hippocrates (2) (according to *Galen), often taking issue with other interpreters, including Herophileans (see herophilus) and fellow-Empiricists (e.g. Glaucias).
His commentaries offered variants, emendations, glosses, and historical but partisan accounts of critical controversies, such as the one triggered by the Herophilean *Zeno(7)'s interpretation of the mysterious symbols in some copies of the Hippocratic Epidemics.Less
Alexander Philalethes
Alexander Philalethes (Gr. Ἀλέξανδρος Φιλαλήθης) was an ancient Greek physician according to William Smith. Dictionary of Greek and Roman Biography and Mythology whom Priscian wrote about (page 102) called "Alexander Amator Veri (Alexander Truth-Lover)."
He was probably the same person quoted by Caelius Aurelianus "On Acute and Chronic Diseases," under the name of Alexander Laodicensis. He lived probably towards the end of the 1st century, as Strabo speaks of him as a contemporary. He was a pupil of Asclepiades, succeeded an otherwise unknown Zeuxis as head of a celebrated Herophilean school of medicine, established in Phrygia between Laodicea and Carura and was tutor to Aristoxenus and Demosthenes Philalethes according to Galen, a physician from Pergamon.
He is several times mentioned by Galen and also by Soranus.
He appears to have written some medical works, which are no longer extant. The view, once current, that Alexander's Areskonta served as a doxographical basis for such authors as Anonymus Londinensis, Aetius the doxographer, Soranus of Ephesus, and Anonymus Bruxellensis is an inference on the basis of flimsy evidence according to Heinrich von Staden, "Hellenistic reflections on the history of medicine," in Philip J. Van Der Eijk (ed.), Ancient histories of medicine."