The Virus
Details

Category: Teachings & Articles
Published: Monday, 10 February 2020 23:55
Hits: 966
The Virus
By Augusto A. Kho
January 26, 2020; Rosales; 1:30 PM
Rewritten for Sunday Preaching: February 2, 2020
Updated: February 10, 2020 (Monday); 6:01 pm
(picture1)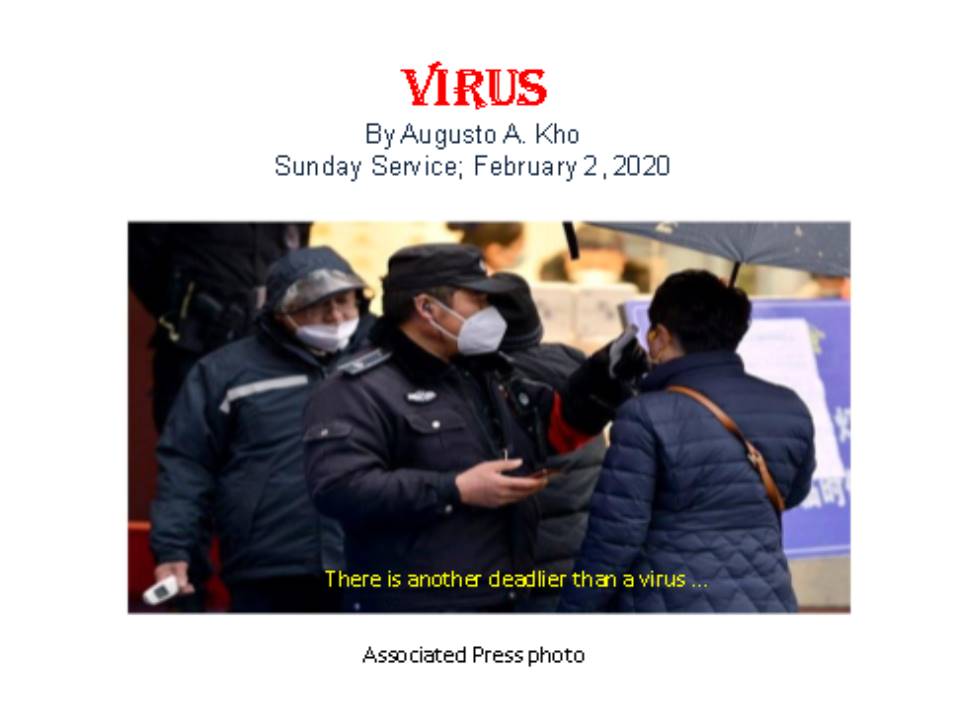 My devotion last January 14 reads this way, 'You will die from terrible disease" (Jeremiah 16:4/NLT. And that reminds me of ABS-CBN's "Mysterious disease" that has been broadcasted by ABS-CBN through Bandila by Julius Babao sometime on February, 2013.
And from there it came to my mind, the unclean spirits which have been spewed upon people, tongues and nations. Revelation 16:13 says, "And I saw three unclean spirits like frogs come out of the mouth of the dragon, and out of the mouth of the beast, and out of the mouth of the false prophet. '
TAKE NOTE of the words, "frogs, dragon and the beast." Why animal-like spirits?
When there is panic and hysteria to a nation, it affects all walks in life – people's mobility, social and moral relations, economy, political, labour and so forth.
Seven years ago, we were provided with face masks should the disease is imminently contagious and fatal. One month later, it hits the headlines reaching the nosy sentiments of the
leaders of the state. An article entitled, "Spectacle: An Enemy of the State" was written. And the rest is history.
Virus Defined
Virus according to Webster is an infective agent that typically consists of a nucleic acid molecule in a protein coat, is too small to be seen by light microscopy, and is able to multiply only within the living cells of a host. It refers to "a virus infection"; an infection or disease caused by a virus.
a harmful or corrupting influence. (figurative or literal)
In Science and Technology, it is a piece of code which is capable of copying itself and typically has a detrimental effect, such as corrupting the system or destroying data.
It started
It is all started from Hong Kong when Associated Press dated January 5, 2020 broke that news that " 7 more Hong Kong patients treated for mystery disease."
Then Daily Inquirer Headlines dated January 06, 2020 flashed, "Travelers monitored for mystery illness" by reporter, Tina G. Santos.
Then Philippine Star reporter Mayen Jaymalin reported dated January 10, "New coronavirus blamed for China mystery illness." Another Philippine major daily published another report saying, "17 new cases of mystery virus," By THE MANILA TIMES, January 19, 2020. And Visayan reporterNestor P. Burgos Jr. wrote, there was a "Coronavirus scare in Boracay: 3 Chinese tourists showed flu symptoms," through Inquirer Visayas datedJanuary 20, 2020.
So when the virus spread, what will happen?
Ban and lock down
By January 26, 2020, AgenceFrance-Presse reported, "Chinese province, cities ban long-distance buses over virus concerns," It is also reported in INQUIRER,
By January 27, Agence France-Presse dated January 2, reported that "China virus toll spikes despite massive lockdown."
Undermining a disease
World Health Organization (WHO) earlier undermined earlier report on the said virus-scare. until a report came that reads, "WHO: Virus global risks 'high' Admits underestimating nCoV as China death toll rises to 106" dated January 29, 2020 through AFP.

Chinese reporter, Jing Xuan Teng wrote that "China virus fears prompt homemade barricades and online shaming. " IT is also reported by Philippine Star dated January 30.
Demon-virus
While US and Japan nationals lead escape from Wuhan, meanwhile Philippines also readies planes to bring their nationals from the infected-city as reported by STANDARD dated January 30, 2020 . Reporters Rey E. Requejo and Macon Ramos-Araneta called the scare, 'Demon virus' sparks exodus."
Under quarantine
Cebu Daily News says, that "PAL places Dumaguete-Manila flight crew on quarantine" as reported by Morexette Marie B. Erramon January 31,2020.
Meanwhile," AirAsia cancels flights between PHL and some cities in China" added by Morexette Marie B. Erramlast February 01.
Tourism downtrend, flights cancelled
Tourism in the region have gone downtrend. In Thailand's most frequented tourist destination in Phuket, it is said that "Chinese tourists desert Thai resort as coronavirus spreads" as reported dby Reuters dated February 1.
Even Governor, Gwen called for a "14 -day quarantine, a way to discourage travelers from China to come to Cebu" Morexette Marie B. Erramdated February 01,2020 - 10:25 PM.
If UN's Human Right's Commission protects the rights of LGBT afflicted with the deadly HIV-virus, why the Chinese nationals from Wuhan is grossly singled out because of the corona-virus plague? Will it not be discriminating to humans as well?

Chinese nationals are just like being ex-communicated during the time of Hitler when this German leader herded the Jews in Austria. Meanwhile Cebu Pacific cancel all its flights to and from China by February 2.
Social functions affected
Even the Chinese government "urges no weddings, short funerals to contain virus" as reported dated February 1, 2020 by Agence France-Presse. The Chinese day-to-day affairs and other social functions are affected.
Panic- buying
By January 28, I hopped from one pharmacy store to another in Metro Manila as far up to Pangasinan hoping I could buy face masks but to no avail. Stocks are depleted. DTI is wrong. We can only be triggers with panic but no single mask is available at the market.
Manila Times writes that "DTI warns against panic-buying for masks," By Aric John Sy Cua; February 1, 2020. But DTI is grossly wrong because we as Filipino consumers can only be in panicking syndrome because there is no available
Government Ban
Finally President Duterte paid heed to his health officials until we saw from the papers that the " Government bans travelers from mainland China, Hong Kong, Macau" as reported by Alexis Romero, Edith Regalado (The Philippine Star) dated February 3, 2020.
(picture2)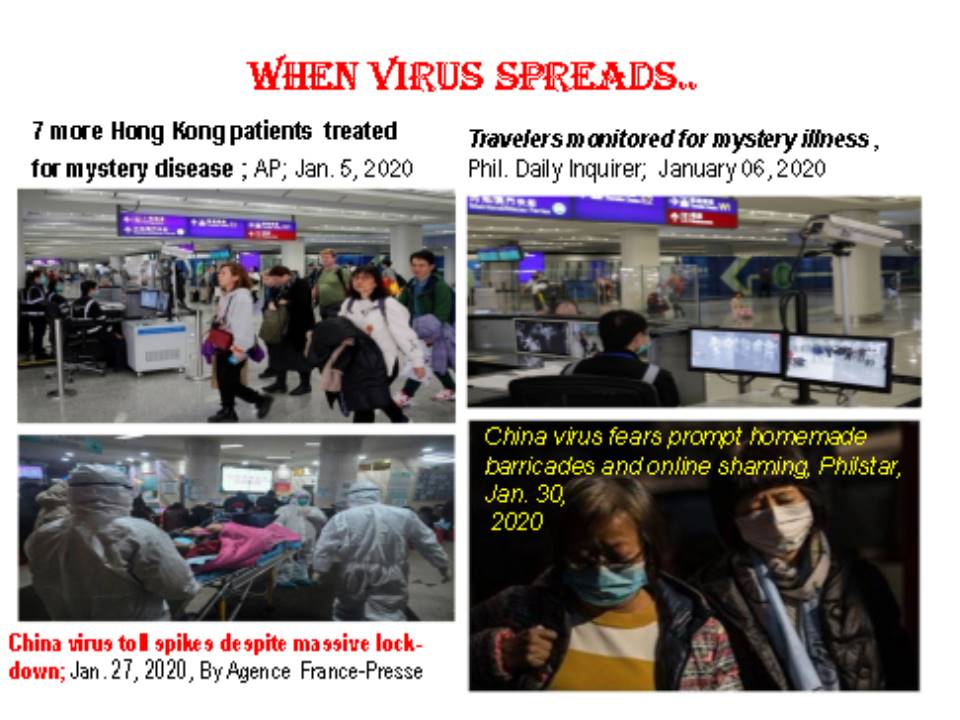 What a virus can do?
The plague widely discriminates the Chinese nationals resulting to flu-scare and panic; forced evacuation, temporary separation of families, business shut down; panic-buying, travel ban, lock down of Wuhan several cities …
(picture3)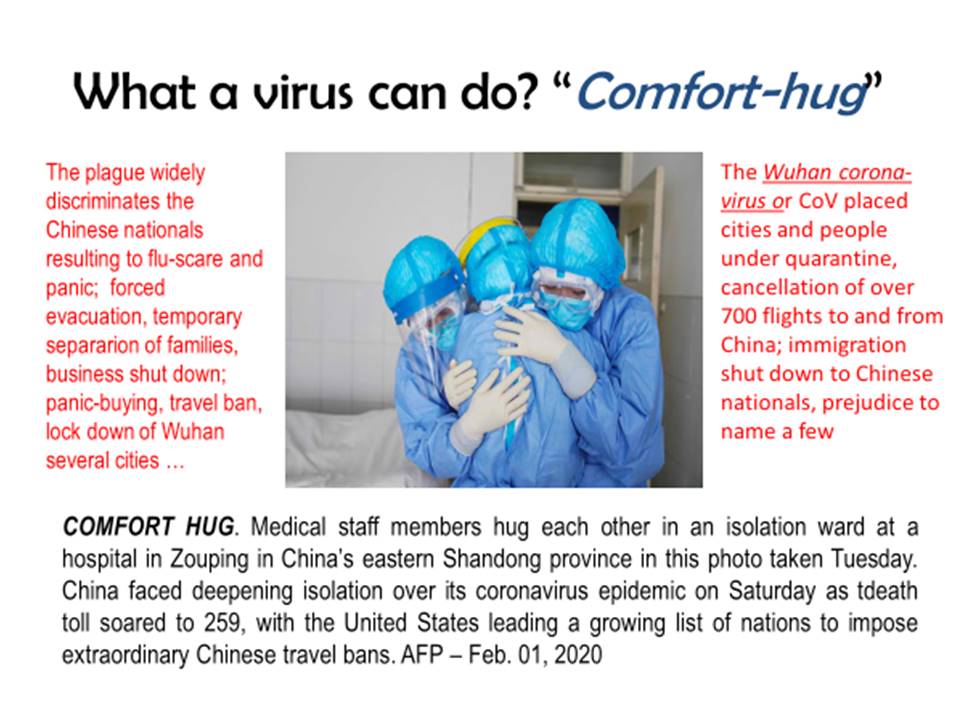 The Wuhan corona-virus or CoV placed cities and people under quarantine, cancellation of over 700 flights to and from China; immigration shut down to Chinese nationals, prejudice to name a few
A moving story
A moving story have gone viral like the corona-virus.
"Escaping the virus lockdown in Wuhan would have torn his family, so he stayed" a reported by Reuters & MB dated February 2, 2020.
SEOUL – Kim Min-jun's elation at news that South Korea would evacuate its citizens from the epicenter of a virus epidemic in China quicklyfaded when he learned his Chinese wife would be unable to accompany him.
The virus tested Kim's love for his wife and to his family. Love prevails. It simply suggests that the fatal virus can never set these people apart, be in sickness or in health. But WHY IT HAS TO BE THIS WAY?
There is another deadlier than a virus …
Another virus
Late last year, I met a Christian 'couple' who attends in a mega-rich Evangelical Church. The couple is not yet legally married.
Then I met another Christian couple with 7-year child and they are committed to that Evangelical church where you find many of our celebrities. But the couple are merely living-in. and they are not yet legally-married.
Also this February, I met a man who loved the Lord so much and he got a 10-year child yet he and she are merely on a live-in status.
This is the Condition of the Church. Sins in the church have been gone viral a long, long time ago and yet this spiritual plague have never been arrested, confined, placed under control or quarantined.

What is the Church doing on this?
Church condition
While the Wuhan Corona-virus separate people apart, barring human mobility, banning entries and barricading state borders, grounding planes and cancelling flight schedules, and placing the infected victimsunder quarantine and under closed surveillance separating people's apart, why then the sins in us doesn't placed us under quarantine as well to avoid contamination and infection?
Is it not sin is more grievous than the Wuhan corona-virus that can evencorrupt our souls, separates us from God and bring us to a destination that we never want to go, the so-called hell? Can't we quarantine and ban sins? What is the Church's Condition?
Seven Churches of Asia: makes us or break us.
To the Church in Ephesus, Revelation 2:4 says, "Nevertheless I have somewhat against
thee, because thou hast left thy first love. 5  Remember therefore from whence thouart fallen, and repent."
Ephesus' goddess, "Diana" is also called "Artemis", who is "he-she" gender god like LGBT. I saw myself the artefacts of Diana at the museum in Ephesus and had a one-day visit to the ruins of the ancient city.
To the Church in Pergamon which is also called "seat of Satan" as the Lord Christ said, "But I have a few things against thee, because thou hast there them that hold the doctrine of Balaam, who taught Balac to cast a stumblingblock before the children of Israel, to eat things sacrificed unto idols, and to commit fornication … repent" (Rev. 2:14-16). Fornication is Greek
"porneuo" meaning "prostitute, lewdness, indulge for unlawful law."
To the Church in Thyathira is being branded to have "the secrets of Satan" in New Living Translation and God said, "And repented not … Notwithstanding I have a few things against thee, because thou sufferest that woman Jezebel, which calleth herself a prophetess, to teach and to seduce my servants to commit fornication, and to eat things sacrificed unto idols, " (Rev. 2:24, 20-21)."
To the Church of Sardis, called "Satan's Church" and God said, "Behold, I will make them of the synagogue of Satan," (Rev. 3:9).
We travelled the ancient cities of Asia Minor which are being mentioned by John the Beloved in 2017 for ten days. What was theoretical to me from the Scriptures became too alive and the word became flesh. Revelations after revelations came to me while our two tourist guides explained the historical sites one of them is an American doctorate holder, a genetics-expert and archaeologist.
Even in Asia Minor or what they call Turkey today which is called the "cradle of Christianity" artefacts proves the immorality among the people of God.
The offenses at Sinai
According to first legislator, Moses, a Levite, the Jews 1st offense that utterly displeased God is by dislodging Him as a Living God and made golden calf instead. What follows next is sexual orgy associated with intoxication. We followed the trail of the Moses and the one million Jews who made the exodus from Egypt to the Land of Promise. In Mt. Sinai, we spent nearly a week a the food of the divine mountain of God sometime on June, 2017 where the Two Tablets of 10 Commandment are written by the fingers of God.
(picture4)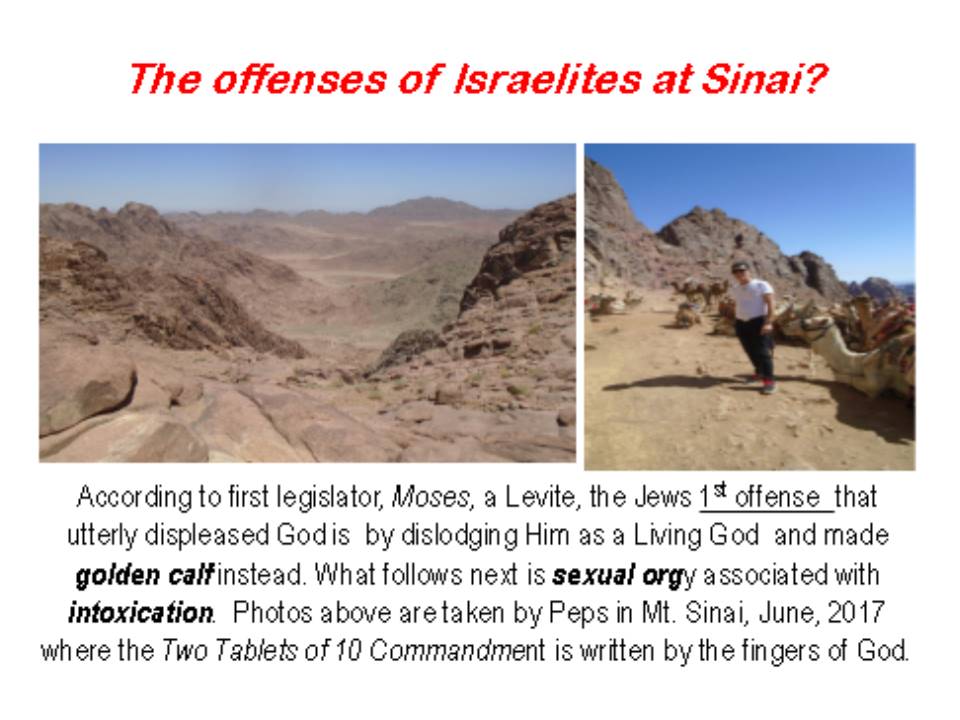 Global Intoxication
What had happened in Mt. Sinai bringing people of God sexual orgy and intoxication with wine that fumed God into holy indignation will be repeated again in the last days.
Revelation 17:1-2 says, "Come I will show the judgment of the great whore that sitteth upon many waters. With whom the kinds of the earth have committed fornication and 34 the inhabitants of the earth have been made drunk with the wine of her intoxication."
The great whore refers to Jezebel, a Satanic global figure that will influence the whole earth, kings and world leaders with global intoxication of sexual impurities.
While Moses was up there in the mountain of God, the people below made a golden calf followed by orgy and intoxication.
Abortion, divorce, medicinal cannabies, LGBT rights are among the few global legislations from the UN in the heart of New York in America mandating all UN-state members to pass the same immoral legislations to intoxicate all the nations of the world.
In Canada, marijuana is now legalized as ",medicinal" as well for "leisure" as well as LGBT rights and same-sex unions. No less than the lesbians, gays, bisexual and trans-genders (LGBT) teaches the young Canadians with gay rights.
These are deadlier than the present Wuhan corona-virus the plaguing the whole world today.
Sin is deadlier virus that can destroy the whole mankind.
God's warning
In Hebrew 9:26, the Scriptures say, "Put away sin." In 1 Corinthians 15:33, "evil communications corrupt good manners. " In 1 Tim. 6:5, "Perverse disputings of men corrupt minds,"
This sin as deadlier than a virus … we call that sin. Sin does not nly result to curses and diseases but it also corrupt your soul and bring you to hell.
Can't we quarantined ourselves when we gravely sin continually so we could not infect others as well?
Church and nation
It is the Church that makes the nation. Whatever the condition of the Church is the condition of the nation.
(picture5)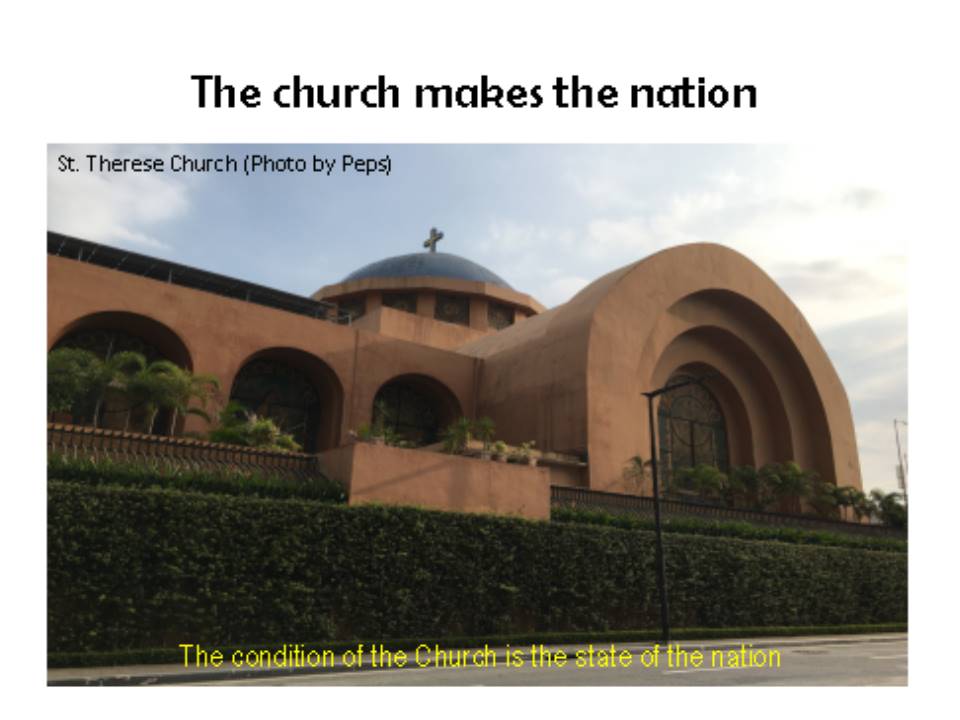 The nation's condition
On September 17, 2019, Senator Pia Cayetano authored the "Absolute Divorce" and no less than Senator Riza Hontiveros chaired the committee hearing where I was invited by one of the Senate Resource Speaker. I stood my ground for "NO!" To divorce bill and said, "Marriage and
Why God's Will on Marriage and Family are grossly being violated by the Government thru "Absolute Divorce" Bill?
Article II, Sec. 6 of Philippine Constitution states that, "the separation of the state and the church is inviolable." So since marriage and family is ordained by God therefore it is not affair of the state to intervene in the principles of marriage and family otherwise he or she as government official or employee intrudes in the territory of the Church (Genesis 2:22-24)
(picture6)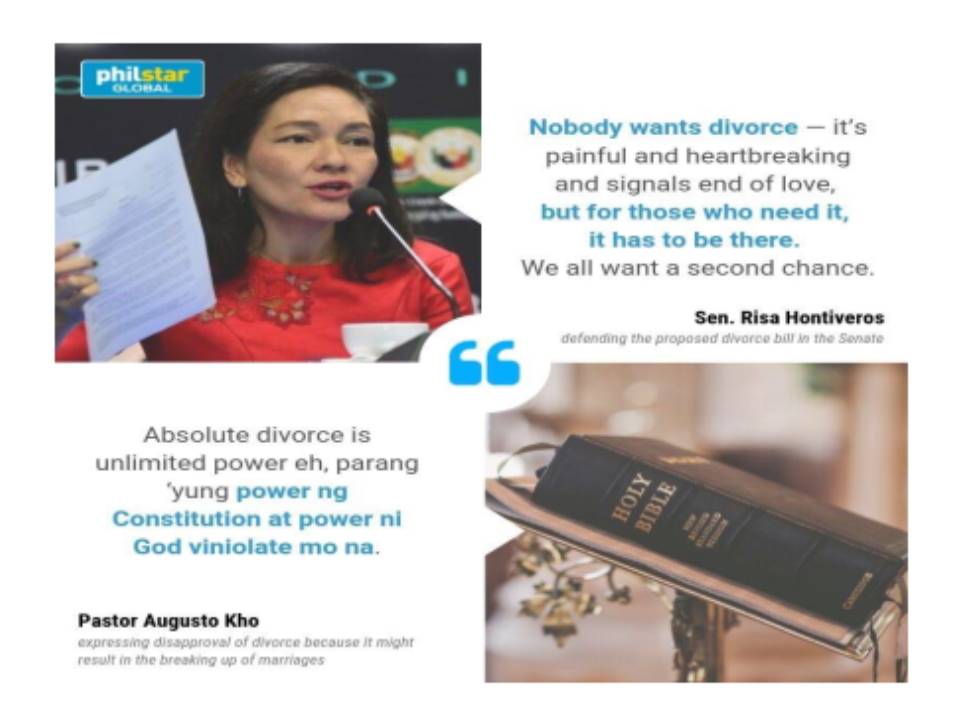 And the Holy Scriptures said, "Whatever God has put together no one can put asunder." Although divorce is mentioned in the Bible and permitted as the Lord Jesus Christ said himself, it has a strict provision (Matthew 19:6-8).
Virus-like bills
Why immoral virus-like bills proliferate widely even in the seat of our government today particularly in the Congress and in the Senate? Will this not be deadlier than the corona-virus because it does not only corrupt the mind and the body of every Filipino but it also corrodes the soul of a man in hell?
Last September 4, 2019, I was invited by the Senate to attend the first committee hearing on Sexual Orientation and Gender Identity and Expression (SOGIE).
My question is why "immorality" or "sin" sin is being legislated no less than our tax-paid lawmakers? Do we pay them to give us sinful laws?
While Sodom and Gomorrah was judged by the Lord due to immorality yet this ancient city has never legislated sin as legal
Should not these toxic-bills that threaten to decay souls of Filipinos be placed on a lockdown as well , be controlled, confined and be quarantined in order to avoid widespread infection just like the world's emergency response against the 2019 2CoV?
The Senate Invitation for to be as one among the resource speaker is highly inspired from the legal action I made against the bill. Last August 22, 2019, I officially submitted to the Senate my "NO POSITION PAPER" on SOGIE Bill.
My fight against the bill started since August 2014 at the House of Representatives when Bulacan representative Hon. Villarica was still chairing the said bill. It took long five year for the bill to reach Senate.
(picture7)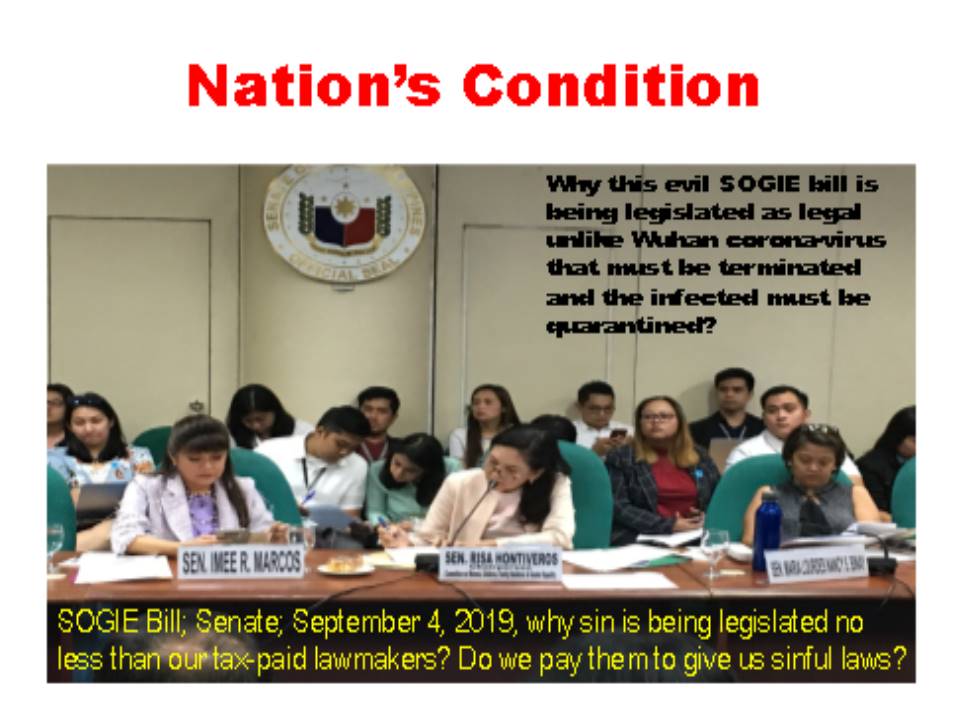 Why this infectious SOGIE bill is being legislated as legal unlike Wuhan corona-virus that was under immediate response for quarantined?
Same-sex marriage
Sometime on February 2018, same-sex marriage has been deliberated in the House of Representatives for the 1st time.
"It's final: SC junks petition for same-sex marriage," reads from the headlines of Philippine star dated January 7, 2020 which was authored by a reporter in the name of Evelyn Macairan.

An LGBT leader Atty. Facis filed a case last year to the Supreme Court and made a petition why should not people of the same gender cannot be constitutionally be married. the group lamented that their "human rights" are being violated.
Finally the Supreme Court broker her silence and made a decision. It says, "It's final: SC junks petition for same-sex marriage," as reported by Evelyn Macairan (The Philippine Star) - January 7, 2020 - 12:00am
Some of our dubious bills today are camouflaged as their "human rights"
While the SC made her final decision, the fight is still far from over. No less than the Supreme Court suggested that very strongly, the Honourable Court ruled out with finality that "same-sex marriage" is unconstitutional yet this clear and suggestive warning is spoken saying:
"Same-sex couples may morally claim that they have a right against discrimination for their choice of relationships and that official recognition of their partnerships may, for now, be a matter that should be addressed to Congress." Associate Justice Marvic Leonen who penned the decision, had said
Animal-like
Why animal-like spirits?
Rev. 16:13, "And I saw three unclean spirits like frogs come out of the mouth of the dragon, and out of the mouth of the beast, and out of the mouth of the false prophet. '
Frogs "batrachos"

Dragon "drakon" i.e. a great serpent, Satan

Beast "therion" i.e. an animal, a wild beast, savage, ferocious; venomous. Metaphorically of preparing destruction for men; hunting
Satan would like man to be levelled down to the creation of God rather than overseer . . To be subject under the mercy of 2019 nCoV is completely demeaning to the divine original call of God to man.
Jesus Christ given us a divine mandate, it reads this way, "Luke 10:19, "Behold, I give unto you power to tread on serpents and scorpions, and over all the power of the enemy: and nothing shall by any means hurt you."
Sanctification or lockdown
Exodus 19:10, "And the LORD said unto Moses, Go unto the people, and sanctify them to day and to morrow, and let them wash their clothes."
Sanctify in Hebrew word "qadash"(kaw-dash) i.e. "to dedicate; to set apart; consecrated; pronounced clean." Even the Bride of Christ is being sanctified before the Lord comes (Ephesians 5:26)
In Joshua 7:13, "Up, sanctify the people, and say, Sanctify yourselves against to morrow: for thus saith the LORD God of Israel, There is an accursed thing in the midst of thee, O Israel: thou canst not stand before thine enemies, until ye take away the accursed thing from among you."
The words, "accursed thing " in Hebrew "cherem" (khay-rem) i.e. "ban, extermination; to prohibit"
With the outbreak of nCoV that originated in Wuhan, province of Hubei, the Chinese government imposed a ban or lockdown to confine the epidemic just like God commanded Moses to sanctify the Israelites to be confined. Like a doctor, only the priest validates the cleansing. Leviticus 14:2, "This shall be the law of the leper in the day of his cleansing: He shall be brought unto the priest:"
On 23 January 2020, the central government of the People's Republic of China imposed a lockdown in Wuhan and other cities in Hubei in an effort to quarantine the epicentre of a newly discovered coronavirus (2019-nCoV) to prevent an epidemic. This was the first known instance in modern history of locking down a major city of 11 million people and the incident was commonly referred to as the "Wuhan Lockdown" as reported by Reuters. 23 January 2020.
Is it China is being cleansed by the Lord? After all God can not only send earthquakes or famines but also plague and pestilence.
As the Scripture says, "And the Lord plague Pharaoh and his house with great plagues," (Genesis. 12:17).
Plague in Hebrew "nega" means "leprosy" or "disease" or "spots" or "wound." In another Hebrew word "naga" it means "strike' or "touch". Meaning when God strikes you and me then we are dead.
In Moses' time, God touched the whole Egypt with "plagues" (Exodus 9:14).
When David, a man after God's own heart sinned against God because of pride, the Lord send plague or pestilence in Jerusalem as a judgment to the king (Samuel 24:25). The word "plague" there is interpreted as "maggephah" meaning "blow, slaughter, plague, pestilence."
In the New Testament time, Jesus forewarned us that "pestilences" is merely is a SIGN of HIS COMING (Matthew 24:7). "Pestilence" in Greek "loimos" means "pest, plague, disease." Plague in Latin word, "plaga" also means "blow."
In the end of the End-Times, Revelation 15:6, 7 says that "seven angels came out from the temple having the seven plagues." And Beloved John called it a "wrath of God."
Never in the history of the modern world today that lockdown is ever been recorded except of the recent lockdown in China due to 2019 nCov (novel corona-virus).
Is it God positioning the nations now in this Shemitah Year?
Shemitah Year is the "door knocking" commemorating 70th Year of Israel from 1950 when it first recognized by the United Nations (UN) as an official member-state up too this year 2020.
This SHEMITAH or "Year of Release" will determine our future. Is it the condition of the Church today determines the condition of the nation in the future as well, then what's the condition of our church now?
(picture8)