" 555 "
Details

Category: Teachings & Articles
Published: Friday, 13 December 2019 08:28
Hits: 1106
 " 555 "
By Augusto A. Kho
December 08, 2019 (Sunday); 9:01 a.m.
Edited: Starbucks, Urdaneta City; December 12, 2019 (Wed); 7:22 P.M.
You can only give what you have
(picture1)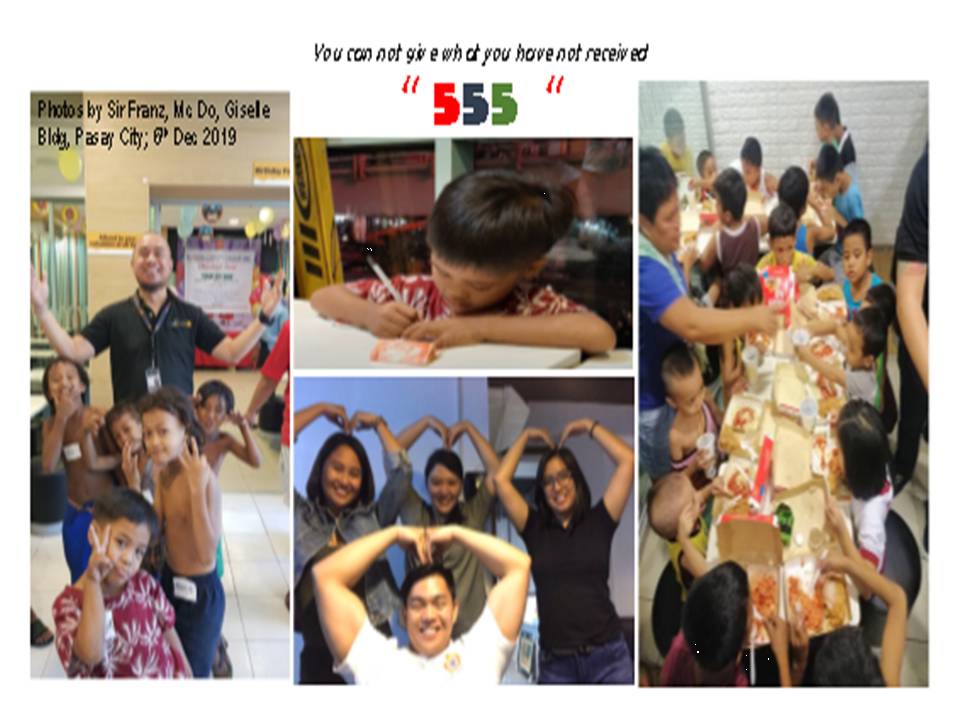 On December 1, 2019 during our Monthly Devotional Meeting, I opened these words to our staff saying: "I can only share to you what I personally experienced because the Word became flesh," (John 1:14).
From there I imparted to them what transpired last December 8, 2019 at 12:01 midnight while I was washing dishes. A thought came, " Unto us a son was given" (Isaiah 9:6). This I will share how the principles of God's Word can be put into flesh or reality (though this may be sounds too showy or boastful but I need to share it anyway because of what the Lord has done).
Last Saturday, 7th of December at 12:45 pm in Sison Auditorium, Lingayen, Pangasinan while the Guest Speaker Pastor Nate was speaking, another thought came to me. It says like this "You can give what you have not received.
When I personally embraced Pastor Nate after he gave his speech, he whispered to me, "Oh I heard you fed the street children in Pasay City yesterday." The news spread that so easily.
The homeless
(picture2)
(picture3)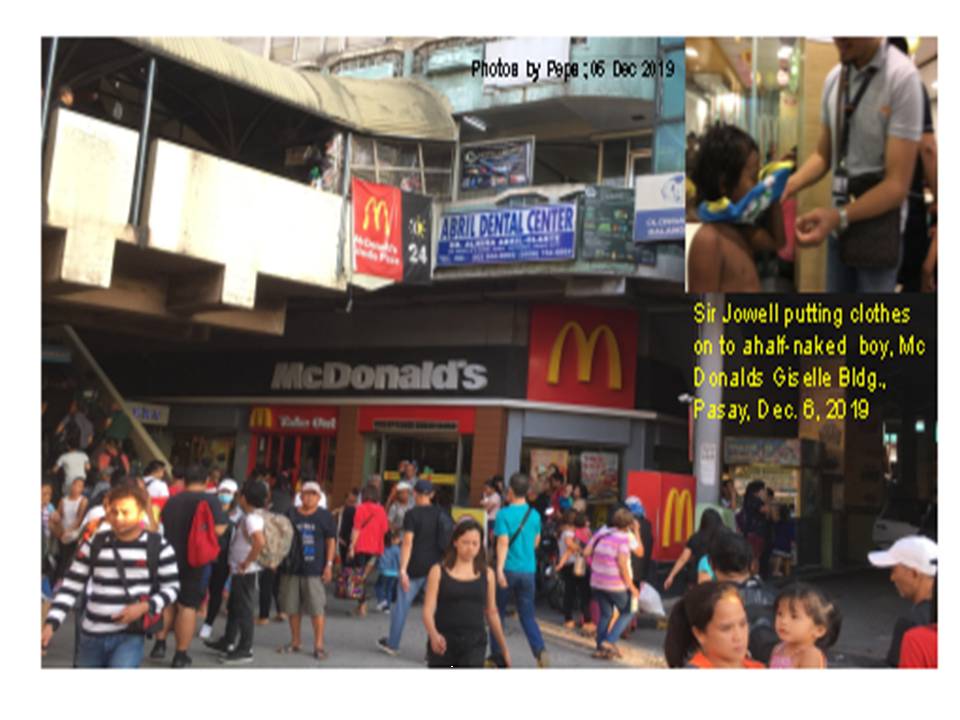 What can you give?
You can only give what you have, nothing more and nothing less.
While "feeding program" for the under-privileged kids in Pasay City was slated last December 6, 2019 which is on that very day, I made another reservation for the Kabihasnan, Paranaque kids for December 9, 2019 for 100 heads. This is when I saw these kids roaming around at 3:00 a.m. in this dimly-lighted hi-way going to Airport Road in Paranaque City.
One after the other, kids came to me asking me for money saying, "Give me money !!" and I quipped, "Are you extorting me?" Eventually out of grace of God's love, I invited them in that very same time and asked the Mc Donald's guard, "kargo ko yan" and immediately fed 12 street children there and then. Photo below shows these kids in Paranaque:
(picture4)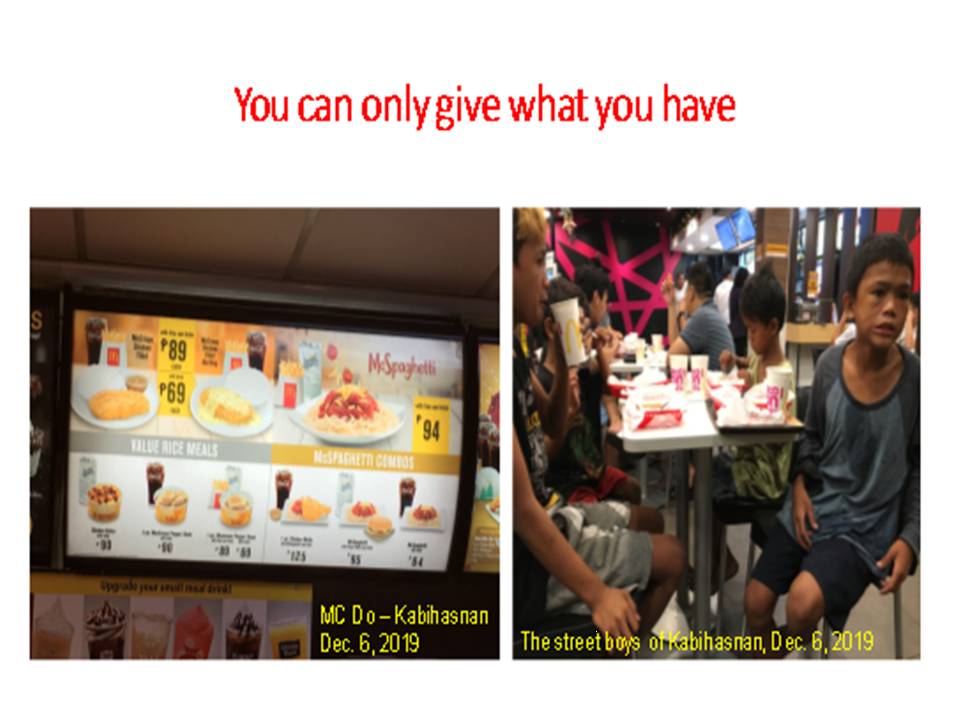 After feeding them, I made an instant-stubs slated for "Christmas Treat for Kabihasnan Kids" slated for December 9, 2019 and gave it to them. That very same day, which is slated December 6, me and KCGI managers trooped down at Pasay for the scheduled feeding program on that location
(picture5)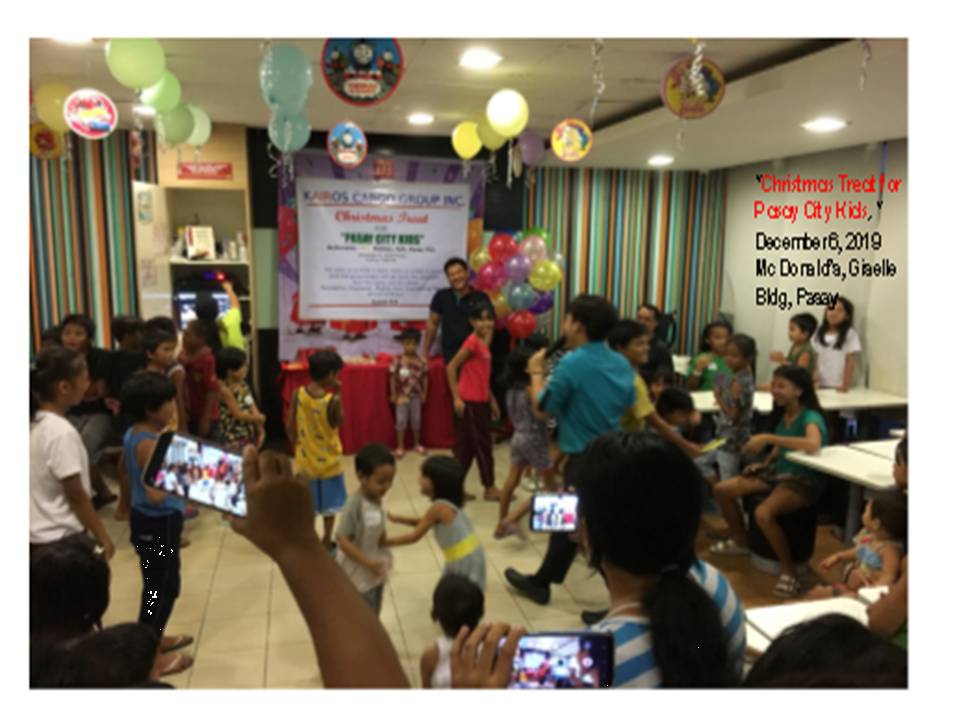 I personally sponsored this feeding program out of obedience on what I have heard from the Lord last November 13, 2019. Those words from God are still vivid to me, "Give me a consecrated offering to KCGI…" And it wasn't a secret then because I shared that to KCGI managers as well. That is why these managers joined me during the event.
(picture6)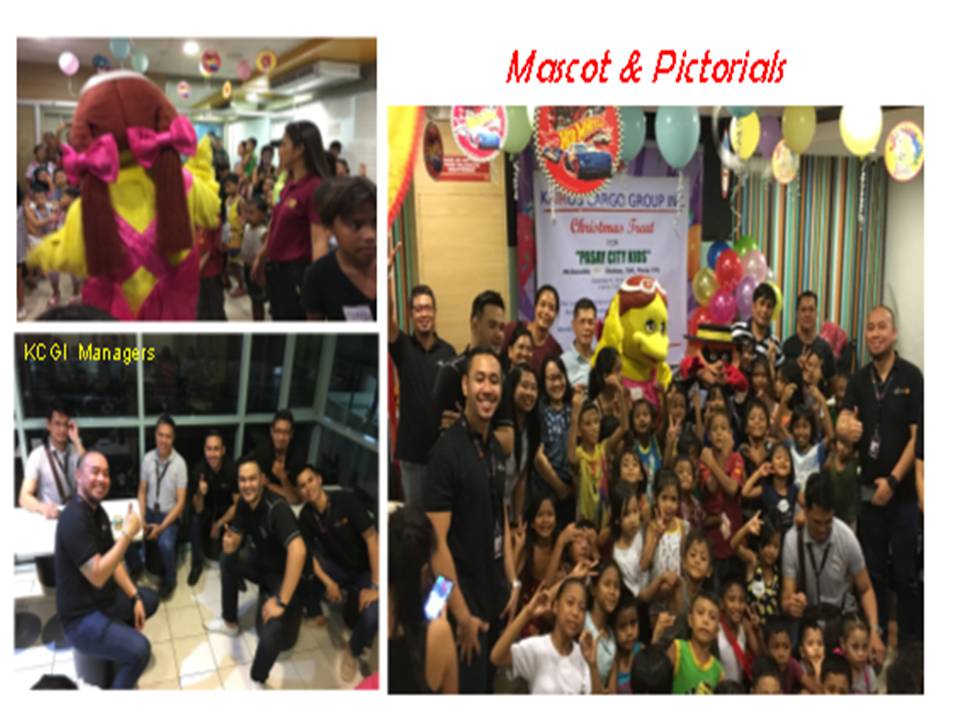 Shemita, a year of release
Shemita characterized a seven-year cycles. Every cycle would culminate in a Sabbatical year, known as Shemittah which literally means "to release." The Shemittah year waives all outstanding debts. That was I preached on the 1st Sunday of the month of December 1.
(picture7)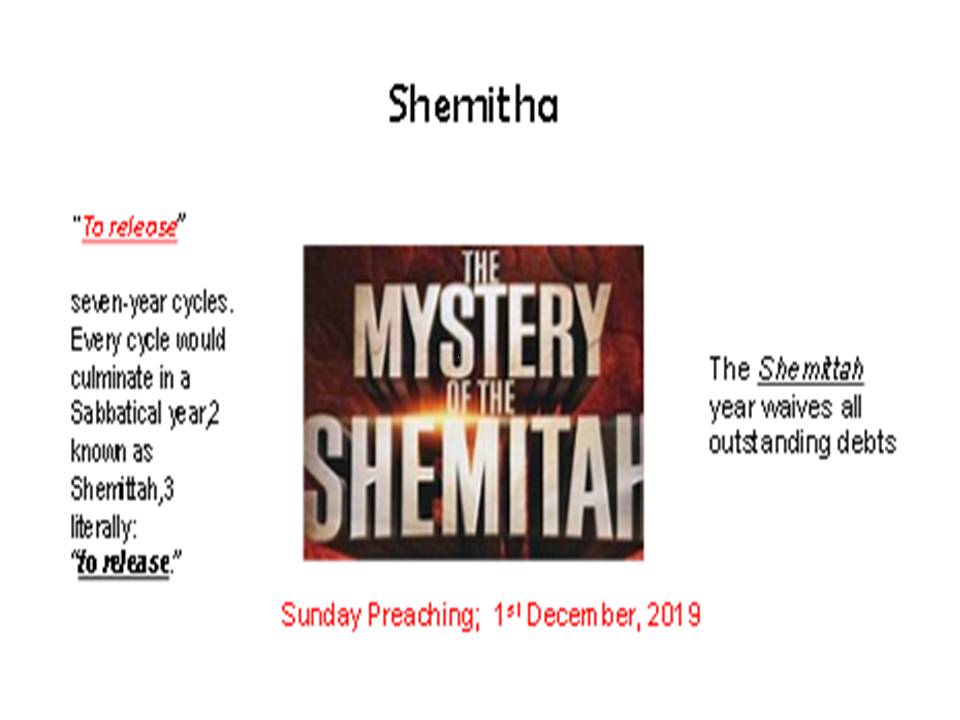 " 555"
From my own pocket I spent over P12,046.00 for "Christmas Treat for Pasay City Kids," on December 6, 2019.

Should have I withheld the money, will I be committing sin of disobedience or forfeits its blessings should I obeyed the Lord?
What is the significance of "555"?
555 in Jewish is "being & doing and living."

555 Is an Odd-number which explains the Universe

555 is the number of Machines Communication Knowledge, or of –knowing

555 is also "X" i.e. is the God Of Time, FATHER Time or of time traveling, the middle, or present,

Shemitah is a Hebrew word meaning, "release", "letting go", "letting slip from your hand", etc. according to David Mescheloff, Ph.D. mathematics, Ph.D. Talmud, Orthodox community rabbi and.
Unless you know how to release something from your hand you will never see God's work in a very tremendous way. Letting it go is God's principle in the area of giving and receiving.
Its 555 again
L. Shoshana Rhodes, author and Messianic Jewish Intercessor writes on September 20, 2014::
"It's 5:55 am AGAIN, but on a blood moon? This is starting to get a little freaky even for me, and I've been a prophetic person for almost 30 years! Back in July (20 Tammuz 5774), the Lord awakened me several days in a row at 5:55am (see that blog post on my website under Insights and Happenings). He said that the long-dark night for His remnant is finally over. Many of us, in our opinions, have waited too long and grown weary (Matt 25:5). Where is the promise of His coming? Where are the greater works He spoke of before He ascended into heaven so long ago? Where is this last great awakening revival the prophets keep shouting about? The news is filled with death, fear, and destruction. But God says that it's 5:55 and the long, dark night is finally over."
Things done
Even petty things that are done for the Lord will never be left unnoticed. The next day after that feeding program in Pasay City, I drove to Lingayen, Pangasinan to attend PAMANA's Thanksgiving Day. Pastor Nate of NFS, the guest speaker that day whispered to me and said, "Pastor Peps, nasa Pasay daw kayo, nag pakain sa Mc Donald's…"
(picture8)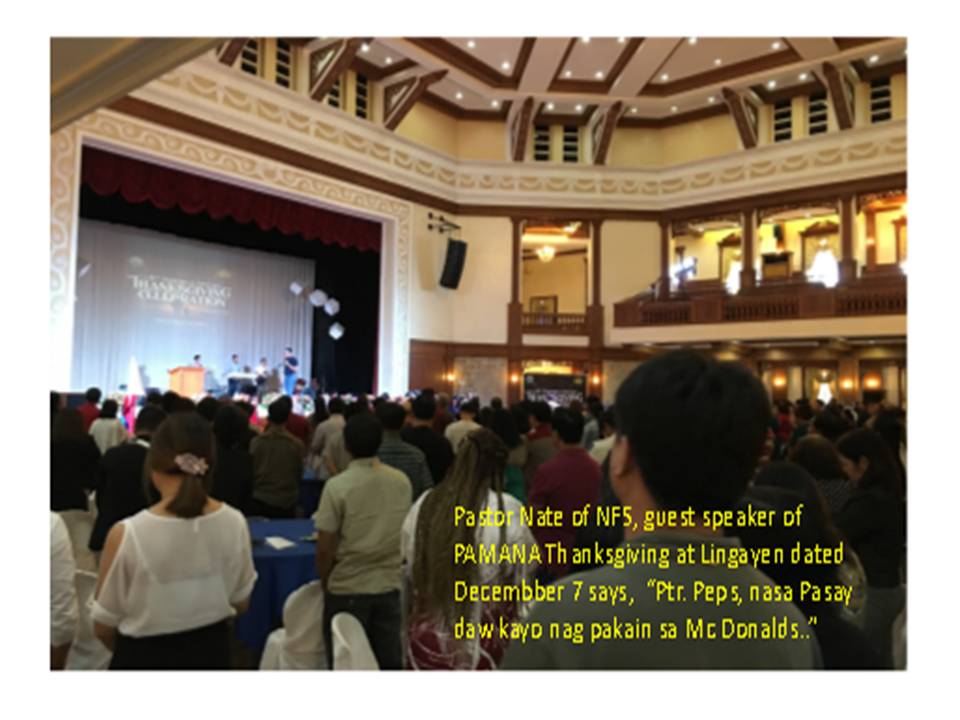 555 and shemitah
So now you are asking "when is 5:55am occurring, and what is a Shemitah"? Messianic Rabbi Jonathan Cahn has written 2 books: The Harbinger, and The Mystery of the Shemitah. Cahn has popularized the word 'shemita" among Christians as we see the modern shmita occurs three years before the one in 2017. Shemita is release from servitude or indebtedness and to desist one year from field word (Lev. 25; 26:33; Deut. 15; Jer. 25:11; Dan. 9; Ezra 1; Neh. 10:31; Zech 1:12; 7:5).
For further readings: Visit "1260d.com"
"And Enoch walked with God after he begat Methuselah three hundred years, and begat sons and daughters: And all the days of Enoch were three hundred sixty and five years: And Enoch walked with God: and he was not; for God took him," – Genesis 5:5
The idea of walking - Heh KeyWord (Halekh = 55) - is closely related to the Number 5 (cf. Spoke 5 article Walking with God). Have a strong link to the Rulers of the Government, as discussed under the Number 550. 555 Heb. "chamesh" which is a "cardinal number" in (Genesis 5:6). Greek "pente" (Matthew 14:17)
History
How this writings started? The history is this:
Last November 13, 2019, while I was dining in at Mc Donald's in Pasay City, the Lord God said, "Give me an atonement offering." While I merely spent for P78.00 for my lunch yet God wants me to spend more.
When you hear from God, listen carefully and obey faithfully without any slightest change. Otherwise your blessing might be forfeited.
At 1:28 pm dated 08th October, 2019 while having Emergency Meeting with the Elders, it reminded me about the "addition-subtraction principle" known in Filipino as "dagdag-bawas principle" which is very Biblical though.
The "dagdag-bawas principle" came into my mind when I recollected how this young businessman sat down with the company treasurer and accountant whose employees truly deserves bonus according to their productivity and performance apart from their 13th month pay. The figures were jumbled. Those who performed well were given a higher figure. Those who work less, their allotted monies were taken away and given to more deserving ones. This principles remain true In Matthew 25:14-30.
For example "the unprofitable servant" who got one talent was taken away from him and given to the one who have ten talents because the latter deserves it more (Matthew 25:28).
As we applied this dagdag-bawas scheme, the total bonus amounted to….. Guess what? A whooping P445,000.00 for the 52 employees (the Board of Directors are not included). The company accountant smiled and said, "Sir! I actually allotted P1-Million pesos for the bonuses."
Seeing on the screen the numbers 445,000 pesos I suddenly exclaimed:
"What !!! " Without computing it and just instinct tells me, I unbelievably exclaimed, "555 is the remaining balance of one million pesos. It is 555,000 pesos which means "shemitah: a year of release !!" Is it what I heard from the Lord last November 13, 2019 at Mc Donald's, Giselle Building at the foot bridge of MRT Taft that says "Give me an offerings is just paying off because I did obey the Lord when I finally fed 88 street children on the very place where I heard His command?

What it a coincidence? How one million figures will turned out with an excess of 555 or P555,000l00? To whom those excess will be given then?
God is God of purpose as well as chances. Ecclesiastes 9:11/ New Living Translation (NLT) reads: "It is all decided by chance, by being in the right place at the right time." And KCGI Logo reads, "Kairos … at the right time."
The last 3 digits
Two days later at 6:41 A.M. on a Tuesday, 10th of December, 2019, someone did text me with 13 numerical code which is not being saved in my cell phone book. Guess the number is? The last digit is again "555".
In jubilation for the revelation I am receiving, I shared the word "555" including this numerical number I received on the very morning to two managers. Both though were Catholics and they too were amazed on how could possibly one million numbers be put into place with an end result of "555". Each one looked to one another then gazed right before my eyes and both chorused said, "Sir … my cell phone number has 555 on the last 3 digits!!"
Unbelievable ???
Anyways
Anyways, going back on October 4, 2019 where this " 555 " in excess occurred. The young businessman instructed to her CPA these words :
"OK then ! Split the remaining 555,000 thousands pesos and gave them to two pastors namely Pastor D_____ and Pastor A_______ provided they will not use it for their own personal benefit but for their ministry work." And cheque amounting to P555,000.00 were given away to the Lord two days later. This is how God works !
(picture9)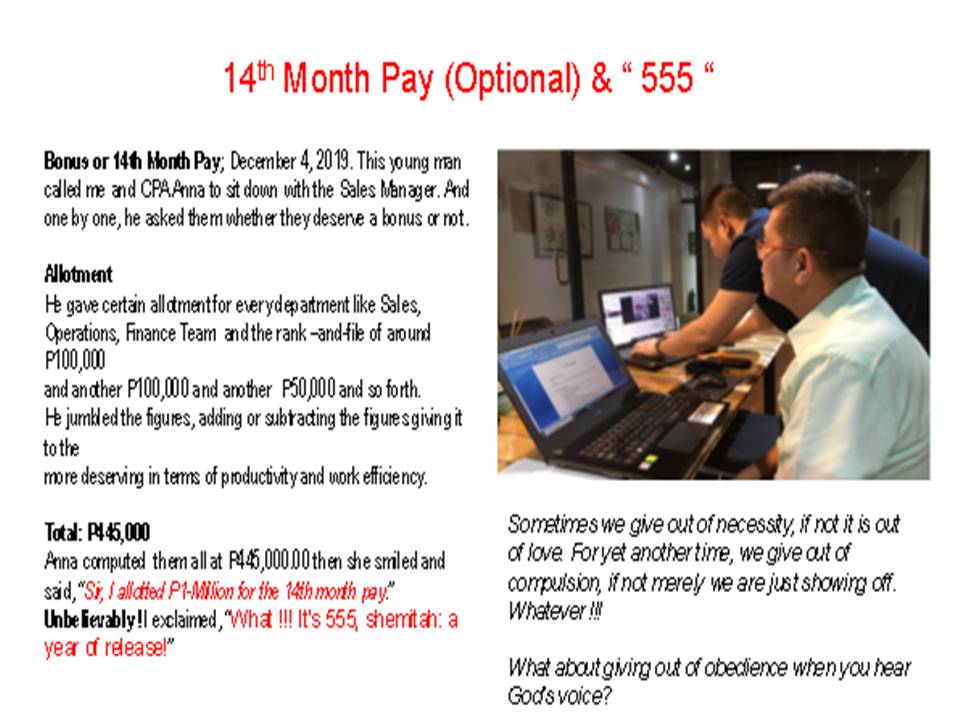 Bonus
Obedience pays a price. When I heard that word, "Give me an offering" to Mc Donalds Giselle Building at Pasay City last November 13, 2019, right there and then, I readily asked Mc Donald's Party Manager to officially closed the deal for "Christmas Treat for Pasay City Kids" slated for December 6, 2019 (Friday) from 5:00 pm to 7:00 pm.
(pciture10)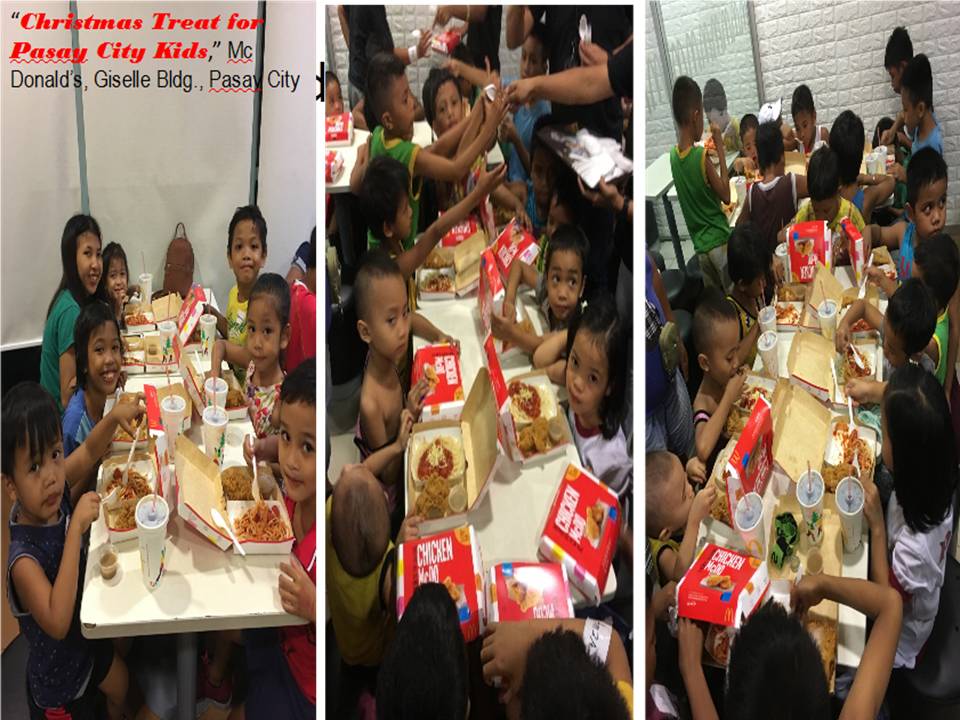 Just a mere "party reservation" I made at Mc Donald's, Pasay City last Novembeer 13, 2019 (TAKE NOTE OF THE DATES), God gave bonus in the form of:
November 19, 2019 : Lexus

November 30, 2019 : Subaru XV

December 4, 2019: Ford Raptor
No one ever lived can ever, ever out give God's exceeding grace, mercy and riches. To HIM ALONE belongs all the glory and honour and praise !!!
(picture11)