The Revolutionary
Details

Category: Teachings & Articles
Published: Thursday, 12 December 2019 05:47
Hits: 986
The Revolutionary
By Augusto A. Kho
Mc Donalds, M. L. Quezon Avenue
Pajo, Lapu-Lapu City, Cebu
November 16, 2019 (Saturday); 4:31 pm
Edited: December 11, 2019 (Wed); 1:21 pm
"In times of universal deceit, to tell the truth is a revolutionary act, "
- George Orwell, English novelist & essayist
(picture1)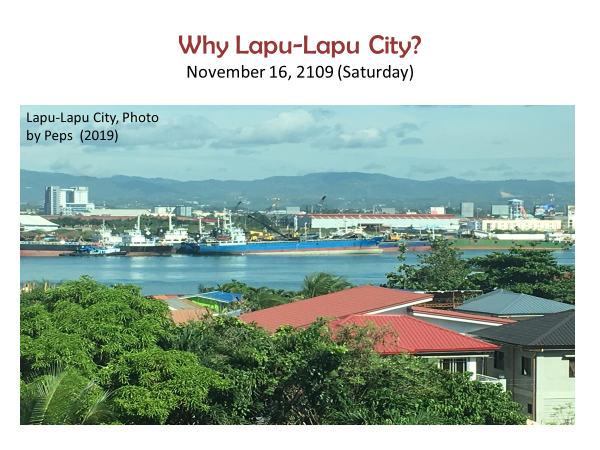 I asked myself, "Why am I here in Cebu City?" What for? Why Lapu-Lapu City?
My flight to Manila from Cebu is not until 8:30 in the evening of November 16, 2019 when I decided to leave from the hotel and went inside Mc Donald's in M.L. Avenue in Pajo, Lapu-Lapu City in Cebu at 4:30 pm. I was reading from the Bible when this daily devotional guide of mine caught my eyes that reads:
"One of the prisoners that time was Barabbas, a revolutionary who had committed murder in uprising." (Mark 15:7).
Webster defined "revolutionary" as someone who is supporting a political revolution; or someone causing or relating to a great or complete change." Full definition is defined as constituting or bringing about a major or fundamental change; an advocates of revolutionary doctrines. Other synonyms : crazy, extremist, radical fanatic, radical, extremist, or ultra.
Is the word revolutionary a perfectly-timed divine word for today? Sounds like because Today's Headline also speak of one Filipino "revolutionary" whose name is Misuari.
Misuari claims government asked him to help reorganize Philippine territories
Ratziel San Juan (Philstar.com) - November 15, 2019 - 4:31pm
(picture2)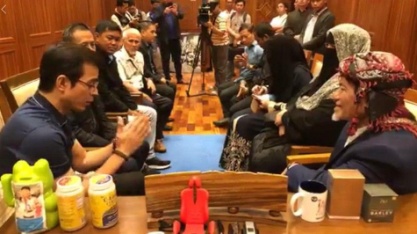 Manila Mayor Isko Moreno holds a meeting with Moro National Liberal Front co-founder Nur Misuari on Friday, Nov. 15, 2019.- Manila City Hall via Philstar.com screenshot
MANILA, Philippines — Nur Misuari, founding chairman of the separatist Moro National Liberation Front, claimed that the Duterte administration has asked him to reorganize the country'sterritory as part of ongoing peace efforts.Duterte told Misuari they would 'die together' if federalism talks fail, Palace saysDuterte, Misuari strike deal to maintain peace in Sulu
"They said, we co-opt this into a political configuration. I said, okay we can adapt this to the proposed plan of the president to transform the unitary system (of government) into a federal one."Misuari said that relations between the hypothetical federal states should still be maintained.
Revolutionary in the Bible
In KJV a revolutionary is defined as 'insurrection' in Greek 'sustasiastes' meaning "a rioter." Strong Bible Dictionary define is as "fellow insurgent."
Revolutionary today
The word "revolutionary" today may not be defined the way it is being used many years ago. For example, we witnessed a revolutionary-changed of our transport system just like from primitive camel- riding people compared for today's jet-setters who flew by plane or chopper.
(picture3)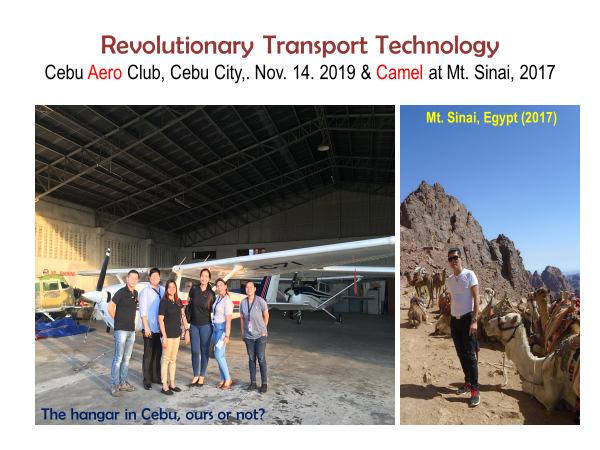 Well, we were in Cebu City between November 14-16, 2019 to conduct an audit to a cargo office and at the same time to have an ocular visit to particular hangar where four (4) aircrafts and one (1) Cherokee plant are being kept.
Revolutionary leaders
Are you a revolutionary leader? In what field or profession that you brought something new like a paradigm-shift? How is it going now? Some revolutionary leaders include:
Revolutionary leaders?
Moses from Midian

King David, Israel

Saul or Paul, the apostle of Tarsus

Adolf Hitler, Germany

Gen. Pol-pot, Cambodia

Mao Tse-Tung, China

Idi Amin, Africa

Ferdinand E. Marcos, Philippines

Corazon C. Aquino, Philippines

President Duterte, Philippines

How about you?
You can what you want to become.
I witnessed how revolutionary can bring a wave of change to his people or leader. Some are good ones and some are bad revolutionary leaders just like in former Kampuchea, now named as Cambodia who terminated over 3-M innocent people in his native land. I visited the so-called "killing-fields" at least twice in 1999 and in 2015.
Twice, I visited the Trafalgar Square in Westminster, Central London in 1983 and 1986 that commemorate the revolutionary and historical British Naval victory in the Napoleonic War between France and Spain in 1905 off the coast of Cape Trafalgar.
I witnessed how I welcomed by military tanks Armed Forces of the Philippines (AFP) which was day after I arrived the Philippines on December 19, 1990. That was my first day of mission work in the Philippines after 14-year stint overseas. That itself is revolutionary time.
(picture4)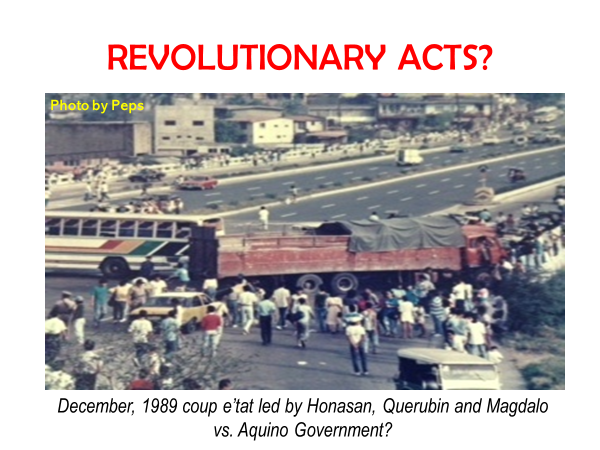 Revolutionary Acts?
The Gospel of the Kingdom must be brought out from the corridors of the four corners of our church. We should bring Christ to the working places of government, to the police and military, economy, academe and others. Will these be revolutionary acts?
The Lord led me to bring His Word to the local government units (LGU), Philippine National Police (PNP); to the executives (mayors and governors); to the academe (private and public schools) and others.
In 1991, we hosted the first Breakfast Meeting with LGU's in the town of Rosales. For two consecutive years, I was a volunteer as Guidance Counselor in Robert B. Estrella Memorial High School in Carmen, Rosales, Pangasinan. I took the whole Pangasinan by the storms sharing Christ to the police force together with the cooperative efforts of pastors in every town.
On August 11, 1994, I was given a Regional Award for Recognition by then USec of DILG, Hon. Alexander Aguirre and PNP Regional Director, Gen. Santiago Alino.
Our Church, Christ the Living Stone Fellowship (CLSF) was also awarded as Best Service Provider by Regional Director of Bureau of Jail, Management and Penology (BJMP) at San Fernando, La Union at Regional Office.
(picture5)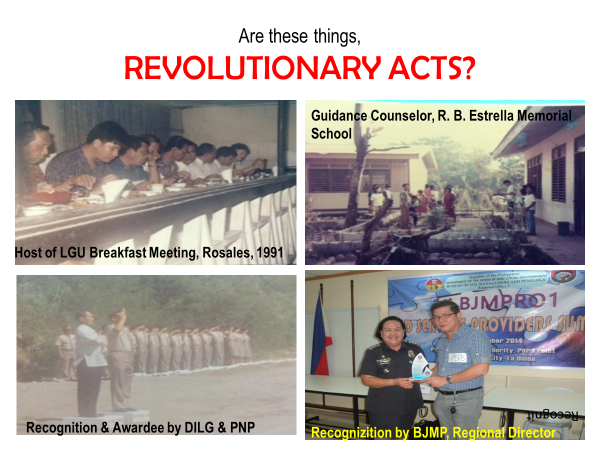 I took a firm stand on my NO POSITION on SOGIE BILL both in the Congress and in the Senate. I also took a NO STAND on "same -sex marriage" at the House of Representatives. Last September 17, 2019, I took NO STAND vs. Senate Bill on Absolute Divorce as I was given the chance to give my Privilege Speech at the Senate Committee Hearing.
-

Two politicians filed two separate cases against me because of my strong civil advocacies and the DOJ issued two warrant of arrest against me in 2012-2013.
Risk is always association in time of revolutionary act. George Orwell, English novelist & essayist says: "In times of universal deceit, to tell the truth is a revolutionary act,."

Are they revolutionary acts?
Jesus, the revolutionary
Jesus is often called a world's revolutionary leader. No one ever lived and existed has such great charisma of that Christ who 'revolutionalized" approximately 2.3 billion people today who are called "Christians."
How about us, are we the silent-majority or the minority-revolutionaries? What sphere of influence we have done to stir up this nation?
Upside-down
During the last chapter of His life on earth, Christ turned Jerusalem upside-down placing the city into open political-religious saga in the world's history.
In order to avoid riot from the crowd Jesus Christ was brought to the governor's headquarter which is called Praetrorium and Pilate called out the "entire regiment." (v. 16). He and two other revolutionaries or rioters were crucified along with Him (v. 27). Because of that even divine nature joined Christ "from noon till 3PM darkness fell across the land," (v. 33). And this happened on a "Friday, a day before Sabbath."
Take note that even the Nature joined Christ's affirmation on the cross when "darkness fell across the land." Just few people whom God have chosen has ever done that. Moses for example to confirm his divine call sent Ten Plagues in the land of Egypt. I wonder if Mother Nature joined our national hero Jose Rizal when he executed at Bagumbayan during the Spanish regime.
Sabbath and the revolution
Take note that Moses an appointed leader of the Jews executed divine plan to revolutionalize his people on the Day of Sabbath.
Sabbath is "a day set aside for rest and worship" according to Exodus 20:8 "Remember the Sabbath day to keep it holy."
Moses then was a revolutionary shepherd who confronted the king of Egypt (Exodus 3:11) saying "Who am I should go to Pharaoh?" when formerly it was the king who sought to slay all newly born sons among Hebrew women and one among those sons was Moses ((Exodus 1:16).

Remember this, when you are called by God and mandated to do His purpose on earth whoever will slay you will be killed. Why? Because you have divine mandate.
As of this writing, it is Sabbath in Israel with local time of 11:03am GMT. There was even drastic change or revolution on nature when darkness fell. There was a revolutionary change in a man a "Roman officer .saw how he died exclaimed 'This man truly was the Son of God'," (verse 39). There was a revolutionary change even to " Joseph of Arimathea took a risk and went to Pilate and asked for Jesus' body, an honored member of council (Sanhedrin)" (v. 43).
What crime did Christ commit? Jesus is being crucified for being a revolutionary who wanted a tide of change in the religious system of the Jews. Pilate asked Jesus "what charges they are bringing against you?" (v./ 4) yet the council accusing him of "many crimes?" (v. 3).
Why am I now in Lapu-Lapu City, what purpose am I here? Am I doing a revolutionary change here in Cebu KCGI.
Lapu-Lapu (baybayin) in 1521 was a ruler of Mactan in the Visayas who is regarded as the first Filipino hero because he was the first native to resist the imperial Spanish colonization. Lapu Lapu City is formerly known as "Opon" in 1961
There must be a sort of drastic use of force to make a revolution of change. Jesus said, "The kingdom of heaven suffereth violence and the violent take it by force," (Matthew 11:12).
Violence in Greek "biazo" means "to crowd oneself" or "to apply force or violence."
Why here?
"Why am here?" I asked myself while I was in Cebu?
I am here not merely to audit. I am here to watch and to discern.
In one our meeting with a lady corporate-lawyer at fine-dining Tabolata Restaurant, I asked her, "Am I a devil's advocate?" referring on some questions which is related to the corporate contracts we made with a certain foreigner-businessman. The lady-lawyer answered and said, "No! Your questions and observations have a legal substance. "
(picture6)
Be you are a father or a leader, you must have a shepherd-like instinct to smell the danger even when it is still coming from afar. The Father in heaven is like a shepherd and He knows whose coming from afar, whether it is a wolf or not?
A change
Revolutionary is change. It is a good, lasting change that only God (not man) can do. 1 Corinthians 5:17 says, "Therefore if any man be in Christ, he is a new creature: old things are passed away; behold, all things are become new."
Sometimes revolution is too bloody. But blood is a mark of life and newness of life. Jesus said, "For this is my blood of the new testament, which is shed for many for the remission of sins," (Matthew 26:28). And remission is a revolutionary change of heart.

What is your preference now – a traditional or revolutionary one?
P.S.
While two of my travelling companions from the Finance Department went out on that Saturday's free day for a tour, I stayed just inside the hotel doing the Narrative Report of our Cebu visit and sent it immediately to the CEO of Kairos.

The CEO has been silent for two consecutive days after sending him the narrative report. Three days later, the CEO sent a message to head office and Cebu office of my appointment as COO (Chief Operations Officer) in Cebu

By November 23, 2019, which is barely seven (7) days later, this CEO gave me a brand new Tag Heuer watch worth P83, 200.00