Stopover
Details

Category: Teachings & Articles
Published: Monday, 18 November 2019 07:59
Hits: 715
"Stopover"
By Augusto A. Kho
Bureau of Jail, Management and Penology (BJMP)
Balungao, Pangasinan
November 18, 2019 (Tuesday); 9:30 am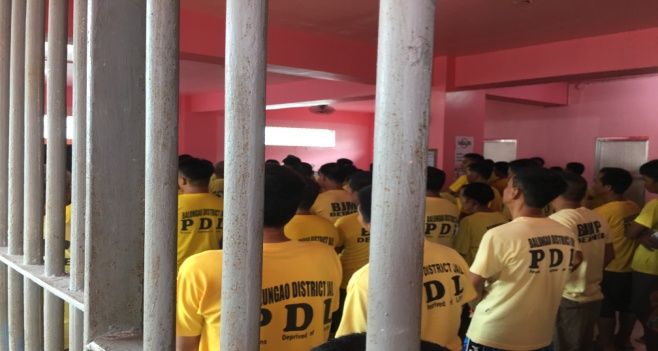 Ang Ibay dina-daanan ka lang, ang iba ika'y binabalik-balikan
This prison wall is not your destination but only a part of your journey, a stopover maybe.
Familiar voice
At past 7 in the evening yesterday, Sunday,. November 1q7 while I was just sorting out what I have shopped from SM Rosales when a familiar voice sounded outside the door saying, " Papa, Papa !!" . I was alone then because my wife Nelids is in Ilo-Ilo city for the 80th birthday of her Tito Bags who former judge there in Regional Trial Court (RTC). When I opened the door, Isaac was with someone else. He said they just dropping by coming from Baguio and their way back to Manila
I thought he was tired and fed up with such busyness yet he still have time to drove to Baguio.
He proceeded to the kitchen and cooked longganisa from Baguio that he bought and brought with him He matched it with ginisang ampalaya sauted with tomatoes, onions, garlic and oyster sauce.
Dawning
At past 12 midnight, It dawned on me that Isaac just stopped by and not purposely to come home to visit me. The thought came, "Ang iba'y dinadaanan ka lang, and iba naman ikaw ang sadya (Others merely stopping by on you, while others finds you his home)." If not "Ang iba'y iiwanan ka, ngunit ang Diyos kailanman di ka iiwanan."
Stopover
At 7:47am this morning while driving to the school the word "Stopover" came to my mind.
"Ang ibay's pinipuntahan ka, ang iba naman dinadaanan ka lang," re-echoed in my mind. And that is a mere "stopover."
That was true what transpired last night when Isaac merely had stopover to what once he called "home." And that reminds me Barthemaeus.
Some considers you home, others merely passing by in your life like a stopover. (Sa kanya, ikaw ang kanyang tahanan, sa iba namay ikaw ay dina daan-daanan ka lamang).
Mark 10:46-52 tells of the story of a blind beggar named Bartimaeus (literally "Son of Timaeus"). He is one of the few recipients of healing who later spread the news of his healing, an "accidental evangelist."
" 46 And they came to Jericho: and as he went out of Jericho with his disciples and a great number of people, blind Bartimaeus, the son of Timaeus, sat by the highway side begging. 47 And when he heard that it was Jesus of Nazareth, he began to cry out, and say, " Jesus, thou Son of David, have mercy on me. 48  And many charged him that he should hold his peace: but he cried the more a great deal, Thou Son of David, have mercy on me. 49 And Jesus stood still, and commanded him to be called. And they call the blind man, saying unto him, Be of good comfort, rise; he calleth thee. 50 And he, casting away his garment, rose, and came to Jesus. 51 And Jesus answered and said unto him, What wilt thou that I should do unto thee? The blind man said unto him, Lord, that I might receive my sight. 52 And Jesus said unto him, Go thy way; thy faith hath made thee whole. And immediately he received his sight, and followed Jesus in the way. "
Batimaeus isn't Jesus Christ's priority that time. He went to Jericho for a specific purpose. On his way back from there someone, a beggar and a blind man was "beside the road" (New Living Translation/ NLT). In KJV it says, "highway side." Bartimaeus sitting down and from there he heard Christ, "the Son of David" passing so he called Him on top of his voice (Mark 10:46). Christ's disciples rebuked him but the more Bartimaeus called out loud. Until Jesus heard him and asked him what he wanted. He asked to have his sight back. Miraculously, the scales from his eyes fell and he was able to see again. As it is written, "For whosoever shall call upon the name of the Lord shall be saved," (Romans 10:13).
And this is the story of the journey in the life of Bartimaues and Jomar who just recently testitfied before you mentioned the word,"journey of life" a while. And that is the journey of hardships he has been going through while he is in this jail to this very day since he hailed from Mindoro, a long, long way out from here.
The journey
"Highway side" in Greek "hodos" means "a travelled way" or "road."
To give you a clear illustration is this "What exactly took place when the policemen picked you up from where you were arrested till you finally brought here in this jail?" What transpired from there and now? Kinuyog ka ba.
What transpired from that point of your origin to this very point of your destination is what "hodos" or "travelled way" or "road" is all about. That was your exact route which includes places, distances, times and events (including characters like your wife, children who witnessed how you have been arrested and your arresting officers). They were all on that "scene." They are part of your story and in journey now.
Hodos also means "a conduct (the way you feel, the way you think, the way you decide)" according to Strong Bible Dictionary. Strong calls "hodos, a journey." This prison walls in other words is a journey. I repeat this is just a journey.
And how does it feel to be away from home and your loved ones? How do you feel and think about your present situation? Should you be given another chance, what will be your decision? Should you have decided it right before. That is hodos. That is your journey.
What is a journey by the way?
Journey according to Webster "is an act of t raveling from one place to another." It is also called a "trip, travel or biyahe, trek or dumadaan ka lang, passage or dina daanan lang". In other words, "journey" is not your destination. It is only a place where you are just in, be it is standing, sitting down or resting, just a part of your trekking experience and never your destination. This jail is never your destination by the way. Being in jail is just a passing through of your whole journey in life. Jail is only a stop-over, not your destination.
Ang Ibay dina-daanan ka lang, ang iba ika'y binabalik-balikan. Those inmates who have never been visited by their wives or children knows what I am saying.
This prison wall is not your destination but only a part of your journey, a stopover maybe.
Your journey
In John 14:6, "Jesus saith unto him, I am the way, the truth, and the life: no man cometh unto the Father, but by me. "
That word, "way" is the same "highway side" where blind Bartimaeus was begging is the way like hodos now. The only difference is that you are not blind like Bartimaeus.
Will you beg for Christ like how Bartimaues begged until he got healed? It's your choice because you (or me) are not different like Bartimaeues. We are still on this life journey and our final destination is yet far from over.
One thing for sure, yon iba iiwanan ka pero ang Diyos di ka niya iiwanan. Neither Christ will leave nor forsake you. WHY? Because the word "road oer highway "means a "place of your point of origin and the place of the point of your destination" is just one thoroughfare meaning "journey" or paglalakbay" lamang.
That whole route from beginning to end is Christ and He is there from start to the last. He claimed to be the alpha and the omega in Revelation 1:8. In other words you can't be wrong with your travelled path with Jesus Christ. Therefore, Christ is your road of life. Others may leave you behind but CHRIST is your journey and He will be with you from beginning to end. Never He would forsake you.
Should you choose not Him (Christ) then you must worst than the blind and beggar Bartimeues.
Well my son is just dropping by on me but Christ would never do that to me. He will be forever with me from beginning and my end because He is the beginning and end in our life journey no what happened.

My father left me when I was two, unaware I was yet I didn't know before that never Christ left me on the day my father left me on that very day. Kay Cristo di ako da daan-daanan lang (In Christ He will not just passing me by), ako'y kanyang pupuntahan at tangi niyang tahanan (Christ will always come to me because I am His abode and His dwelling place) for Jesus Christ have said this:
"If a man love me, he will keep my words: and my Father will love him, and we will come unto him, and make our abode with him," (John 14:23).
The word "abode" means "a residence." A residence means "remain" which also means "never to leave" you.
Kung ang iba'y dina daan-daanan ka lang, kay Kirsto ikay ang kanyang pakay at tanging tahanan.
NOTES
Isaac is 27 years and has company of his own. A child is someone that you can still keep but when a man grows up, he decides for himself. And he wants to travel the way the want that he finds his own.