The Carpenter
Details

Category: Teachings & Articles
Published: Monday, 19 August 2019 09:06
Hits: 1453
The Carpenter
by Augusto A. Kho
Bureau of Jail, Management & Penology (BJMP)
Balungao,, Pangasinan; August 19, 2019 (Monday); 10:30 a.m.
(picture1)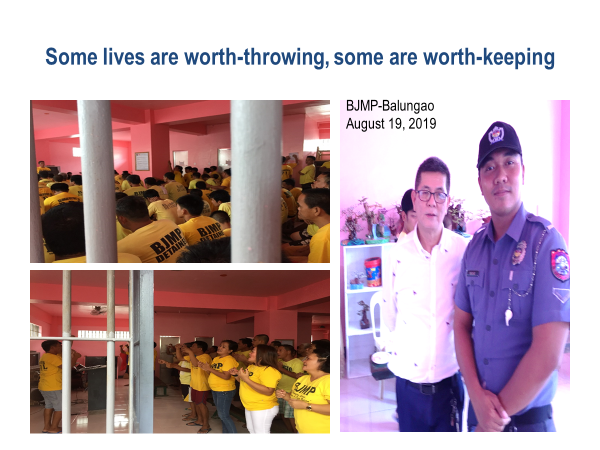 I asked him, "Are you an engineer." He said, "No, I'm not. Just a carpenter." And I learnt that he is a merely carpenter by trade until in the course of time, he became a foreman, then as a contractor. In other words, he makes building structures and he have with him various people in his trade like masons, plumbers, electricians, architect and others.
And according to Merriam-Webster, a carpenter is a worker who builds or repairs wooden structures or their structural parts.
This carpenter-turned-contractor was the one who did a marvelous carpentry-works in our business office. Carpentry is his masterpiece. And his 3-week carpentry work did cost us P1.8-million. And also this carpenter brings that masterpiece of the worst in me..
The man
There was a man in Nazareth who entered a synagogue then took the scrolls of prophet Isaiah and read it saying:
"The Spirit of the Lord is upon me, because he hath anointed me to preach the gospel to the poor; he hath sent me to heal the brokenhearted, to preach deliverance to the captives, and recovering of sight to the blind, to set at liberty them that are bruised,  To preach the acceptable year of the Lord," – Luke 4:18-19
Take note, "to preach deliverance to the captives," which means the Lord takes His eye on inmates like you. It is the word of the Lord, to deliver you out from prison. New International Version (NIV) says, "to proclaim freedom for the prisoners." This is the promulgation not from the courts of men but from the very Word of God.

The reaction
What was the reactions of the Jewish worshippers that time which includes those who have Masters and Doctors of Law like the Pharisees?
Luke 4:20 says, "And he closed the book, and he gave it again to the minister, and sat down. And the eyes of all them that were in the synagogue were fastened on him." 
His words were beautifully and graciously delivered that stunned his listeners until all eyes of those inside that house of worship were glued on him. Promise! This man is stunning.
Discrimination?
He was not schooled nor having a good reputation from his own immediate family. Yet when they heard Him spoke with power and authority, and when he said to them that, "This day is this scripture fulfilled in your ears," (Luke 4:21), what was their reaction to him?
"And all bare him witness, and wondered at the gracious words which proceeded out of his mouth. And they said, Is not this Joseph's son?," - Luke 4:22

Was it a negative reaction, a good one or discrimination, a son of the lowly poor Mary and her husband, Joseph, a carpenter by trade?
Or is it a mixed-up reaction that such a unlearned carpenter can read and preach the Book of Isaiah with much power and authority compared to the Pharisees, the Masters and the Doctors of Law?
Not at all, it wasn't discriminatory at all but a great compliment. NIV says, "All spoke well of him and were amazed at the gracious words that came from his lips. "Isn't this Joseph's son?" they asked." But these men who he was, a carpenter's son.
But the question is what a carpenter can do? Am I discriminating a carpenter myself? It sounds like!
The young man
I met a young man in Mandaluyong. After a much long discourse on governance, political and military affairs and other social relevant issues, this young man asked:
The young man: Sir, what is your rank Sir, Colonel Sir ?
Myself: Why, do I look or sounds like police colonel?
The young man: Yes Sir! (then motioned to give me a hand salute)
Myself: No, I am not!
The Young man: Are you congressman, Sir?
Myself: Do I sound like a lawmaker?
The Young man: Yes Sir! You know a lot about legislations and bills Sir?
Myself: No, I am not!
The young man: Are you a lawyer Sir?
Myself: Do I sound like a lawyer?
The Young man: Yes Sir, you know very well the Constitution Sir
Myself :. I am a pastor
It is not who you are from the outside, it is what the inside of you that matters. Sometimes it is not us of what we think we are but it is the power of God in us.
The young man is 33 years old, a PSINSP of Philippine National Police (PNP) based in Camp Crame, Quezon City. PSINSP is Police Senior Inspector in the police force is equivalent to a Major. He was an IT expert, a former marine in the Armed Forces of the Philippines before he joined the police force.
Can't a pastor do a multi-tasking job in the same way others do? Can't God create something good or something spectacular for the little of what you have and not for what you have not?
Jesus Christ according to the Gospel of Luke explained this: "Jesus returned to Galilee in the power of the Spirit, and news about him spread through the whole countryside. He was teaching in their synagogues, and everyone praised him," (Luke 4:14-15).
It is the power of God that accorded Christ the gracious words and praise from men.
The carpenter
Jesus, a lowly carpenter's son, unlearned who never gone to formal schooling yet by the power of God and in the Spirit
This carpenter turned water into wine though he wasn't a winemaker(John 4:46)

This carpenter heals though he is not a medical doctor(Matthew 4:24; 8:16; 14:14)

This carpenter drives evil spiritaway thought he is not a ghost-buster (Matthew 12:22)

This carpenter walked in the waterthough he is not ship captain(John 14:26)

This carpenter stilled the raging seas though he is not an oceanographer(Mark 4:39)

This carpenter knows their thoughtseven though he is a psychologist(Matthew 12:25)

This carpenter became invisiblethough he is not a magician(Luke 4:30; 24:13-35)

This carpenter turned as man though He is God (John 13:31)
This carpenter has the power to change people's lives? Is it your life have been touched by this carpenter?
Take note of this, your prison-life as you may think as life that is worth-throwing but when it is placed in God's hand may be worth-keeping. In Jesus Christ, carpentry is his craft to bring the masterpiece out from your broken lives.
Apostle Paul said, "For we are God's masterpiece," (Ephesians 2:10)
(picture2)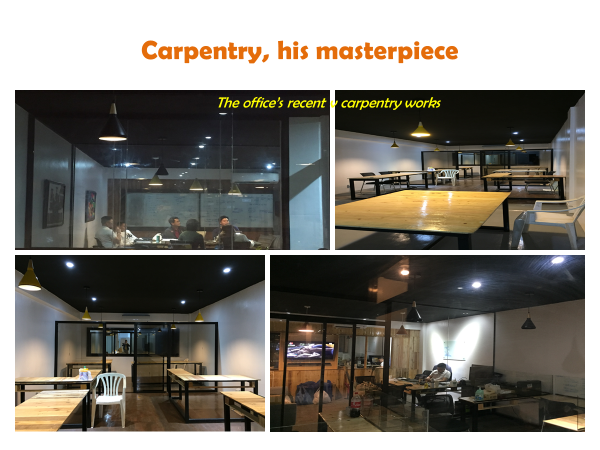 NOTES
He is a prolific writer, a man of principle, a public servant. But now he is broken. Prison life is breaking his life apart like debris tossed in the middle of the raging seas.