The beast of burden
Details

Category: Teachings & Articles
Published: Wednesday, 07 August 2019 08:52
Hits: 1268
The beast of burden
By Augusto A. Kho
Faith Covenant Tabernacle (FCT); Sunday Camp
Refreshing Spring Resort; PT 4049; Gumut Tambaham; Mukim,
Sungai Gumut; 44100 Kalumpang; Hulu Selangor, Malaysia;
July 28, 2019 (Sunday); 9:30 a.m.
Revised : August 07, 2019 (Wednesday); 4:05pm
The hardest thing in life is to have no burden to carry – Sadhu Sundar Singh, 1889
(picture1)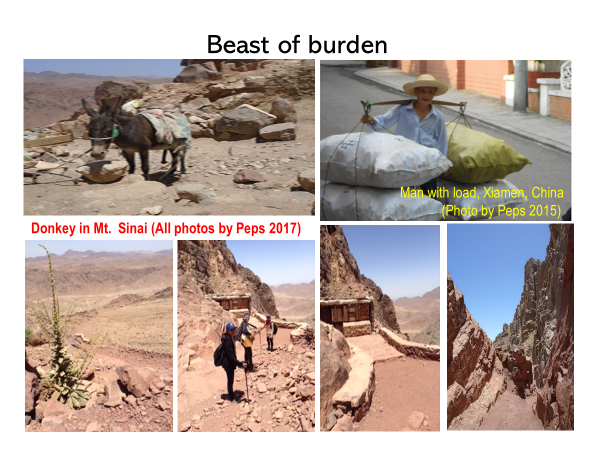 The beast of burden was inspired from what it impressed to me when we trekked Mt. Sinai in Egypt on June 1, 2017 (Thursday) on our way back to the dead, dry terrain of this 7,500 feet high historical site. It is because I saw myself a donkey who whose master just give this beast of burden a brief stop to pause and rest after carrying a heavy load from the top where Moses received the Ten Commandments and where Elijah fled to save his own skin from the political vendetta of Jezebel and king Ahaz of Israel.
The "Beast of Burden" came back again in mind while me and my wife were being hosted by the couple Dr. Lim and his wife, Mary in their house at Petaling Jaya on the Saturday of Lim's House; July 26,2019 at 11:00 p.m.
Journey
You are in your life journey now.
In the same way that I was in a journey, travelling when ….
I was in journey, travelling when I first heard the Gospel from a Chinese taxi driver who drove me from Kuala Lumpur International Airport to my hotel accommodation in the downtown of Kuala Lumpur, Malaysia on January 9, 1986.

I was travelling when I first met the Lord Jesus Christ at Dhahran Airport, January 16, 1986 when I was apprehended my airport authorities for drug-related offense.
That is when I heard God's voice and Jesus appeared to me in my spirit bringing me to another realm while my body remained at the airport for the next 6 hours being interrogated by 6 Saudi airport policemen.
I was trekking in the border of Thailand-Laos-Cambodia on May, 1989 when I heard God calling me into the full-time ministry work.

It's travelling lady from England who went for 3-Day Prayer Walk in Cambodia who was very instrumental so I could meet the brethren of Faith Covenant Tabernacle (FCT) of Petaling Jaya, Malaysia.

I just traveled back from Canada last July 18 and now I am here again speaking to you again to talk about this "Beast of Burden." I've been here three (3) in the year 1990, then another in 1993, then another three times after that and the last time was in 2010.
Origin and destination
In 1986, I had this question of what life I have had to give unto the Lord to serve His divine purposes for me? In the same manner, what life of yours to give to Him?

I know what journey is all about.
As a travel agent for ten years, I need these three (3) most vital information in his journey – his full name, his point of origin and his point of destination.
In any journey, we should know where we're coming from (origin) and we must know where are we're going (destination). Some stopovers may be considered along the way yet we will still pursue to our desired destination.
However, I shifted course to what the Lord wants me to do instead of serving my own personal, selfish ambition. From being a jetsetter, He wants me to do the opposite, to live a life in a low profile (at least for a time).
Where is your life heading at? Heaven or hell? It's your choice.
(picture2)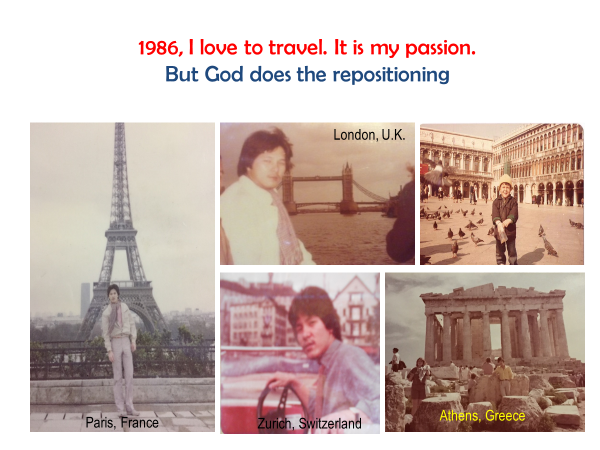 You may wish have as many stopovers in between your travel to delay your purpose to your destination or the worst to shift course until you lose your own way until you find your life in utter quandary. Where is your life heading at? Win or lose? If not, heaven or hell? It's your choice!
1st missionary journey
This is a journal of my journey with the Lord which I would like to briefly share it with you 29 years ago when we first met (am referring to FCT).
Jesus Christ is our life journey. He said, "I am the way" referring to Greek word "journey."
Journey in Greek word "derek" also means "highway" or "road." Also, it means "conduct in life" on how you feel and think. Our life values depend how we "walk in this road of life."
Malaysia became my first mission field after I left secular work. Malaysia is only next to Singapore where I traveled here and there three times in a year from where I was based at in Bangkok, Thailand in 1990
One way or another, the Lim's mentored me in my first missionary journey where I stayed at their home most of the time as an itinerant minister.
Leave your peace
When I felt like moving out from the Lim's in order not to take advantage of their generosity to a stranger-missionary like me, the Lord spoke to me in Matthew 10:11-13 that says, "And into whatsoever city or town ye shall enter, enquire who in it is worthy; and there abide till ye go thence. And when ye come into an house, salute it. And if the house be worthy, let your peace come upon it: but if it be not worthy, let your peace return to you. "
In other words, God want me to stay with the Lim's of FCT. And I should leave my peace there.
The word "peace" is being translated "blessings" in NLT which is mentioned three times. Peace in Greek "eirene" means "state of national tranquility, exemption from rage or war; peace and harmony, security, safety, prosperity, the Messiah's peace (Thayer). Strong define it as "quietness" or "rest."
There is "peace" in the Lim's house so it goes with FCT, the church that the Lim represents.
FCT is like an Antioch. It is my second-home to me next to the Philippines. Antioch is where Paul was being sent out for foreign mission (Acts 13:1).
Tired?
I am tired in my whole life since I was six. Being a battered child, I know what load or burden is all about. I've been feigned working in order to survive and I was a street kid myself till at age 12.
At my age 62 now yet I am working for a living or for a purpose in life. Am I not getting tired? I do! And many times, I felt like I wanted simply to prfffttt out of this life.
(picture3)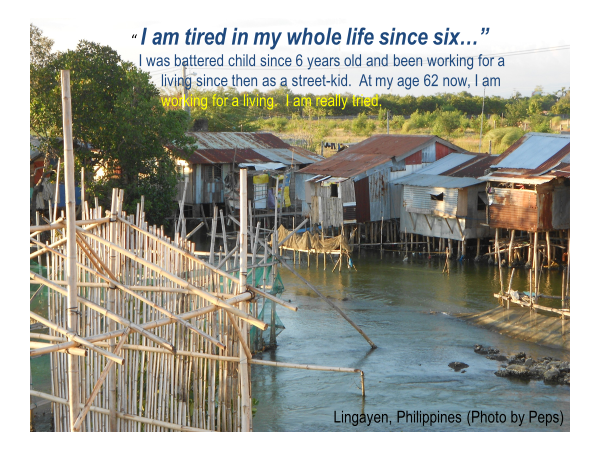 …And I wanted to be free like a bird to explore the vastness of the horizon to find myself a good place to rest.
(picture4)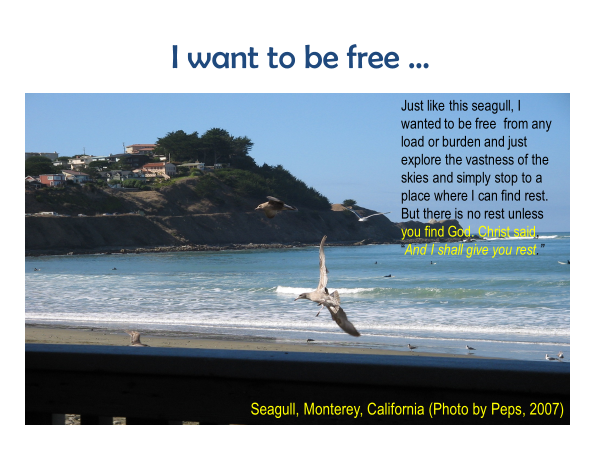 But you cannot find true rest unless you find God as a true place of quietude. Matthew 11:28 says, "Come unto me, all ye that labor and are heavy laden, and I will give you rest.."
The urgency
What makes me tired? And what makes you tired as well?
A month or two after my conversion on January 16, 1986, I have had this sense of urgency of sharing the Gospel to my family, relatives and others. Few months later, I started handling cell groups as much as 6 underground house-fellowships per week. Sometime on November 1986 the Spirit led me to go back to the Philippines for 3-week visit to share the Gospel to my immediate family. Around 12 got saved in my household. Two days later, around 80 souls were added to the Lord. From there, the church in Rosales gave birth in a house fellowship which we call cell group or kuriakos.
A year later, I evangelized a brother's household in Agoo, La Union and the CLSF Church still there at this very day. The local brethren bought their own church lot where they built their worship building there with the support of their local brethren, elders and pastor.
A year after my conversion, the Lord led me to visit tribal mission in the Cordilleras mountains. He spoke to me in vision, dream and from the Scriptures. Later for short foreign missionary stint in Indochina in the likes of Thailand, Vietnam, Laos and Burma.
My annual vacation trips turned into mission work instead of Sabbatical rest or pleasure. There were simply like no time to rest and unload the burden of the urgency of sharing the Gospel. My motivation is due from the promptings of the Spirit, the urgency of the hour and time constraint of the coming of the End Times
The full-time work
Three more years while I was in my secular job after my conversion when God called me to do the full-time mission work. He spoke to me for the next three days of October 29, 30 and 31 of 1989.
God spoke through the Word of God, visions, dreams, angelic visitations and His audible Voice. And I strongly resisted the call. I wasn't ready.
But God's prevailed and He vividly spoke in John 4:34-35 saying: "Jesus saith unto them, My meat is to do the will of him that sent me, and to finish his work. Say not ye, There are yet four months, and then cometh harvest? behold, I say unto you, Lift up your eyes, and look on the fields; for they are white already to harvest."
When I told to the Lord that I will first take 4-year Bible Course, He warned cautiously, "The moment you leave the bible school, the souls that you supposedly reaped will be already in hell." Such is the urgency of the hour.
Fifteen days later that is November 15, 1989, I was on the road trekking down God's directions piece-by-piece and I was redirected again in Genesis 12:1-3 which is the Call of Abraham in the same way I received it on early 1986. That was the reason I got only one child in the person of Isaac.
Foreign Mission Field
By middle of December 1989, I was directed by God to work in a foreign mission field based in Thailand. It is from there that this mission organization became much instrumental of crossing each other's path with FCT.
As I said earlier, I have no church covering. No specific church sent me for a mission. I heard it directly from the Lord although this Thailand-based mission organization was the one that officially sent me to Malaysia and Singapore to do the work of the Lord. Yet it is God, my Sender and not from a man.
I was with you then as a young man, inexperienced, broken and alone. I merely depended on God's provision, mercy, and grace to whatever He thinks that suits for me. It was mine but it was God's business that I was doing. I accepted the fact that I lost control of my own will and only His that must prevail. And that is given.
By then, I consider myself a sojourner, a missionary. A man with a mission. Not as a pastor or minister. I simply waited what the Lord wants me to do. Where He drives, I go.
A passport, a credibility?
I was looked down as a missionary among some ministers in Malaysia. BCM or Bible College of Malaysia was surprised that they invited me as their Speaker to talk on Missions when I myself had no background from a Bible School
The directed me to go back to the Philippines on December 19, 1989 This was what He said, "Go back to the Philippines. Plant a church. That will be your passport and credibility that I ordained you." I did what He exactly directed. And I remember that Dr. Lim lent me a book of Watchman Nee that helped me set up a church which is being called as "3-Self Church."
(picture5)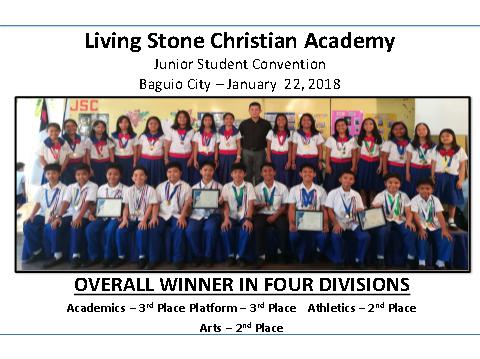 When I arrived Manila that time, coup e'tat against President Corazon Aquino literally paralyzed the lengths of EDSA road. What a welcoming for me that day.
Three Self Church means "self-propagating, self-supporting and self-governing,"which was exactly I applied to do the pioneering work in starting a church.
Even when I left Thailand and went back to the Philippines, my communication with FCT is founded with personal intimacy and relationship rather than ministerial. For the past twenty-nine (29) years we communicated with one another just like the Macedonians who consistently communicated with Paul while in a mission work (Philippians 4:14).
(picture6)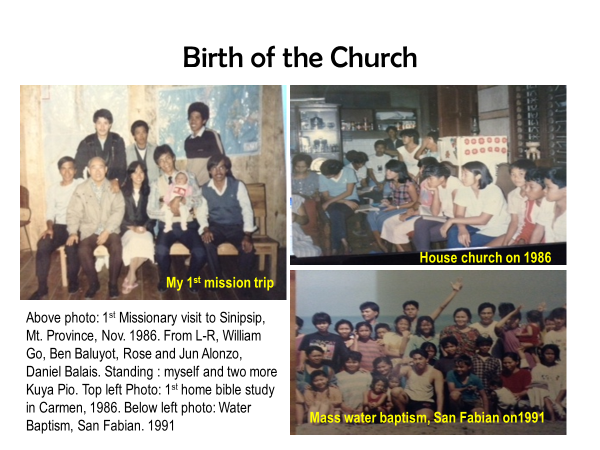 It was on December, 1989 when I started the house-church until it grown months later until we transferred on bigger ground. On 1995, Living Stone Christian Fellowship (CLSF), Rosales gave birth church-school known as Living Stone Christian Academy (LSCA) as ministry on education and also, Rosales-Goshen Multi- Purpose Cooperative Inc. (RGMPC), an economic arm of the Church.
(picture7)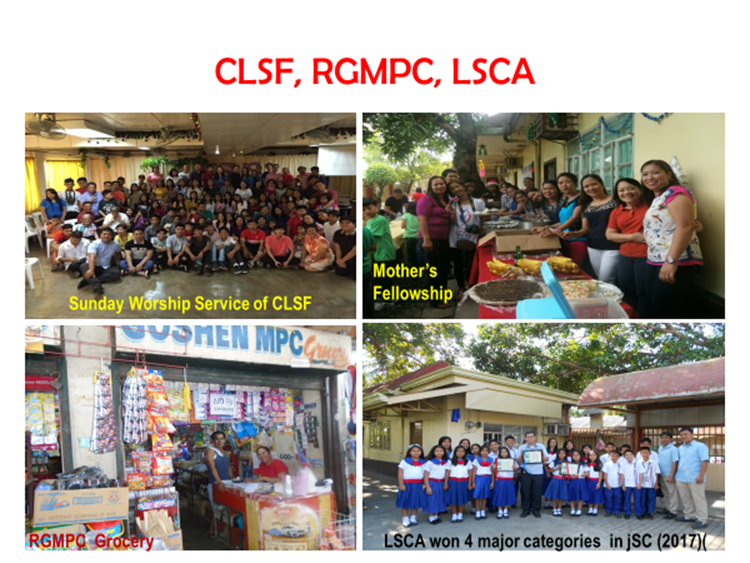 Meanwhile the Jail Ministry at Balungao District Jail, Balungao, Pangasinan was born by the Spirit when God led me through a visit and personally given Psalm 102:20 that says, "To hear the groaning of the prisoner; to loose those that are appointed to death." I want to bring hope to them. There is God inside the cell. There is light inside and beyond the prison wall.
(picture8)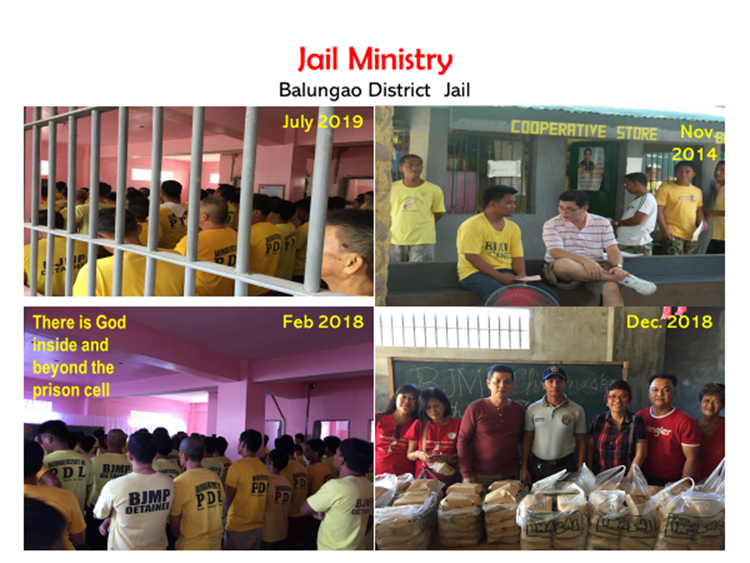 Meanwhile, the Children Feeding Program for the indigent children follows after that came when God spoke to me while inside a car and He said, "We're you not a street kid before. Feed the children." It is fun, game, pray and dine. With this feeding program, I want to remind that Jesus Christ loves them.
(picture9)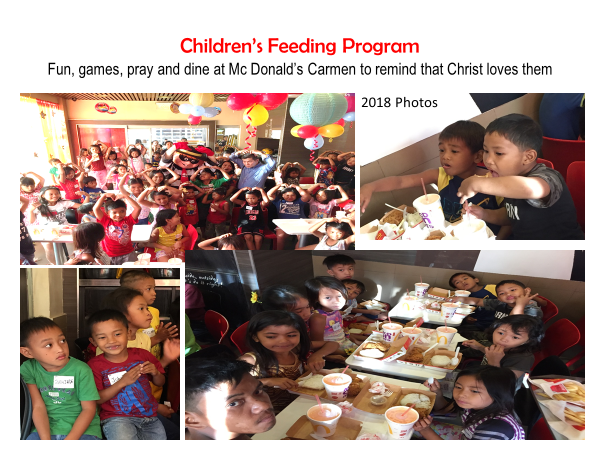 In the government
Sometime on February, 1992 when I heard the Lord mandating me to see a government public official which I strongly resisted. He said otherwise He would send me a flashflood as a sign. I said, "Why?" He replied, "and the government shall be upon his shoulder," (Isaiah 9:6).
The shoulder speaks of responsibility. Since Christ is the Head of the Church, then the shoulder should be a part or member of the Body of Christ.
With no political party whom he can affiliate with and he was also financially drained that time, I talked to the man for re-election. I told him simply that God will make him win. And he won. Few months later, I was trained as Trainer-Coordinator of Values Formation Council (VFC) of Philippine National Police (PNP) Headquarter at Camp Crame, Quezon City. Starting from our municipality, our ministry gone beyond to the government public officials until we explored all over Pangasinan and beyond. Before I knew it, I have been preaching or often invited as resource speaker to academe and other government agencies, to the legislative and executive levels of government.
"The marker"
FCT took a snapshot on "The Marker."
The marker is a covenant made by our local government officials to God. On that contract or agreement, they implored God's presence, power and righteousness to reign in our town. Whether the government will fulfill that oath under God, it is their choice. Yet I believe it is recorded in heaven. I, myself, composed that agreement or the wordings therein which was later signed by Honorable Mayor Susan Pagador-Casareno and Hon. Vice Mayor Harry Bernabe, our Pastoral Chairman Vic Disono and yours truly the Chairman Emeritus of Association of Rosales' Ministries (ARM). ARM what I pioneered in 1992
Pioneering is a tedious and hazardous task. Can't we be pioneers for God's service?
The town of Rosales is perhaps the only town in the whole province if not the whole Region I comprising four (4) provinces that legislated a decree that one day is given as a tribute to God which is being called, "Thanksgiving Night." ARM have been officially appointed by the Rosales' legislative body to execute the godly-ordained event once a year which we have been doing year-by-year for the past four years.
(picture10)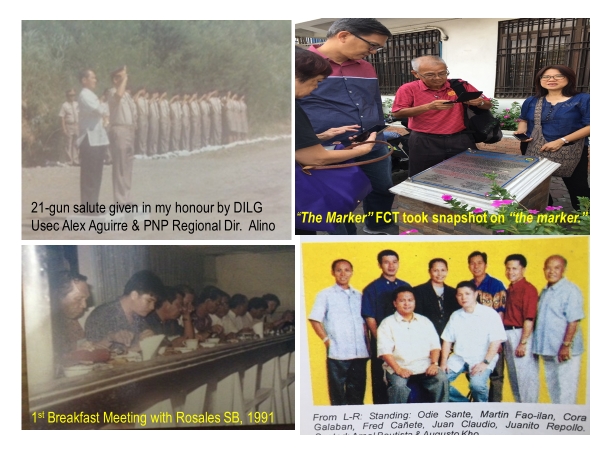 Also, I participated in some legislative agendas of our town and province in opposing some dubious bills. Such social and political advocacies gone as far to the House of Congress and to the Senate of the Republic of the Philippines. In few occasions, I gave Privilege Speeches if not, engaging in oral arguments citing Constitutional provisions against few national "priority bills."
(picture11)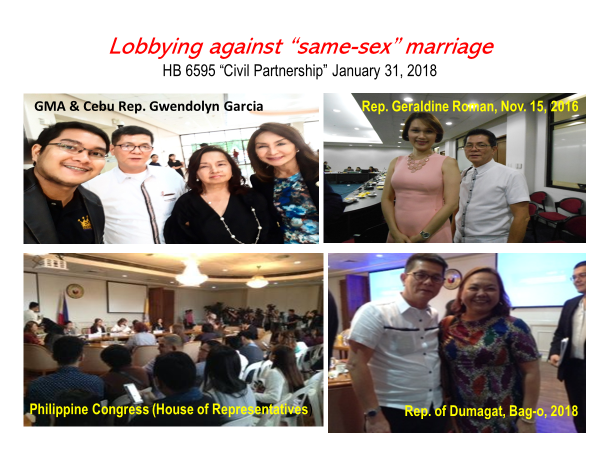 Such ministry is life-threatening as well. On several occasions, I received death threats, threatened with warrant of arrests and being sued in the criminal courts with two separate criminal cases over my head for three to four consecutive years. A gun has been poked on my forehead by an incumbent mayor right in front of his town hall and I was slandered many times even from by the local media - be print or audio.
(picture12)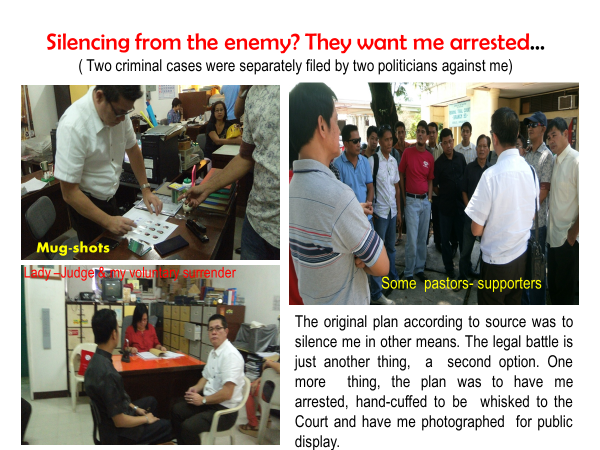 Often our senior pastor, Bishop Daniel Balais will send me to the Congress or Senate to represent him on certain issues that beset the nation on the brink of darkness.
(picture13)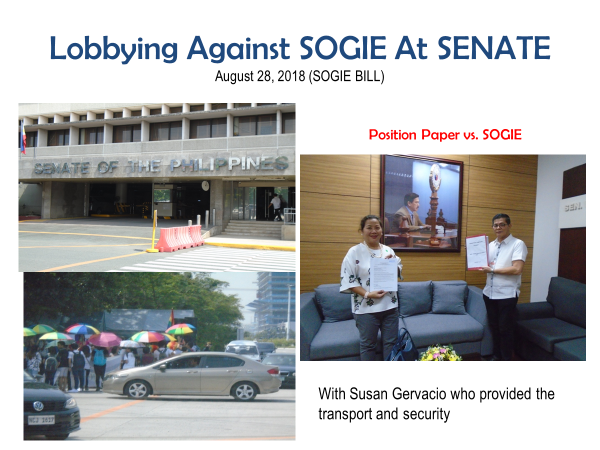 Heyday
There's heyday as well like I was accorded with regional recognition and given an official hand salute by a police general Santiago Alino, a regional director together with Undersecretary Alexander Aguirre of Department of Interior and Local Government (DILG) and the Regional Manager of Department of Foreign Affairs (DFA) where I was also given a 21-gun salute in my honor.
(picture14)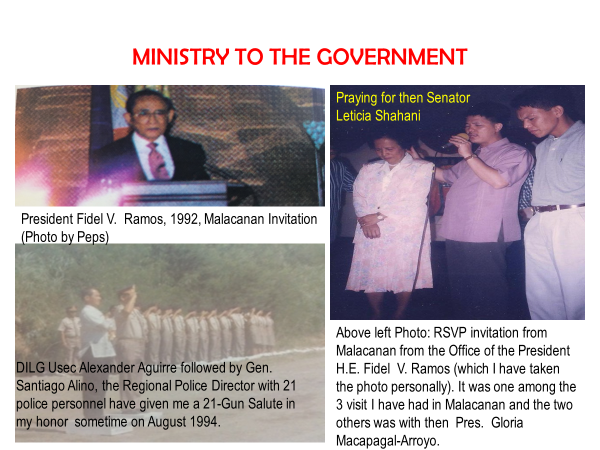 Three (3) times, I was personally invited in Malacanan or the Office of the President through RSVP. Once by President Fidel V. Ramos and twice during the term of President Gloria Macapagal-Arroyo.
(picture15)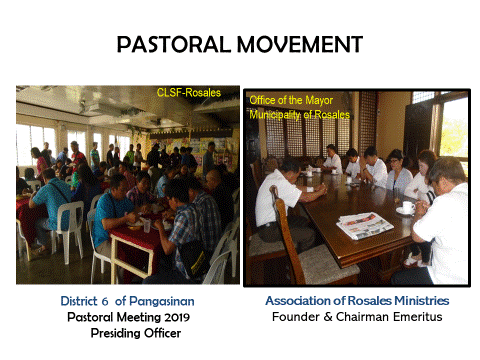 Many times, I am not what I am perceived to be. And God alone deserve the glory because I am merely recipient of His abundant grace.
Pastoral Movement
In 1992, our village named Carmen, four evangelical pastors decided to have a monthly Breakfast Fellowship. It is one way of getting to know each other and I believed to establish the unity of the Body of Christ. One from the Baptist named Pastor Wilfredo Quiruz, another a Pentecostal in the Assembly of God (AOG) named, Pastor Hidalgo and two from Full Gospel named Pastor Carlo Benitez and myself.
(picture16)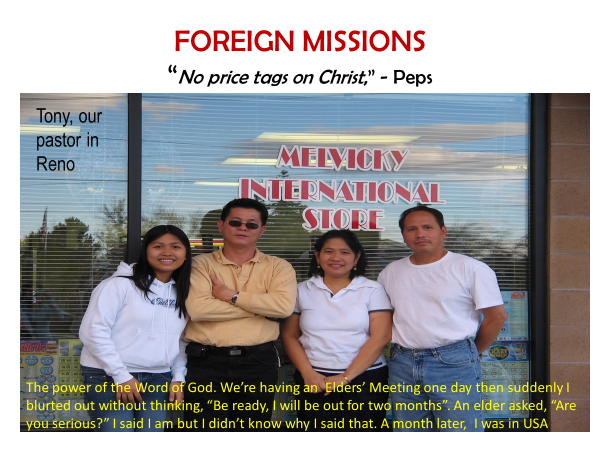 Our breakfast fellowship we're joined by other pastors from our town in Rosales until the Pastoral Movement was born under my watch as the President of Association of Rosales Ministries (ARM). With Values Formation Council (VFC) as District Coordinator and later on as Provincial Coordinator we fast-tracked organizing and mobilizing pastors and ministers in creating Pastoral Movement in every town until it reaches the whole province.
Why did involved myself in organizing pastoral movements or associations?
My answer is this, "Then, besides all this, I have the daily burden of my concern for all the churches," (2 Corinthians 11:28/ NLT).
Foreign Missions
In few occasions, God led me evangelize just like what had happened in New Jersey City when around 60 souls accepted the Lord and led them for a weekly bible study for a month until I endorsed them to a local church named Living Stone Church which is being pastored by a Filipino named Danilo Co. That was in 2007.
(picture17)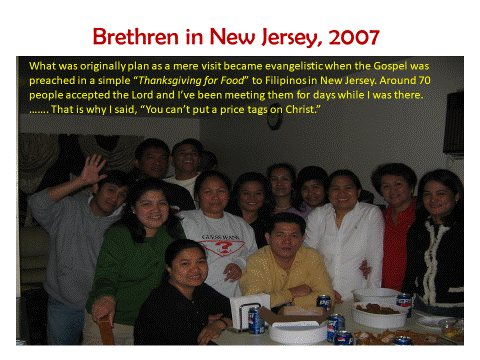 Twice I visited the brethren in Reno, Nevada where some of our members in Rosales migrated there.
(picture18)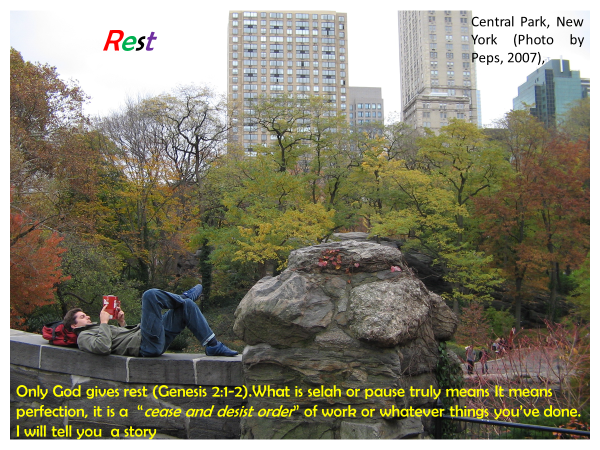 God gives rest
Only God gives rest (Genesis 2:1-2). What is selah or pause truly means?
Even a king or president must have the needed rest. King David, a champion and a giant slayer even begged for God's tranquility when he said, "I cried unto the LORD with my voice, and he heard me out of his holy hill. Selah," (Psalm 3:2). This man could have been so tired wanting to escape from the hands of his enemies. David must be pretty tired, scared and emotionally battered and mentally stressed just like many ministers and leaders today.
Am so tired as well, if not burned out. That is why I shared to in the beginning of today's preaching I am fed up and pretty much drained with this statement, "I am tired in my whole life since (when I was) six." So, I needed rest and to justify that, I had to share to you what I am being involved with and what ministry I have been doing since then up to now. That is why I often time saying, "I wanted to travel light" if not, "I don't like heavy luggage."
Rest means perfection, it is a "cease and desist order" of work or whatever things you've done. I will tell you a story.
(picture19)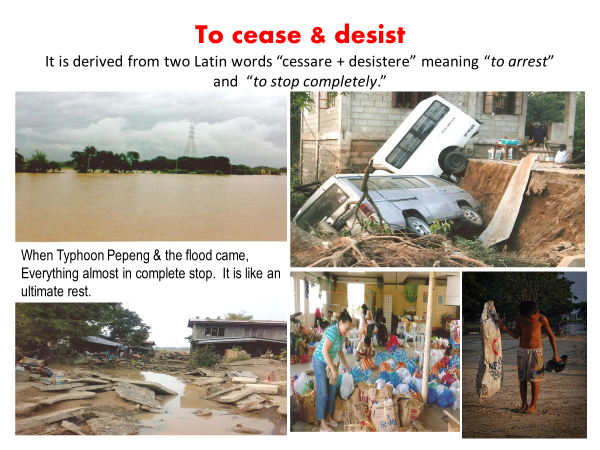 What is rest?
What is rest?
Jesus said, "Come unto me, all ye that labour and are heavy laden, and I will give you rest " – Matthew 11:28
Rest (Greek) "anapauo"
To cease from any movement or labour

To give rest, refresh,

To keep quiet or calm and patient expectation

to repose

to cease or desist (This is a judicial term or terminology which is being used in the Court of Law).
Even Paul shared to us that he too had no rest. 2 Corinthians 2:13 says, "I had no rest in my spirit."
What is rest again? I tell you a story….
The waters
…. this is a story about the water…
I was about to sleep at 4 a.m. on October 9, 2008 when I heard the word "waters." I suddenly jumped out from the bed and looked for the Hebrew definition of "waters.". That time God spoke to me in Genesis 1:2 that says,
"And the earth was without form, and void; and darkness was upon the face of the deep. And the Spirit of God moved upon the face of the waters."
"Waters" in Hebrew "mayim" means "water, waters, urine, piss, semen or flood." Figuratively it means "violence" or "danger."
Without giving any second though, I immediately texted as many people I can to warn them of the coming flood. In my spirit, the coming doomsday can no longer be repelled. By 9:30 A.M. that very day, the flood came submerging 37 out of 48 towns in Pangasinan. Almost every thing was being put on hold. Businesses were shut down. Power supply and communication were cut off. Transportations has been suspended. People's mobility was very limited.
Just like when Saul was "arrested" by the Lord on his way to Damascus, all plans he had in his life have been put on hold and to complete stop. That is what is "cease & desist" order is. The judicial term of "cease and desist order" is final and executory. And no one can stop it. And the same thing goes with God when He gives you a final and executory order.
To cease & desist
It is derived from two Latin words "cessare + desistere" meaning "to arrest" and "to stop completely."
Should God will "arrest" us and place us in a difficult situation, resisting Him is tantamount of Saul situation when God said to him, "It is hard for thee to kick against the pricks," (Acts 26:14). It means that the more you struggle against God, the harder God will deal with you severely.
"Cease and desist" is a Court's Order for cessation of all your affairs to face a trial. It is the same thing that when God sent flood to us in Pangasinan though a typhoon killer "Pepeng." nearly everything has been put into halt.
(picture20)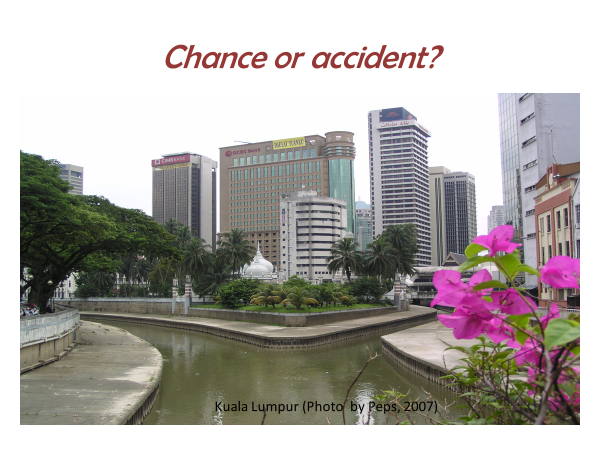 Chance or accident.
It was since 1990 when I became acquainted with FCT as a Church. It's been 29 years since that day we came to know each other.
It is a chance or accident?
There was once an old bedridden woman in United Kingdom (UK) for two years. Jeanne Frazer, 81 years old was reading from her Bible when od spoke to her that she will be healed pointing Isaiah 40:31 as her source of revelation that says,
"But they that wait upon the LORD shall renew their strength; they shall mount up with wings as eagles; they shall run, and not be weary; and they shall walk, and not faint."
(picture21)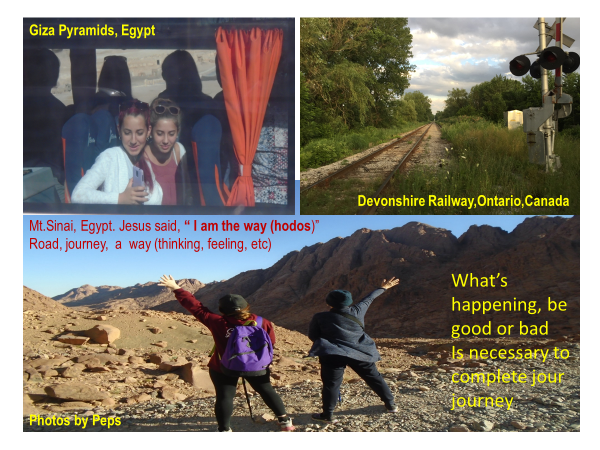 From there she just suddenly jumped from the bed, whisked herself out from the room down to the stairway from the second-story house of hers. Her daughter in her 30's ran in unbelief when she saw her mom walking down from the stairway. From there, Jeanne told to her daughter and son that God healed her and commissioned her for a 3-day Prayer Walk in Cambodia.
While walking on the dirty pavement of Cambodia, she saw a crumpled glossy single paper. When she opened it up, she reads the word, "Faith Covenant Tabernacle (FCT)" with an address and telephone number on it. She brought that "junk" with her flying from Cambodia to Thailand.
Jeanne asked me, "Will you be travelling to Malaysia? Do you have any contact from there?" I said yes in affirmation but when it comes to contact, no one from Malaysia would invite a unknown or a stranger-speaker like me. Then she handed me that single glossy paper with your church's name and address on it and she said, "Take this and contact them. There's a telephone number on it. This may help you."
When Jeanne left, I dialed immediately FCT's contact number and instantly a man answered my call. After a few minutes of introducing myself, a certain Dr. Lim asked, "How long you will be staying in Kuala Lumpur, do you have invitations already?"

When I told to Dr. Lim that I have no contact at all, he filled up my one-week scheduled trip to Kuala Lumpur. Not only in Kuala Lumpur but in some other states in Malaysia as far as Sabah and Sarawak.
Fools?
When I finally met Dr. Lim who picked me up from the train station in Kuala Lumpur, he didn't ask me about who I was or who I am. He simply put his trust unto the Lord giving his house key to a complete stranger. I was amazed of such faith. And his absolute trust that I couldn't help saying, "Is he like a fool trusting me that much! I could have had rob his house?" Crazy or not, I do not know and he must be fool like Paul serving God
"We are fools for Christ's sake, but ye are wise in Christ," – Apostle Paul (1 Corinthians 4:10)
The Lim's encompassing love to Christian preachers and ministers are very compelling, they opened their house to strangers and missionaries giving them free food and shelter which I never seen among Christians all throughout Malaysia even as far as Sabah and Sarawak. I literally travelled all over Malaysia in that year of 1990. Not just once but three times that year.
Whenever I leave this house, the Lim's will gave their offerings to the Lord and he would always say, "Spare something for the workers of the Lord." Unlike many Christians who raise funds for the church building, Dr. Lim carries a heavy burden for the welfare of those on the mission fields.
While sitting down silently on the process of recuperation from minor heart attack, the Lord said to me, "Stop showing off. I am not interested to your ministry. My ministry is you."
God's ministry is not the church nor the church activities. His ministry is us, on how He can build us in the ministry "to be conformed to the image of His Son," (Romans 8:29)
Chance defined
What is chance in the biblical context?
Ecclesiastes 9:11/ NLT says, "It is all decided by chance, by being in the right place at the right time."
Chance Heb. "pega" i.e. occurrence, happening, impact, by accident, to encounter, intercession, to make touch (of boundary) according to Easton Bible Dictionary.
In God, there is no chance. In God, there is no accident. Be it is chance, accident or destiny God is sovereign and on top of all and every situation from past, present and future.
My God's call for mission (though I was not yet a pastor) impacted me to make touch with FCT. I was not ordained nor officially sent by any Church but I knew I was called by God on my first mission journey in 1990. Such happening may occur like chance but I don't mind. But be it a chance or accident yet God made them all. And He allows such to happen.
The Kairos
There are there definitions of time in the Greek culture.

Time in Greek means kronus, kairos and pleroo.
Cronos is a general time like the 24 hours a day or 365 days a year. Pleroo is the fulfillment of time while kairos is an opportune time, a special time, a holiday.
The distances from Thailand and Malaysia has been linked by time-kairos through mission in Christ. That was when I met FCT and Dr. Lim. My journey has something to do with distances and time. In between those distances, there will be events. And FCT as an event came at the right time as kairos. It was never an accident alone. It is a perfect time seemingly camouflaged by accident. Take note that this life-journey is Christ. He said, "I am the Way," (John 14:6). Way in Greek "hodos" meaning "road, highway, journey."
The kairos links us from the past to the future. It is the connecting point from our beginning (alpha) to end (omega). Kairos is a Greek word which means an "opportune time' today or at present. And Jesus Christ our Lord claims that He is the Alpha and the Omega, the beginning and the end in Revelation 1:8. And He is omnipresent and omniscient God all through our journey, be in good times or bad times.
(picture22)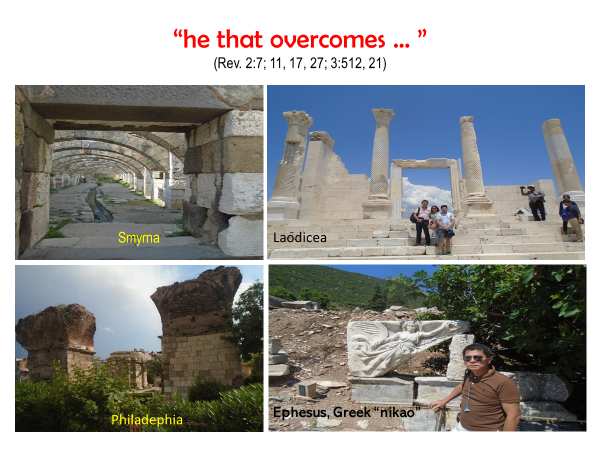 Exhausting journey
Yours and mine are exhausting journey. Sometimes we feel disheartened and broken in the spirit that we feel we are on the losing end. Nothing is being wasted to anything being offered to God. We are not alone on such tiring and hazardous trek of life. No one can conquer without enduring the hard times. No one can conquer without a battle to fight. All the Seven Churches of Asia were exhorted by the Lord Jesus Christ when He said, "He that overcome." (Revelation 2:7, 11, 17, 26 : 3:5, 12, 21).
To the Church of Ephesus whose love to God have grown cold, Jesus said, "To him that overcometh will I give to eat of the tree of life, which is in the midst of the paradise of God," (Rev. 2:7).
(picture23)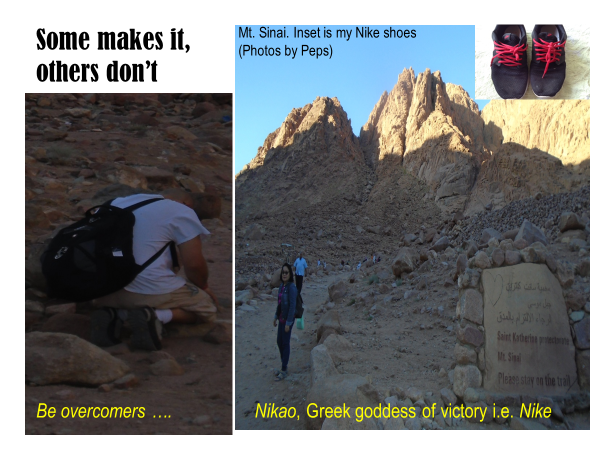 Overcomers
"he that overcomes, " KJVLite is mentioned to all Seven Churches of the End Times. However only two out of seven churches were found to be true, faithful and holy ((Rev. 2:7; 11, 17, 27; 3:512, 21).
That two true churches are Smyrna and Philadephia. The Laodicea is being branded as "rich" church but "poor" (Rev. 3:17) while Ephesus have left Christ as their first love (Rev. 2:4) but still camouflaged as religious bigots.
Notice the above picture image which is carved on a rock in the ancient Ephesus. The female image speaks of "Nikao," the Greek goddess of victory (overcome). In English, Nikao means "Nike."
Normally, the remnants or residue are those who rermains steadfast in the faith who can overcome or victorious. Though Pergamon is branded as "fornicator church" and "church of Satan," (Rev. 3:14,13) while Sardis is called a "dead church" (Rev. 3:1), they are those who remain overcomers.
You may be the remnants or those who have remained but overcomers or victorious to which "nikao" is being referred at. Only the remnants are faithful. Why? Because they hold on to the end despite of the heavy loads on their back. They didn't stop carrying that burden. Will that makes us a beast of burden?
(picture24)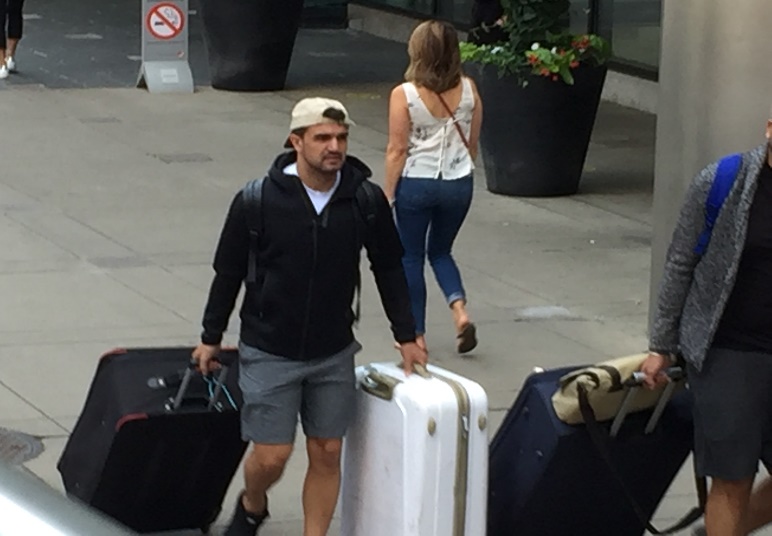 Tired?
Again, have I not said that I am tired, that I am fed up carrying loads or burdens, that I've been working since I was age 6?
That is why I hate carrying bulky luggage during travels. And I prefer to travel light. How I wish I can be hands-free, burden-free (from responsibilities).
(picture25)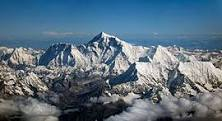 Man carries heavy luggage, Toronto (Photo by Peps)
Have we not withdrawing often because we don't want responsibility and we don't want something to carry on our back as our burden or weight?
I will tell you a story ….
(picture26)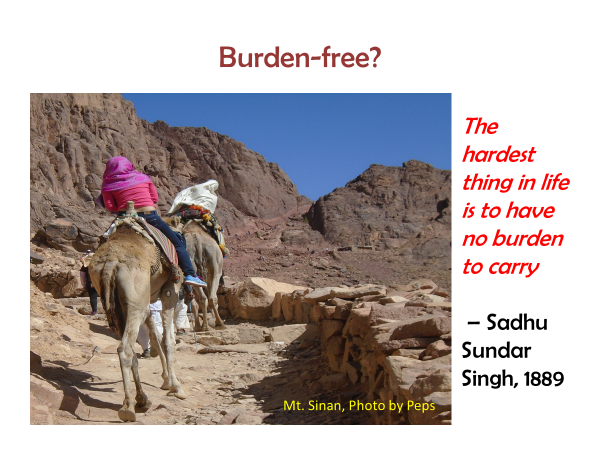 (Photo from the internet)
On the Himalayas
… This is the story....
There was a man who was succumbed to climb the Himalayas.
The Himalayas is the highest peak on earth. It is bare, icy and lifeless. It is where Mt. Everest and where the highest peak is. And once you are above you can probably suffers from short-breathing, heart attack due to low pressure, nose-bleeding, blindness, and being frozen to death.
Obediently, he went, trekked and braved the storms and the icy mountain. Along the way, he met a religious man, a Buddhist monk. With newly found companion, both trekked the way up to the summit. Suddenly they saw a man, nearly lifeless. The man was nearly frozen to death but still breathing slowly. He cautioned to help as he looked straight to the eyes of the monk. The monk shook his head saying, "No, he will die anyway. Leave him alone." But compassion compelled him to stay behind and warmed the nearly dead frozen man with his human body as a blanket to provide heat for the dying man. Slowly, he took him up and carried him on his fragile shoulder. Carrying the almost dead man is burden to him and too much to carry. He walked farther, the weight on his back was like a cross to him. Suddenly, he hit something hard that is buried on the snow. And he was shock of such unexpected discovery. The Buddhist monk who was once his instant travelling companion was frozen to death and buried on the snow. Why? He has no load to carry to warm him up. This man who took a heavy burden on his back is a Christian, in fact and evangelist. That is why he said,
" The hardest thing in life is to have no burden to carry,"
– Sadhu Sundar Singh, 1889
How about you? What burden do you carry? If you don't have a load to carry in life, then you are not fit to live.
Shall I still continue or would this be the end of the story? Or shall I share to you the story of a colt?
The beast of burden
Readings from Matthew 21:1-5/NASV,
"And when they have approached Jerusalem and had come to the Bethpage, to the Mount of Olives, then Jesus sent two disciples, saying to them, 'Go into the village opposite you, and immediately you will find a donkey tied there and a colt with her, untie them, bring them to Me. And if anyone says something to you… you shall say the Lord has need of them….' Now this is the place that what was spoken through the prophet might be fulfilled saying, ' Say to the daughter of Zion, Behold your king is coming to you, gentle and mounted upon a donkey, even upon a coal, the foal of a beast of burden."
Take note that Christ didn't take the spotlight in the beginning of his ministry. He was in a low profile preaching first to small villages and not in the city. When the right time has come, he finally decided to enter Jerusalem, passing Bethpage which means "City of unripe figs."
Who wants to pluck a fruit of a tree when it is not yet her season? Eating unripe fruit is not merely taste bitter but it can be also bad to one's stomach. But can God use anything even in out of season?
Then Christ commissioned his disciples to look for a donkey whose coal (young ass) is still not weaned from the mother's milk and still tied with the mother.
Jesus Christ chose a colt, the donkey's suckling child to bring Him to the City of Jerusalem? Why did Jesus choose a virgin, inexperienced young ass to bring Him there? Why not the experienced and mature donkey? A young ass is easier to handle, unresisting and can easily be tamed unlike those proud and arrogant experienced ones.

When Jesus entered Jerusalem, the crowd jubilantly cheered saying,"Hosannah! Blessed is He that cometh in the Name of the Lord." The neophyte young ass became an instant celebrity such inexperience carrying a heavy load yet nevertheless He is the King of the Jews!
Should you be given a chance, which one would you like to be, the experienced donkey or the virgin colt, inexperienced yet teachable?
Ohhh, would that be burdensome? Jesus said,
"Come to me, all of you who are weary and carry heavy burdens and I will give you rest. For my yoke is easy to bear and the burden that I give you is light," (Matthew 11:28,30 NLT).
NOTES
Sadhu Sundar Singh
Sadhu Sundar Singh (Punjabi: born 3 September 1889) was an Indian Christian missionary. He is believed to have died in the foothills of the Himalayas in 1929.
"I am not worthy to follow in the steps of my Lord," he said, "but, like Him, I want no home, no possessions. Like Him I will belong to the road, sharing the suffering of my people, eating with those who will give me shelter, and telling all men of the love of God." Sadhu Sundar Singh said
Himalayas
Himalayas, in Sanskrit means 'abode of snow'
Geography: The Himalayas stretch across the northeastern portion of India. They cover approximately 1,500 mi (2,400 km) and pass through the nations of India, Pakistan, Afghanistan, China, Bhutan and Nepal. The Himalayan range is made up of three parallel ranges often referred to as the Greater Himalayas, the Lesser Himalayas, and the Outer Himalayas.