30th NPG Day 1
Details

Category: Teachings & Articles
Published: Sunday, 21 April 2019 16:01
Hits: 2085
PUTTING ON THE ARMOR OF LIGHT
30th National Prayer Gathering
Cuneta Astrodome; Pasay City
April 16-19, 2019
Proof-read dated April 20, 2019
DAY 1/ TUESDAY
Personal Notes of Augusto A. Kho
(picture1)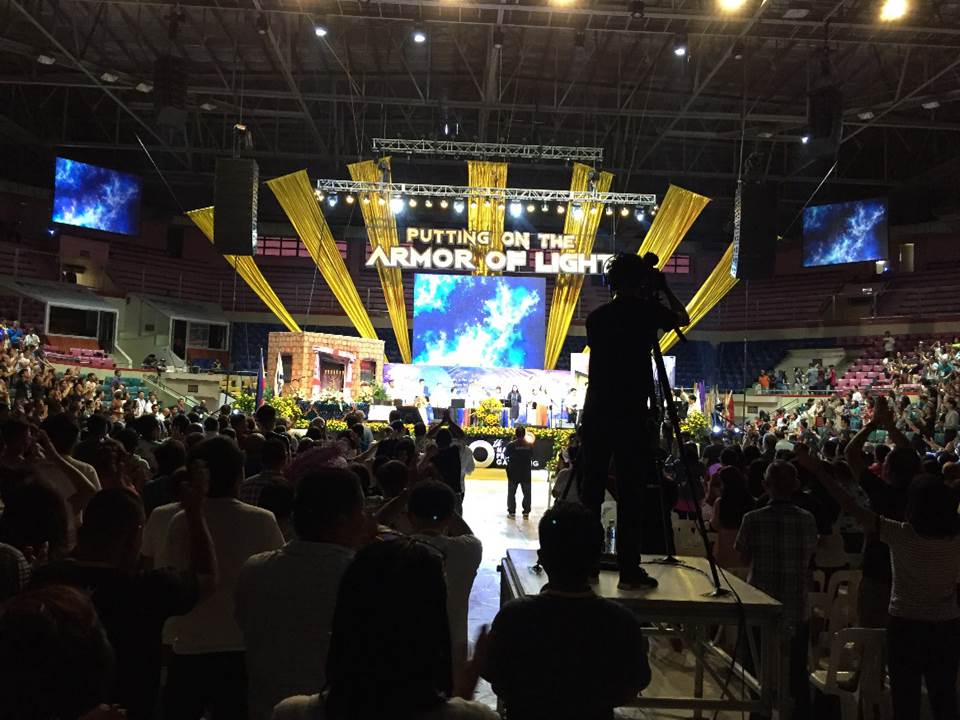 Daniel Balais
2: 10 PM
This is our 30th year. We started in 1999. Our theme, "Putting on the armor of light." Every time we have a gathering, we ask the Lord what we focus on. Romans 13:12, "The night is far spent, the day is at hand: let us therefore cast off the works of darkness, and let us put on the armor of light. "
You can post anything on the internet, whoever reads it believes it on whatever they think. This is what Isaiah said about the "gross darkness" (Isaiah 60:2). God will release his glory on such a time as this. When darkness is at its height God will release His light upon his people.
They are 5 prophetic directives on us:
Knowing the time

High time to awake, an opportune time to AWAKE

Our salvation is near than when we believe

Put on the armor of light

There is a season under purpose. Purpose is connective with time. God redemptive plan for mankind it through seasons:
Chronos, the normal passing of time; we started IFP when I was 36 years old and now I am 66. It is developmental. You develop it by time.

Kairos is strategic or opportune time (Acts 17:26);

Pleroo is the fullness of time.
God appoint the seasons of nations. That is kairos. Psalm 102:13 saying, "Thou shalt arise, and have mercy upon Zion: for the time to favour her, yea, the set time, is come." . Time in Hebrew "eth" means "a time long due; long awaited; set time." It is also in Hebrew "moed" referring to the "appointed season or fixed time."
We need to respond to the changing seasons of times like Issachar. "And of the children of Issachar, which were men that had understanding of the times," ( 1 Chronicles 12:32).
We must have understanding of time and seasons as people of God and look beyond what is on the natural. We can only see when we look on God's divine perspective. The secret of prophets is that they can see beyond the natural.

When God spoke to me about the Jubilee of Jubilles, God impressed to me the last 10 Year provisions. If you summarize the prophesies 40 years, you can summarize them on the following prophesies to the nation of the Philippines as :
Righteous sheep nation

Blessed prosperous nation

Missionary-sending nation.
We were inspired from King Philip II. Magellan called it first, Islas delas Lazarus when their ship Victoria was drifted at Homonhon Island on the day of resurrection. Then they renamed it Philippines, but Philip of Spain is named after the Philip the evangelist.
Last March 9, 2009 with Eddie Villanueva, Cindy Jacobs, Diwa Gunigundo, etc. while we were in The Arena in San Juan, God spoke to me about the Jubilee and the Holy Spirit told me to count the history of the Philippines, which is 490 years since the cross was planted in the Philippines, we were then the only Christian nation in Asia.

We are on the threshold of the Philippines now. Then, we do not know that and Philippines is getting worse and worst. And every 70 years God is doing something to a nation. I announced it to the group and around 6,000 people stood up and shouted and sung "Great is thy Faithfulness.'
490 is the Jubilee of Jubilees. 70 x 7.
Philippines is a nation of destiny and we have gone through tremendous battles.
Then US challenged Spain by then Admiral Dewey. Then we were occupied by Japan for four years. During WW II, Mc Arthur fulfilled his promise, "I shall return."
In 1950s, we are No. 1 in Asia

In 1960's, we are next to Japan.

In 197-0's, Martial Law declared Marcos. Economy went down with 20 years of dictatorship. Then we are part of opposition against Marcos. I became born again in the 1970s. Till came People Power, then came CorazonAquino. One pastor from Visaya run for ConCon, and he succeeded for the Preamble charter, "We the sovereign Filipino imploring the aid of Almighty God." Greg Tingson is called the Billy Graham of the Philippines.

Then God spoke to a group of intercessors to Pasig. During that EDSA Revolutin, God said, "I am not giving this nation to the hands of the communists but I am giving this land to the hand of intercessors." God said to me from heaven, "If you will not pray for this nation, this nation will be destroyed." Because of the crisis, we learn to pray for the nation. Then we prayed in agony and we were groanings, not just me but other pastors and from other churches. IFP was born in 1989. This was the result of intercessions, evenm the logo was given by God. Hab. 3:4. God spoke to me in 19 years of prayer, and that he spoke again on our entering of Jubilee Season. In March 16, 2016 we went to Cebu, that was the time Philippines was discovered. Around 4,000 people gathered there. We proclaimed our Jubilee there. Someone donated us three shofars, a Jubilee markers at Magellan's property which is owned bny Wyden King. Ed V. decdicated the nation to the Lord. That was the 1st time we invited to Sadhu. He has two messages
God has a destiny to the nation. But satan will not give it to you without a fight.

You are not ready for Jubilee because you are divided. Half of the body then was divided due to Eddie's running for presidency. He said we are not ready, because we are using the weapons against one another – through the internet. Out of 4,000 around 3,000 are pastors and we wailed and repented for the sin of the nation. We are divided because of political preferences. And I said, "I want to die now." But God showed me a splilt bamboo in a vision, which means a split covenant. God can heal the body of Christ. Another prophesy said, "Have a 3 days fasting and prayer in an open space." What was open space is Rizal Stadium and we need then 3 million pesos. Some businessmen said, "Don't mind the expenses, we can do it." 12,000 people are coming every night in the next 3 days. We blew the shoafar again. Then I invited the evangelical leaders to which I resigned from before. There was a divide and I invited them for reconciliation. The quickest way is feet washing. And there was 7 Bishops. I was then the Gen. Sec. of PJM and I washed the feet of Bishop Efraim Tendero whom I have not spoken for 6 years. Then Bishop Leo Alconga with Fred Magbanua (he was with the Lord). By 2010, our Philipine pesos is inscribed with "Blessed is the nation whose God is the Lord" under Diwa Gunigundo. It was printed in 7-B Pesos. From that time on, our currency became a leading currency in Asia.

Then Robert Misst said, "What have you done after the feet washing." I said we asked forgiveness. He said, "Forgiveness is not enough but love one another otherwise blood with be required from your hands."
If we are divided on political grounds, then Satan will again plunder this nation. So I approached Bishop Tendero. And I struggled with the prophesy. Then the voice of God said, "Love must be fervent." I said where is that? 1 Peter. 4:7-8,
"But the end of all things is at hand: be ye therefore sober, and watch unto prayer. And above all things have fervent charity among yourselves: for charity shall cover the multitude of sins. "
From there, we hosted Breakfast Fellowship. On the 4th breakfast, one Bishop said, "We must have Leaders' Summit." So Wyden hosted us with 60 other bishops in Palawan. For fur days in Puerto Princesa, we played and prayed. On the 4th day, the presence of God visited us. We joined hands together and sung "Purify your people O God." Then Hagedorn, the mayor, and the Governor of Palawan joined us also. Then, last year we had Palawan 6. And God has done it again.
It is high time to awake from sleep.
The devil will not stop and Robert Misst warned us before in Isaiah 49:11 about "the bird of prey" that is in the east and that is China. Then China will take her (Philippines) into captivity. Our destiny is in our hands and the dragon is about to devour that destiny.
Rev. 12 there was a sign in heavens last year which appears every 7,000 years. This heavenly sign can be seen in Rev. 12. We are on the verge of culmination of our destiny.
David Damien said when we invited him in Palawan 5 he said, "Philippines have already reached its pleroma." IFP will lay down its life on the line. We will do warfare. We will take the kingdom of God. Then the Lord reminded them of this movie, The Hobbit, the last arrow. He took the last arrow and shot the dragon until it was killed. This is what will happen to this nation.
Last November we had IFP coordinators meeting with Robert Misst. And he said we are holding our last arrow.
In June 2, 2017, Sadhu was taken in the Spirit and saw a dragon all over the Philippines. We were then in Sinai. So we need to take our last arrow and have our last stand. Romans 13:12, ""The night is far spent, the day is at hand: let us therefore cast off the works of darkness, and let us put on the armor of light. 


The Lord is my light and my salvation

The sword of the spirit

The light of Jesus is life and light in the" Greek word, zoe and phos. An intercessor must be willing to put his life on the line. This nation needs people who does not afraid to die. Revelation 12:11 who "loved not their lives.""
The challenges we face now – is the many blood shed now and the enemy is silencing the prophets, and yet we are silent about it. The more you fight the more you become invincible because God is your light. For two years, we travelled on 22 Middle East nations and yet we came back in one whole piece..
Midnight is the darkest time of the night. The 12:01 is already the morning. When it is dark, then the light will come.
2019 is our last year. 2020 is the culmination of our Jubilee. I believe God will intervene. There will be a divine intervention. Then there will be national transformation. Then I believe there will be transformed souls. I believe over half of this nation will become born-again nations.
MA. LOURDES SERENO
International Litigator, illegally ousted SC Justice
She became born again since high school through Campus Crusade
The B1M is what she founded. B1M stands for "Bawat Isa Mahalaga" inspired from "we are created in the image of God,"(Genesis 1:26).
Who believes that what Satan meant for evil God meant t for good? Christians can never be put down. Only eternity will reveal it to us and how your prayer will reveal this to us.
Di puede matalo nang kadiliman ang Panginoon. A Christian is always victorious. He can be accused of anything but because of Christ – he will become victorouos
I wanted to be tried at the Senate so that I will be given due process.
90% of those who were in prison came from the poverty threshold. The Bible says that the rich accuses the poor (James 2:6). Only 20% who were convicted knew why they are being placed into prison for years?
I tried my best to bring reforms in the Judiciary. If a man can transform to the Judiciary, he can also transform the nation.
Kaya ng Filipino provided you are with Christ.
Di ako puede malungkot dahil ang kagalakan ay si Cristo. Kay Cristo ang sulosyon ng bayan. Dahil eto ang ginawa mensahe sa aking ng Dios.
Justice is the foundation or habitation of His throne (Psalm 89:14). Salvation of our nation belongs to God. Rather than I will run for the Senate, God gave me a message, "Go to the poorest, tell them what my Love contains. My image in every man…the lowest among the long…" When Filipinos will hear that they will cry to God, "God forgive us and you are making a good destiny to our nation."
Walang puedeng Filipino na tatawagan na salot or collateral damaged. Christ paid for us all.
Mababago ang bayan natin ayon sa kagustuhan ng Dios. 1,400 students from the crowd, many of them were crying whenever I am saying that Christ will save us. We placed our hope on the hands of people not on God. That is idolatry.
We need to know – how we become idolatrous? Artista, politicians, we model them, we pattern them… Why do the nations conspires and put God in vain. Do not be envious on the proud and the powerful. Psalm 2 : 4 says, "He that sitteth in the heavens shall laugh" at them.
Don not put your trust on princes. During election, when the politicians promises, do not be easily deceived.
God's view of earthy carnal rulers in Psalm 146:3-4, "Put not your trust in princes, nor in the son of man, in whom there is no help. His breath goeth forth, he returneth to his earth; in that very day his thoughts perish. "
When I was in the SC there is always a political accommodation. And I will not compromise. Proverbs 23: 2-3, "And put a knife to thy throat, if thou be a man given to appetite. Be not desirous of his dainties: for they are deceitful meat. "
If the governor will call the mayor, bibigyan ng pera pero he would say, "Tutulungan mo ako sa election." Pag nakita ang church, the politician would say, "Ay 500kayo e boto niyo ako." There must be an authentic pastor, an authentic leader.
So no matter they would bash you, they cant tarnish your authenticity. Youth are looking for authenticity.
They would ask me, "How much is your financial condition?" They placed P200-M money to destroy my reputation.
Submission? To whom shall we submit ourselves?
Romans 13:1-2 says we must "submit ourselves to the governing authorities…" (no necessarily to the corrupt and tyrannical politicians - Peps ).
Who and what are the ruling authorities in the Philippines?
Sovereign Filipino people

The Constitution

The Preamble- prayer of God for help
I said why I was still in the office as Supreme Court Chief to the following:
Marcos should return the money to the Philippines

GMA, Mam you need to return the P650-M of PCSO to the people

Pres. Estrada, you cannot run anymore for public office because you are convicted for graft as a mayor of San Juan amounting to P50-million

Aquino, DAP is illegal

Duterte, you cannot divulge names of (suspected drugs list) publicly. It is my Christian duty.
They said to me, "Why CJ Sereno is violating the President?" No I am not violating him. Preamble says, "We SOVEREIGN Filipino, imploring the aid of Almighty God…""
This is the source of health of the Filipino people. Why then we are idolizing people? This is only the Constitution in the whole world that there is a word "love." Why? Because it is crafted by a Christian, Greg Tingson, one of the constitutionalist, the only Christian Evangelical in the Constitutional Commission that time. (He is hailed as the Willy Graham of the Philippines).
Peter said ""we would rather obey God than man."
Gifts of God to the Filipinos:
Land, seas, water, people

Cross and the Bible (enshrined in the Preamble)

Treasury

Democracy

Rule of law

Constitution
Why these are important? To preserve the gifts that God has given us.
The Jews does not want to receive the promise of God to them. Only Caleb and Joshua were able to reach Canaan.
They would says, "Kristiano ako, mananalangin ako, mag wo worship," – then comes Monday, what shall we do in the field of our work?
In Eph. 4:11, why God is uniting us? For us to mature us in the image of God.
We are collecting 3 Trillion Pesos tax revenues each year and P715-M out from it goes to corruption yearly. We need Caleb and Joshua spirit. Can we fight for our country?
The people behind these fake news know they can manipulate our minds.
Look for God alone and not on people's popularity. Jesus is not pogi, not from good family, not well known or tanyag para iboto nyo.
There are 7 Abominations before God according to Proverbs 26:25-28: "
deceit

wickedness,

lying tongue

Haughty eyes

Hands that shed innocent blood

False witness'

Person that stirs conflict in the community
Rebuke the politicians. I am fearless. Call wrong a wrong. It is a call of duty as a Christian. Huwag niyong iasa na kami lang nag sasalita.
One youth who listened to me later said to his lolo, who happened to be an incumbent vice governor, "Lolo I know you set aside P75-million for vote buying. Lolo stop it. You are destroying our generation." To rebuke is not hating. It is an act of love.
Why fear the strong and foul-tongue man? God has given us the West Philippine Sea why we are giving that away to China? China is only a nation while God is sovereign
Isaiah 59:8 Is it my ear is too deaf? Speak up against evil. Speak against injustice?
BRUCE ALLEN
The Lord kept telling me the number 30 for the past three days. It is a demarcation number. In the Hebrew culture, when a son is born, the father will present this child to this august gathering and he would say, "Today I will adopt this son." Then that son will be part of the household and he will be waited to mature. The number 30 is a sign of physical and mental maturity. It is a development of godly character, integrity that the Lord is perfecting it in you.
The fact that you record and honor the voice of the prophets, and treasure what the word of God is speaking is giving a great favor upon you. And the favor of God is resting upon the Philippines right now. Don't look on the physical realm, based it on the word of God and God is prophesying for this nation to release the strategic things that will come to pass to this nation. You are the first fruit and you have reach maturity on this process. And the strength of God is being manifested in your gathering and in your lives.
30 years is right for leadership. Training for leaders. Training is about the spring forth. Look of the leaders hip of Elijah and Enoch. On this last generation God is raising up people with maturity. You have the favor of God and it is in you and the favor of men is in your life and in this moment. There is a shift that I could sense, a radical shift on this season.
We are ministering to Angeles City and it reminded me when we are ministering in Belfast, England during the Rosh Rashanan when the Lord wanted me to move and yet I cannot move but I was able to stand and around 400 people around and we are looking back to the Father. I looked at the throne and scepter. and the scepter was pointed on us and He said, "Half of My Kingdom.
I said, "I want to be like you." Then he put it down again the scepter, and He said again, "Half of my kingdom." Then he did that three times. God released me and given me to minister and my wife saying, "what happened to you as if you are no longer there."
When I was standing there at a meeting, I felt a burning sensation to my ring finger, and I felt that signet ring. The ring of sonship. Today God is adopting you as mature sons and daughters and releasing you to mature destiny as where He called you to.
We have entered to that season that we are beginning to see that will happen. As I was sitting down and God is reminding me this is the day that you are coming forth as mature sons of God and He given you the signet ring.
When we have time for prayer, something like this built in me as if I was about to explode, as if am a child wanting a tutor yet coming to the Father's authority. And when we speak, we speak in authority. Things are shifting. What are you showing me?
It's time for great awakening, it is time for the Philippines… it is time for the Philippines to arise. All over the world, you see the Irish and the Filipinos, you have a destiny. You have the physical and mental maturity of the Spirit.
Lamed is the crooked of the shepherd? ?????
PEPS NOTES
"Lamed" is the tallest and 12th letter in the Hebrew Alphabet. It is called the "central letter" or the heart of the Alphabet. It represent melekh hamelakhim, meaning King of kings and the idea of "throne of glory." It represent the rod as an authority.
Lead by example and they would follow. When you just touch and then God will set them free and they would see Jesus in your\. .
Number 30 as references…
Joseph, 30 years when he was in 2nd command. God dealt with his character. He came from one moment from the prison to the palace at age 30. Because he attained the age of maturity.

This nation will hear the voice of God's people, not only the intercession, but those who are struggling even those in the government, those who lived in impoverished lives that separated you from God, God will about to give you the breakthrough and have the harvest in the end of the age.

There is a tremendous compassion of God in this nation.

Genesis 41:46

The determining factor to minister to God is the maturity of character. God is shifting every thing right now.

When Moses died mourned for 30 days, it speaks of transition from one season to another. You have been laboring and supplicating for intercession. Now this is the hour that you will the Lord answers.

David became king when he became 30 years old. From shepherd to king. Do not despise the small beginnings. Do not belittle that fact the intercession is a hidden thing.

You are the priest in your own temple.
The first one that needs the help in the ministry – intercession should be in the pay roll. Those who intercede should be paid much.
David became king when he was 30. He reigned for 40 years, a number of testing.
Light will come forth from the darkness and that makes the devil into panic. You won. And you have the favour of God smiling on you.
God was teaching me about favor. As I begun to know the favor of God and favor of men.
We are ministering outside Seattle. Then a Episcopal man comes, "Why not teach our church for one week?"
Then I would always says, AMEN. Then he would say, " We are not Pentecostals. Well to bring you out from religious box. Then he would say, "Take because I don't like listening to you." Then he gave me $10,000.00. that is favor. That is the favor that is going on right now. The favor in your life now.
Darkness will cover the earth and great favor will come to the remnants and the passionate people of God. If you find a people passionate on prayer, you find a remnant. What they want release on the earth. God has been watching you and you passed the test.
Ezekiel 1:1 was called at age 30.
John the Baptist was 30 years of age when he was in the wilderness.
God chose you for this.
Jesus officially started his ministry at age 30. He turned the world upside down.
At the end of the age, God will be able to do a quick work. Often, 40 years, but Jesus will do a quick work more than your long years in your ministry. You have come to an age. You have the authority. You have the inheritance. Sonship, the character of Jesus every tongue confess.
This is the hour of maturity. Rejoice, rejoice.
Many people, have a complete change in their lives of their age. You will have a complete drastic change. The change is this- there is a level of responsibility. Even on sins, there are things that you may lay down.
When you develop faith, you can't be staying in 14 months for their lives. There is a process in the natural realm in terms of maturity.
This is the season of the outcast coming home. Just like Joseph. How come it is so hard life? Why this Christian life is like thorn?
I don't know what you are facing now n your life, in your family, in your ministry. God will change your circumstances. This is your season and this is the hour.
Joseph was I the will of God. David was in the will of God. Jesus was in the will of God. Because God is perfecting their character and positioning them in their destiny.
John the Baptist even ate locust. Jesus said No one is greater than John the Baptist.
This is the graduation day. The beginning of your ministry. The beginning of your ministry. The beginning of your ministry.
You shall receive your signet ring today.
Leaders, business, entertainment, government will fill up stadiums because they are hungry for God. That will filter down and bringing in the outcast.
Stand up because God is telling me to do this prophetically.
In Rosh Rashanah, this is what releasing to the church and not to individuals… what we are going to do it to trust God. What is more important than feeling do you know that. You will receive by faith. That is maturity.
"I saw you this day, in this house, as I release you, this is the fulfilment in your life. Walk in new life in Christ. You will walk as mature sons and daughters of God. Because maturity has come."
Wyden King
This is not possible without you who is trumpeting the prophetic voice to the nation. Allen said you are just remnants. Matthew talks about the narrow gate and great is the road that leads to destruction. Matthew 7:13-14.
I would like to extend this congregation to that journey and that narrow road that leads to life.
SADHU SELVARAJ
7:37 P.M.
Once again, wonderful greetings for the beloved Filipinos.
I am thankful to God and Pastor Dan over and over again.
Thanks God that Pastor Dan first invited me in 2009 and now it is already 10 years.
This is the 30th year. Very important number in the Bible. Year 30 when a man enters into a ministry. Jesus Christ, he entered into ministry. Also 30 years many good things happened to prophets and kings. 30th year is the launching into the destiny of the Philippines
Age 30 completion of the number thirty, Significant events took place in the lives of prophets at Number 30, to the kings and Jesus Christ also. So significantly wonderful things will come to the Philippines. If you do not understand the times and season that we are living and time that God has, if we don't understand this, we keep on doing things routinely and miss the things God is talking.

Example is Christ Himself. For thousands of years, it was prophesied to the Jewish nation that a Messiah will set them free. First it was given by God himself in the garden of Eden. Even today, every Jewish family believes that every male child in the family could be the messiah but when the messiah finally came they could not recognized the messiah. Because they are looking for the wrong signs on the wrong place. A pre -conceived idea.
We are praying for a revival l but when God sends a revival and it is not according to what we preconceived then we will miss the revival.
Example: India is a nation of 1.2 Billion people. It has a varied culture just like the Philippines. Just like what we saw here when they are dancing and they have their own cultures.
In Sikkim Darjeling Hills in Nepal, known for its tea. In 1986, I was ministering there. In 1987 I was conducting in a very remote place, in a vision I saw snow covered mountain, like that the volcano explode, a lava that flows down, similarly, I saw lava flowing down from the entire mountain. But this lava flows from the mountain does not burn anything, came to the valley and went over all farther to the valley. As I look into this vision, the Spirit said to me by his interpretation, he said, " a great revival from the Himalayan is on this region, and this will take place first among the youth."
The revival will be on the segment groups. The first is on the youth. God then commissioned me for Youth Meeting, from 1987 and it is still on going up to this very day. We have seen 30,000 youth saved, filled with Spirit and gone the works of God in the Himalayan regions – missionaries, pastors, teachers, etc.
From there, revival came to the children…that was the second segment group. Joel 2:28 received the fulfilment of that, revival in youth and children. Then the 3rd group – the women group – they got saved, filled with Spirit in large numbers for the last 3 years.
Revival is traditional mind set is corporate outpouring of Spirit in larger scale. God may not do that. Never ever forget the blue print of this last days – Joel 2:28 that is the blue print.
Then later on the older people. Why no amen? AMEN (from the crowd). You see old men are so special and you are mentioned in the Bible. At the airport this morning and I saw this Senior Counter and children queing on that place. An American came and saw these children queing in the Senior Citizen Counter and he said, "Am 50 can I qualify?" Then the airport staff said, "Come over."
Then the menservants and maidservants. And Philippines is the most qualified persons. The men servants and maidservants are your OFWS. Of all the nations in the world, Filipinos have all those FOUR, you are then most qualified.
Cleaning houses, I never respected and the eye of God is on the people group. That we need to understand. How is the revival is going to come? What are the signs.
The big mistakes from our ministry is that we do not see revivals on the wrong place. Many years ago, we conducted a very special meeting for children. So we had this one day meeting for children. And they planned a program, a children-entertainment program, then 30 minutes message and prayer.
Yet on that day, schools announced they were NO school. Yet 400 children came. And they enjoyed it and well entertained. ENTERTAINMENT. At 2:45 pm I asked God and as I was praying then someone standing on my right side. This angel came to strengthen me as I will share the message to these children. I asked to the Lord, "Any word for this children? " The angel said, "What are you doing today? " I thought he wanted to know the program. So I said, " We started at 10 am and right now we will come to the last message and porobrably you came to give a message to the children." He (the angel) was emotionless. He said, "If you will do this – other churches will do this – and what is difference between a church and a prophet?" From there, I knew something was very wrong. Something wrong has been done and that displeased God and not the will of God.
"Have we done something wrong?" I said to the angel? "What is the will of God in the last days, the angel said? " Joel has it on the children. Look at it says the again. I had to re- read it again. His eyes piercing His eyes on me. Joel 2:28 says, "And it shall come to pass afterward, that I will pour out my spirit upon all flesh; and your sons and your daughters shall prophesy, your old men shall dream dreams, your young men shall see visions."
"Have you done anything from 10am till now to prepare the children to this destiny? " The angel said.
What we have done to the children is merely entertained them. We are just like in the circus. That deeply hit me in the spirit and I cried before God repenting and I said I would correct the wrong I did. I cannot blame my staff. Because I approved the plan. So, when I appeared to them and I asked forgiveness from them. and I said I am to be blamed. So, I told them what the angel said to me.
Then I preached Joel to the children, then after that over 50% of the children saw visions and filled with the Spirit of God… Prepare the nobodies to be the movers and shakers of the last days.
Lately, something stirred in my Spirit and I felt that there will be something to happened in February 2019 and that HE will manifest in the new way and I saw Jesus sitting on the sofa before me and I was surprise the way he was sitting before me…
Something new always happen in Rosh Hashana and something new is being announced.
God said that "there is something being unfolded," in Rosh Hashanah but he said He will do something to come a momentous change to entire body of Christ on February 2019.. then later on, Neville Johnson called me and shared to me and God asking him to wait on the Lord since January 2019. He too asked the Lord asked the same question and that God will do the same thing in Rosh Hashanah.

Hebrew 10:20 says, that in the mouth of 2 witnesses the truth shall be established.
On September 18, January 1, 2019 God said:
I am coming in a new way to meet my people. A new beginning.

A new beginning will be going to dawn in the whole world.

A new beginning of power and glory in the Body of Christ that the world yet to see.

My people will be equipped with this power.
In the beginning of his ministry of Martin Luther made a paradigm shift of reformation. That will be similar that will happen in these last days. This will be new dispensation. New beginning of the last days. Not just the end times, the end times is a long space of times.
The end times is called the last days. What God is promising us to this new season? You will see the wonders of his glory,. And this is the word that God gave to Moses. "I will cause you to see the wonders of my glory,"
Exodus. 33:18 Moses asked to see the glory of God. And in Exo. 33:20 his request was not granted. He said, "Thou canst not see my face: for there shall no man see me, and live."
However in John 12:28 (which is the OPPOSITE ) Jesus made a similar prayer like that of Moses. And God granted his request. John 12:28 says, "Father, glorify thy name. Then came there a voice from heaven, saying, I have both glorified it, and will glorify it again."
To other he denied. To another he granted. Does He have a favorite?
A ministry partner told me – "Does God has a favorite?" An 18 year-old asked that.
Moses is dear to God. Yet his was denied but to Christ was granted. What was the reason? The reason is because of the time of what we are living. "We have seen His glory and the glory of only begotten son of God." John 1:14, "And the Word was made flesh, and dwelt among us, (and we beheld his glory, the glory as of the only begotten of the Father,) full of grace and truth. "
PEPS NOTE: It is not God plays favoritism. To some, God deny. To some, God approves. Why? It has something to do with the season. Season has its perfect time.
Hebrews 12:3. God will reveal the glory of God. What will happen in this season?
Isaiah 30:26, "Moreover the light of the moon shall be as the light of the sun, and the light of the sun shall be sevenfold, as the light of seven days, in the day that the LORD bindeth up the breach of his people, and healeth the stroke of their wound." God will do a healing in the body of Christ.
Some of you prayed these ways: "Lord give me double portion of Elisha anointing." So, I prayed the same thing. God told me "Stop praying for this unbiblical prayer." I may be thinking this may be the devil. I said "begone Satan. " Before I would say that in such Pentecostal power….then I saw the Lord Jesus standing there….so I touched my mouth… Jesus said," I will give you the sevenfold anointing, why pray for two-fold?"
PEPS NOTES: The Seven Anointing of the Spirit.
Isaiah 11:2, "And the spirit of the LORD shall rest upon him, the spirit of wisdom and understanding, the spirit of counsel and might, the spirit of knowledge and of the fear of the LORD."
On this day forward, pray for the sevenfold prayer. Such a glory of God which the world has not ever seen yet. The Seven Spirits of God and each one of them have a sevenfold manifestations. And to whom it will come upon? To the FILIPINOS! To the Filipino children, to the Filipino youths, to the Filipino maidservants…. AMEN. AMEN. AMEN.
This is your destiny. This is the will of God for you. This is the plan of God for you. God will doing this to display His power.
Hab. 3:3-4, "God came from Teman, and the Holy One from mount Paran. Selah. His glory covered the heavens, and the earth was full of his praise. And his brightness was as the light; he had horns coming out of his hand: and there was the hiding of his power. "
Create houses of prayers. Now I say to you create houses of praise. Create houses of worship. When you praise and worship God then God will prepare the way…
The entire nation of the Philippines, 7,100 island will be filled with the awesome glory of God.

What worship and prayer can do?

When flying on the plane just this morning? I just don't eat alone. I always have the company while eating. The company of TV. And I was watching drama THE GIFTED. The drama series , this synopsis, "it is a group of young people, filled with supernatural powers and a young girl Can open portals for translations." I thought of Bruce Allen …
Then this girl has power to open a portal. After the drama was done, I looked for the portals. So, Elijah I came to know has been translated from different geographical places like that of Acts 8:;39 "being caught up" pertaining to Philip. Philip did not display miracles but He received miracles.
Everything of God is for the kingdom of God. It must be kingdom-motivated like Jesus.
John 2:1-12 is about the miracles of the wine. What's your problem? Jesus said to his mother. Jesus waited for God-motivated timing.
On Dec. 21, 2018 I saw a vision, I saw Jesus holding the rod of Moses on His right hand and I was surprised and I imagined, that is the problem:
I will give the rod of Moses to my people (Exo. 3: he threw down his rod. And .the rod of Moses is also the rod of God. Localize it, "I will give my rod to the Filipinos to do wonders in my name."

They will strike the earth or Philippines, the waters and the power of nature to do my wonders.

I will strengthen my people's bodies from persecution and martyrdom. The spears will hit their bodies but not their souls. The people of the Philippines, this is YOUR DESTINY. This is the plan of God for you today.
God will do wonders and glory of his name. Isaiah says he will not share his glory to persons. When he does glory through you – you go down on your knees and bring the glory of God. Never entertain a though that you did it otherwise the glory will be withdrawn from you.
In the 20th century, there was a call Stephen Jeffreys, a British evangelist on healings and miracles, healing arthritis and jointed and twisted bodies. Such infirmities cannot stand before his prayers and his ministry has grown and well sought, during the height of his popularity . He was then invited to the Africa and from the stage he saw seas of crowds of hundreds of thousands of people. They came to hear him and be healed.
Stephen came to the stage and walked on the edge of the stage and looking on the crowds and he said, "The world is now under my feet now." And nothing happens to him. Lightning did not strike him. But as soon he gets back home, the very sickness to which he worked for the miracles, he was struck with arthritis and his body was twisted with 90 degrees. Many evangelists came to him and prayed for him and he was never been healed. When he died, his coffin is like the shape of piano. Why he died like that? Because he touched the Lord's glory. Many wonderful men and women of God in our midst – you might have prayed for others with healings and miracles – when you pray for someone – if you pray for someone – In the name of Sadhu be healed. Powers and miracles happened because of the power of the name of Jesus.
Many have fallen because they have taken the glory of God. God will crown you with His glory. Glory belongs to God and I cannot touch that glory.
Psalms 93:1, "The LORD reigneth, he is clothed with majesty; the LORD is clothed with strength, wherewith he hath girded himself: the world also is stablished, that it cannot be moved. "
Psalms 100:1, "Make a joyful noise unto the LORD, all ye lands."
In 2018 vision, I saw the Lord holding fine linen clothes and covered ministry buildings and church buildings with youth, women. He will cover you with this glory.
1 Kings 19:8, "And he arose, and did eat and drink, and went in the strength of that meat forty days and forty nights unto Horeb the mount of God."
Elijah went with strength of that food (that God He himself has provided) for 40 days. Philippines came to this category – difficult to reach. God will make additional strength to you, and walking on the water will be a common thing.
I heard a wonderful testimony from German missionary from Papua New Guinea. These missionaries are intercessors of Bonke. So they worked with tribal people in Papua New Guinea and only they have found out that they came to know the Lord supernaturally.
They (Papua New Guinea) worshipped trees and winds, etc. This miracle happened to them one day. when they are worshipping the trees, the trees said to them "Why you are worshipping me and not the Lord is Jesus Christ." The trees spoke to them. Then they said to the trees, "Who is this Jesus?" The trees said, "Shortly a white woman will come to you." So from there they accepted the Lord Jesus Christ the Savior. So, they became ministers.
Do not touch any of this glory.
Raise up women army. And a new trumpet will be given to your hands just like to an ordinary housewife like Jael. Read Judges 4:17-24.
Jael a simple housewife was able to kill a wicked king. You cannot just simply kill the drug addicts. Otherwise the more you will just make them more a hardened criminals.
Isaiah 52:2," Shake thyself from the dust; arise, and sit down, O Jerusalem: loose thyself from the bands of thy neck, O captive daughter of Zion. "
Isaiah 1
Finally God will open a new doorway to the new holies.
In Isaiah 6:1-7, God called Isaiah though a vision.
In Exodus 3.5. God commanded Moses to take his sandals off. The shoes constitutes the carnal life. Don't be afraid. Don't be men pleasers. Put them away from the church.
1 Corinthians spoke about the LGBTQ. Of course, we need to make a room for them for repentance. A year ago, my 3 staff they were caught drinking and bought liquors yet they passed the security and they entered the studio and passed through security. Then I found out that they were drinking the security officer. The security was the one who squealed because they had misunderstanding. What I did, then is first booted out the security man. What will I do with 3 other staff? The Lord said to give them room for repentance. They did. Then they never touched liquor again.
PEPS NOTE:
Why he fired the security officer yet given a chance for 3 others to repent? Because the security officer is supposed to secure the office but he did not. The same thing goes to anyone who is the master of the household but found unworthy.
NOTES:
My human error for taking down notes is at your own expense.