The Lady in Room 125
Details

Category: Teachings & Articles
Published: Thursday, 28 February 2019 12:59
Hits: 1128
The Lady in Room 125
By Augusto A. Kho
Greater Pangasinan Celebration with Will Graham (GPCWG)
Narciso Ramos Sports Complex Center (NRSCC); Lingayen, Pangasinan
February 10, 2019 (Sunday); 4:00 A.M.
Rewritten : February 27, 2019 (Wednesday); 10:59 P.M.
(picture1)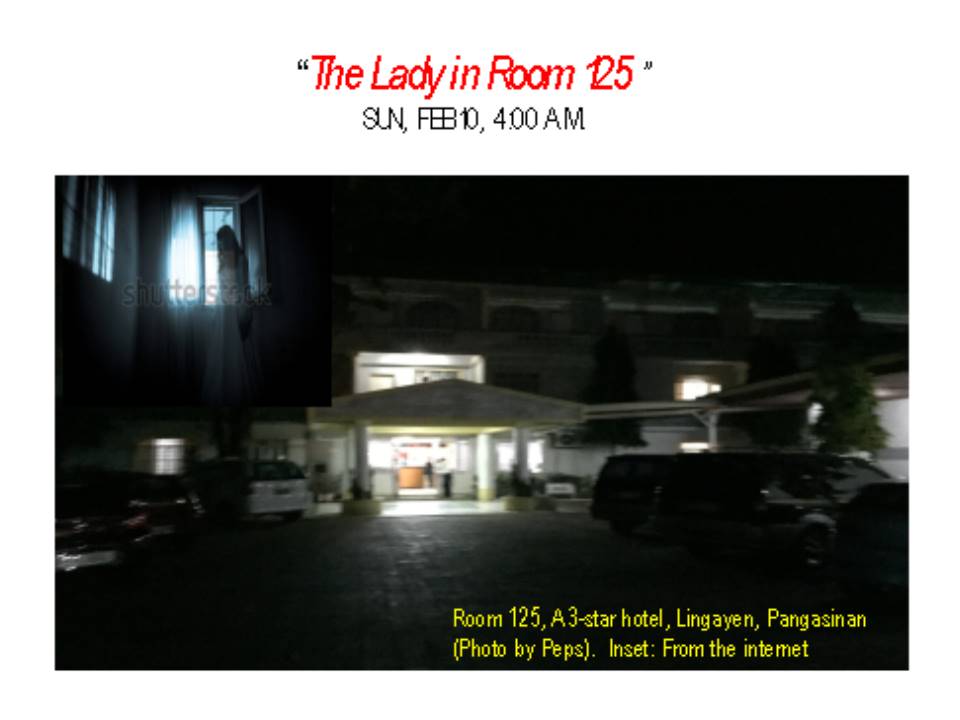 February 10, 2019 (Sunday); 4:00 A.M.
I was tasked to handle the Prayer Committee by Bro. Diony Espiritu, the overall chairman of Greater Pangasinan Celebration with Will Graham (GPCWG) at Lingayen, Pangasinan last February 9-10, 2019.
As a prayer strategy, we posted watchmen or intercessors for a Prayer-Chain from 2:00 PM of February 9 (Saturday) up to February 10 (Sunday) at 8:00 PM on by two's to by five's. Thirty one (31) intercessors committed themselves for this cause. And I decided to book two hotel rooms in a 3-star hotels where intercessors can rest and attend to their personal needs should they finished their scheduled prayer –chain slots. And I was one among these intercessors not only just to pray but to monitor what we are doing.
On the second day of the event and that was on a Sunday, I was alone in the hotel room and I just finished my Sunday Sermon at 4:00 A.M. I laid my back on the bed to rest when a long-haired lady in white passed by from the bottom of my bed heading to the main door. My whole body flashing cold and had goose bumps yet I stood up immediately and followed her to the door but she suddenly disappeared. I opened the door leading to the hallway yet nobody was there. And I was billeted in Room 125. And who is the lady in Room 125.
I went back to bed to have a short sleep for I needed to leave the hotel before 7 AM to drive back to Rosales to catch the Sunday Worship.
At 6:00 A.M., I rushed to my car and turned off my engine when I realized I wasn't alone then. The lady whom I saw earlier is sitting right besides me at the front seat. "Who are you?" I asked her with a loud voice. She never moved a bit, her long hair covering her whole face. Hairs all over me rose straight upward but I was managed to get out from the car. Only to find out it was a dream.
(Picture2)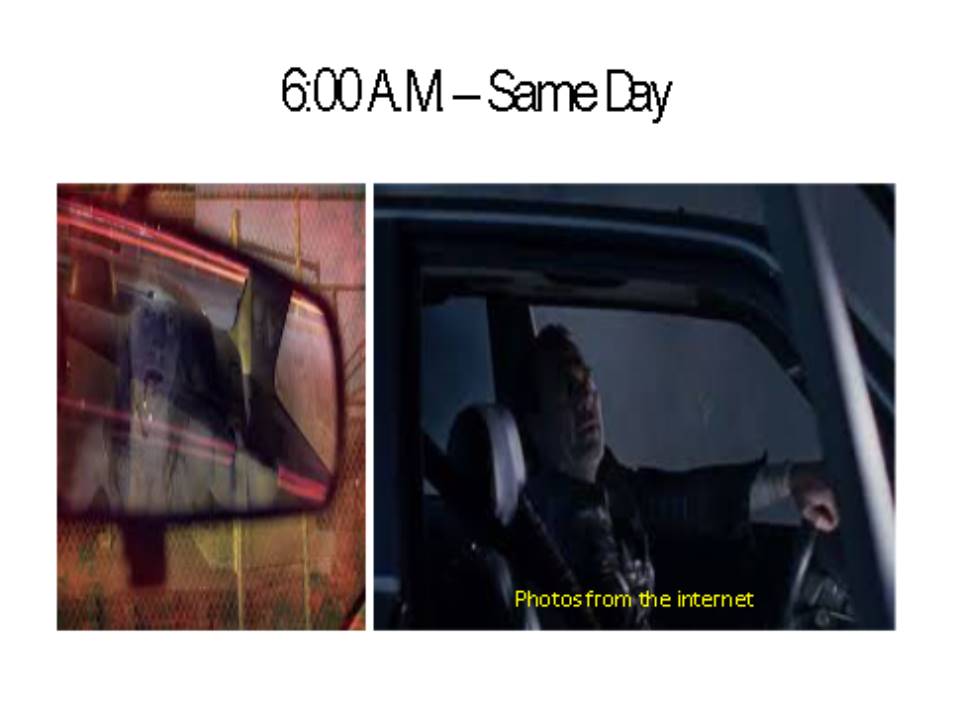 February 09, 2019(Saturday); 2:30 P.M. Sat
I remember a day earlier what transpired before the GPCWG event in an exclusive Prayer Room that has been provided for us in that big stadium. That in our 2:30 PM with four(4) other prayer warriors, a vision came:
"An image of a man appeared. Nearly vague he was extending his hand on something that looks like a book or book of law. Right there and then a woman appeared who poses herself on a side view wearing a long hair and a white gown that extends to the ground. She was bending in front of a well as if waiting for something like a woman on travail. "
(picture3)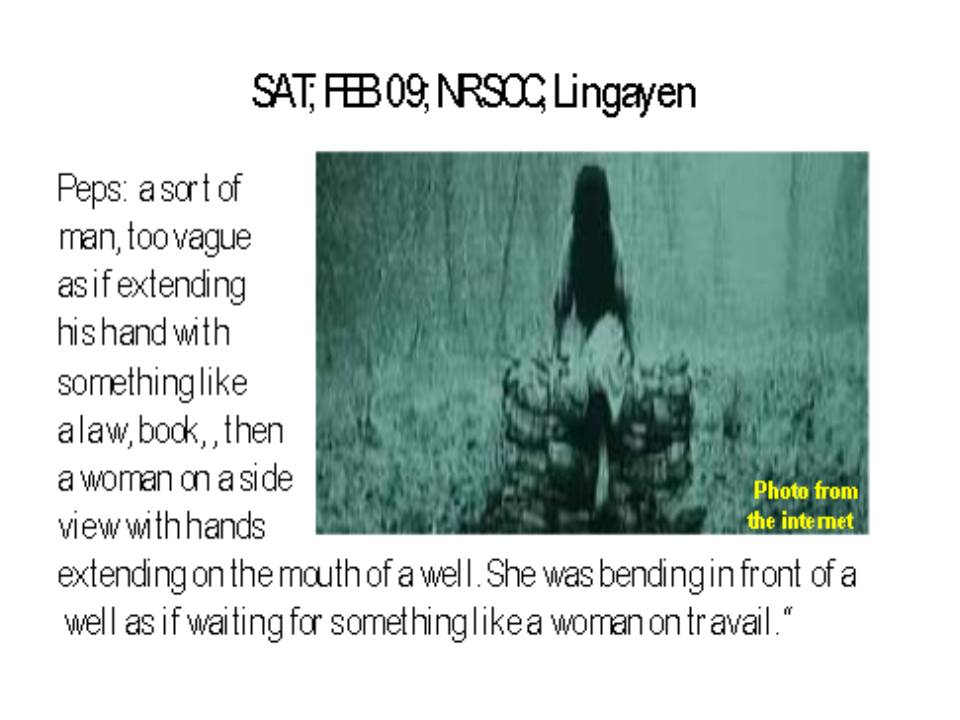 Stronghold
I left Rosales after preaching and headed immediately to Lingayen to catch up the 2:00 PM prayer and intercession.
As I parked my car beside the stadium of the sports complex I could hear them worshipping. The Prayer Room is located on the second floor of the complex. That was around 2:15 P.M.
It is the last day of the GPCWG event. The prayer chain is more steadily and orderly intensified. The same goes with worship before prayer. .
I headed to the western corner crossing at least around 8 beds away from the intercessors and put my laptop at one of the bed then I joined the prayer group. I seated beside Vany with one chair in between us where she placed her cellphone and where I placed my 3 cell phones as well. On my left is intercessor named Eddie. As I sat down with them and joined them in worship, the lady in white, the lady in Room 125 whom I saw inside my room suddenly appeared and walked on the hallway turning her head on her left side staring on us sternly. Then she disappeared. And I was wondering what was she doing there when it was completely different location.
The Bible said in the mouth of two or three witnesses, the truth shall be established.
Right after worship, I asked the group, "Could you sense something? Is there any stronghold here?''….
Identifying the gates
Every stronghold has a gate or portal. Even hell has gates as well. Take note "gates of hell" is plural (Matt. 16:18). And I remember the teaching of Intercessors of the Philippines (IFP) entitled "Redeeming the Land Seminar" (RTL) concerning Lesson 11 on "Discerning Spiritual Gates and
Identifying Enemy Structures."
On the above-mentioned "stronghold" can we still identify the spiritual gate of the enemy for a warfare?
An eerie prayer
Right after worship, I asked the group, "Could you sense something? Is there any stronghold here?''.
Then I shared them about the lady at Room 125 and she's the same lady that was present during our worship although she merely passed by yet looking right at our direction. David shared he had a goose bumps while worshipping. Meanwhile Vany felt a chilling wind or breath on her right side as if brewing.. Bro. Ed said that he saw a Magic Chart with a pen and once you flip the outer plastic leaf whatever written on the board shall disappear. Something eerie is going on indeed. An eerie prayer.
And they were five of us namely Vany, myself, Eddie, Yvonne and David. I am seated between Vany and Eddie.
That was when I remembered Princes Urduja. Urduja was a warrior-princess according to Ibn Batuta. The word Tawalisi has been associated with Urduja. The legend says that this warrior-princess has a vast kingdom as far from Tawalisi (Pangasinan) up to Jolo.
Meanwhile, the current governor of Jolo recently filed a petition against BOL at the Supreme Court challenging its constitutionality. While some believe that Urduja isn't a myth nor legendary, the Province of Pangasinan named the Provincial Capitol under her name.
The Indian Urduja denotes to be Sanskrit in origin, and a variation of the name "Udaya", meaning "arise" or the name "Urja", meaning "breath". And how this "breathe" has something to do with what Vany had sense earlier that day?
Another source says that Urduja falls under this category which is called "The Aswang Project." Should "Aswang Project" can be validated as true, the question is whether our present government in this capitol is under the spell of satanic force? Why the Provincial Capitol is being named as Urduja House? And what will be the spiritual consequences of devoting the province and its people to this?
Legendary
The word legendary is interpreted as "old wives fables" (KJV) or "myth" (ISV) found in 1 Timothy 1:4, 4:7; 2 Tim. 4:4 Titus 1:14; 2 Peter 1:16 and considered as "silly, invention of falsehood, a narrative, ,myth, tale which is profane (bebelos i.e. ungodly)."
Bottle, Battle
I asked David to lead us again in worship and to seek the Lord's direction on what this lady is all about, whether it speaks of Urduja or any other stronghold. While we were worshipping the Lord, I saw a small bottle of perfume with coloured red cap being smashed into pieces in the same way that Old Testament prophet did in terms of "prophetic gesture" in the likes of Isaiah and Ezekiel.
Jeremiah. 19:10-13/ The Message Translation, "Say all this, and then smash the pot in front of the men who have come with you. Then say, 'This is what God-of-the-Angel-Armiessays: I'll smash this people and this city like a man who smashes a clay pot into so many pieces it can never be put together again."
Another prayer warrior whose name is Yvonne shared this:

"The Lord brought me to the Book of Exodus 17 during the time of the battle of the Israelites and the Amalekites. It is indeed difficult to identify which one is an Israelite camp because each camp have the same number of warriors and they were wearing similar battle suits. But the Lord have shown the sandals on the other camp and I presumed they were Israelites. As they were on face-to-face position, the Israelites were suddenly attacked and I saw them merely using their own shields and they did not use any offensive weapons. They suddenly chariots of fire immediately appeared overhead of the Israeli Camp."
The prayer-intercessor on my left whose name is Vany shared this:
"My eyes were closed as we were worshipping but the Lord opened my spiritual eyes and I saw the white lady approached towards us. Then she sat down between us where I and Pastor Peps were exactly seated. When Pastor Peps literally stood up to get his laptop from the distance, the Lord told me to open my eyes. "No, No, No," I said to the Lord as I was extremely very much scared. When I literally opened my eyes, I saw the white lady seated beside me literally stoop up and walked and followed Pastor Peps and she was exactly standing on his back."
Christ's superiority
Colossians 1: 13- 18, "Who hath delivered us from the power of darkness, and hath translated us into the kingdom of his dear Son: 14 In whom we have redemption through his blood, even the forgiveness of sins: 15 Who is the image of the invisible God, the firstborn of every creature: 16 For by him were all things created, that are in heaven, and that are in earth, visible and invisible, whether they be thrones, or dominions, or principalities, or powers: all things were created by him, and for him: 17 And he is before all things, and by him all things consist. 18 And he is the head of the body, the church: who is the beginning, the firstborn from the dead; that in all things he might have the pre-eminence."
The word, "pre-eminence" in Greek "proteuo" which means "first in rank." To Webster Dictionary, pre-eminence mean "superiority" or "supremacy."
In other words, no spirit beings, be in the heavenly, on earth or underneath can supersedes the power of Christ no matter how strong the satanic stronghold is. God is in complete control and in ultimate power or stronghold. And only the Church has been given the supreme authority of Christ (Matthew 16:18-19). And Christ has the key of hell and death (Rev. 1:18).
The fragrance
As I slid my left hand on the left pocket of my jeans, I touched something hard. As I pulled it out – a small bottle of oil-perfume with a red lip cap unveiled before us. I held the bottle on my left hand then dropped it on the floor and trampled it under my foot until it was completely broken into tiny pieces. Then the whole room was filled with its fragrance.
"But thanks be to God! He always leads us triumphantly by the Messiah and through us spreads everywhere the fragrance of knowing him…. To some people we are a deadly fragrance, while to others we are a living fragrance. Who is qualified for this?"  – 2 Corinthians 2:14, 16
(picture4)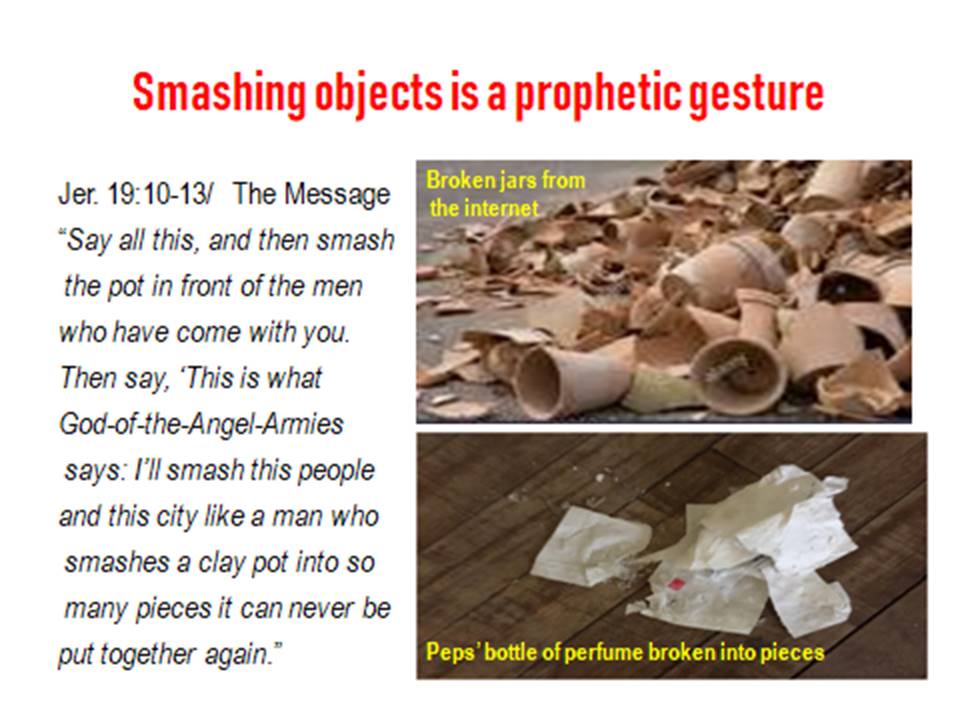 (picture5)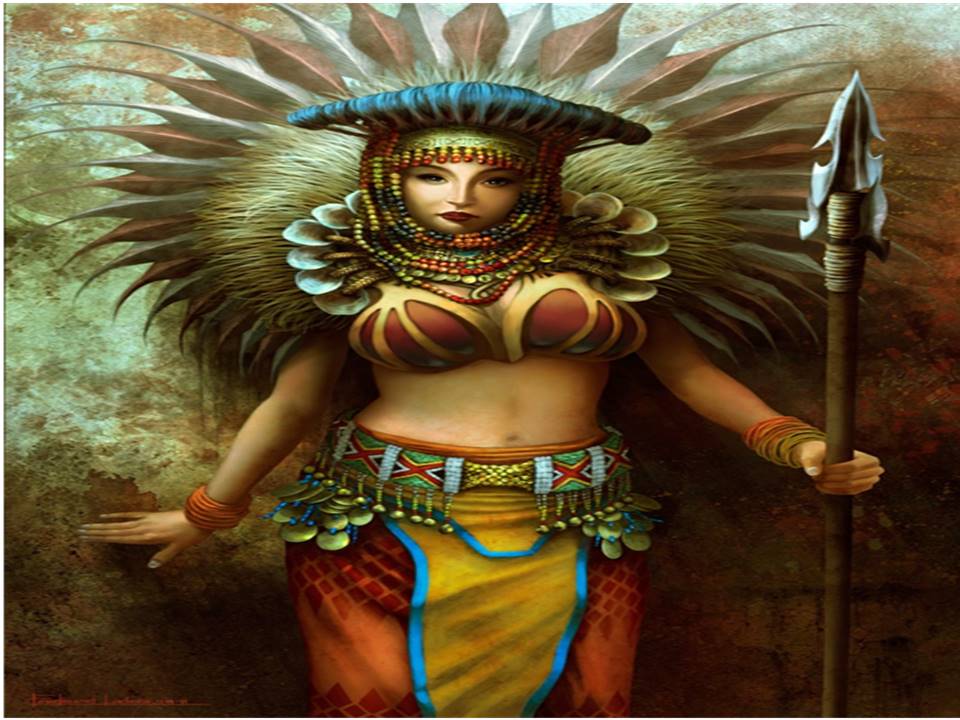 Urduja: The Warrior Princess by FerdinandLadera via DeviantArt
NOTES:
Ibn Battuta (February 25, 1304 – 1368 or 1369) was a Muslim Moroccan scholar and explorer who widely travelled the medieval world who wrote the existence of Princess Urduja. But both Gibb (1958) and Hrbek (1962) have argued about Ibn Battuta's credibility.

Princess Urduja (ca. 1350–1400 AD) is believed to be a legendary warrior princess who is recognized as a heroine in Pangasinan, Philippines. The Indianized name Urduja appears to be Sanskrit in origin, and a variation of the name "Udaya", meaning "arise" or "rising sun", or the name "Urja", meaning "energy", "life force" or "breath".
A historical reference to Urduja is reported to be found in the travel account of Ibn Battuta (1304 – possibly 1368 or 1377 AD), a Muslim traveler from Morocco.
Urduja is often described as tall and beautiful, having golden bronze skin and dark hair, clad in gold and is adept in sword fighting and horseback riding. Leader of the Kinalakihan (warrior women). She is also believed to be multi-dialect which was a common characteristic of the nobles in pre-colonial Southeast Asia.
"PRINCESS URDUJA: Finding the legendary 14th-century Philippine heroine," dated December 14, 2017 falls under the category of forklore or in Tagalog Aswang (Source: "The Aswang Project" or https://www.aswangproject.com/princess-urduja/
In the late 19th century, Jose Rizal, national hero of the Philippines, who was also a respected scholar, speculated that the land of Tawalisi was in the area of the northern part of the Philippines, based on his calculation of the time and distance of travel Ibn Battuta took to sail to China from Tawalisi. In 1916, Austin Craig, an American historian of the University of the Philippines, in "The Particulars of the Philippines Pre-Spanish Past", traced the land of Tawalisi and Princess Urduja to Pangasinan.

Another local scholar, Catalina Catanaoan, an anthropologist dabbling in journalism, strongly attests to the historical reality of Urduja and her kingdom. He pointed out that there were indeed artifacts excavated from Bolinao, Pangasinanin 1964, giving a very close semblance to the description of the kingdom contained in Battuta's account.

Modern research by historian William Henry Scott indicates Ibn Batutta's story of Urduja to be pure fiction and the land of Tawalisi to be similarly fictitious. 

Nicolas Zafra's essay "Rizal on the Location of the Kingdom of Princess Urduja" (1952) questions the claim that Princess Urduja's kingdom was in Pangasinan. Like all the other scholars before him, Professor Zafra holds that the key to the mystery regarding the location of Urduja's kingdom lies in the identification and location of Tawalisi.

In the province of Pangasinan, the governor's residence in Lingayen is named "Urduja House". 

A statue (see below) of Princess Urduja stands at the Hundred Islands National Park in Pangasinan.