The Avionics
Details

Category: Teachings & Articles
Published: Wednesday, 23 January 2019 03:11
Hits: 1626
The Avionics
By Augusto A. Kho
Bureau of Jail, Management and Penology (BJMP)
Balungao, Pangasinan, Philippines
January 21, 2019 (Monday); 10:30 A.M.
Edited: January 23, 2019 (Wednesday); 1:21 A.M.
Marriott Hotel, Jan 16
My son called me up from Manila last January 16, (Wednesday) for an urgent meeting at Marriott Hotel besides Resorts World Hotel near NAIA 4.
From there at 6:00 pm over a dinner in the hotel, we meet two avionics men in the persons of Mr. Dasmarinas; LRU Sales Manager; Honey Aerospace Trading; Subic; Mr Reyes Jr.; APAC Honeywell (HAT leader) who is based in Kuala Lumpur, Malaysia who roams around Asia-Pacific handling the foreign accounts and Mr. Nasheem (not his real name) who is in aviation industry based in Clark, Pampanga.
(picture1)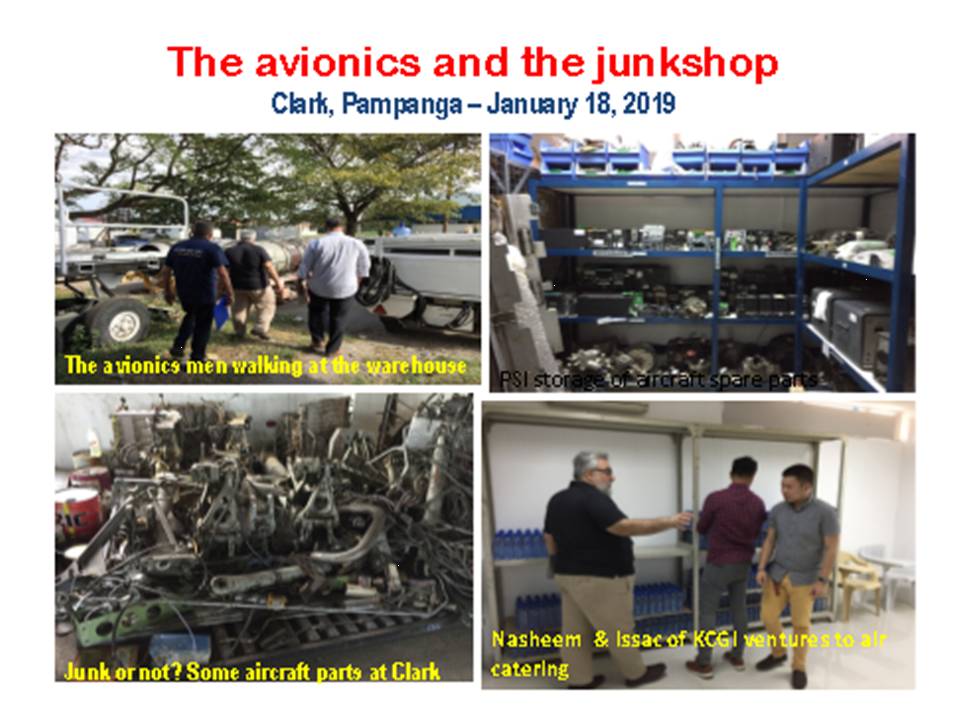 The avionics men
The avionics men whom I met in Marriott Hotel near NAIA 3 were the same people I met two days later in a aviation industry Clark, Pampanga in the negotiation table. There the aircraft parts are being discussed including their availability and prices. Accessories like dye cleaner chemical at a cost of $13.00 and that is cheap. Another is control fuel at a cost of $4,500.00 and another a heat and pressure detector at $3,298.00. Prices were being discussed without compromising the quality. Bargaining started availing whatever competitive prices deemed possible in order to start a purchasing order.
You see, aging aircraft needs the required regular maintenance and to change spare parts as well. This is to ensure good safety procedures but also for efficient service and operation. And Mr. Nasheem operates a Boeing 727. The same thing goes with the Body of Christ with many parts or members to keep it operational and serviceable.
1 Corinthians 12:12, says "For as the body is one, and hath many members, and all the members of that one body, being many, are one body: so also is Christ. '' A pastor or a Christian worker badly needed regular servicing and maintenance procedures to keep it efficiently and productively operating in the Spirit. Ironically, Christian workers are the most deprived and abused labor force in the whole world.
Avionic defined
Avionics are electronics designed for use in aerospace vehicles (Merriam-Webster). Wikipedia defined avionics are the electronic systems used on aircraft, artificial satellites, and spacecraft. Avionic systems include communications, navigation, the display and management of multiple systems, and the hundreds of systems that are fitted to aircraft to perform individual functions.
In other words, we are talking about spare parts here specifically for aviation or aircraft.
Aviator
Isaac is not merely into cargo-operation at the moment. He is into aviation as well. He is aviator himself, a licensed private plane pilot who knows a little there and a little here in terms of aircraft spare parts. They studied the bits and pieces of it, may be not necessarily in terms of assembling and dismantling but in time of mechanical trouble. He experienced himself how his plane engine suddenly stopped when he was flying at 20,000 feet. But he survived from the possible plane crash.

What will you do should you find yourself crashing down?
Perhaps a season pilot knows how to handle and control the situation during time of crisis. The same thing goes when something goes wrong in our lives. How to make an emergency landing perhaps is indeed necessary for survival.
How will you and me as a Christian handles an emergency situation when the whole world – our lives, family and ministry suddenly stopped and about to crash?
Human Body Parts
The human body has 78 organs. Rachael Rettner, Senior Writer of Live.Science dated March 10, 2016, the human body is everything that makes up, well, you. The basic parts of the human body are the head, neck, torso, arms and legs.
In summary, the human body is made of 11 important organ systems, including the circulatory, respiratory, digestive, excretory, nervous and endocrine systems. They also include the immune, integumentary, skeletal, muscle and reproductive systems. The systems work together to maintain a functioning human body.Jan 14, 2016.
In human body for example, we have 106 bones. Should one of these bones is heavily cracked or broken, can we easily find a fitting replacement? When a father or a mother or a pastor tends to be troublesome or ineffective, can we also find a replacement? When an institution like a government, family or church have turned corrupt or irrelevant, shall we look for another parts to replace them or completely change them?
Small part
Never estimate a small part. The big starts from the small. If the leak is small and it is not immediately repaired might endanger the whole vessel – be airplane or a ship. Neither that you will tell to a small part like the nut and bolt that it has no part to the whole vessel.
A tiny part or member of your body might be the very reason why you are here in this prison wall? What small bodily part or member that caused you to sin or caused you to became a criminal? While bodily parts are ours we are liable also on them?
Is your cursing mouth that caused you to be criminally charged for grave oral defamation (James 3:3-12)? Or is it your drying throat that craves for weeds or shabu that brought you here and you are being charged with illegal use of drugs? Or the other part in you that brought you here for rape charges or is it your tiny finger that trigger the gun that you are being charged for murder?
What small member or part of your body that offended others? That small part or member of your body could have dragged you and me in a messy or to a very hellish situation. Christ said, ""And if thy right eye offend thee, pluck it out, and cast it from thee: for it is profitable for thee that one of thy members should perish, and not that thy whole body should be cast into hell, " (Mathew 5:29).
A harlot
The Scriptures says that we humans are made in the "very image of God (Genesis 1::27). " And every member of our body is "wonderfully made" by God Himself and it should not be used contrary to what it is divinely intended. And this is our "legal tender" that we are His children (Psalm 139:14; John 1:12).
Once this member of our body is being used other than what God has purposely inspired then we become a harlot as well. A harlot in secular word today refers to a hooker or a prostitute.
In the Book of 1st Corinthians chapter 12 in KJV alone, the word "members' is mentioned eight (8) times. Members in Greek "melos" in the King James Version (KJV). The word member is interpreted as ''parts' in New Living Translation (NLT). Members or parts means as "ä member, limb (branch or extension) ; a member of human body (bodies given up to criminal intercourse; because they are as it were members belonging to a harlot's body" according to Saint Paul.
In other words, we have many members in this human body yet one member may offend the whole body and can place us into a very difficult situation like this that can brand us as a harlot or a hooker.
Junk
Your life now may be like a junk that I saw in Clark a few days ago. Or your life is like a plane that just crashed into unknown mountain ranges with scattered dead human bodies that spread all over on the crash site. With very little hope for survival or no hope at all, do you now disdain that small body part of yours that causes you to lost control? Or is that body part places you in the dark now? And would there be fear inside of you now?
Will there still be a chance for a change? Can you still redeem what you have lost like your dignity, your family, your future?
Life like trash or junk just like what you have now can still be meaningful and worth living for?
At the junk shop
I've been to PSI at Clark, Pampanga so many times since November 7 last year. Quite noticeable is an abandoned building facing the PSI aviation office. I've found that building absurdly creepy with plenty of junks outside the building. (They should have cleaned up the place. It is an eye-sore and a bit creepy).
But when I met the two avionics men most recently, the CEO or Chief Executive Office of flying school, ushered us outside and inside that building. Amir have shown us the scraps of iron, some metal parts, messy electrical cords and other junks that worth nothing. The two avionics men as if classifying these junks noticed one engine part. The avionics men said, "Do you still need that?" Nasheem said "No!" Then the avionics men said, "Ok! We will take that. We will pay you 16,000 thousand!" I said to myself, "What! A junk for sixteen thousand?"'
The Sixteen thousand (16,000.00)? It is not bad. Opppss… Not too fast. . The 16,000.00 is NOT pesos but US dollars. And that is a whopping P 832,000.00 from a junkshop.

Sometimes what we thought a junk as worthless can be a treasure as well. We cannot simply misjudge or under –estimate things. What we thought as useless can be costly after all. At times what we thought evil, sometimes something good can come out from it. We can call this divine intervention as Paul mentioned in Romans 8:28. The same thing goes with you. It is not because you're an inmate and you are a prisoner now you think your life might be completely worthless.
In Christ, there is hope. In Him, there is peace. . God can change our worthless life to something worth valuing for. Paul says, "Therefore if any man be in Christ, he is a new creature: old things are passed away; behold, all things are become new," (2 Corinthians 5:17). And in Romans 5:1, again Paul says, "Therefore being justified by faith, we have peace with God through our Lord Jesus Christ. "
Like that junk that is worth $16,000.00, there might be also treasure out from the junk of your life. As the Scriptures put this way:
"For God, who commanded the light to shine out of darkness, hath shined in our hearts, to give the light of the knowledge of the glory of God in the face of Jesus Christ. But we have this treasure in earthen vessels, that the excellency of the power may be of God, and not of us, "
– 2 Corinthians 4:6-7 
There is a junk in us. But God is looking for a treasure out from the junkyard.
There is hope after this prison wall. There is life after this erring members of ours. There is light after dark. What you thought yourself as hopeless and useless can be something worthy and useful after all. But only in CHRIST.
NOTES:

Members/ parts
In 1 Corinthians 12 chapter 12 in KJV, the word "members" is mentioned eight (8) times in verses 12, 18, 20, 22, 23, 25, 26, 27
Body part was divinely made
Psalm 139:14, that says, "'I will praise thee; for I am fearfully and wonderfully made: marvellous are thy works; and that my soul knoweth right well. " Wonderfully made in Hebrew "palah" (paw-law) means ''marked out or set apart as wonderful.''
Human life is decreed by God
Psalm 139:16, "Thine eyes did see my substance, yet being unperfect; and in thy book all my members were written, which in continuance were fashioned, when as yet there was none of them."' The word "members were written" in Hebrew ''kathab " (kaw-thab) means ''recorded, engraved, decreed."' How you are wonderfully made is already "in Thy Book."' In thy book means ''letter of instruction'' (LOI) or ''written order'' or ''legal document'' from the Hebrew word "sepher"(say-fer).
Whatever member in you that is malfunctioning, out-of-order, worn-out or even corrupted is replaceable. Even evil or wicked mind can be replaced or can be renewed as well (Romans 12:2)

Suggested Readings
Romans 6:13, 19; Romans 7:5; Romans 12:4, 1 Corinthians 6:15