The gold in us
Details

Category: Teachings & Articles
Published: Friday, 11 January 2019 03:16
Hits: 1001
The gold in us
By David Rodulfa
Edited by Augusto A. Kho
RD Pawnshop – Carmen
January 11, 2019 (Friday); 8:01 a.m.
(picture1)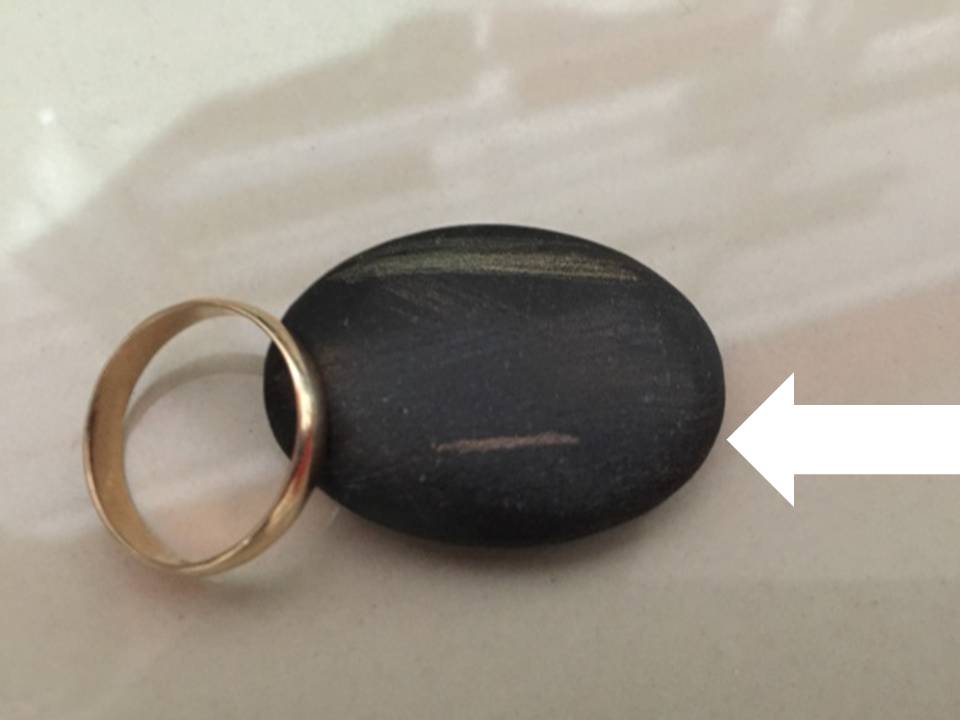 The arrow points to a small line on the lower part of the
stone that apparently validates the shade of gold.
(Photo taken by Peps at RD Pawnshop, January 11, 2019)
There are signs of the end of the age (Matthew 24). As we come nearer to this time, the more frequent these signs will be seen and heard.
These signs are in the forms of wars, rumours of war, pestilences, famine and earthquakes in divers places; false messiahs or Christ's; apostasy; betrayal, lawlessness, that is why you hear and watch endless gruesome crimes as reported from the TV news; and the love of many shall grow cold.
During these times when your faith to Christ will be tested. As you travel your journey in life you will encounter troubles. But these will purify your faith in Him. That is why we appraise and test gold because of too many counterfeit.
He who endures shall be saved. Trials will come for sure.
Testing
How do you test gold here should someone would pawn his gold jewelry. Testing gold? How? Kuskos sa bato (you scratch them to a stone). It needs to be proven. So testing is needed. How? Need to be proven. So testing needed. How? You must endure.
First, to endure is to continue in the faith. Hardships shall you comes to your way

Second, to be firm under suffering.
Why am sharing this?
Because what your journey lies ahead are mere troubles. If you know the why then you know the how. Whatever you do has reasons.
You must have right foundations. What is foundation? Foundation is a basis or support.. What is the basis of our faith? What is the support of our beliefs? What is the foundation of your family or your personal relationships? If foundations are weak we will fall and lose our reward. (Read Psalm 11:3).
Testing the foundation
Read 1 Corinthians 3:11-13, '' 11 For other foundation can no man lay than that is laid, which is Jesus Christ.12  Now if any man build upon this foundation gold, silver, precious stones, wood, hay, stubble; 13 Every man's work shall be made manifest: for the day shall declare it, because it shall be revealed by fire; and the fire shall try every man's work of what sort it is. "'
What materials?
What materials are you using in laying down the foundation of your life (in all aspects)? Is it gold, silver, precious stones, wood, hay or stubble? What differences does it make? It says all these materials you are using will soon be tested.
Which one cost more to build, the gold or the silver?
Peps' shared
In other words, the kind of materials we used in building the foundations of our lives will apparently reveals the kinds of rewards that awaits us in the future. We cannot just give something which is not rightfully ours. Everything must be validated by our own works and what sort of materials we used be of a high standard or of a poor quality just like wood, hay or stubble.
Poor materials vanish instantly.
Are you are familiar with the Rosales Fire in 1964?
Well, our house was caught with fire that time. Since it is made of wood and nipa, the flames spread out like wildfires and it literally gutted the entire town including the Municipal Hall leaving all public documents into ashes. Only the theatre which is made up of stone survived. If you notice today, almost all houses in the town proper are now made of stone. That's how our family story tale is. It can destroy the whole town.
Unlike gold, the more it is exposed to the fire, the more it is being purified washing the dirt away to make it sparkling bright.
Purification
Purification in the end time is necessary. It brings the best out from severe tests.
Can you show us how you test whether it is a real gold or not? Then the lady staff at the Pawnshop took my ring and scratched it on a stone until it left a scar laden with gold on the stone surface. Then she took an acid and poured it on the shade of gold till it dried up. Then she took ash dust and covered the gold shade and scratched it again. Then the final test is when she took an alcohol and poured it down to the gold shades. But the gold shade remains. Meaning it is an authentic gold. The same thing goes with your faith. It has to pass through a process of validation to test if it is authentic or not. We call that endurance – the ability to stand on trials but remain firm and unchanging.
If you a real gold will you go through such a painful process? You will be scratched as if skinning you out till you bear open wounds all over your body, then pour you down with acid, then scratching you all over with ashes that rubs severely to you open wounds till blood dripping down, then pour all over you an alcohol. HOW DOES IT FEEL? Does it feel good?
But that is the test of God to shine the gold in us.
PEPS NOTES

Foundation in Greek "themelios" means "laid down as a founfation, the foundation (building, wall, city)."" Metaphorically, the ''foundations, beginnings, first principals (of an institution or system of truth)." In Greek root "tithemi"' which means "to set place'' or "to establish." (1 Corinthians 3:11)
Apostle Paul said no man has ever laid the foundation, not the pastor, not the bishop, not even the church system or any institution BUT CHRIST ALONE. The glory does not belong to anyone and we should always remember that.
Works in Greek ergon refers to "'business, employment, that which any one is occupied". Whether you are a pastor, engineer, a medical doctor or multi-billionaire businessman – each man's work shall be tested (1 Corinthians 3:13).
Manifest in Greek word "phaneros" means ""evident, known, recognized," It derived from the Greek root word "phaino" i.e. "to bring forth into light." In other words, no works of men can be concealed but it shall be exposed on a broad daylight for apparent reason for validation. Evidence must be made manifest. The word "manifest"" also defines " to meet the eyes" or ""to shine" like gold or diamond (1 Corinthians 3:13).