Waiting for you
Details

Category: Teachings & Articles
Published: Monday, 08 October 2018 08:01
Hits: 1363
Waiting for you
By Augusto A. Kho
Christ the Living Stone Fellowship – Rosales
October 10, 2018 (Sunday); 10:00 a.m.
Impatient
I've been always impatient person. And it has something to do with value-systems, experiences and others. In tender age, I have been raised up struggling with life so basically I am workaholic and I could not stand people who merely hang around, doing nothing. That is when I become impatient.
I do things simultaneously or doing two or three things at the same time. That is to maximize things and time.
The congressman
There is one congressman who approached me to organize a meeting among pastors concerning his next electoral bid. I don't mind him using me for this but I believe it is a part of Church's electoral education especially Filipinos are being dubbed as the "most gullible people in the whole world" according to Harvard University study.
This congressman scheduled talk is around 9:00 a.m. and I have gathered around 110 pastors in our district. The congressman's advanced party came on time but past 10am till 11:30 am the congressman wasn't around yet. Past 12:00 noon when I decided to call him because his staff kept on telling us he was on his way. When I called him up I've found out he is still in Manila. I rebuked him right there and there saying:
"What kind of congressman are you. You did request me to organize a meeting and I didn't ask a centavo from and now you're saying you are still talking to the President. And I don't care, and we are talking about your integrity here."
But I have waited. And we have waited.
In many occasions I have waited as much as 10 – 12 hours for an appointment.
And in Christian ministry, waiting or patience is necessary in building up the character of a person. And to wait on the Lord is life-transforming. This is true especially when you patiently waiting in the fulfilment of His promises in your life.
Patience is very much important in character-building. Even among public servants in RA 6713, "Ethical Standards of Public Officials and Employees," the qualifications demands value-system more than intellectual prowess.
Men and women of God
Men and women of God have learned to trust and waited upon the Lord to bring their life purposes into fruition.
Abraham has no son till he reached 75 years old until the Lord has promised him a son. It took him 25 years to wait for the seed-promise, Isaac. Why would Abraham waited for 25 years for his son Isaac only to be taken away as an offering to God? God gives and God takes away.
In the same way, I heard the Lord in 1986 wanting me to bear a son and He said, "You shall call him Isaac." Finally Isaac was born 6 years later in 1992.
Moses waited for the next 40 years to God to fulfil His promise to the Israelites to bring them to the Promise Land. Moses have seen God's promise though he was not tread his foot on it. But at least he have seen it.
Queen Esther. She was born in 492 B.C as "Hadassah" meaning "myrtle" until she became a queen in 478 B.C. And that was 14 years later. Esther" means. "star." Five (5) years later in 473 B.C , an evil man named Haman plotted to kill all the Jews and Esther made an heroic act of saving her own people. In other words, without knowing it this nation waited for 14 years to the messianic calling of a queen to save them from future destruction. Queen Esther later made a decree which is called "Purim" which is called "Feast of Deliverance" (Esther 9;32; 28) as a "memorial" to the Jewish nation.
David the insignificant is also one good example. Jesse called him the "youngest." In Hebrew
word "qaton" (kaw-tawn) meaning "insignificant" or "unimportant" (1 Samuel 16:11). He was still a youth when prophet, Samuel did prophesy that he is the Lord's anointed as the future king. It took him 20-25 years running for his life as fugitive or criminal hiding in caves and valley until he was finally crowned as king. David waited patiently enduring hardships and persecutions to fulfil God's promise in his life.
Waiting Defined
Wait = 105 times mentioned
Waited = 35 times mentioned
\Waiteth = 11 times mentioned
Waiting = 8 times mentioned
Gen 49:18, "I have waited for thy salvation O Lord."
Waited Hebrew "qavah" (kaw-vaw) i.e. to wait, look for, hope, expect, tarry, linger.
The word "wait" is also called in Hebrew "shamar" (sjaw-mar) i.e. to keep, guard, observe; to watch, watchman; to protect (Number 3:10). To wait is to place your eyes wide open like a security guard that places everything under closer scrutiny.
Wait in Greek means "to be devoted, constant, or persevering" in Mark 3:9. Also in Greek "prosdechomai" which means "patient" (Mark 15:43).

Impatience is fatal
Impatience is the opposite of patience. And it can be proven fatal just like what had happened to King Saul.
A prophet of God named Samuel set an appointment with King Saul for bring offering to the Lord in Gilgal. Saul waited for 7 days but Samuel made the delays until out of impatience, he himself made the offerings to God which is exclusively appointed office for the priests and prophets only.
1 Samuel 12:8-9, "Saul waited seven days for the appointment set by Samuel. When Samuel did not arrive at Gilgal, as the people began to scatter from Saul, Saul said, "Bring the burnt offering and the peace offering to me," and he offered the burnt offering." 
Yes, Saul waited but his tarrying is not good enough that loses his kingdom. In verse 13-14 (ISV), the man of God said to the king, "Then Samuel told Saul, "You have acted foolishly. You haven't obeyed the commandment of the LORD your God, which he commanded you. For then the LORD would have established your kingdom over Israel forever. but now your kingdom won't be established." That is when this saying applies, "Not good enough!" You could have waited, yes! But not good enough. You could have done something good, yes! But that is not good enough.
Proverbs 8:34, "Blessed is the man that heareth me, watching daily at my gates, waiting at the posts of my doors."
Tarrying for God's vision
In Habakkuk 2:2-3, "And the LORD answered me, and said, Write the vision, and make it plain upon tables, that he may run that readeth it.  For the vision is yet for an appointed time, but at the end it shall speak, and not lie: though it tarry, wait for it; because it will surely come, it will not tarry. "
"To tarry" (Hebrew) means "to linger, to wait, or to delay." Christ might be delaying His coming but He will definitely come. Fulfilment of God's promises to us may somehow being put us on hold but certainly God is able and mighty to fulfil them. God's delay must not be used as an excuse for us to stop persevering and to lose heart.
Waiting strengthens
Isaiah 40:31, "But they that wait upon the LORD shall renew their strength; they shall mount up with wings as eagles; they shall run, and not be weary; and they shall walk, and not faint. "
Life-transforming power lies in trusting God alone. The more you linger with God, the deeper you will find His love and endearing character as a father.
According to Todd Bentley, ""The process of suffering and transformation using the story and prophetic parallel of how a eagle molts. Be blessed by these thoughts and let God speaking to you about molting. The analogy of the eagle appears more than thirty times in the Bible, sometimes to describe God as a parent eagle in a nest caring for His children, and often to metaphorically give us a picture that we can relate to, about growth in our Christian life.
Often, those who have been in high places are taken into hidden, lonely places for a time of renewal, as you'll recall Elijah was after his experience on Mount Carmel. Sometimes our wilderness experiences follow times of powerful revelations from the Lord. The Holy Spirit drove Jesus into the wilderness after the Lord audibly told the people that Jesus was His son, that Jesus was much loved, and that everyone should hear Him. Once there, He was severely tested. As such, our faith in His powerful revelations may also be tested.
At other times, we're driven there just as Jesus withdrew to the wilderness from the crowds (Luke 5:15, 16). The psalmist wrote: "God satisfies our mouth with good things so that our youth is renewed like the eagles" (Ps. 103:5)."
Disciples had to wait
In Acts 1:4, the risen Lord Jesus had commanded His disciples not to leave Jerusalem and He instructed them this promise, " wait for the promise of the Father, which, saith he, ye have heard of me." 

The word "wait" here in Greek "perimeno" means "to wait for; to stay around." It derived from the rood word "meno" i.e. "to remain; abide; to tarry and not depart; to stand by (tambay>"

That is the reason why I resented the recent police crackdown on "tambay" which means "loitering around" because the words, "standing idly" in Matthew 20:1-9 means "hanging around, lingering, waiting or loitering." The lord instead of putting them into prison has given them jobs instead
If the disciples were not instructed to tarry in Jerusalem they could have missed the outpouring or the baptism of the Spirit in Acts 2:1-4.
Staying behind or waiting pays off.
Waiting is the fruit of the Spirit
In Galatians 5:22-23, "But the fruit of the Spirit is love, joy, peace, longsuffering, gentleness, goodness, faith, Meekness, temperance: against such there is no law. "
No one suffers long without a genuine love (1 Corinthians 13:4). Long-suffering demands a long waiting process which we call endurance.
The word, "long-suffering" in Greek "makrothumia" means "endurance, patience, fortitude steadfastness and slowness in avenging wrongs." I could be revengeful at times. Men always do. But if you are patient you don't exact and place vengeance unto your hands. Revengeful has the spirit of murder.
Whole world waits
Not only the people of the earth but also the whole world is waiting for the complete restoration of God's creation. Paul said that the whole creation "waiteth for the manifestations of the sons of God," (Romans 8:19).
According to Larry Pierce (2006) the world was created 4,004 years ago. But James Ussher said it is 6,000 years ago and it is frequently mocked by non- Christians— and also by many Christians.
But another source says, it is 7,000 year old Plan of God from the time of Genesis (Source : Source: http://www.hebroots.com/lul7_8.html
In Matthew 1:17:"So all the generations from Abraham to David are fourteen generations; and from David until the carrying away into Babylon are fourteen generations; and from the
carrying away into Babylon unto Christ are fourteen generations. "
3,360 years
So I computed that by myself and if there are 14 generation and one generation lasts for 80 years, then the total sum is 3,360.
Meaning, it took 3,360 years of the whole world to wait for the messianic birth of Jesus Christ (without computing yet the generation of Adam up to the generation of Abraham).
Why the world has to wait that long for the Messiah to come? I do not know but at least He came to bring that salvation for you and me. That is why John the Beloved wrote:
"For God so loved the world, that he gave his only begotten Son, that whosoever believeth in him should not perish, but have everlasting life," (John 3:16)
While the whole world waited for God's redemptive purpose for men through Christ's suffering and death on the cross, shall we also wait for HIM in His return from heaven?
Groom's tarrying
In Matthew 25:5, the groom purposely tarried or delayed his coming that dozed off the ten virgins to sleep. The purpose of the groom's tarrying is to test whose from the ten (10) virgins are faithful and ready for the wedding banquet.
The same is true to the Church today, the 2nd Coming of Christ is being placed on hold for a reason that God would like the Bride to be completely cleansed from her filthiness. Ephesians 5:27 says, "not having spot."
The word "spot" from Greek word "spilos" means "morally blemished, stained, defiled or soiled," according to Strong Bible Dictionary. Remember that filth in the Old Testament times is being defined also as "defiled" or "soiled."
In Nahum 3:6, (The New Jerusalem Bible), it says, "Look, I am against you!- declares Yahweh Saboath- I shall lift your skirts as high as your face and show your nakedness to the nations, your shame to the kingdoms. I shall pelt you with filth."
Perhaps that explains the cause of the Lord Christ's coming. Am I as a Bride of Jesus Christ is reading for the Wedding Feast?
Should the Groom Christ will be delaying more and tarrying more, shall we as a Bride of Christ, th Church will still wait for Him?
In the Book of Revelation chapters 2 and 3 tells us the result of the delay of the Second Advent of Christ.
To the Ephesus Church, "left her first love,." Meaning it vanished completely. The word "left is from Greek aphiemi meaning "divorce."
To Pergamon, the Bridal Church became a "Satanic seat" (Rev. 2:13). Seat in Greek "thronos" refers to "seat of power" which is also derived from Greek "thrao" i.e. stately seat. That could be the reasons that some pastors and politicians cling for power and become abusive at the end.
To Thyatira Church as a Bride who has the "depth or mystery of Satan," (Rev. 2:24).
These Brides of Christ are just three among the 7 Brides of Christ in the Book of Revelation.
How about me and you? Shall you wait for Christ and remained pure and not to be defiled by filth?
You might be wondering why I entitled this piece, "Waiting for you?"
(picture1)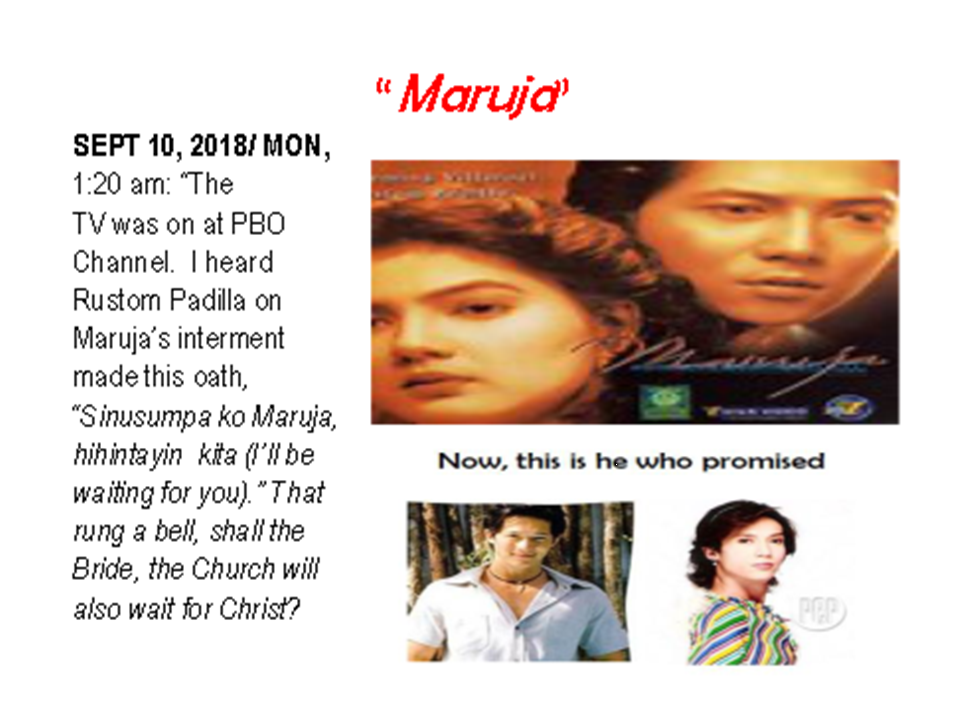 Last September 10, 2018 (Monday) at around 1:20 am, the television set was on and I heard an actor named Rustom Padilla wailed an oath to the woman he loved and said, "Sinusumpa ko Maruja, hihintayin kita." Should I translate that in English, I"ll do it this way, "I promise Maruja, I'll be waiting for you."
Rustom and Carmina became a wedded couple in a true story. But behind that promise in Maruja did came out so well. In real life, Rustom had a sex operation and became a transgender. He or she was not able to deliver his or her promise to Maruja. His oath as a man has been broken.
Shall the Church as a Bride will do the same thing breaking her oath to Christ? What if Christ had returned and saw His Church a transgender Church and broke her promise to wait for the Lord?
The remembrance
Matthew 26:26-29, "And as they were eating, Jesus took bread, and blessed it, and brake it, and gave it to the disciples, and said, Take, eat; this is my body. 27  And he took the cup, and gave thanks, and gave it to them, saying, Drink ye all of it; 28  For this is my blood of the new testament, which is shed for many for the remission of sins. 29  But I say unto you, I will not drink henceforth of this fruit of the vine, until that day when I drink it new with you in my Father's kingdom. "
The Breaking of the Bread or Communion speaks of commemoration of Christ. In 1 Corinthians 11:25, Paul says, "in remembrance of me." Remembrance in Greek "anamnesis" means a "recollection." In other translation, it is called "souvenir." Souvenirs are to remind us of something or someone very special.
We celebrate this Breaking of the Bread over and over again and why? In order for us not to forget that WE ARE WAITING FOR HIM, the Lord Christ's return as a Groom.

From the time of Christ ascension to heaven in Acts chapter 1, Jesus Christ have never yet sipped the cup of wine as a symbol of the Marriage Feast. That Marriage Feast commemorates on the Feast of Tabernacle, the last final feast called booths or shelters that will fulfil Christ's Oath to His Bride in Matthew 26:29 that says, "But I say unto you, I will not drink henceforth of this fruit of the vine, until that day when I drink it new with you in my Father's kingdom. "
(picture2)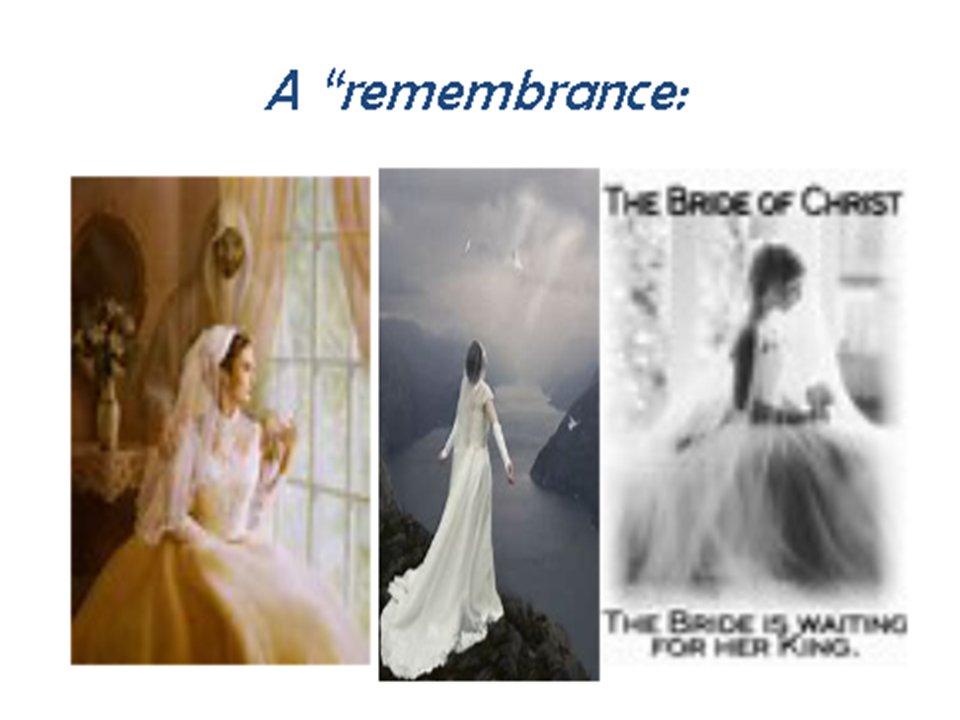 The faithful bride deserves a faithful Groom and that is why Jesus said, "Jesus took bread, and blessed it, and brake it, and gave it to the disciples, and said, Take, eat; this is my body," (Matthew 26:26).
And it very surprising that the Body of Christ is already there in the Old Testament time specifically during the reign of Queen Esther.
The heroic deeds of Queen Esther against the evil plan of Haman to destroy all the Jews have been kept all throughout the Jewish generation which is called Purim or Feast of Deliverance.
Esther 9:28, "And that these days should be remembered and kept throughout every generation, every family, every province, and every city; and that these days of Purim should not fail from among the Jews, nor the memorial of them perish from their seed. "
While the word "Pur" or "Purim" means "lot' or "piece" which means "a special feast among he post –exilic Jews, to celebrate their deliverance from Haman's destruction through Queen Esther's heroic actions)" is also means "A BROKEN PIECE."
That is why Matthew 26:26 says that Jesus took bread, and blessed it, and brake it… and said,
"This is my body"
(picture3)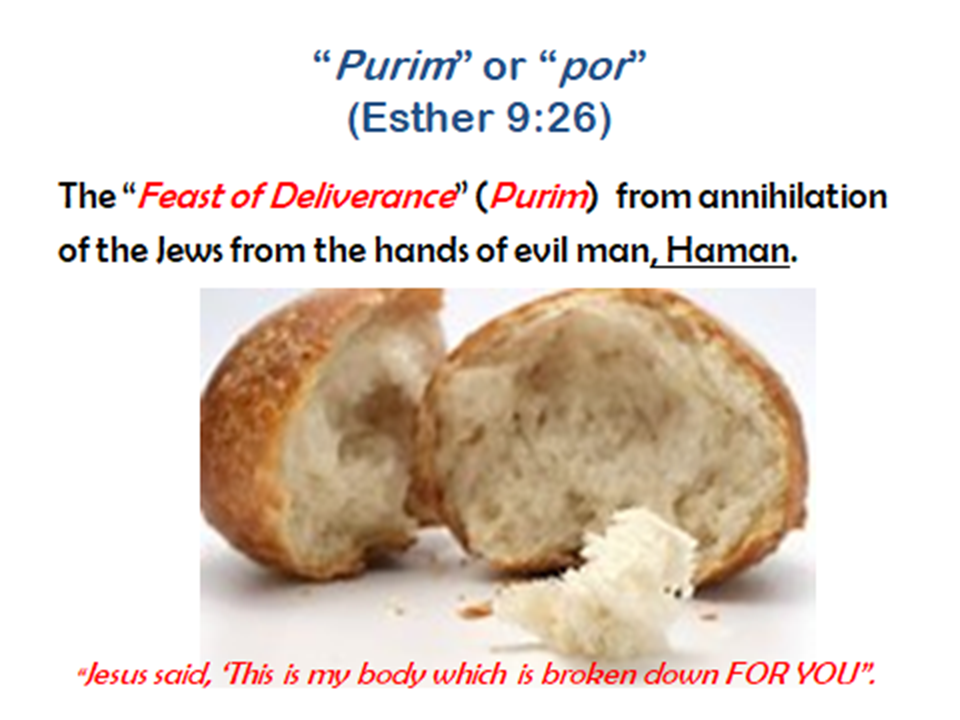 NOTES
David
David spent a great deal of his time waiting. David had to wait something like 15 years from the time he was first anointed by Samuel to the time he became king over Judah (as recorded in our text). It was another seven years before David was anointed king over all Israel. This means David waited over 20 years of his life to be made king according to Robert L. (Bob)Deffinbaugh graduated from Dallas Theological Seminary with his Th.M. in 1971. Bob is a pastor/teacher and elder at Community Bible Chapel in Richardson, Texas.
Esther
Esther from the tribe of Benjamin was an orphan girl born in 492 B.C. She was originally called "Hadasseh" meaning "myrthle." He became queen 14 years later in 478 B.C. and she was renamed "Esther" i.e. "star." She saved the massacre of the Jews 5 years later in 473 B.C. during the Festival of Purim (Source: encyclopedia.com).
KJV
Scriptures quoted on KJV unless otherwise specified
Photos
All photos are taken from the internet